Popular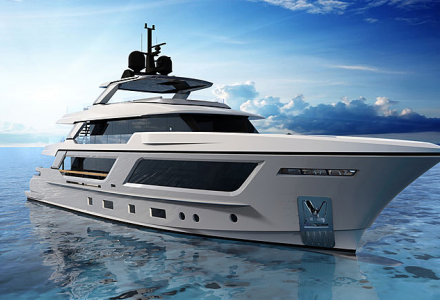 In November 2019, Italian superyacht manufacturer Cantiere delle Marche has announced the recent sale of a 35-meter explorer superyacht. The Second 35 Meter Explorer Superyacht MG115 was sold to an Asian owner on December 24th.The project has a naval architecture, which was developed on its own in collaboration with long-time partner Cantiere delle Marche Hydro Tec, and has the exterior design of the famous Florentine designer Francesco Pashkovsky. All models in the MG line have similar styles that are characterized by bold masculine lines that have become associated with vessels that fall under the designation "explorer."Designed to travel to the most remote and secluded areas of the globe, the MG 115 is an elegant yet robust, reliable, environmentally friendly long range research vessel.Despite the fact that the MG115 is relatively compact, it is able to accommodate the spaces and luxurious amenities that can be expected from a large yacht. "We don't produce 'white yachts' that look like explores just to follow a trend," says Buonpensiere. "Throughout the years, we have showed the market that we are able to build true explorers that have both elegance and style of a white yacht. The solutions we have fielded to make the MG line meet all these requirements are once again driving CdM's explorer yachts forward."The yacht, located on four decks, will have a steel hull and an aluminum superstructure with spacious recreation areas, recreation and dining areas.The vessel will accommodate up to 10 guests, which will be served by six crew members. Accommodation on board a ship with full displacement in five suits; two VIPs and two twins on the lower deck and a master suite in front of the main deck. In accordance with modern trends, special emphasis was placed on large windows, natural light, outdoor areas and proximity to the ocean. However, only limited parts are available at this stage.Two 533 kW engines each provide a maximum speed of 13.5 knots and a flight range of more than 5000 nautical miles.
January 13, 2020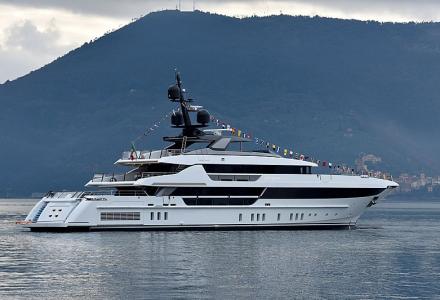 Italian shipyard Sanlorenzo has confirmed the launched of its 4th 52-meter yacht, Lady Lena. Purchased by her Russian owner in 2018, she is set to be delivered in late 2020. Another four units of the Steel 52 series are currently under construction at the yard.Coming in at 499 gross tons, the 52 Steel was formerly the flagship series of Sanlorenzo before the introduction of larger models to the mix. Designed by Mauro Micheli from Officina Italiana Design, the first unit launched was Seven Sins.Amongst Lady Lena key features, similarly to her sisterships, is a 94-square-meter beach club which features two fold-out platforms on both sides of the yacht. A lounge area is located directly underneath a pool with a glass bottom aft of the main deck. Sistership Seven SinsPowered by twin Caterpillar engines, Lady Lena will reach a top speed of 17 knots and cruise at 15 knots. At an economical speed of 11 knots, she will be able to cross the Atlantic with a 4,000 nm max range.One of the world's largest yacht shipyards, Sanlorenzo went public in December 2019 at a market cap of just over €550 million on the Italian stock exchange. In 2018, the group posted revenues of €327 million, a third of which came from its superyacht division.
January 17, 2020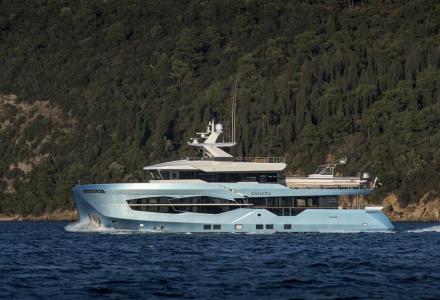 Turkish shipyard Numarine has announced the sale of 5 yachts from its XP series, bringing the total in the series up to 10. Four of these will be 26-meters in length and one 32-meters."These achievements indicate the relevance and popularity of the series" commented Numarine founder Omer Malaz. "We are very pleased that five more international customers will be able to experience what high quality and impeccable Numarine style are."All built on the same platform with identical layouts, the four 26XP yachts will feature a spacious flybridge, a main salon on the main deck and 4 guest cabins on the lower deck. Interior designs and finishes will be customised to the owner's tastes.The only substantial difference between the units will be the hulls, with one of them being semi-displacement with MAN engines of 1,200hp each, whilst the remaining ones will be displacement units with engines of 560-800hp each also manufactured by MAN.The 26XP and 32XP series were both designed by Can Yalman with naval architecture by Umberto Tagliavini. The Numarine 32XP model was being marketed at just under €9.3 million whilst the 26XP was asking just over €3.8 million.
January 17, 2020