With the charter period already over its peak, there is still time to celebrate the beginning of mellow season aboard a charter yacht.
While charter prices on some of the largest vessels traditionally remain unrevealed, Yacht Harbout lists 10 of the most expensive superyachts officially seen on charter market this summer.
Builder: Lurssen (2019)
LOA: 136m
Charter price: upon request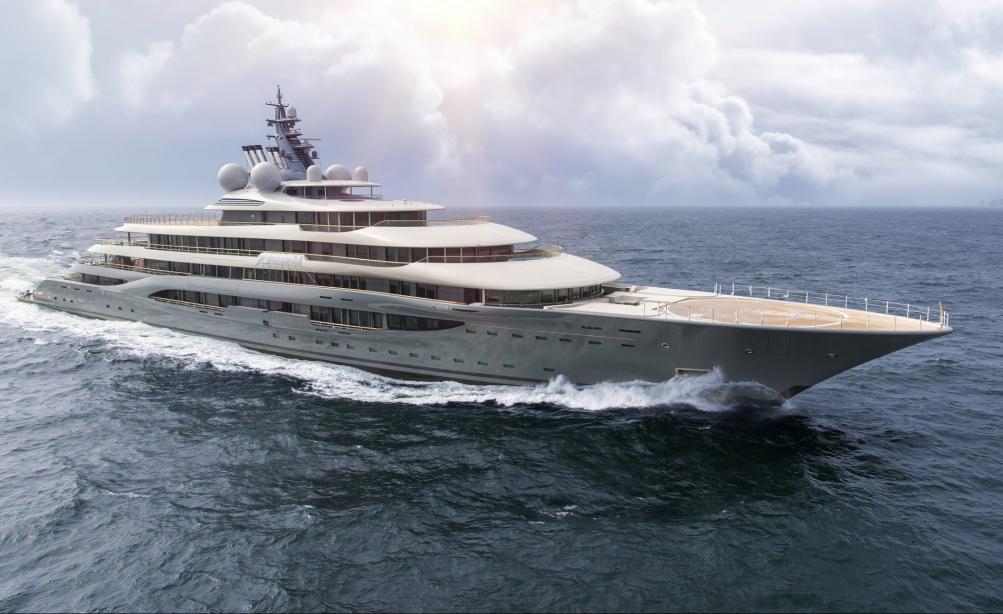 This superyacht's key features include two helipads, capable of hosting the largest helicopters and a generous swimming pool located aft of the main deck. Flying Fox also boasts vast sea terraces, swim platforms for watersports. She can accommodate up to 22 guests across 11 staterooms, along with a crew of 54.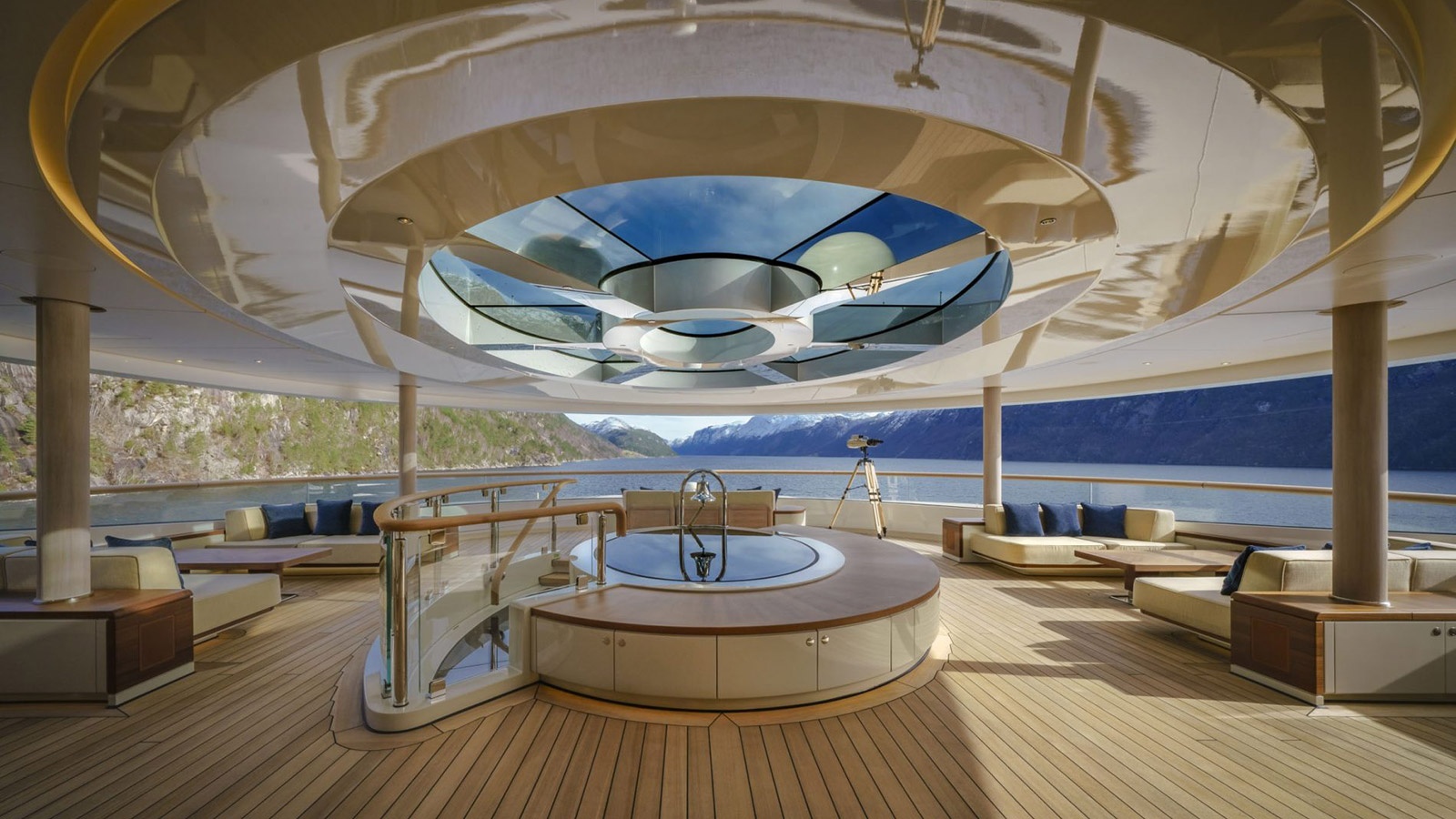 The superyacht is available for charter in the Mediterranean in summer season and in the Indian Ocean in the winter season. According to MarineTraffic, Flying Fox is currently floating Turkish cost.
Builder: Lurssen (2019)
LOA: 111m
Charter price: from € 2,200,000 per week (?)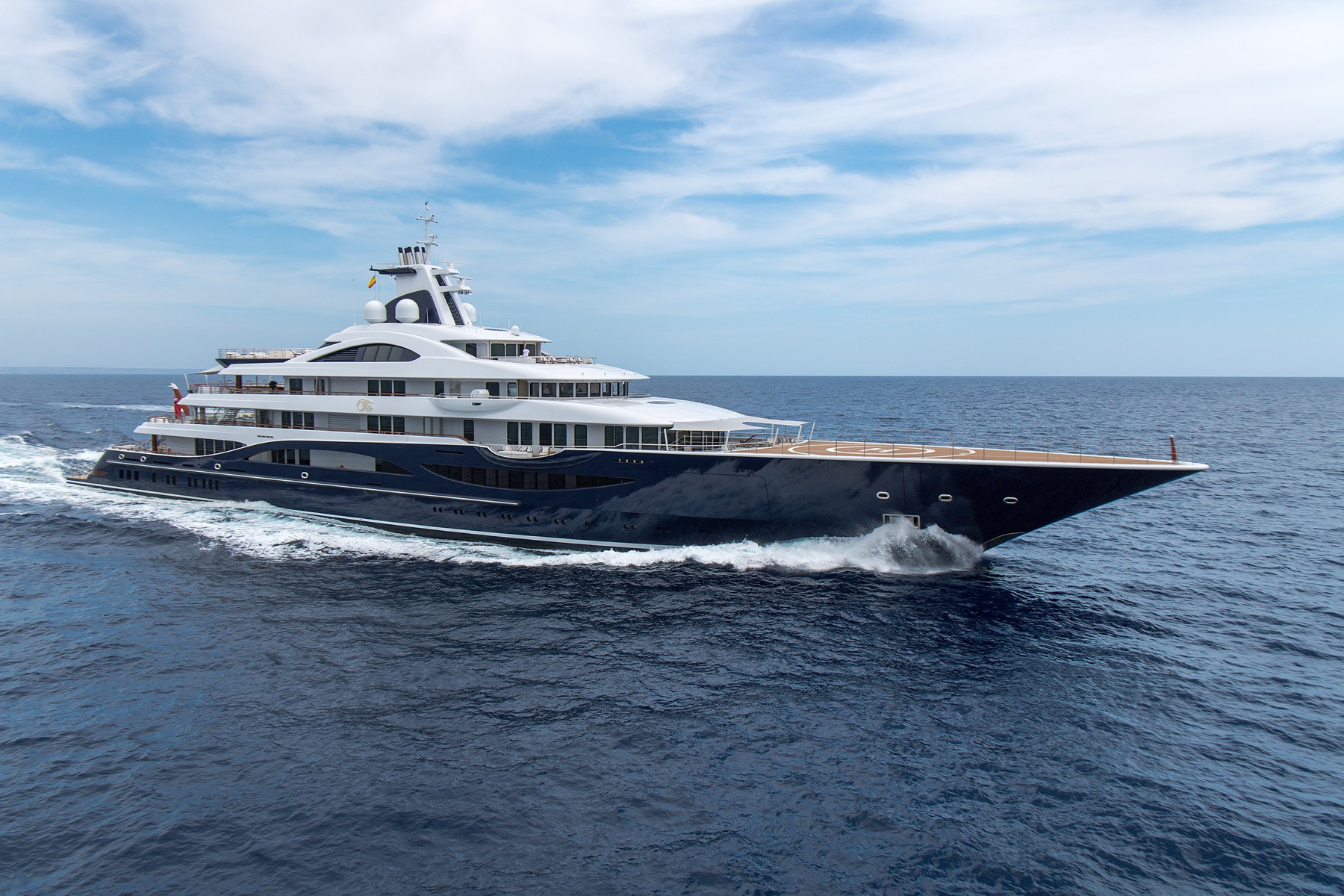 One of the rear vessels of over 100 metres publicly listed for charter, the 111.5-metre Lurssen TIS was made available in July 2019 from € 2,200,000 per week, just a month after delivery. At the moment, however, she is not on the list of charter superyachts anymore.
TIS was commissioned for a long-time charter client of Moran Yacht & Ship. The vessel boasts exterior and interior styling by Andrew Winch Design and features 2 helicopter pads, a 12-metre swimming pool on the main deck aft, a resort inspired spa at beach club level, and opulent palatial staircases.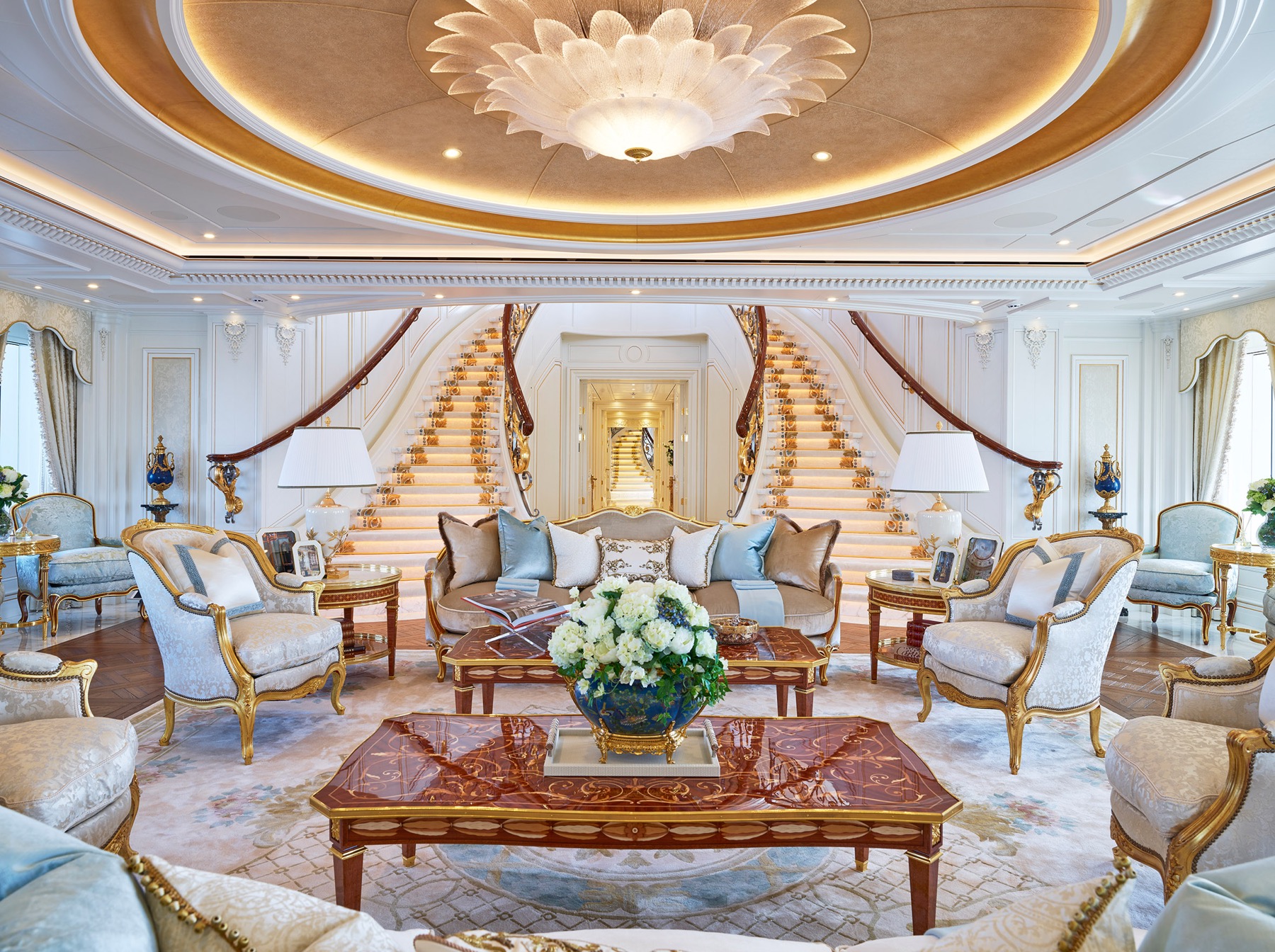 TIS comes with the tender storage able to house two 13-metre tenders, two additional 10-metre tenders, a submarine and diverse watersports toys.
With her impressive interior volume within a beam of 18.4 metres, TIS will accommodate up to 16 guests across a massive private owner's deck and eight guests staterooms, served by the crew of 38. The featured top speed of the vessel makes 18 knots.
Builder: Lurssen (2019)
LOA: 95m
Charter price: from €1,400,000 P/W (summer rate)
Firsr known as Project Fiji, the 95-metre superyacht Madsummer,
has been recently delivered to her owner
, a repeat client with Lürssen. During her construction period of nearly 2,5 years, the project was supervised by the owner's captain and brokerage company Moran Yacht & Ship.
Featuring a 14-metre beam, the exterior profile of Madsummer comes from a British designer Harrison Eidsgaard maintaining sleek and elegant lines within impressive volumes, complemented by interior design for 20 guests across 10 suites by Laura Sessa.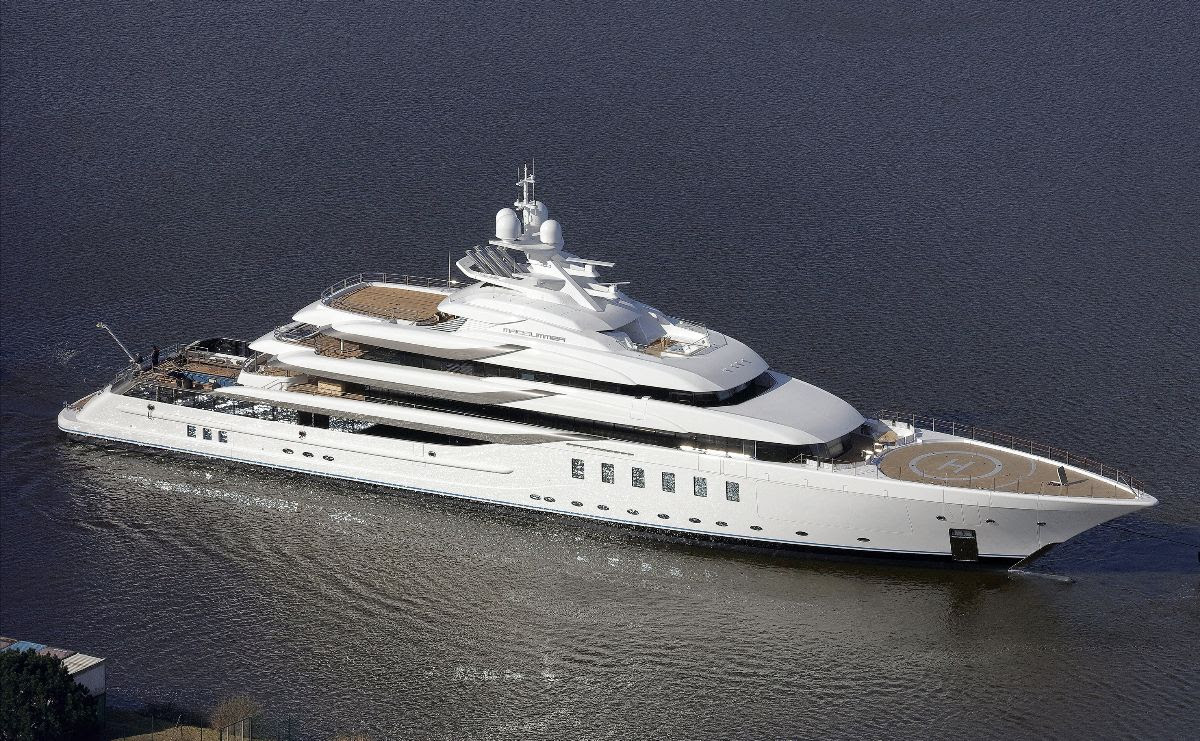 Photo: Carl Groll

The vessel's main trademarks are the 12-metre swimming pool and Jacuzzi laid on the aft deck and protected with glass bulwarks. Spacious beach club and spa zone with a sea terrace on the lower deck also belong on the list of Madsummer's special features. The bow is equipped with a helipad, while the sun deck aft features hidden crane in the bulwark, aimed to handle an aeroboat.
The superyacht is available for charter in the Mediterranean in summer period and in Caribbean/Bahamas in winter.
Builder: Lurssen (2014)
LOA: 95.2 m
Charter price: from € 1,200,000 p/w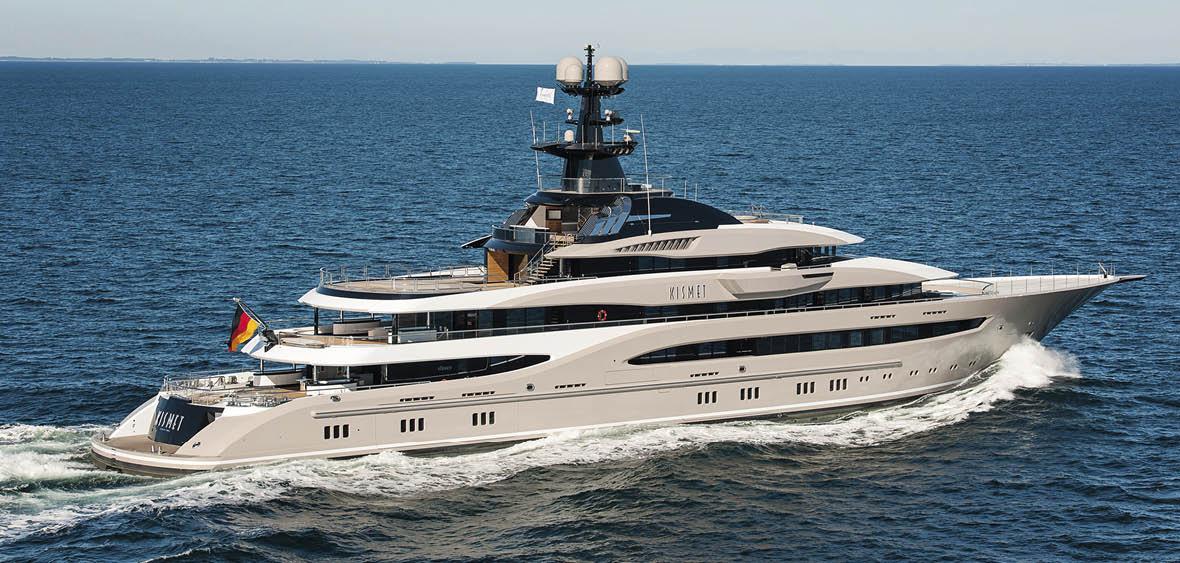 95-metre superyacht Kismet was built in 2014 by Lurssen and is owned by Shadid Khan, Pakistani-American billionaire and business tycoon, who is also the owner of the Fulham FC and Jacksonville Jaguars. The yacht's interior has been designed by Reymond Langton Design and her exterior styling is by Espen Oeino.
Kismet is stretching over five decks, designed with corporate entertainment and charter in mind, thus suitable for parties of up to 270 guests. As an innovative feature, Kismet boasts video walls, extending up to two decks high, able to show regular television but programmed to display high-definition moving artwork.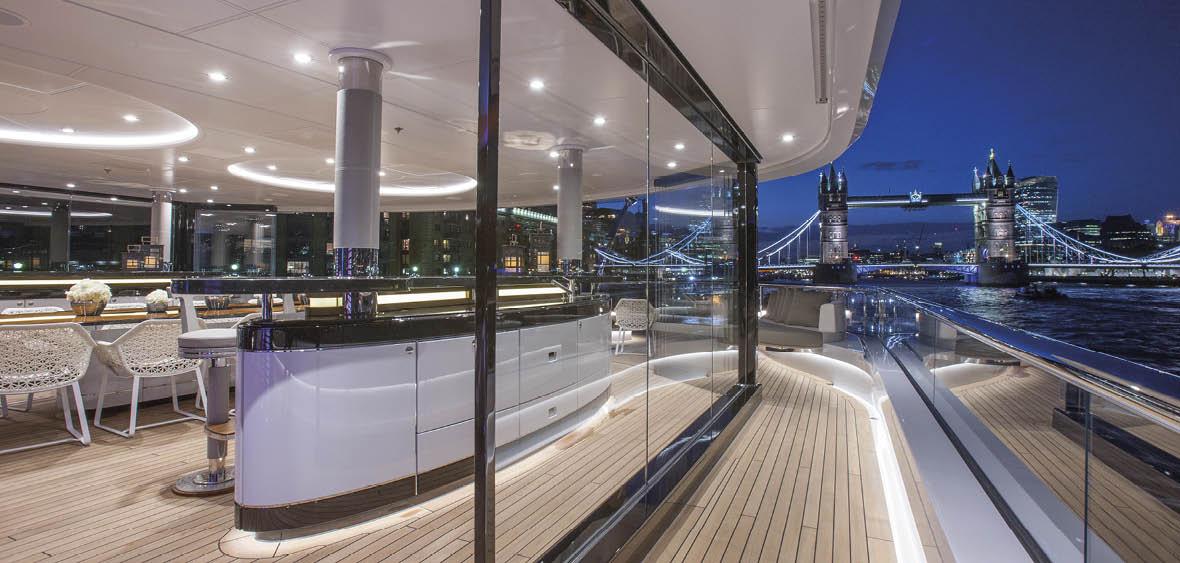 A large swimming pool and Jacuzzi area, spa zone, movie theatre, an outdoor fireplace and winter garden can be found among the yacht's luxury amenities.
Kismet is available for charter in the Mediterranean in summer period and in the Caribbean waters in winter.
Builder: Oceanco (2014)
LOA: 91.5
Charter price: from € 1,100,000 p/w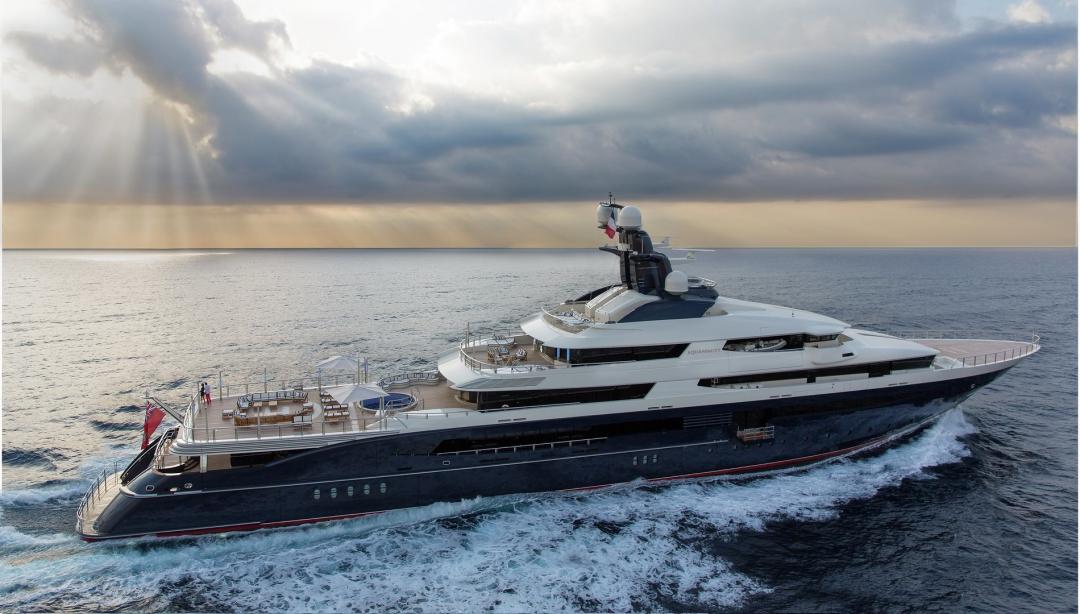 Built in 2014, Tranquility features exteriors by Oceanco's in-house design team and interiors by Winch Design. Trademarked with extensive spa area on the lower deck, plunge pools and customised interior, the yacht can accommodate up to 26 guests on-board, along with 28 crew members.
First known as Equanimity, the vessel has undergone a notorious chain of events, being seized and then auctioned by the Malaysian government, alleged purchased by her former owner Low Taek Jho on money embezzled from the 1MDB state fund.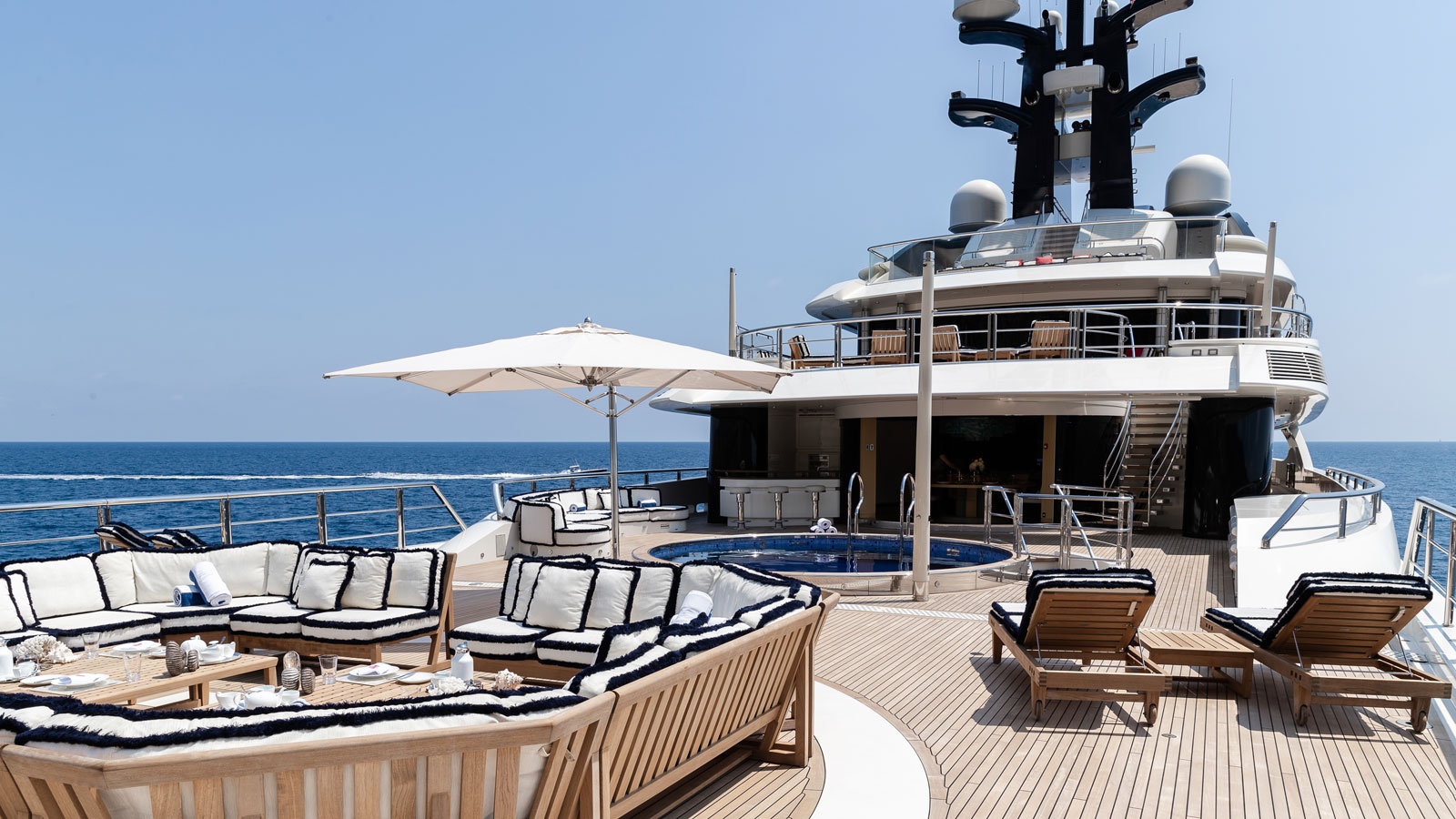 Tranquility is available for charter in the Mediterranean (Western) in summer period and in the Caribbean waters in winter.

Builder: Amels (2016)
LOA: 83m
Charter price: from € 1,200,000 p/w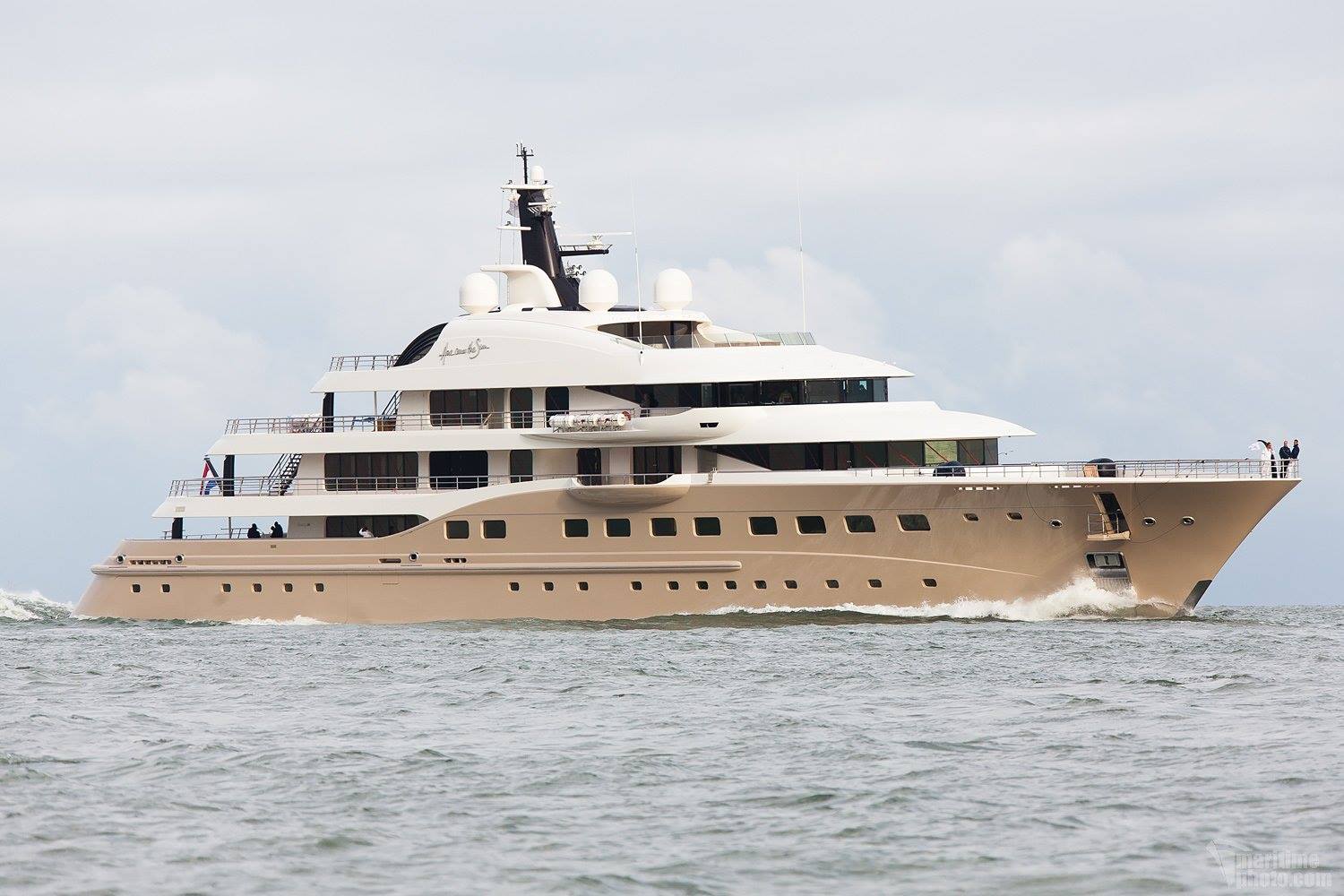 Photo by maritimephoto

Amongst her main features are a 5.5-metre swimming pool aft of the main deck, an extensive 87-square-metre beach club area located right underneath with a sitting area, sauna and gym. Other amenities also include a cinema room and a large Jacuzzi on the sundeck.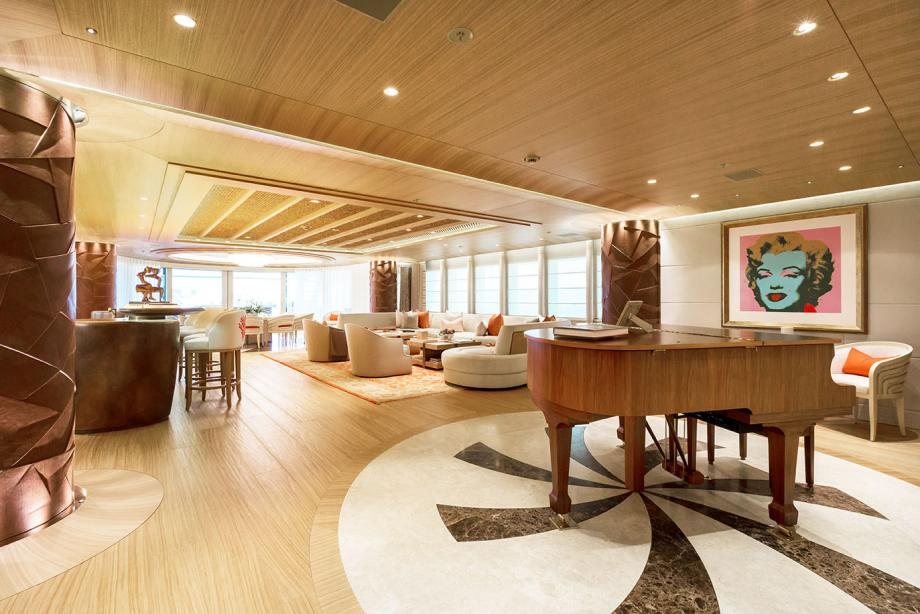 As for the accommodation, there are 8 guest cabins on board and space for 27 crew. The six-decks yacht comprises 900 square metres of outside deck space and a garage capable of storing four jet skis and two 11m tenders.
Builder: Lurssen (2010)
LOA: 90.02m
Charter price: from € 1,000,000 p/w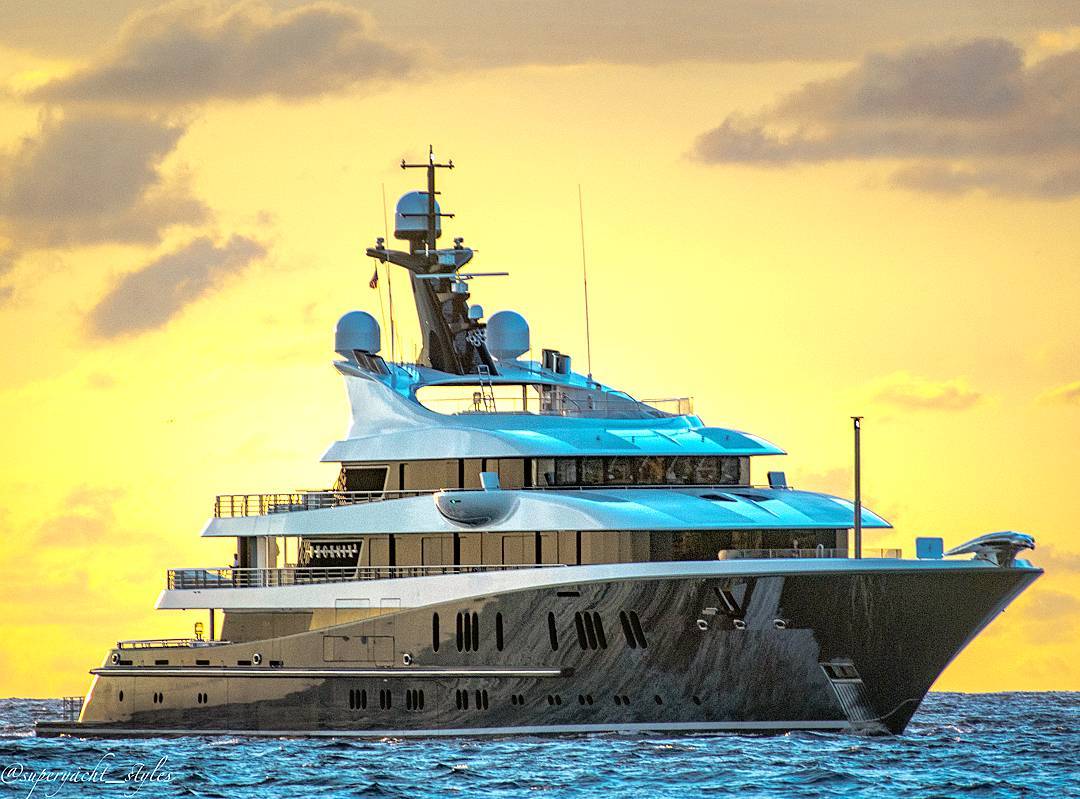 Photo: @Superyacht_styles
Launched in 2010 by German shipbuilder Lurssen and last refitted in 2011, the 90-mere Phoenix2 boasts design by Andrew Winch and offers elegant exterior lines, complemented by beautiful interiors and spacious socialising areas throughout. The most notable feature is definitely the giant sculpted phoenix figurehead that sits proudly on the prow of the vessel.
Built for the late Polish billionaire, Jan Kulczyk as a replacement for his previous 61-meter Lurssen, Phoenix was delivered by the German shipyard in 2010. Designed by Andrew Winch, Phoenix boasts over 100 metres of steel handrails built specially to follow the shape of the hull.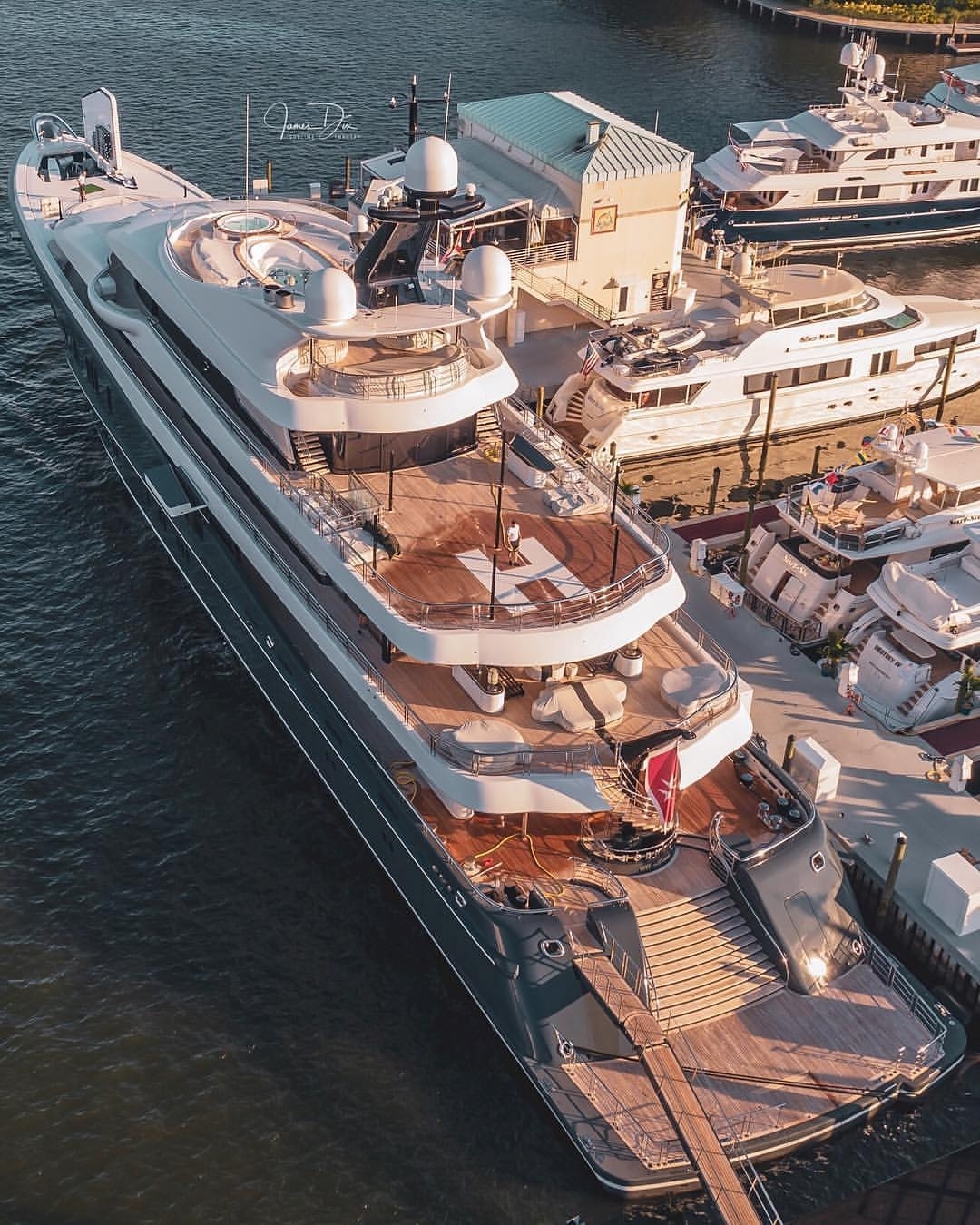 The owner's stateroom located forward of the yacht is styled like a New York duplex from the 1930s with a private staircase linking the two areas together and leading to a private jacuzzi and owner's deck on the yacht's bow. Other features include a spa pool, Jacuzzi and cinema on the sundeck.

Builder: Feadship (2015)
LOA: 83.5m
Charter price: from € 1,000,000 p/w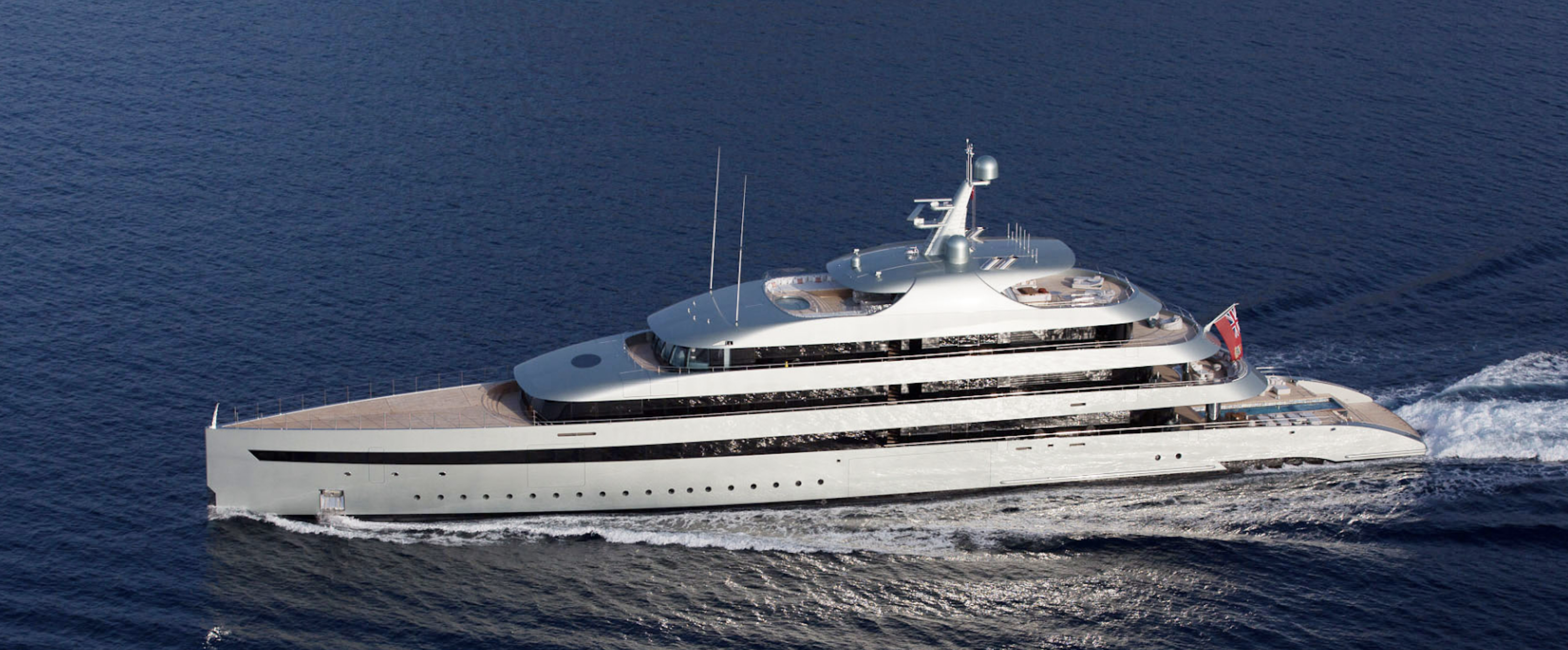 Launched in January 2015, the 83.5-metre Savannah was built to a design of CG Design in collaboration with Feadship De Voogt Naval Architects. The vessel boasts a one-of-the-kind seafoam green paint job.
One of the first examples of a hybrid superyacht, Savannah is powered by extremely quiet electric-diesel engines. At the urging of her owner, the system has been optimized to feature five operation modes from diesel to diesel-electric combinations to fully electric - courtesy of a 30-ton lithium-ion battery bank capable of holding a million watts of electricity.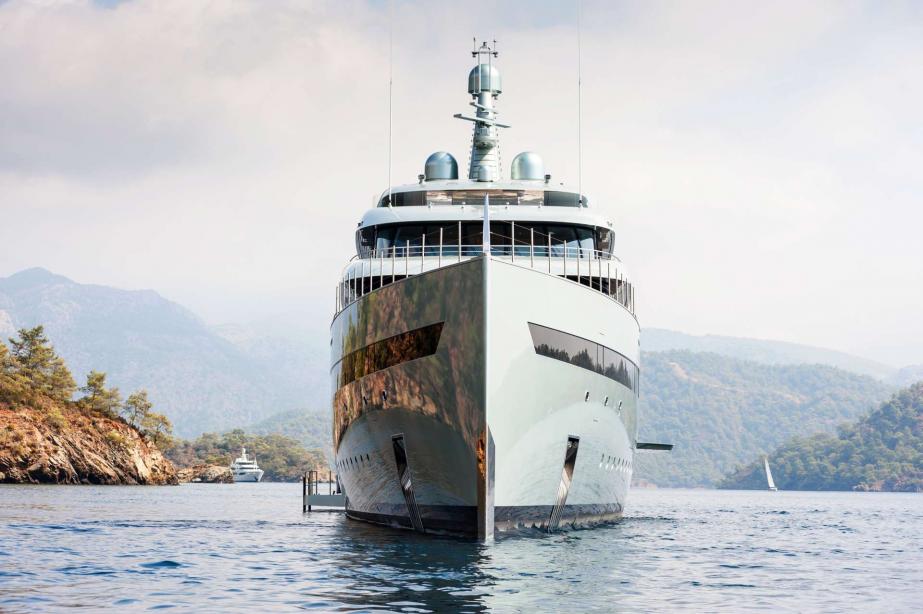 Another innovation onboard the superyacht is the underwater observation room letting charter guests see both over and under the sea.
More traditional amenities also include a large swimming pool aft of the main deck, an extensive master suite forward of the upper deck with panoramic windows and a private deck as well as a gym with a sea view, a spa and a hammam.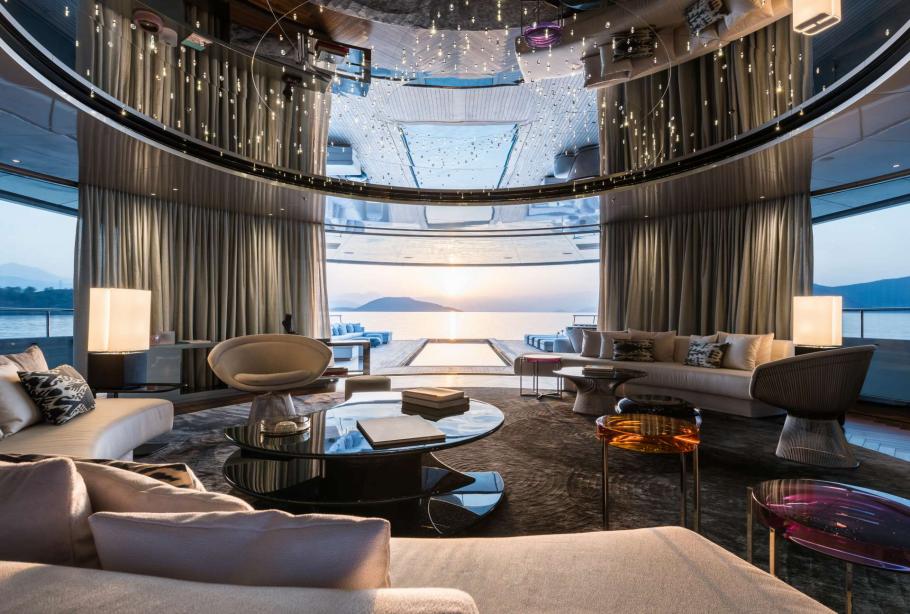 Savannah is available for charter in Western Mediterranean in summer and in Indian Ocean in winter. During the summer period of 2017, she made
one of the highest charter revenues
of estimated €10-10.5 million.
Builder: Lurssen
LOA: 85.1m
Charter price: from € 1,000,000 p/w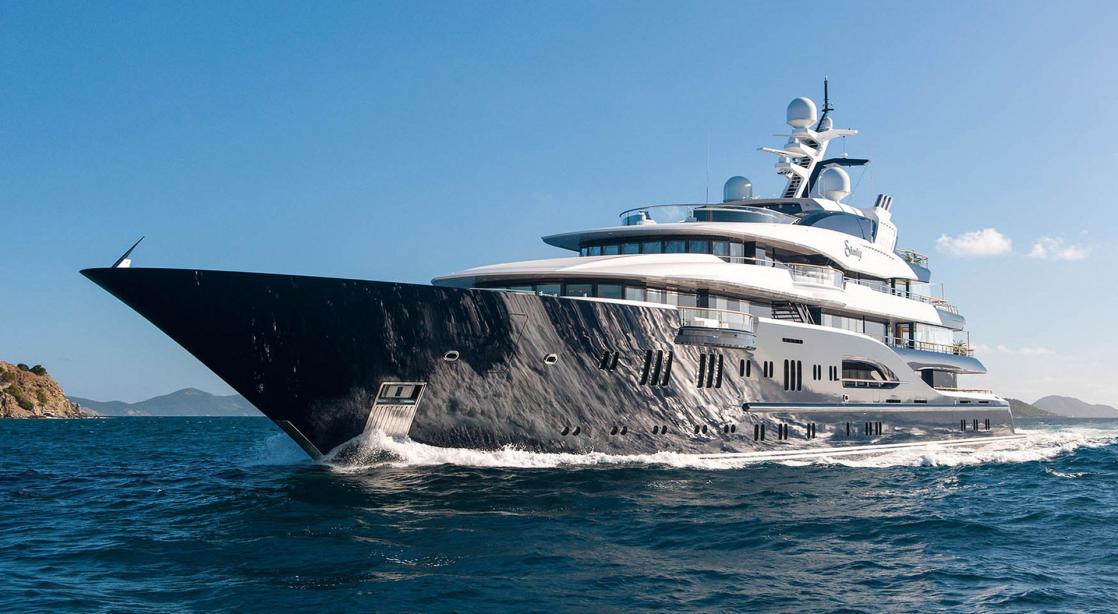 The yacht that won the Monaco Yacht Show Award for Best Exterior Design in 2014 features harmonious lines and balanced proportions by Espen Oeino, enhancing a vast selection of outdoor living, dining and entertainments zones.
Solandge' panoramic top deck plays host to a beach club area with customised dance floor, Jacuzzi and a bar while the bridge deck is ideal for relaxation and casual al fresco dining with a spacious seating area. On the bridge deck, there is also a fully-equipped health spa featuring massage room, sauna and gymnasium leading out onto a glass-edged plunge pool.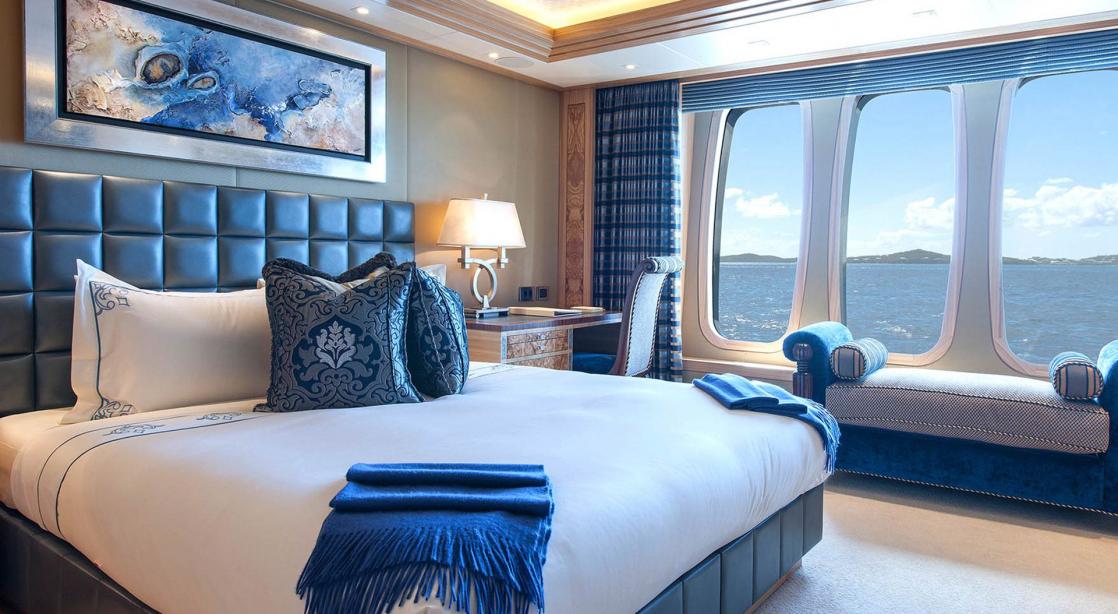 The yacht can accommodate up to 12 guests in 7 staterooms on-board, including a panoramic master deck featuring 180 degree windows, and a private deck with spa pool. The interior designs have been thought-out by Rodriguez Interiors.
At the moment of
her sale in March 2017
, Solandge was asking €155,000,000. She is available for charter in the Mediterranean in winter and summer seasons.
Builder: Derecktor (2010)
LOA: 85.6m
Charter price: from € 945,000 p/w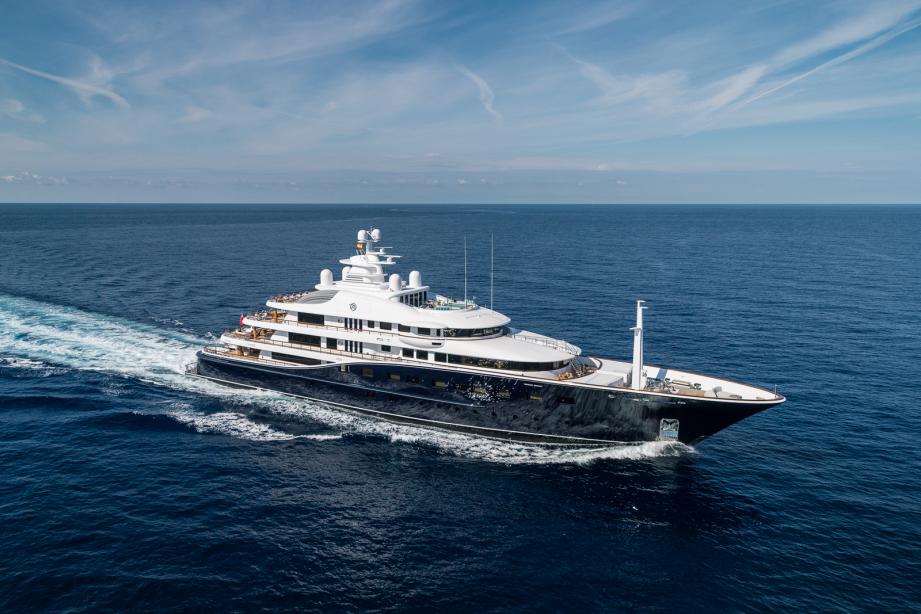 Formerly known as Cakewalk, the
largest superyacht built on the territory of the USA
since the 1930s, was sold to her current owner at an asking price of €119,000,000 at the end of 2014. Consequently, the 85-metre vessel underwent a 12-month refit at Pendennis in the UK and had her name changed to
Aquila
.
The motor yacht can accommodate 14 guests in 7 cabins with an interior design by Dalton Designs and an exterior design by Tim Heywood. She is powered by MTU engines of 3306 hp each giving her a maximum speed of 18 knots and a cruising speed of 15 knots.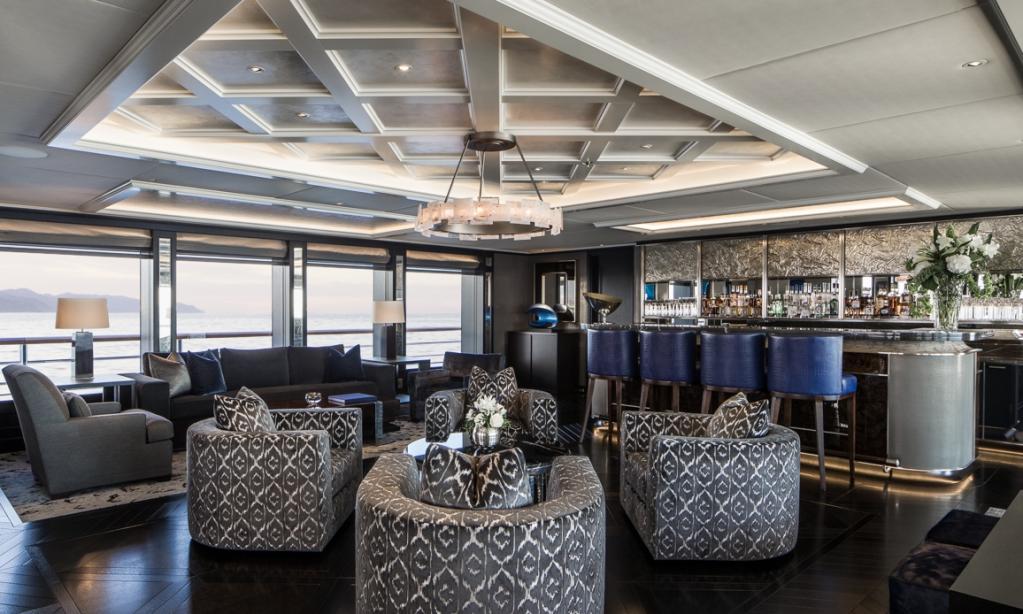 Aquila's
improvement focused mainly on the interior. For instance, the owner's stateroom was entirely remodelled, a 60 square metre private deck was added, while the Jacuzzi was repositioned to the forward sun deck.