As 2016 is coming to an end, we are presenting the top 10 superyacht concepts of the year. Here is the list of the most-talked about designs, created in order of descending length.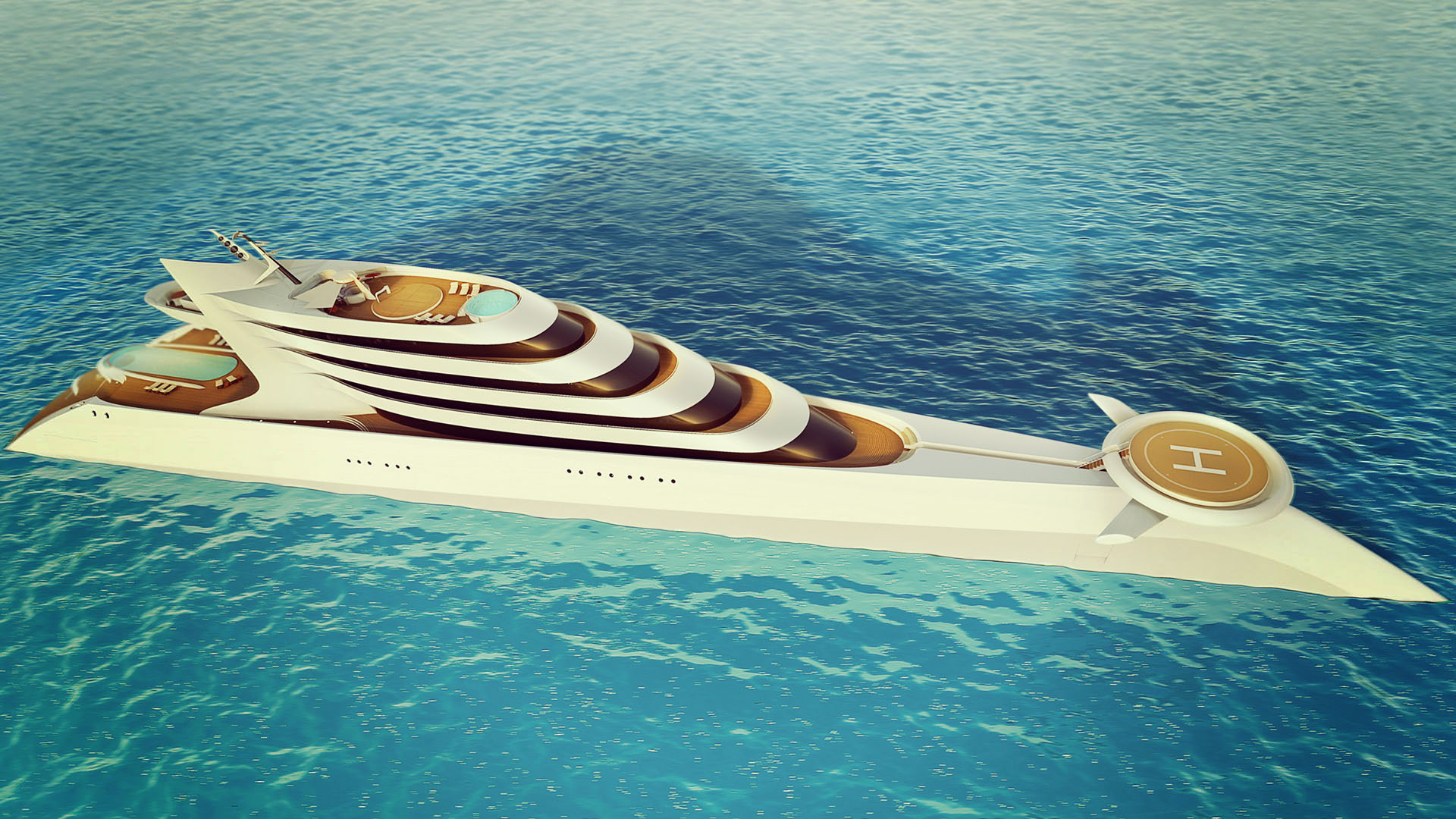 L'amage, one of the largest luxury superyacht projects in the world, is the latest work from the visionary designer H.Bekradi from HBD Studios. L'Amage measures 190 meters of overall length & 28.6 meters in width, a passenger capacity of 28 guests, 14 staterooms plus a private apartment for the owner, and 70 crew members. Using one of the most advanced propulsion technologies available in the maritime industry called CODAG (combination of diesel engines & gas turbines) together with controllable-pitch propellers this superyacht can reach a top speed of 32 knots thanks to the 95000hp generated by its 2 diesel engine running together with 2 gas turbines.
The 150m Shaddai comes from the mind of Gabriele Teruzzi, an Italian yacht designer who previously worked on the Oceano 42 Mangusta at AM Yacht Design. His latest superyacht concept focuses on providing a unique viewpoint to her owner and guests.

The owner's cabin is located at a height of 38 meters, far above the rest of the yacht. The owner's area comes complete with a large terrace and an infinity pool situated on the edge of the top deck. A second infinity pool is located below and intended for guests. A 300 square meter beach club is closely connected to the second pool and comes complete with fold-out balconies.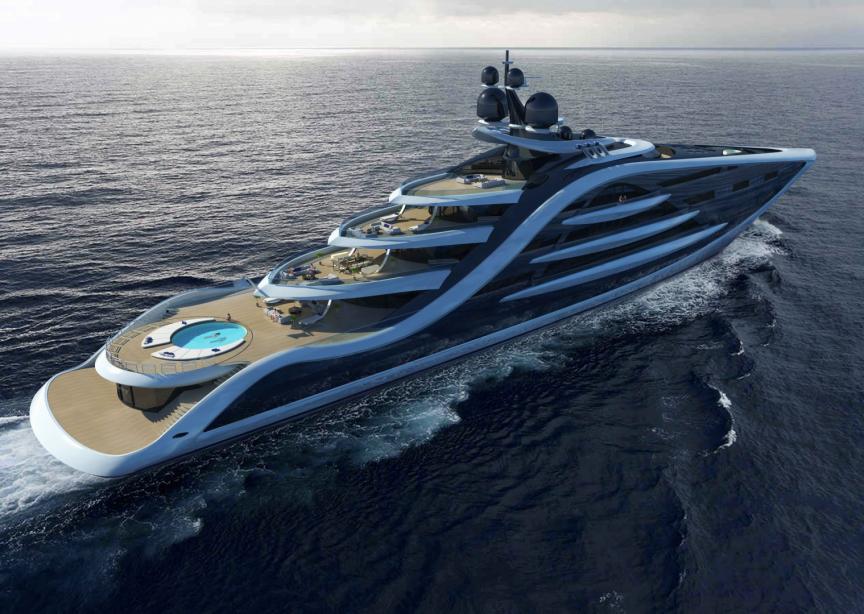 UK-based designer Andy Waugh has presented his latest superyacht concept Epiphany in May 2016. Measuring 130m, the vessel features a unique silhouette and a bold exterior. The owner's deck is vast with stateroom featuring an increased ceiling height with skylights and open views towards a private foredeck with seating areas and a Jacuzzi. Aft on this deck there is an owner's private cinema as well as an office with space adjacent for personal assistants or important staff members. Below the owner's deck is a unique 'VIP deck' housing 4 huge cabins each with private balconies. Other alluring features include a cinema and gaming area as well as a fully equipped gym and spa. The main bar opens up onto the aft deck accommodating al fresco dining area.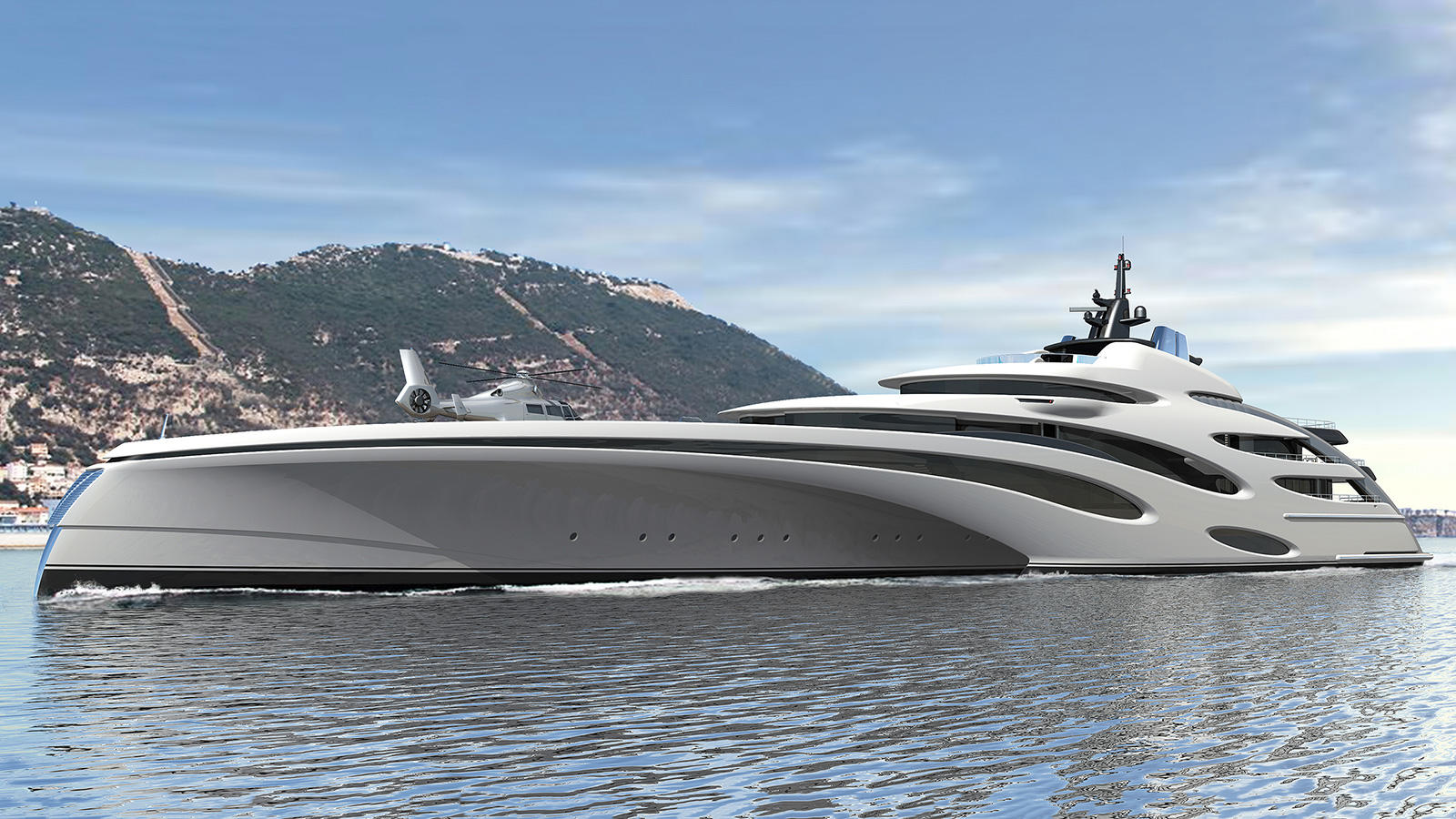 Australian superyacht specialists Echo Yachts has teamed up with Sorgiovanni Design and One2three Naval Architects to create 120m trimaran concept. The trimaran's alluring amenities include rotating master stateroom section, private owners outdoor entertaining zone with a swimming pool, both indoor and outdoor dining settings for 26 guests, large indoor cinema, glass central passenger lift, fully appointed gym and spa, sundeck helipad, foredeck touch & go helipad, sundeck Jacuzzi, transformer sea stair and bathing platform and forward tender garage enclosed with gull wing style hull doors.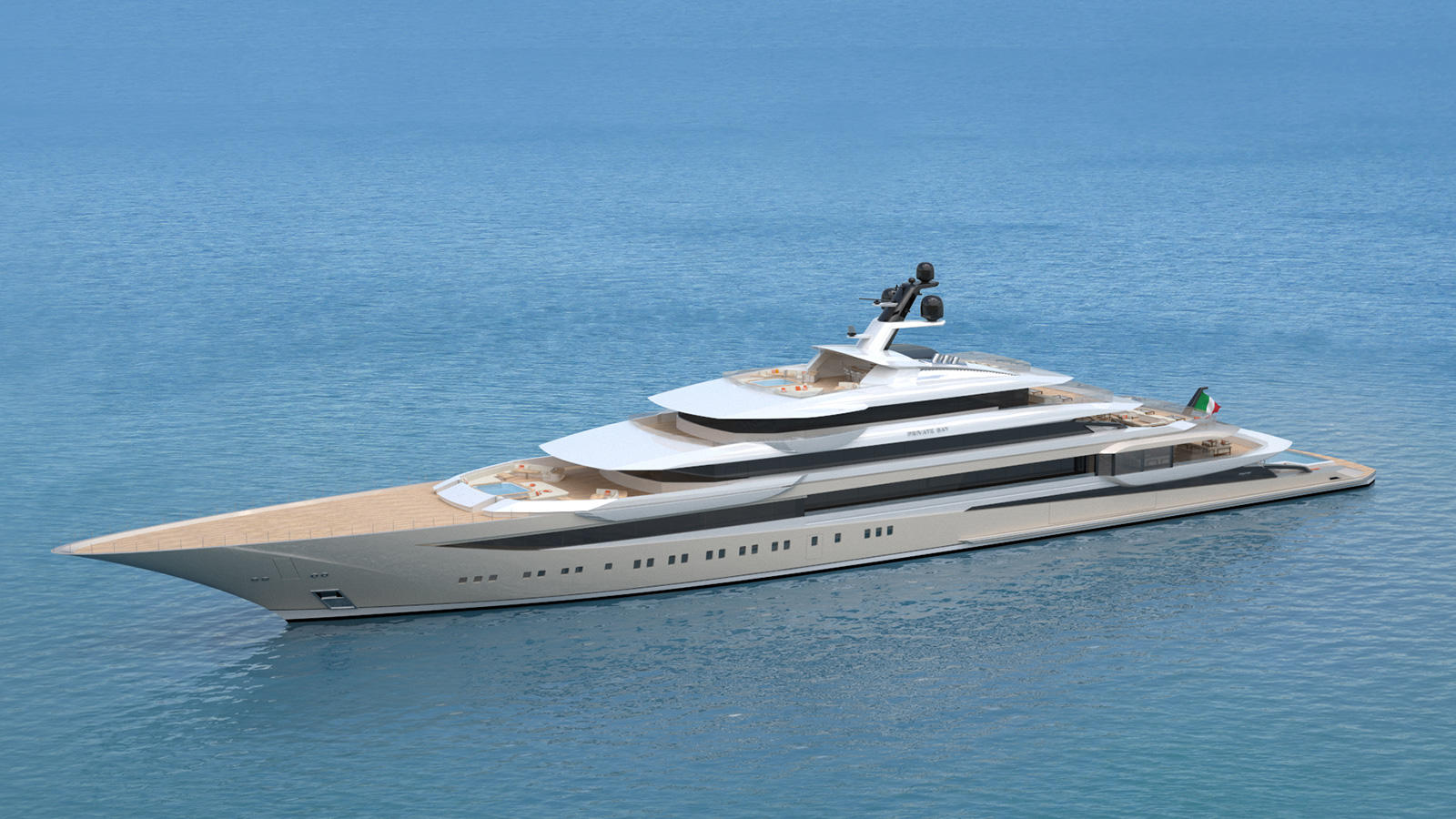 Fincantieri
has teamed up with one of the world's most esteemed yacht designers Horacio Bozzo to create the 120-metre megayacht concept Private Bay. Exterior relaxation spaces are plentiful, with two large Jacuzzi's, one on the foredeck and one on the sun deck, both surrounded with large sunpads and relaxation areas. Back aft, the open beach club concept is a unique feature that includes a 160m2 lounge area with side openable windows, alfresco cinema, and a huge sea level pool with bar. There are also submergible stairs, a platform for gentle access to the ocean, and a generous swim-platform for easy boarding of water toys. On the inside, this multihull megayacht boasts a voluminous interior totaling 5,400 gross tonnes – more than enough room to host 18 guests and a crew of 31. The project has six decks with a 17.7-metre beam and 4.25-metre draft.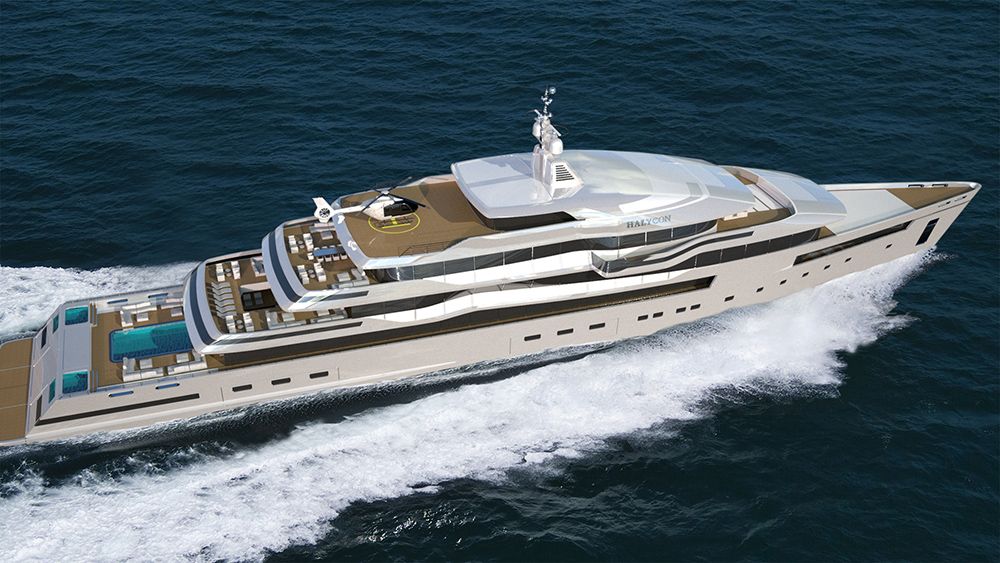 New York-based Gill Schmid Design have introduced their newest superyacht concept, the 110m Halycon. Amongst the concept's most alluring features are also her two glass-bottom, swimming pools. The largest of the two is located on the main deck whilst the second is located aft of the upper deck with a waterfall flowing between the two levels. A glass door around the main deck further encapsulates this immense pool area. Halycon's garage is designed to host two 10m tenders, an icon aircraft, multiple water toys and to still have enough space to carry a submarine. Able to carry a crew of 37, the concept could accommodate 18 guests in 1 owner's suite and 8 guest cabins.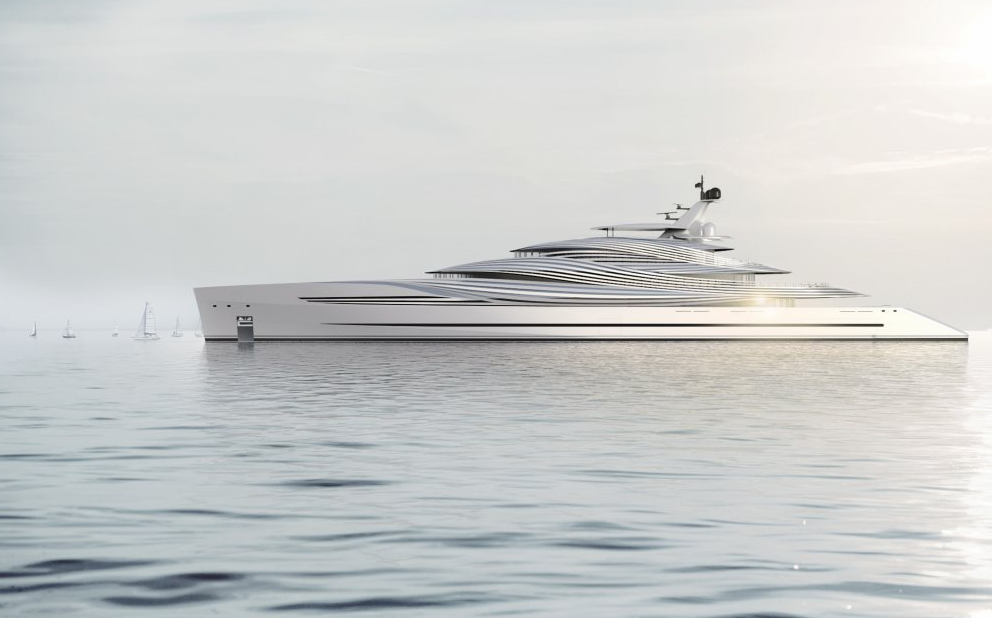 Italy based designers behind 85m
St. Princess Olga
, Star concept and
M/Y A
logo have presented SHY superyacht concept at the 2016 Monaco Yacht Show. Information about the project remains scarce but it is confirmed that the concept will have 110m LOA. Lightweight and translucent, the superyacht has no visible horizontal deck spaces outside. According to the designers, that's how they see the way to express a feeling of privacy from outside which doesn't compromise panoramic views from inside.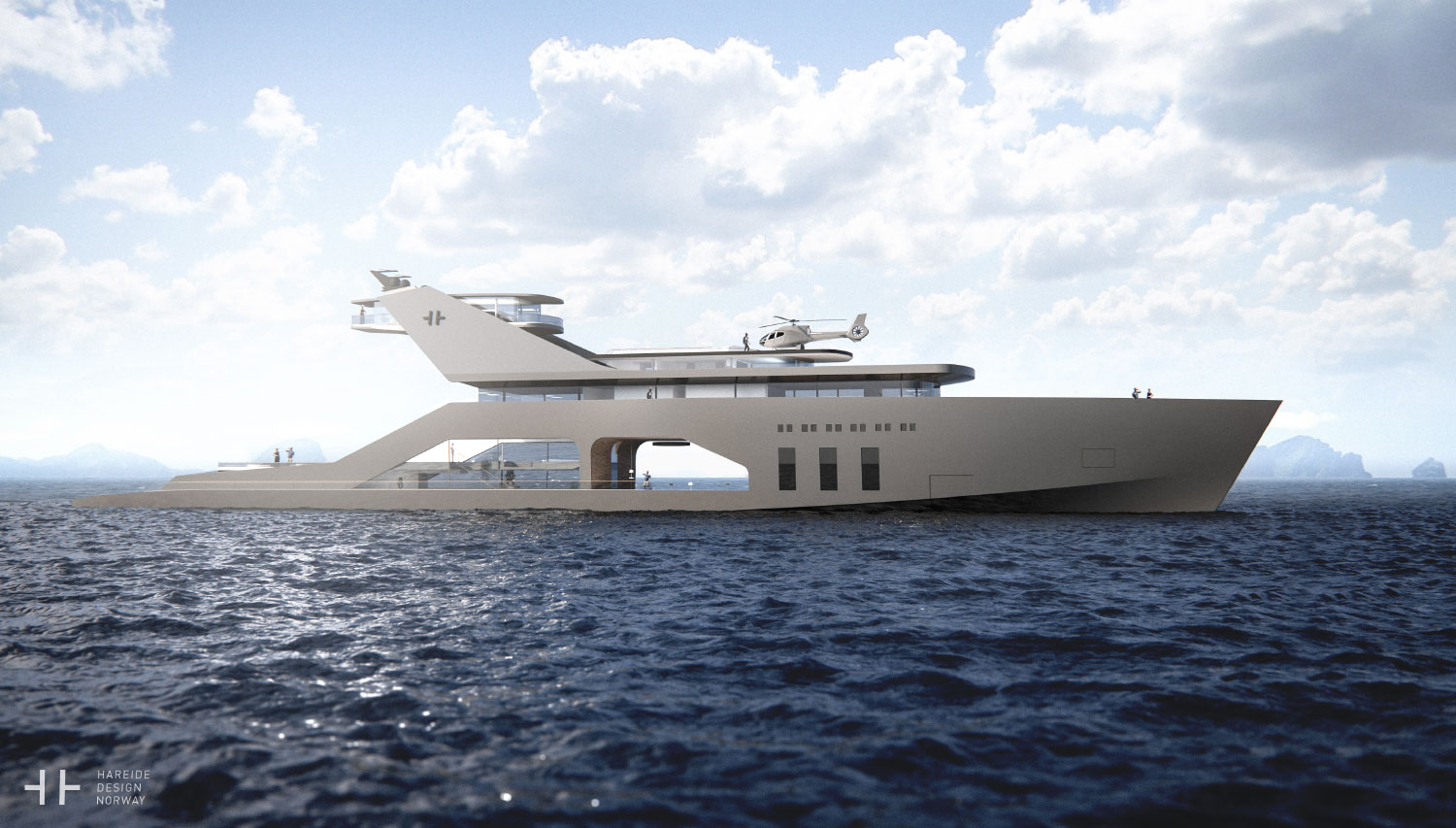 The concept is based on a classic 108m mono hull design with the unique combination of elegance and modernity of Scandinavian design. An elevated dining and viewing area, a tranquil garden surrounding a 20m pool and a seamless transition to the water at the stern are contributing a complete new and exciting experience on board. The multifunctional space of the grand hall gives an unprecedented view and contact with the surrounding nature.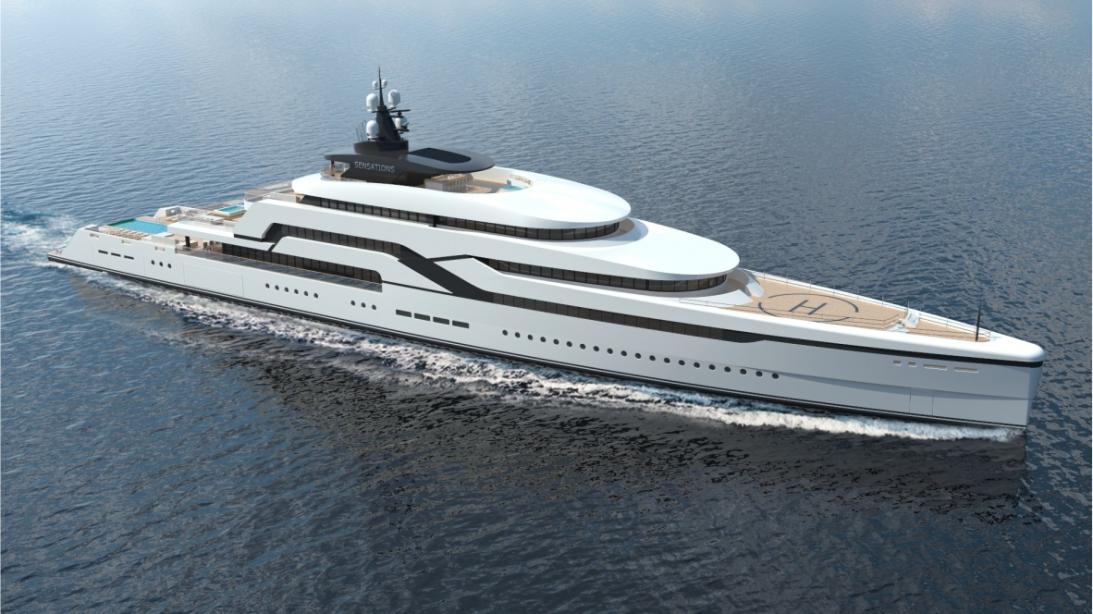 NaoYacht D&E presents a transformed version of its 80m superyacht concept Sensations. Named Sensations II, she measures 105m, has a beam of 14.5m and a draft of 4m. Her alluring amenities include two dining rooms, one saloon that can be converted into a cinema, a bar/coffee area, a gaming area, a gym and a SPA with the massage area and relaxation rooms. A large 8×4m swimming pool can be found aft on the main deck and is able to be converted into a helipad when required.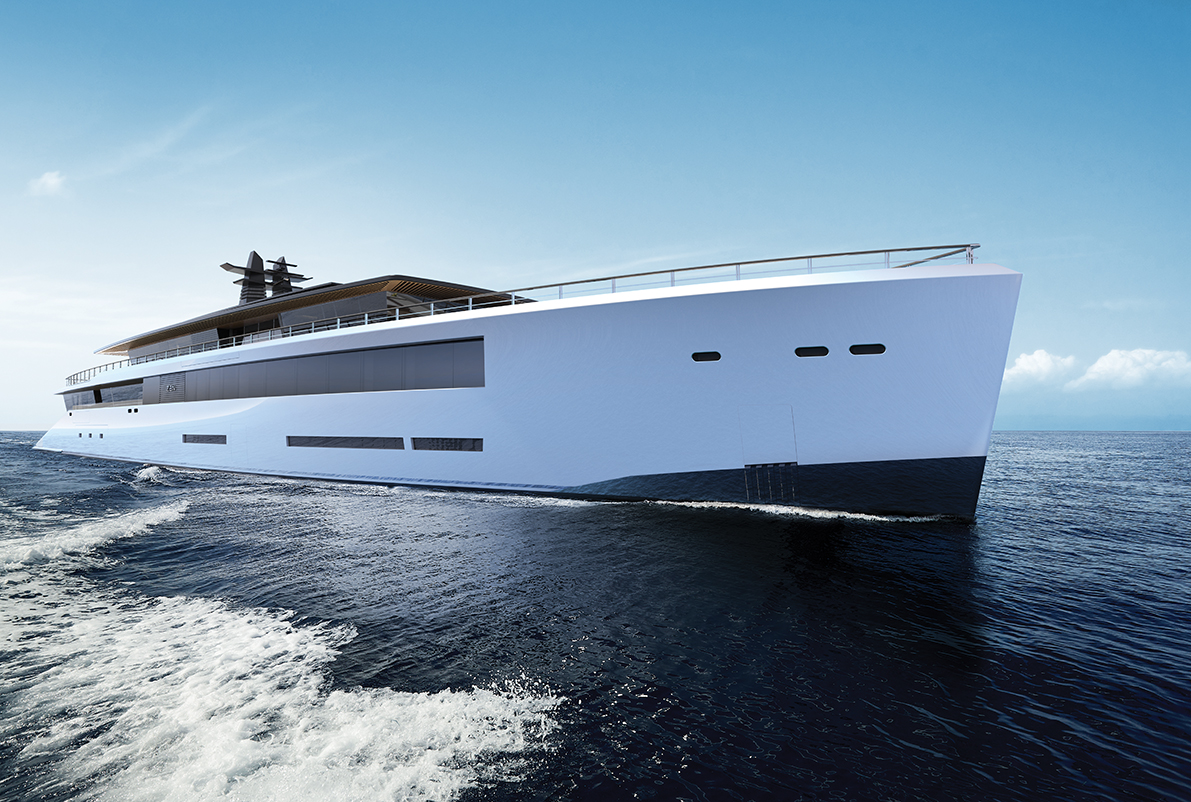 80m superyacht Zen is the result of a close cooperation of two longtime partners in the yachting world, Sinot Exclusive Yacht Design and
Feadship Royal Dutch Shipyards
. She has unique features for 80 meter yacht. The new approach starts with a deliberate evaluation of a ship's internal volume. As a result, Zen concentrates all the owner's spaces at only two decks. All of the yacht's furnishings are custom designed by Sinot and produced by the best craftsmen. The balanced application of dark wood, soft chenille fabrics, 100% Dull silk carpets and bronzes with a variety of patinas, the use of tadelakt plaster on the ceiling and natural materials, such as split sandstone and teak, on the other ceiling areas and deck creates balance and unity between the different elements.