Few things in life are better than coming home from a long day and relaxing with a good movie. Doing so under the night sky on a yacht is probably one of them.
Complementing the remote locations, accessible only by boat, with the power of cinema really creates a unique combination.
1. Solemar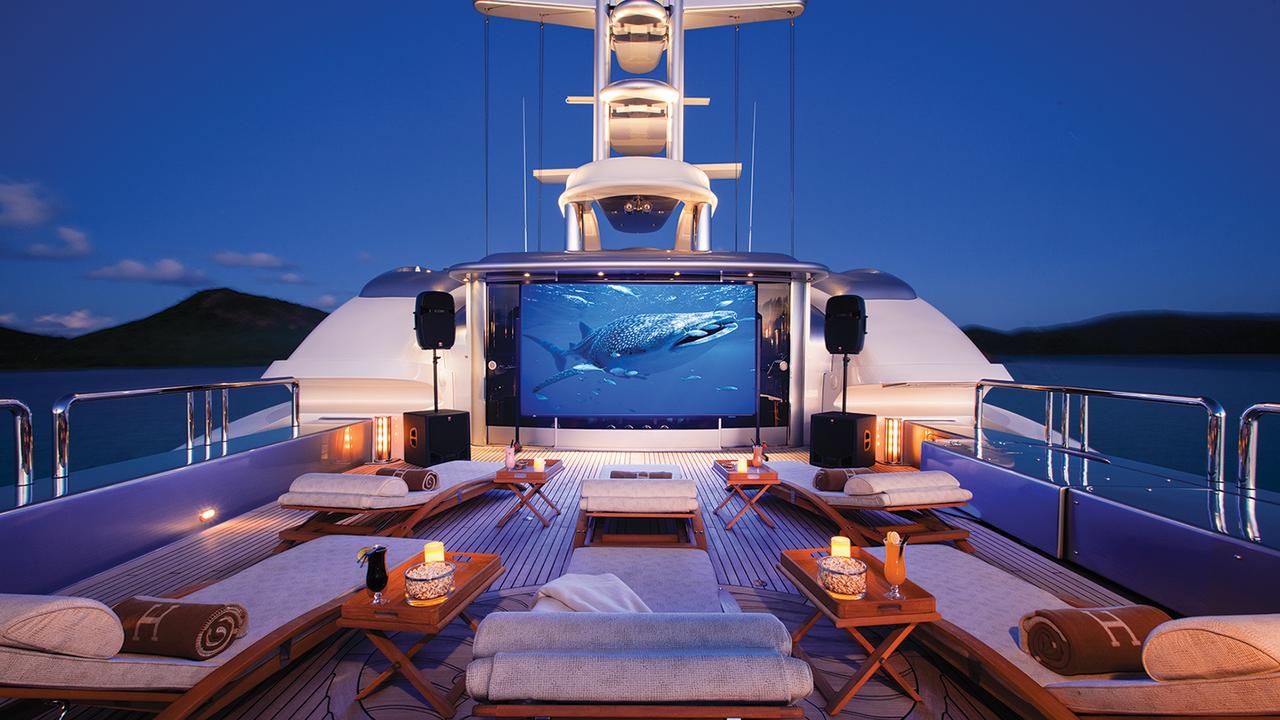 Solemar
has been recently
sold
by Russian oligarch Mikhail Prokhorov with the last recorded asking price set at €27,500,000. Measuring 61.5m, the vessel was built by Dutch shipyard
Amels
in 2003 and refitted in 2011. Michael Leach Design was responsible for her exterior and interior style. Solemar has been doused with luxury components and high end gadgetry including the 7 staterooms apart from the master suite, which can accommodate 12 guests and 16 crew members. One of the most interesting feature onboard is the three-metre custom outdoor cinema screen with HD projector. Enjoy a movie under the stars!
2. Maltese Falcon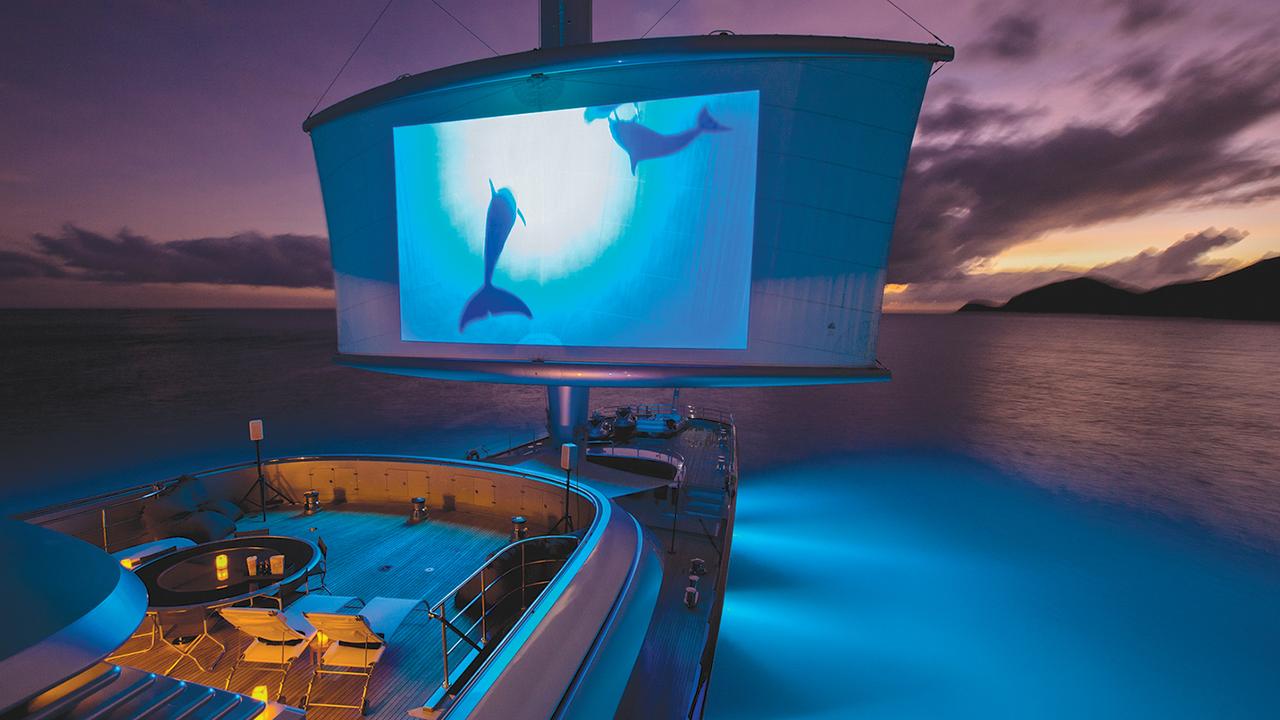 Launched in 2006 by
Perini Navi
and making use of their sail control system,
Maltese Falcon
has unrivalled performance combined with unmatched safety and maneuverability. The yacht is able to accommodate twelve guests in five lower deck staterooms and one upper deck passage cabin with a private cockpit. The interior of the Maltese Falcon is incomparable and peaks in the atrium where the three decks are united by a circular stairway surrounding the main mast which creates a delicate spiraling effect that is enhanced by the natural light which floods the area through transparent floors, starting at the top deck and cascading down to the decks below. Maltese Falcon features the largest outdoor movie screen on the water due to the films projected on her sails.
3. Turquoise
Steel-hulled with an aluminum superstructure, 55m
Turquoise
was built in 2011 by
Proteksan Turquoise
and last refitted in 2014. The refit plan followed an interior design concept that improved the use of rooms and deck space, creating a more glamorous, yet thoroughly accommodating atmosphere. For instance, an outdoor cinema was installed, with sheer curtains pulled across to create privacy. Sit on the comfy couch in front of the big screen and enjoy this amazing experience.
4. April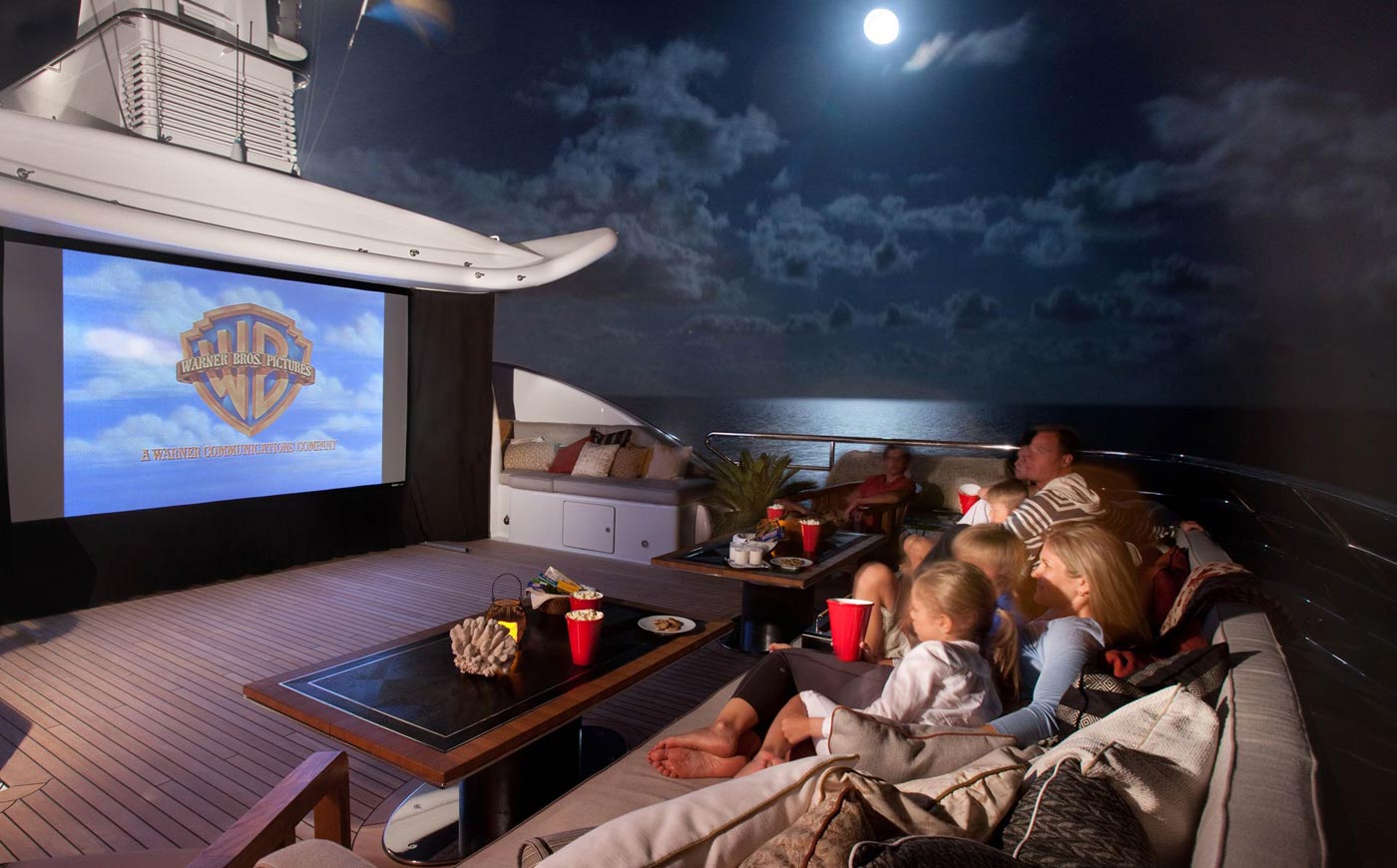 Built by
Amels
with a steel hull and an aluminum superstructure, her interior design was created by Laura Sessa in conjunction with the owner. 52m
April
offers generous spaces for outdoor entertainment on 3 deck levels. The alfresco areas have been emphasized on the request of the owner, featuring a larger than usual spa pool, which is protected by a windscreen. Amongst many personal touches to the yacht, there is also a massive projection screen on the sundeck, where guests may enjoy a wide range of movies from the Kaleidoscope server, while sipping a cocktail from the full wet bar.
5. Tiara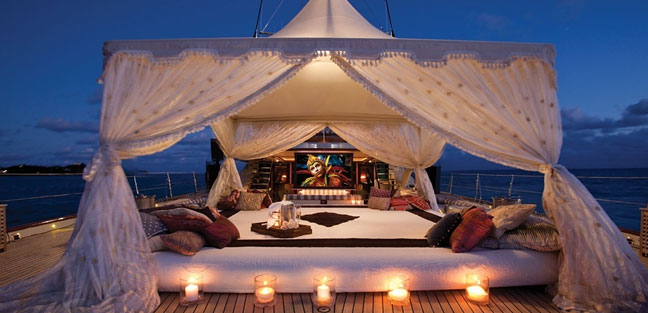 Tiara
is the 54.27m sailing yacht, custom built in 2004 by
Alloy Yachts
and last refitted in 2013. She is the largest luxury sailing yacht that Dubois has designed so far, and she is the largest yacht ever built in New Zealand. The interior utilizes clever and subtle use of leather, lacquer, and tasteful sculptures. Tiara's decks are large, well flowing and spacious, and there are several areas for guests to sunbathe, relax and enjoy the cruising experience. The flybridge area accommodates a large dining table and is fully protected from the sun by an awning. The aft deck (which is large enough for helicopter landing) leads down, with a palatial stairway, to a fold out beach area. Tiara also features Arabian night theme outdoor move theatre under an open-air Bedouin tent. Make yourself comfortable on the cushions and try not to fall asleep surrounded by the sounds of the ocean.
6. Polar Star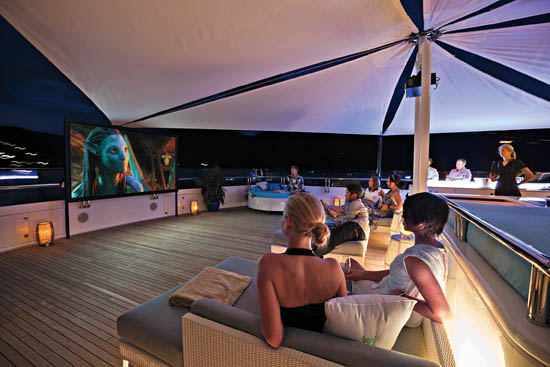 63.4m
Polar Star
was built by
Lurssen
in 2005 to a design by the highly acclaimed Espen Oeino, who incorporated the traditional style of an explorer vessel into the strong, sleek lines of a modern yacht. Her expansive interior features a wide selection of living areas and facilities for all requirements to provide total comfort when spending long periods of time at sea. An on board elevator offers access to all decks, allowing guests to enjoy a gym, sauna, spa and movie theatre with ease while relaxing in the classic, sophisticated design and Hamptons beach-house feel. Her outdoor spaces play host to multiple relaxation, sun lounging and al fresco dining areas in addition to a large Jacuzzi, bar, barbeque and open-air cinema, which is perfect for entertaining family and friends.
7. Starfire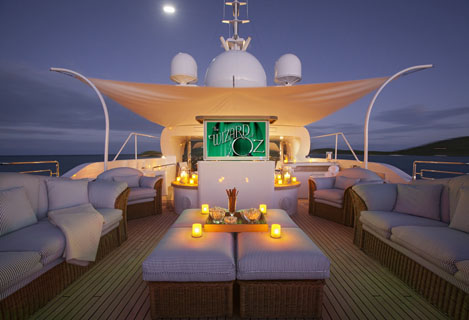 The 54.1m custom motor yacht
Starfire
was built in 1998 by
Benetti
and last refitted in 2012. The superyacht is an exceptional combination of the Italian shipyard build, Stefano Natucci design and Zuretti interiors. A hub for entertainment and relaxation aboard, the fully-equipped sundeck plays host to a central al fresco dining table, a large Jacuzzi, full bar and a luxurious self-contained sauna and massage room. This is all topped off with an ample seating and sunpad area that doubles as an outdoor cinema. Watching movies under the stars from Starfire's sumptuous sundeck cinema is the perfect way to relax with friends and family after an active day at sea. Don't forget to take your favorite snacks!
8. Lady Britt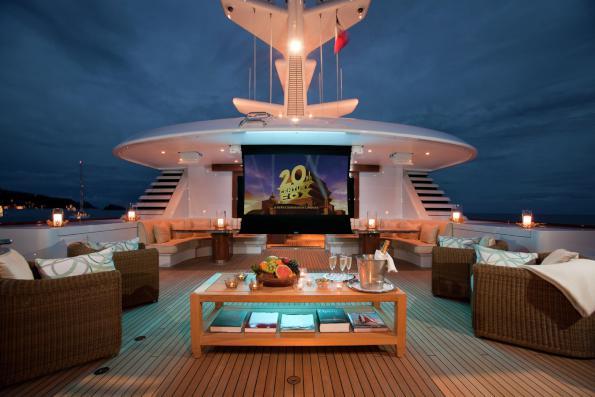 Lady Britt
is the 63m motor yacht, custom built in 2011 by
Feadship
. The vessel's interior has been styled by Redman Whiteley Dixon and her exterior designed by De Voogt. Lady Britt's sundeck demonstrates what a versatile yacht this truly is. The bar is inside a walk-through area that can be left open or closed off in inclement weather. The gym up here has personalized and programmable Technogym Visio equipment with an iPod dock and TV. Clever use of deck space means that sun loungers are stowed flat when not in use and are fully adjustable to catch the best of the sun. The area can also be used as a disco or party venue and even for live concerts. Lady Britt also features indoor and outdoor cinemas, where you and your guests can relax on comfortable cushions while watching your favorite movie.