Kurt Strand's inspiration for this astonishing explorer yacht was the incredible nature, as well as the rough weather conditions in Northern Norway, where he was born and raised. The purpose of Aurora Borealis is to enjoy the planet's beautiful nature from the luxury inside living space. When the weather allows, the yacht can transform into an open outdoor experience. It's designed with retractable balconies and large gates, to have the perfect combination of luxury and adventure. This gigantic superyacht is meant to explore the most outpost destinations from the Arctics to the Tropics.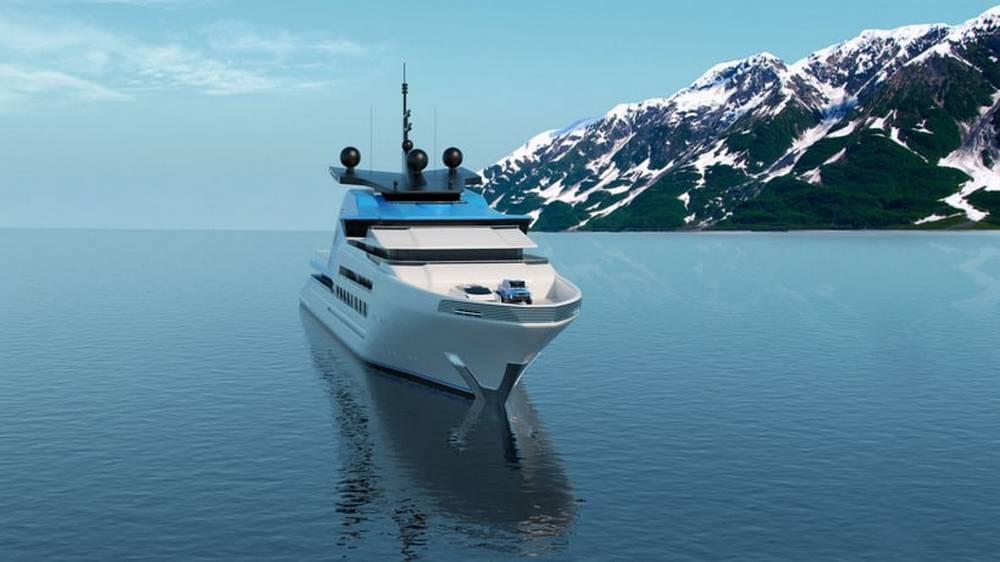 The yacht is 6-storeys high, has a length of 122 meter and a massive beam of 20 meter. A large helicopter pod is located on the aft deck. In front of the landing pod is a swimming pool with a retractable glass floor, to move the helicopter inside the hangar, large enough to park 2 helicopters. The yacht's aviation club with bars and launch area is part of the hangar. In case of bad weather the large gate can be closed but there is still access to the deck/pool area via 2 pantographic doors integrated in the gate.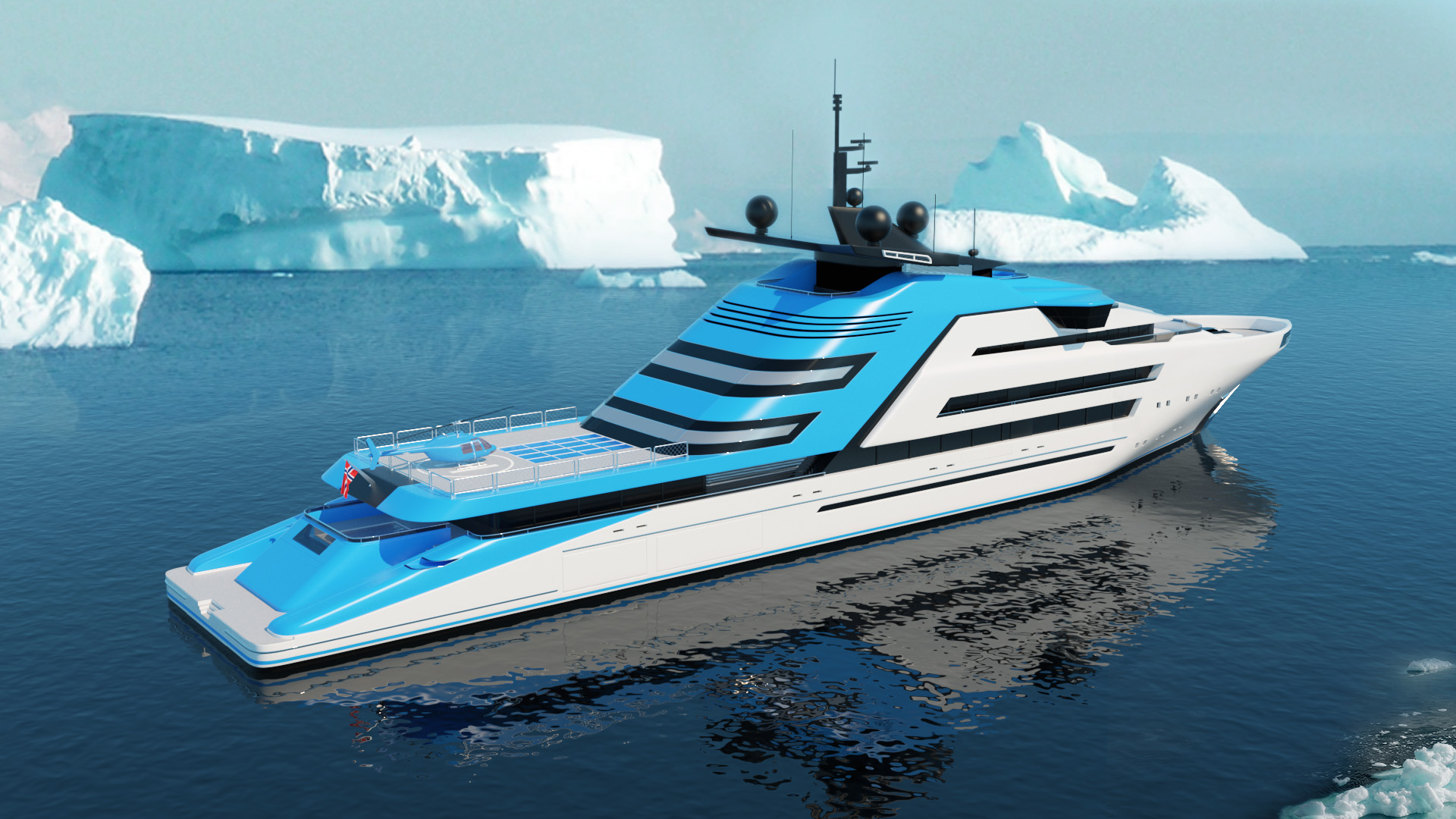 The yacht is equipped with cinema, beauty salon with spa, gym and even an alpine ski slope track system. The lower deck has 48 private cabins with a living area for the crew. The Yacht is designed with the next generation environment friendly propulsion system. 3 electric azimuth pods are powered by hydrogen fuel cell generators. It also has a Diesel powered backup gensets. The hydrogen technology is mostly used in the car industry but Kurt Strand want's to bring it to the next level in the yacht industry because he believes it is beneficial for the whole planet.
The 115-meter concept of global explorer Stormbreaker was introduced by Berlin-based designer Theodoros Fotiadis.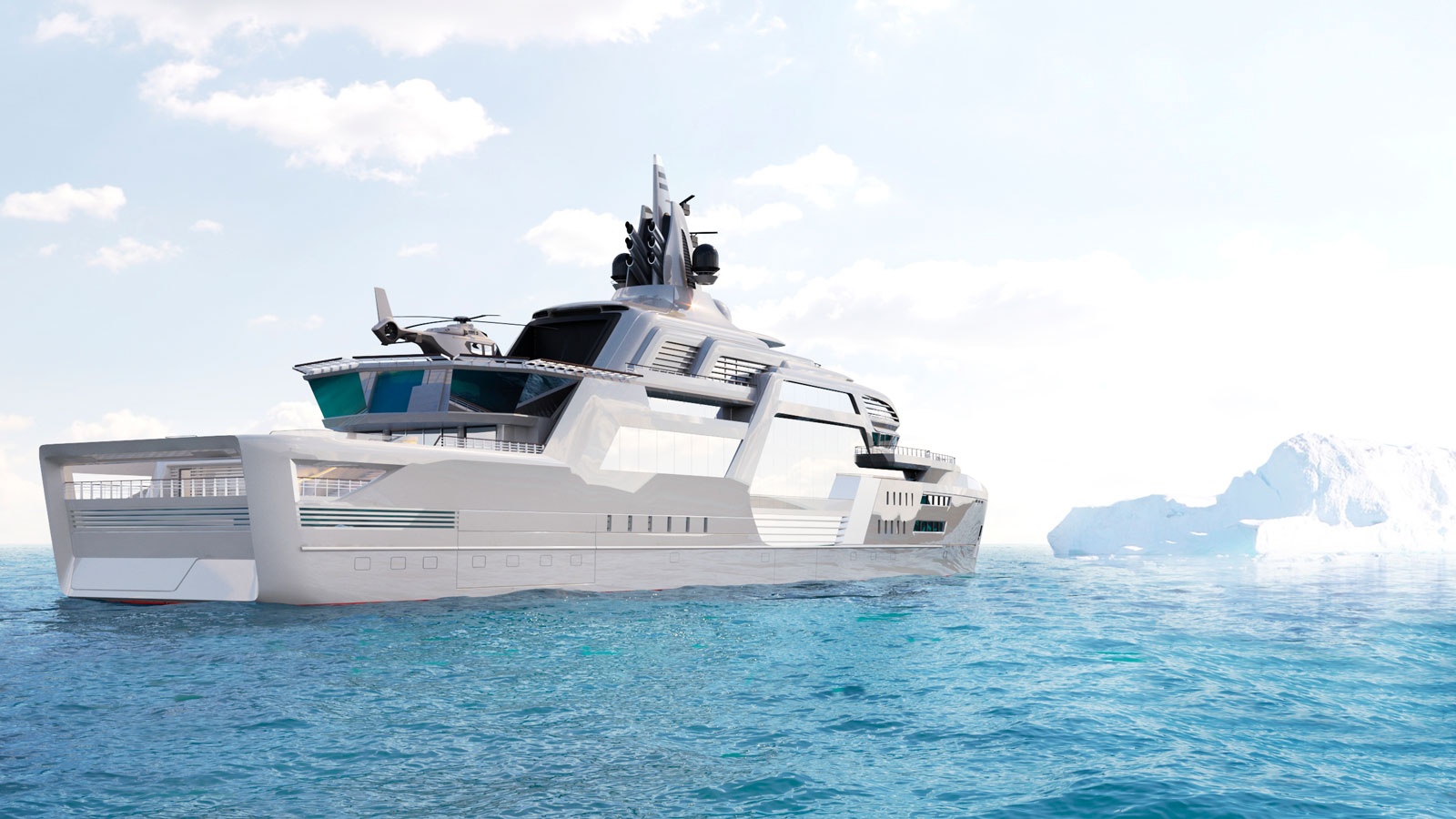 The yacht is designed to be able to travel to the most remote corners of the world, and is ready for any weather conditions.
Stormbreaker is ready for construction at 90 or 115 meters and will be sold with Jim Evans, founder of SuperYachtsMonaco.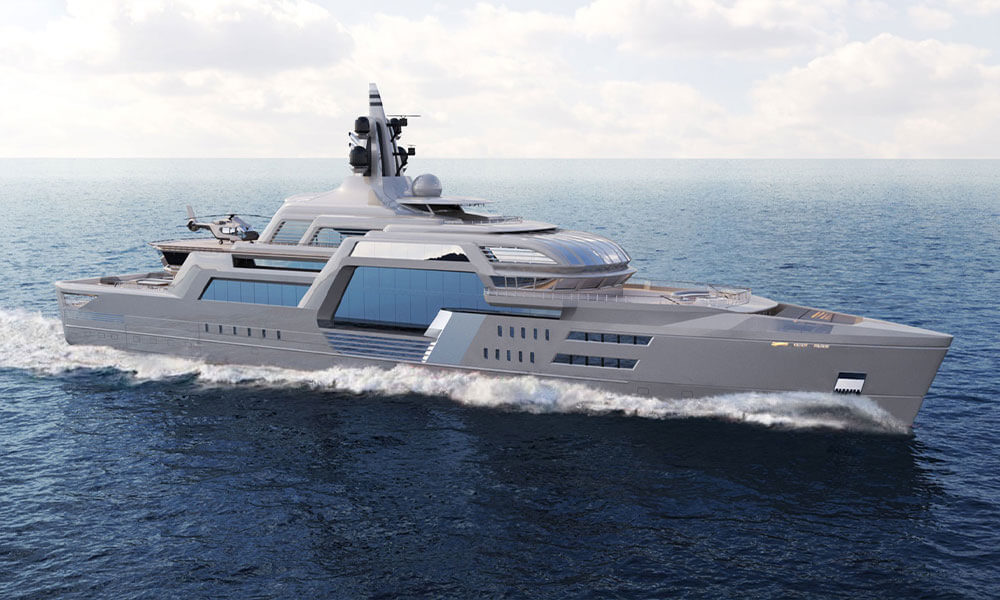 Yacht demonstrates sharp classic lines of the exterior, tough appearance, eye-catching design, bottomless toy chest, effective traction.
Explorer has an integrated and interactive audio-visual interface from Icon Connect with a high-tech communication system that can record and broadcast live frames from the environment. Another key feature, the complex glass atrium, that is located in the center of the ship.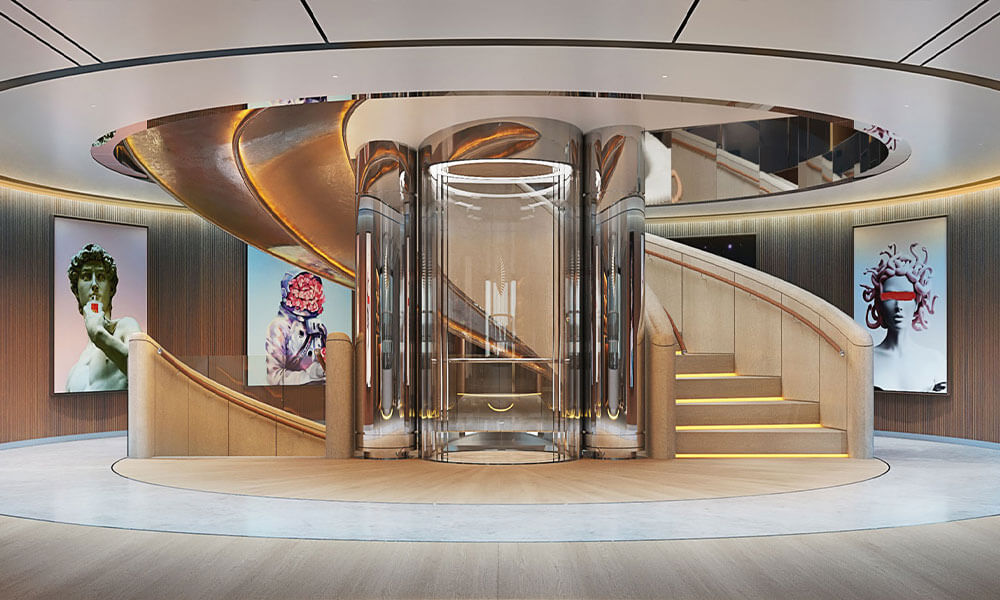 Also, Stormbreaker will have a large tender garage for small boats or a submarine, a beach club, a spa and gym, a cigar lounge, an observation deck, a swimming pool, a dining room, a private office, an art gallery, a library and a heli-hangar.
Dutch custom yacht builder
Oceanco
presented its new 105-metre superyacht concept at
Dubai International Boat Show 2019
. The vessel is christened Esquel after a meteorite composed of metal and crystals, and she is conceived to explore vast territories even across the North Pole and the South Pole.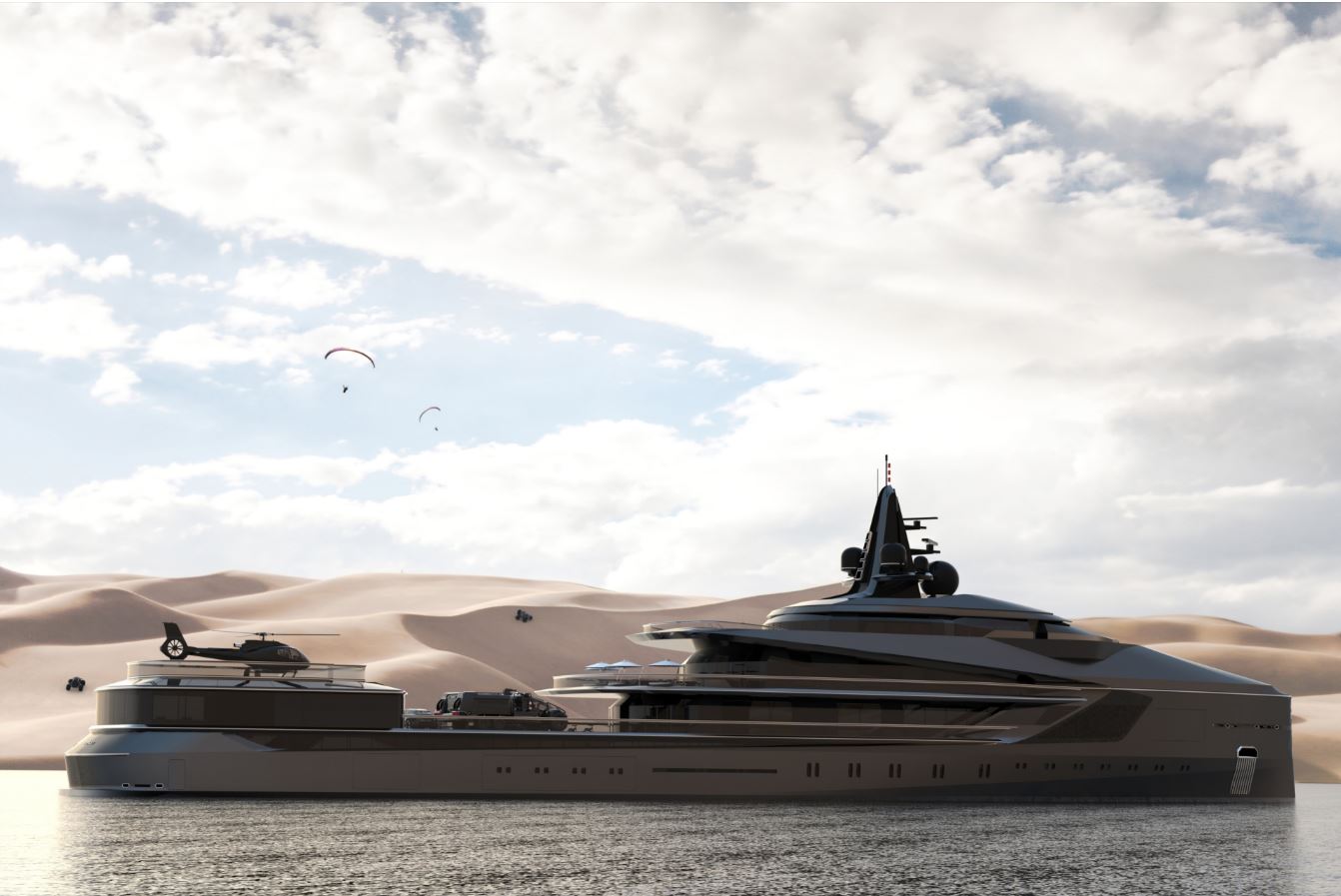 The vessel featured with a plumb bow is evidently designed for remote cruising destinations
. This ambitious project requires a very thorough elaboration and the builder has drawn Timur Bozca Design for exterior design, Lateral Naval Architects and Engineering for naval architecture, interior stylist Gina Brennan and Pelorus company specialising is yacht expeditions.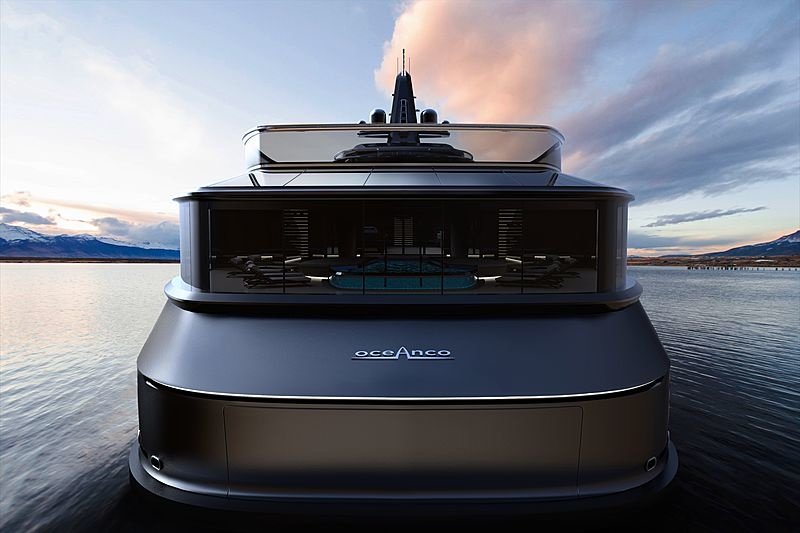 Thought of as an expedition vessel and a modern superyacht at the same time, Esquel carries features of both types. She is fitted with a 230 square-metre storage for inflatable boats, multiple tenders, diving equipment and watersports toys. Her 200-square-metre main deck features aft deck with glass superstructure, where a swimming pool and panoramic spa areas can also be found. Furthermore, the deck can house different kinds of locked containers, extra tenders or off-road vehicles.
As to her technical characteristics, this 105-metre vessel with a beam of 17,5 metres and a draft of 4,3 metres under full load features interior volume of 5,000 GT. Esquel is equipped with advanced diesel- electric engines, enabling her operate autonomously through the world's waters. The yacht with reinforced hull can boost a cruising range of 7,000 nautical miles at 13 knots and reaches her highest speed at 16,5 knots.
The 100m-explorer vessel with its Ulstein Group style 'X-BOW' is a robust looking yacht that will take her owner and guests anywhere in the world with confidence. Behind the masculine exterior that includes an Ice Class hull, is a high volume superyacht equipped with all the technology and hardware you would expect of a true explorer.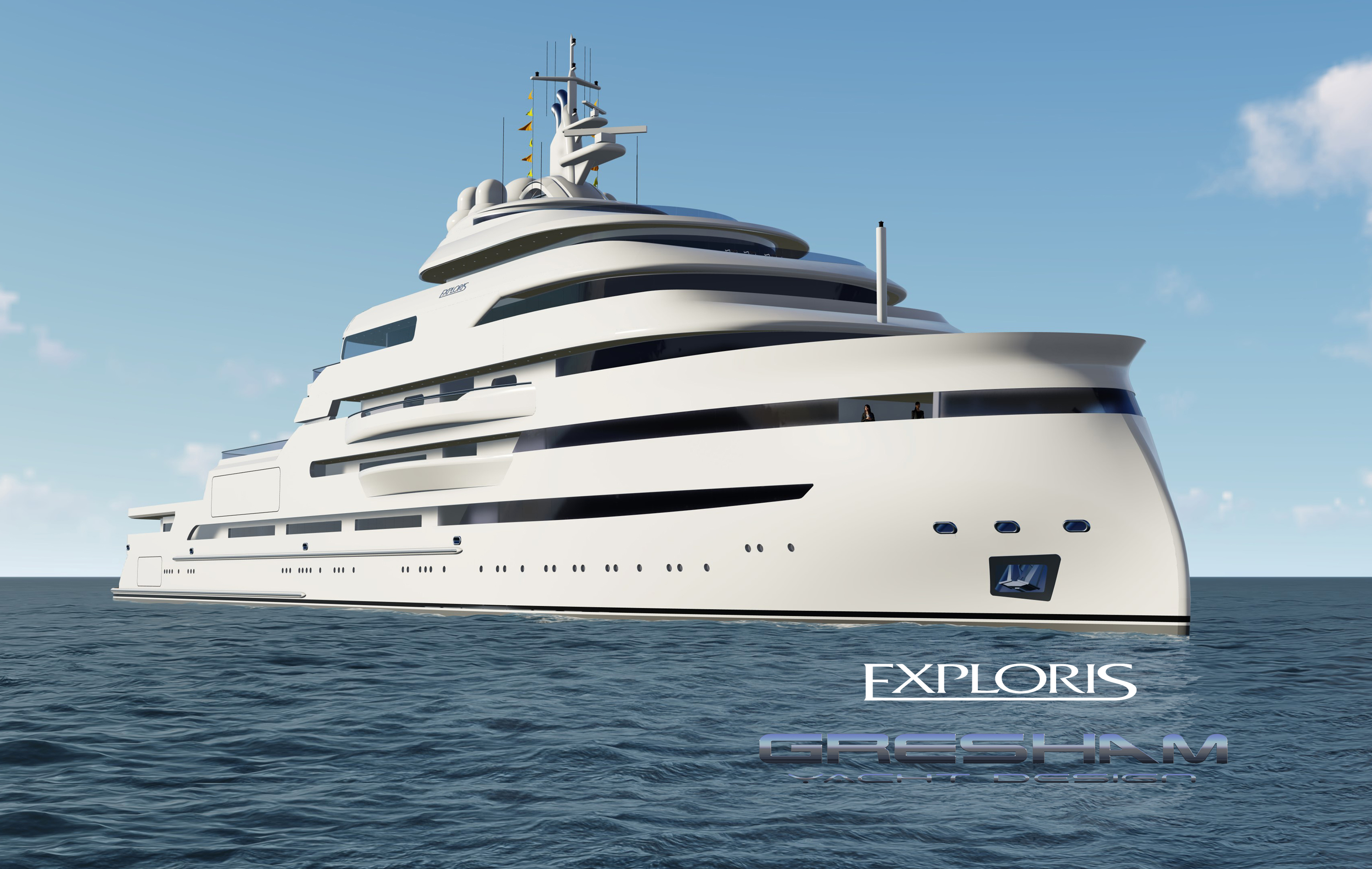 As a Lloyds PYC classified vessel, Exploris provides plenty of accommodation and her twin Azipod propulsion system will achieve a range of 7,000nm. When combined with a forward retractable thruster and twin bow thrusters, Exploris has superior manoeuvrability and full dynamic positioning capabilities.
The Italian yard, specializing in high caliber, "eco-friendly" superyachts, teamed up with the Milan-based design studio, to deliver a 67-meter steel and aluminum build with a beam of 11.6 meters named Explorer.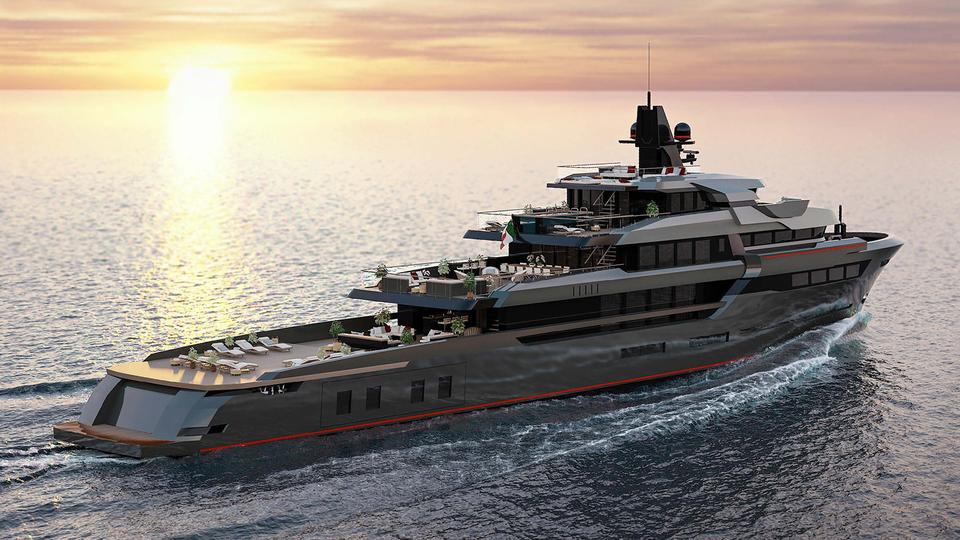 With her chunky hull and classic bow, the project resembles a workboat or a research vessel both visually and from the technical standpoint.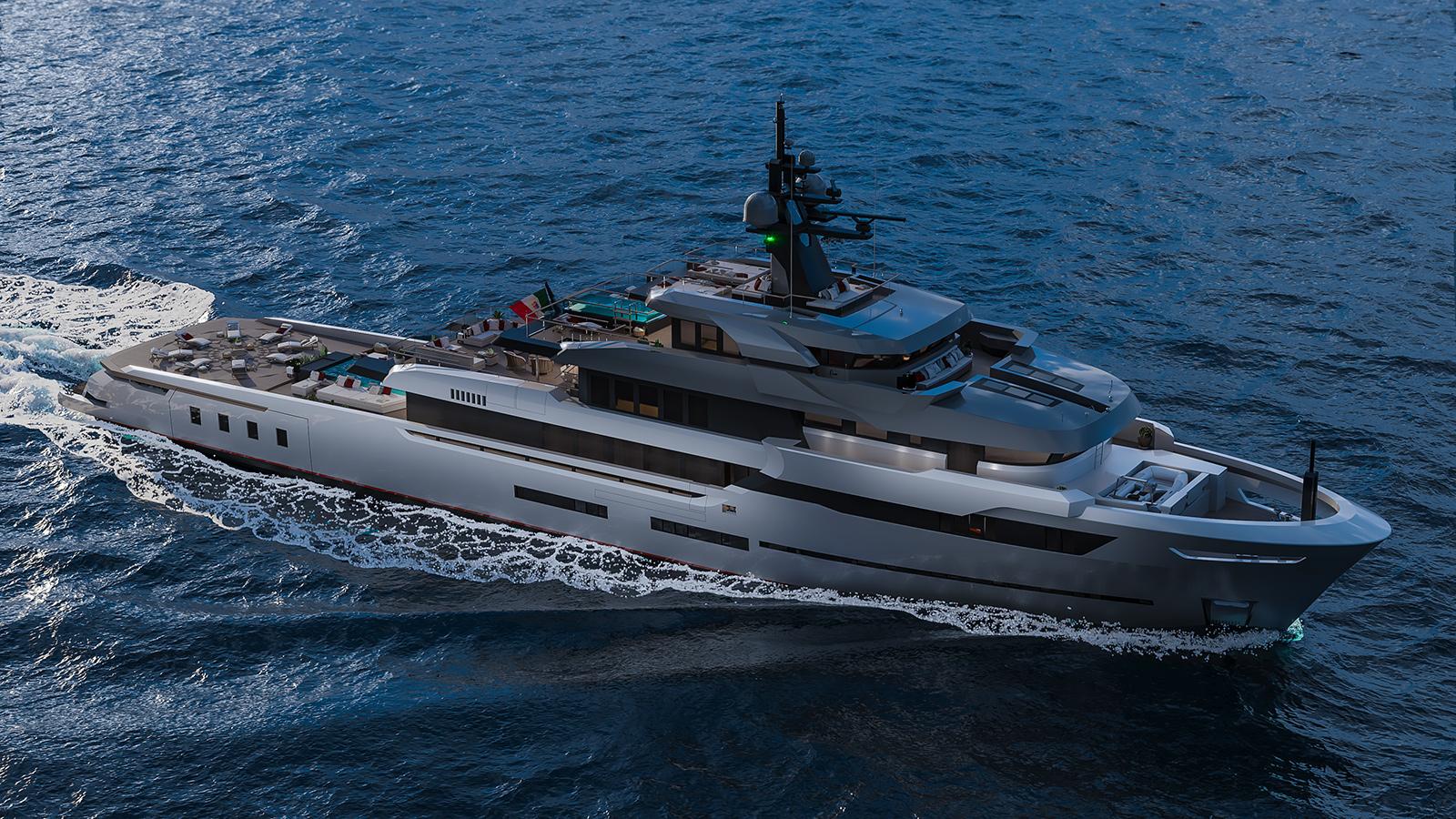 The yacht features a far forward construction, leaving room for gear in the aft part of the boat. For safety purposes, deck hardware goes beneath the deck surface, occupied by a vast beach club with sunbeds and sofas. However, if necessary, this whole area can be turned into a provisional helicopter pad. The beach club has a foldable full-beam swimming platform attached to it, which allows doing without a conventional staircase.
The boat boasts an elevator to provide convenient access to her four decks, an infinity pool, Jacuzzi, gym and two wing stations, or foldout balconies, overlooking the water.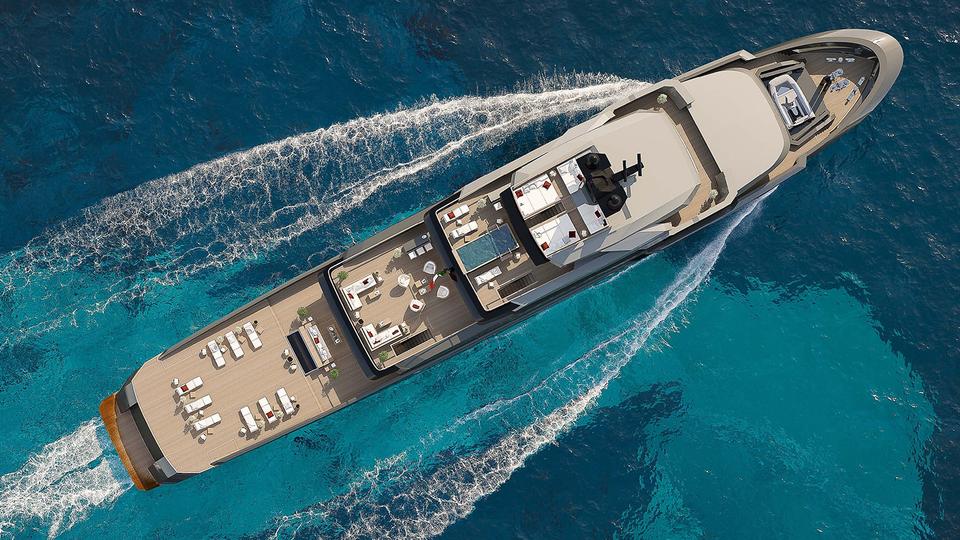 The project offers a choice between a six-cabin or a seven-cabin interior layout by Hot Lab designer Enrico Lumini. Both of them will provide accommodation for 15 crewmembers and the captain. The master suite on the upper deck includes an owner's cabin, two bathrooms, and a private study. All living areas are flooded with natural light coming through panoramic windows.
Complying with ABS standards, the 67m Explorer will have Caterpillar power and a station-keeping system. She should also see a range of 5,000 nautical miles at a speed of 12 knots.