Dutch custom yacht builder
Oceanco
has presented its new 105-metre superyacht concept at
Dubai International Boat Show 2019
. The new vessel is christened Esquel after a meteorite composed of metal and crystals, and she is conceived to explore vast territories even across the North Pole and the South Pole.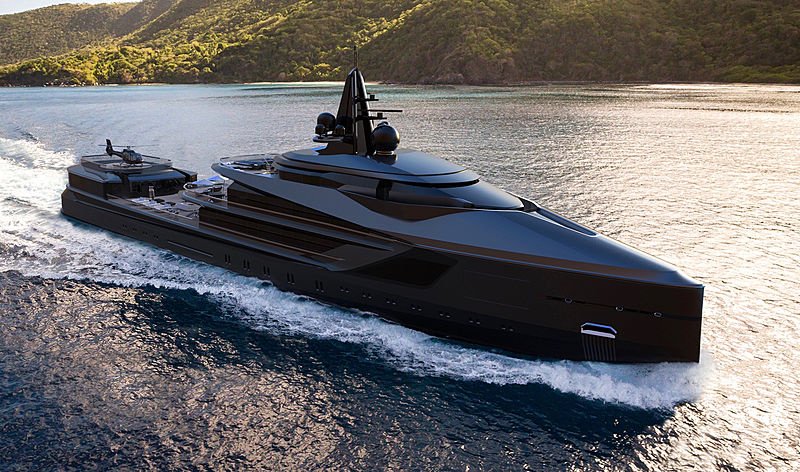 The vessel featured with a plumb bow is evidently designed for remote cruising destinations and is
one of the most extravagant concepts released in 2019
so far. This ambitious project requires a very thorough elaboration and the builder has drawn Timur Bozca Design for exterior design, Lateral Naval Architects and Engineering for naval architecture, interior stylist Gina Brennan and Pelorus company specialising is yacht expeditions.
Oceanco's
Commercial Director Dirk de Jong emphasises that, despite her exploratory nature, Esquel "…offers all the aesthetics, amenities, interior and exterior finishes and attention to engineering detail seen on-board all Oceancos."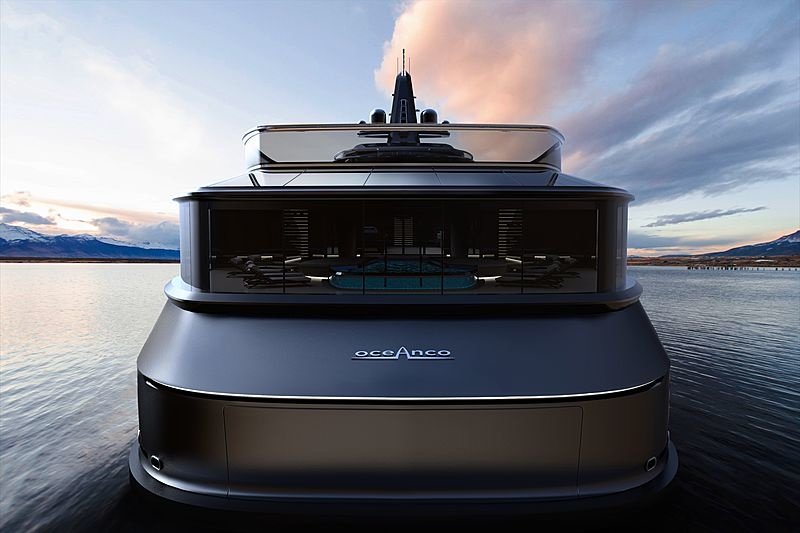 Thought of as an expedition vessel and a modern superyacht at the same time, Esquel carries features of both types. She is fitted with a 230 square-metre storage for inflatable boats, multiple tenders, diving equipment and watersports toys. Her 200-square-metre main deck features aft deck with glass superstructure, where a swimming pool and panoramic spa areas can also be found. Furthermore, the deck can house different kinds of locked containers, extra tenders or off-road vehicles.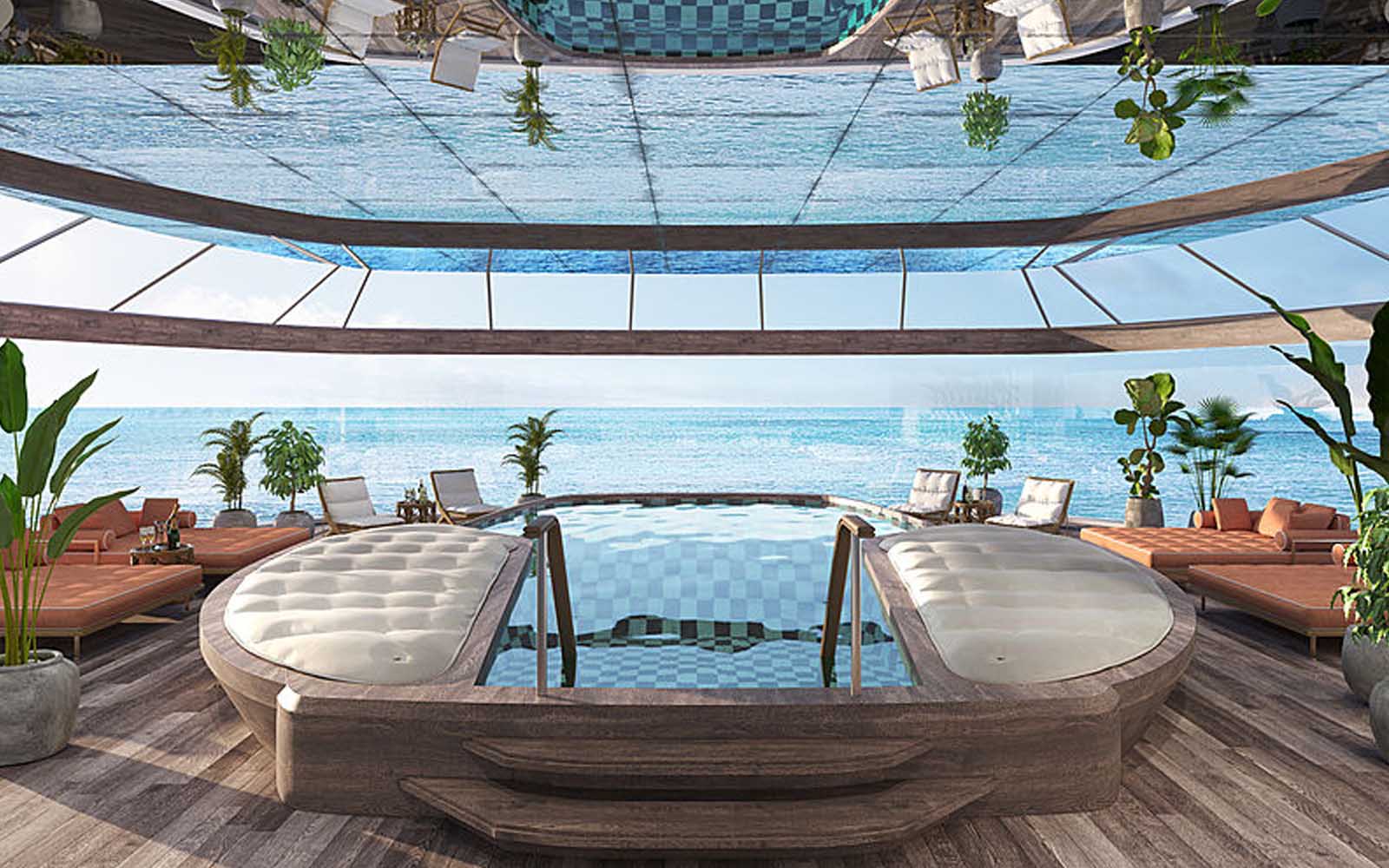 Esquel was also conceived as a vessel for people interested in marine life, ocean preservation and naval research with a big potential for exploration studies. There is even an option of creating reef farms aboard in order to contribute to preservation of natural sea flora. Moreover, Esquel can be adjusted to her owner's needs and can house extra multifunctional rooms, such as research workplaces, first response units or laboratories.
As to her technical characteristics, this 105-metre vessel with a beam of 17,5 metres and a draft of 4,3 metres under full load features interior volume of 5,000 GT. Esquel is equipped with advanced diesel- electric engines, enabling her operate autonomously through the world's waters. The yacht with reinforced hull can boost a cruising range of 7,000 nautical miles at 13 knots and reaches her highest speed at 16,5 knots.
Timur Bozca Design company, responsible for the yacht's exterior design concept, was earlier known for planning studios in London and Antalya. The designers aimed to blend human aspects, modern technologies and aesthetics components in Esquel's design that was reportedly inspired by space ships.
While the yacht's exterior appears to be more masculine and smart, the inner style demonstrates gentler lines and warm colours, supplemented by comfortable furnishing.

Gina Brennan, interior designer based in London, highlights that the central idea of the interior concept reflects explorative manner of life. The decoration represents eclectic mixture of artifacts that could be collected during studies and journeys.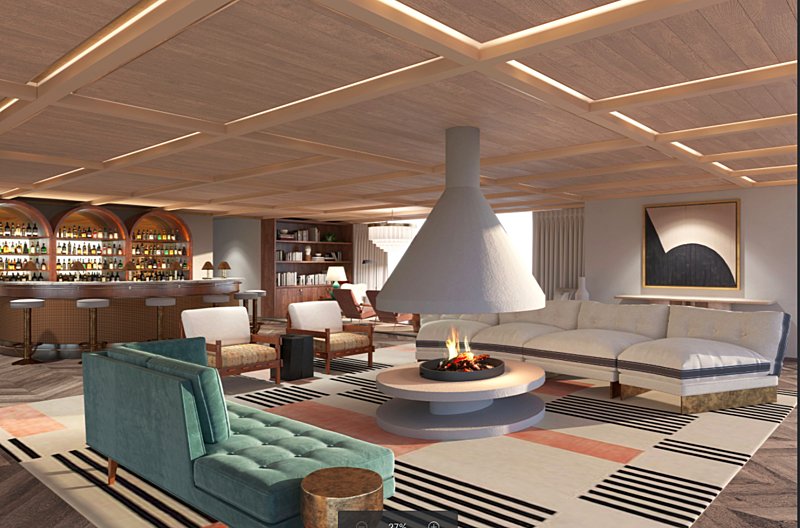 Following the advise of Pelorus company, the designers equipped Esquel with special exploring features. She can transport and deploy two submarines (
find out more about the best superyacht submarines here
), motorbikes, land vehicle and apparently can accommodate a helicopter.