A privileged yard, one of the leading builders of custom superyachts,
Lürssen
has constructed 5 out of 10 world's largest vessels. The yard also holds all the records for the largest yachts in terms of LOA with the 180.6-metre Azzam, and in terms of interior volume with the 156-metre Dilbar.
With a few attempts to overdo the giant manufacturer in recent years (for instance,
Project REV will exceed Azzam by 1.6 metres once launched
), its domination in the field doesn't seem to be hindered. Today, Yacht Harbour recalls the largest 10 mammoth vessels presented by the German yard so far.
LOA: 126.2m
Year: 2003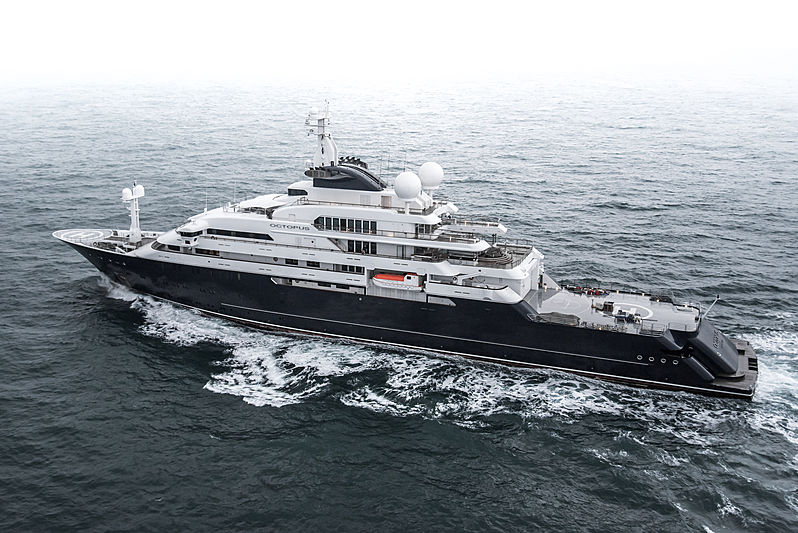 Until
the explorer superyacht REV launches in 2020
, Octopus holds the title of the largest expedition yacht in the world, not surpassed in 16 years from her launch. She had belonged to Microsoft cofounder Paul Allen, who had also owned NBA's Portland Trail Blazers and NFL's Seattle Seahawks teams till he passed away in late 2018. His fortune was estimated at $20,3 billion by Forbes.
Octopus is capable to accommodate 26 guests in total, with up to 57 crew members. Amenities found on-board include a swimming pool and a music studio as well as a courtyard-like set up on the third deck of Octopus occupied by guest space.
She has two helicopter pads and an internal dock that extends through the hull, holding two submarines and a 18-metre tender. The yacht has been involved in multiple exploration discoveries, including a Japanese battleship and the bell from HMS Hood, a World War II battlecruiser.
Despite her expedition nature, the yacht has been much favoured by the world's top-rate celebrities, with Mick Jagger recording an album in on-board studio in 2011 and Usher, U2 and Johnny Cash listed among other performers.
LOA: 135m
Year: 2018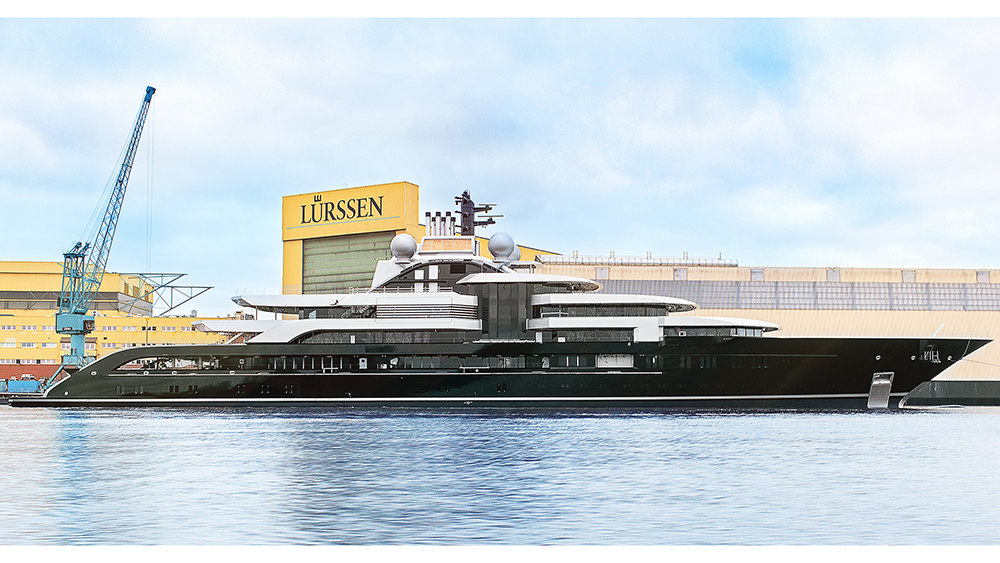 Built as project Thunder, motor yacht Crescent features exteriors by Espen Oeino and interiors by Zuretti Interior Design. She encompasses a total volume of 9,194 GT with a beam of 22 metres.
One of the most significant features of Crescent is her huge glared atrium with three-deck-high windows, allowing for plenty of natural light to penetrate the elegant interiors. In addition, the yacht has been constructed with two helicopter pads instead of one, including the retractable helicopter hangar on the upper deck.
Crescent represents a full-displacement steel hull and aluminium superstructure yacht, built to Lloyds Register classifications. She was fitted with zero speed stabilisers for increased comfort on board, while she is also air-conditioned.
The yacht offers accommodations for 18 guests across nine staterooms. Little is known about the interior, though if it lives up to Crescent's brash exterior, the complete yacht promises to be an entirely groundbreaking design.
LOA: 136.0m
Year: 2019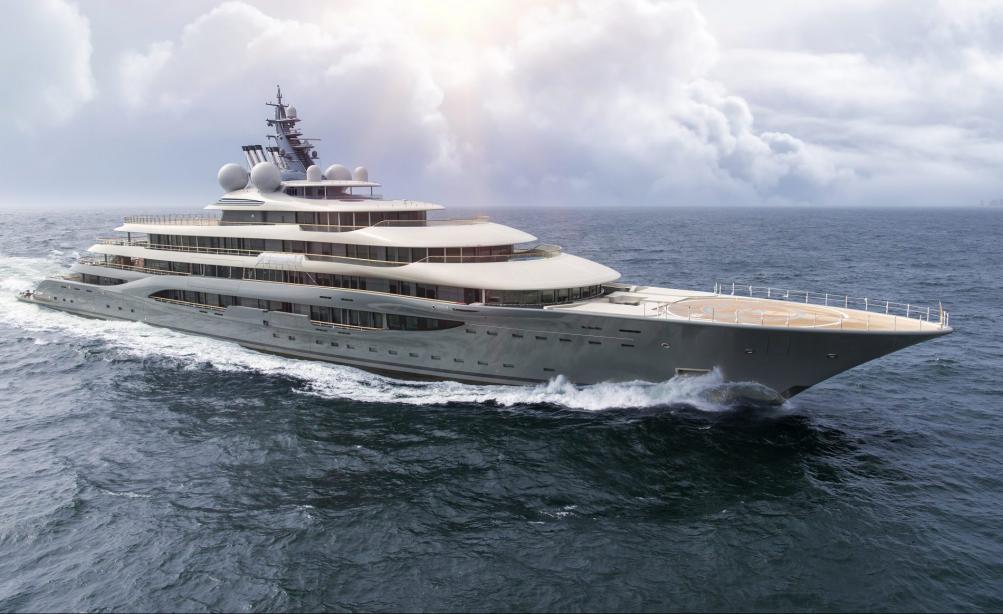 Stretching across a beam of 20.5-meters, the yacht with estimated 9,100 GT of interior volume currently ranks as the 14th largest yacht in the world. Her dove grey sleek hull lines were conceived by Espen Oeino, complemented with interiors by UK designer Mark Berryman. The latter reportedly focus on neutral tones and a calm appearance.
Recently made available for charter
, Flying Fox boasts two helipads, large sea terraces, wide swim platforms for watersports, a panoramic exterior saloon on the roof deck and a generous 12-metre swimming pool crossways the main deck, the first one for a superyacht of that size. She can accommodate up to 22 guests across 11 staterooms, along with a crew of 54.
Meanwhile, the vessel's main interior area, the large two-floor saloon, lies on the bridge deck, fitted with wood fireplace, dining table for 22 guests and a cinema. Flying Fox is also trademarked with a unique in its size 400 square-metre two-floor spa, offering guests a hammam, sauna, massage area, gym and cryo sauna. On the lower deck, the spa area is connected to the sea lounge which comes with a large Jacuzzi, and access to the sea through the dive centre and sea platforms.
Speedwise, the vessel features a cruising speed of 15 knots.
LOA: 138m
Year: 2004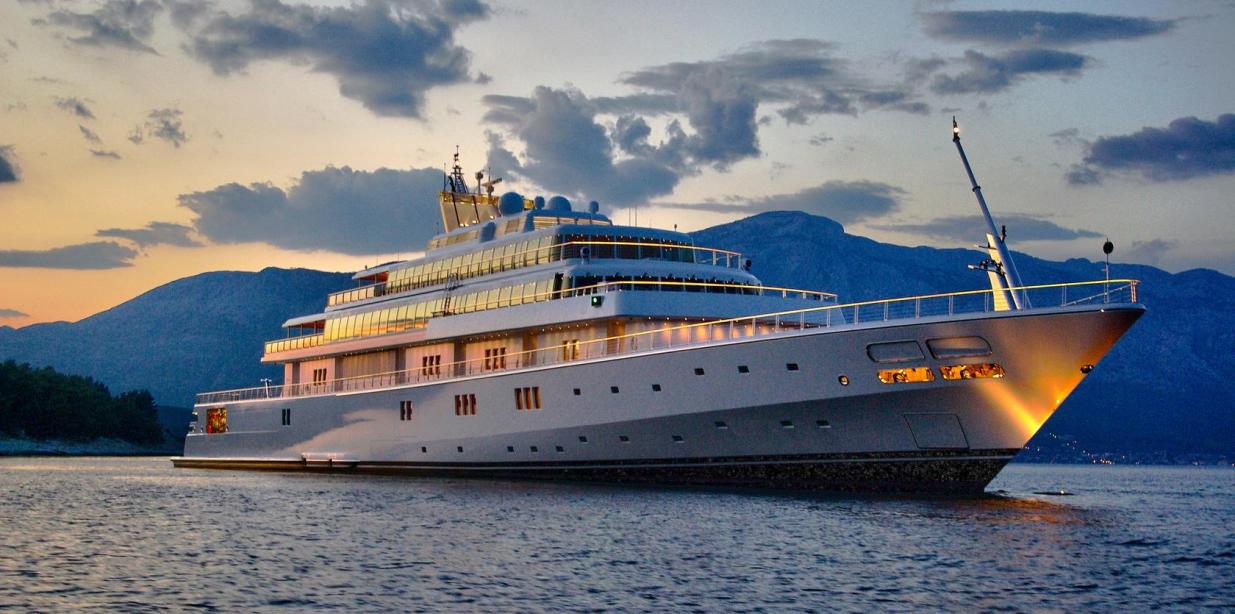 Rising Sun was built by Lürssen in 2004, with the design of Jon Bannenberg. David Geffen, a billionaire with a net worth of $6 billion, had co-owned Rising Sun along with Larry Ellison from 2004, before he bought it in 2010. Being one of the largest yachts in the world, it costed $200,000,000 to build Rising Sun, according to some reports.
With exterior design by Jon Bannenberg, Rising Sun is defined by banks of windows across the superstructure. The yacht takes advatage of 8,000 square metres of living space in 82 rooms. It can accommodate 18 guests in nine cabins, with the capacity to carry up to 46 crew. The interior by Laura Seccombe includes a gym, cinema, and wine cellar. One of the most destinctive hallmarks of the yacht, the rear cockpit deck, was designed as a basketball court.
LOA: 139.3m
Year: 1999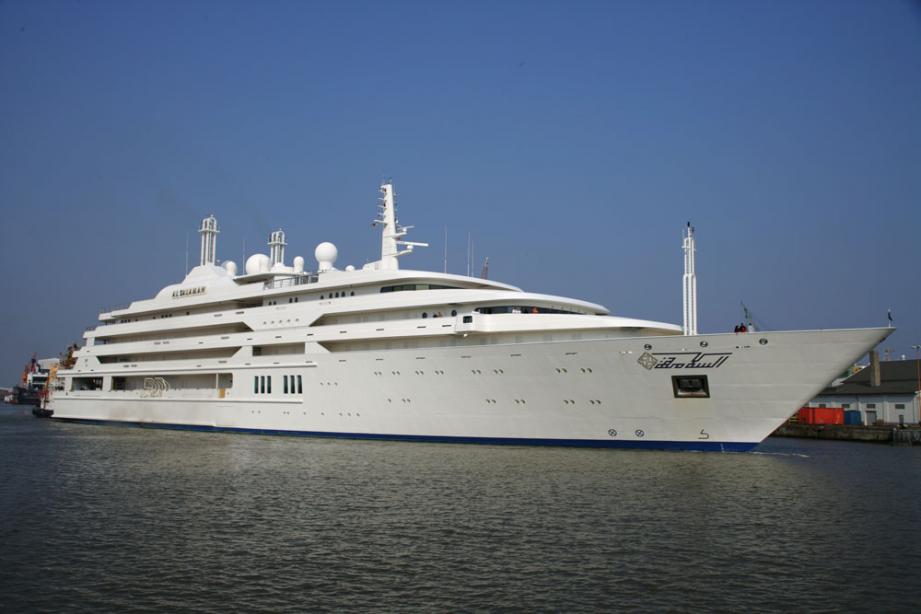 At the time of her launch in 1999, Al Salamah was not only the largest yacht by Lürssen, but also the third largest vessel in the world. Previously existing under the codename Mipos (Mission Possible), Al Salamah's owner was Prince Sultan bin Abdul Aziz of Saudi Arabia (Crown Prince). Since then, rumours have been circulating that the yacht had been offered for sale in 2012 at nearly $300,000,000, but that remained unconfirmed.
Al Salamah was designed by Terence Disdale. The large imposing exterior is primarily protected space, with an upper deck exposed to the elements. Al Salamah has staterooms for 40 guests, including two owner suites, 11 VIP staterooms, and eight twin cabins. The yacht can carry up to 94 crew and has a top speed of 21 knots. Al Salamah underwent a refit by Lürssen in 2007.
LOA: 142m
Year: 2020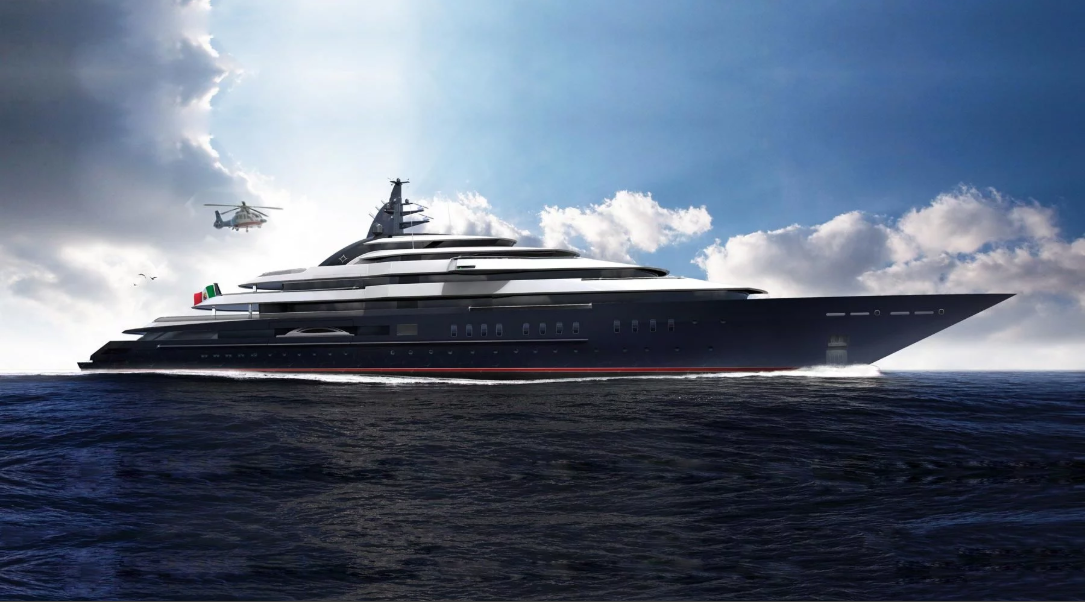 The 142-metre superyacht Redwood has been recently moved into final construction stage at Lürssen' Vegesack facility in Bremen, with her delivery scheduled to 2020.
This vessel has already become history as the largest yacht ever sold and built by a brokerage company, Moran Yacht & Ship. Designed by the team at Nuvolari & Lenard, Project Redwood is being built to a Moran Yacht & Ship specification, overseeing her construction.
The sale of Project Redwood was announced In September 2015, as a 139-metre project. She was later extended at 3 metres, boasting six decks, with sports and diving centre, a generous partially-covered swimming pool, two helipads and a whole bunch of large tenders (15 metres).
Venive-based design studio Nuvolari & Lenard created the yacht's interior design, which will be able to accommodate up to 36 guests in 20 staterooms. Redwood will also be able for long-range and efficient global explorations.
LOA: 147.3m
Year: 2012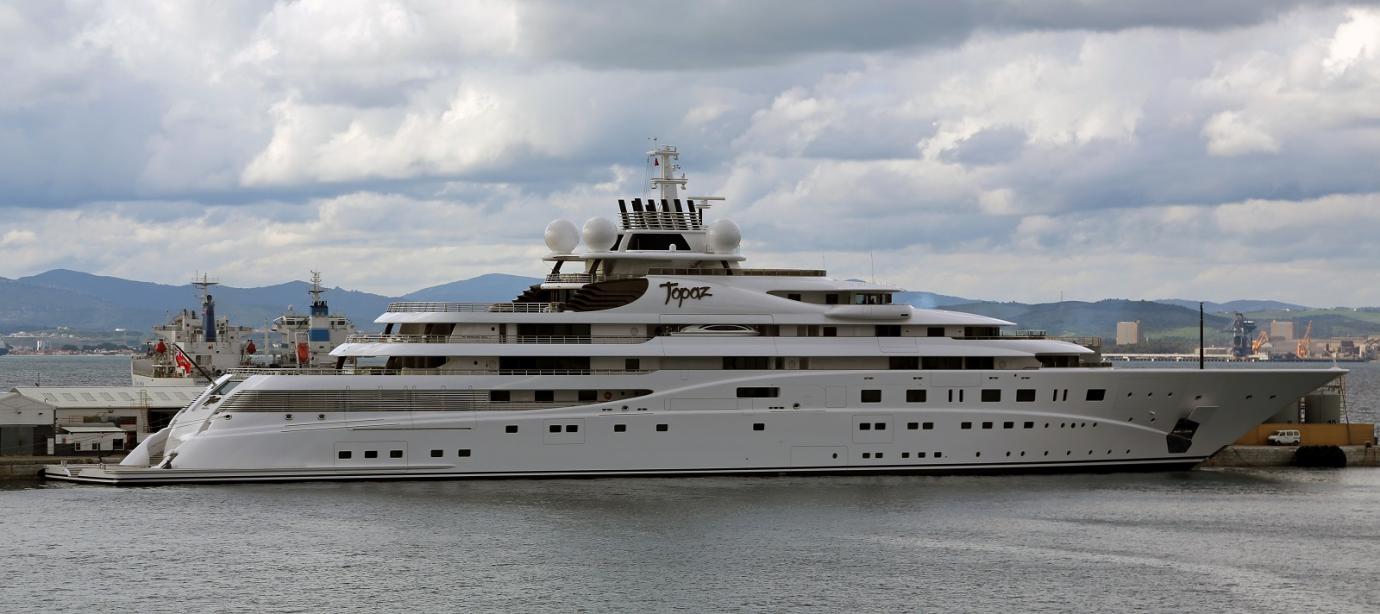 Built in 2012, A+ belongs on the list of the largest vessels owned by sports teams owners. According to media, she is owned by Sheikh Mansour Bin Zayed Al Nahyan, with an estimated personal net worth of $4.9 billion. Sheikh Mansour also owns ADUG investment company that takes the ownership of Manchester City F.C.
With her gross tonnage of 12,532 GT, A+ is also one of the world's largest superyachts in terms of volume. Topaz features sleek exteriors by Tim Heywood and the interiors conceived by UK-based studio Terence Disdale Design.
The eight-deck vessel has been built to steel displacement hull and aluminium superstructure. All the decks are connected with a lift, giving access provides access to two helipads and swimming platforms. A+ is also highlighted with a fully equipped gym, two Jacuzzi, movie theatre and a conference room. Heк large tender garage offers space for a wide choice of water toys, including jet skis, inflatable boats, catamaran and a mini-submarine.
The yacht can accommodate up to 62 guests within 26 cabins on-board, along with 79 crew members. Powered by specially designed Pielstick diesel engines of 7,990 HP each, A+ achieves her maximum speed at 25.5 knots and cruises at 22.9 knots. At anchor, particularly in rough water, her stabilisers ensure passengers' comfort on-board.
LOA: 155m
Year: 2008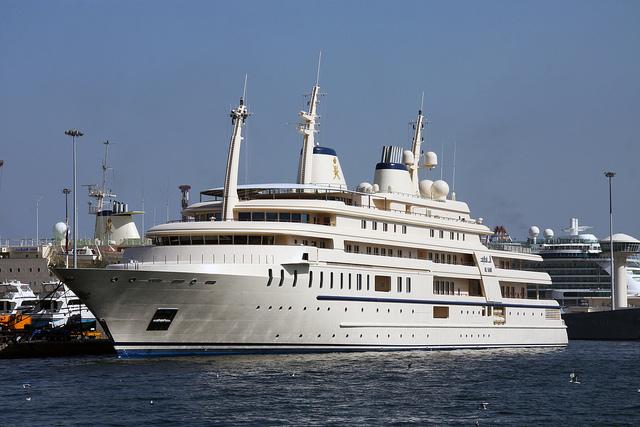 Originally referred to as Project Sunflower, steel and aluminium yacht Al Saïd gained her official name following her launch in 2008. Her exterior design by Espen Oeino resembles a classic cruise liner in many ways, complete with the twin exhaust stacks in the centre of the superstructure.
Owned by the Sultan Qaboos Al Said of Oman, fhe yacht flies the Oman flag. She can house a crew of 150 and, according to some sources, 65 guests. Lürssen reports, Al Saïd has a top speed of 22 knots. The London-based Redman Whiteley Dixon studio designed her interiors, which include a concert hall that can hold a 50-person orchestra.
Within her interior volume of 15,850 tones, Al Said features a cinema room for 50 people, as well as plenty of entertaining space dispatched amongst 6 decks, and a helipad.
LOA: 156m
Year: 2016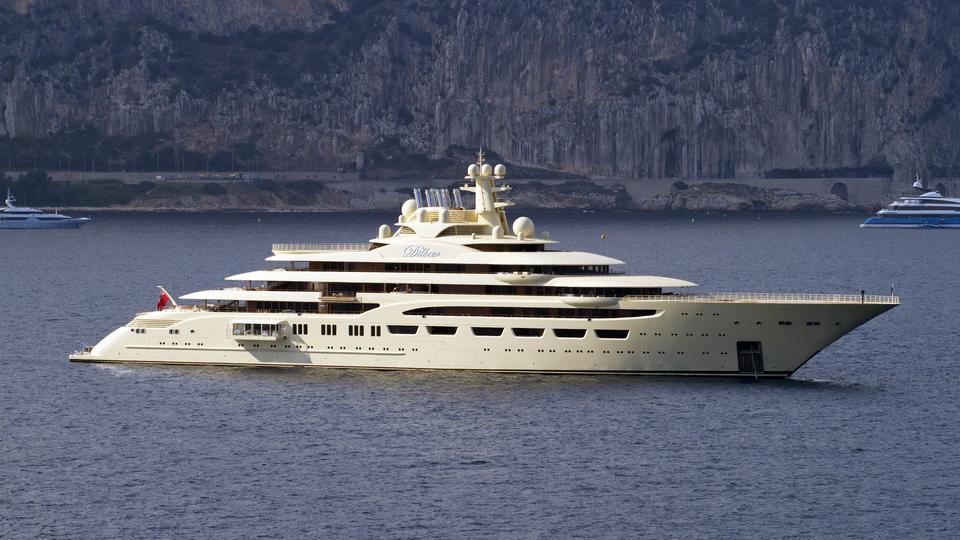 Known during her highly secretive build as Project Omar, the 156-meter yacht was launched at Lürssen facility in 2015. She became Russian billionaire Alisher Usmanov's third yacht and the third yacht to bear the same name Dilbar, after the businessman's mother.
With her gross tonnage of 15,917 tons, she has officially become the world's largest yacht by volume. Dilbar boasts exterior design by Espen Oeino and interior styling by Andrew Winch. Dilbar features a combined 3,800 square meters of living space, being able to host up to 40 guests and a crew of 80.
Following her delivery in June 2016, Lürssen also claimed two other records for Dilbar — her 180 cubic metre on-board swimming pool is believed to be the largest on any yacht, while the 30,000 kw diesel electric power plant is thought to be the most powerful ever fitted to a superyacht, giving her a cruising speed of 22.5 knots.
Lürssen added that the world's largest motor yacht was one of the most complex and challenging yachts ever built, because of its dimensions and technology. Despite Dilbar's volume, the designers did a masterful job making the yacht look relatively svelte, with no obvious bulges along the hull.
LOA: 180.6m
Year: 2013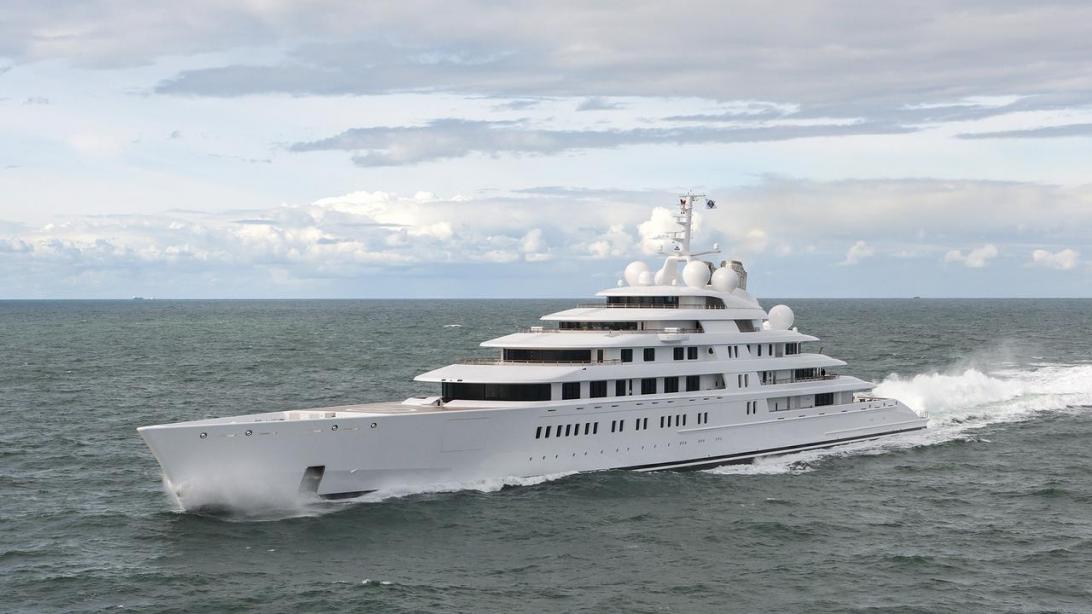 Designed by Nauta and launched in 2013, Azzam is the flagship of the German builder's fleet. Powered by twin diesel engines and two gas turbines, Azzam blasts off at 30 knots, which is extremely impressive for a yacht of her size. She is able to operate at high speed even in shallow waters.
Very little information is known on the vessel after her 2013 launch, because of the penchant for privacy of her owner, who is according to media sources Sheikh Khalifa bin Zayed al-Nayan, President of the United Arab Emirates and Emir of Abu Dhabi.
Nauta Design's exterior features a long, sleek forward area, with well-proportioned tiers moving up to the skydeck. Lürssen describes the interior by Christophe Leoni as 'sophisticated, with luxurious decor inspired by the Empire style of the early 19th century'.