In the Group's fiftieth anniversary year, Benetti, the icon of style and elegance in the history of luxury yachting, wins another challenge and launches three Giga yachts in 100 days.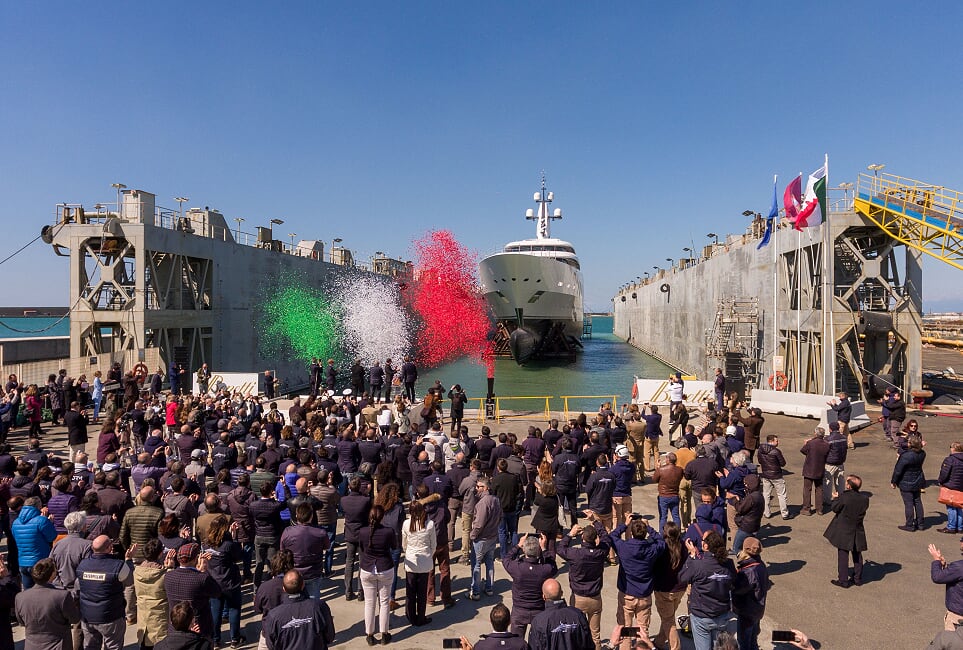 Yesterday Benetti completed the third and final chapter of the first part of its Giga Season with the launch of 108-meter FB275 during a private ceremony at the Livorno based shipyard. The ceremony hosted by President and Founder of the
Azimut-Benetti Group
Paolo Vitelli and Benetti Business Line chief executive Franco Fusignani.
On the launch, Mr. Paolo Vitelli declared:
In the creation of these three sister yachts, we have proven that our huge investments and constant endeavor to progress has, and will, continue to pay off. I am delighted to be able to celebrate with the owners, colleagues and world's press in this historic moment, and to give thanks to all those who contributed in the gargantuan effort to build these glorious yachts.
After the two launches: on December 18,
Project FB 277
and
107-meters hull Zoza
on
February 5
; the 108-meter FB275 now hits the water and brings to an end a very busy and productive season, during which Benetti has focused on building 3 yachts over 100 meters in parallel and launching them in the space of just 100 days. Italian yacht building has never before seen the likes of such a period of immense productivity and the accomplishments of Benetti mark a new era for the shipyard in which it will compete with the builders of the very largest private yachts in the world.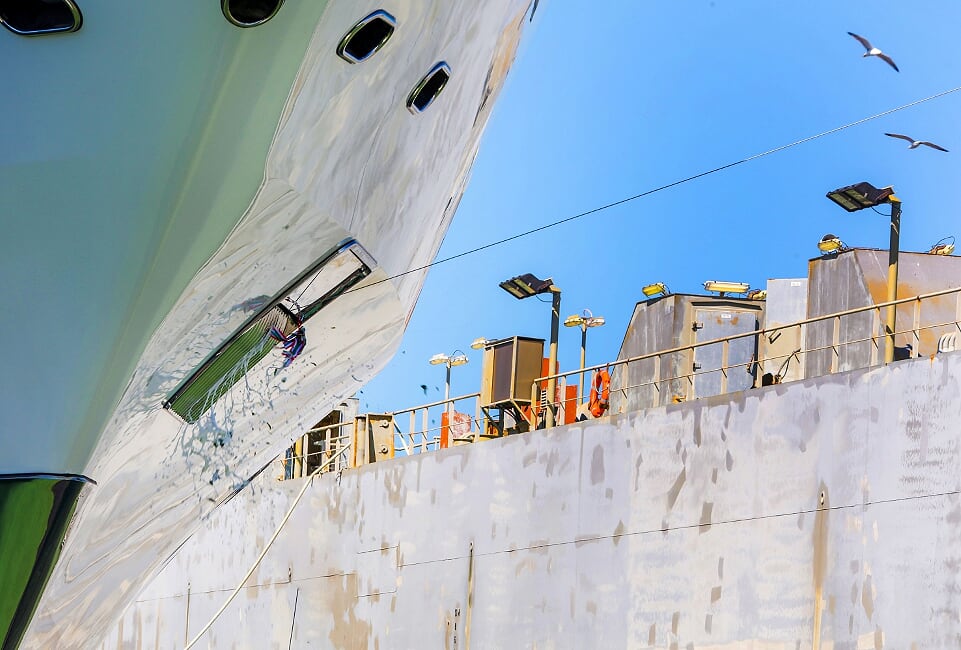 FB275's 108-meter steel hull with aluminum superstructure, with a displacement of 3,600 tonnes has a beam of 14.5 meters with a draft of 4.4 meters and a height of 30.4 meters. Designed for long distances cruises without needing to refuel, as FB275 has a fuel tank with a capacity for 345,000 liters, giving a range of 6,500 nautical miles at 14 knots. The yacht's main power comes from two MTU diesel engines rated at 2880 kW each with a top speed of around 18.5 knots. Impressive environmental level is in part down to an electric Schottel stern SPJ pump jet with 500 kW power which gives fantastic maneuverability plus enabling the yacht to travel for short distances under only electric propulsion.
The yacht's exterior lines have designed by British company RWD, with Benetti's in-house team creating the interior. The key features of the five-deck superyacht include a cinema, gym, sauna, large heated swimming pool and an observation deck with seating area, different varieties of al fresco dining. The bridge deck houses sun pads and a 1.5-meter firepit and the owner's deck has its own private dining and seating areas in addition to those found on the main deck. On the foredeck two tenders of 14 meters, each can be stowed. Another 10-meter tender could be located in the yacht's garage on the lower deck, with up to 8 jet skis.
@Photos by Benetti Press Office