At boot Düsseldorf Ferretti Yachts presented the first model in the new range Infynito, which was announced in August 2022. The new range, which contains the brand's initials (FY) in its name, introduces a style that gives shape to owners' new needs: seamless contact with the surrounding environment, more sustainable materials and navigation, custom detailing, and a direct link with the sea and the sky.

Ferretti Yachts Infynito is the result of collaboration between the Strategic Product Committee led by Mr. Piero Ferrari and the Ferretti Group Engineering Department. The exterior design and hulls are by Filippo Salvetti, while the interiors are the work of Ideaeitalia.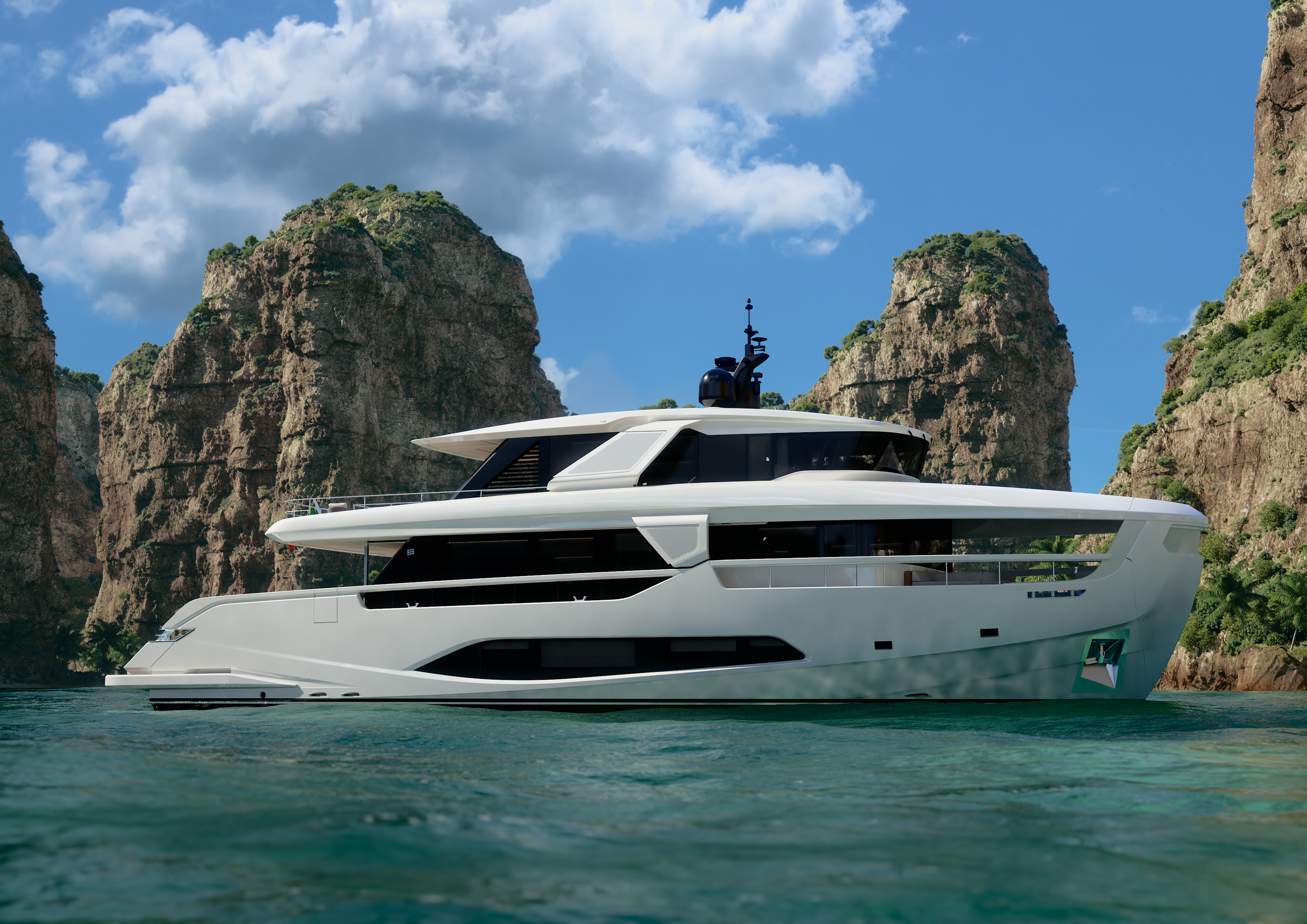 The first model in the new range to debut in 2023 is Ferretti Yachts Infynito 90. With an overall length of 26.97 meters, but Lh under 24 meters and therefore classified as a recreational craft with CE certification, and a maximum beam of 7.33 meters, the yacht is designed to give cruising enthusiasts an incomparable new experience. The yacht has over 100 sq. m of open-air living spaces (almost 50% more than the segment average) and over 140 sq. m of interiors (over 25% more than the average), including a main deck and a skylounge featuring particularly impressive volumes. Owners can choose between different layouts for each deck, ranging from open-plan spaces to more formal settings reserved for day and night time privacy, offering an experience that can be fully customized according to personal needs.
"The Ferretti Yachts Infynito range addresses a segment that needed new concepts. The chief aim of the interior design process was to heighten the perception of space by creating virtuous layouts in which harmony reigns between the sophisticated aesthetic impact and the management of spaces that are always functional and efficient. Ferretti Yachts Infynito is designed for owners who are increasingly seeing their yacht as a new place to live in, as an extension of their homes," comments Ideaeitalia's Davide Bernardini and Alessio Battistini.
Ferretti Yachts Infynito 90 can be fitted with a pair of MAN V12 engines rated up to 1,800 mHP (in the optional version), driving the yacht to a top speed of 22 knots and a cruising speed of 17 knots (preliminary data).
The new range will also introduce F.S.E.A. technology (Ferretti Sustainable Enhanced Architecture) to the industry, a package of environmentally friendly cruising solutions. They include a solar roof that generates electricity and charges a lithium battery pack to power onboard services.
The
Ferretti Group
, led by Chief Executive Officer Alberto Galassi, is now one of the world's leaders in the construction and sale of luxury yachts and pleasure vessels, with a unique portfolio of brands: Ferretti Yachts,
Riva
, Pershing, Itama, Mochi Craft,
CRN
,
Custom Line
and
Wally
.
Credits: Ferretti Group