In contrast to brand design continuity and traditional features, highly valued in luxury yachts development, sometimes designers strive to expand the boundaries of imagination and break established standards, coming up with extraordinary yacht concepts. Yacht Harbour recalls some of the most extravagant ones of the world has never seen in real.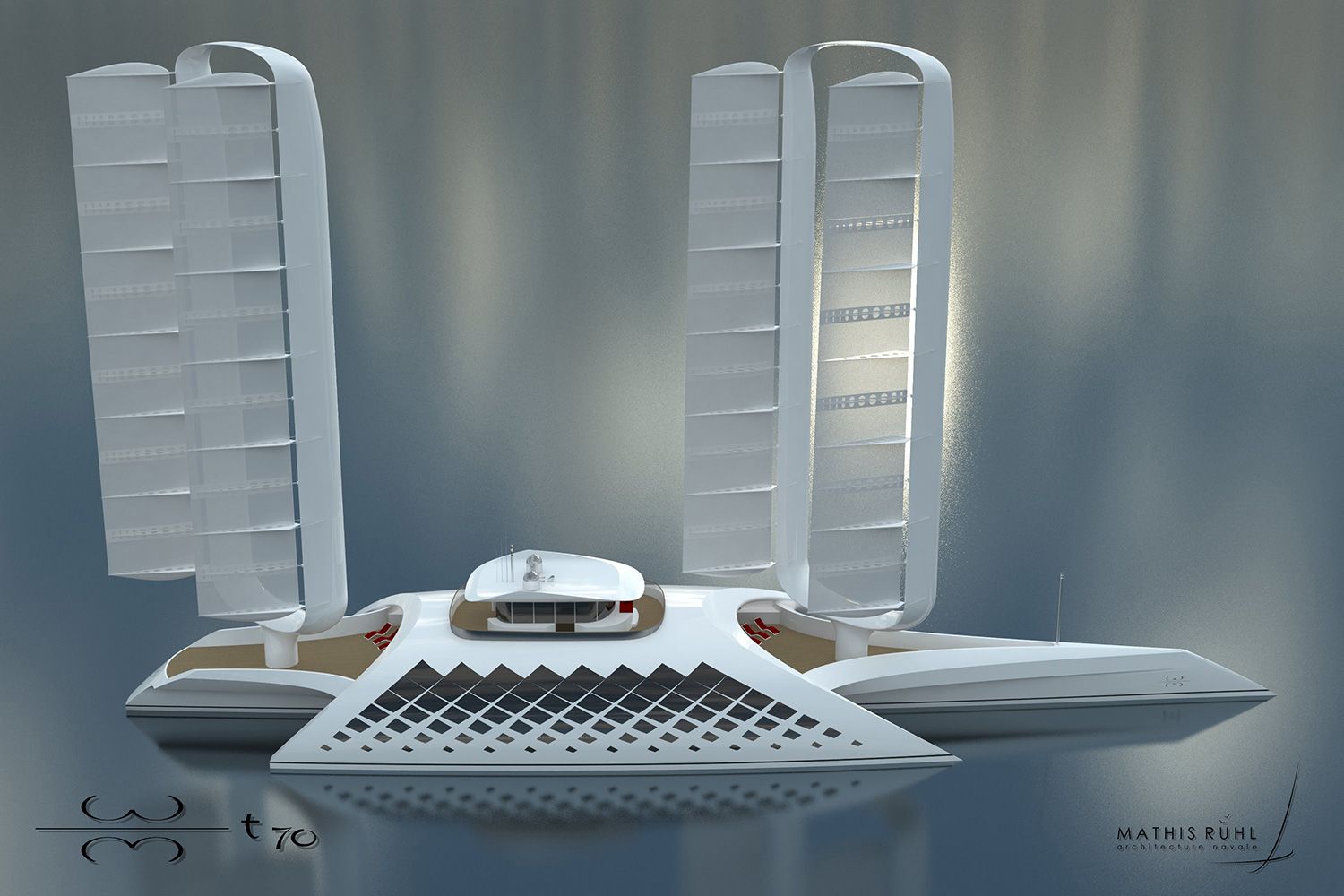 Wind Motion 70T is a 70-metre trimaran concept by French-based yacht designer Mathis Ruhl. The yacht's rigs are her key innovation, featured with multiple rotating mast with twin wings. Furthermore, the mast is fitted with foldable sails. Additionally, the rigs are designed to capture and transform wind energy into efficient propulsive force.
Wind Motion also features a central pivot point that supports two spars. This would help to reduce weight and vibrations, increasing aerodynamic efficiency and clearing more deck space.
Being fully automated, the propulsion system would ensure the yacht's propulsion even under medium wind conditions.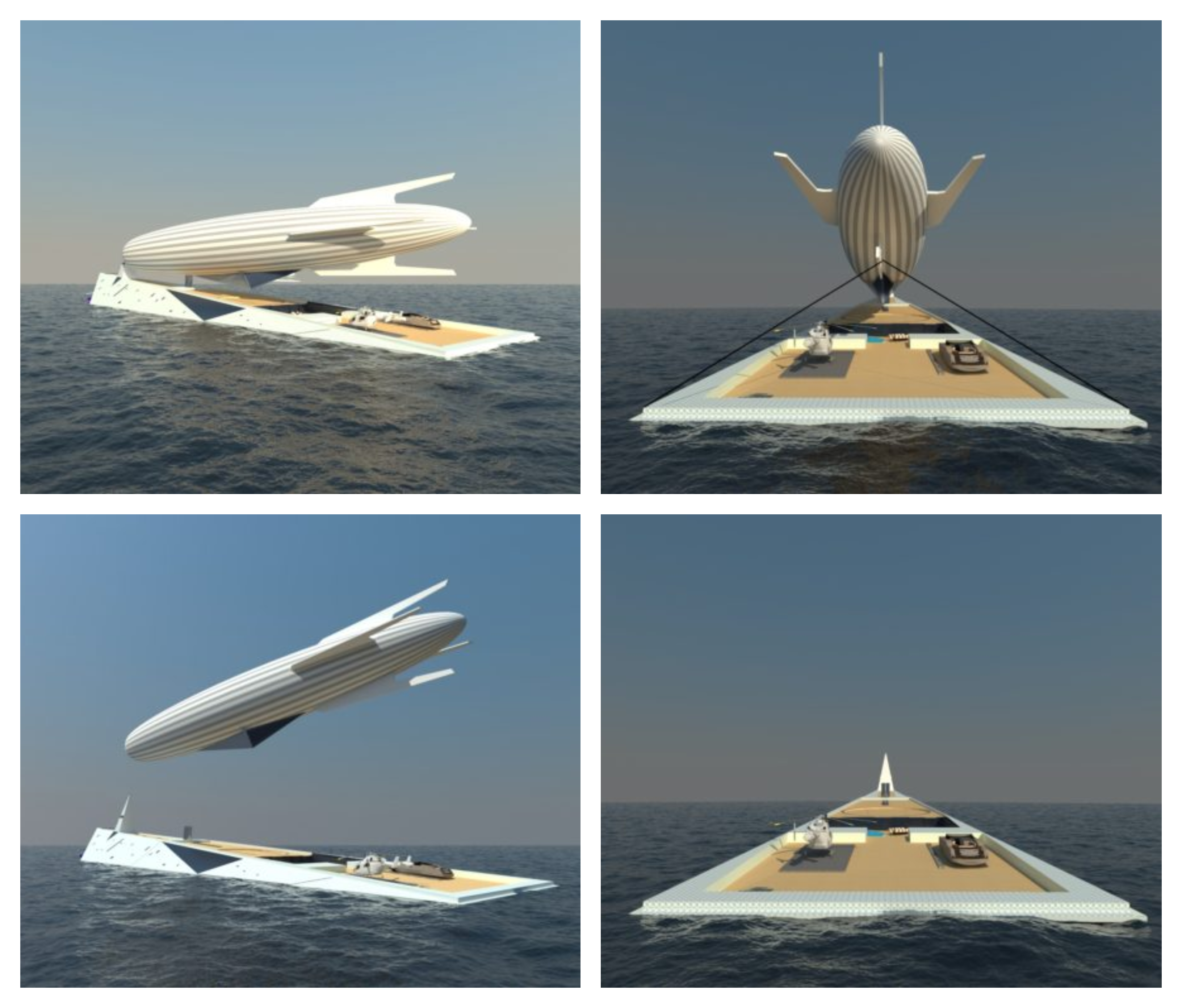 This 140-metre airship carrier concept was introduced by Monaco-based artist George Lucian.
The concept' target customer a visionary owner who would be equally passionate about yachting and flying, as the yacht is featured with an airship of around 100 metres.
The concept is designed in such a way that, beside all the amenities that the superyacht would offer, the airship itself is able to accommodate a couple of guests, and host a saloon for dinners, partying or relaxation.
This radical 110-metre superyacht design was developed by Expleo Design studio in 2018. The yacht with steel hull and aluminium superstructure within a beam of 14,3 metres would be able to accommodate up to 30 guests. She is expected to cruising at the speed of 18 knots.
The organic shapes used to draw the yacht combine elements inspired by nature. Main inspiration was a calm wave, reflected in the exterior lines of the project.
Each deck from the six features several types of entertainment, such as sunbathing areas, swimming pool, Jacuzzi, party place, dining space, spa and gym, wellness area, games and casino room.
The space underneath the helicopter pad was designed to be used as a party place with a front view and an indoor pool.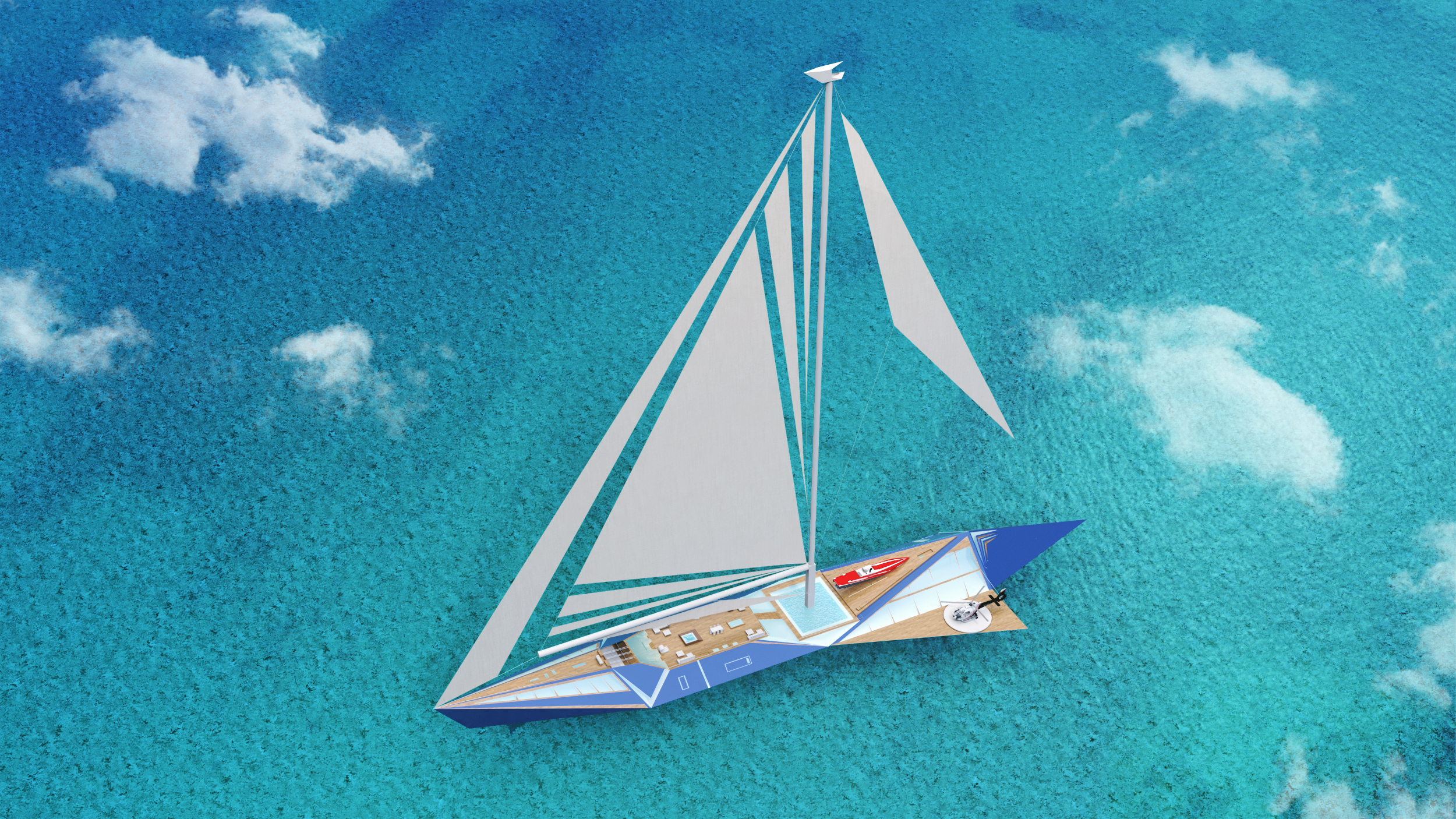 Drawing inspiration from Japanese art of paper folding and Asian traditional sailing vessels, this 100-metre sailing yacht concept was developed by George Lucian in 2017.
The main mast, rising from a full-beam glass-sided swimming pool, culminates in a lookout point, the so-called "crow's nest". The yacht boasts a huge middle-deck with Jacuzzi and lounge zones, as well as indoor drive-in garage for tenders and a speed boat placed towards the bow and lifted by a crane.
The hull opens into a large beach club and helicopter tough-and-go platform in calm seas. Meanwhile, the interior area stays protected by a glass wall, serving for beautiful sea views when the yacht is at anchor or in calm seas.
The yacht's accommodating capacity would make to up to 12 guests.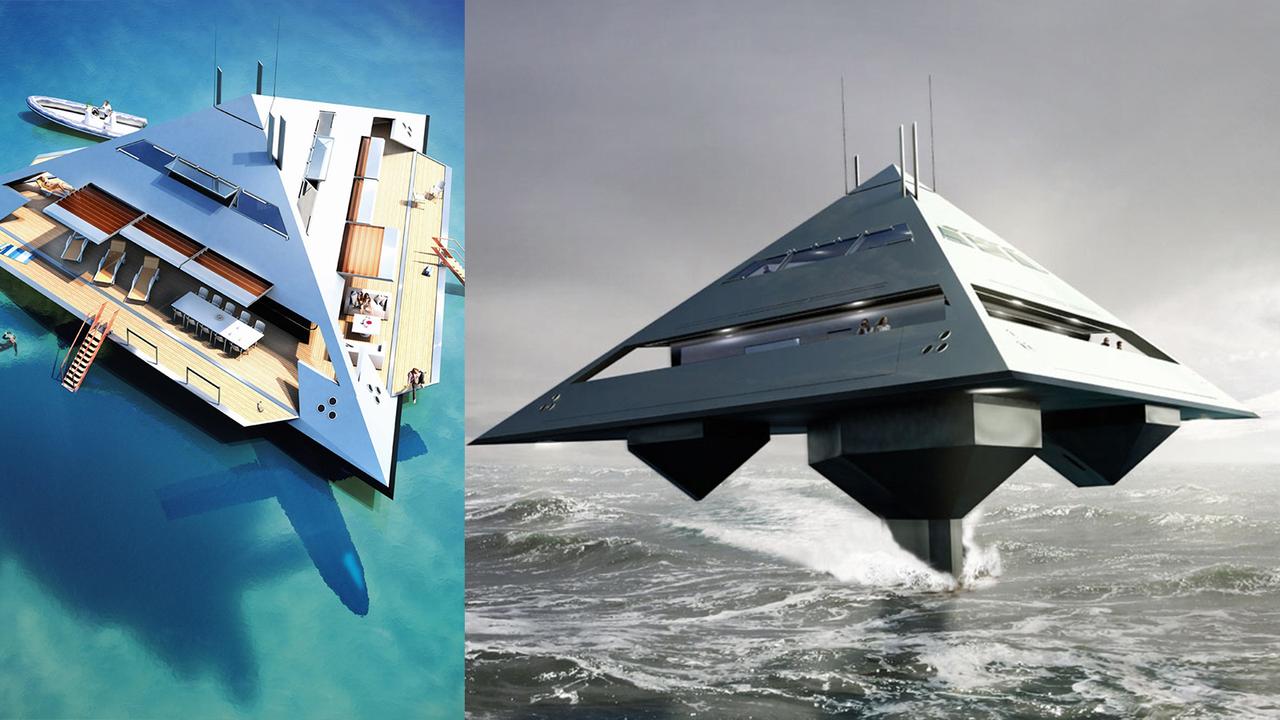 This pyramid-shaped yacht concept named the Tetrahedron Super Yacht was developed by London-based architect Jonathan Schwinge in 2016. The main idea was to eliminate potential seasickness as the yacht hovers over the water.
Constructed of carbon fibre and duplex stainless steel, the multimillion pound yacht is estimated to weigh around 75 tonnes if built for real. However, with her four faces and six edges, Tetra features LOA of only 21,6 metres.
The vessel's take-off speed would make 15 knots, with a top speed reached at 38 knots. At low speed though Tetra represents nothing but a a trimaran, floating on three underbelly hulls.
The yacht with room for six guests and four crew members would reportedly feature sun decks, an outdoor dining area, water toys and retractable stairs that lead to the water.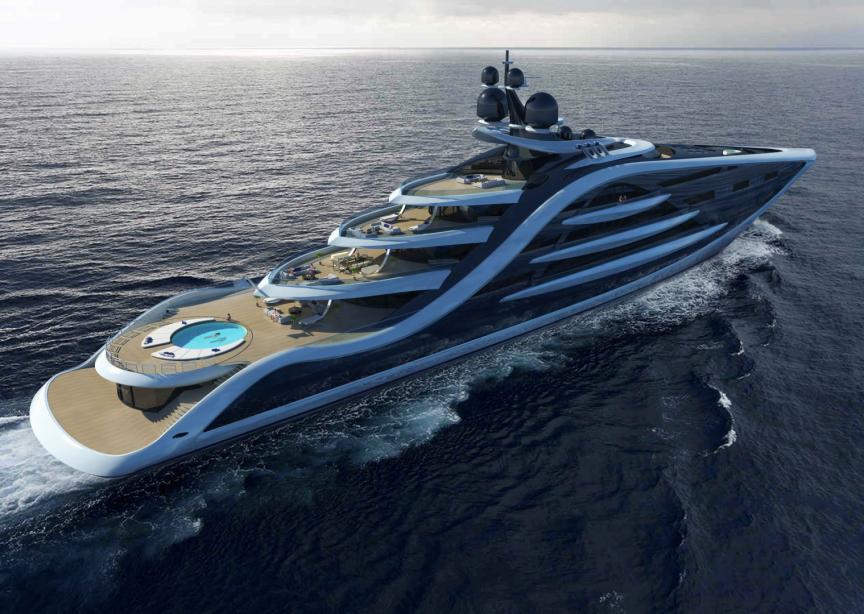 This 130-metre superyacht concept was presented by UK-based designer Andy Waugh in 2016. If completed, the vessel would be among the world's largest superyachts, featuring a unique silhouette and bold exterior.
Epiphany is designed to provide large volumes of accommodation within elegant outfit. Her low bulwarks and full height glass would provide guests with an enhanced sense of openness and space. The aft deck hosts the main swimming pool and sun lounging area which converts into a helipad if required, not to mention 2 VIPs and 8 guest cabins.
Concurrently, the owners of the Epiphany would have an entire deck to themselves, featured with a stately room with increased ceilings, including a private cinema, skylights, an office with space for personal assistants, and a Jacuzzi.
Below the owner's deck is a unique 'VIP deck' housing 4 huge cabins each with private balconies. Other alluring features include a cinema and gaming area as well as a fully equipped gym and spa. The main bar opens up onto the aft deck accommodating al fresco dining area.
As to the crew, Epiphany could host up to forty crew members on-board.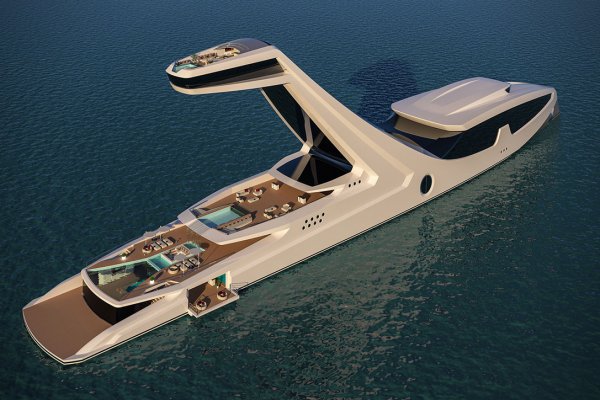 The 150-metre Shaddai came from the mind of Gabriele Teruzzi, an Italian yacht designer in 2016, inspired by the growing trend for spectacular superyacht pools. Thus, the concept reflects her name meaning omnipotence in Hebrew.
The concept focuses on providing a unique viewpoint to her owner and guests, with the master suite located at the height of 38 meters above the main deck, along with a 105-square-metre beach club. The latter comes complete with fold-out balconies. What is more, the owner's area is complemented by a large terrace and an infinity pool located on the edge of the top deck.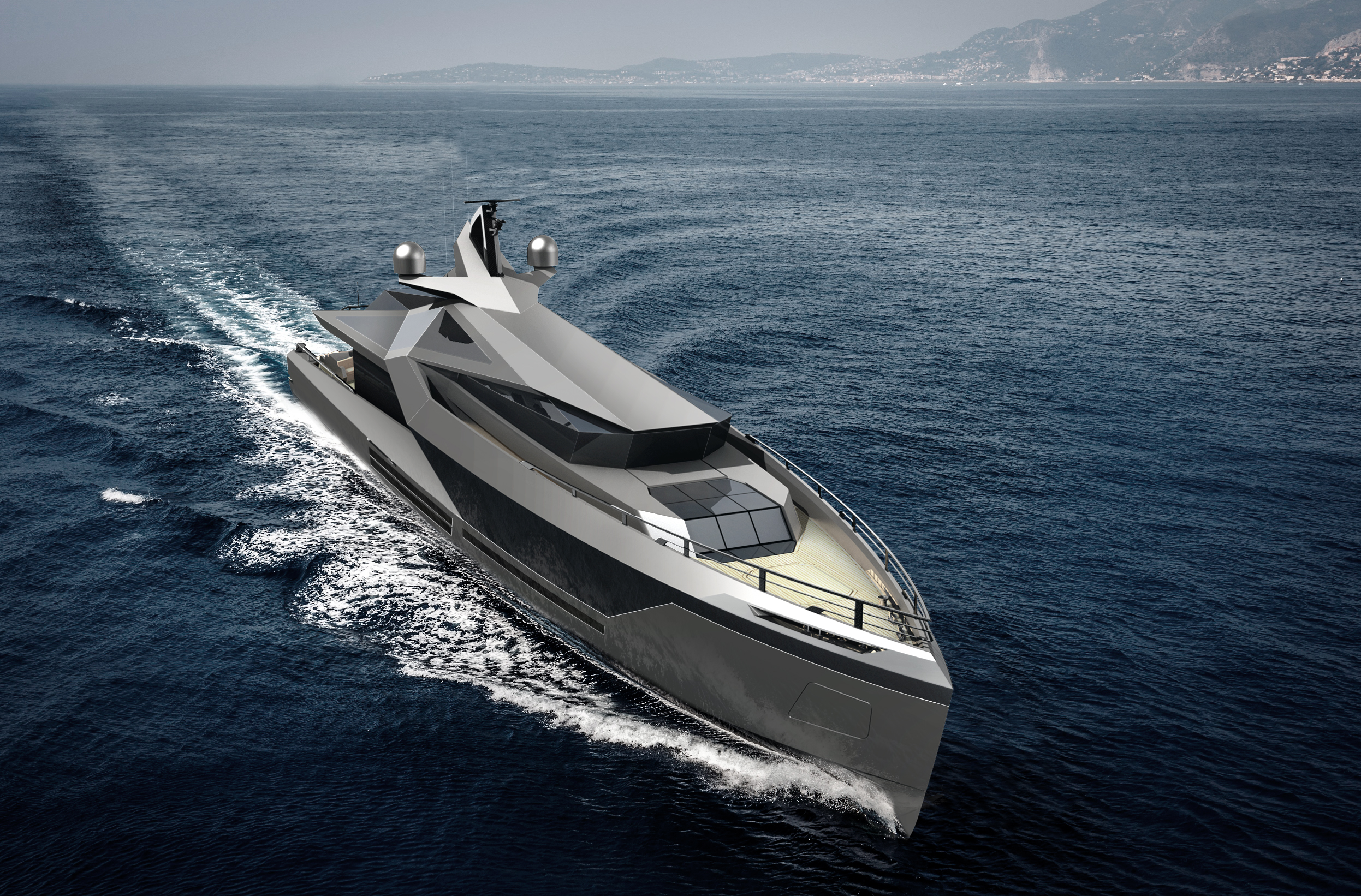 This 50-metre concept was introduced by Red Yacht Design for Mengi-Yay Yachts in 2016. She features 280 sqm open spaces with a large beach area at the aft of the main deck, equipped with a pool and a lounge with differently leveled sundecks.
Furthermore, there are a garage for jet-skis, diving equipment, water toys and a tender laid below the deck. The foredeck features a master suite with an office, dressing room, bathroom and a special spa for the owner. The yacht's skylight and balconies make the spa very spacious and light to provide the owner with an openness feeling.
The interior features soft and natural tones, whilst large external windows provide even more spaciousness. Performance wise, Stella would be able to reach a top speed of 24 knots thanks to her two M90 2720kw MTU engines.
Her construction is reported to take 24 months.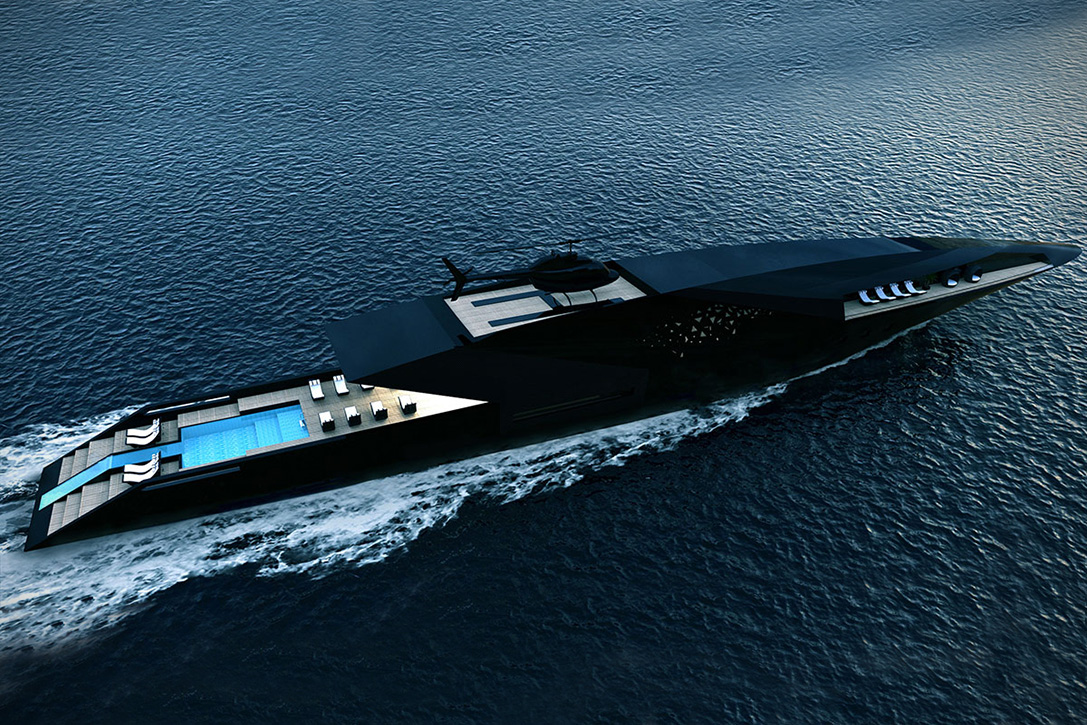 This 70-metre concept was presented by Turkish designer Timur Bozca in 2016. She represents a sinister-looking superyacht embracing dark tones within her minimalist interior.
The key design point is the yacht's helipad, from where the guests can descend inside via a concealed lift. The yacht would offer many alfresco zones within the extended aft deck, complemented by sun loungers and infinity pool.
In order to make references to land-based architecture, the designer incorporated a glass wall that sits at an angle and extends from the main deck to the upper deck towards the aft. That would guarantee great views out aft over the extended beach club area where the pool fades away towards the stern.
The yacht can host on-board up to 12 guests within a master suite and six guest cabins. Her cruising speed, by the way, makes around 20 knots, with the top speed of 28 knots.
#10. Jazz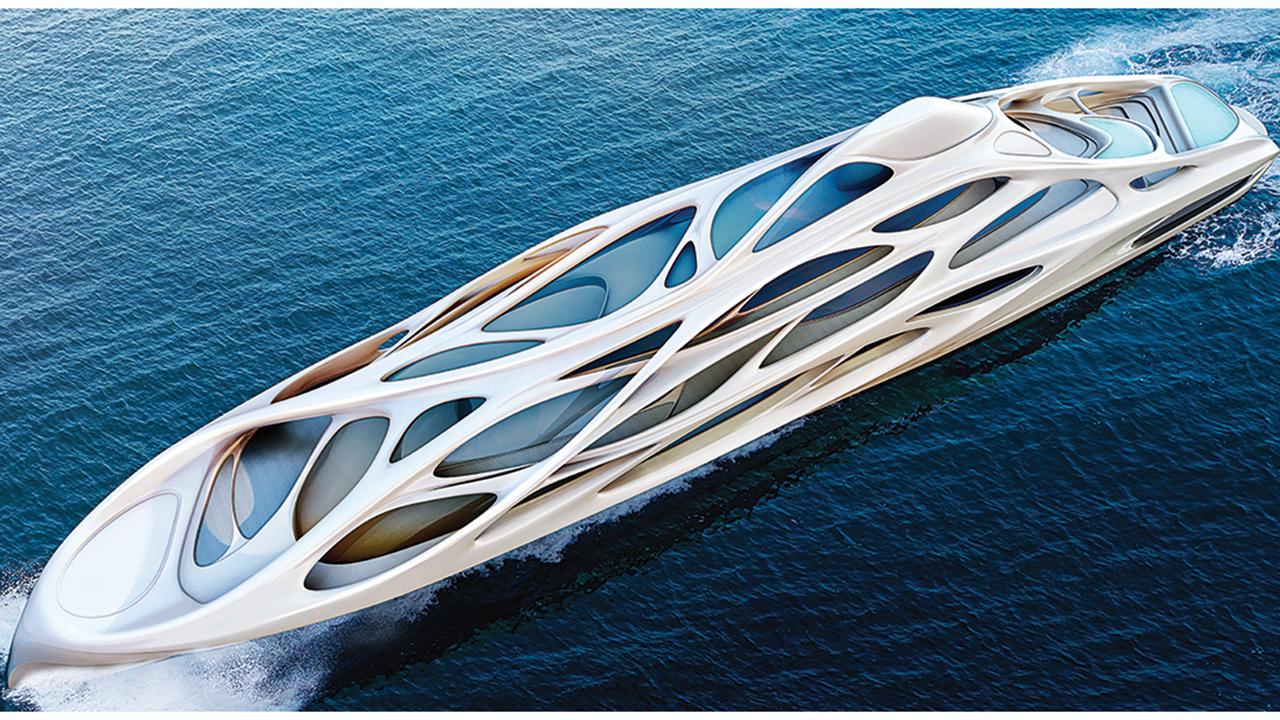 This 90-metre superyacht concept was developed by a legendary architect Zaha Hadid for German builder Blohm+Voss . HStructural supports have been moved outward to open up the interior to palatial spaces.
This thought-provoking design reconsiders the interaction between the inner and outer space to the extreme, while its fluid exterior resembles the shapes of marine creatures.
This prototype would be applicable for a variety of pre-engineered platforms, employing as many features of the concept, as needed for builder's purposes. The external supports free up the interior in favour of huge continual spaces, a principle that Hadid used to apply on many of her building towers.