Popular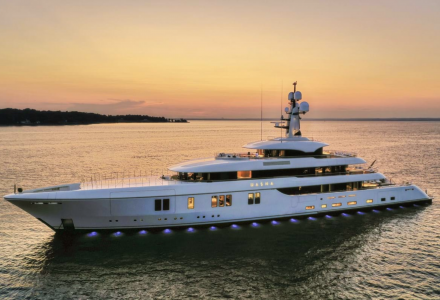 Hasna is a 73-metre luxury motor yacht, built by Feadship in 2017. She has been the first yacht in Dutch shipbuilding history ordered by an Australian customer. According to Forbes, the superyacht has been owned by Australian loan magnate John Symond and believed to cost him $75million. She has been listed for sale asking € 97,500,000 two years after delivery. Later the price was reduced down to € 92,500,000 and she was sold and renamed Lunasea, thanks to Y.CO and Burgess.Gary Wright, Co-Founder and Chairman of Y.CO commented:Hasna marks the third Feadship Y.CO has sold in recent weeks and demand among our clients for well-built, quality yachts remains strong. Completing a sale of this magnitude in the current climate has taken an extraordinary amount of commitment from everyone involved and we would especially like to thank the Captain and crew for their support throughout this sale.We are pleased to be taking over the operational and charter management of the yacht - under her new name of Lunasea - and our team is already working closely with the new owner's team and crew to transform the onboard experience and strengthen her charter reputation.With a beam of 11.9 m and a draft of 3.45 m, she has a steel hull and aluminium superstructure.The highlights of the superyacht include an 8m infinity pool on the main deck aft, a 10-seat cinema on the main deck, a wellness centre with a massage room, a hairdressing salon, an elevator, a sun deck lounge with inside-outside bar and a jacuzzi.Ben Ritchie of the Y.CO sales team said: We are thrilled to have secured this very recent and exceptionally well-maintained Feadship on behalf of our client. Not only does Hasna exude quality, but she has every amenity you could possibly want on board, which we anticipate will make her extremely popular on the charter market. With stunning interior and exterior design by RWD, we believe Hasna to be one of the finest Feadships ever built and we are pleased to add her to our Y.CO Management fleet and to be able to offer her for charter.Hasna was designed by Redman Whiteley Dixon and can accommodate 12 guests in six staterooms, including a full-beam owner's suite is located on the main deck, two VIP staterooms, two double cabins, and a further double cabin on the bridge deck. Also, the superyacht offers accommodation for a crew of up to 21. Twin MTU diesel engines provide her a top speed of 16.6 knots and a cruising speed of 14 knots, with a transatlantic range of 5,500 nautical miles at 12 knots. She is powered by MTU engines of 1850 hp each.
August 6, 2020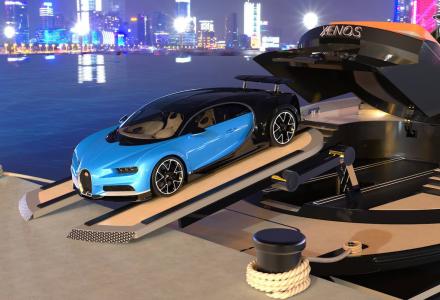 Italian designer Pierpaolo Lazzarini unveils his latest yacht concept 39.9-metre Xenos. This bullet-shaped hyper yacht concept was inspired by Bugatti and aims to be the fastest superyacht in the world in its class. The design combines futuristic performance with luxury spaces. The energy company Architaly has integrated a solar system into the roof, which will let Xenos to be capable of up to eight hours of autonomy in electric sail mode.There are two available versions for this custom yacht: the Hyperyacht and the Seajet Piercer. The Seajet Piercer will be for a passenger transport version since it can carry up to 180 passengers. The Hyperyacht is designed to be a private recreational vehicle.The Hyperyacht version features a deck lounge, living room, threespacious suites and a large lounge at the top. To the aft, guests can store water toys and use the adjustable bridge to allow the fabulous Bugatti to come in and out.The $39,000,000 Xenos comes with a $3,000,000 luxury supercar Bugatti Chiron. Made from aluminium and carbon, modern shape of the Xenos is designed for comfortable high speed rides and equipped with twin, triple or quadruple engine set ups with horsepower range from 7,300 hp to 15,000 hp. Xenos will reach a top speed of 90 knots, setting the record of the fastest yacht in her size.
August 7, 2020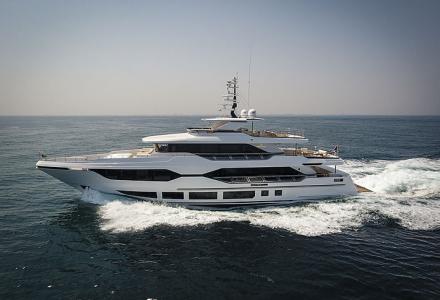 Majesty 120 is a stunning 37.07-metre luxury yacht, which was first announced as the new flagship of the UAE yard Gulf Craft during the 2019 Monaco Yacht Show.Gulf Craft is happy to announce that the first unit has completed sea trials and is listed as a yacht for sale. She features a naval architecture and an exterior design by the yard.The interior designer Cristiano Gatto created a space for up to 10 guests to stay in five staterooms with an asymmetric design.Cristiano Gatto, the designer said:For me, the Majesty 120 perfectly captures the direction in which this innovative brand is heading with her dynamic profile, balanced outdoor spaces and sophisticated interiors that are all designed with true yachtsmen and women in mind.Gatto described the interiors as "fresh and light", with key materials includes "lacquer, light woods and marble."The vessel is the first Majesty model equipped with fully airborne electric drive equipment, leaving only two 2600-hp MTU engines and diesel generators.The highlights of the boat include a Jacuzzi on the sun deck and a 'hybrid' beach club, converting to a tender storage.
August 10, 2020