Baglietto has introduced two new 38m and 41m models at the yacht show in Fort Lauderdale. Designed by Hot Lab, the line was created with inspiration coming from vintage concept automobiles.
Whilst owing their horizontal lining to Baglietto's heritage, the two new creations of Milan-based Hot Lab studio are inspired by diverse styles and imagery. One clear reference is the futuristic
Stratos Zero
car by Bertone that stunned the world at the 1970 Turin Motor Show. The characteristic wedge is to be found in the shape of the superstructure that forms the sundeck.
Shiny surfaces and generous use of glass meet the trends of modern architecture. Finally, the characteristic aggressive vertical bow is the trademark of the V-Line series.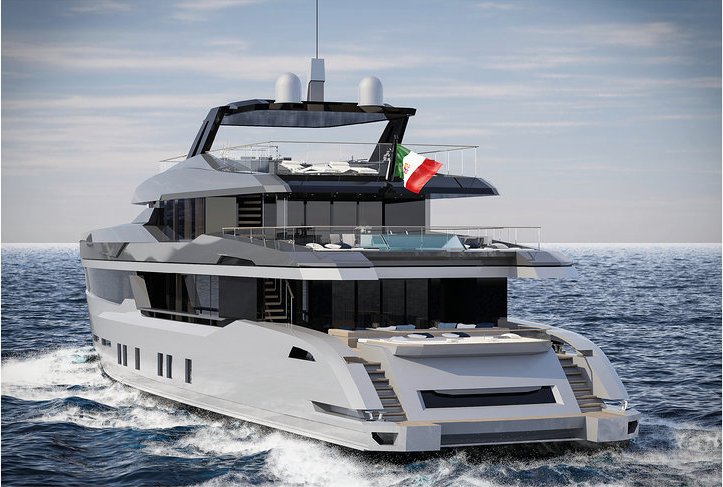 "The result is a product that boasts modern and appealing lines, a yacht that oozes Italian style and wisely reinterprets the well-known character and personality of Baglietto", points out one of the designers, Antonio Romano, making clear that Hot Lab enjoyed complete freedom in their work, as the design limitations on the part of the La Spezia yard were but "very modest".
The layouts of both yachts ensure abundance of social space both in their interior and exterior areas. The three-deck 41m project features vast lounging and sunbathing areas, as well as a bar forward to the bow with 360° sea views. The dining area on the main deck is easily converted into al-fresco dining thanks to the large-scale windows along its perimeter. And when owners need time for themselves, they have the full-beam master suite at their disposal with a dressing room, office and a private terrace.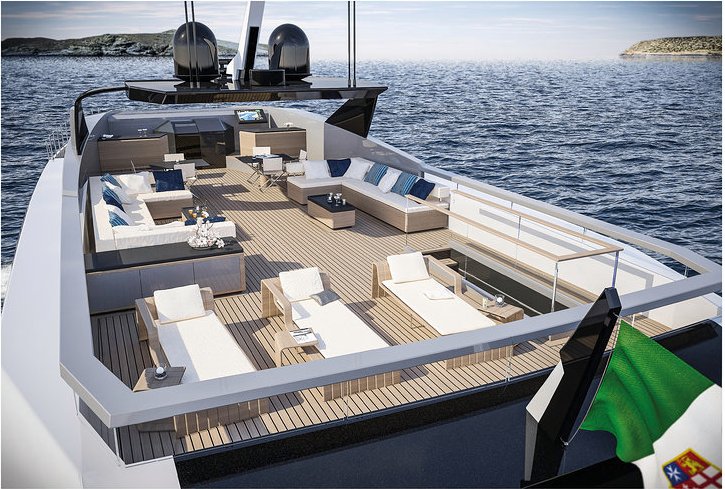 The 38m is the smallest project in the V-Line. Her most distinctive amenities comprise a full-beam master suite, an extensive sun deck with dedicated sunbathing and lounging areas, as well as a swimming platform with plenty of room for water toys.
The latest 38m and 41m builds complete the range of Baglietto V-Line, which also includes the
50m model
presented at Dubai International Boat Show earlier this year and a
41m concept
by Santa Maria Magnolfi, unveiled at Monaco Yacht Show in 2016.