Famously known as the world's largest yacht by gross tonnage, ie interior volume, the 156-meter Dilbar has redefined the notion of space in yachting. The third yacht to bear the same name, she was delivered by Lurssen to her Russian billionaire owner in 2017.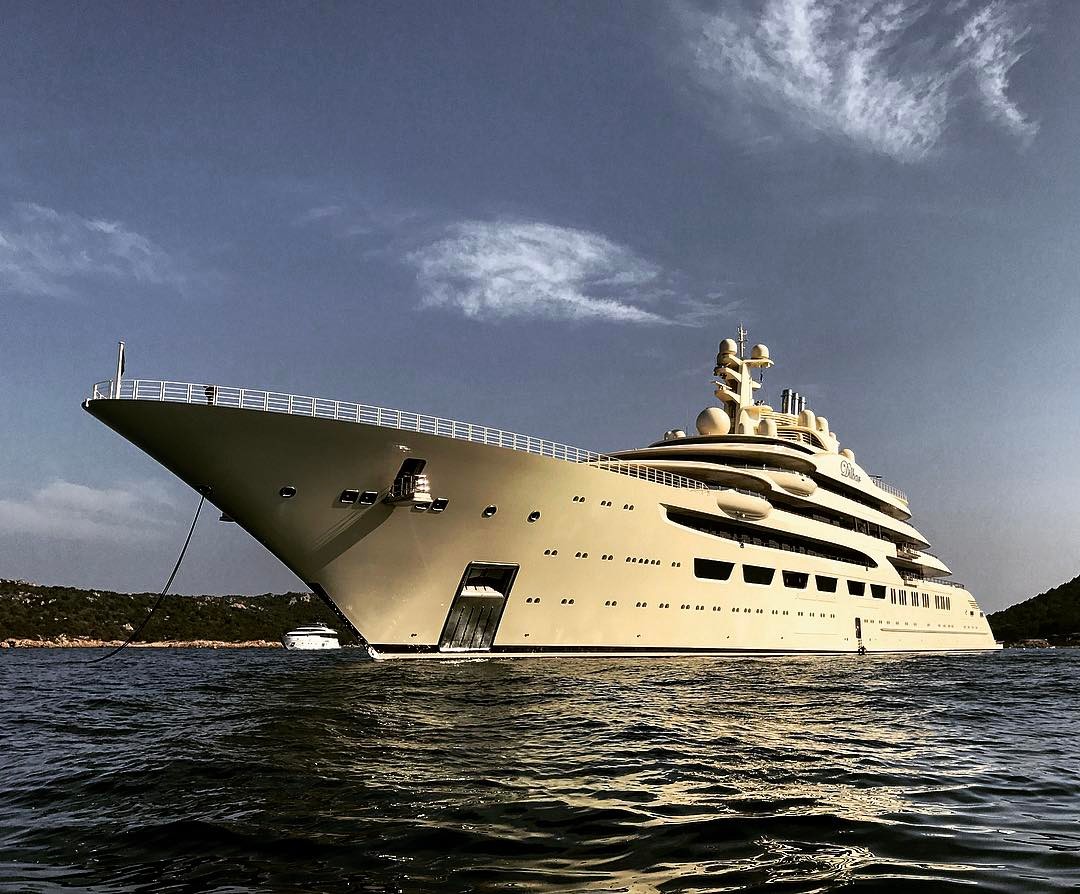 The first Dilbar superyacht to be delivered to Alisher Usmanov, a billionaire investor whose net worth was valued by
Forbes
at $16 billion, became a 66-meter Oceanco. Launched in 2005 by the Dutch shipyard, the first Dilbar was a significant step forward for the yard thanks to the 66-meter's innovative features such as her spa pool and beach club. Both well ahead of their time.
With an interior by Alberto Pinto, she became one of the most sought-after yachts on the water. Her rounded aft as well as her impressive 1,801GT of interior volume made her stand out from the crowd on the exterior. Inside, amenities included a private cinema, spacious cabins on the main deck, a vast dinning room and a salon with a piano.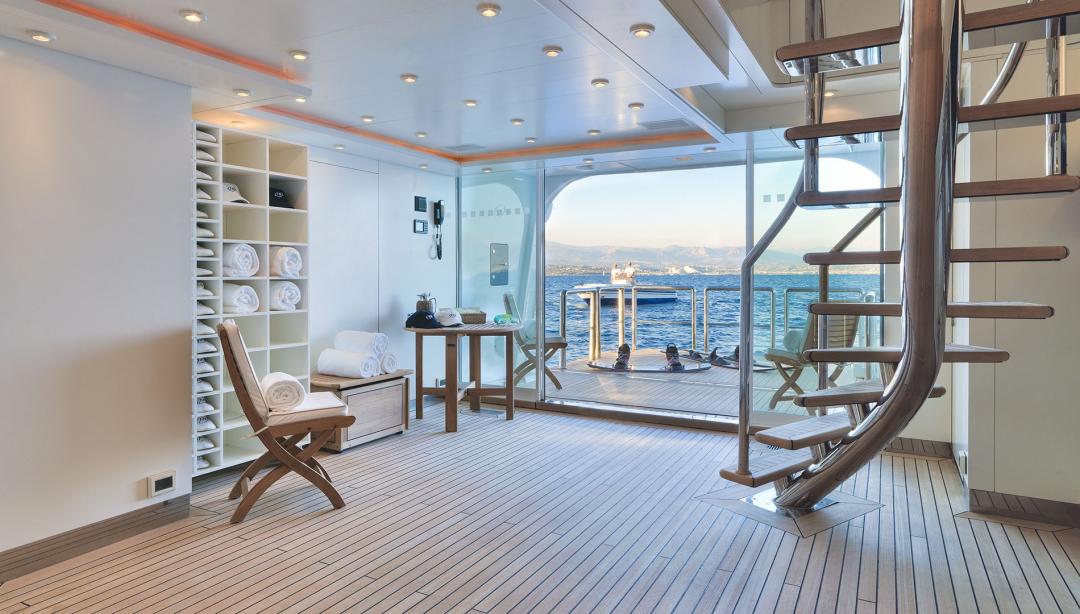 Shortly prior to the delivery of his second Dilbar, Usmanov renamed the 66-meter to Ona in 2008 and subsequently put her on the brokerage market. The yacht was then sold in 2010 to US oil mogul, William Kallop at an asking price of €59.9 million.
Lately, Natita was in the press following her being seized by Goldman Sachs from Kallop and then sold. The American oil veteran had taken out a $32 million loan against Natita and his other yacht, the 57-meter Bad Girl, from Goldman before stopping to service it with nearly $28 million still left on it.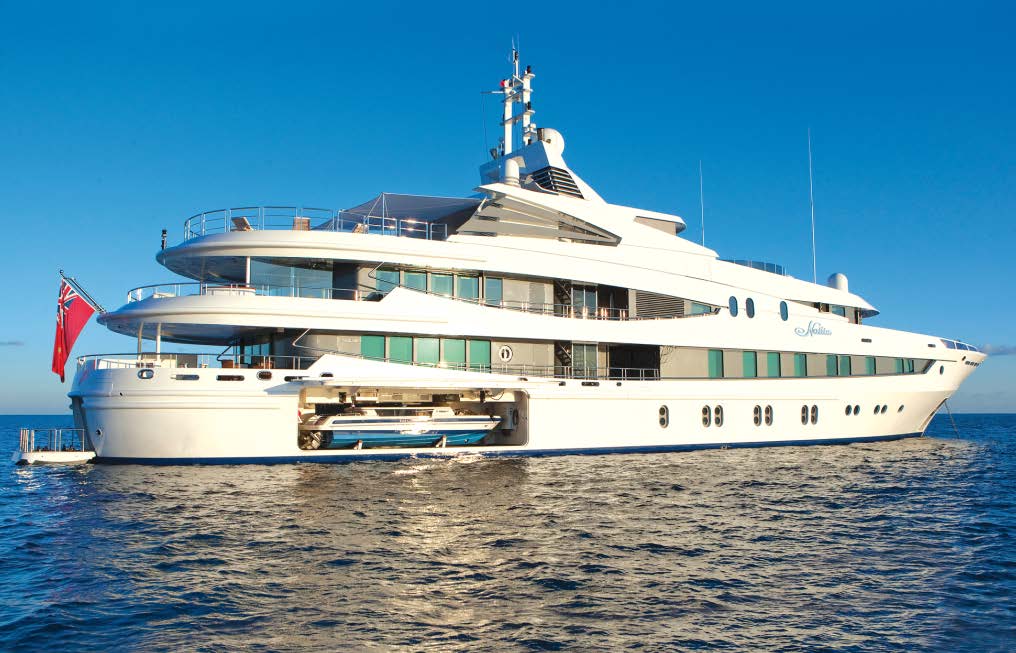 The investment bank thus decided to seize the 66-meter yacht from Kallop in Palm Beach and put her on the market. Goldman quickly offloaded Natita from their books by selling the yacht at a final price of $39.9 million, hence covering Kallop's remaining payment on the loan.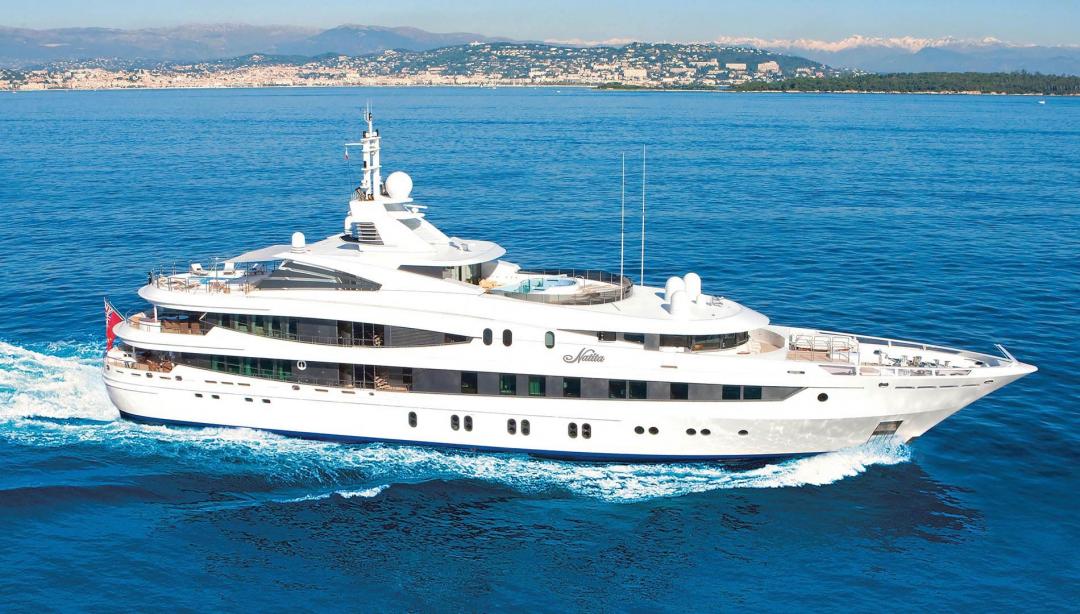 Usmanov's second Dilbar became a 110-meter superyacht out of Germany. A close sistership to Pelorus, she was launched by Lurssen in June 2008 and became the world's 17th largest yacht in the world. In addition to this, she also became one of the first yachts on the water to have particle filters on her main engine exhausts.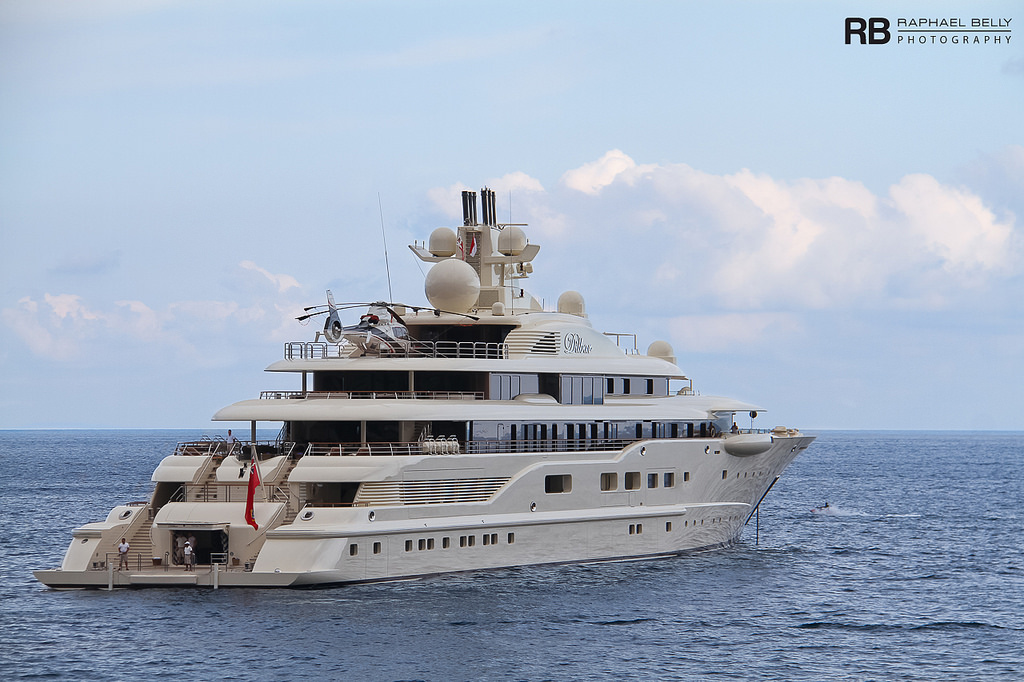 Known throughout her build as Project Opal, the 110-meter featured some similarities in interior design and amenities with the first Dilbar. A large Jacuzzi with a glass wall and water feature was installed forward of the sundeck with a lounging area around it, both on the 110-meter and the Oceanco. A lounge with a bar and piano was also incorporated into both yachts as well as a private cinema.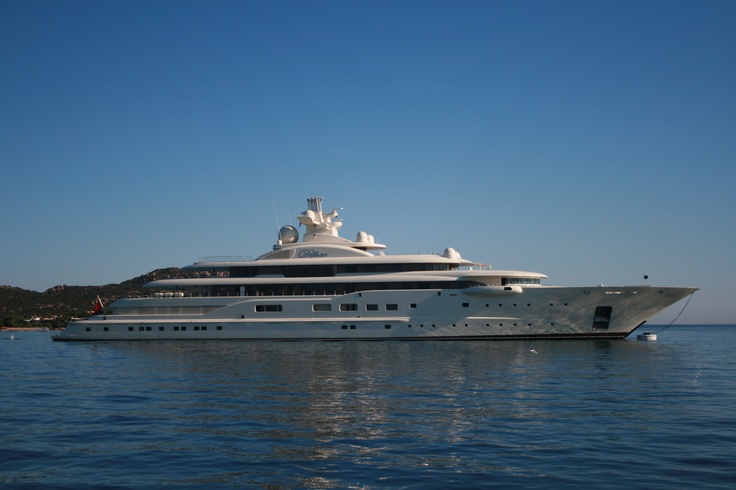 The scale of the new superyacht, however, allowed for some new, ameliorated features such as a large owner's office with several meeting areas and lounging area that opens onto the upper aft deck. A separate, executive conference room was also built onboard with an unbeatable view onto the sea through floor-to-ceiling windows. Other improvements include a spacious gym and spa area.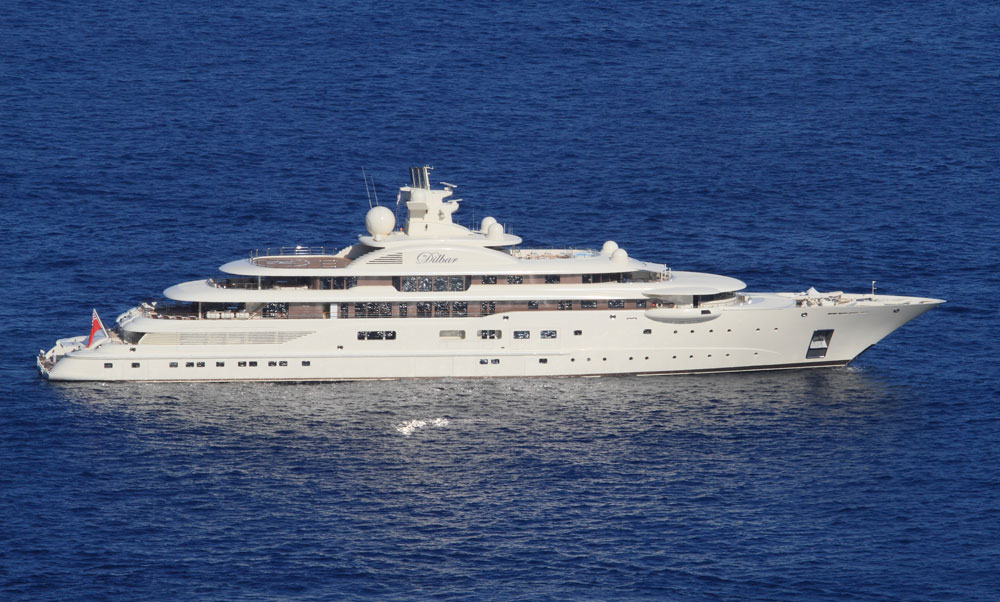 After several years near the top of the list of the world's largest yachts, the Dilbar name leapfrogged onto the number spot with the delivery of the 156-meter behemoth that is now the fleet's flagship. One of yachting's most anticipated projects ever, Dilbar was launched in 2016 and boasted a gross tonnage of 15,917 confirmed by the shipyard.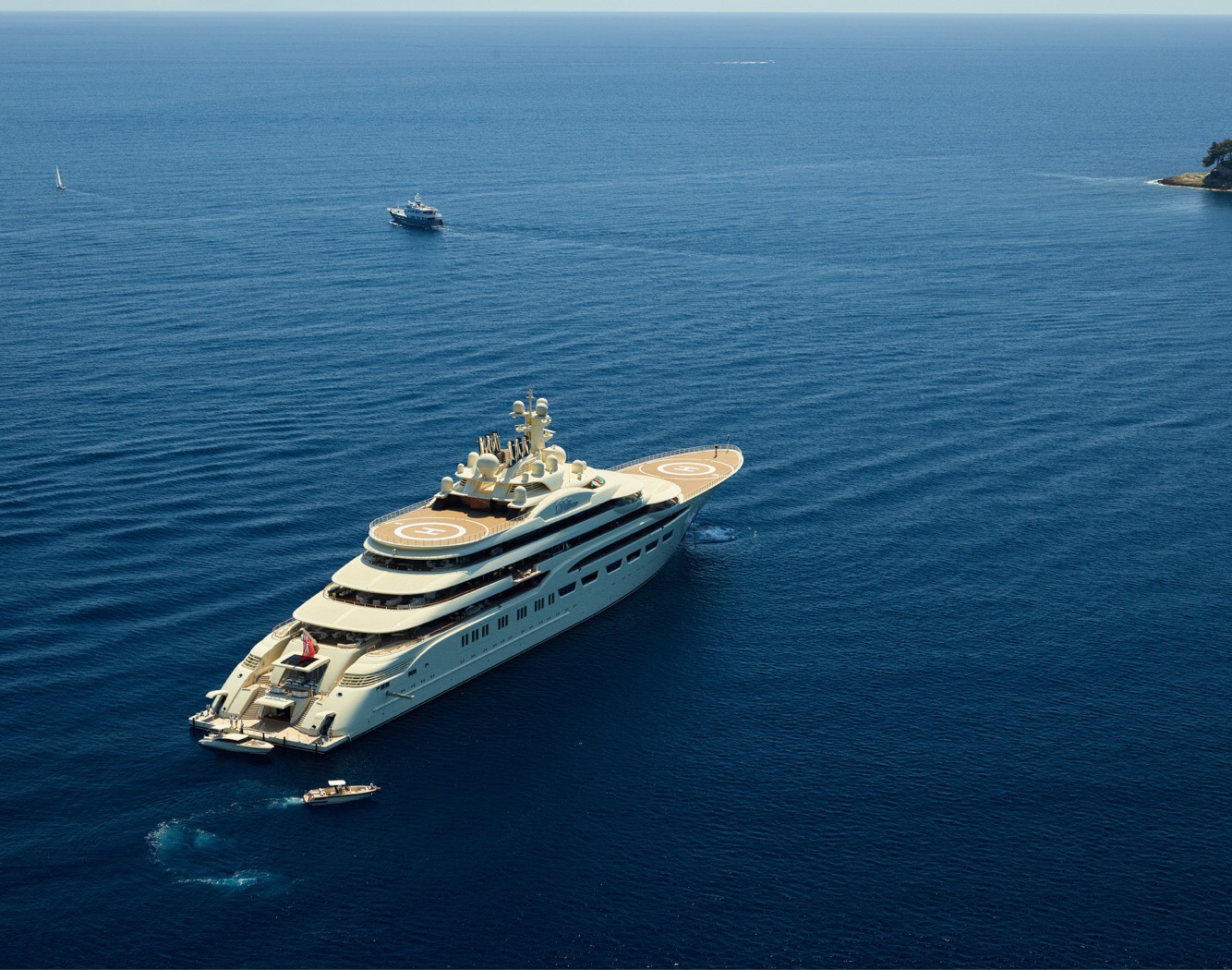 Around the same time, the 110-meter was renamed from Dilbar to Ona and put on the brokerage market according to landing pages that had then sprung up on websites of superyacht brokers. These have since been taken offline, however, it is yet unknown if the owner of the 110-meter changed or if these simply updated their marketing strategy.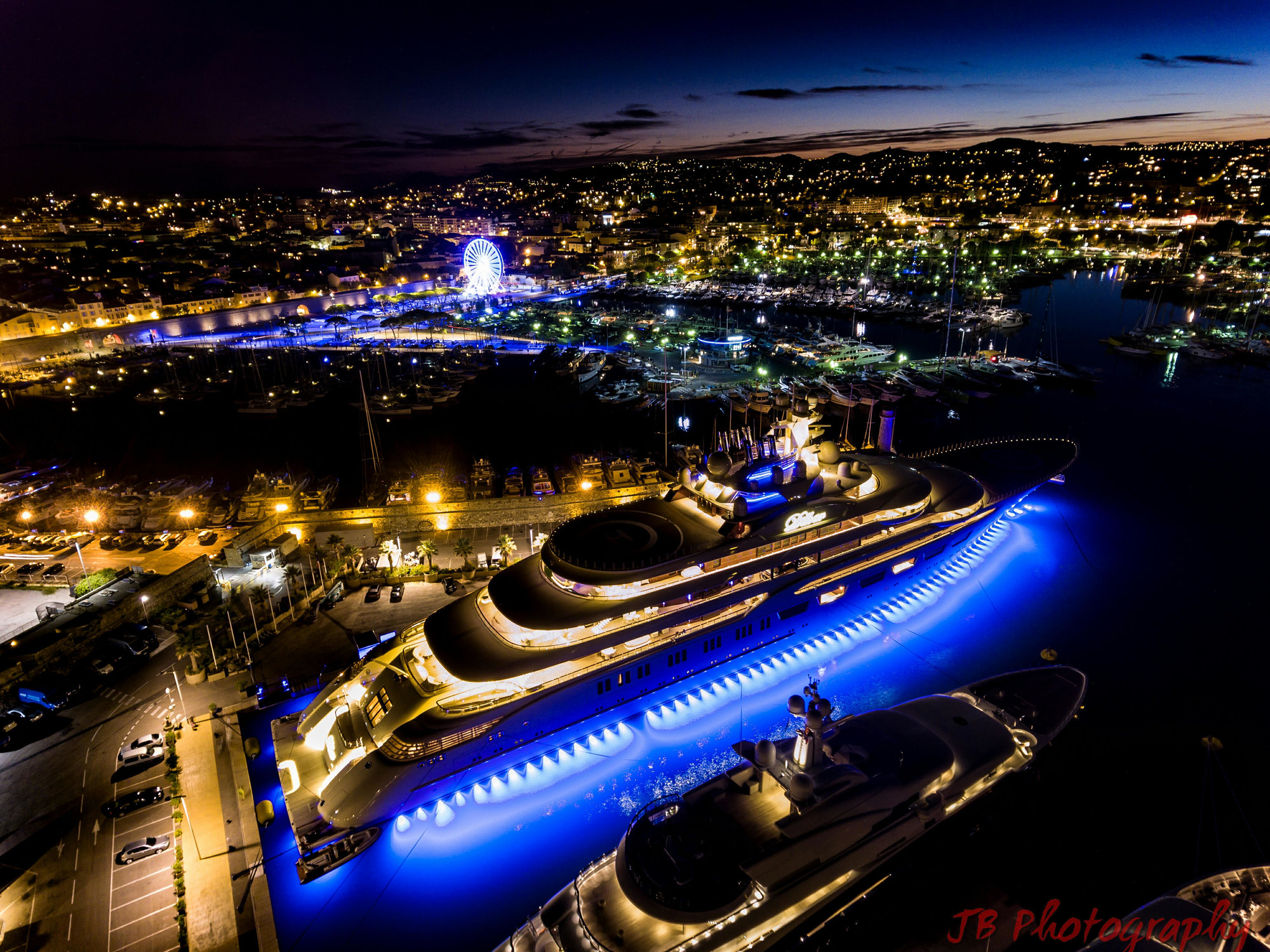 With an exterior design by Espen Oeino, Dilbar now has a gross tonnage of 15,917 tons, hence topping Al Said's 15,850 tons and Azzam's 13,136 tons. Notably, all three of these voluminous yachts were built by Lurssen that has kept fortifying its position as the main destination for megayacht construction.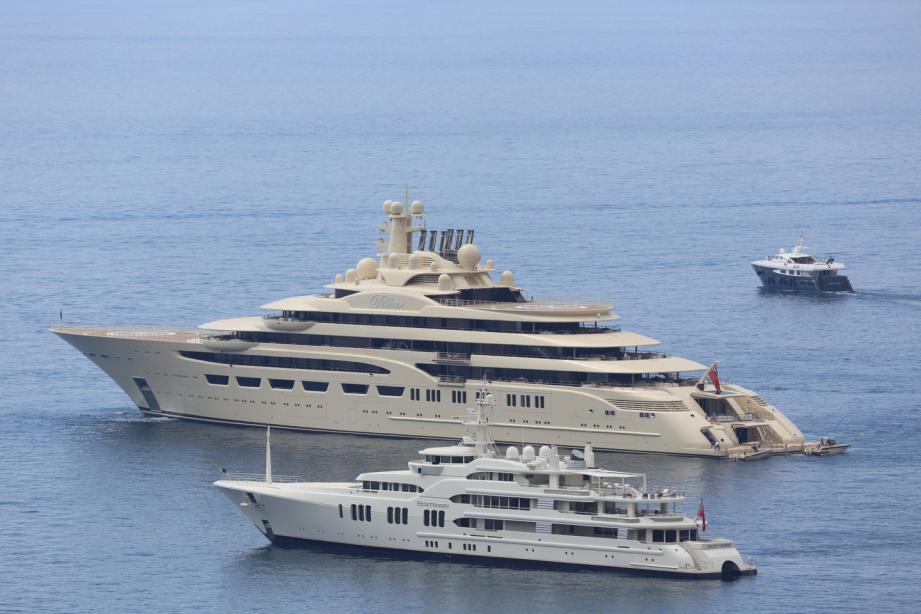 Impressive facts about the new Dilbar flagship include her beam of 23 meters as well as her deep, 6-meter draft. Onboard over 1,100km of cables were stretched for all of the required wiring and set up. According to the shipyard, 3,800 square meters of living space were built on Dilbar.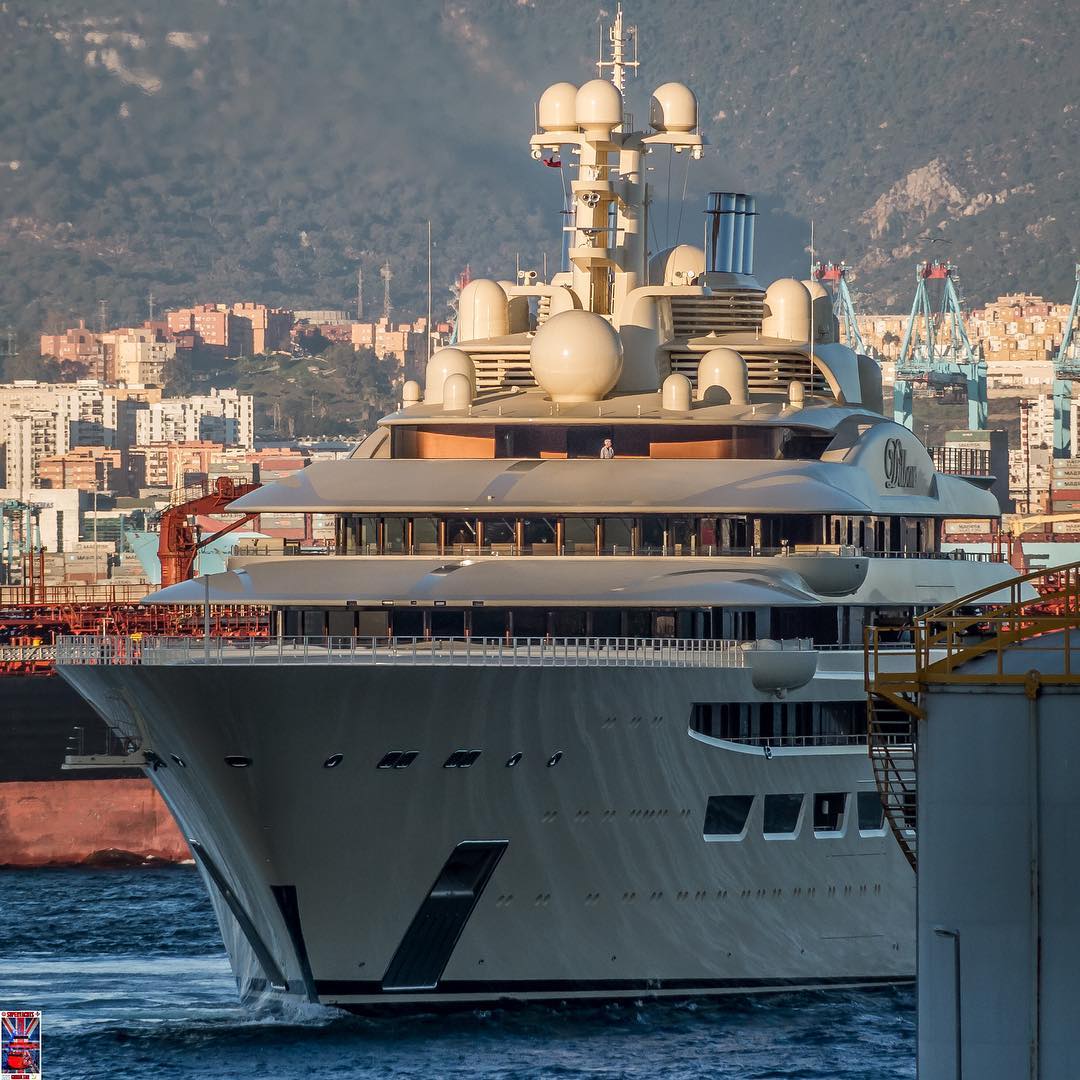 Built in under 52 months from the time of signing of the contract to delivery, Dilbar was also the largest yacht ever to feature a diesel electric power plant from an engineering standpoint. This lets the 156-meter yacht get up to a cruising speed of 22.5 knots. Her hull and superstructure represented near 10,000 square meters of faired surfaces.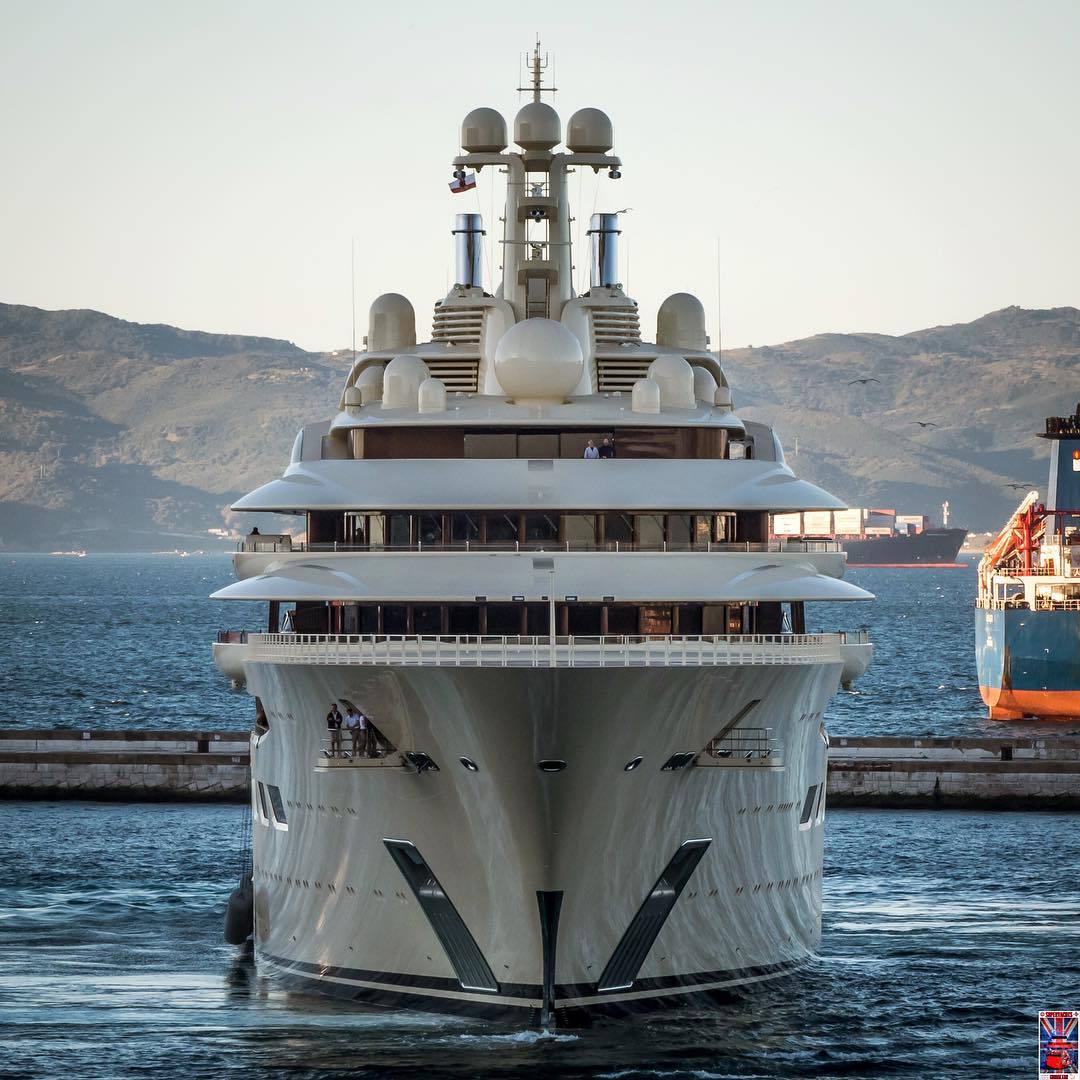 Ever since her delivery in 2016, Dilbar has drawn the attention of worldwide press as well as social media users around the globe. Her travels throughout the Mediterranean have hence been essentially documented by enthusiasts around the world with her photos now having been taken from nearly every possible angle.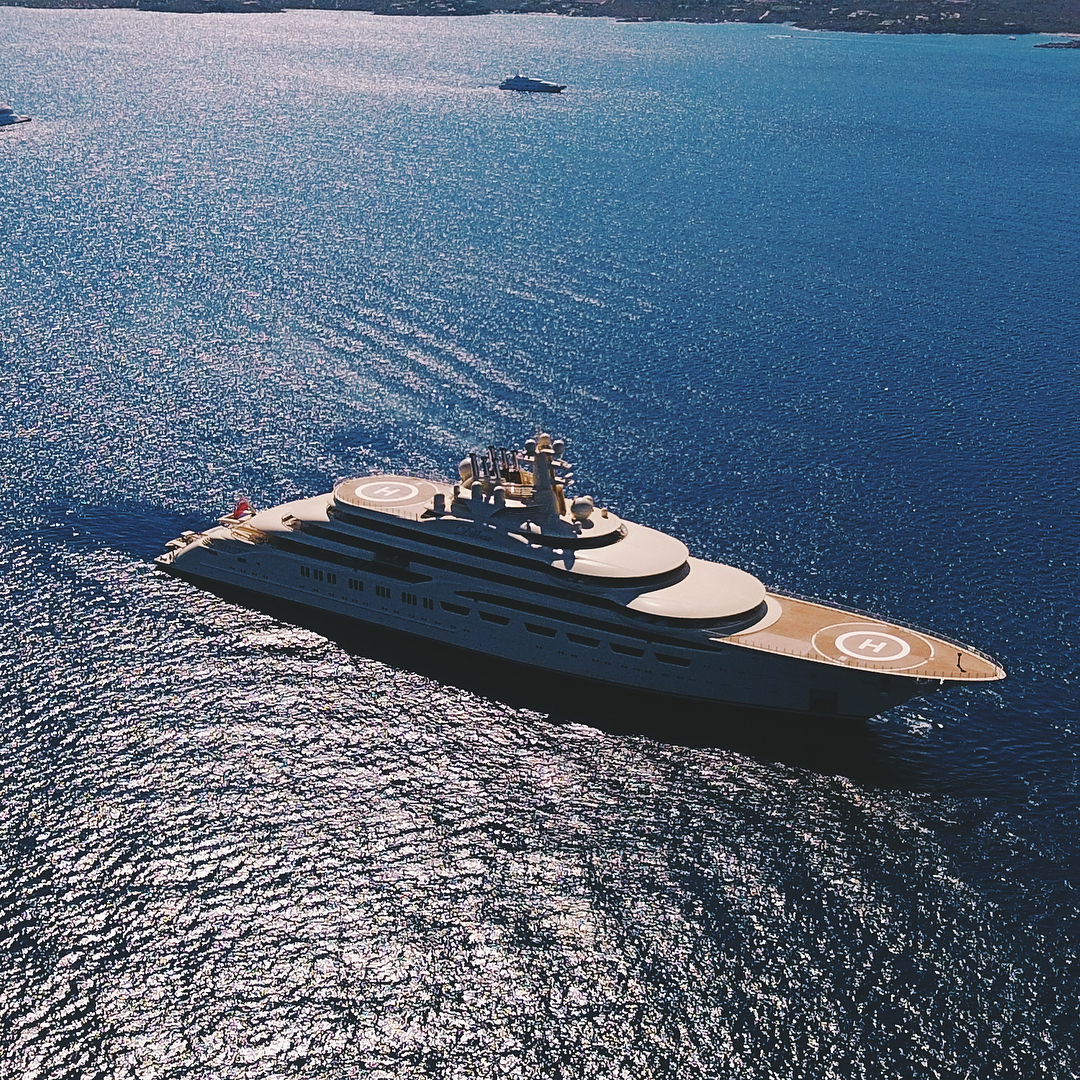 In early 2017, it was
reported
that a 160-meter berth, the largest in the world, was sold in OneOcean Port Vell, Barcelona. Although the name of the acquirer of the long term lease that is set to last until 2036 wasn't released, Dilbar is statistically the only yacht that could have used the berth to its full potential, which it has indeed done during the off season.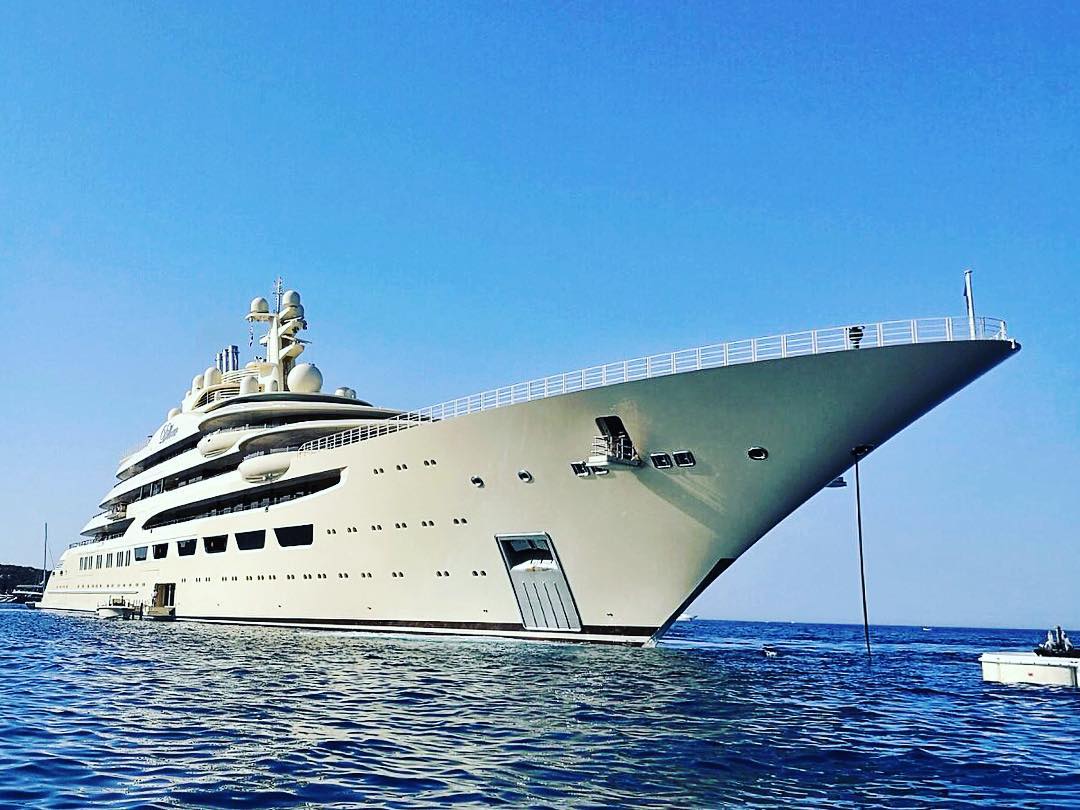 Fully renovated in 2014 through a €100 million investment led by the UK-based Salamanca Group, OneOcean Port Vell has become a hype destination for large superyachts in recent quarters thanks to its newly built amenities. In 2017, they had reported a 742% spike in visits of 100m+ yachts. Later that year, the marina was acquired by Qatari investment bank,
QInvest
together with an investment fund beneficially owned by Russian billionaire, Vagit Alekperov.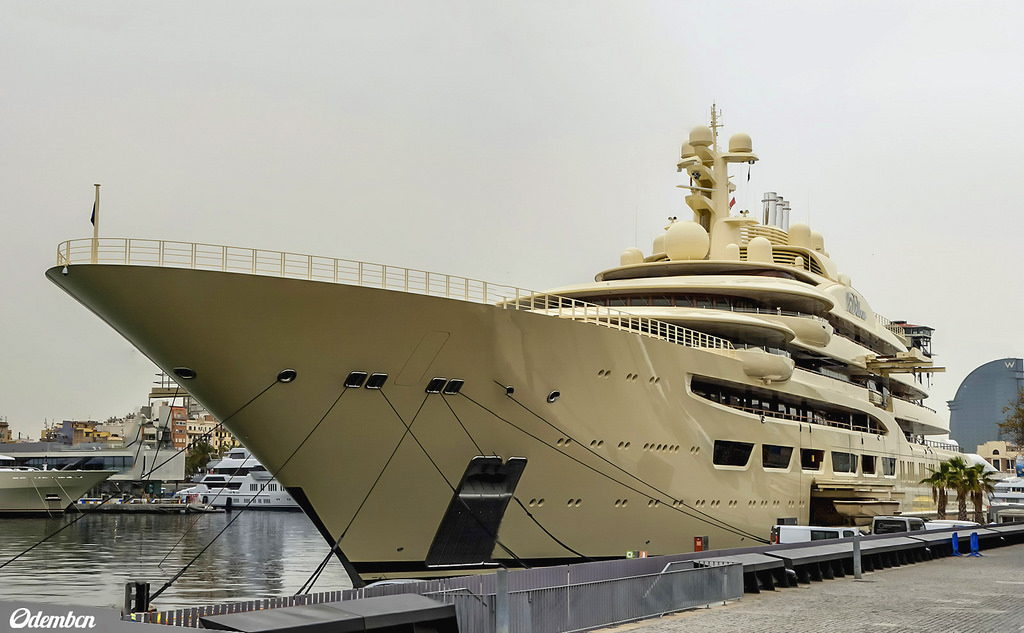 Currently Russia's fifth richest man with a net worth of $16 billion according to Forbes, Alisher Usmanov was also featured as one of the most powerful people in the world on their 2016 ranking. Primarily known in yachting through the Dilbar fleet, Usmanov is best known in business circles as the main shareholder of USM Holdings.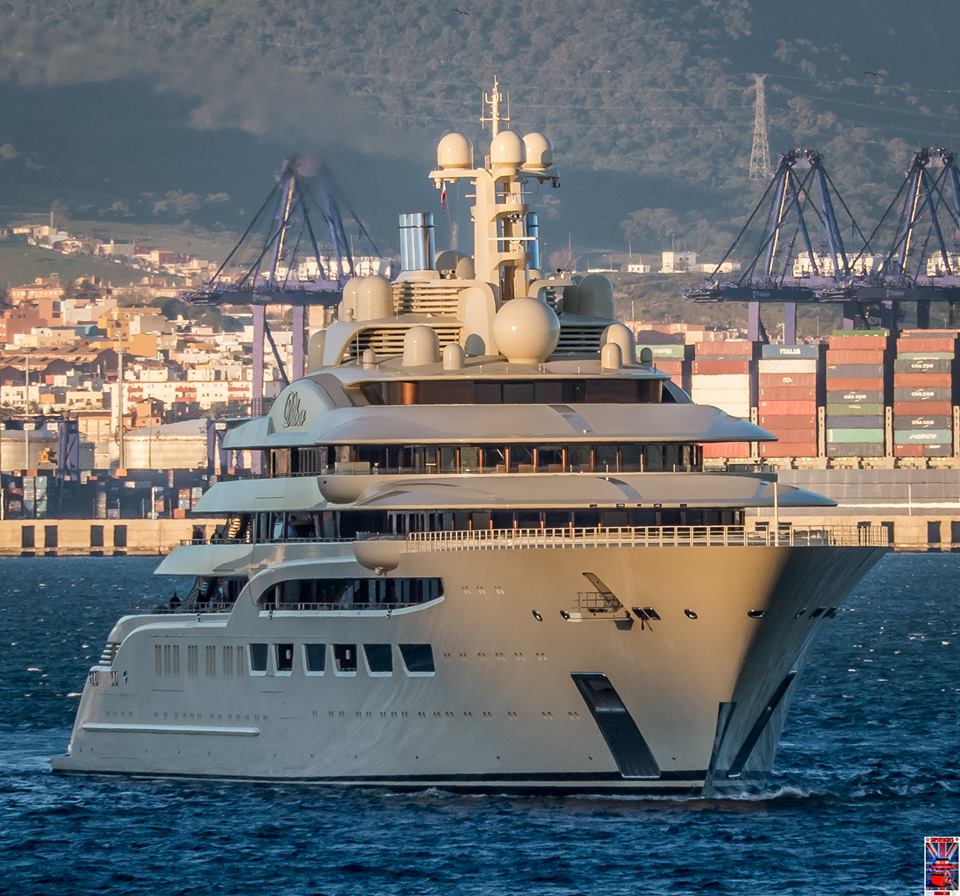 USM's
initial
equity stakes primarily stem from the metal and industrial sectors. These have, however, over time diversified and now also include ownership of Megafon, one of Russia's largest telecom operators. To the United Kingdom, Usmanov is best known as one of the co-owners of the Arsenal football club.
To the tech community, Usmanov is one of the most successful investors in modern history, having made investments into companies such as Facebook, Alibaba and Mail.ru.
Photos via Superyachts Gibraltar, Yacht Harbour, Instagram
Check our
Timeline
platform to get the full access to our analytics platform, that offers you a detailed report on the timeline of each superyacht, real time market view to see the yacht market developing and much more!