After a year break, Monaco Yacht Show 2021 has returned. The 100 superyachts attended the show with a total worth of $3.6 billion. Multiple launches, world premieres and record demand for yachts consistent with the current state of the economic situation. According to Arthur Brouwer, Heesen CEO, "The number of billionaires made a remarkable recovery from the economic impact of Covid-19, and grew by 660 amounting to 2,755 globally – that's a 32% increase. Their average wealth also grew to $4.7 billion per billionaire – a 24% increase. It comes as no surprise that technology is the primary source of wealth, which added 99 billionaires – the most of any category. The superyacht market is back to the dynamic of the early 2000s with orders nearing the 100 mark. But this is not just post-pandemic euphoria – it is a trend that we are confident should last for some time".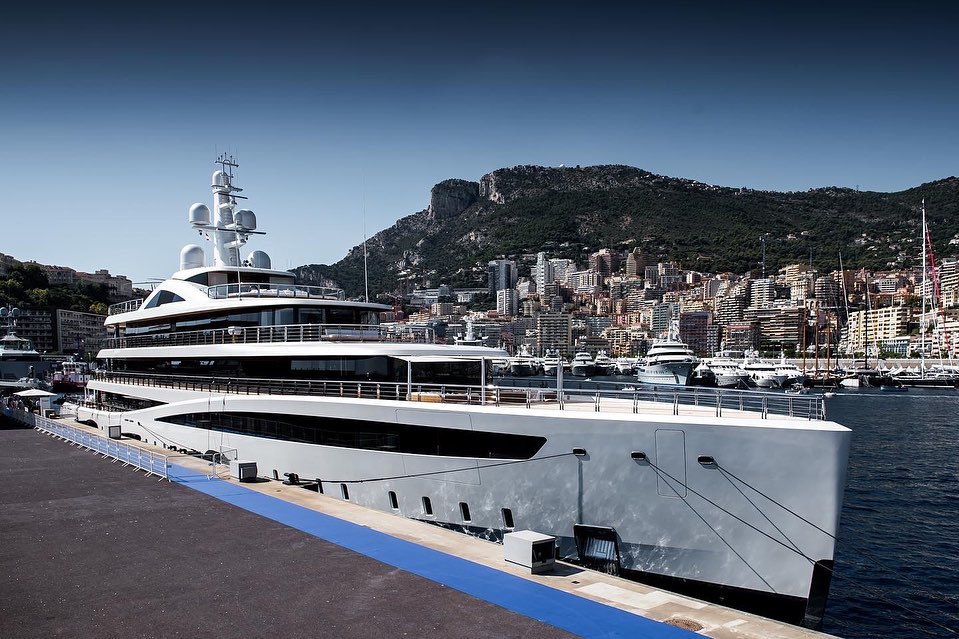 Feadship Viva
Many shipyards are anticipating their most successful year for decades. Ferretti Group is ending the first quarter of 2021 reporting powerful growth on both economic and industrial fronts. Compared with the same period in 2020, first quarter revenues rose 40%, from EUR 133 million to EUR 186 million. New orders, as of today, total over EUR 300 million, or 56% of all of 2020 orders. Heesen also reported a strong order book with 97% output capacity.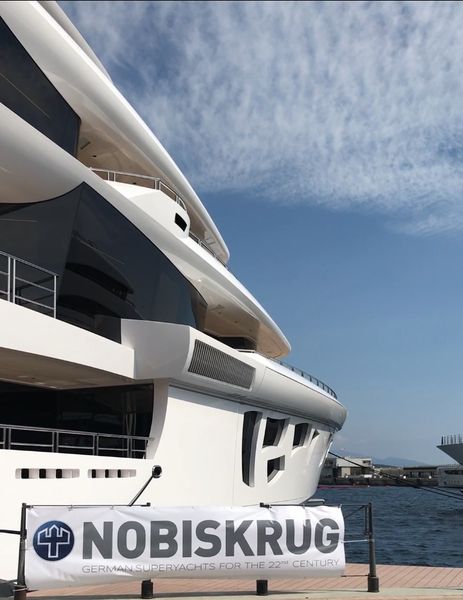 Artefact (Nobiskrug)

Azimut|Benetti Group value of production totalling 850 million euros as at 31 August 2021. Order book up three-fold on the previous season and now standing at 1 billion 200 million euros. 508 million euro order intake in the last 90 days, with demand concentrated in the segment over 80 feet.
The largest yachts of the show were 94m Feadship's
Viva
and the
85m
explorer yacht
Victorious
by Akyacht, the
80m
Nobiskrug's
Artefact
and 108m Benetti's gigayacht
IJE
.
Sanlorenzo returned to the Monaco Yacht Show with two of the fleet's top superyachts: the 500Exp, which with 10 units sold and 11 under construction continues to achieve record figures, and the 62Steel, which is being shown to the international public for the first time.
Heesen shows its recently delivered 55m
Moskito
. Her muscular exterior lines were made by Omega Architects and are characterised by 'shark-tooth' superstructure overhangs and vertical windows. The design features the latest iteration of van Oossanen's ultra-efficient Fast Displacement Hull Form. Her interior design was made by London-based studio Bannenberg & Rowell.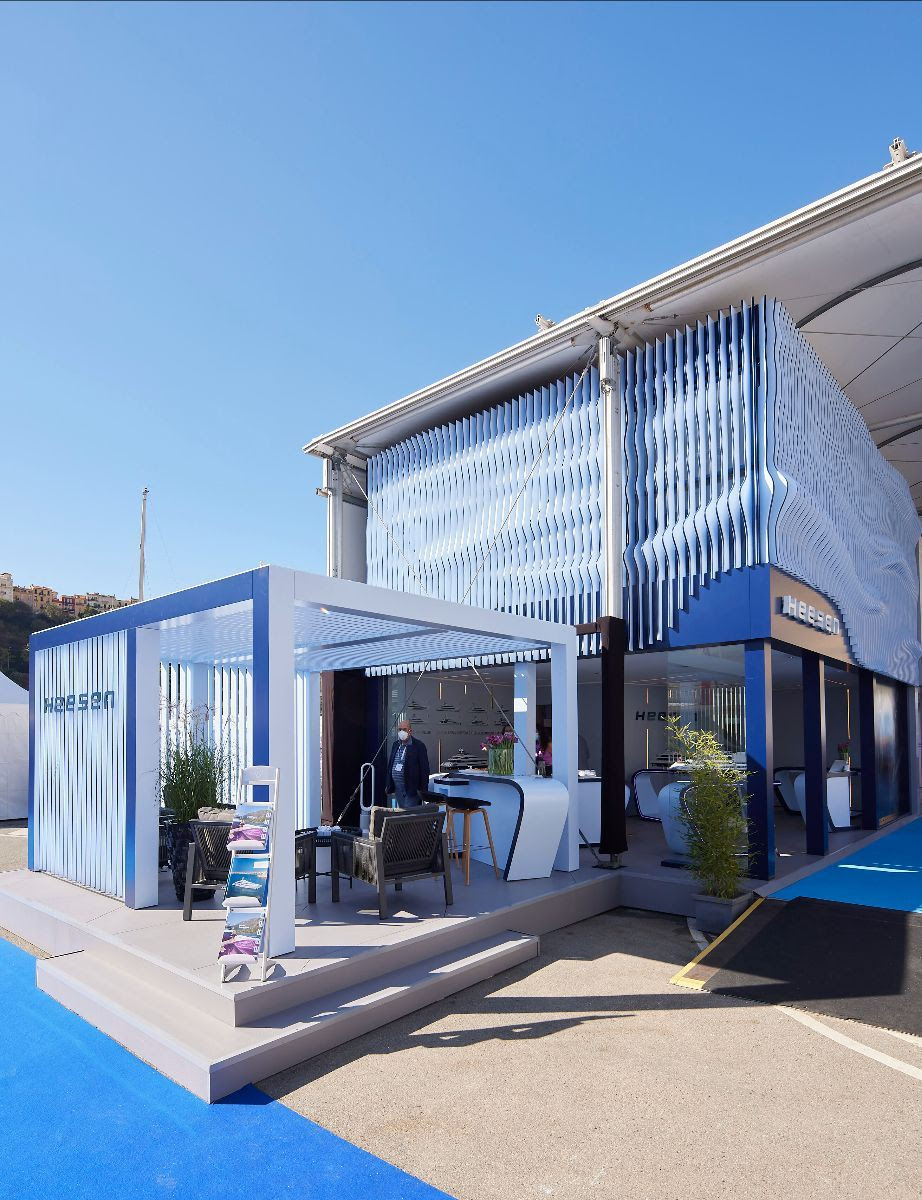 Heesen's stand at MYS
This year Lürssen has displayed the latest delivery from the yard –
Project 13800
is a first step in reestablishing the brand as a serious proposition for yachts in that size bracket as well designed by Bannenberg and Rowell.
Benetti has chosen the Monaco Yacht Show to present the
Zazou
, the 65m custom yacht launched in Livorno last April. The design signature of Sinot is clear to see throughout
Zazou
, where the studio managed to create a light-filled and inviting interior atmosphere, characterized by a contemporary luxury style and a neutral palette accented by various contrasting and colourful details in the accessories and furniture. This homely environment is an inspiration to spend precious time together with family and friends.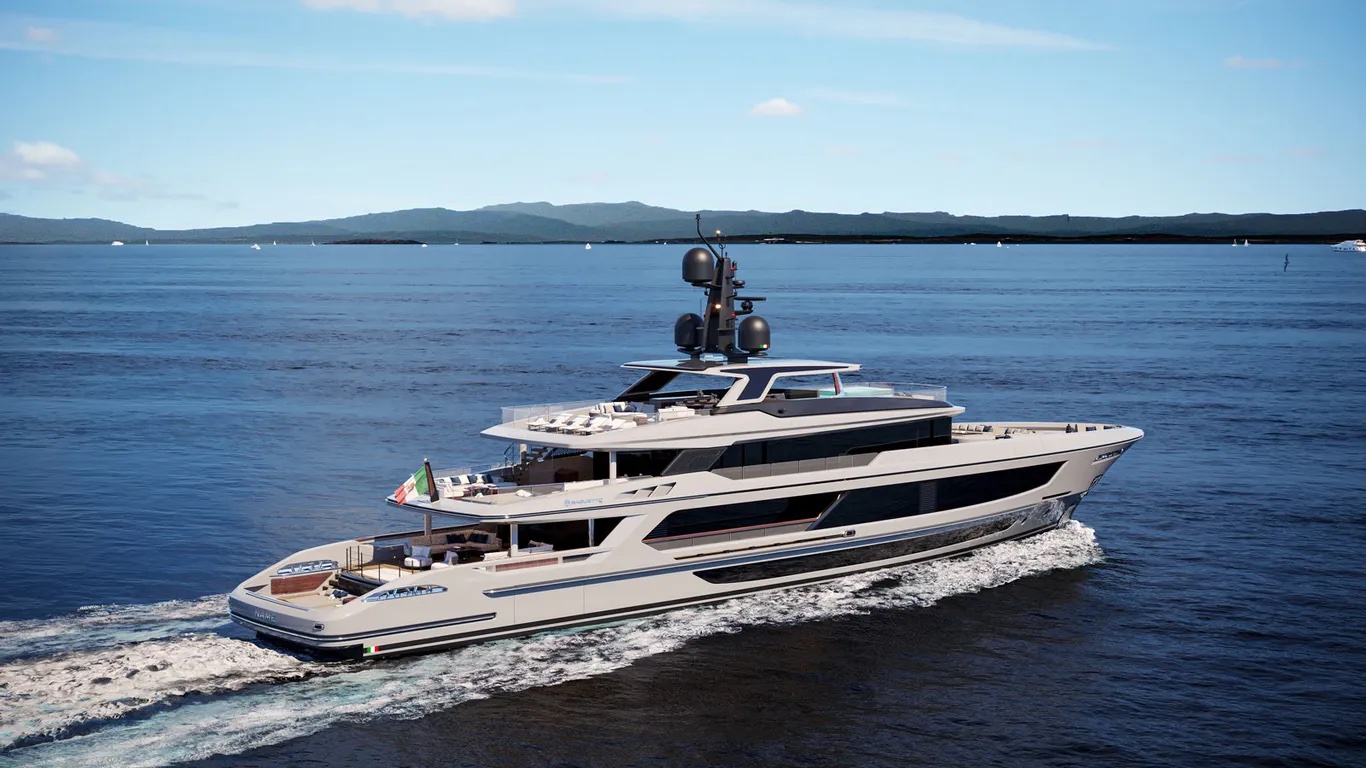 BZERO (Baglietto)

The best charter
yachts
on
display
at
the
show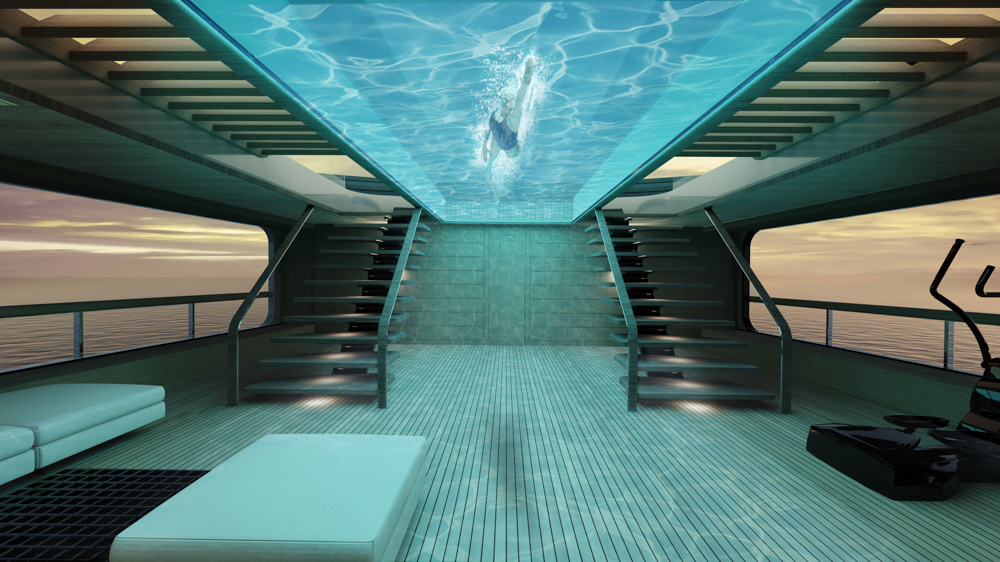 Apache (Tankoa Yachts)

Tankoa Yachts has announced a new lifestyle yacht concept
Apache
. The steel and aluminium project is based on a brand new technical platform with beautifully sleek exterior styling, chic interior design and never-before-seen luxury features by Alberto Mancini.
Baglietto unveiled its BZERO project, which will integrate hydrogen fuel technology on a hybrid or diesel-electric platform to power its superyachts in zero-emissions mode.
Credits: Baglietto/Facebook, Feadship/Facebook, Heesen, Nobiskrug/Facebook, Tankoa