Earlier today, a large fire broke out at Lurssen's Bremen shipyard in a floating dock and building unit where a 100-meter+ yacht was under construction. Over 110 firefighters were dispatched to the site, no one was injured during the incident but the new build is expected to have taken serious damage.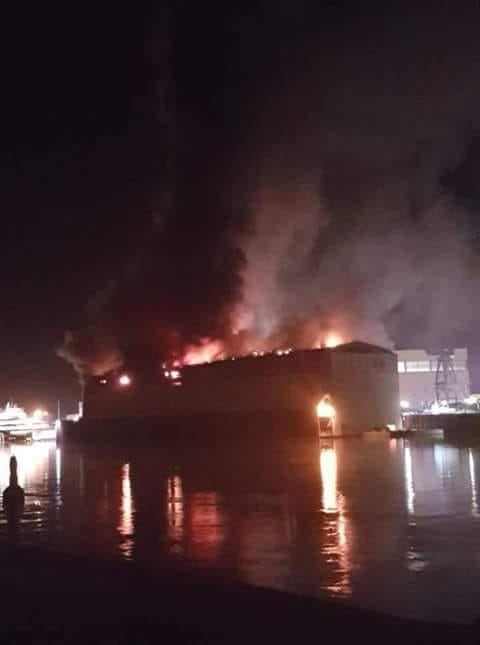 According to initial reports in the German media, the fire broke out around 02:00, the cause of which is still being investigated. Three of the yacht's deck are believed to have caught on fire. 35 to 40 vehicles were dispatched on site according to a spokesman for the local fire department.
130-meters long and 30-meter wide according to German media, the floating dock caught fire early morning and was evacuated immediately, the new build inside also caught on fire as was confirmed by Lurssen to NWZ Online.
For the moment it is unclear what new build was damaged by the fire. This morning, additional fire crews were requested to join the scene bringing the total to 170 people as the fire fighters are trying to get the situation under control. Throughout the night a large cloud of smoke was spreading out of the building hall.
Seen on images outside the facility, it is know that the 135-meter Project Shu was not the new build in question to be damaged. The 135-meter Crescent was also already out of the shipyard and delivered by the time of the fire. The larger Project SASSI could have been candidate for the new build that burnt down.
Operated by the
Lurssen
family for 4 generations, the shipyard has become a global leader in the megayacht space in recent decades. Initially founded in 1875 by Friedrich Lurssen, the company grew from building smaller motor yachts in a different era to building superyachts by 1962 when it delivered the 55-meter Pegasus.
Now known as the company behind many of the world's largest yachts such as Azzam,
Dilbar
, Pelorus or Rising Sun amongst other, Lurssen is also active in the military space, having built patrol boats, frigates and even mine warfare vessels.
Lurssen released a statement, regarding this situtation : "In the early morning at approximately 02:00 a fire broke out in the floating dock of the Fr. Lürssen Shipyard in Bremen-Aumund and onboard the yacht within it. The emergency procedures commenced immediately, in the course of which the persons still working on board were evacuated and examined with respect to possible smoke intoxication and the fire fighting department and emergency response teams were alarmed. Additionally the whole premises were evacuated. Currently, no casualties are known. At the moment, 110 fire fighters and rescuers are onsite, also supported by a team of the Jos. L. Meyer shipyard. Further buildings or other ships were not affected. No statement can be made so far towards the cause of the fire or the extent of the damage".
Photos via Twitter