The 63rd annual Fort Lauderdale International Boat Show (
FLIBS
) will start tomorrow. Year after year, FLIBS has raised the bar for the marine industry and the expectations of the 2022 edition are very high. We choose 13 yachts up to 35 meters not to be missed.
SP110
Sanlorenzo
33m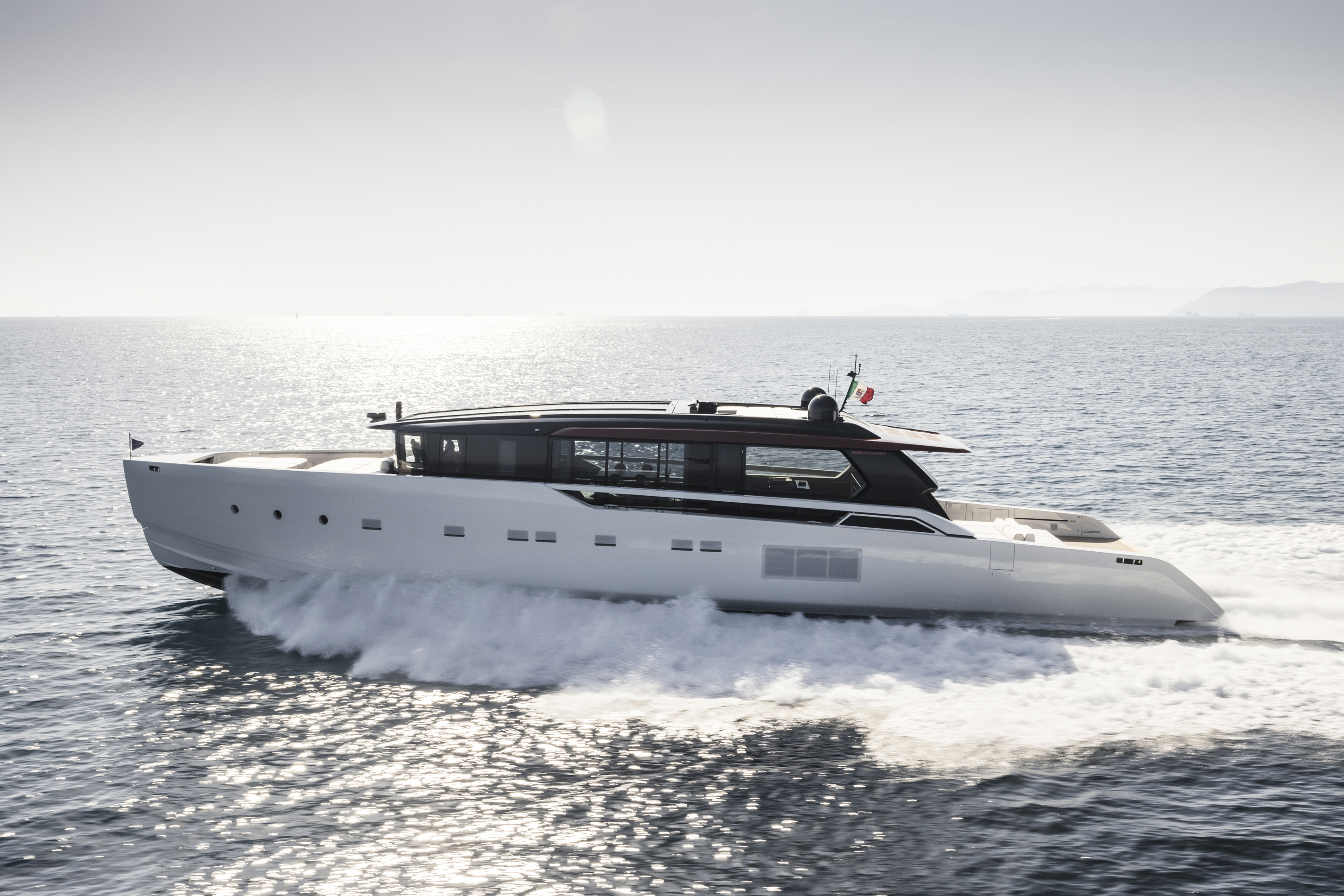 SP110
is a project, born from Tilli Antonelli's experience, which aims to guarantee the highest performance with the maximum energy efficiency, thanks to the use of fractional motorisation, the development of a hull optimized for hydro jet propulsion and the use of lightweight materials. The exterior was designed by Bernardo Zuccon. The interiors were designed by Piero Lissoni. The SP110 has a maximum speed of 40 knots, can cruise at 33 knots and has an economic speed of 30 knots.
Tri-Deck FD100
Horizon
30.9m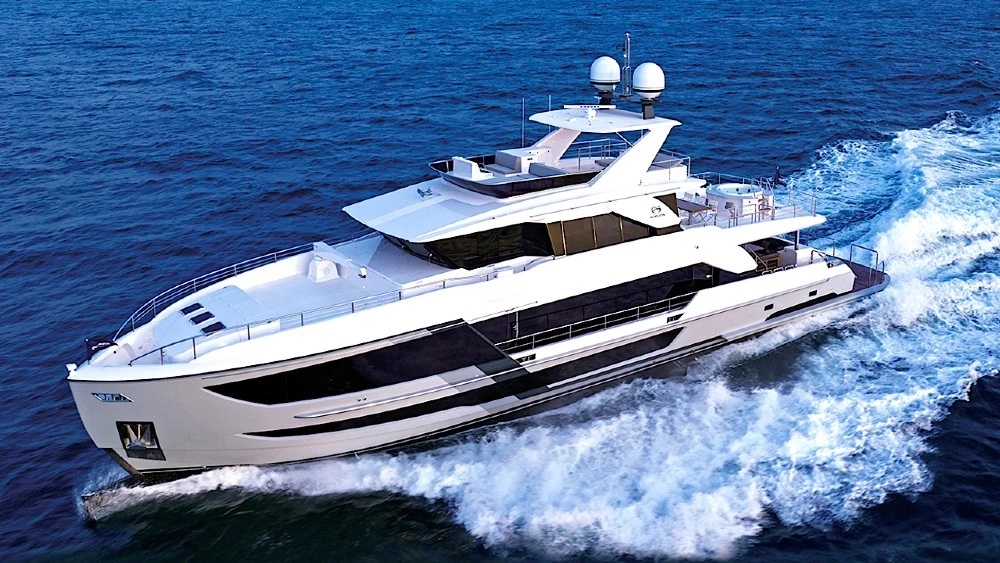 The 30.9-meter triple-decker from Taiwan Horizon is the new flagship of the yard's fast-multiplying Fast Displacement FD series which features naval architecture from Cor D Rover. The Tri-Deck layout option offers a lightweight open flybridge equipped with a helm and seating area atop the bridge deck, which features a forward wheelhouse, interior skylounge with dayhead and bar and hot tub aft.
CLX96
CL Yachts
29.5m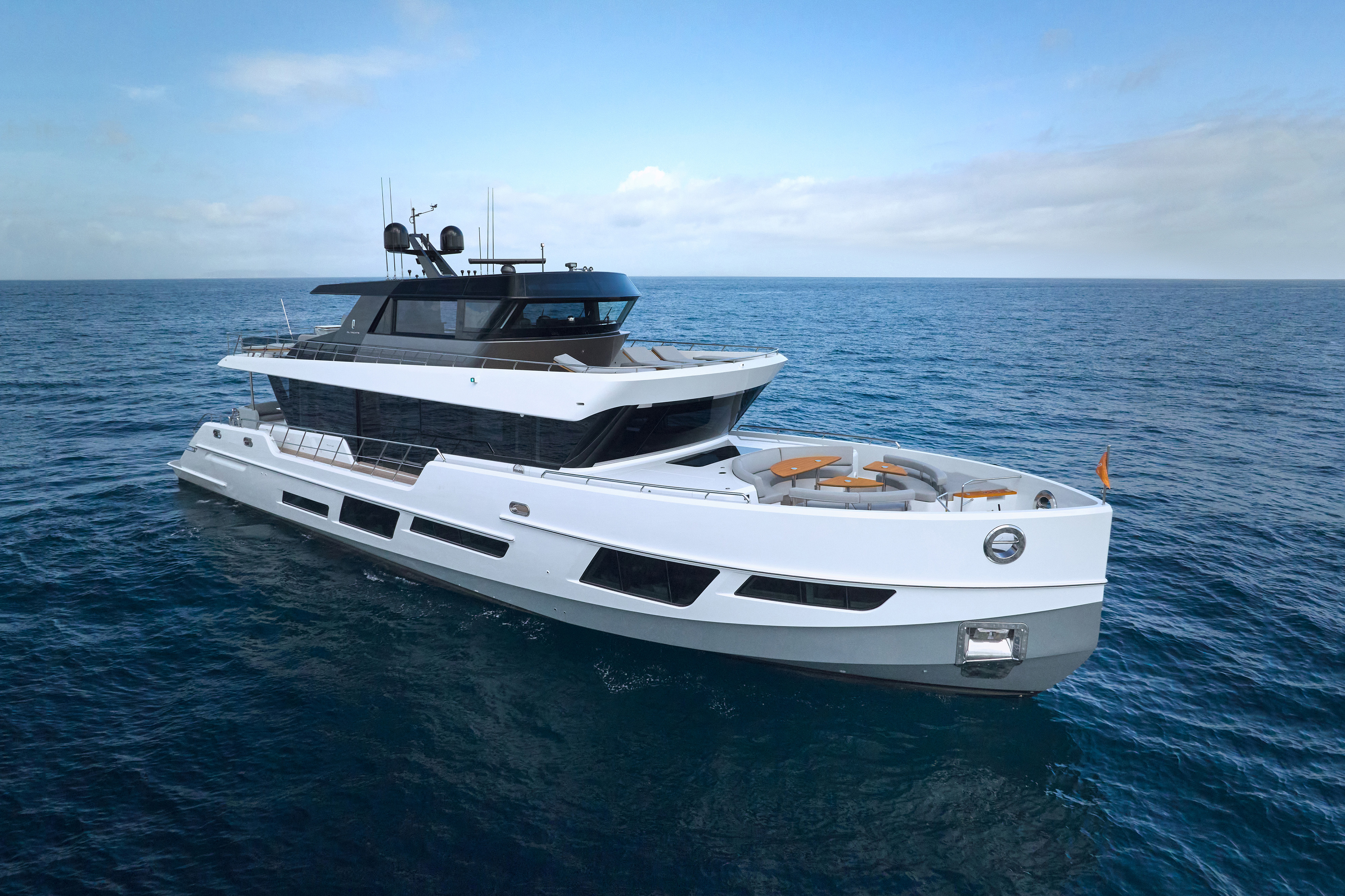 The award-winning
CLX96
has been created in collaboration with international designer Jozeph Forakis, with structural engineering from Albert Horsmon and naval architecture from Earl Alfaro. CLX96, CL Yachts new flagship, heralds the establishment of the new X-Series that will be joined by more models in the future. The versatile CLX96 has a 'workboat chic' two-level, reverse-angle deckhouse using inverted trapezoids that maximize space as well as reduce glare and heat, while the plumb bow further amplifies accommodation while providing hydrodynamic efficiency. Below deck, she features a four-cabin layout, including a full-beam master suite. Powered by twin 1900 hp Caterpillar C32 engines, she has a maximum speed of over 25 knots at full load.
Ocean Alexander 28E
Ocean Alexander
27.74m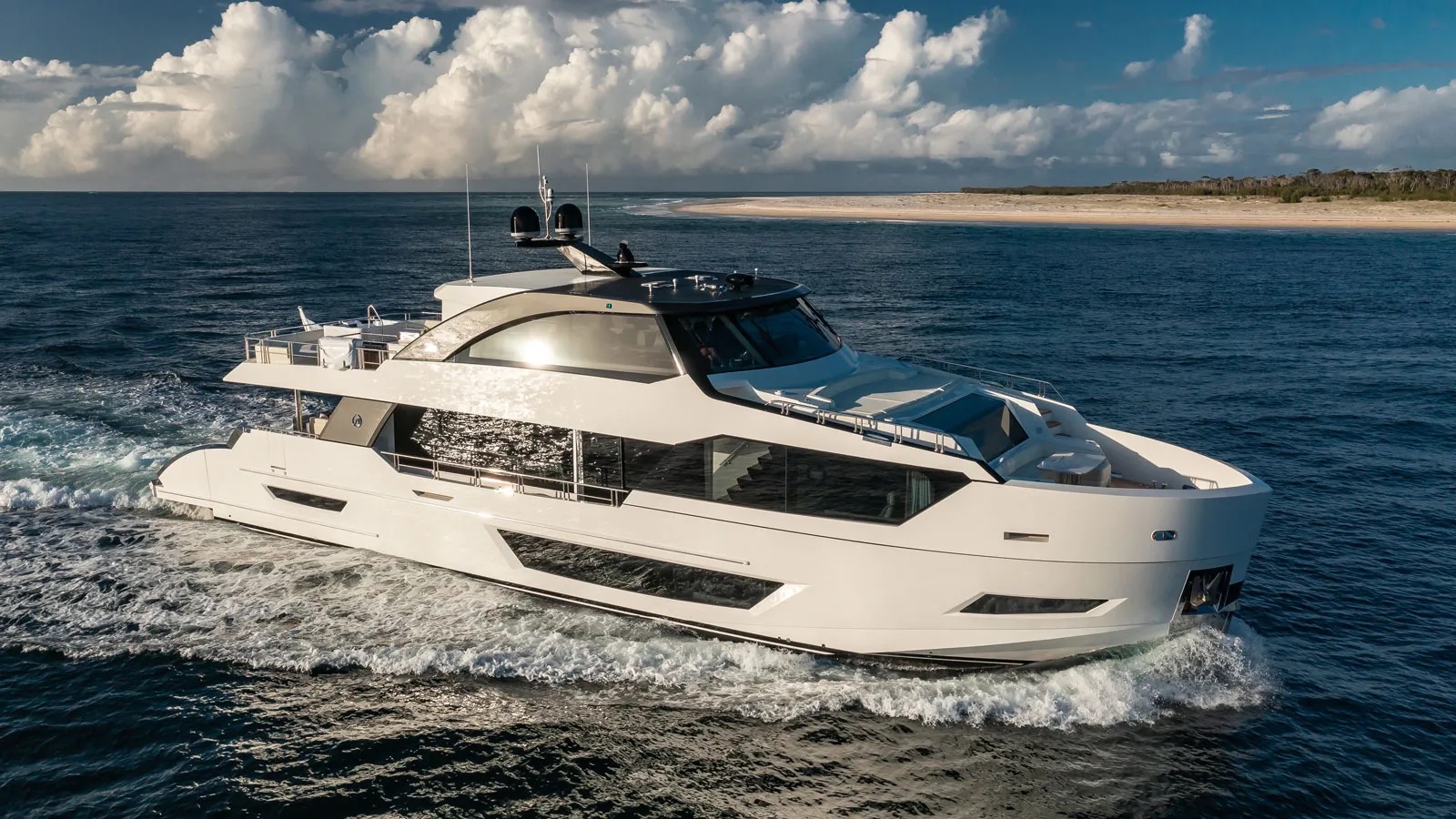 The Ocean Alexander 28E will make her American debut at the Fort Lauderdale Boat Show. Part of the brand's Explorer line, Ocean Alexander exterior and interior made by Evan K Marshall. The yacht can accommodate 10 guests across five staterooms. Her features include a penthouse-inspired skylounge, a spacious saloon with lounging and dining area, and an oversized swim platform.
88 Yacht
Sunseeker
26.38m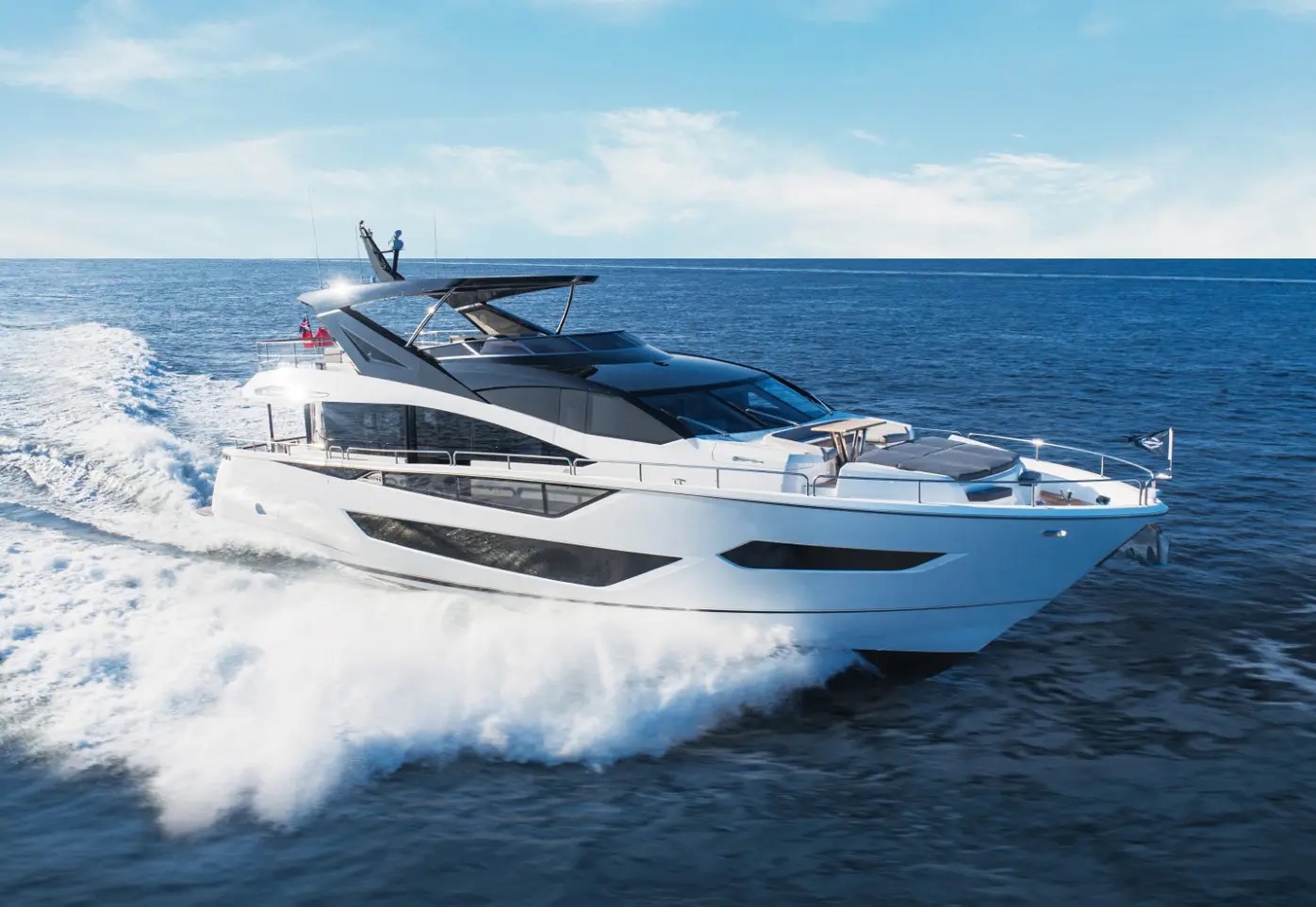 The award-winning 88 Yacht perfectly showcases a style and elegance that is distinctively Sunseeker. The 88 Yacht features spacious 'Beach Club' accessed by dual sweeping staircases featuring recessed LED lighting. Below deck is a four cabin/four en suite arrangement with the master suite positioned amidships for ultimate space and light. Powered by twin MTU 10v 2000's as standard or twin MTU 12v 2000's as an option, she accommodates eight guests and four crew in complete luxury and comfort reaching speeds of up to 28 knots.
Ferretti Yachts 860
Ferretti
26.95m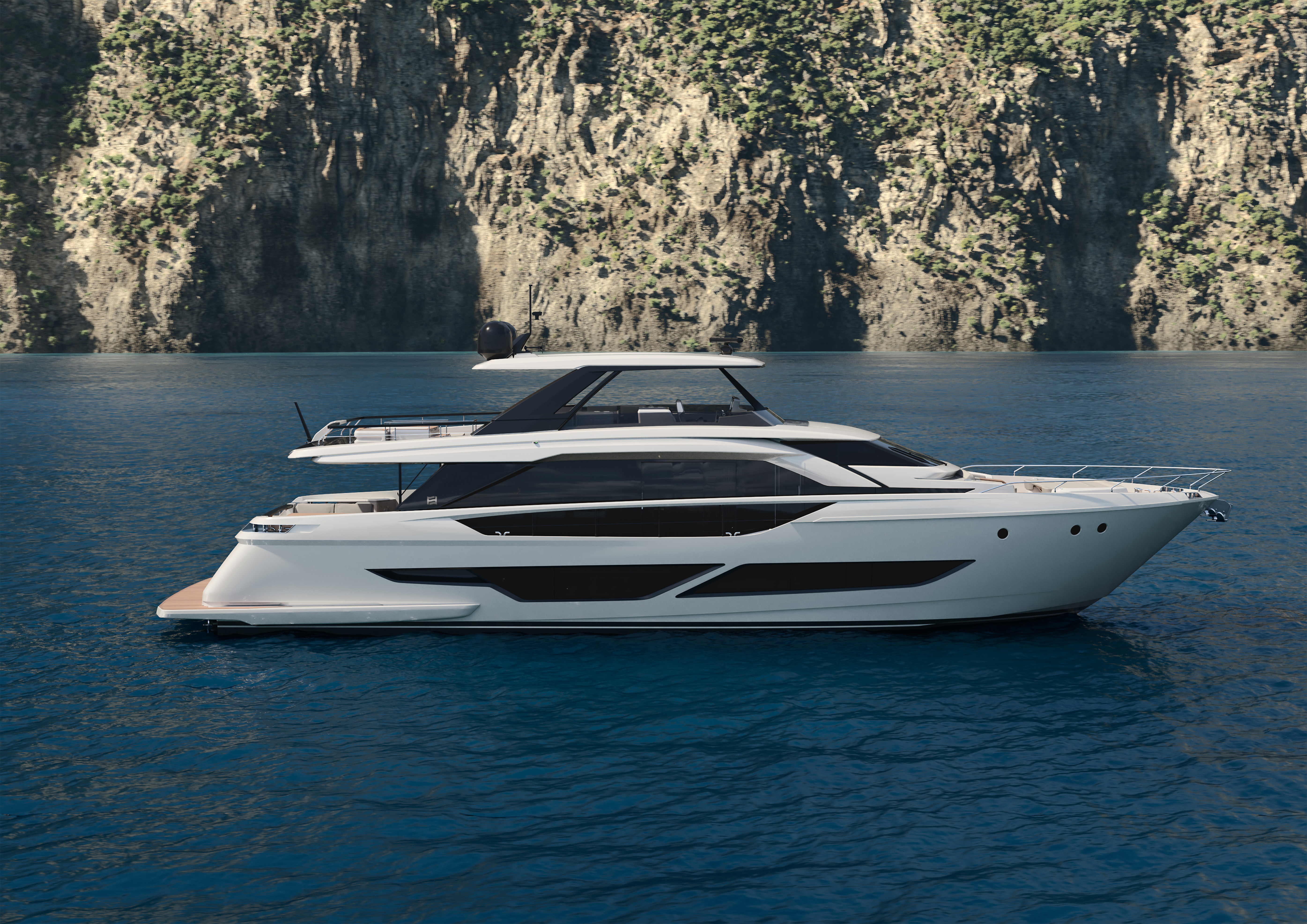 This yacht is the result of collaboration between the Strategic Product Committee led by Mr. Piero Ferrari and the Ferretti Group Engineering Department. Ferretti Yachts 860 is the third yacht developed by architect Filippo Salvetti (exterior design) and Ideaitalia (interiors). The yacht's exteriors introduce the floor-to-ceiling windows and glass fashion plates, which punctuate the sleek, powerful silhouette.
Galeon 800 Fly
Galeon
25.35m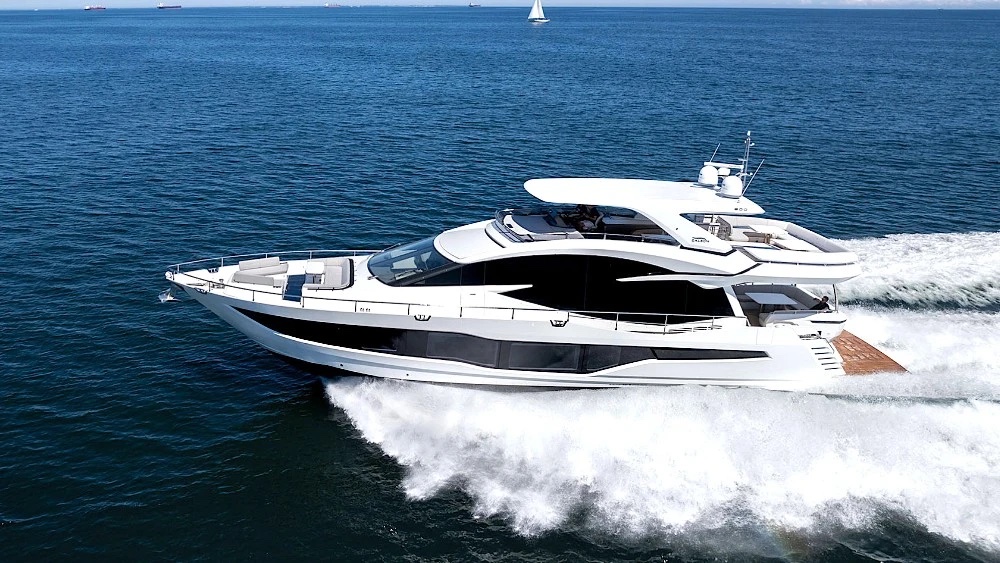 Galeon 800 FLY combines a sporty silhouette and impressive performance. The interior and exterior design was made by Tony Castro. Structure elements made of carbon fiber allowed to increase the surface of the upper deck, so the yacht can offer a double helmsman's position, fully equipped bar, a comfortable sunbathing area, and a hot tub. The yacht can accommodate up to eight guests and offers tastefully decorated living space.
80 Sunreef Power
Sunreef
23.96m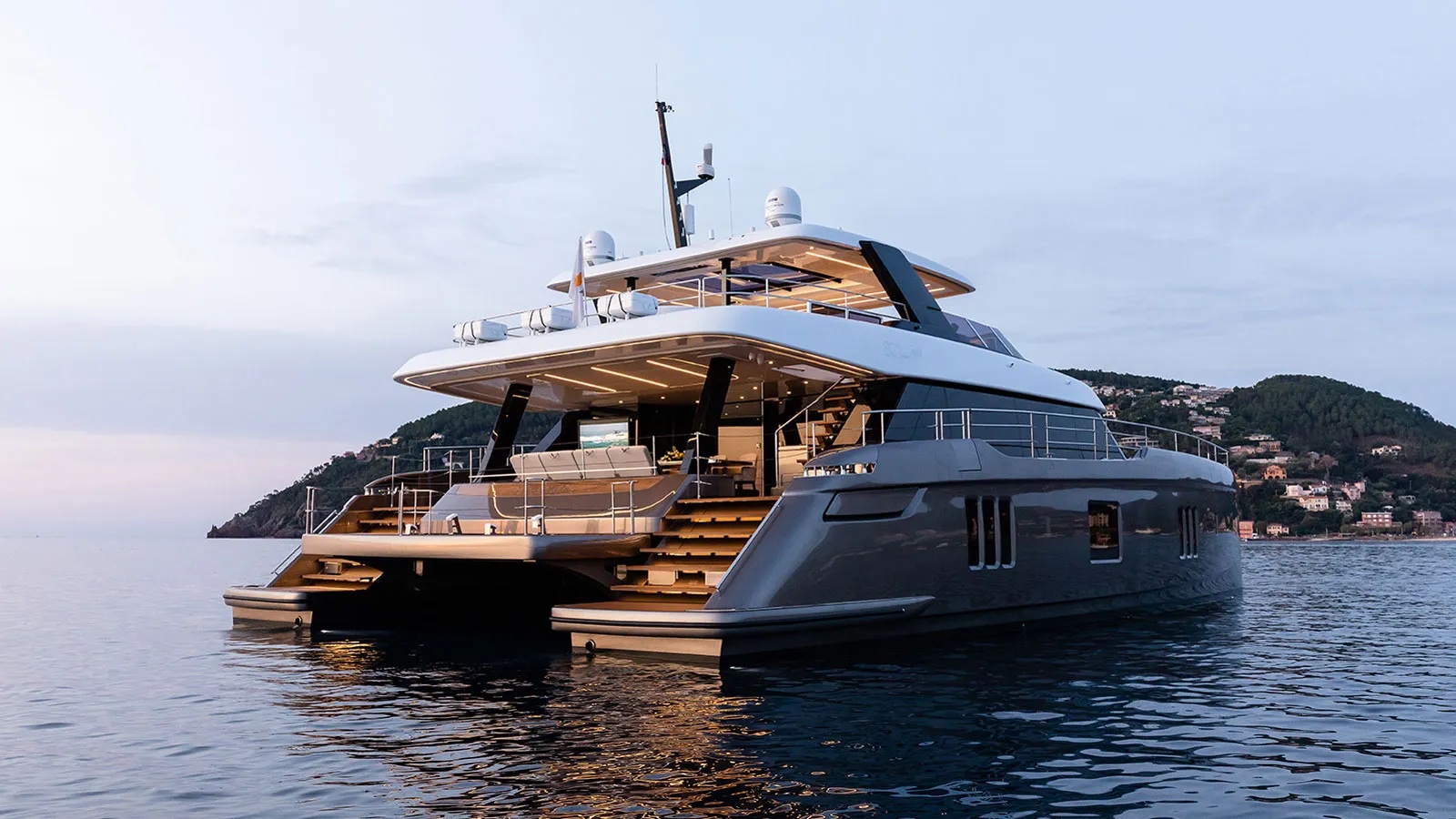 Sunreef Yachts will premiere its popular
80 Sunreef Power
at this year's show. The yacht has a superyacht-worthy flybridge, a full beam aft deck with large dining area, a swim platform and a garage that can accommodate a 3-seater jet ski as well as jet skis, toys and a gas station.
Pearl 72
Pearl Yachts
22m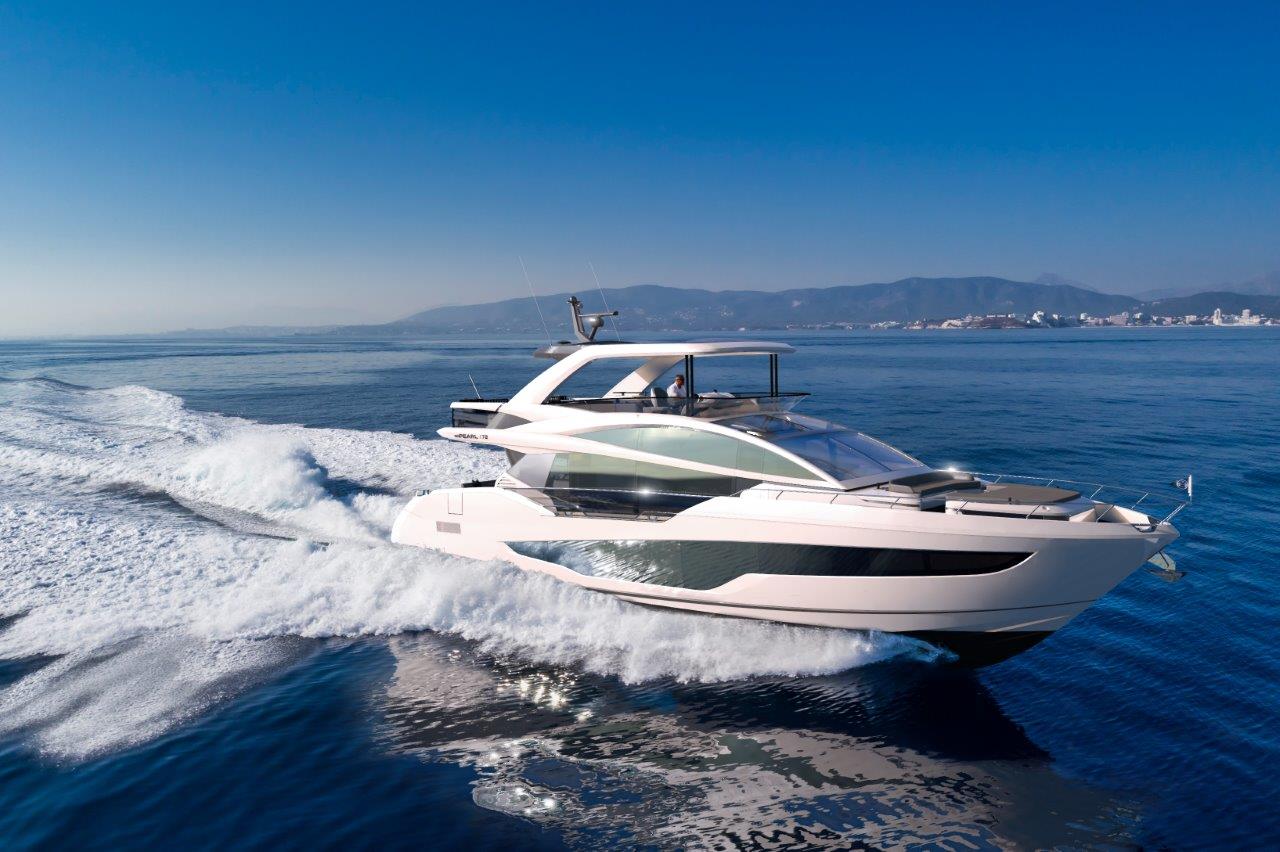 The
latest edition
of Bill Dixon's coordinated exterior design and naval architecture. In interior Kelly Hoppen shows a new interior theme – "Indulgence". The design intent of this yacht was to capture New York City urban living on water while enhancing and working with the incredible mechanical features that have been achieved. At 22 meters this model has two master cabins, which is unusual for vessels of this size.
Magellano 66
Azimut
20.1m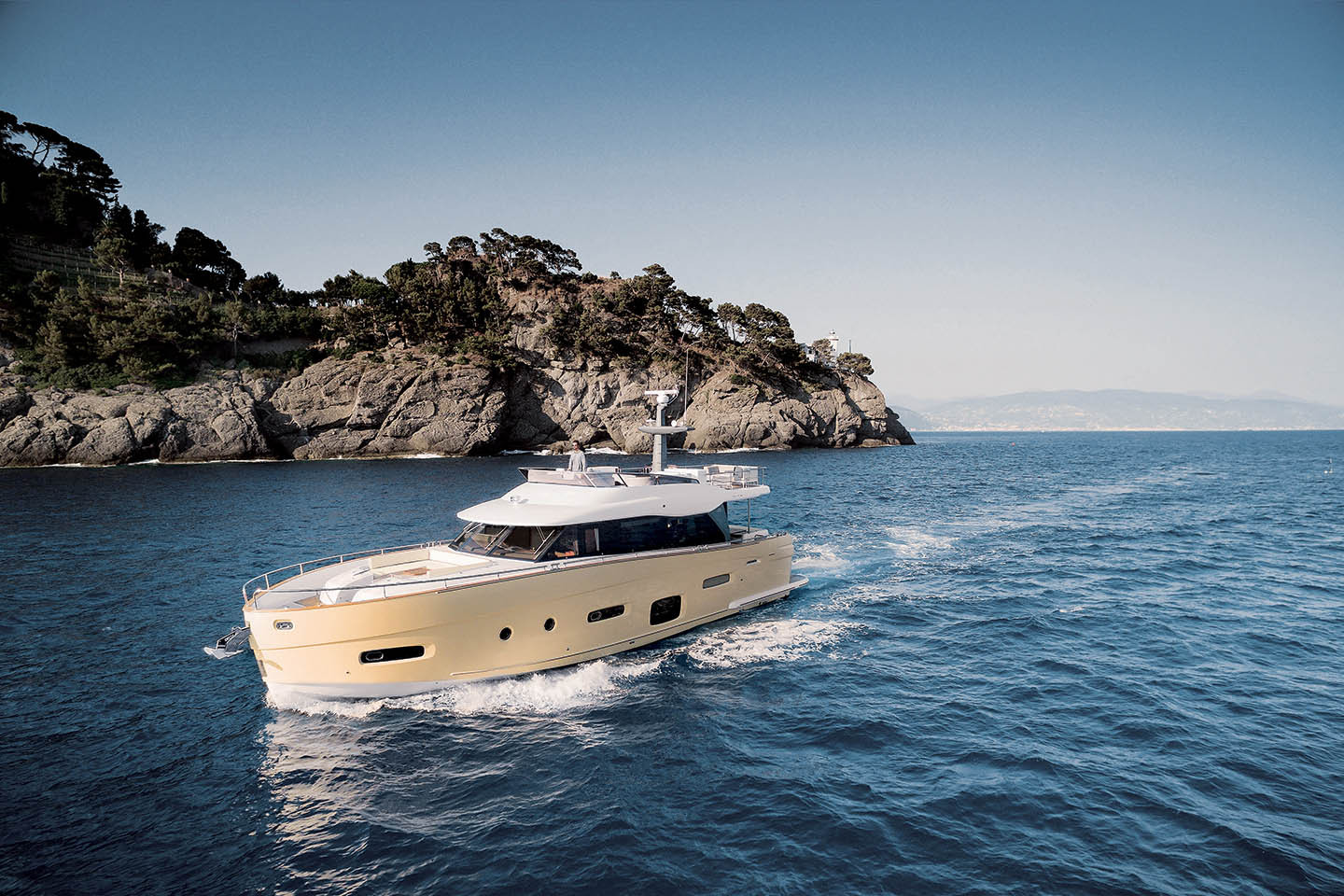 Magellano 66 is a modern and timeless Navetta. The spacious day zone is designed to optimize onboard living, distributed over a single level, with vast windows creating an airy, light-filled environment. Outside too there is also no shortage of space, and there is no better example of this than the impressively large flybridge, with a stern lounge area that can also incorporate an American bar. Magellano 66 semi-planing hull comes from Italian naval architect Pierluigi Ausonio.
Vicem 55 Classic Flybridge
Vicem
16.85m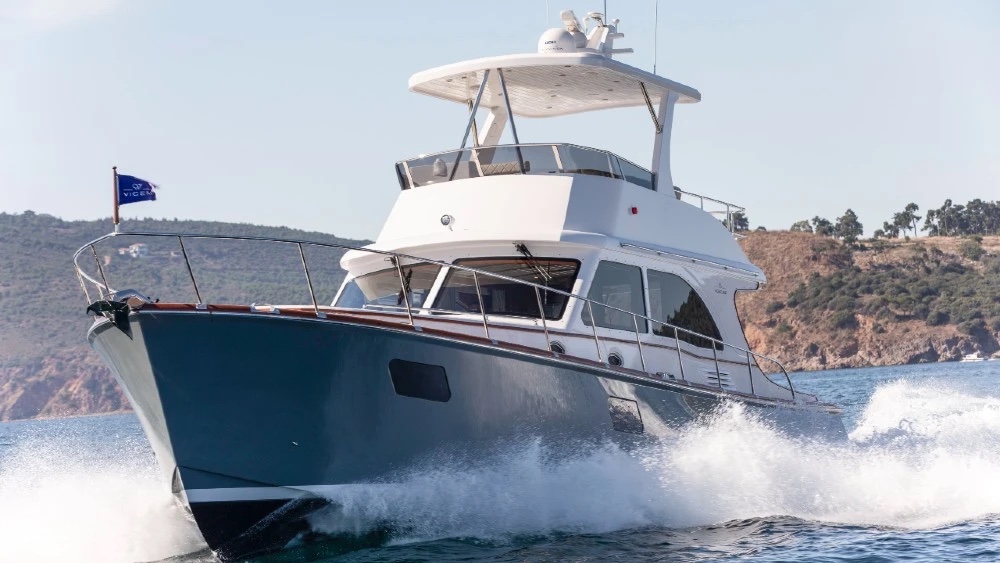 Turkish builder Vicem brand new Classic 55 Flybridge comes after cranking-out its elegant 55 Classic sedan. From the very beginning the 55 has showcased our signature design concept: a large cockpit on the same level as a spacious salon. A wide opening cockpit door merges these two key living and entertaining areas better than any boat in this size range. Vicem now offers this yacht in their traditional and proven cold mold epoxy composite or infused fiberglass construction with approximately the same fast build times.
BG54
Bluegame
16.57m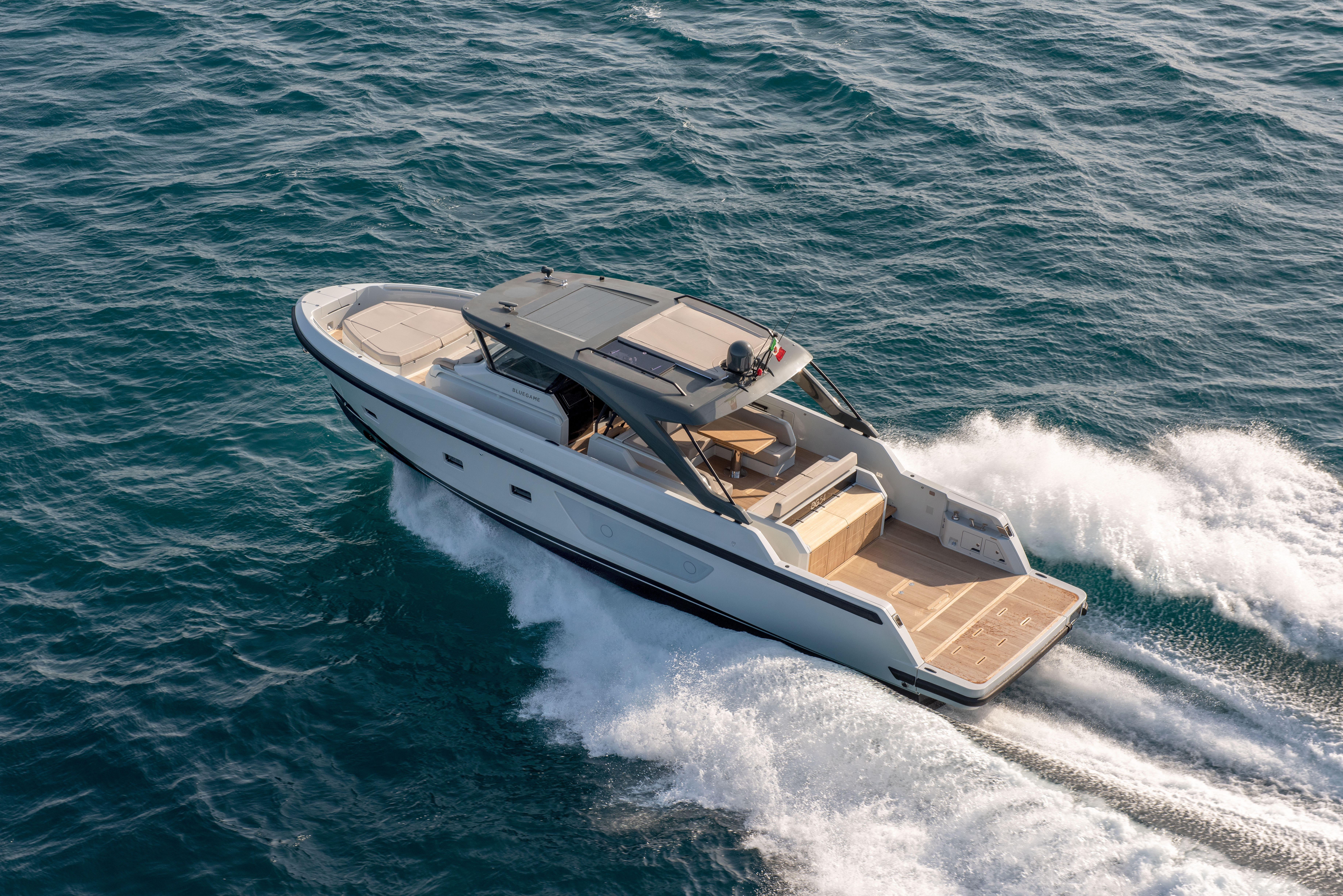 Bluegame's latest creation, the BG54, which won an award at the Cannes Boat Show and was greatly admired at the Genoa Boat Show, is ready to replicate the enormous success of its elder sister BG72, from which it inherits the evolved concept of space that offers an unusual layout in terms of size and usability, as well as an unmistakable profile. It's the premiere for the American market.
M5200
Mystic
15.8m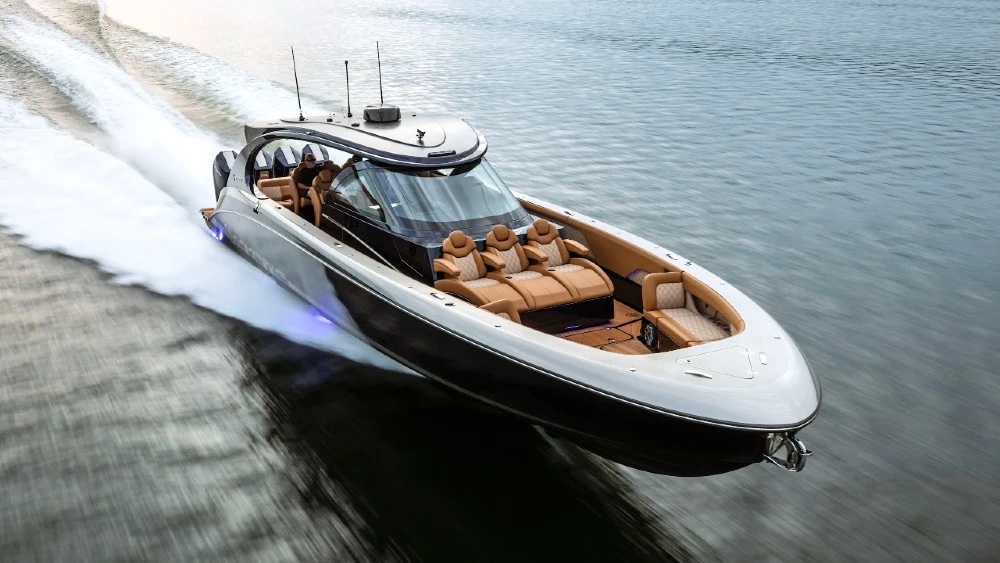 A new class of center console for Mystic, the M5200 is built for the biggest adventures.
Mystics are built on performance and combine their racing heritage with the reliability and power of Mercury engines. M5200 can reach an impressive top speed of over 69 knots, it's the fastest boat debuting at FLIBS.
Credits: Azimut Yachts, Bluegame, CL Yachts, Ferretti, FLIBS, Galeon, Horizon, Mystic, Ocean Alexander, Pearl Yachts, Sanlorenzo, Sunreef, Sunseeker, Vicem