Baglietto launched their third yacht this year, the
Dom 133
, which was sold in collaboration with Remi Carrier of Canada Yachts and recently hit the water. After the technical ceremony, the yacht was transported to the La Spezia site for outfitting operations, which will be completed before delivery scheduled for the beginning of the summer season. The exteriors and interiors of the hull #3 were designed by Stefano Vafiadis. "The aim of this project has always been to achieve a smooth, seamless connection between interiors and exteriors, thereby making the most of the generous onboard spaces. The layout of the saloons and cabins emphasizes the concept of conviviality and creates a natural dialogue with the outdoor areas," comments Stefano Vafiadis.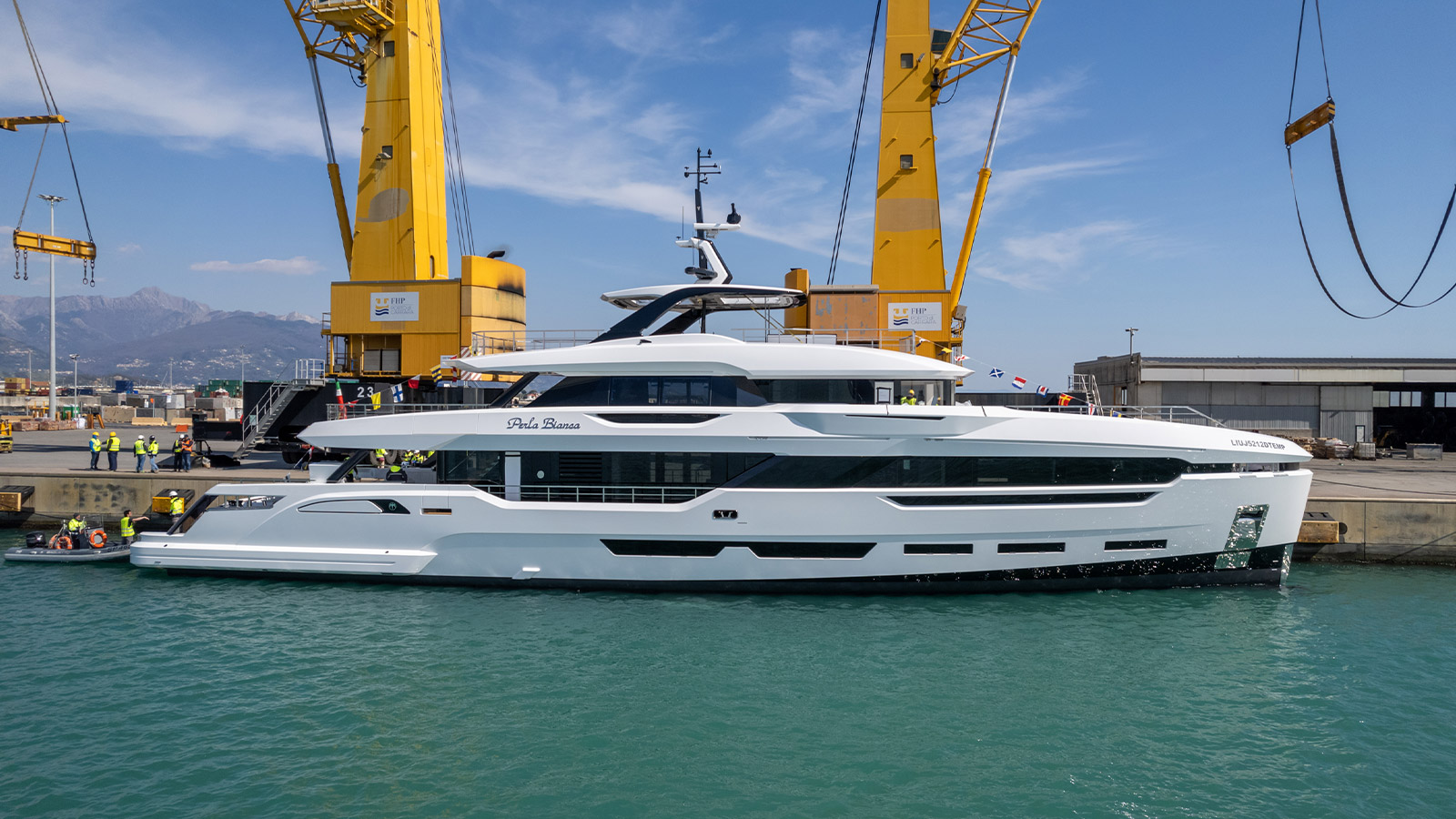 Baglietto has already sold eight Dom 133, which are known for their contemporary layout and key features demanded by the market, such as a beach club on two levels with an infinity pool, panoramic windows, and spacious terraces.
"In spite of their contemporary layout, all yachts in this line never fail to include the key features demanded by today's market", comments Baglietto's CCO Fabio Ermetto. "Among them, a beach club on two levels with an infinity pool whose lifting bottom rises to make the already spacious cockpit even larger, and panoramic windows that open up onto spacious terraces. Additionally, choosing aluminum as the construction material has resulted not only in higher quality and increased onboard comfort, but also in greater flexibility and the ability to make any changes needed to achieve a very high level of customisation in the exteriors, too".
The yacht's aluminum construction not only provides increased onboard comfort but also enables high levels of customization in the exteriors. The interiors perfectly complement the yacht's exterior, and the layout of the saloons and cabins emphasizes conviviality and creates a natural dialogue with the outdoor areas. The yacht features an innovative transparent outdoor staircase leading to the upper deck, with steps floating between two glass slabs, and 3D ceilings dividing the lounge and dining areas. The materials used throughout the yacht, including pale maple wood, soft-hued and natural fabrics, and precious marbles, create a harmonious sense of consistency and continuity. The yacht is powered by two Caterpillar C32 engines, allowing it to reach a maximum speed of 17 knots and comfortably cruise in the shallow waters of the Bahamas.
Baglietto Spa
is an Italian boat builder based in La Spezia specializing in new aluminum light alloy yachts ranging between 35m and 50m in length and steel and light aluminum alloy displacement megayachts starting at 40m.
Credits: Baglietto