Ferretti Group has shared the images of the new Riva yacht, which just premiered at the Cannes Yachting Festival. With a length overall of 25.29 m and a maximum beam of 6.08 m, Riva 82' Diva features restyled interiors and enhanced outdoor liveability, achieving a perfect equilibrium of functionality, comfort and design.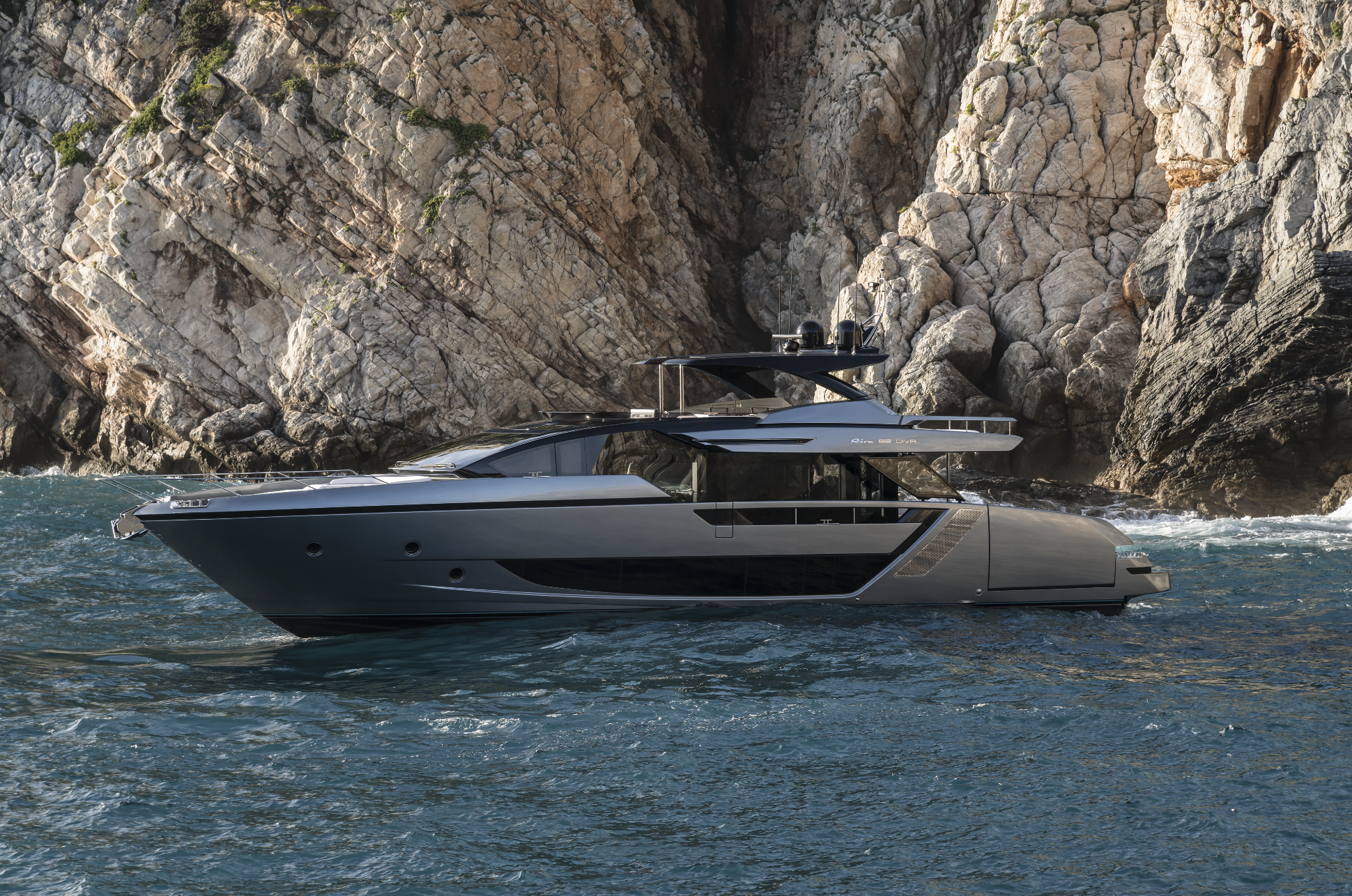 Like its predecessors, this new Riva success is penned by Mauro Micheli and Sergio Beretta, founders of Officina Italiana Design, working in partnership with the Strategic Product Committee led by Piero Ferrari and the Ferretti Group Engineering Department.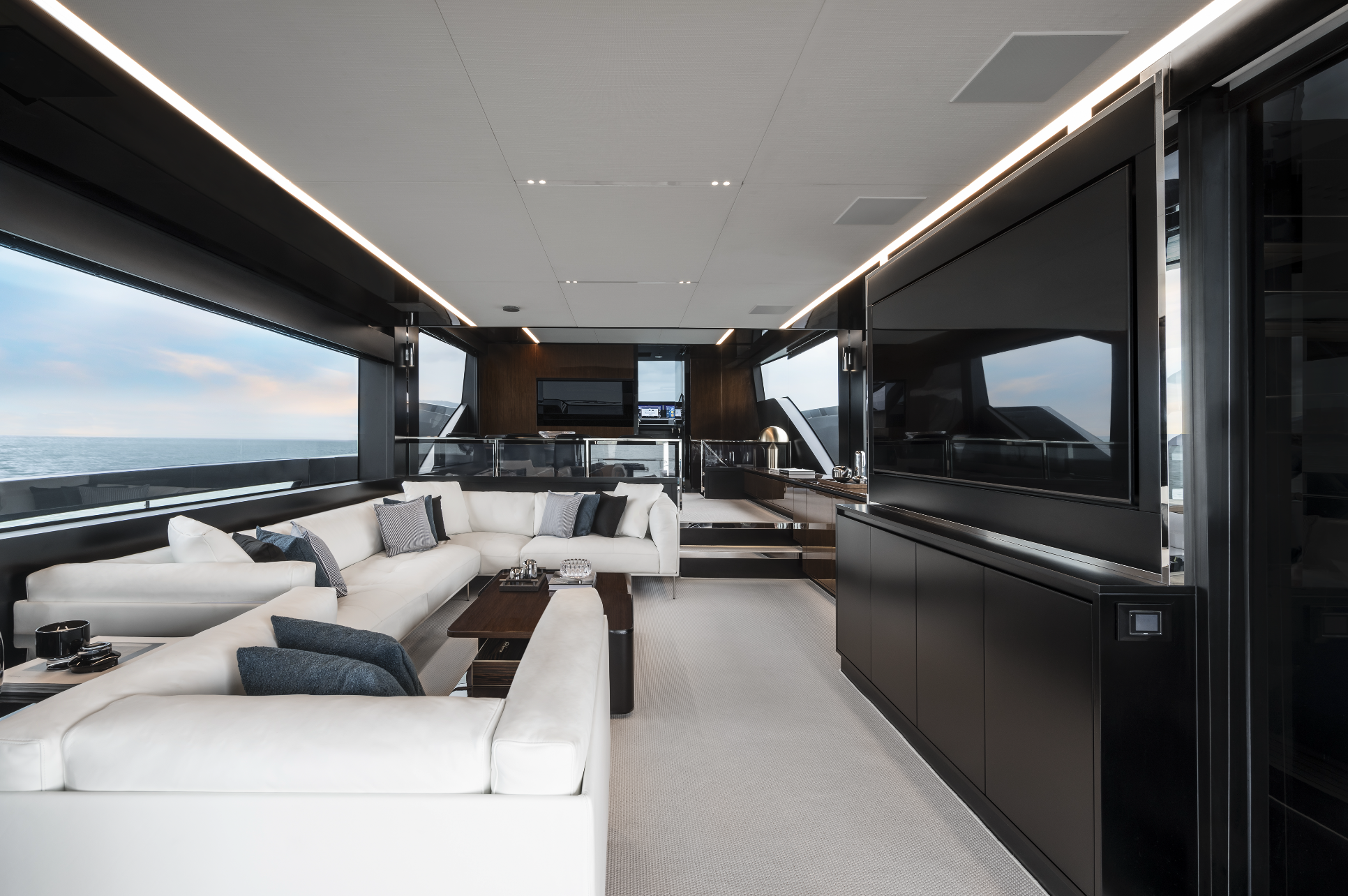 The Riva 82' Diva has a sporty silhouette, the distinctive shape of the forward windshield and the gleaming stainless steel detailing, her outdoor areas are unprecedented in this category. The 40 sq. m flybridge, one of the most generous on a yacht this size, is designed to give each living area its own dedicated space. In the center, the lounge with a dinette and a large bar unit, personalized according to the owner's tastes, is protected by a carbon fiber hardtop with glass panels. The sun pad forward and another lounging and sunbathing area aft can also be furnished as desired by the owner. At the forward end of the flybridge is also the second pilot station.
Aft on the main deck deserves special notice: a spacious and innovative beach club featuring two large bulwarks (1.6 m) that swing down to create lateral terraces. This new solution for Riva increases the area's width by over 3 meters. There's a large sun pad (over 2.5m x 2m) in the center of the beach club and underneath it a garage that can accommodate a jet tender of up to 3.95 m. Moving towards the center of the yacht, the raised cockpit fitted with facing sea-view sofas provides a living area of nearly 35 sq. m. Forward, guests can relax in a large living area fitted with a forward-facing sofa and sun pad, under which the mooring gear is stored.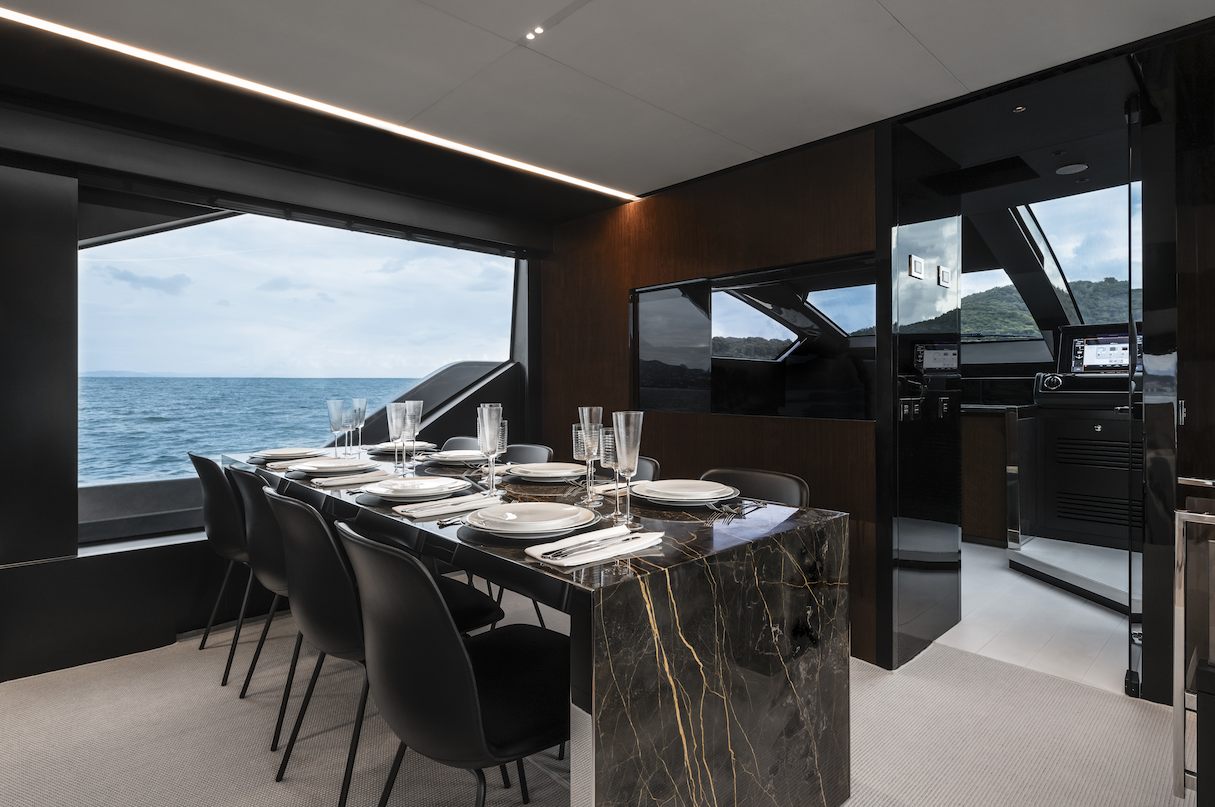 The yacht combines highly polished furnishings with a harmonious interplay of contrasting pale and dark colors. Italian walnut or glossy chocolate wenge wood finishes set the yacht's interior style, complemented by light-colored carpets and ceilings adorned with white fabric. These elements contrast beautifully with the glossy black lacquered furnishings and striking black leather accents found throughout the yacht, including in the night area.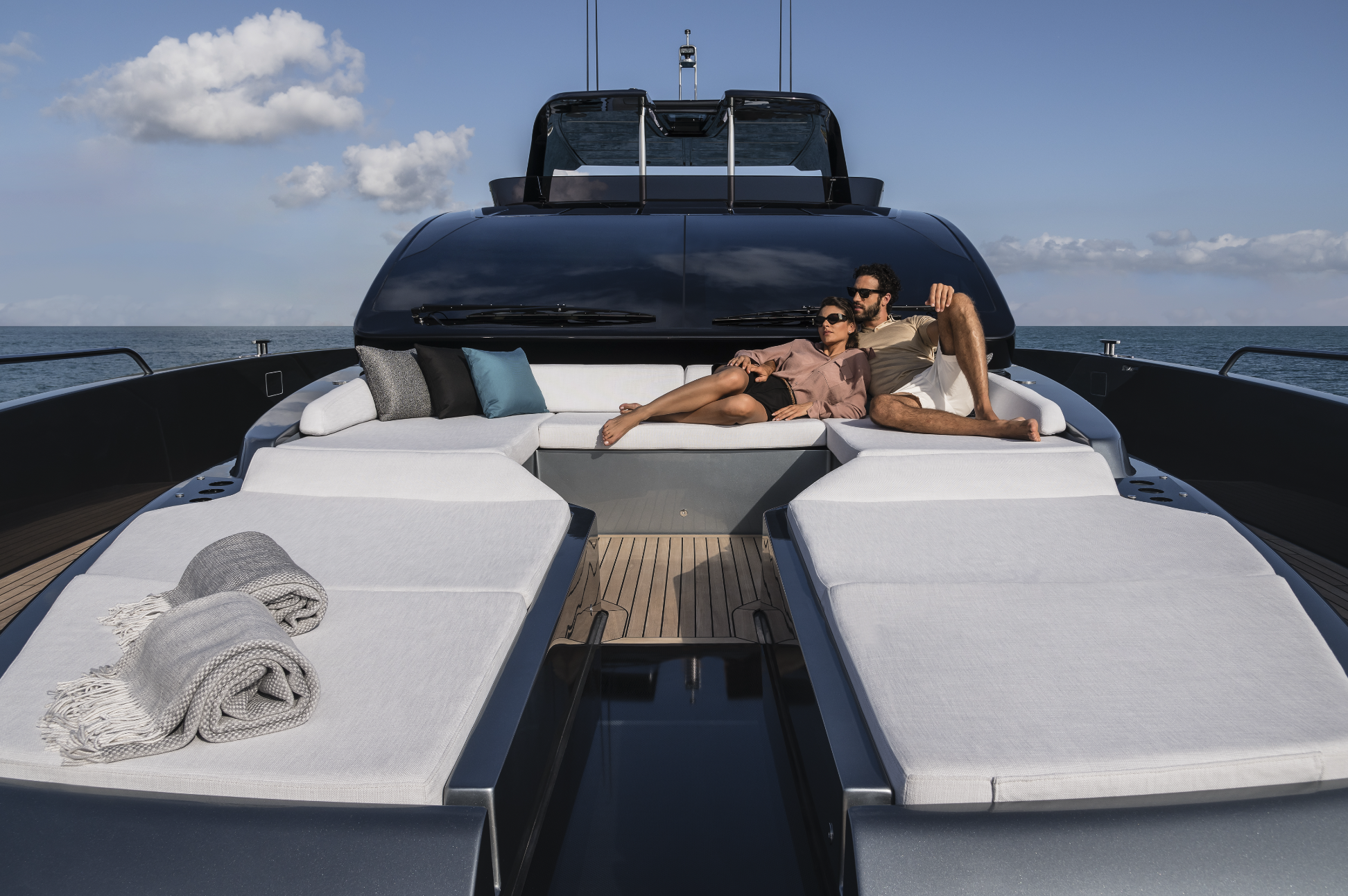 Inside, the lounge is divided into living and dining areas, visually separated by varying heights to create an intimate atmosphere while maintaining an open-plan feel. The stairwell to the flybridge is seamlessly integrated into the décor through glass walls, blurring the line between interior and exterior spaces.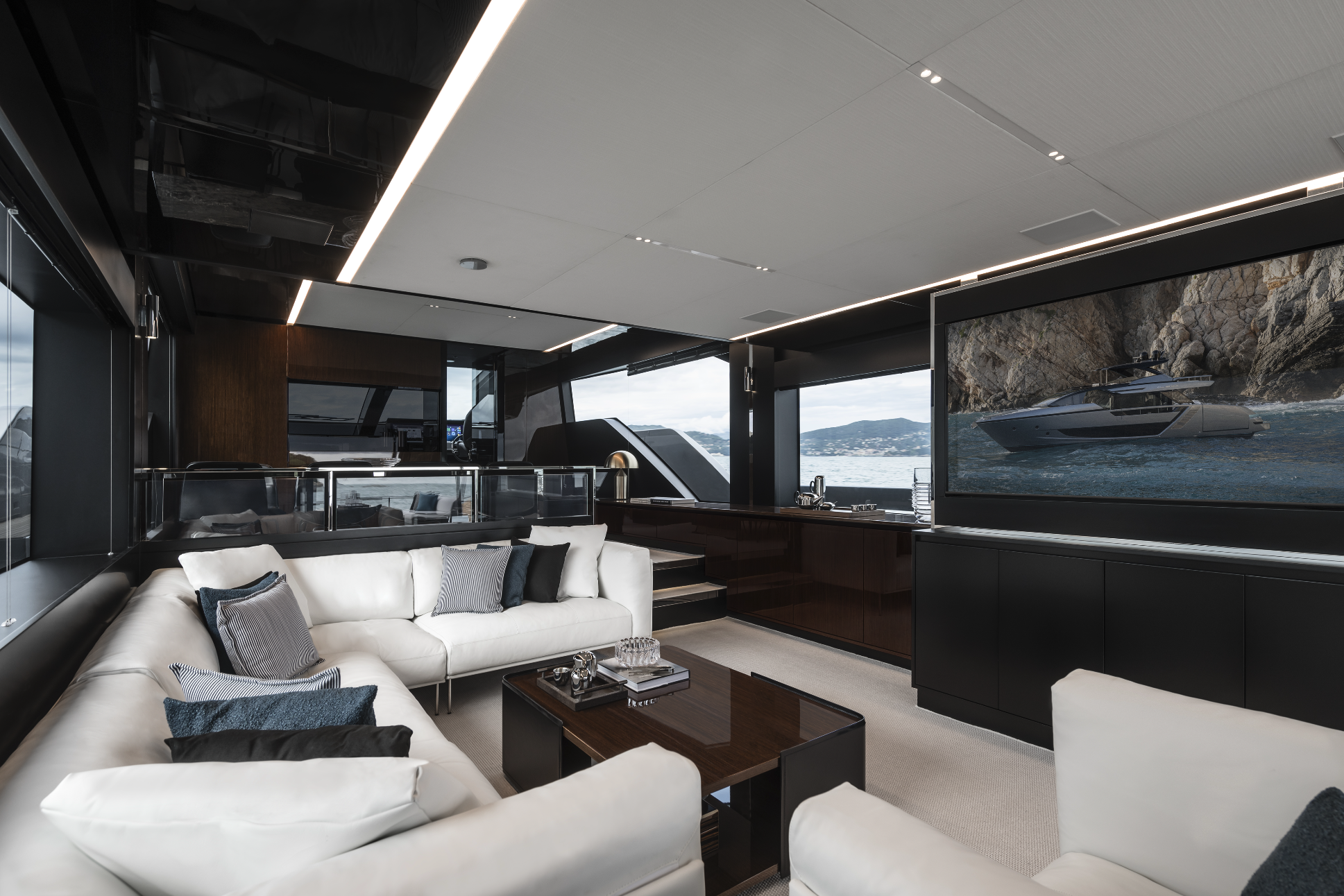 The main deck's galley is thoughtfully designed with a sliding window, allowing it to be either a closed-off or open part of the dining area, offering a seamless experience. Accessible from the galley, the helm station is optimally positioned for visibility and functionality. It features a sliding glass partition, offering the captain an excellent view over the starboard walkway. The helm station boasts an adjustable pilot chair, typically found on larger yachts, with an electro-hydraulic steering system and Xenta throttles. A Simrad navigation system, integrated with onboard monitoring and navigation controls via multiple monitors, ensures precise navigation and maneuvering.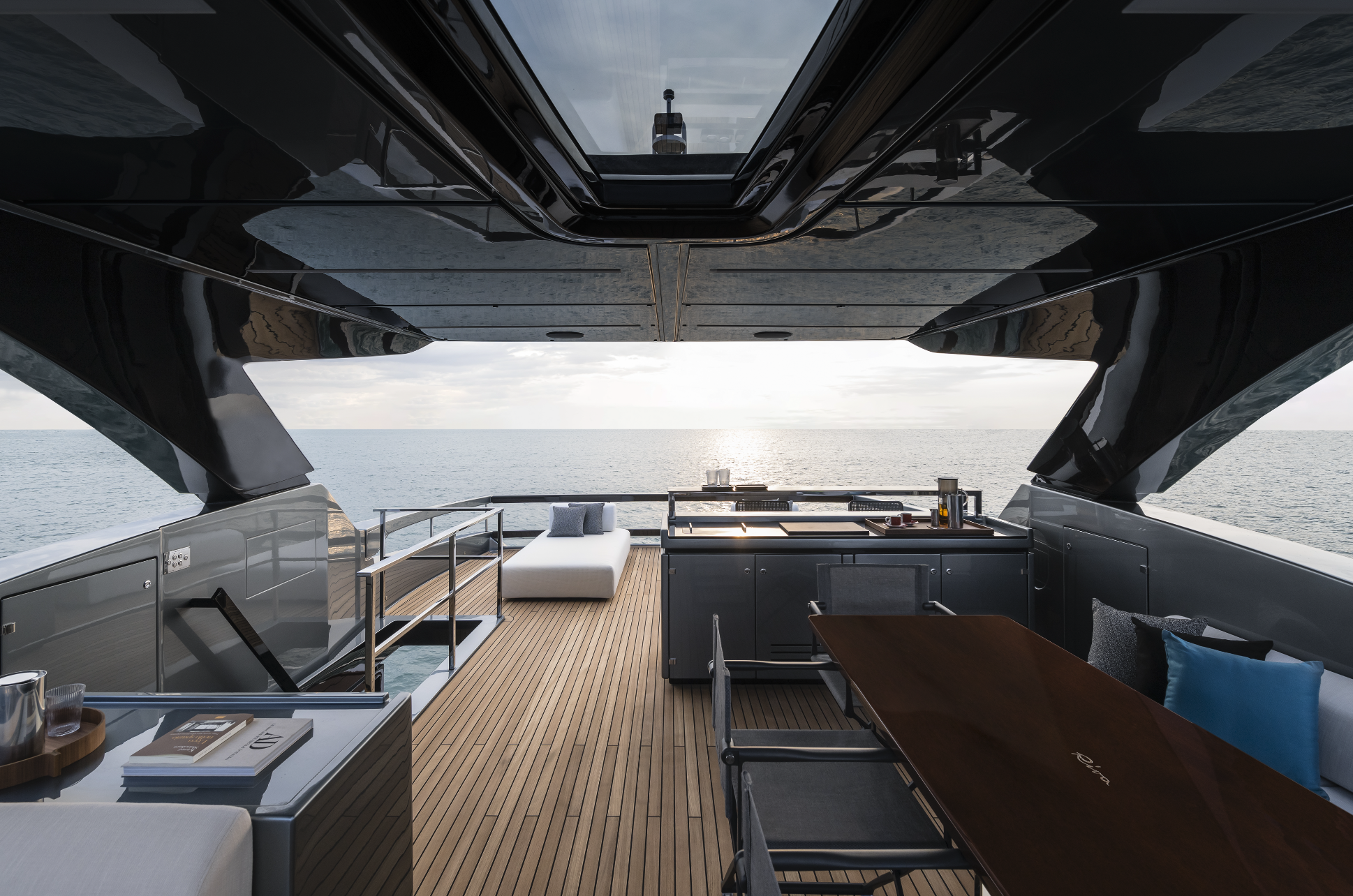 The lower deck features four cabins, each with en suite private bathrooms adorned with Corian or Statuarietto marble tops. The full-beam owner's cabin astern, the forward VIP cabin with a glass-floored skylight, and two double cabins offer accommodation for up to eight guests.
The Riva 82' Diva also incorporates Humphree dynamic trim interceptors and offers optional Seakeepers and Sleipner fins to minimize rolling both at anchor and during navigation.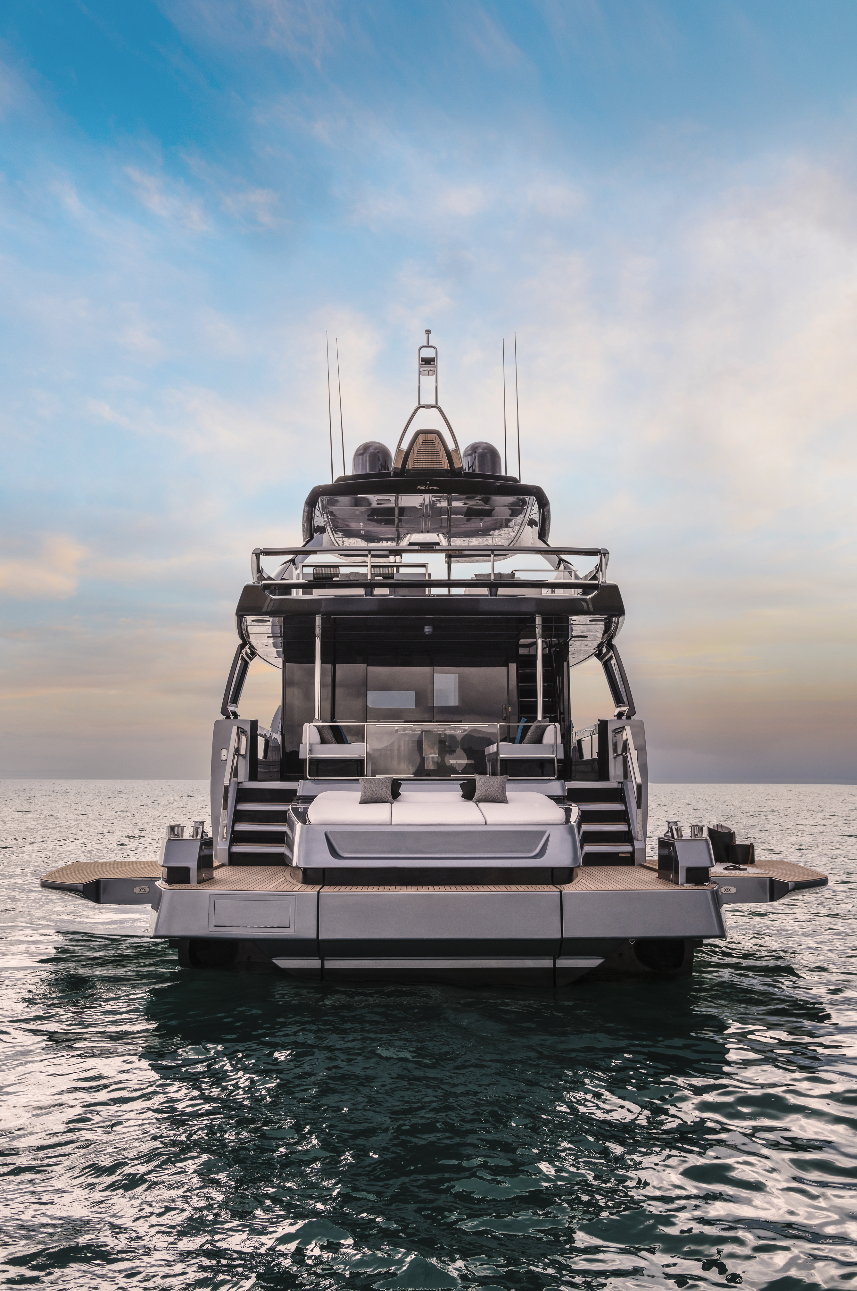 Owners have the choice of two engine configurations for the Riva 82' Diva. They can opt for a pair of MAN V12 1800 engines, achieving a top speed of 29 knots and a cruising speed of 26, or two MAN V12 1900 engines, propelling the yacht to a top speed of 31 knots and a cruising speed of 27 (provisional data).
The
Ferretti Group
, led by Chief Executive Officer Alberto Galassi, is now one of the world's leaders in the construction and sale of luxury yachts and pleasure vessels, with a unique portfolio of brands: Ferretti Yachts,
Riva
,
Pershing
, Itama, Mochi Craft,
CRN
,
Custom Line
and
Wally
.
Credits: Ferretti Group