Baglietto
's new nautical season is starting under the best auspices. During a press conference at the Yacht Club de Monaco, the Italian boat builder presented its forthcoming plans and projects for the near future. Investments amounting to €12 million in operating facilities, human resources, and research & development are going to be made in the years up to 2020. Following the allocation of €20 million over the last 4 years for the construction of 2 new industrial sheds and the upgrading of the entire production facility to the highest construction standards, further works at the shipyard will involve the immediate construction of an over-3,600 sq m dock, with the possibility to cover it at a later stage, also adding an additional industrial shed for vessels up to 65 m long.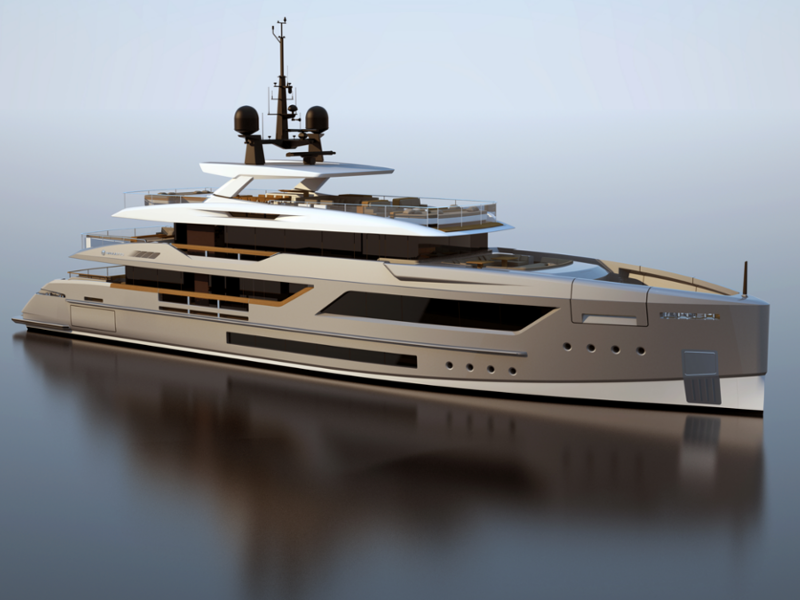 Significant investments have also been planned in product development. Cannes and Monaco yacht shows have marked a great success for Baglietto's latest 46 m and 54 m yachts – the Baglietto 46 m Fast and the M/Y Unicorn – and a new line was introduced today to complete the product range of the historic brand, which could already boast a light aluminium alloy planing line and a steel and light aluminium alloy displacement line between 35 m and 65 m in length.
For the new product line, which will be in the market segment of vessels between 40 and 50 m, Baglietto asked two leading Italian design firms – Francesco Paszkowski Design and Hot Lab – to develop a new project concept. The new crafts will stand out for their contemporary profile and vertical bow, to respond to an increasingly widespread market demand. The project will include 3 different models, 41 m, 44 m, and 50 m long, each of them featuring very distinctive, unmistakable features. Initially, a semi-displacement, light aluminium alloy hull will be introduced, but a steel and light aluminium alloy displacement version is already being developed.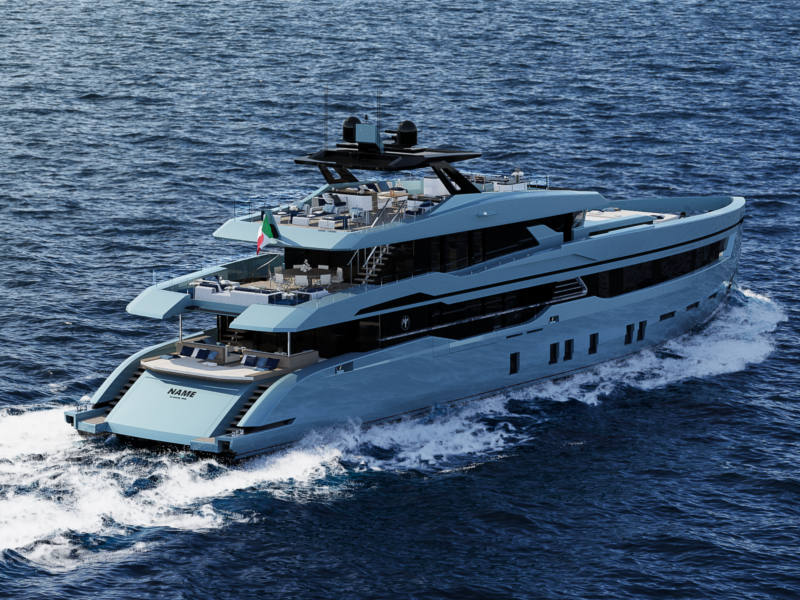 Baglietto General Manager Michele Gavino commented:
This new series is part of a far-reaching renovation process, which started off with the 46 m Fast and aims at bringing the 'seagull brand' closer and closer to market demands, while also preserving its strong personality and Baglietto's unique style. We have asked two great designers to give shape to Baglietto's future while never losing sight of the unbreakable bond with its history and its identity
The progenitor of this line is the Baglietto 44m.
Slender, rakish, contemporary lines characterise Francesco Paszkowski's design style. For more than 20 years, Francesco Paszkowski has successfully pencilled Baglietto yachts, which now, while remaining faithful to the 'seagull brand' 's unmistakable style, will stand out against other vessels thanks to their vertical bow.
Aft, the wide beach club will meet another increasingly frequent demand from the market. The spacious master cabin extends over the entire width of the main deck, while the guest area can be easily converted into a suite thanks to the adjoining modular walls. The approximately 100 sq m sun deck features a pool and a large sunbathing area.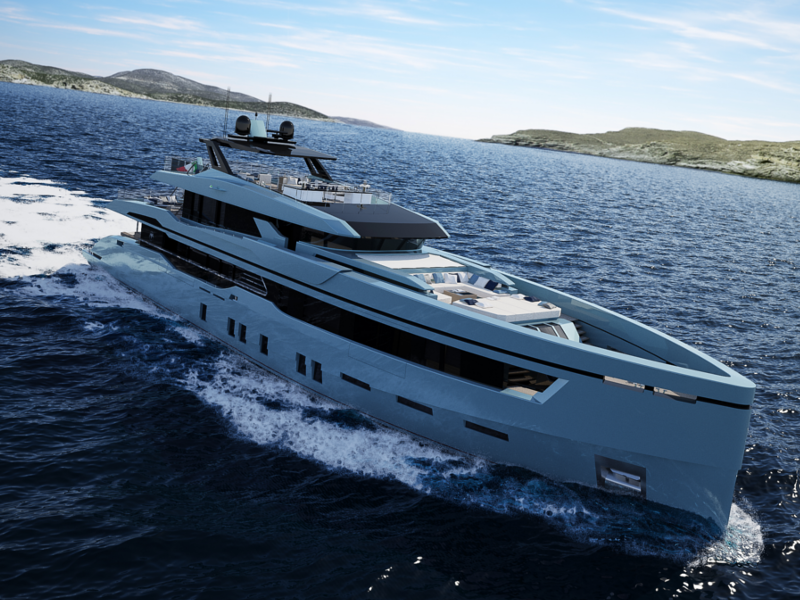 A dynamic, but never aggressive, design for the Baglietto 44 m, pencilled by Hot Lab drawing inspiration from architecture, especially as regards the vertical structures and glazed surfaces and the 'car design' that characterizes all shapes. The most distinctive element on this yacht is the high, vertical bow, further emphasized by the slightly forward-tilted windshield located a little backward from the bow. At the other extreme, the stern features a large garage door which, when lowered, converts into a comfortable platform, giving access to the aft garage.
The full-beam master stateroom, located forward, gets plenty of natural light thanks to the large windows and a skylight obtained in the table of the outdoor lounge. A balcony can also be found forward, which can be reached via a beautiful glass door. Hull engineering on both projects has been carried out by Baglietto engineering department. Research and innovation were the guiding principles in the development of two different technological platforms. The light aluminium alloy model is expected to
reach a speed of 20/22 knots and a range of 4,000 miles, while in the steel hull version the draught has been limited to less than 7 feet in order to allow for cruising even at depths requiring a very shallow draught. A hybrid engine configuration will also be possible ensuring great usage flexibility and, in some cases, even zero-impact cruising. Both platforms will be within 500 GT.