Renowned British design studio
Andy Waugh Yacht Design
has introduced an innovative 80-meter catamaran concept named Decadence. Inspired by the technological advancements witnessed in the 1920s automotive and aeronautical industries, the design aims to capture the essence of that era while pushing the boundaries of modern design and engineering.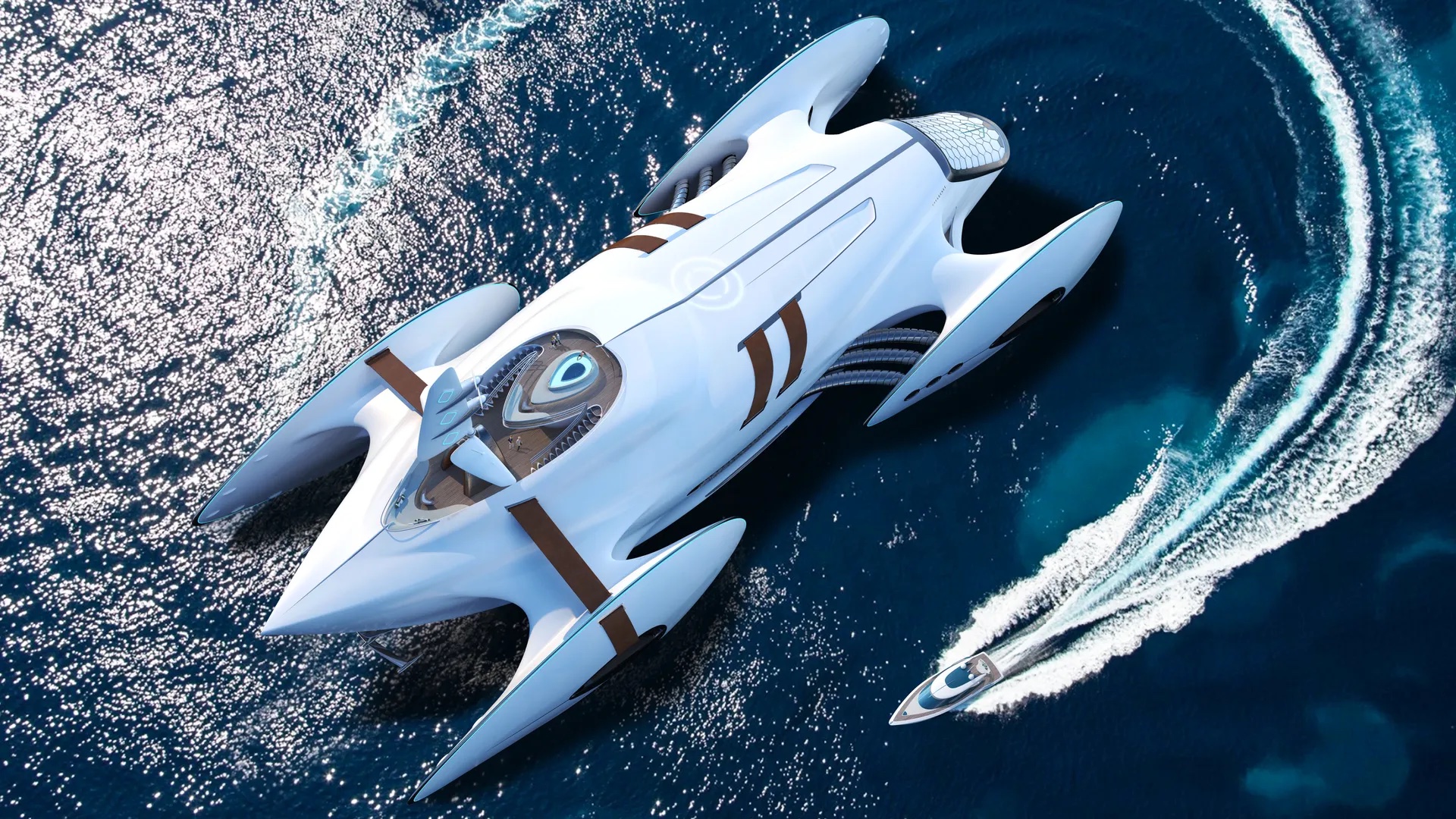 According to the studio, Decadence represents the potential of the SWATH (Small-Waterplane-Area-Twin-Hull) hull form. This distinctive catamaran configuration features submerged cylindrical hulls connected to a central structure by stilts, offering unprecedented aesthetic possibilities yet to be fully explored in the luxury superyacht sector.
The futuristic hull design enables notable technical advancements, including an estimated 70% reduction in pitch and roll movements compared to conventional monohull superyachts, ensuring enhanced comfort and safety for passengers.
With a generous beam of 30 meters, the 5,000 gross tonnage (GT) vessel offers expansive interior spaces. The owner's suite, spanning 20 meters in width, 30 meters in length, and 3 meters in height, exemplifies the scale and grandeur of Decadence. Each deck will feature fully enclosed exterior areas, providing privacy and protection from inclement weather.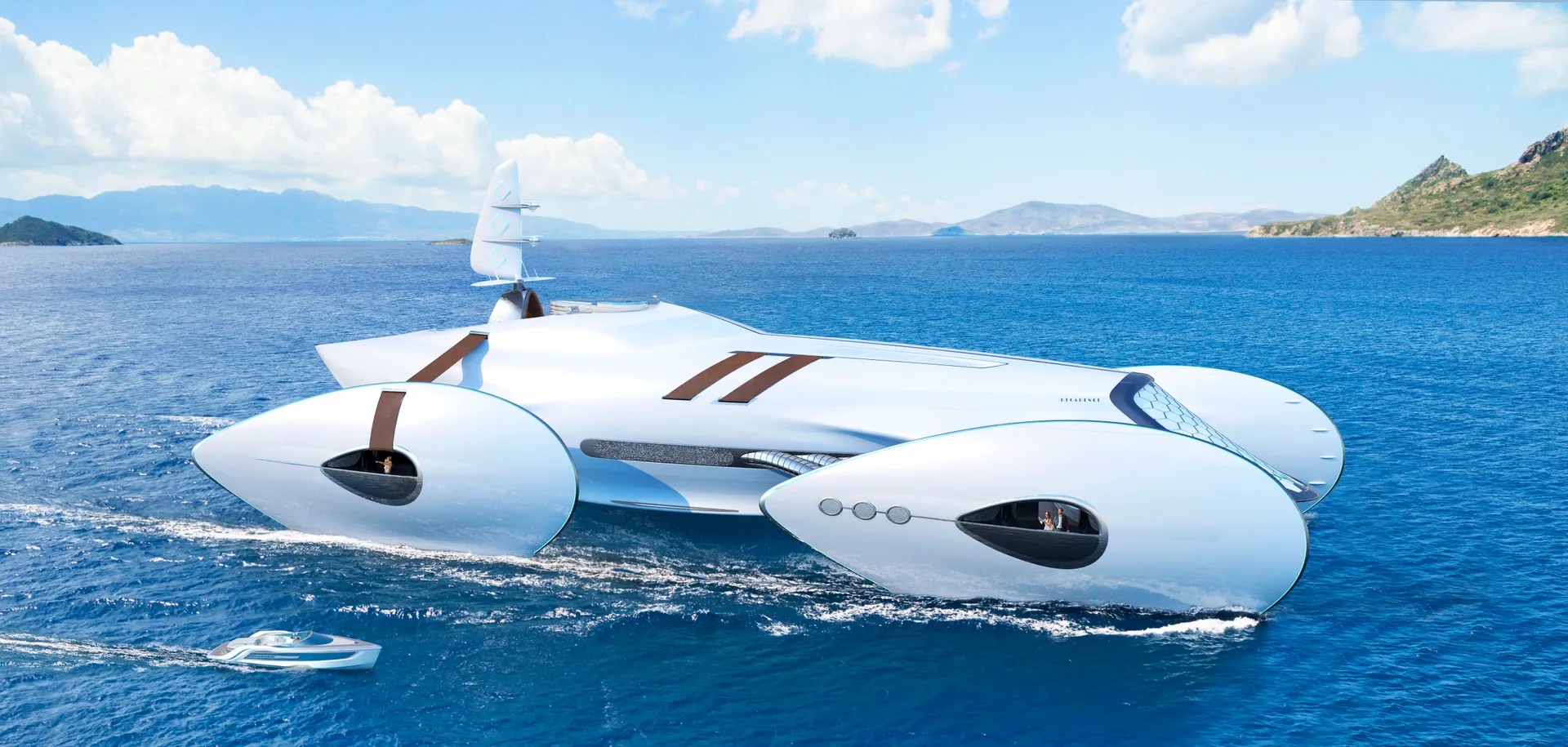 The crew quarters and technical areas are intelligently located in the sponsons and outer hulls, maximizing space within the main superstructure for guest accommodations.
Recognizing the challenge of finding suitable marina berths due to its oversized beam, the design studio has implemented practical solutions. The inherent stability of the hull form mitigates the need to seek shelter during adverse weather conditions. Additionally, the concept incorporates provisions for two 14-meter chase-boat tenders from Skyline Yachts, serving as transfer shuttles to shore.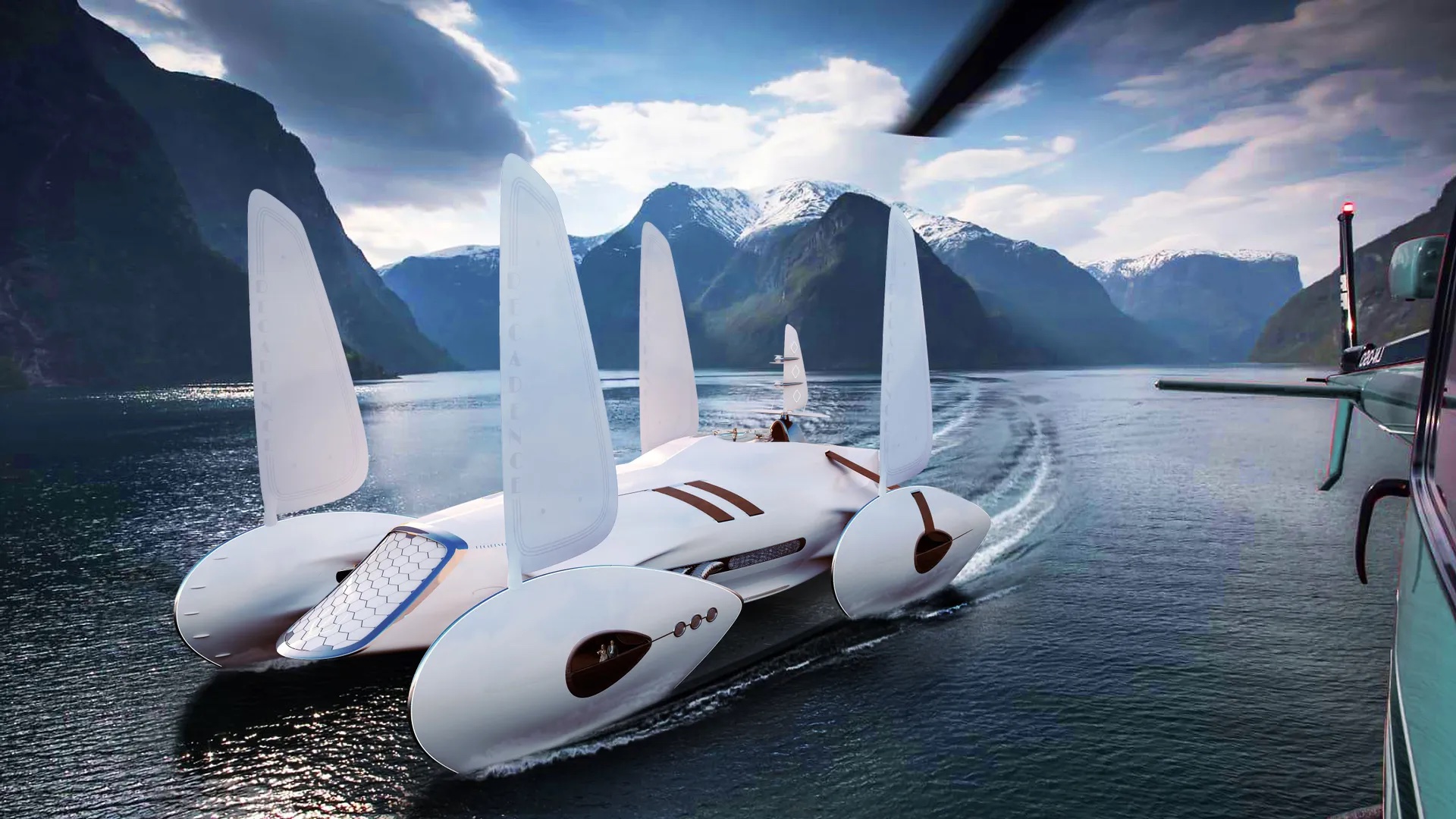 Renderings of Decadence reveal retractable inflatable sails, suggesting the potential utilization of wind power. Furthermore, the yacht will feature a revolutionary propulsion system expected to reduce energy consumption by approximately 30%.
Andy Waugh Yacht Design has gained acclaim for its visionary yacht concepts, including the 70-meter
Serafina
, 175-meter
Acionna
, 45-meter
Revolution
, and 90-meter
Nouveau
.
Credits: Andy Waugh Yacht Design