Finally, after a long break the boot Düsseldorf is back. From 21 to 29 January a nine days of trade fair await with numerous boat and yacht premieres, a new diving tower, the sustainability forum "blue innovation dock", holiday regions from all over the world in the "Destination Seaside", tips for beginners and professional sailors and with wings foiling and windsurfing the hottest current water sports trends await their fans.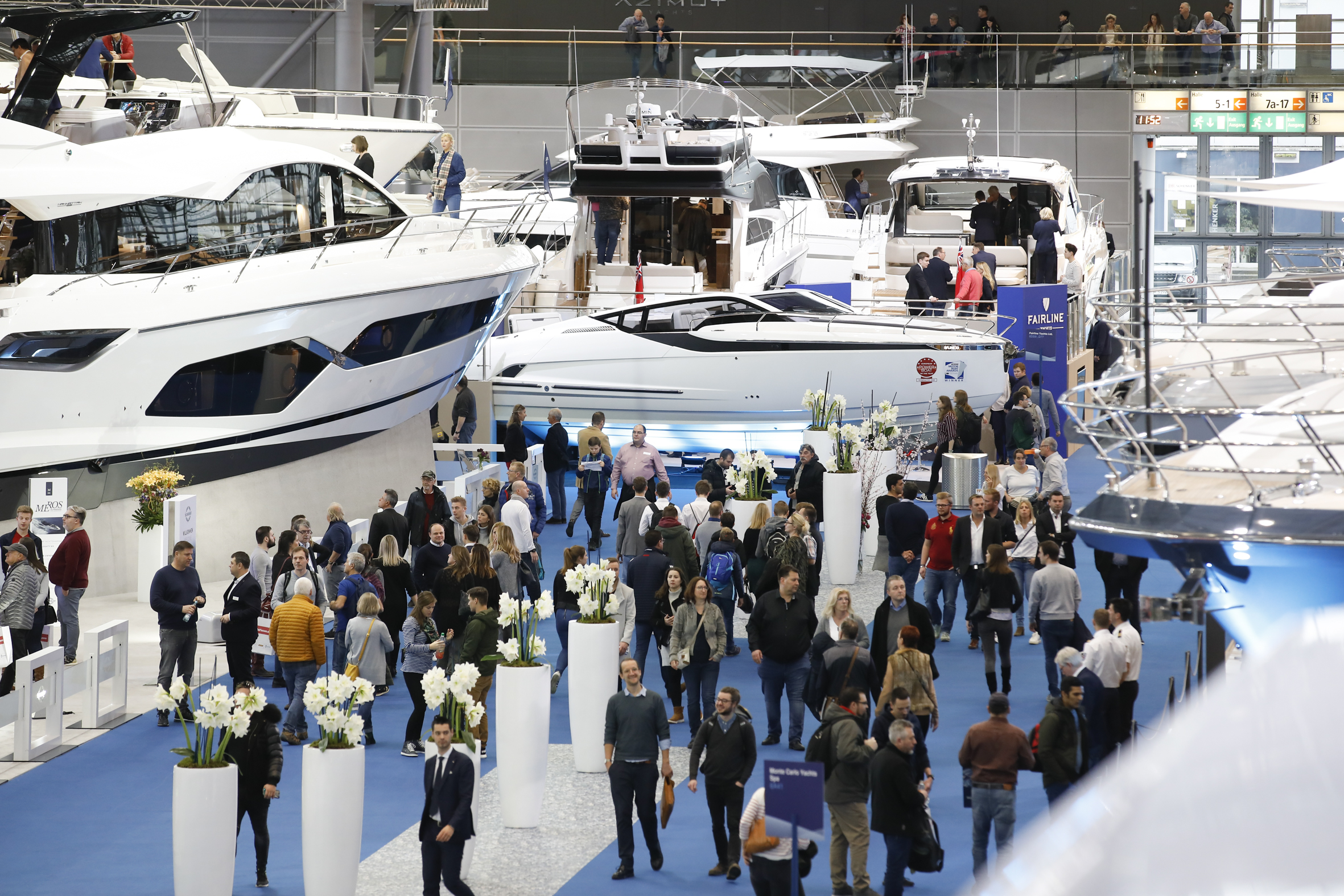 At the boot Düsseldorf 2020
Over 1,500 exhibitors in 16 exhibition halls on an area of 31 football pitches, translated into square meters: 220,000! Companies from 68 countries are on board. Nine hands-on activities and theme worlds invite sports enthusiasts and sea lovers to put their hand to the tiller themselves, get on the board, dive in, paddle or simply listen to exciting reports and exchange ideas with like-minded people.
Here is our list of yachts that can't be missed.
Princess S72
23.09m
Princess Yachts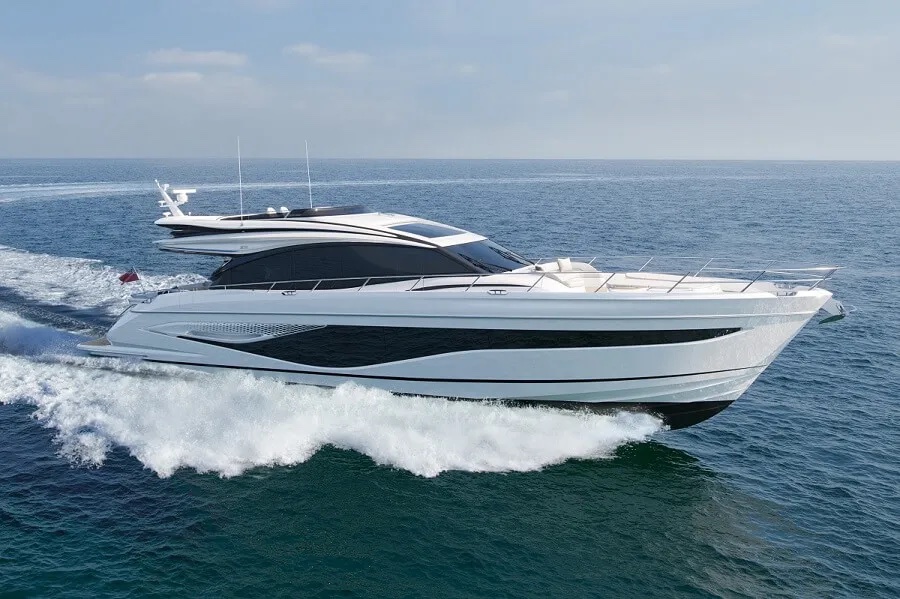 The all-new
Princess S72
is the latest addition to Princess Yachts' S Class family. Her sleek lines with full-length hull windows is a result of collaboration of the Princess Design Studio, naval architects Olesinski and Italian design house Pininfarina. She is equipped with twin 1,650hp or 1,800hp MAN V12 engines and can reach up to 36 knots.
Azimut S7
22m
Azimut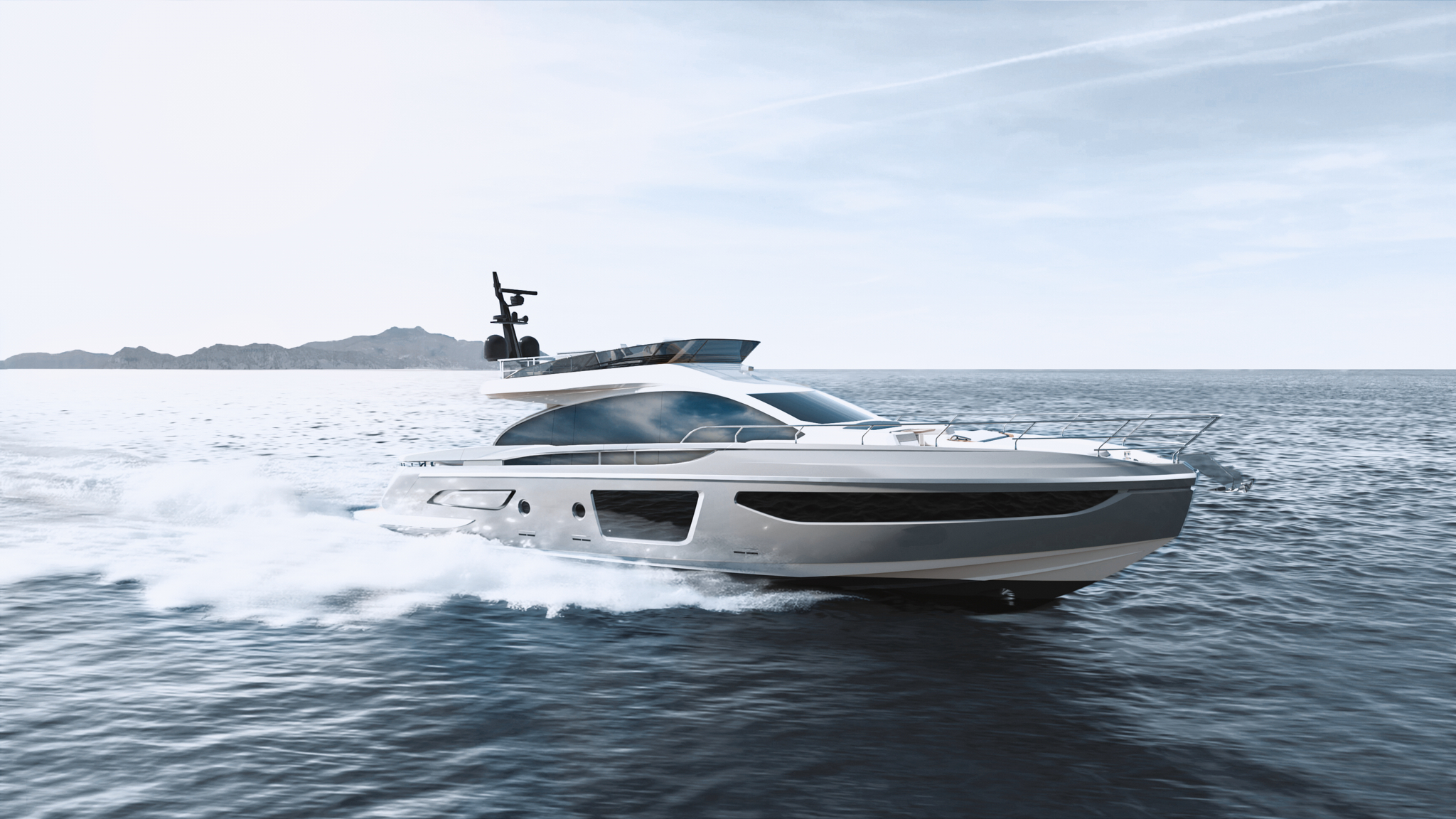 At boot Düsseldorf Azimut will present the sporty new entrant in the S Collection. The 22 meter
S7
features the exterior design by Alberto Mancini, and joins Azimut's Low Emission Yacht category. It is a boat that combines a sporty spirit with reduced environmental impact, made possible because the S7 draws on the most technologically advanced solutions in the yacht industry, involving the extensive use of carbon fiber to reduce the boat's overall weight, a highly efficient propulsion system powered by three Volvo IPS engines, and perfectly optimized hull lines designed by P.L. Ausonio Naval Architecture.
Pearl 72
21.99m
Pearl Yachts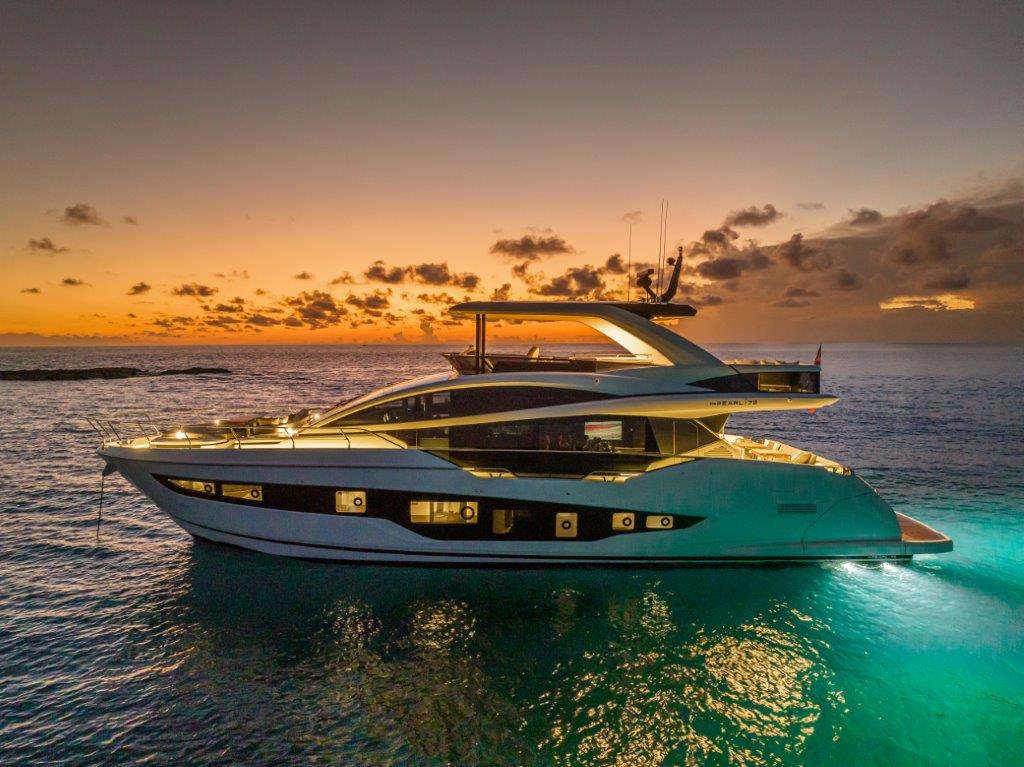 After the supremely popular Pearl 62, the larger sistership
Pearl 72
is a yacht with distinctively British design. Her exterior features the sharp lines by Dixon Yacht Design, the interiors tend toward flexibility with a selection of three styles, each curated by Kelly Hoppen CBE. In terms of layout, the Pearl 72 has two master cabins. One is forward with a private entrance, as typically seen on much larger yachts, and the second is full beam amidships.
Ferretti 580
18.24m
Ferretti Yachts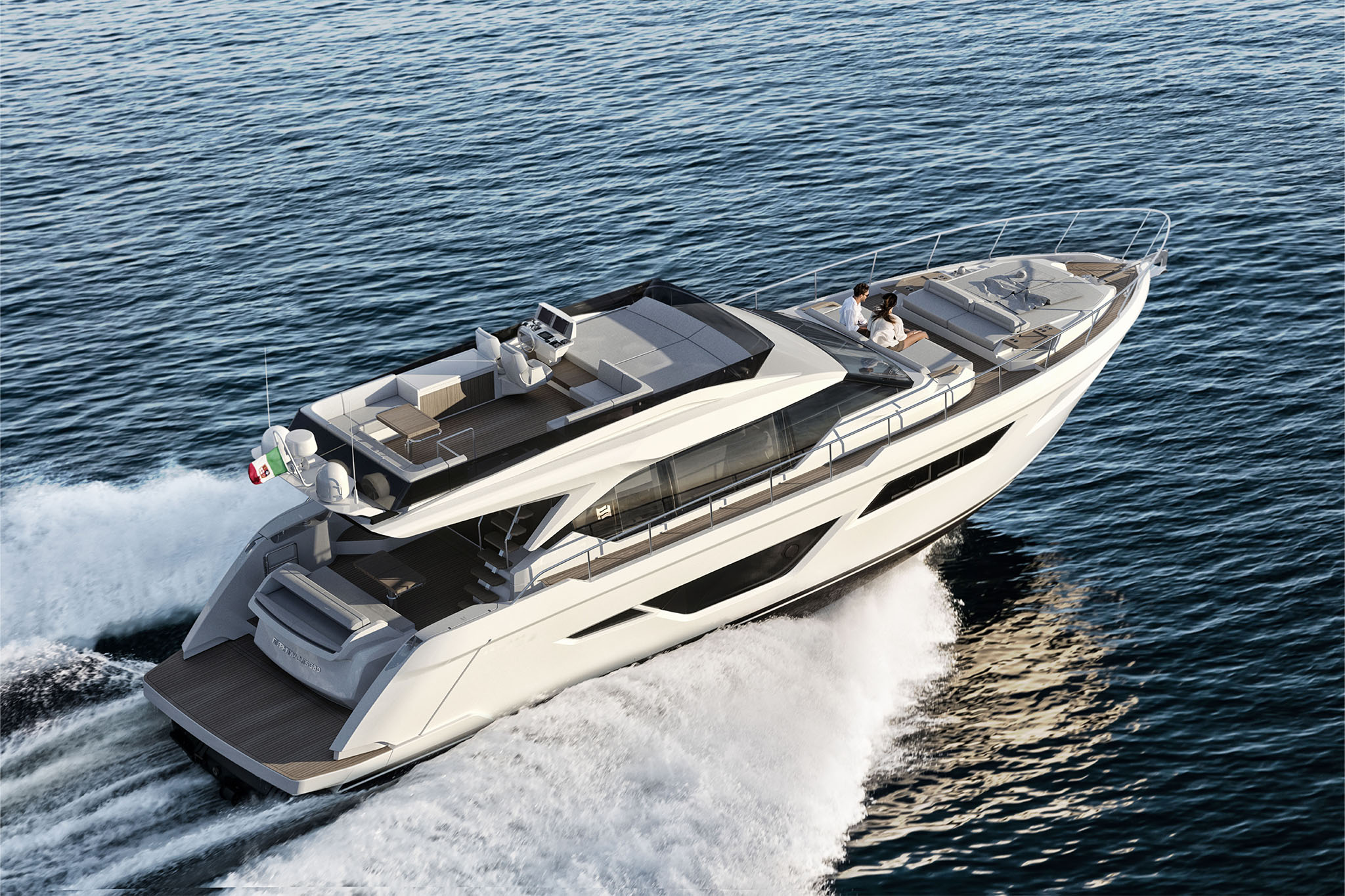 The new flybridge Ferretti Yachts 580 has ideal features for an intimate and comfortable experience of the sea in perfect Ferretti Yachts style. She was drawn by Filippo Salvetti and took place between the Ferretti 550 and the Ferretti 670. Her interior is available in two styles – Classic and Contemporary – with different characters.
Sunseeker Superhawk 55
17.13m
Sunseeker
Sunseeker Superhawk 55 is a world premiere, an agile performance model set to receive a spectacular unveiling at the show opening on Saturday 21st January 2023 at 14:30 (CET). A new open-top day boat set to thrill with sleek design, exquisite detailing, and exciting innovations. Powered by twin Volvo Penta D11 - IPS 950 engines matched with a hull form specifically designed for the IPS propulsion system, the Superhawk 55 is capable of a thrilling 38 knots with unparalleled agility.
Invictus TT420
12.3m
Invictus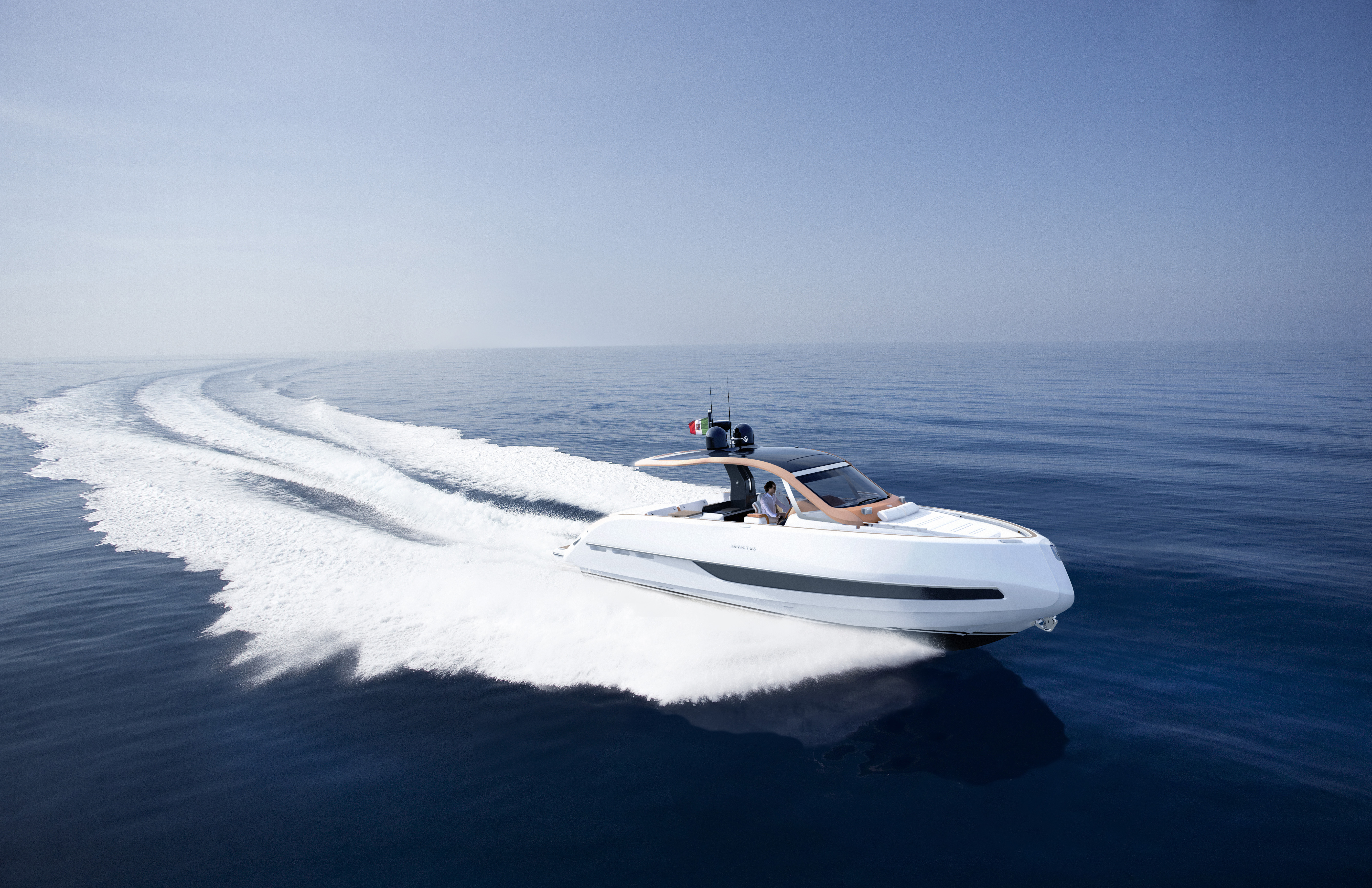 The new model that completes one of Invictus Yacht's most successful ranges is called TT420, and will make its world début at Düsseldorf. The profile of Invictus TT420, incorporating the stylistic features of its older sister TT460 (winner of the Design Innovation Award in 2020), is characterized by the elegant features of the windshield, which blend seamlessly into the carbon hardtop and further streamline the powerful mass of this model. The integral glass windshield with wipers, in particular, represents an unusual solution on this size of boat and protects during navigation. At the same time, a front opening system ensures an effective air circulation when at anchor.
Bavaria SR33
10.89m
Bavaria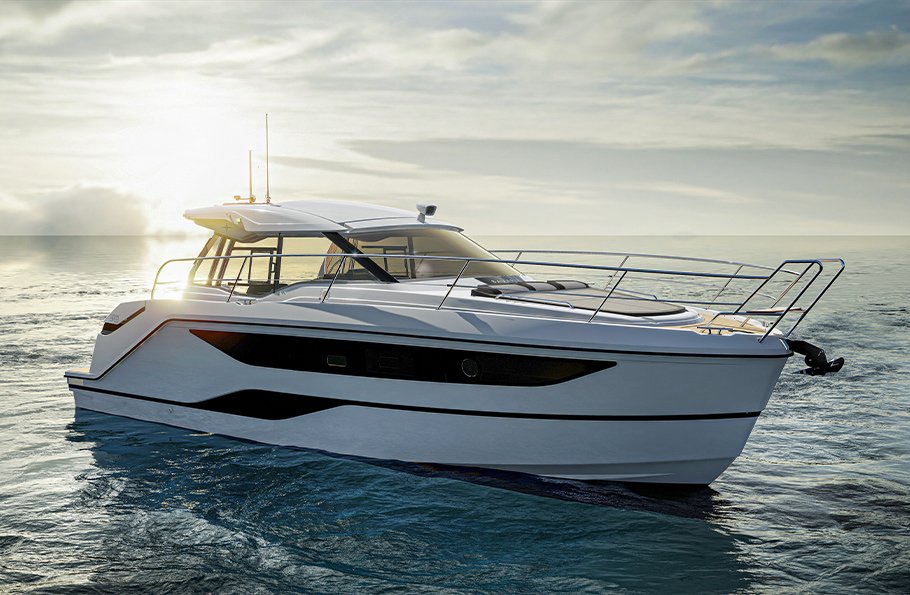 Bavaria SR33 is the smallest model of the shipyard's successful SR-Line for the 2023 season, following the SR41 and the SR36. Designed by Marco Casali, the SR33 is a perfect example of creating space for life on deck. Below deck, the Bavaria SR33 impresses with a well-thought-out room layout, providing generous space for four people.
Capoforte SQ240i
7.38m
Capoforte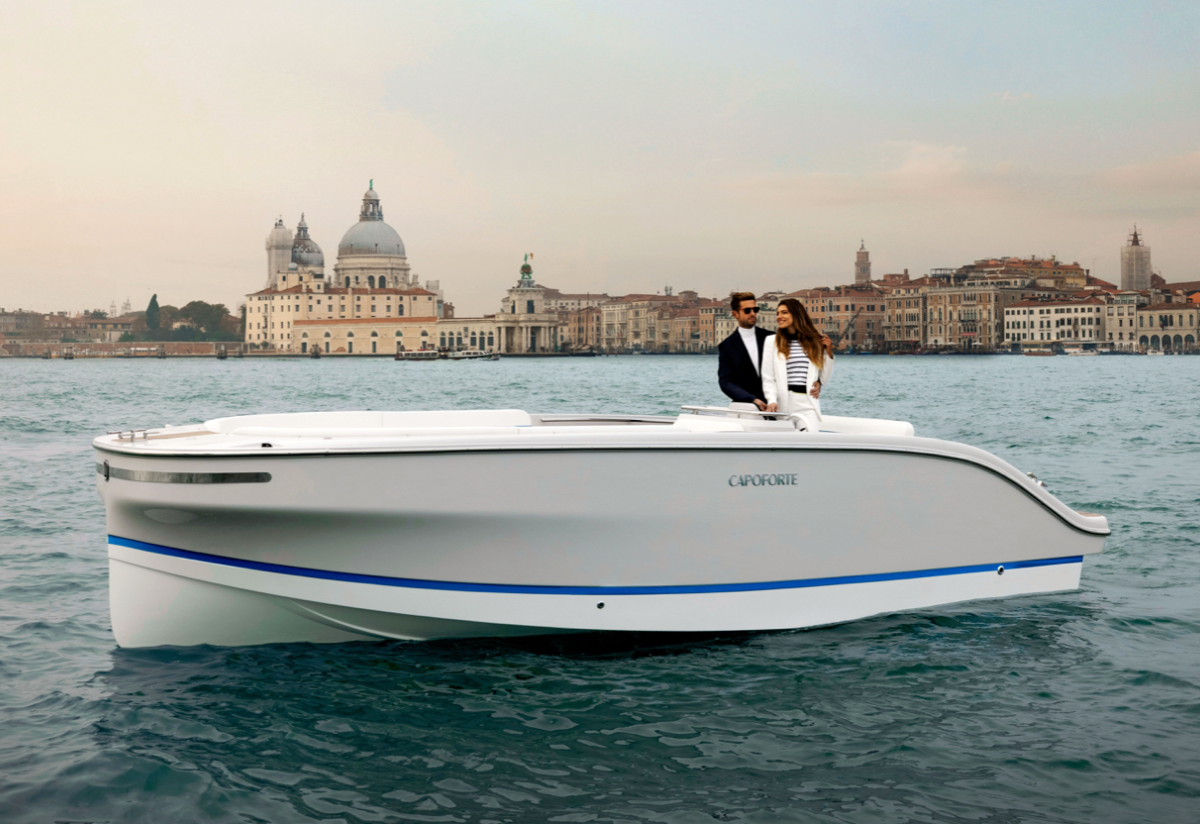 The first electric model by the Italian brand on display at the boot Düsseldorf. She is equipped with the 50kW Molabo ISCAD V50 inboard motor. With its 7.38 meter length and 2.46 meter width,
Capoforte SQ240i
can carry up to ten people, thus concentrating a new sailing philosophy in less than eight meters.
Credits: Azimut; Bavaria; boot; Capoforte; Ferretti Yachts; Invictus; Pearl Yachts; Princess; Sunseeker