Italy-based design studio Nuvolari – Lenard is one of the most active yacht design firms within the country and one of the largest in the world. Known for its Italian style, the firm has taken responsibility of 89 yachts afloat so far since 1992.
Nuvolari Lenard performs concept design, naval architecture, exterior styling, architecture and takes care of the yacht since the beginning of the project until the delivery. Yacht Harbour recalls 5 of the most renowned works by the company.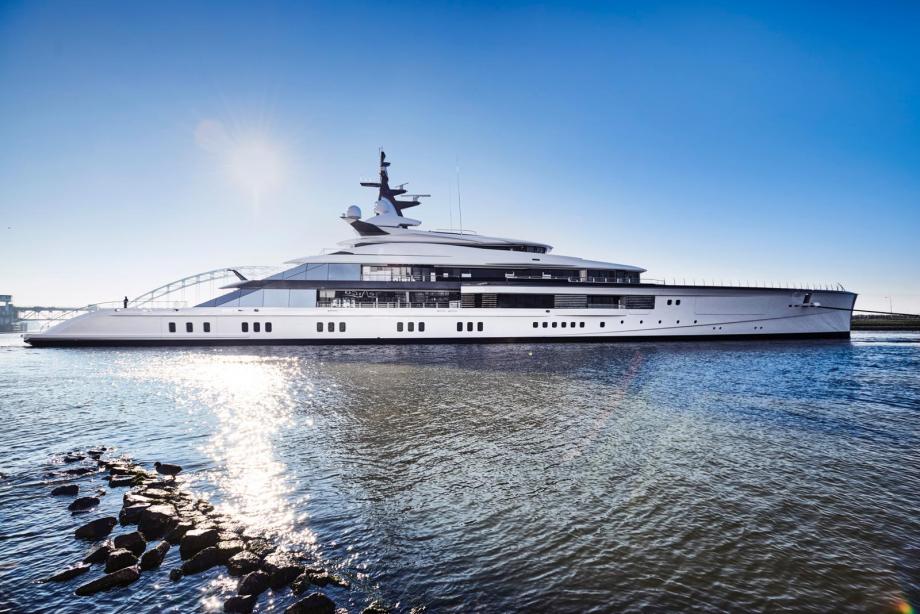 One of the largest yachts ever built in the Netherlands,
Bravo Eugenia
was developed in collaboration between Oceanco and Lateral Naval Architects. The vessel is claimed to be one of the pioneers of the so called LIFE (Lengthened, Innovative, Fuel Efficient, Eco Friendly) design.
Nuvolari Lenard developed her exteriors trademarked with extended waterline, fuel-efficient hull design and slender elegance stipulated by the LIFE Design, featuring a reduction in the overall demand for propulsion power at the same time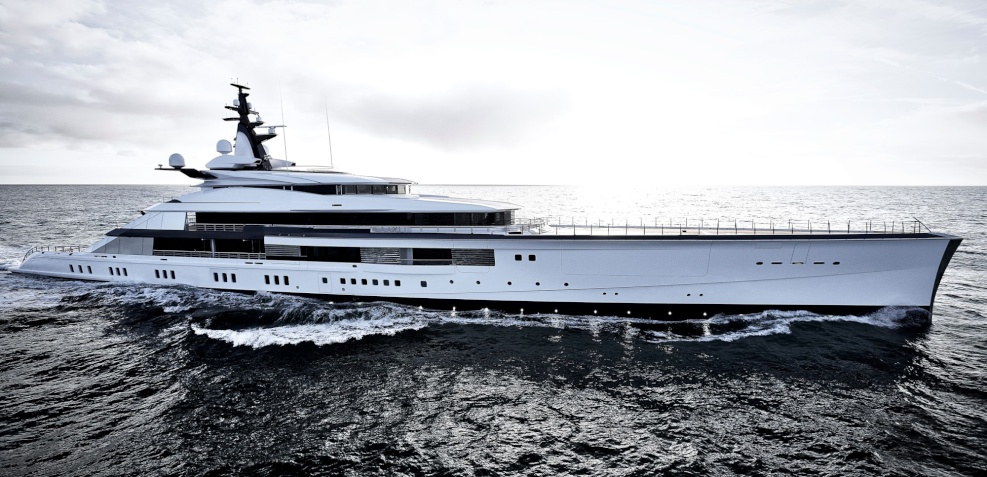 Bravo Eugenia had been technically launched in 2017 and delivered in 2018 to her reported owner, US billionaire and owner of the Dallas Cowboys NFL franchise, Jerry Jones. The latter is estimated at $6,9 billion. Meanwhile, Dallas Cowboys acquired by Jones for $150,000,000 in 1989, currently worth $5 billion.
LOA: 90 m
Yard: Oceanco (2017)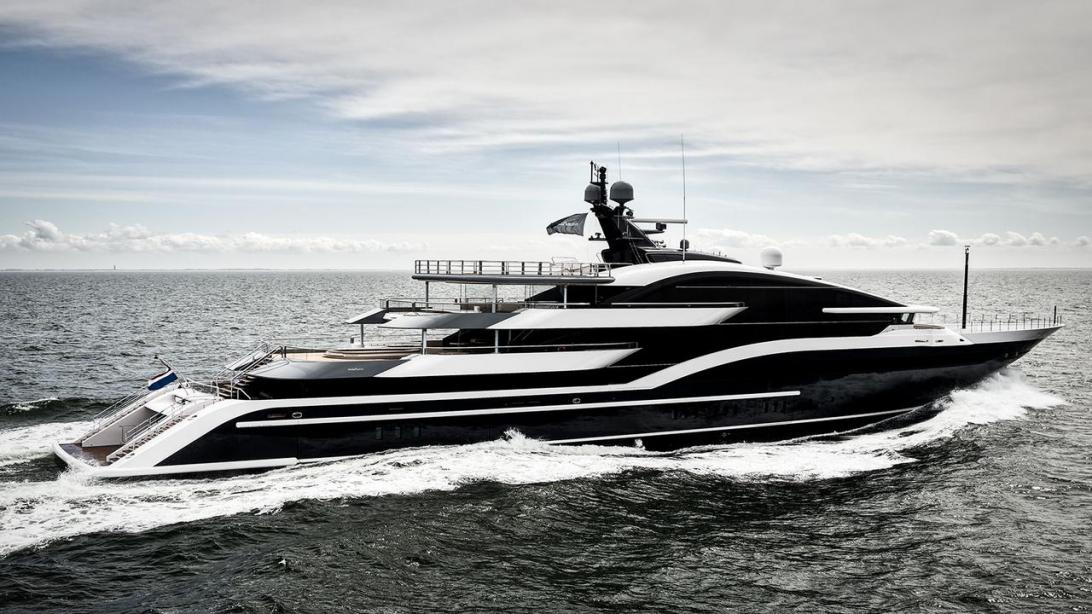 Deivered by Oceanco in July 2018, the 90-metre motoryacht DAR, with edgy exterior styling by DeBasto Design has an unprecedented exterior glass decoration of nearly 24 tons and nearly 400 square metres. She was first known as Project Shark.
DAR
's detailed interior by Nuvolari Lenard works well with the exterior by taking advantage of the extraordinary floor-to-ceiling views from nearly everywhere on board. According to Nuvolari Lenard, the owners stipulated no dark timbers preferring the delicate and sophisticated use of alternative materials and finishes such as fine fabrics, wallpaper, 3D lacquer and lots of upholstery.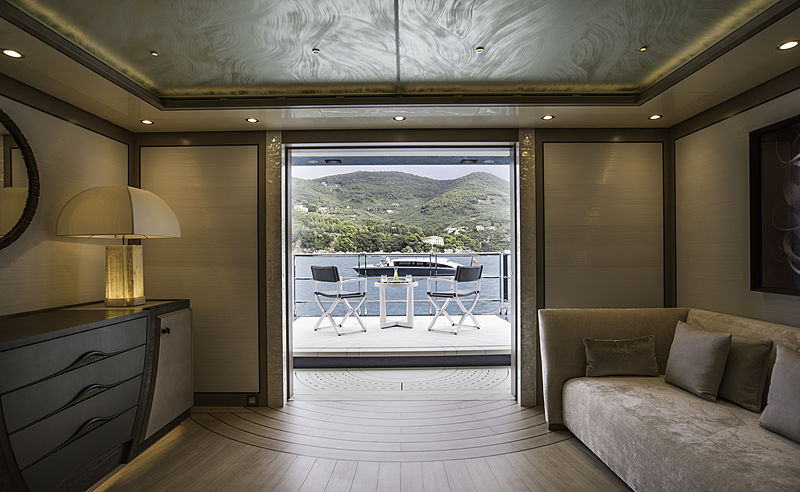 Her design was conceived to maximize opportunities for outdoor living and to have direct contact with the marine environment. While the yacht yields a massive amount of volume, DeBasto has ensured that the profile remains long, sporty and lean without a top- heavy superstructure.
In addition to head-turning aesthetics and advanced technology, DAR is the first yacht to ever achieve the Lloyd's Integrated Bridge System (IBS) notation.
LOA: 106 m
Yard: Oceanco (2017)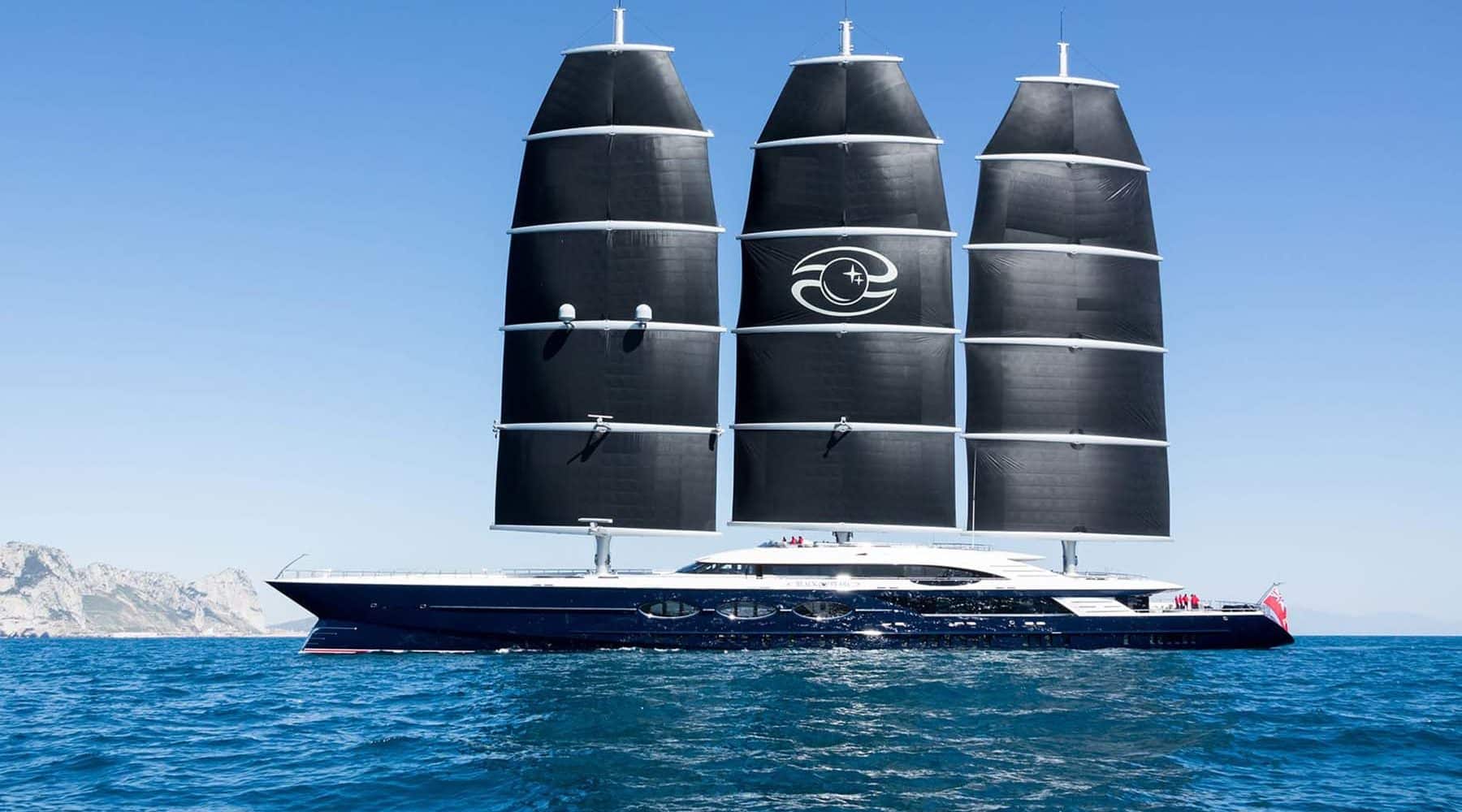 Striking exterior of the iconic sailing yacht
Black Pearl
was designed by Nuvolari Lenard and Ken Freivokh, while her praised naval architecture was developed by Dyksra Architects, who had also previously worked on
Maltese Falcon
.
A combination of smart and elegant high-tech design and modernised state-of-the-art DynaRig sailing system makes the
Black Pearl
a unique vessel. Her hull outline is trademarked with an exclusive wave-piercing bow featuring not only graceful appearance, but also fuel efficiency.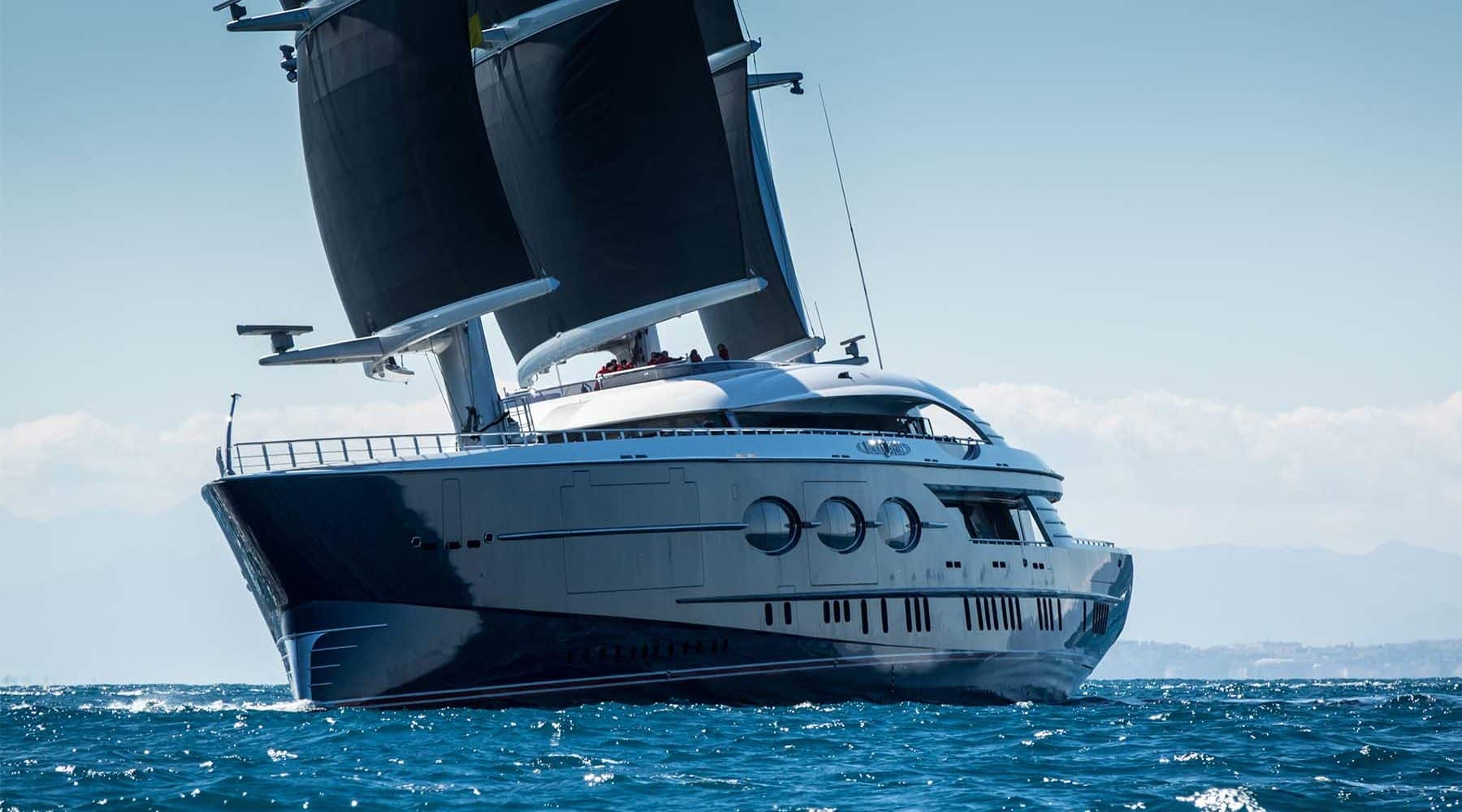 Another key element of Black Pearl's development was her solar sails, which can actually produce energy whilst the yacht is underway thanks to solar panels built within the fabric of the sail.
Techno wise, the
Black Pearl
reaches a maximum speed of 17.5 knots thanks to MTU engines. Her interiors can accommodate up to 12 guests across 6 cabins.
LOA: 86 m
Yard: Oceanco (2010)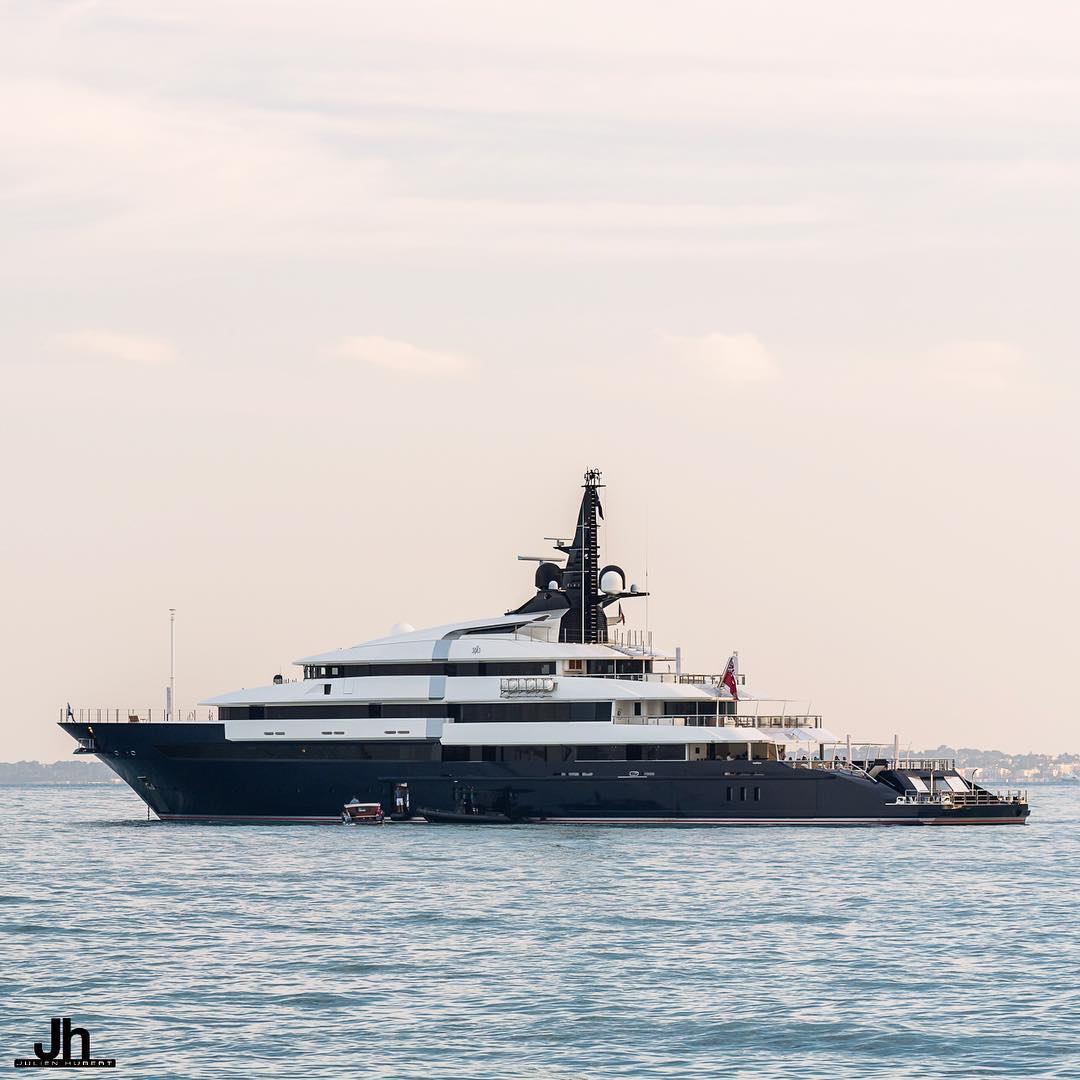 Photo by Julien Hubert
Owned by a legendary director Steven Spielberg, whose net worth is estimated at $3.7 billion (Forbes),
Seven Seas
features a large cinema, several large televisions and a large swimming pool aft. Nuvolari & Lenard was responsible for both interiors and exteriors of the yacht able to accommodate up to 12 guests across 7 cabins.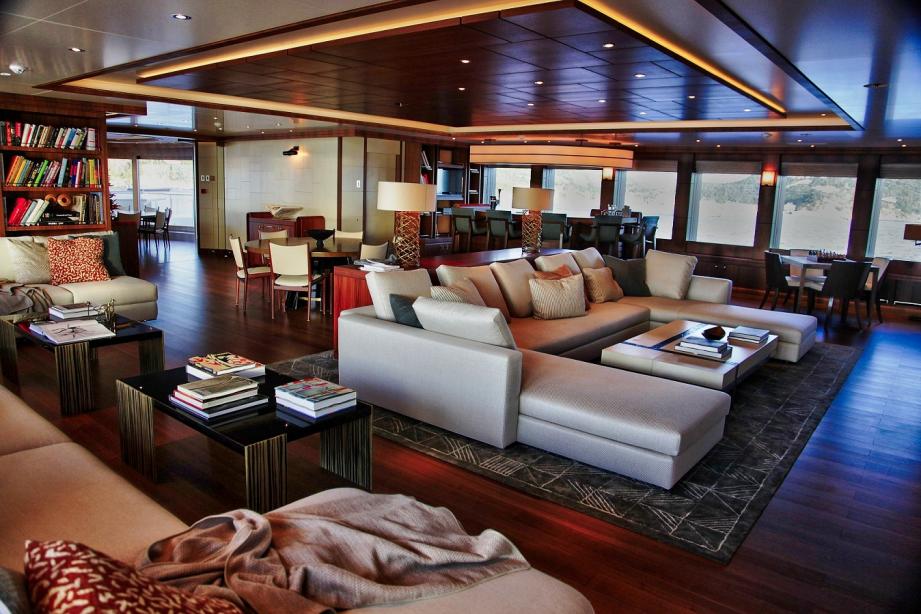 The yacht was built by Dutch yard Oceanco in 2010 with a beam of 14.02 metres and a draft of 3.96 metres. Classified by MCA, she has a steel hull and aluminium superstructure, adding up to a gross tonnage of 2,658 tones.
Propelled by MTU engines of 4680hp each,
Seven Seas
is capable of reaching a maximum speed of 20 knots and cruise at 15 knots.
LOA: 88 m
Yard: Lurssen (2012)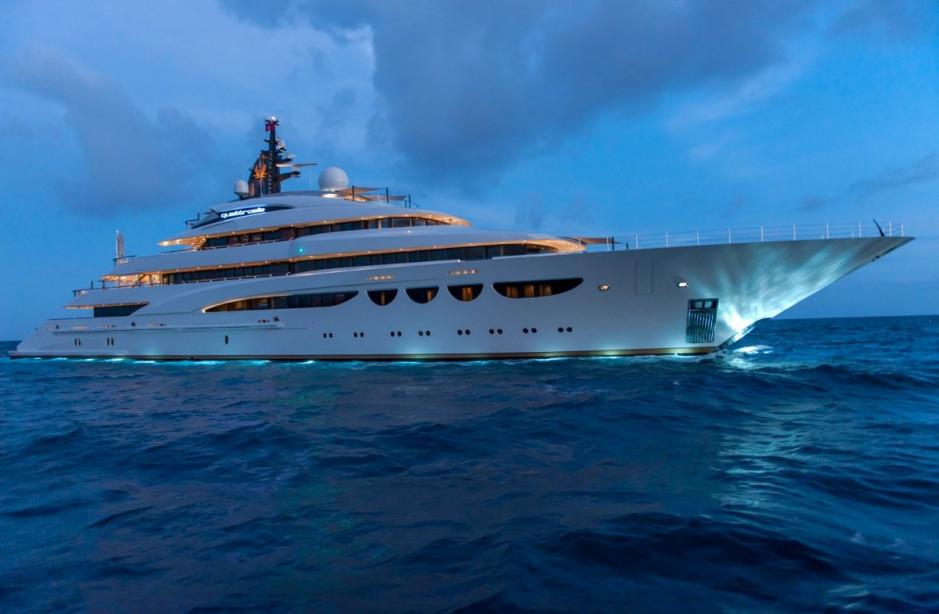 Built by Lurssen in 2012 and delivered one year later,
Quattroelle
features a steel hull and aluminium superstructure. Her untrvial name comes from a saying of the owner's mother about the four essentials of existence.
Quatroelle
can accommodate 12 guests across 6 cabins with both exterior and interior design by Nuvolari & Lenard. The superyacht's alluring amenities include an infinity pool, sun deck featuring a gym, sauna, steam room and spa pool. The master cabin is equipped with with three cabins, four bathrooms, dayhead, office, pantry and two outdoor terraces.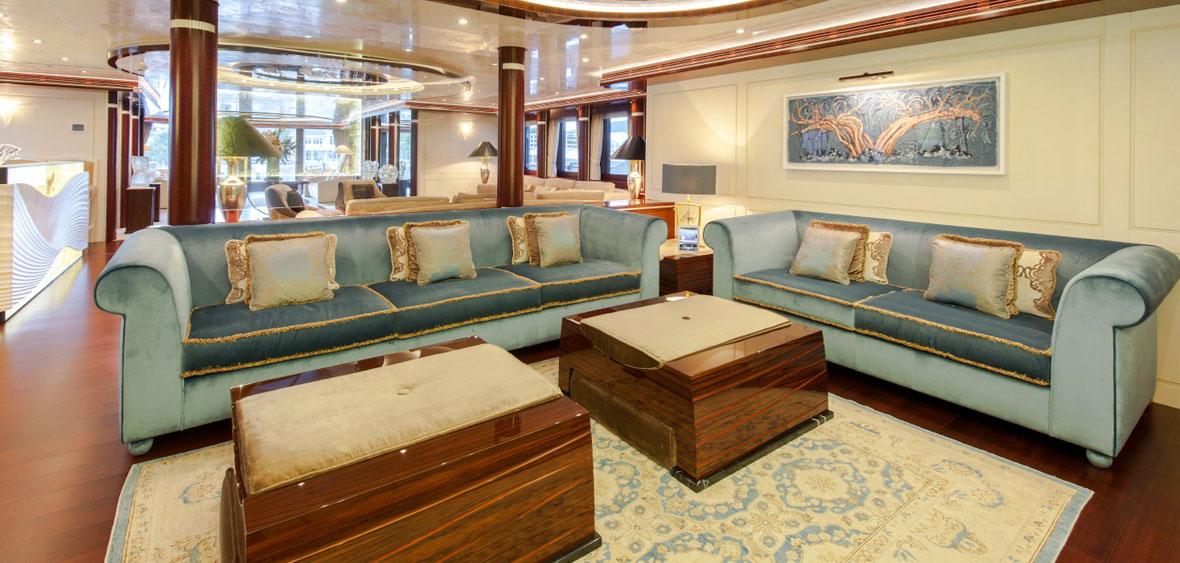 Quattroelle stands out for her smooth lines, high bow with sugar-scoop window shapes and reverse angle on the stack. With the profusion of stainless steel railings with their gleaming caprails, artistry is evident overall the yacht.
The vessel can achieve a top speed of 17 knots, and comfortably cruises at 12 knots.