British yacht designer Andy Waugh presented the 45m concept named Revolution. As with the projects
Expedition
,
Epiphany
and
Nouveau
, the new concept pushes the boundaries of yacht styling. According to the designer, "it should appeal to the kind of client who is bored by traditional yachts and wants to stand out in the crowd and make a bold statement".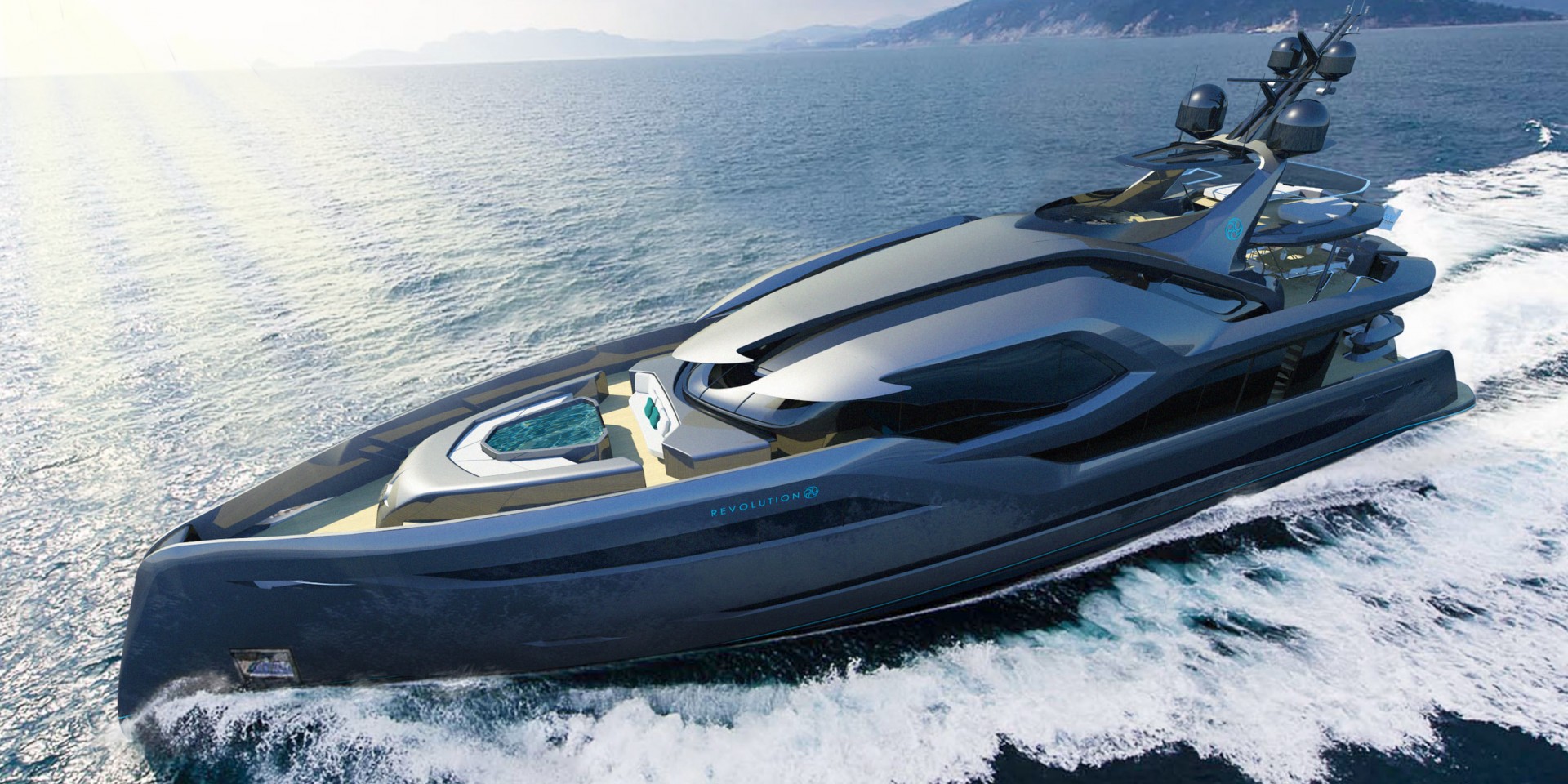 The superyacht's design is a unique, sophisticated 3D form with well-defined surfacing and inherent dynamism and strength. The upper structure appears to be cantilevered from the hull side giving the design tension and a distinctive profile. Boldly faceted surfaces flow along diagonal lines to sharp points creating the impression of purpose and focus in the direction of travel.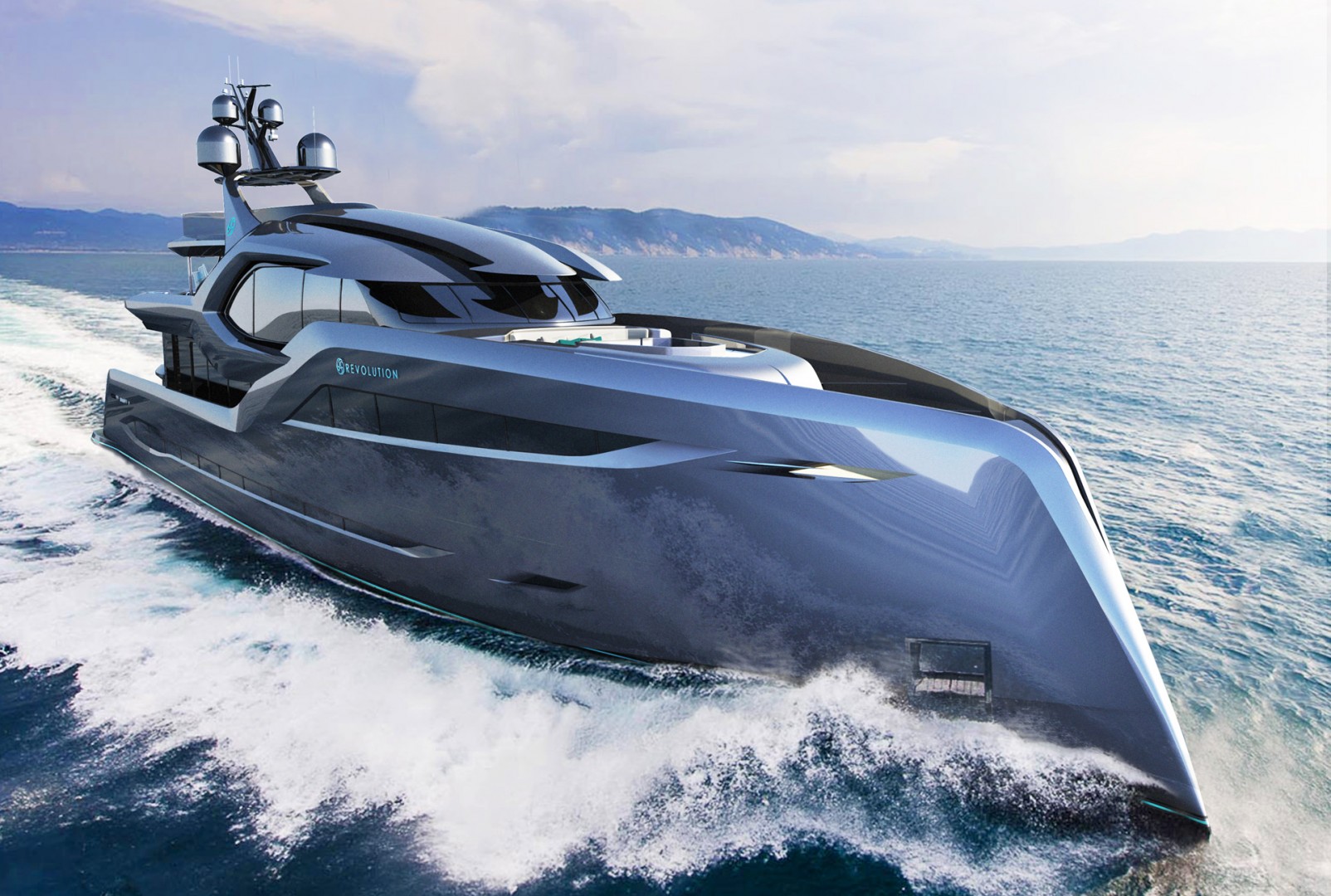 Unlike conventional designs which have an unbroken 'coach-roof' above the wheelhouse, Revolution has a distinctive trident style structure evoking notions of the ancient Gods of the sea Neptune and Poseidon. Her logo was inspired by the Japanese samurai symbol for the revolution of the universe and serves as a contrasting detail to the surrounding structure.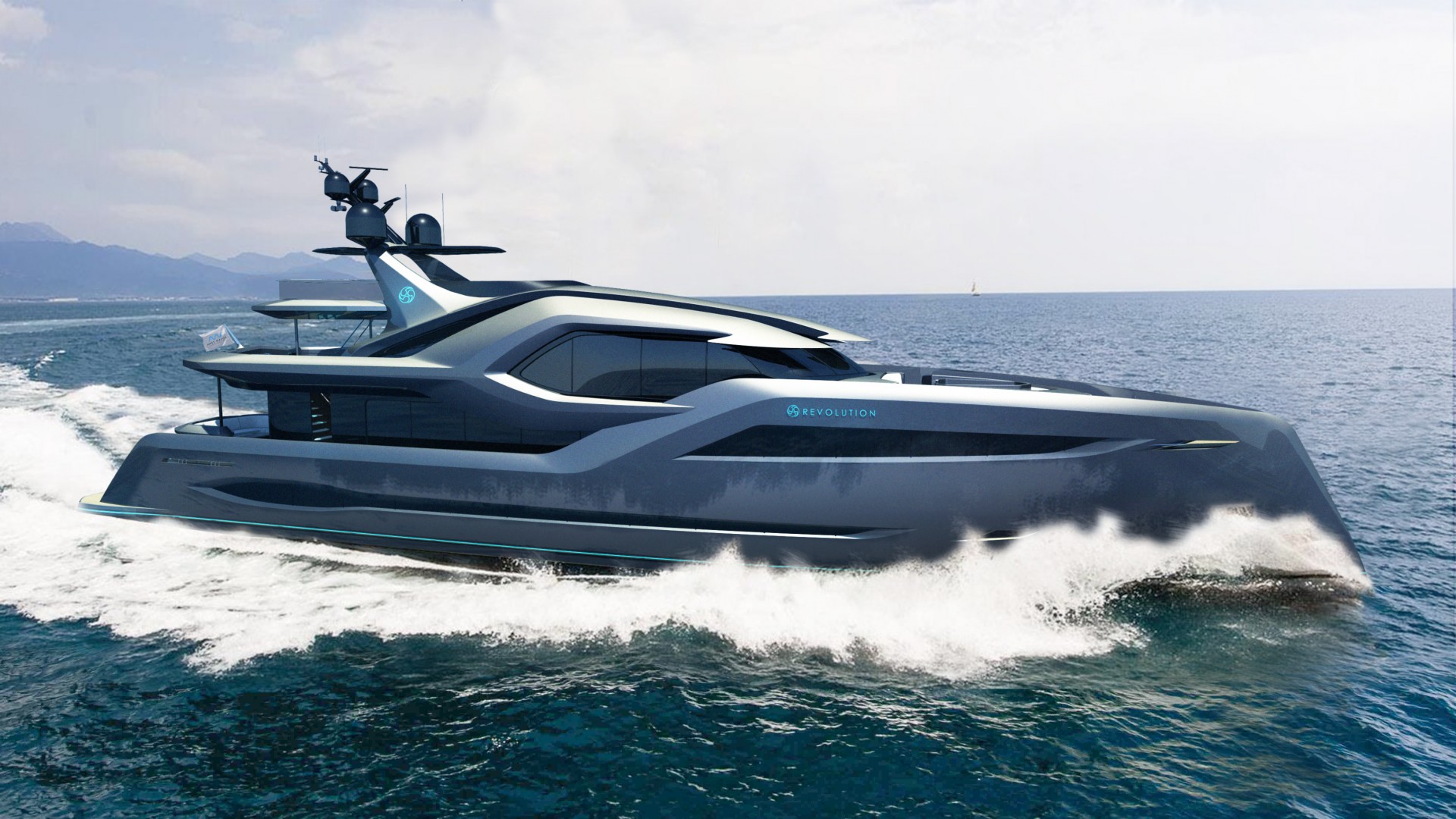 Despite the superyacht's radical appearance, her style contains similar levels of accommodation to any other yacht of comparable LOA and conforms to all conventional standards. The main deck houses the master suite and main saloon while four guest cabins and crew accommodation are on the lower deck. Aft of the wheel house on the bridge deck is an informal lounge/cinema space leading out to an alfresco dining area. In all there are four versatile deck areas that could be tailored to a client's specific requirements. In the current specification there are two pools, one at the bow and the other on the sun deck and a sociable, coffee style seating area on the main deck aft.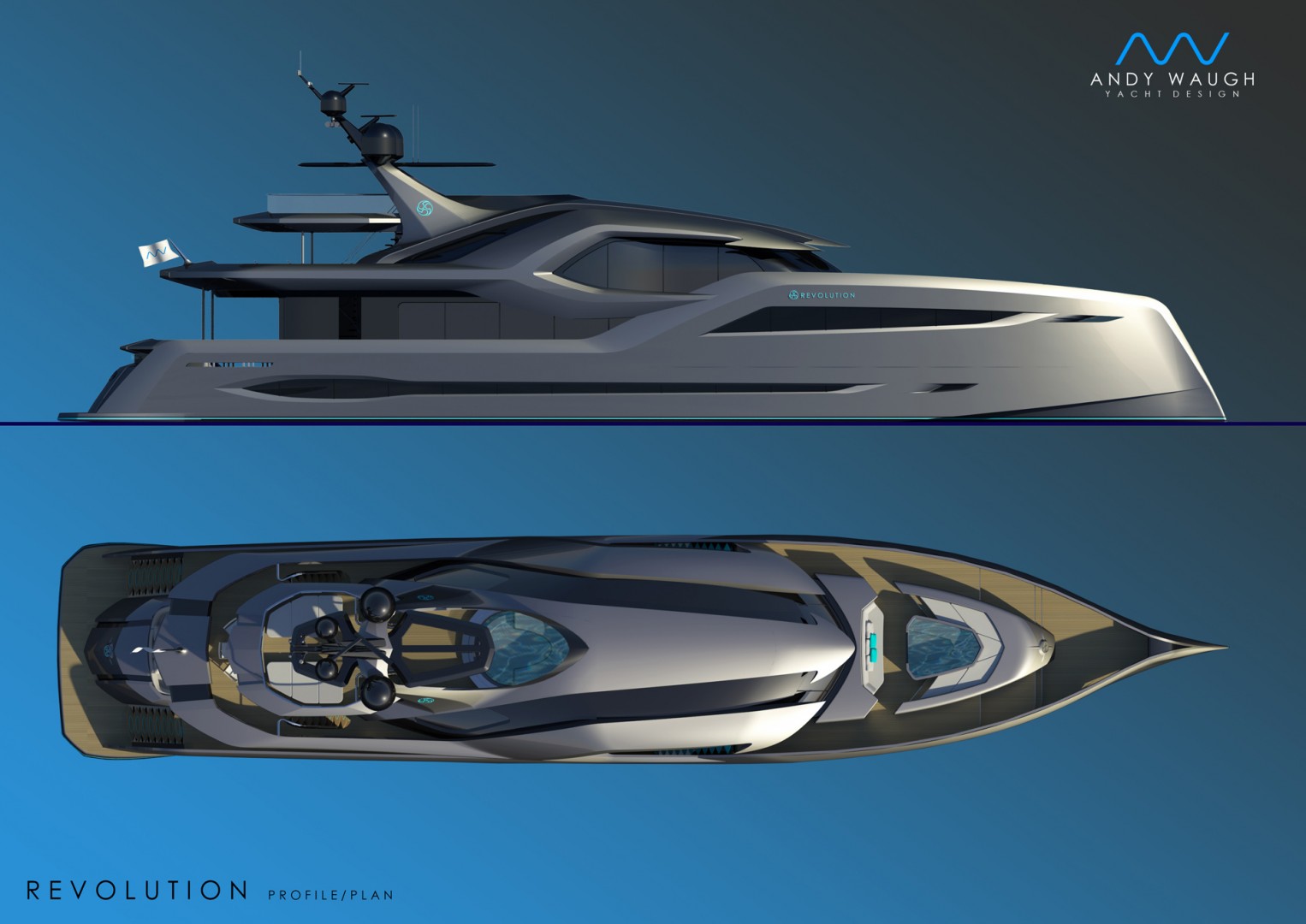 The stairs from the main deck to the bridge deck aft run in the opposite direction to conventional designs giving the main deck inner structure a striking, minimalist appearance. All of the stairs on the yacht have the impression of being floating with little support, this is most effective on the transom where they create a unique, abstract aesthetic.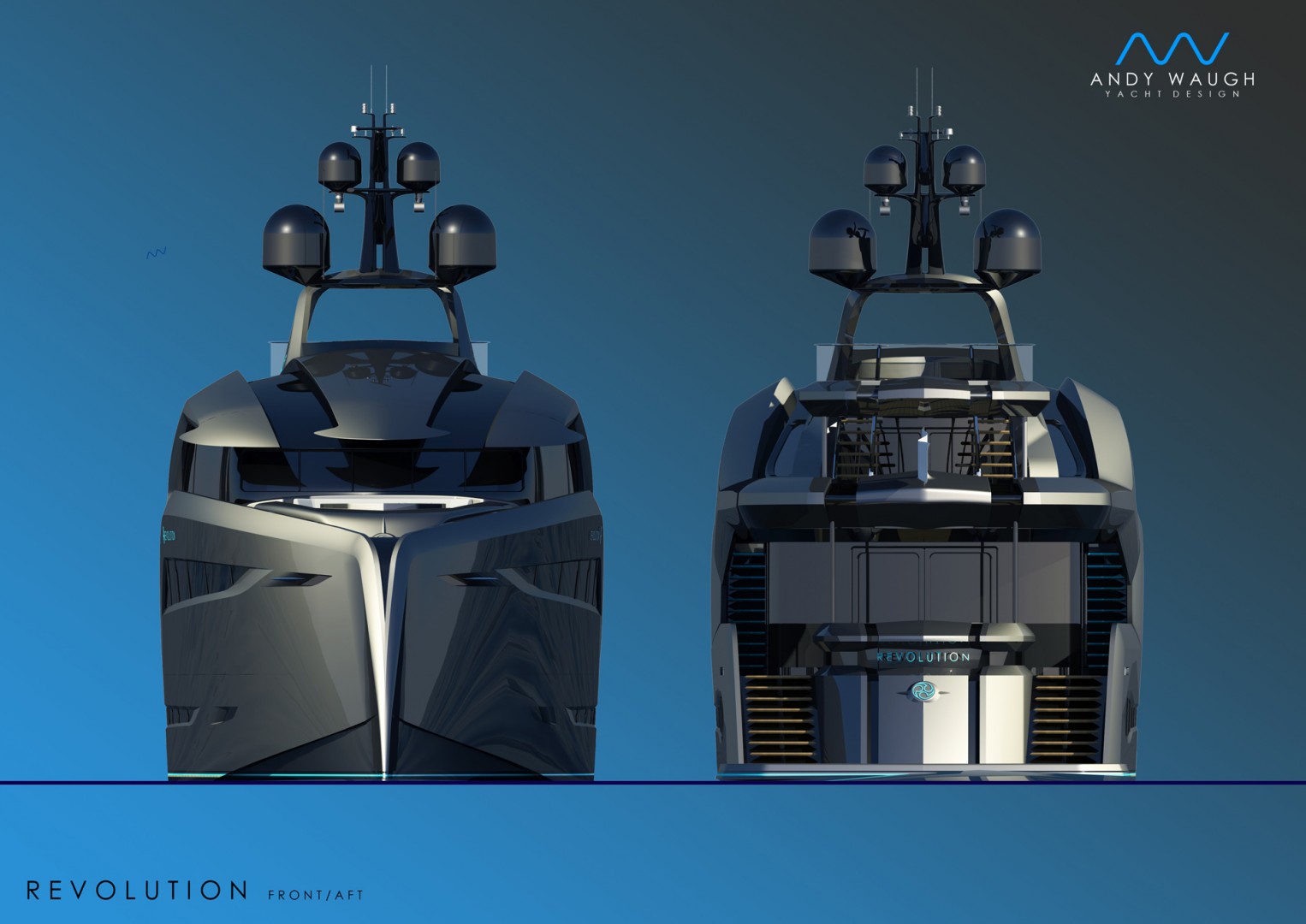 Photo courtesy of Andy Waugh Design