The California-based designer
Steve Kozloff
has unveiled a 100 meter double-masted trimaran concept named The Trident. The vessel has six decks and two dedicated helipads, one on each of the vessel's crossbeams.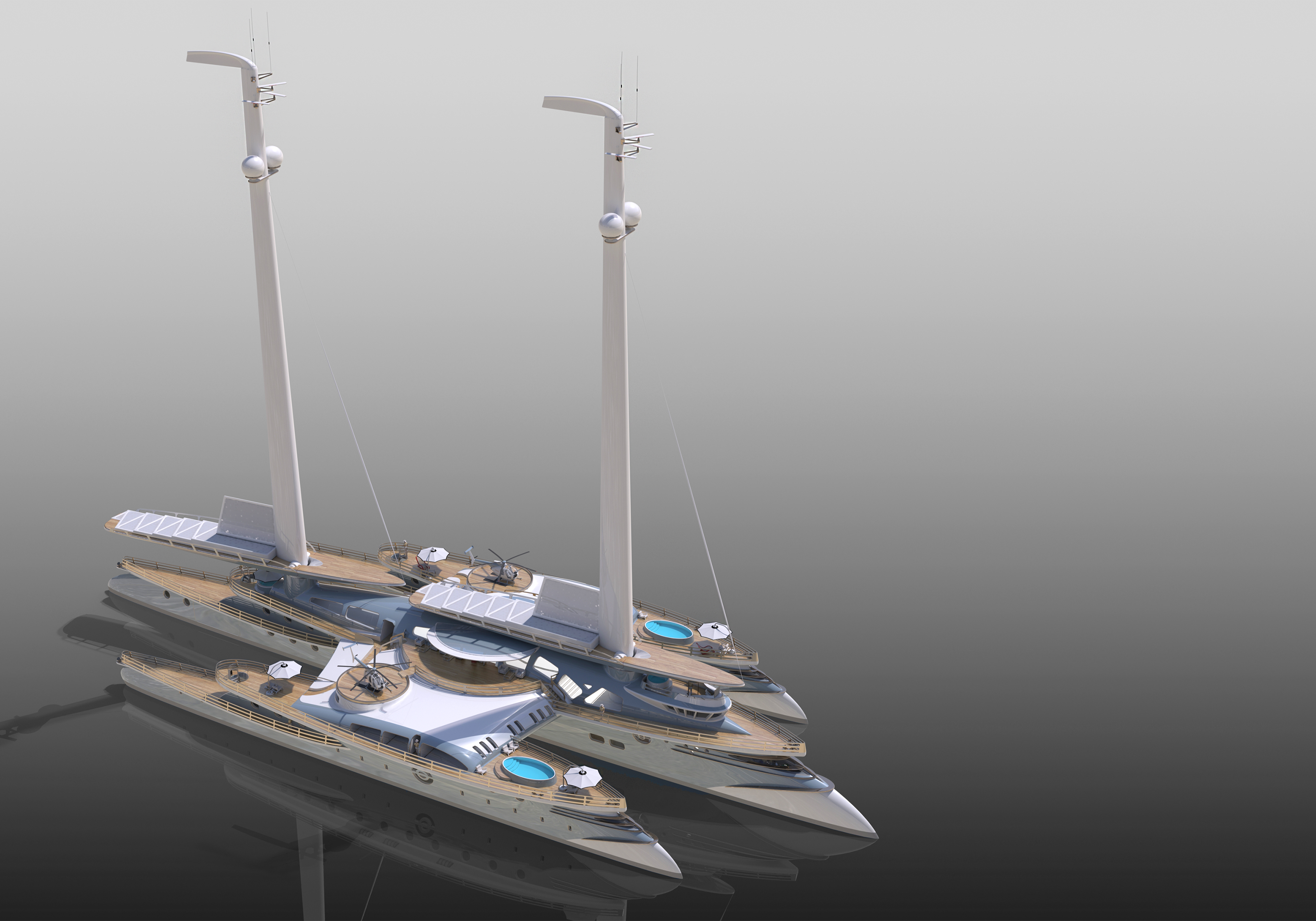 The mast tilts 70 degrees forward to reduce the air draft from 238 feet to 138.5 feet making it possible for The Trident to traverse below most bridges. The Trident now can have direct access to the Panama Canal, San Francisco, San Diego and other harbours. Solid Sail system is the automated setting and dropping of the sails. The boat can be pointed in any direction when raising or lowering the sails. The Solid Sail System has a 360-degree rotating mast. The captain simply rotates the mast into the wind to perform the raising and lowering of the sails.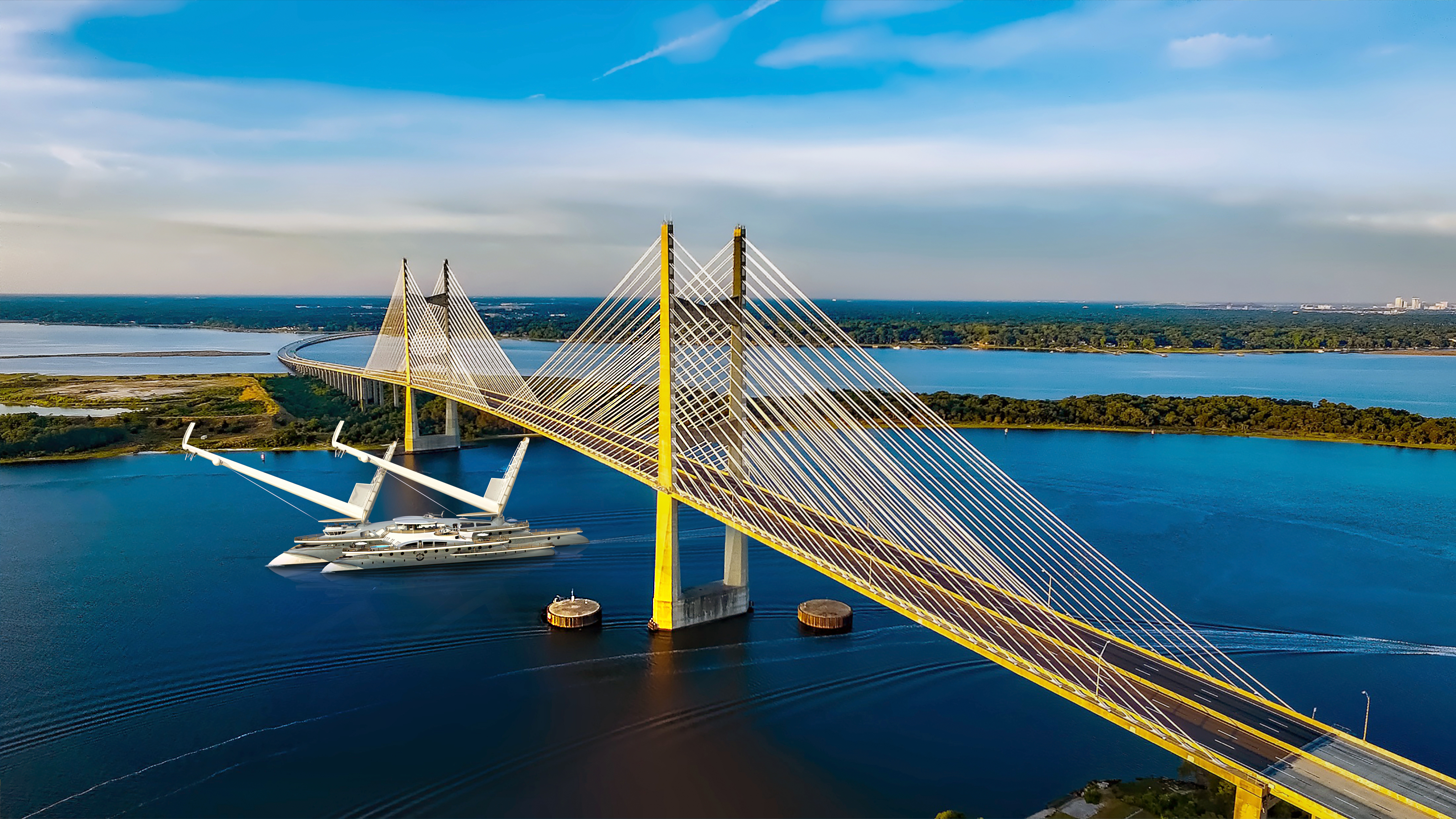 The Trident features the full beam beach club in the main hull with retractable decks, which is a unique feature for any sailing yacht, two large bow pools, two spas in the main hull, forward and aft.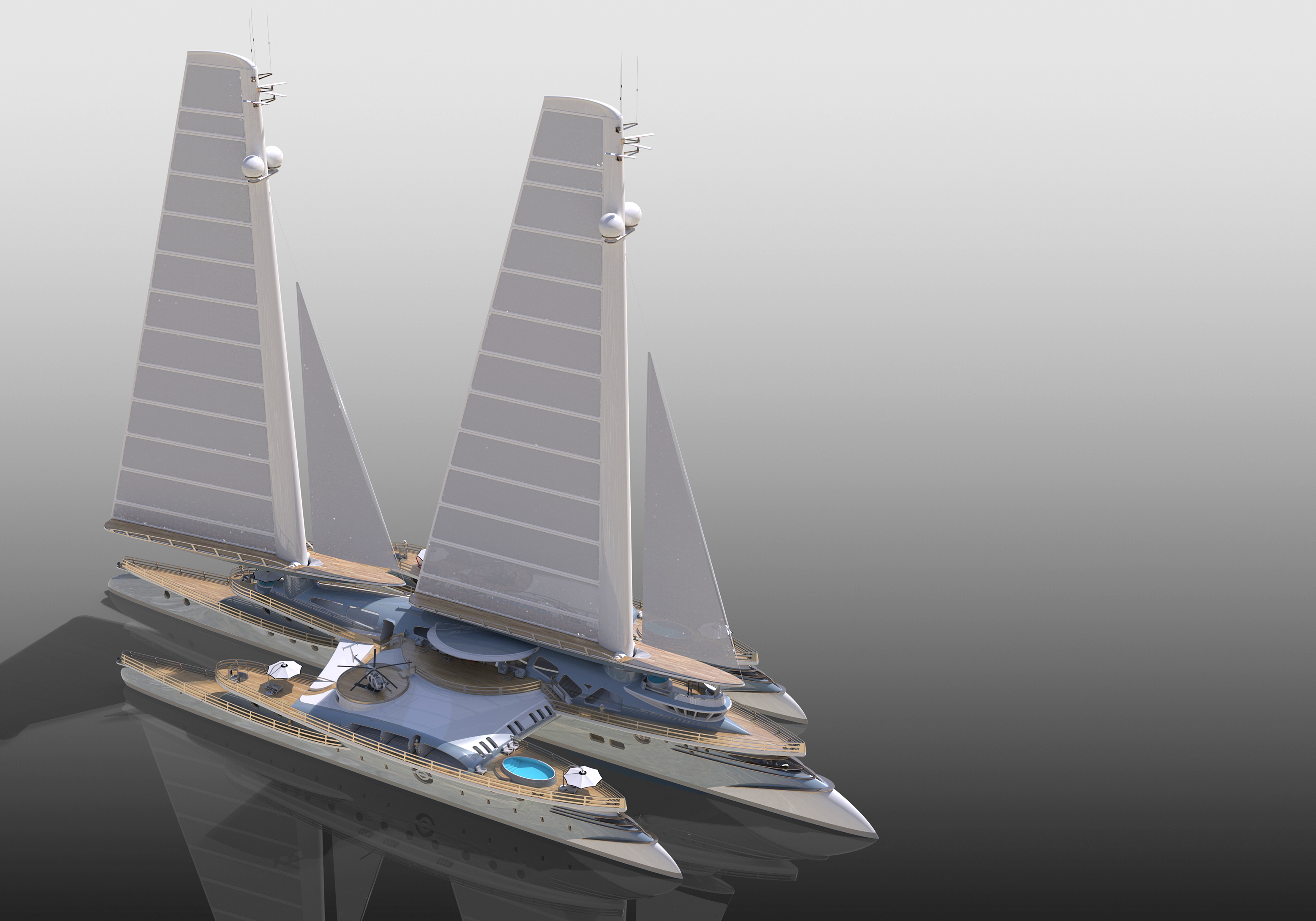 The interior space has multi-levels, curved walls, and a multitude of large windows providing a near panoramic view. A 210 sq. m owner's suite is located in the bow of the central hull, the two additional master suites are found towards the bow of both side hulls. Guest cabins that can host 26 guests and crew cabins that accommodate 20 crew. The piano bar and entertainment area on the upper deck include floor to ceiling windows providing views of the surrounding seascape.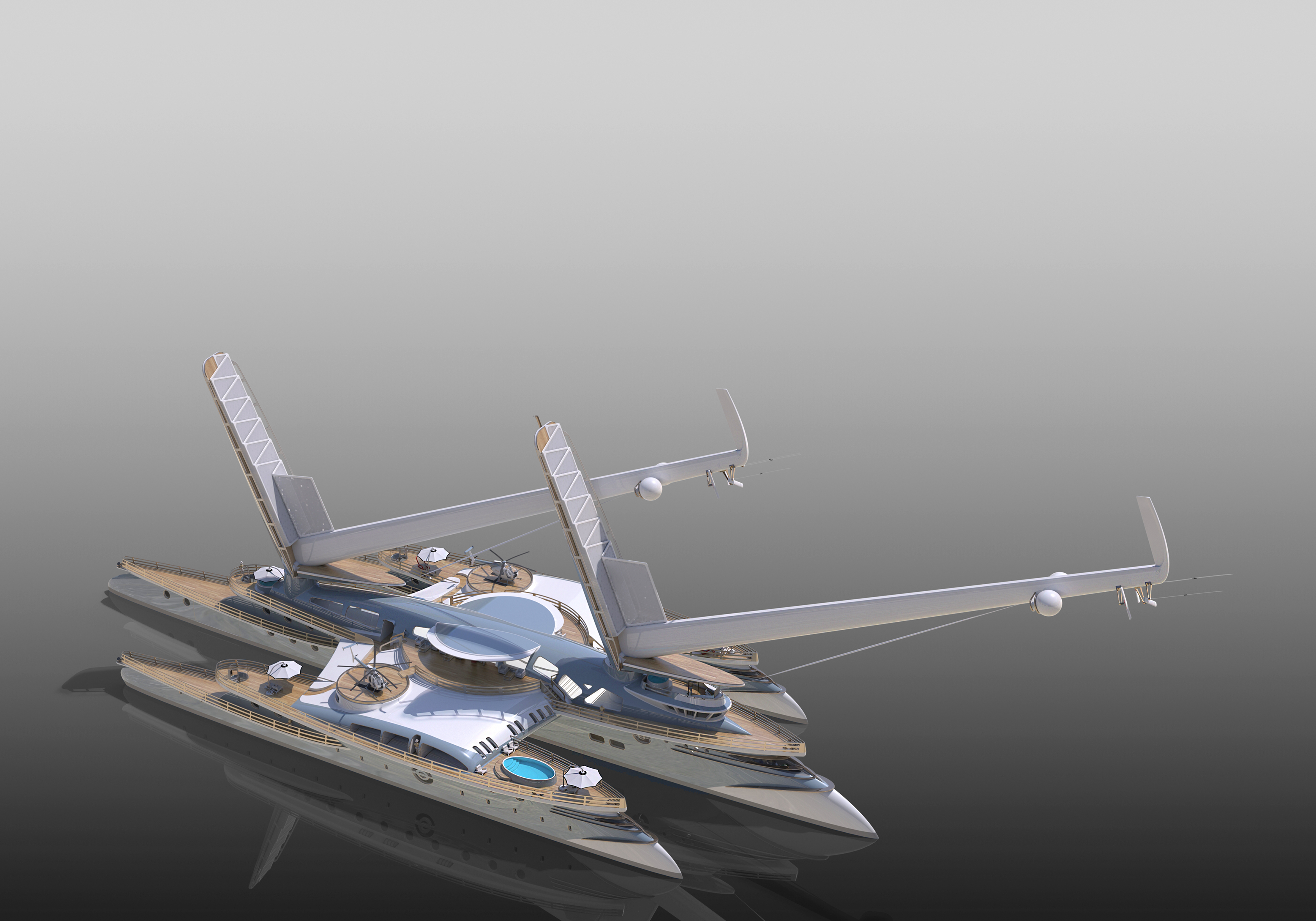 A full beam garage that can handle 2 tenders, one Nemo U-Boat Worx submarine with dedicated launching systems and other water toys.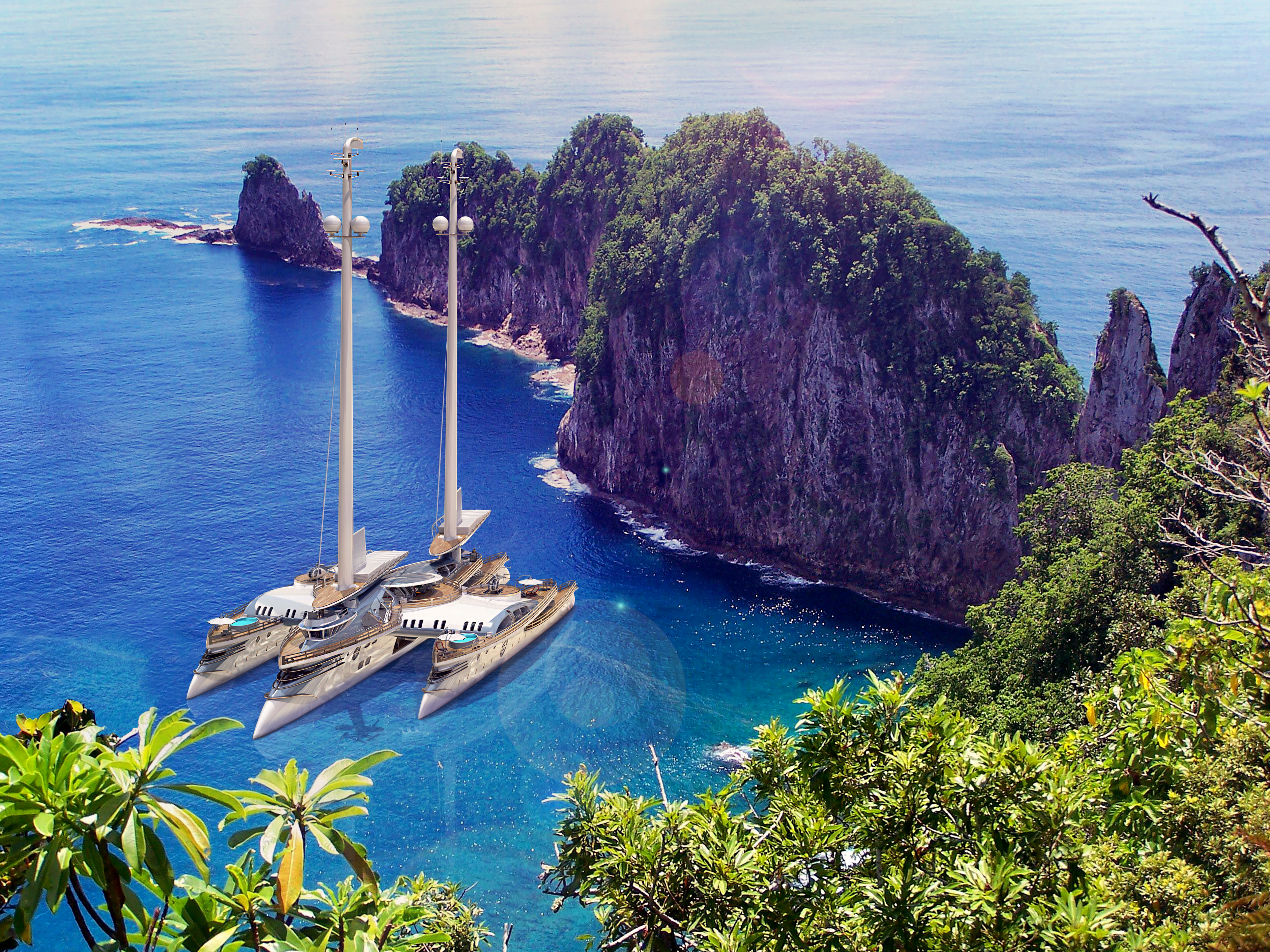 The Trident can cruise at 14 knots for 6700 nautical miles with diesel power only. Her range is greatly extended with careful management of her hybrid diesel-electric systems and sail power. Under sail power only, she can make 12 knots.
This comes after a 170m gigayacht concept
Glory
, which was revealed by Steve Kozloff in April.
Credits: Steve Kozloff