In the midst of a failing yachting industry in Dubai, two yacht designers have to decided to go against the grain and create some of the most aggressive yachts in the business. Franco Gianni from SFG Yacht Design has teamed up with Josh Rodriguez, a yacht designer and naval engineer with many years of experience working with some of the most prominent shipyards in Europe. The Duos first assault on the yacht design world is a new type of full displacement, RPH, 44-meter motor yacht with aggressive styling and advanced technology throughout.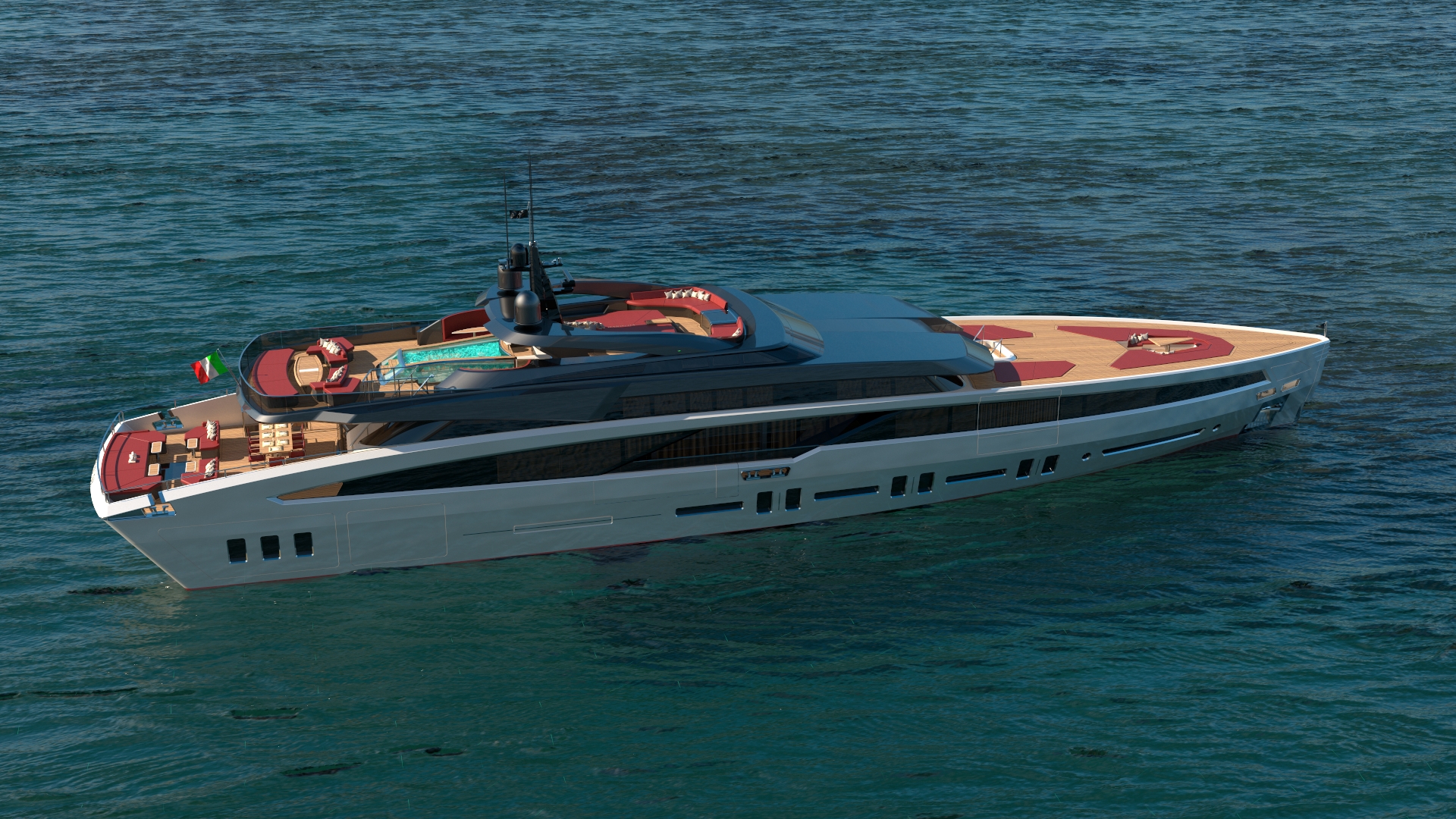 The yacht, which goes by the project name "Bandida", is the yachtsman's dream. Designed with sun worshipping, socializing and connectivity to the sea in mind, project Bandida boasts oversize seating throughout all decks and a large swimming pool, centrally located on the fly bridge. Franco and Josh have spent many years on board all types of different yachts in many different ways adding to long list of experiences in the industry, so when it came time to design a yacht that would make a statement as not just another concept, they designed it as if it was they're own yacht. The thought process behind the design was to include as much comfort and style possible without sacrificing functionality. The yacht is designed and engineered to be able to go anywhere in the world in complete comfort and safety economically. The hull is a proven full displacement platform that will be powered by twin Caterpillar C 32 Acert diesels. She will have a cruising speed of 16 knots and a max of 18 knots with a max range of 5000 nautical miles. Project Bandida will displace just 370 tonnes.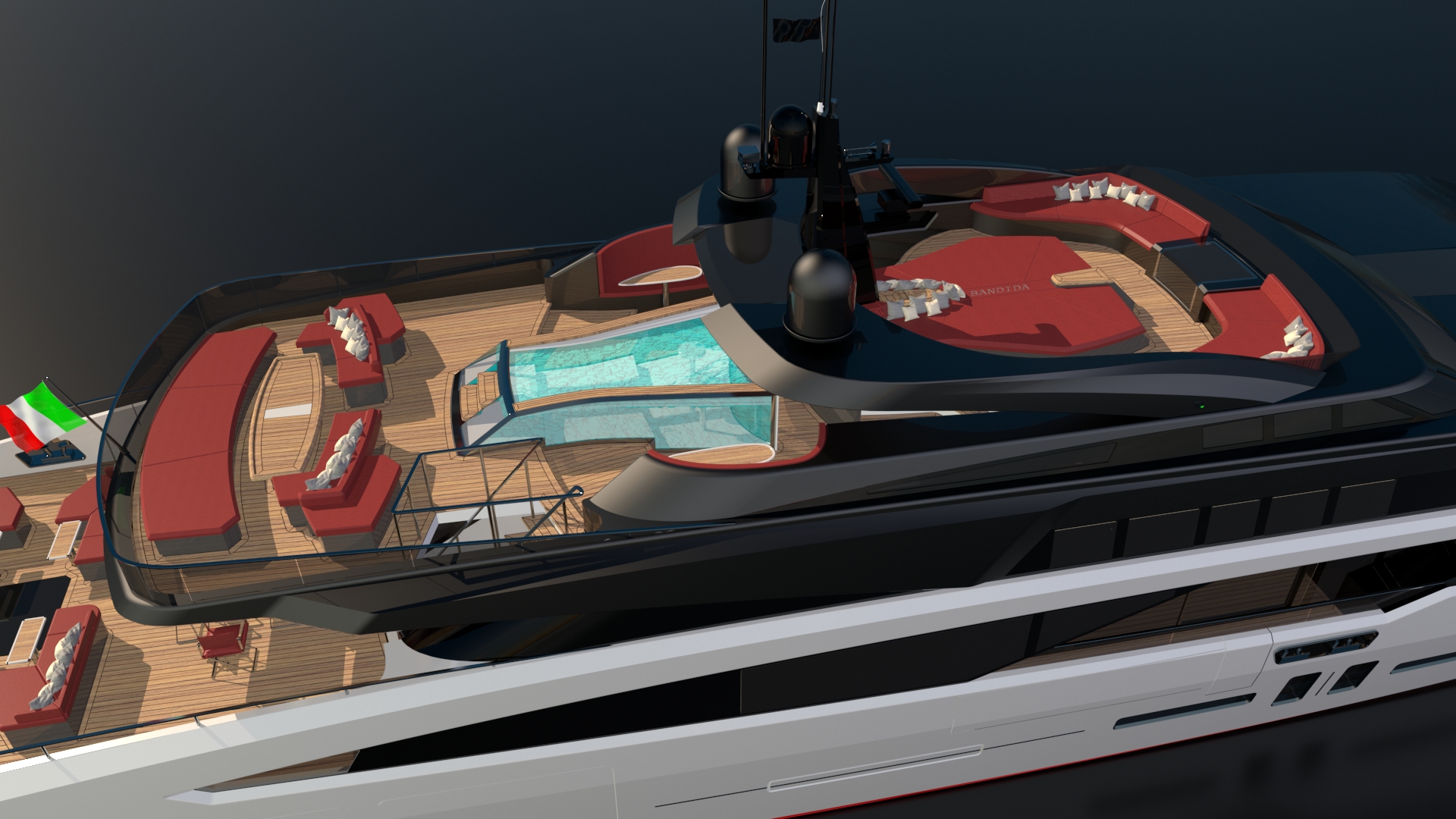 From the outside, Bandida will have the illusion of a tri decker when in reality she is more of a traditional raised pilothouse design. One of the main advantages of this illusion is the amount of volume the main salon will boast. She has the feeling of a much bigger boat inside. She will feature a main deck master with a foldout balcony, four lower guest cabins, a large beach club, tender garage and a large, comfortable crew area.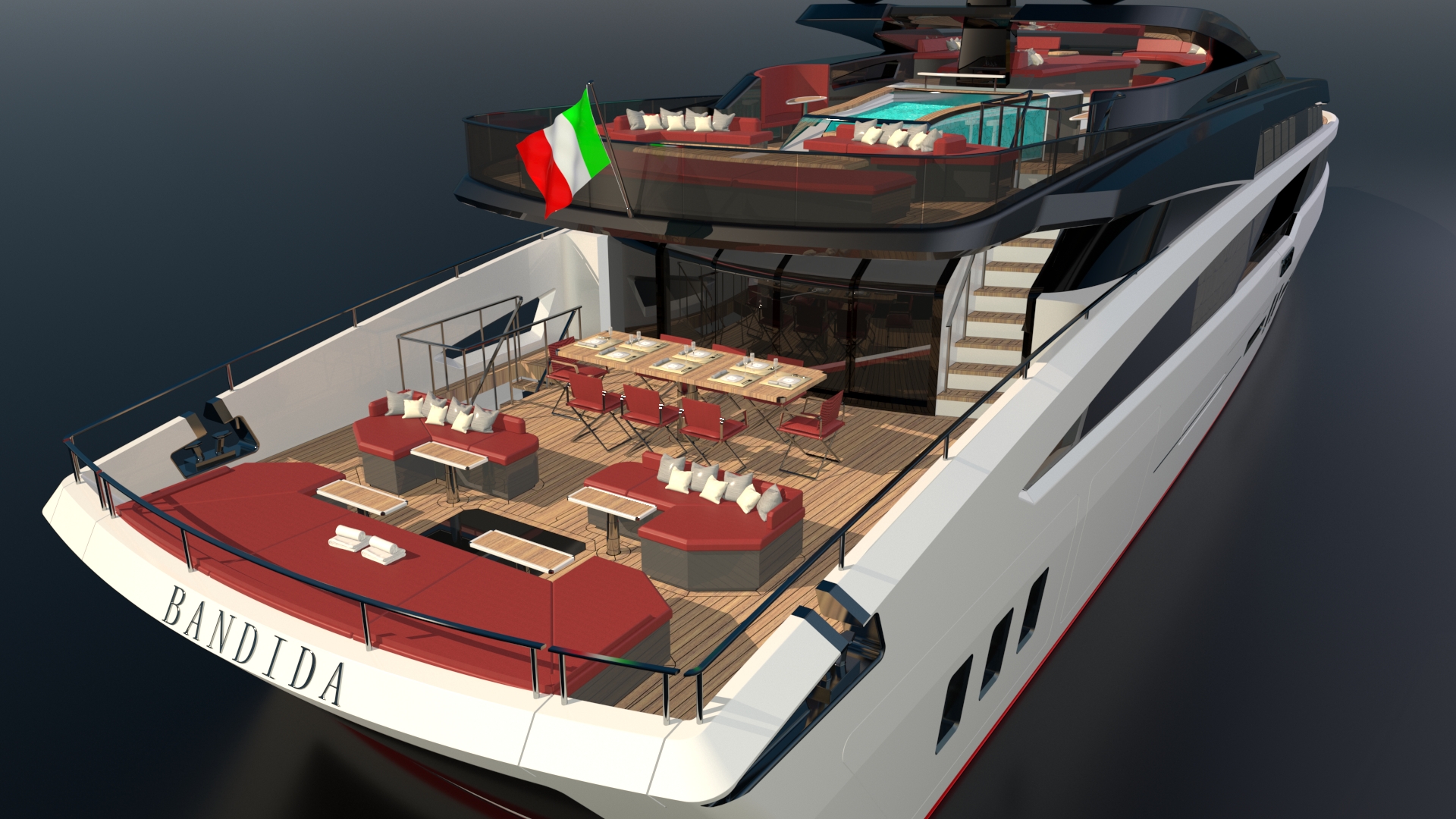 The lower deck aft will house a large comfortable beach club that opens aft via a large glass transom door and two side opening balcony doors. Forward of the beach club is a dedicated tender garage that will house a custom 6.5 meter tender.
One of the main features of Bandida is the flush bow of the yacht. The entire bow is dedicated to sunbathing, relaxation and socializing. Two large aft sunpads are flush with the teak deck followed by a large social pit surrounded by more sunpads.
We want this yacht to appeal to all types of yachtsman, the family oriented type all the way to the ultimate party going type. The yacht will be a great charter yacht based on the fact that she is so versatile. "Franco Gianni"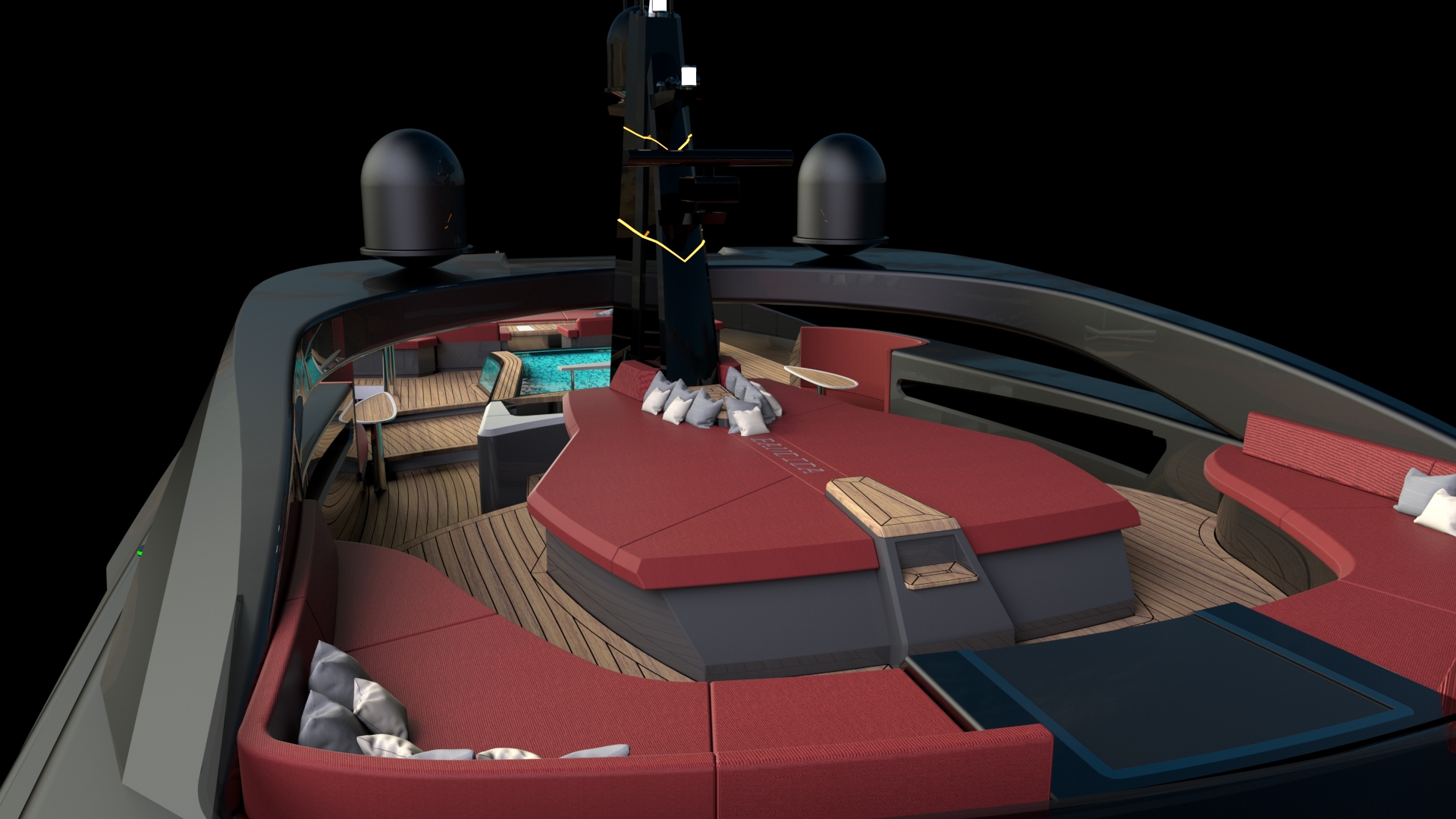 Project Bandida is an aggressive and angular yacht with a vertical bow and simple lines that give this yacht the tough yet feminine look of a go anywhere in style type of yacht. With a length over all of 44 meters and a beam of just over 8 meters this yacht sets her self apart from the heard by providing an exterior and interior volume that is unheard of in her class, actually she is the class, because there is no other yacht in the world like her.
Entering the yacht from the starboard side of the aft deck, you are immediately welcomed by a large sunpad and gracious lounge area. Forward towards the main salon doors is a large 12-seater dining table that is a work of art in itself.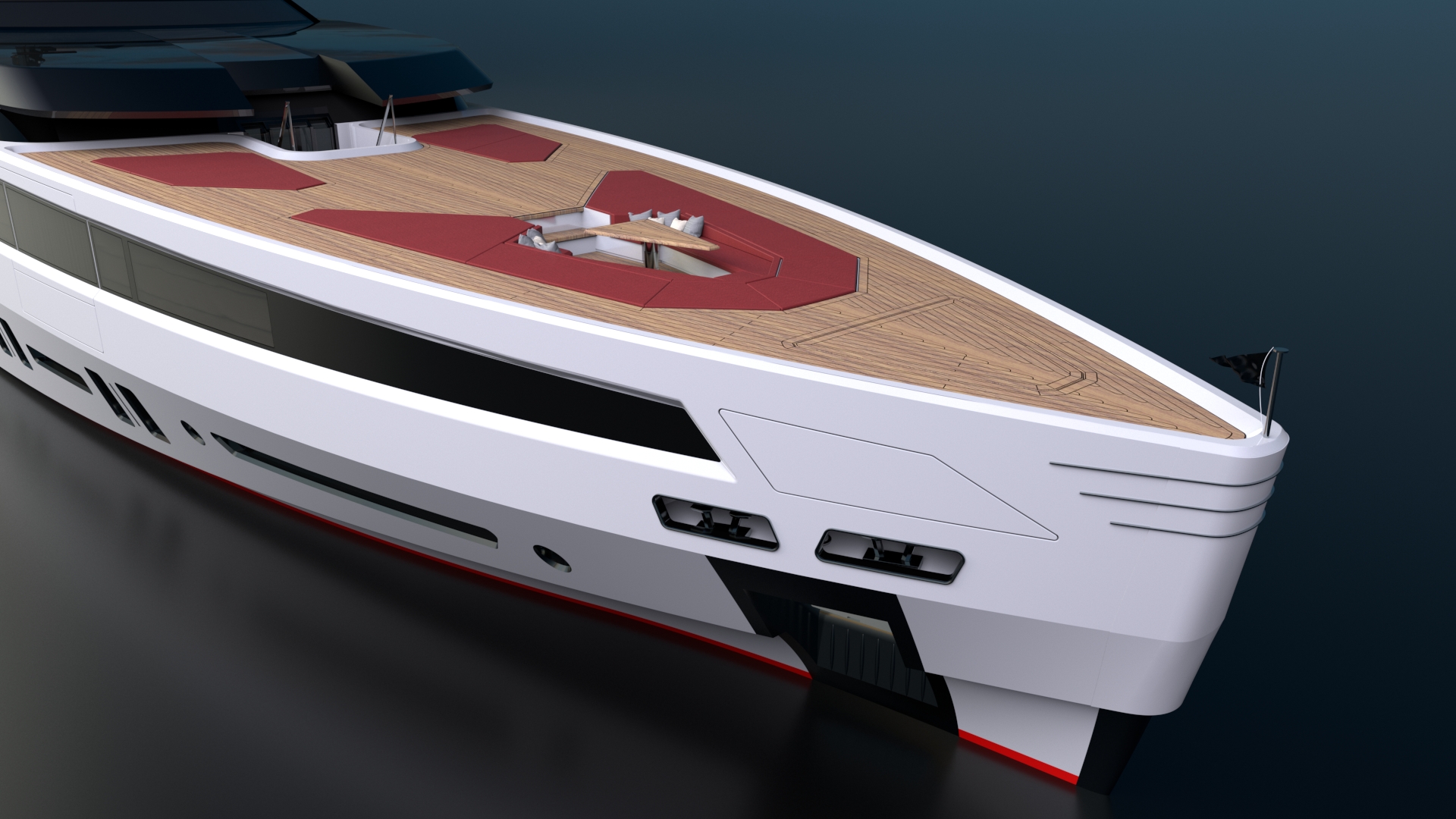 As you exit the aft deck for the fly bridge via the large, starboard side staircase, you are immediately greeted by a giant lap pool surrounded by glass and a towering arch with a waterfall and central bar that caters to all four sides of the of the fly. On the aft deck, custom designer furniture creates and inviting, relaxing area that can opt as a sun lounge or as a sitting area that provides ultimate comfort. The forward end of the fly bridge is a lounger's paradise, with the biggest sun pads and lounges to be found on a 44-meter motor yacht. This area was designed with many little hidden secrets such as built in cool boxes; lift tables and accessories for those of us who worship the sun and sea.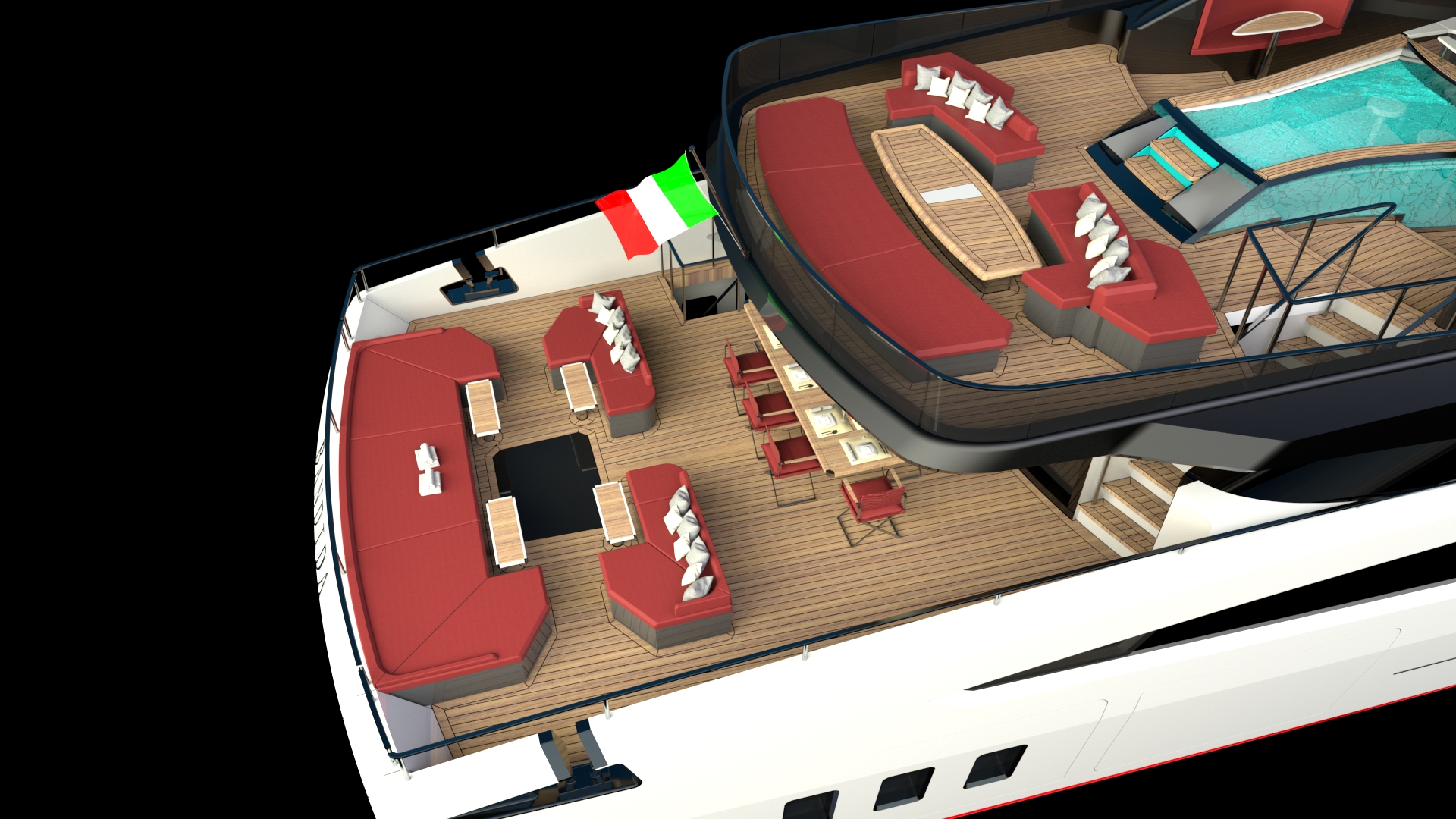 Pushing the trend towards making more of foredecks, built-in seating and sun pads transform the bow into a private, intimate lounge in its own right, rather than a makeshift hideaway with a deckchair or two.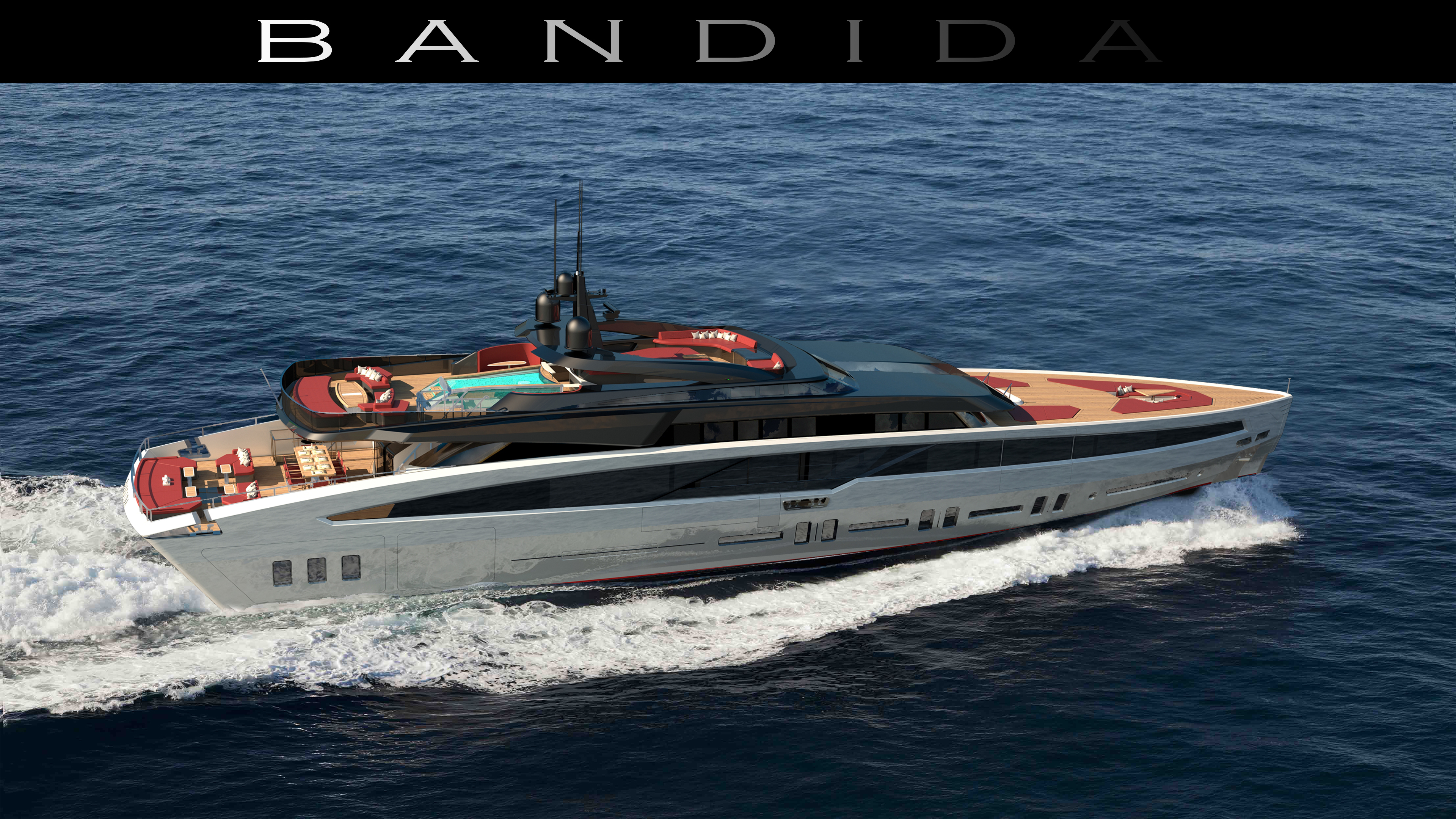 The interior of this yacht is created for 12 guests in 5 cabins, the master being on the main deck. The interior layout of the boat is unique and non traditional just as she is on the outside.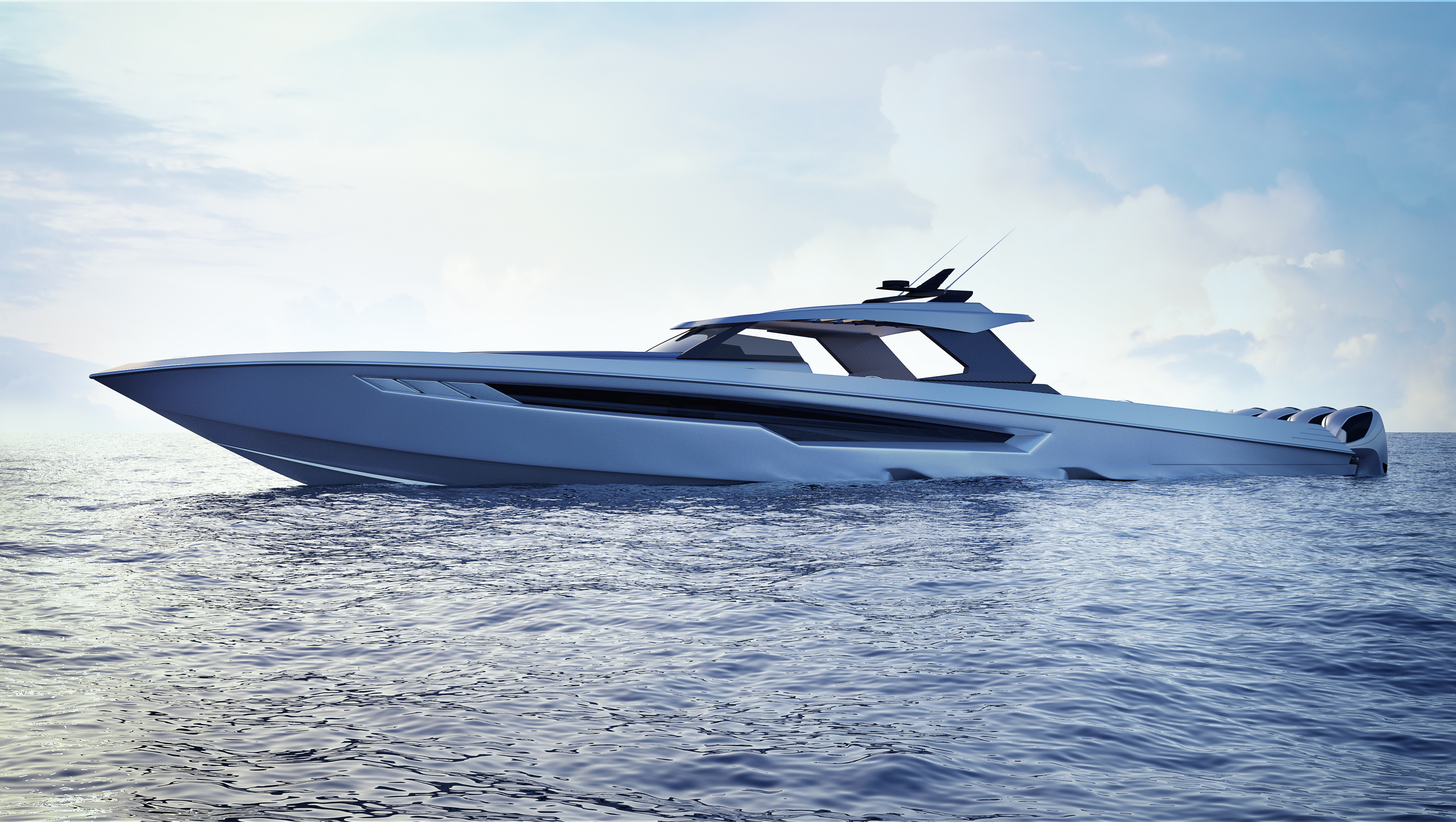 The overall synopsis of this yacht is that it was created for those of us who want to get on board our yacht and not be afraid to touch anything, to jump on a giant lounge, read a book or just lay in comfort under the sun for hours on end. This is a yacht designed and created by two designers that have actually spent their entire lives on board yachts, as crew and as guest along with being owners themselves. Style, aggressive, sharp, elegant, family, friends, fun, comfort and elegance are just some of the words that can begin to describe this new type of yacht. The objective is to go anywhere in the world in absolute comfort and style, knowing that your in the safest boat possible because the team that designed and built it actually spent the majority of their career at sea as super yacht captains and hands on designers and engineers.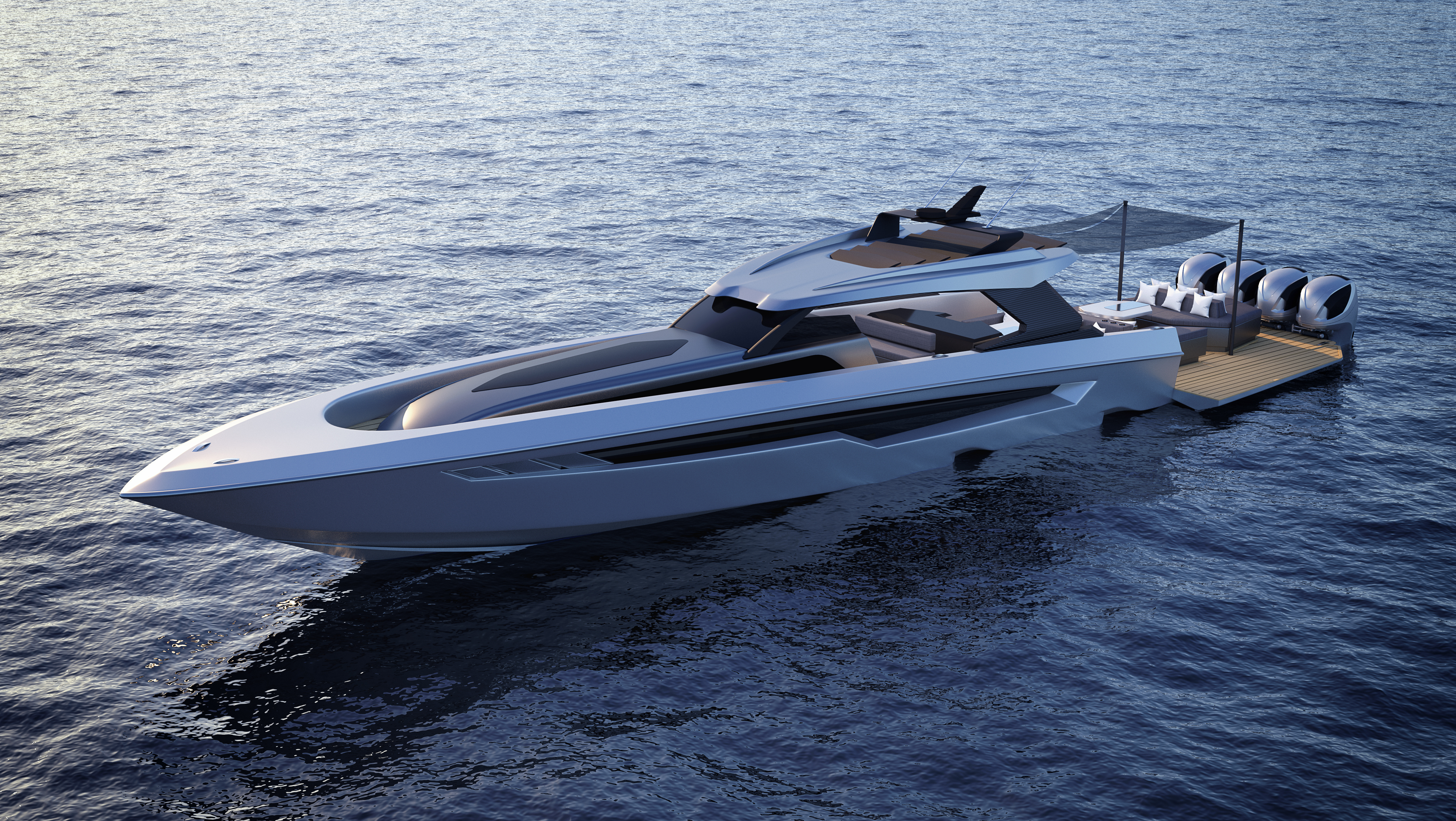 The G2 60' is the next generation of center consoles and day boats. Designed by Franco Gianni and engineered by Josh Rodriguez, the G2 redefines the day boat market by outperforming the competition and looking really good doing it. The G2 has an aggressive exterior and interior along with a pedigree hull bottom that is capable of triple digit speeds in any condition. Based off the original SFG 60' CCV, the G2 takes the super center console to the next level. The G2 comes standard with all of the goodies usually considered options, including large, aft fold out platforms. The G2 has many different power options, from inboard diesels hooked up to surface drives to 5 Mercury Racing 400R outboards, the standard would be a quad, Seven Marine 627 outboard package that can push her to speeds in excess of 75mph.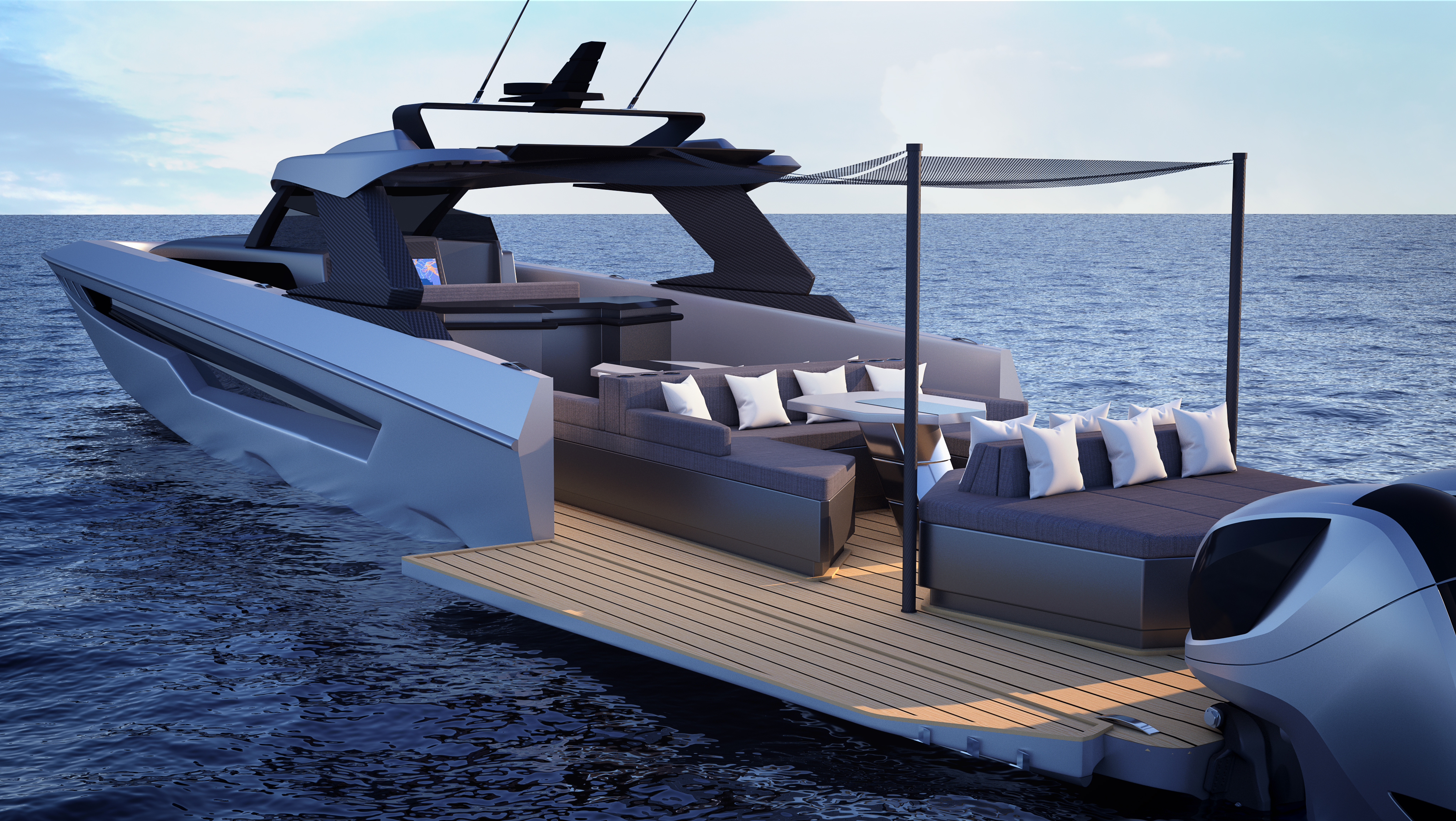 The G2 is offered in 3 different layout arrangements and is completely customizable by her owner.