Few superyachts have ever gained a level of recognition across mainstream audiences as has the A fleet in recent years. Designed by Starck, their lines have become the most polarizing in the yachting sector and brought unprecedented attention to the field in general.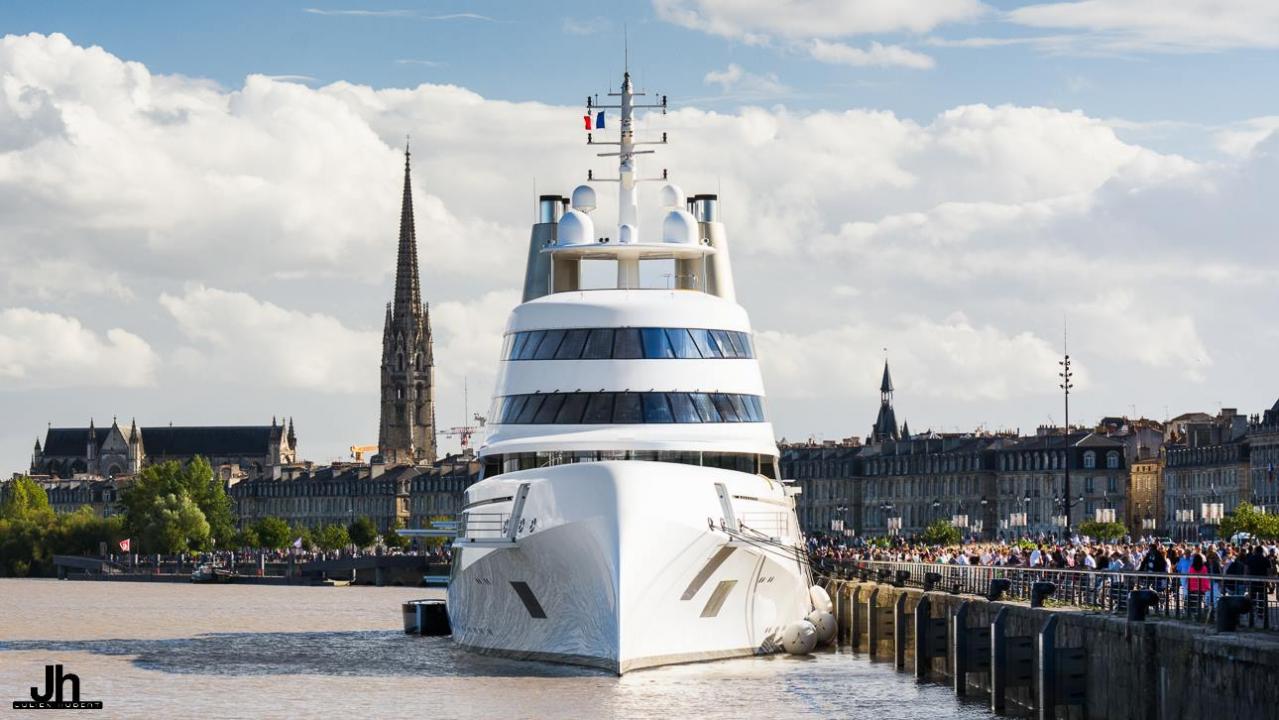 Initially sketched by Starck in a matter of minutes according to the French designer, the project for Motor Yacht A started back in 2004 when Russian billionaire, Andrey Melnichenko contracted him for the project. Starck later said in interviews that the brief simply said the yacht had to have six cabins and approximately measure its current length, the rest was left up to the designer.
At that point, the Frenchman had completed two yachts already, a 24-meter sailing yacht named Virtuelle and the 65m Feadship, Wedge Too. The project was nonetheless ambitious, to create an original yacht that stood out and didn't mimick anything done before. Designed to have volume, whilst at the same time living in the light, Starck emphasized that the layout needed to be simple and human without too many corridors.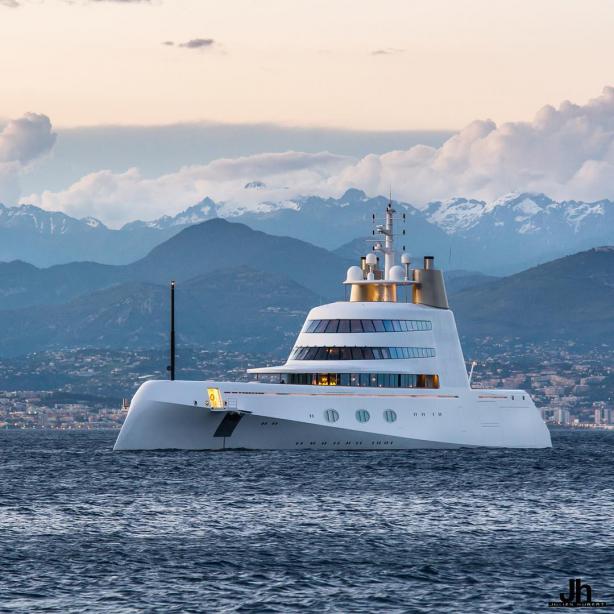 Starck is known for often pushing for his own style in his projects and designs, not necessarily folding to the requests of the owner. Instead, he says he tries to understand their needs and come up with a creative solution as he did with Motor Yacht A according to his interviews.
Delivered in 2008 by Blohm+Voss, a German shipyard since acquired by Lurssen, Motor Yacht A hit headlines in the worldwide press for her polarizing design and didn't leave anyone indifferent. Innovative amenities onboard included a large main salon that stretched as a single room throughout the main deck and encouraged socializing.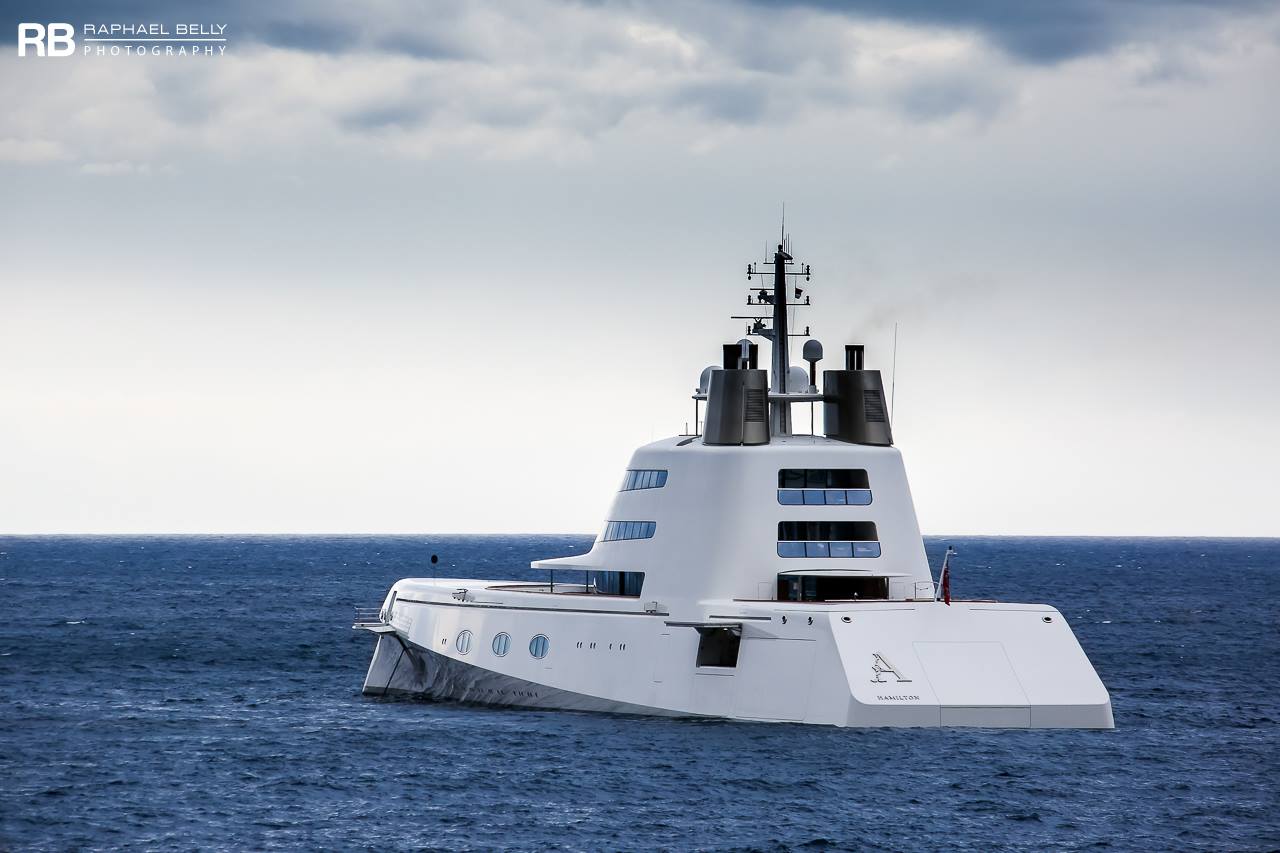 Another key element in her design was the creation of a spacious, lounging zone forward on the yacht's bow. Whereas such areas are typically found towards the aft, Starck believed that it allowed to be closer to the sea and better enjoy the yacht. The space combines both shaded and open spaces for entertainment and sunbathing. The bow also features a swimming pool with jets and a helipad.
Starck dedicated much space and attention to the tender garage on Motor Yacht A. Whereas in most superyachts, it is merely a technical space accessed, essentially only by crew, on the 119-meter it is a fully integrant part of the yacht's guest areas. Finished in wood and with a extremely high ceiling, the tender garage houses a plethora of options to get to shore as well as a lounging area.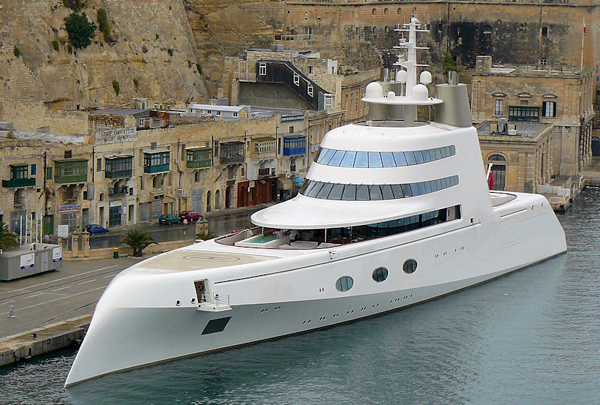 Aft of the yacht is a platform that opens up directly onto the sea for swimming. Often found on yachts of a smaller scale, such a set up is particularly unusual for a megayacht of M/Y A's size. Instead of merely lying on top of the water, however, it actually lowers into the water at an angle comfortable for its guests to simply step into the water.
Following its delivery, M/Y A continued to make headlines as it cruised around the world. Just as some believed her newsworthiness would fade, images of project 787 started to emerge online in early 2015 as it left its shed at Nobiskrug to start sea trials. Even more polarizing and again designed by Starck, it wasn't long before it became clear the 142.8-meter yacht would become S/Y A.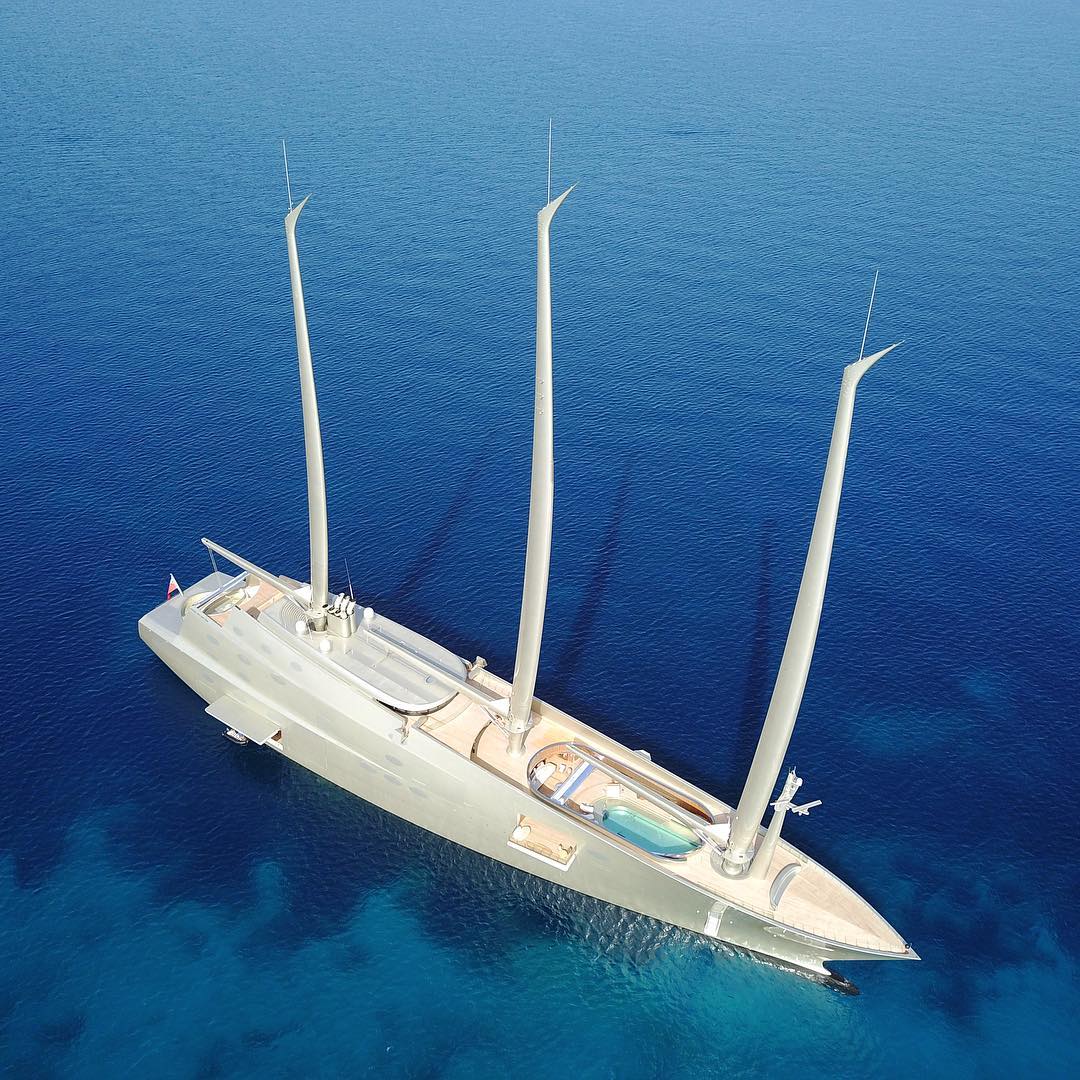 Although her 142.8-meter length would give Melnichenko's new flagship the title of largest sailing yacht in the world, its technical classification as a sail-assisted motor yacht led to many viewing her more as a hybrid between the two types. As a result some argued, the 108-meter Black Pearl, designed by Ken Freivokh and built by Oceanco, should be considered the largest sailing yacht.
With masts taller than Big Ben at nearly 100 meters in height, S/Y A boasts over 12,600 GT of interior volume, just 3,100 less than Dilbar, the most voluminous yacht in the world. By this measurement, she's also 4.6 times larger than the largest sailing yacht in the world, the 108-meter Black Pearl. Stretching across a beam of 24.8 meters at her widest point, S/Y A could reach a top speed of 20 knots during her sea trials without using her sails.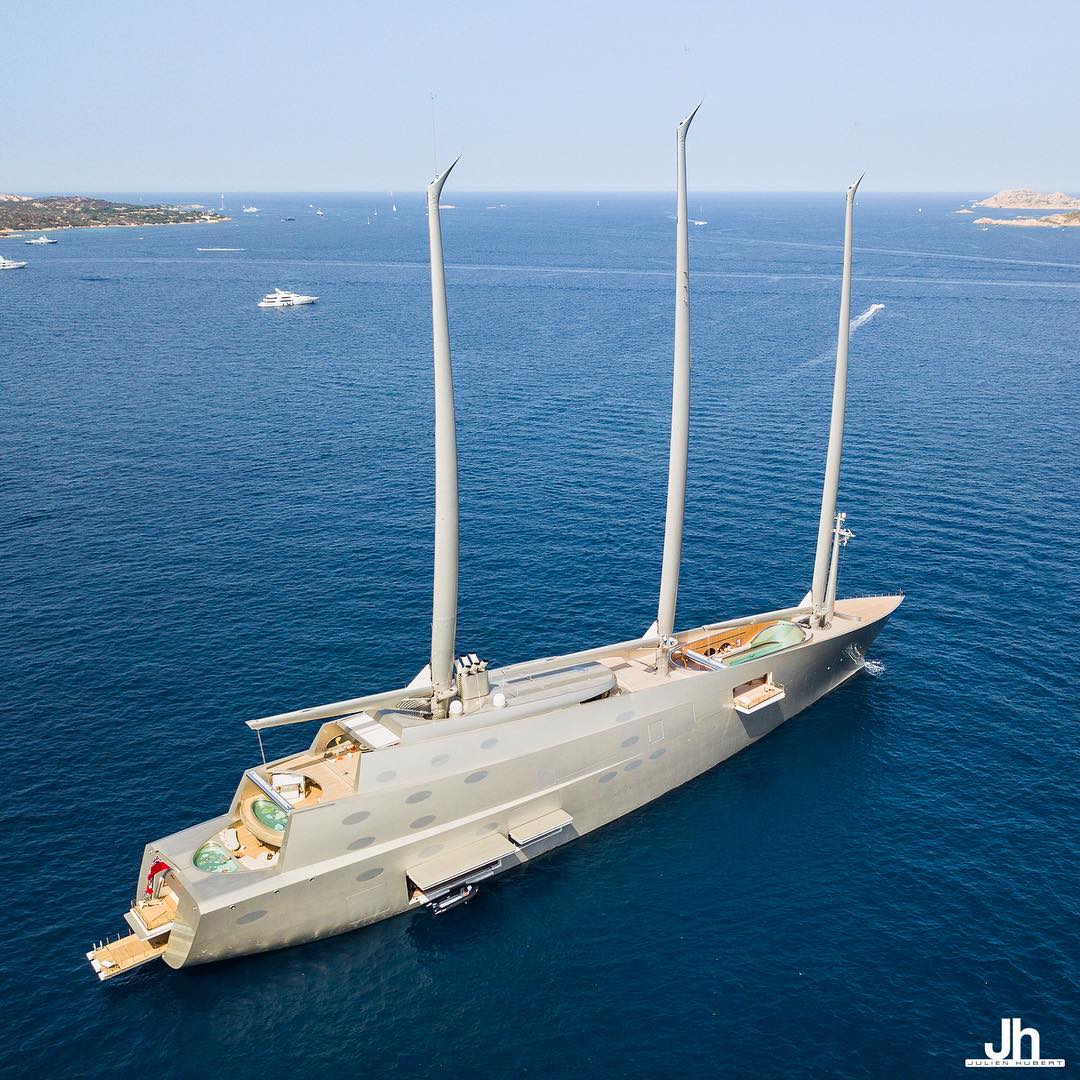 Spanning across eight decks, S/Y A was designed by Starck, similarly to M/Y A. Her rig and keel were, however, done by Dykstra Naval Architects, a company famous for their work on the 88m Maltese Falcon as well as the Black Pearl. A more closed yacht than M/Y A, the 142.8-meter features a myriad of balconies throughout its hull.
S/Y A was built in Germany by Nobiskrug, a shipyard owned by the Safa brothers' Privinvest Group, which also includes CMN and ADMShipyards. The sailing yacht left Nobiskrug in February 2017, heading to Spain for further sea trials and some interior fittings.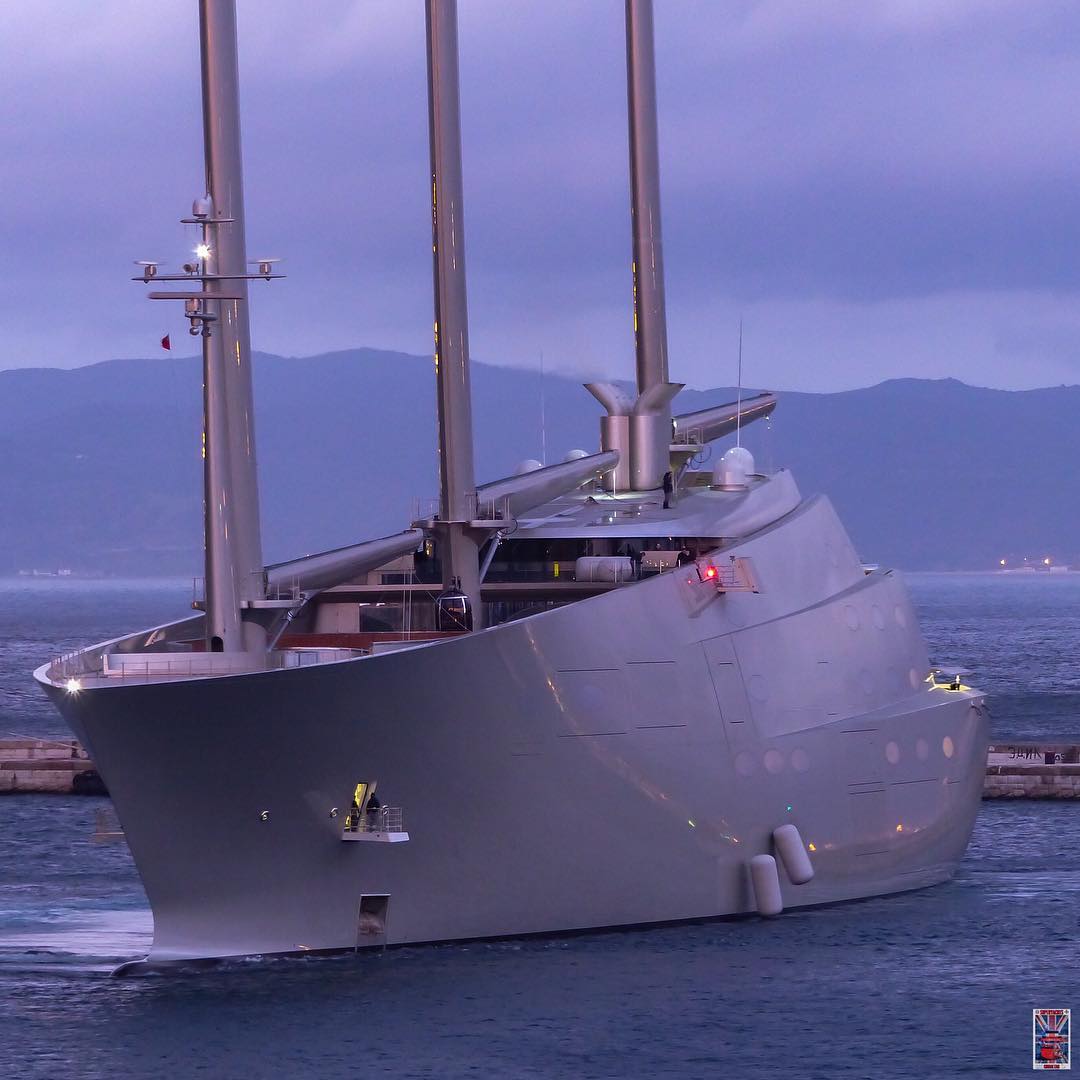 Shrouded in secrecy throughout her build and following her delivery, very little details are known about the amenities onboard the sailing yacht. Spotter imagery has, however, shown that towards the bow of the yacht is a large swimming pool with sunpads around it that can be covered by a retractable roof. Other known elements include a beach club aft of the yacht with a folding platform. Two hot tubs can also be seen aft of the 142.8-meter's upper decks.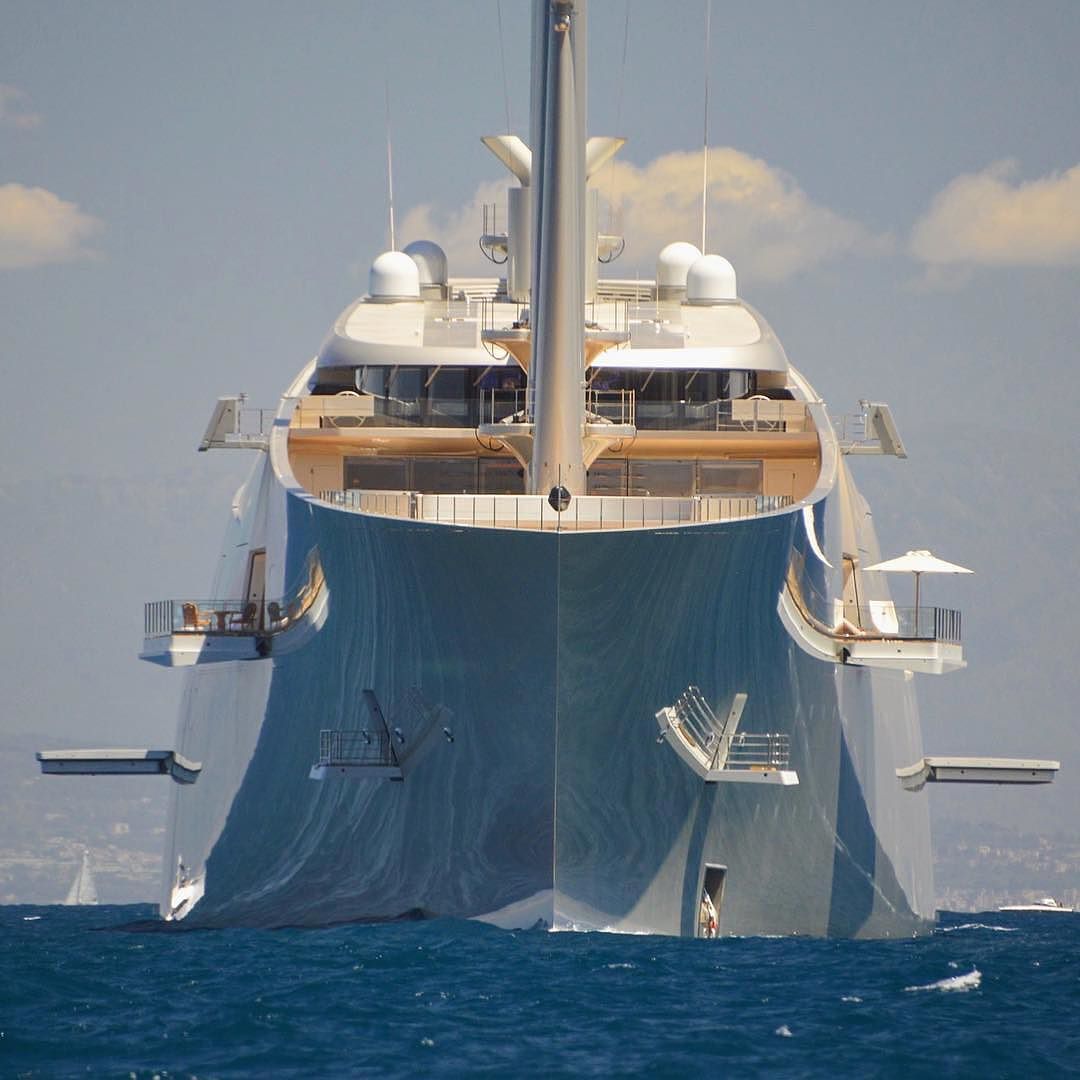 A year prior to the delivery of S/Y A, Melnichenko's motor yacht was put up for sale according to Forbes Russia. The 119-meter was, however, subsequently taken off the brokerage market according to several reports and is still owned by the Russian billionaire. In 2016, the yacht had travelled across a lot of large cities including Bordeaux, Amsterdam, London, Rotterdam and spent a significant amount of time in the Gulf. She is currently in the Indian Ocean.
Valued by Forbes at $13.2 billion, Andrey Melnichenko currently sits in their ranking as the 9th richest man in Russia. The 45-year-old started his entrepreneurial career as a 2nd year college student in the 1990s with a chain of currency-exchange booths, from which later emerged MDM Bank. In 1997, he co-founded a holding company that went on to create fertilizer producer, Eurochem, pipe exporter TMK and SUEK. According to Forbes Russia, the partners invested near $1 billion at the time to build out this holding between 2000 and 2002.

Check our
Timeline
platform to get the full access to our analytics platform, that offers you a detailed report on the timeline of each superyacht, real time market view to see the yacht market developing and much more!