This 43-metre trimaran is one of the world's most amazing superyachts thanks to her futuristic design.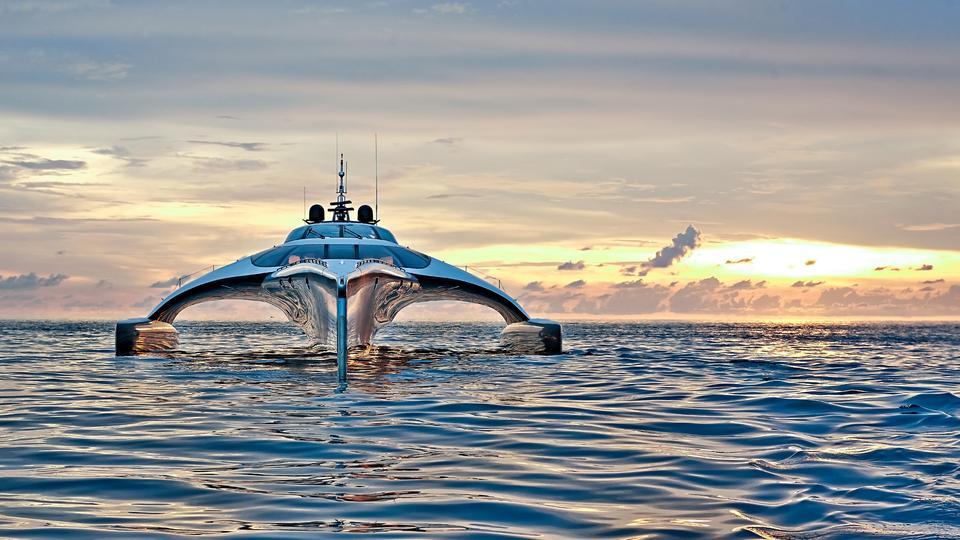 This futuristic projectile was built by Australian McConaghyyard in Hong-Kong in 2012—at a reported cost exceeding $20 million, to cruise Indonesia and Southeast Asia. In the seven years since the launch, she has crossed the Atlantic several times, taking Marden and his wife around the globe.
Hong Kong–based interior designers Jepsen Design developed the interiors for nine guests and six crew, offering five bedrooms, four bathrooms, and an open-air bar. One of her most innovative features is an option for remote control by an iPad from up to 164 feet away. Collecting several design awards, the yacht as also awarded Most Innovative Design at the World Superyacht Awards in 2013.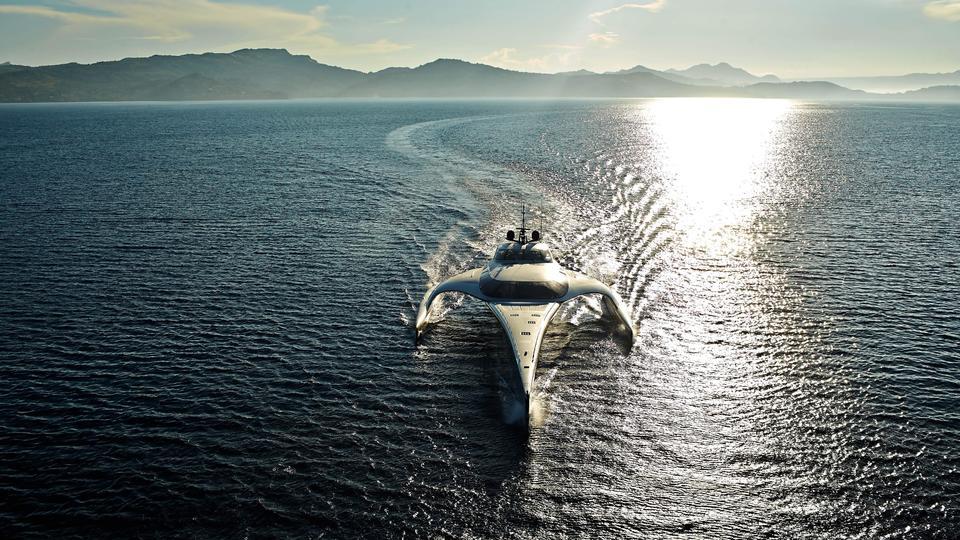 Designed by British studio Shuttleworth Design, Adastra was created with environmental impact in mind. Her aerodynamic wings help her float on the water, thus her drag is significantly reduced through only 20% of the vessel submerged in water. In light of this, the lightweight glass and carbon boat consumes only about 14% of the fuel used by more traditional yachts with the same specs. Before fuel and water, Adastra tips the scales at just 52 tonnes.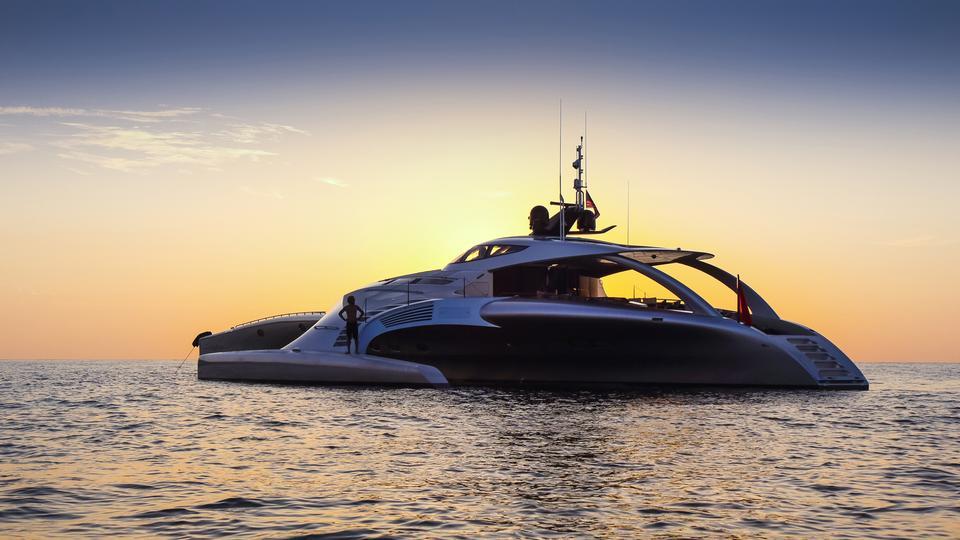 According to comments shared by Marden with Robb Report, the yacht has a range of 10,000 nautical miles, as cruising at 10 knots, she burns only 4.5 gallons per hour. Meanwhile, Adastra has a top speed of 23 knots. The owner reported to recently sail from St. Maarten to Vigo in Spain, having enough fuel left to head back to the Caribbean.
The 53m spaceship-like vessel features the exterior by Jean-Jacques Coste.
The motor yacht can accommodate 6 guests in 6 cabins and an exterior design by Coste Design&Partners.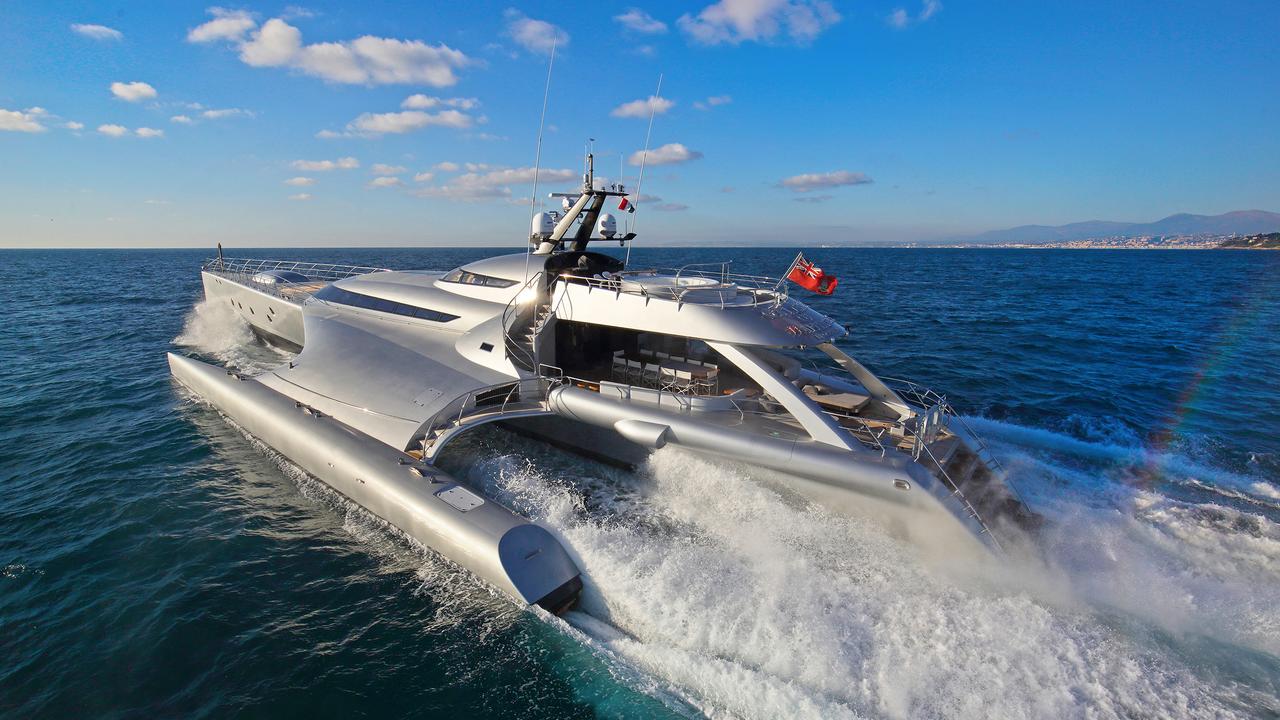 Built from a from a combination of fiberglass and carbon fibre, this project has been under development for nearly 30 months.
Performance wise the trimaran will ensure a maximum speed of 28 knots thanks to the twin 2600hp engines.
Blending style with performance, this
44.2-metre
cruising
catamaran
was built by Pendennis in 2011
with relaxation and adventure in mind.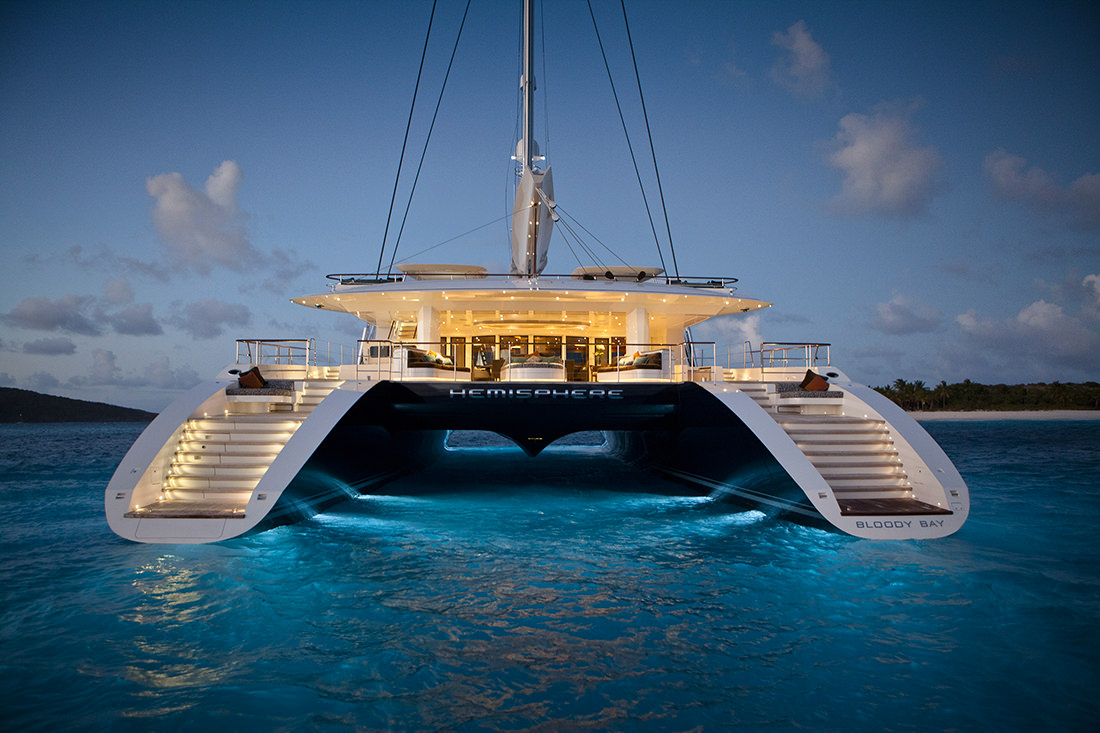 The sailing yacht can accommodate 12 guests in 5 cabins with an interior design by Michael Leach
Built by Nobiskrug in 2019, the yacht
features distinctive aesthetic exterior and interior styling by Gregory Marshall Studio and Reymond Langton Design, respectively. The overall design concept reflects the discerning owner's persistence to achieve a list of special criteria that included environmental responsibility, technological innovation and guest comfort.
Artefact is characterized by a multifaceted exterior, which combines sculptural forms and body cutouts to create a multidimensional effect.
The hull of the Artefact is built of steel, and the superstructure is made of GRP instead of steel or aluminium. This allowed designers to create a truly striking appearance by widespread use of glass. Composite materials of the superstructure made this design flexibility possible and provided the significant weight savings needed for the huge amount of glass that is a key feature of a yacht.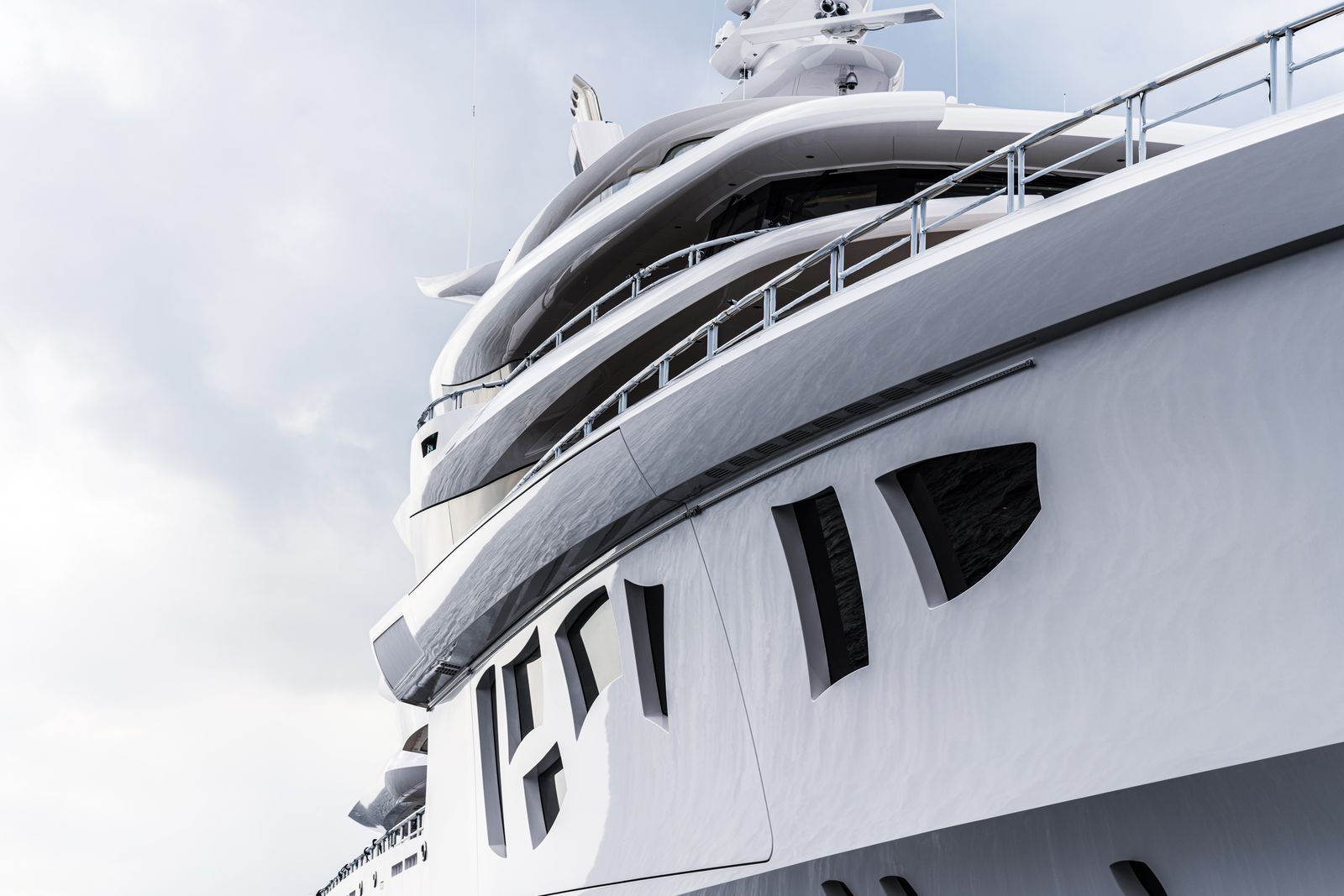 As the owner's goal was to create something wholly unique with the smallest carbon footprint possible, one of the features of the yacht is a complex hybrid propulsion system. The system is powered by various generators on board and a range of lithium-ion batteries, which makes her 30% more efficient in water than conventional diesel powerboats of her class. In addition, there is the possibility of dynamic positioning, which can hold the position of the boat without lowering the anchor to protect the seabed. Roof solar panels provide about 6 kW of auxiliary energy, which helps to minimize an environmental impact and extends the operation of the boat without the use of internal combustion engines.