British designer Andy Waugh, formerly part of H2 Yacht Design, presented an eye-catching superyacht concept Reality, which aims to to create an extremely practical and versatile vessel with an optimized layout, broad appeal and scope for personalization.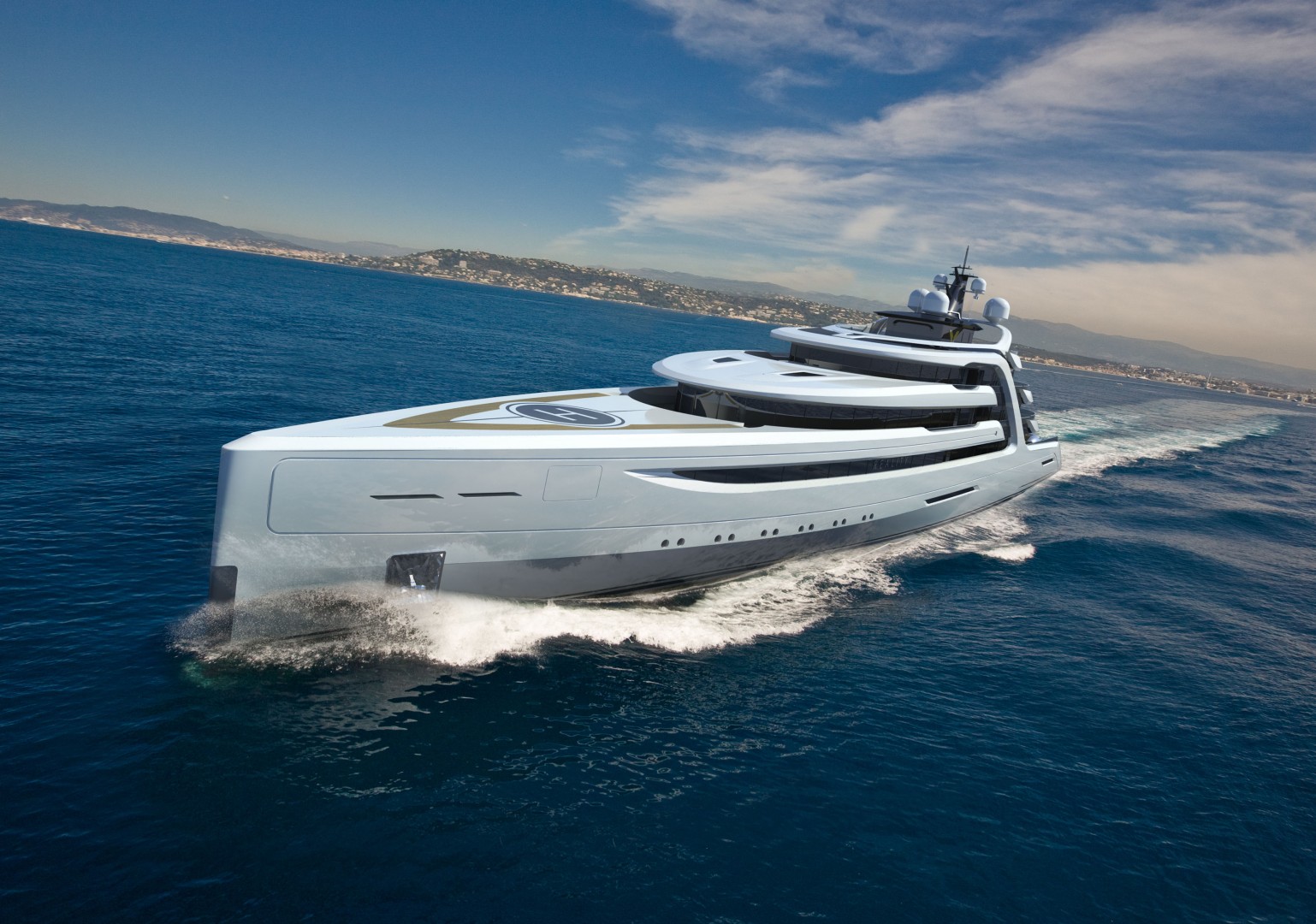 The design has many features which simplify construction and make the most of the volume available including single curvature surfacing throughout and an absolutely vertical midship section. Aft deck details are identical on all decks and the shafts for the exhausts and the main lift run straight through the centre of the yacht and out on to the sun deck.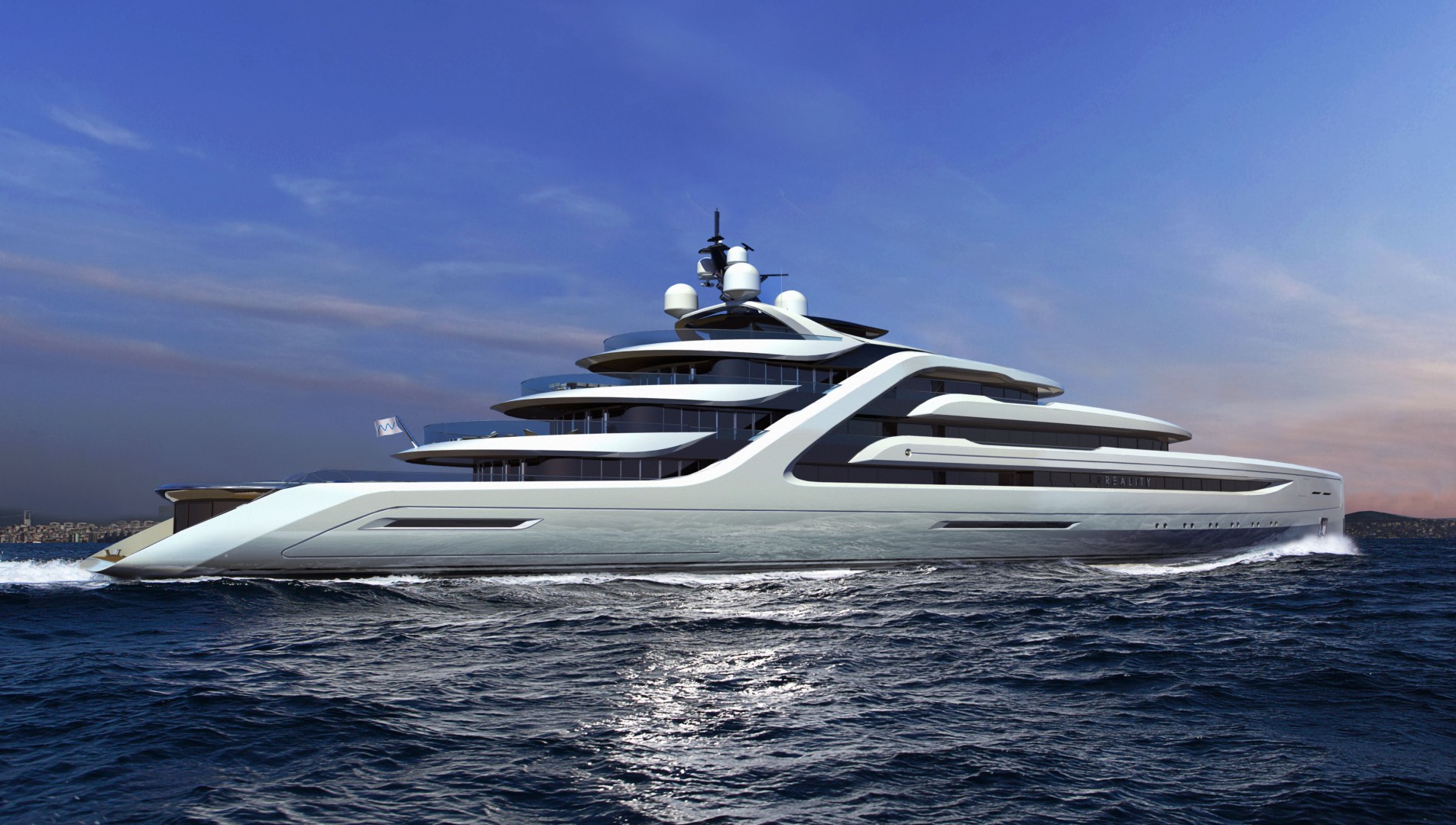 The styling of the concept is designed to disguise the practical nature of the vessel using a strong diagonal feature and segmented graphical elements to add dynamism and lightness. The vertical bow creates a sense of strength and solidity while the sloping aft suggests speed and refinement. Continuous chamfers run around structures tying the design together and adding to the sturdy aesthetics. At the core of the interior is a whirlpool inspired staircase with glass floors on all decks starting from a skylight on the sun deck all the way down through to lower deck.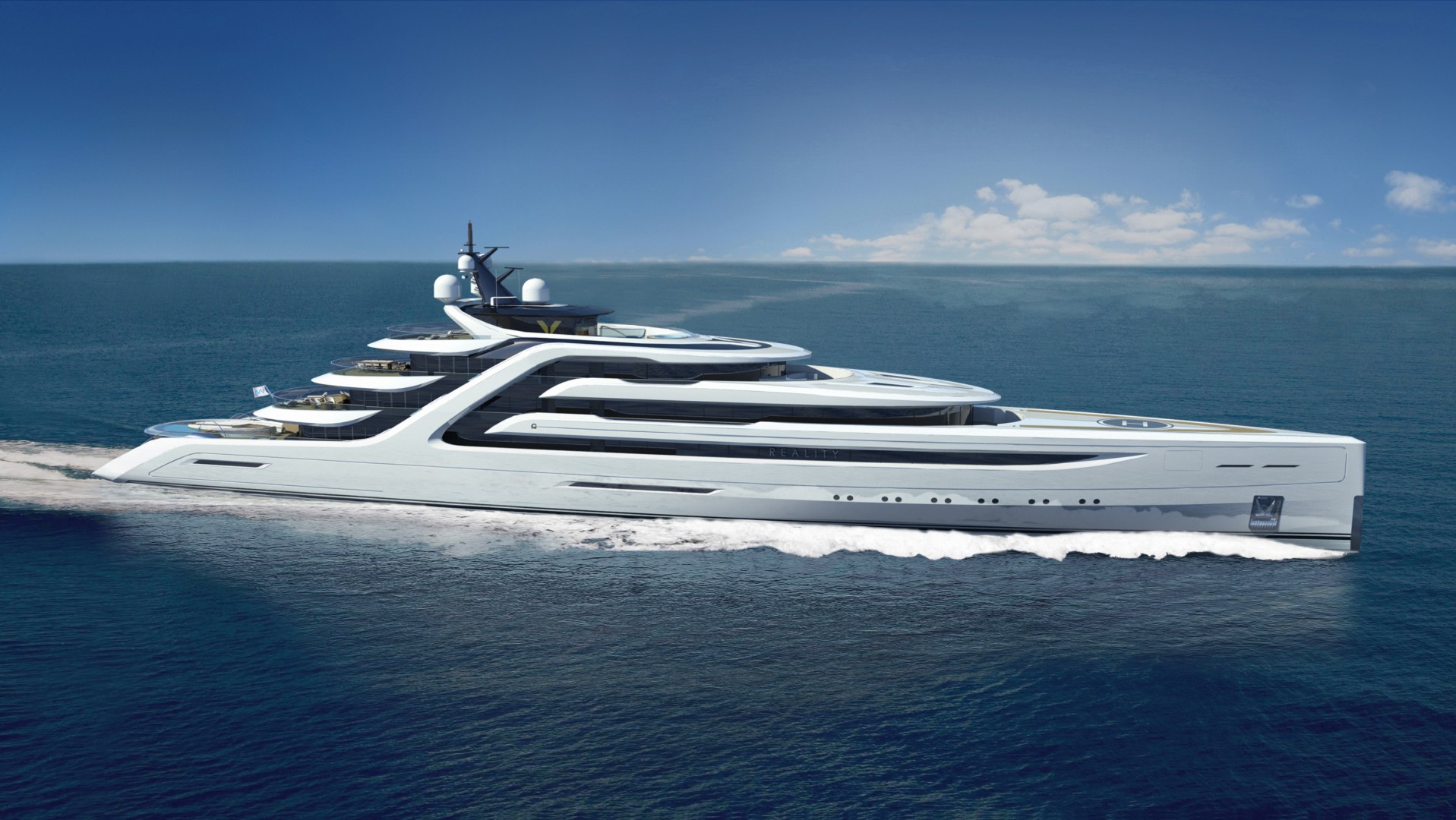 The sun deck is home to the gym accessed from the wellness centre on the bridge deck below which is fitted with a Sauna, steam room, Jacuzzi, plunge pool and massage area. There are also interior and exterior relaxation areas. Below bridge deck is a 'quarter deck' designed to mimic a residential situation whereby the owner and his immediate family can remain close while enjoying their own generous spaces. In the present layout there is an owner's suite aft and 4 large VIP cabins forward but this area is extremely versatile and could easily accommodate 6 or 8 cabins if preferred.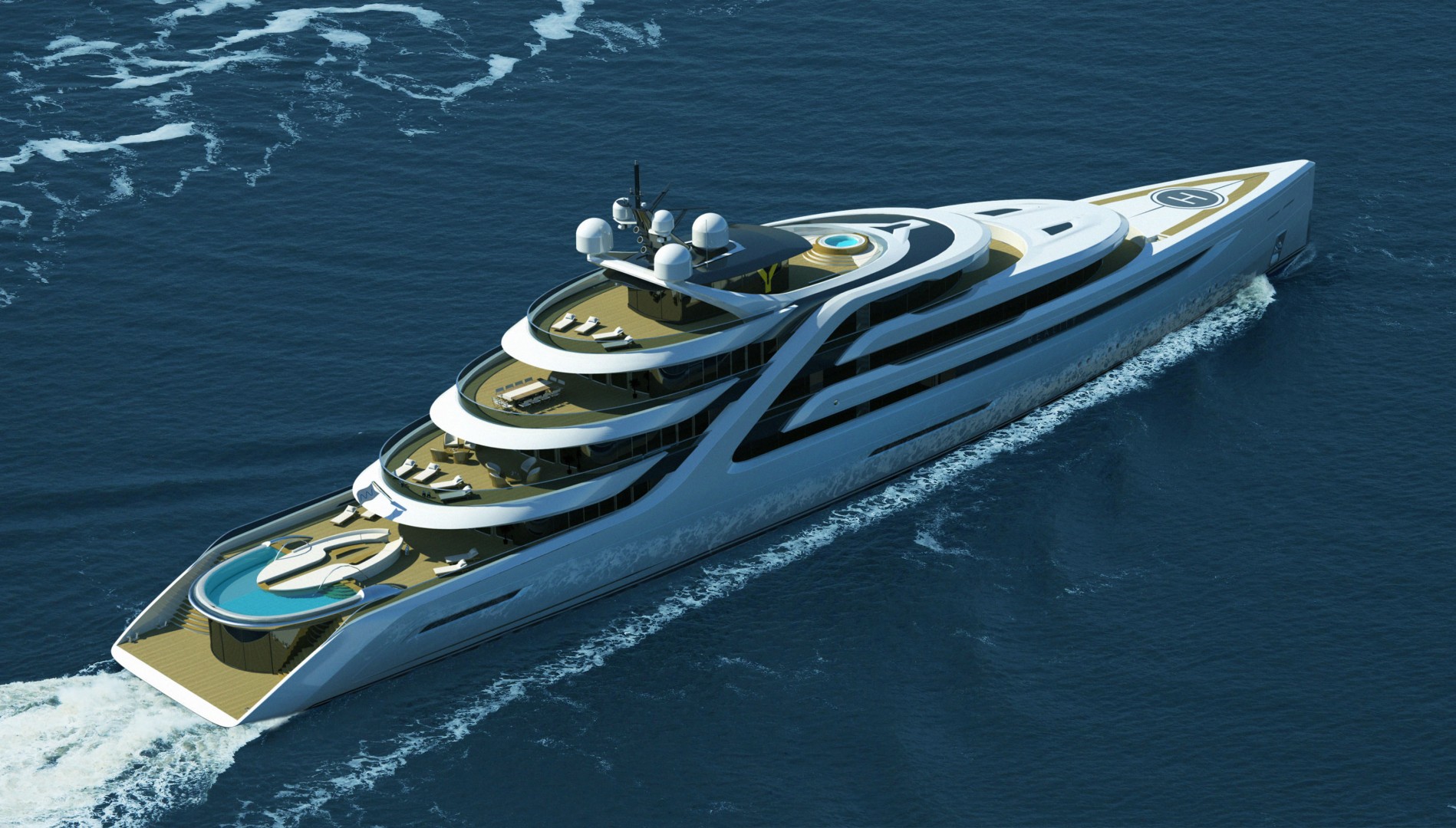 The main deck has a conventional layout with communal areas aft and guest cabins forward including 2 further VIP cabins and 9 double birth guest cabins for a total of 32 possible passengers on board. The aft deck hosts a large infinity pool and plenty of space for lounging and al fresco dining. The palatial beach club on lower deck acts as a welcome lounge and could easily be adapted to include a nightclub or spa layout depending on the requirements of the owner. Forward of the engine room there is a generous tender garage, theatre/cinema space and crew areas including cabins for up to 40 full time staff.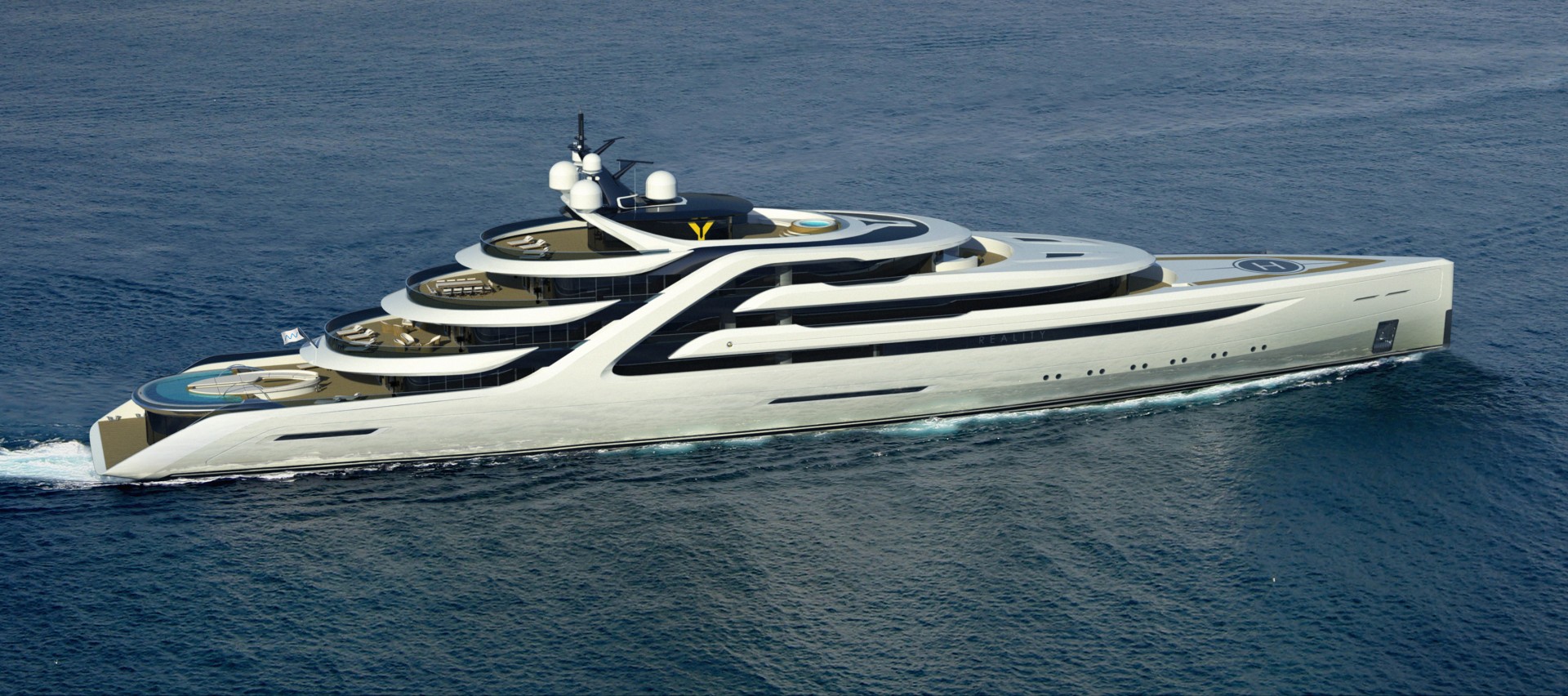 Overall the concept has a perfect balance of interior and exterior space creating as a by-product a profile which looks well-proportioned and classic whilst being completely unique and distinctive. According to the designer, the versatility of the design makes it ideal for a passionate client or as a speculative build for a forward thinking shipyard.