The new, innovative Mangusta Oceano 44 is developed jointly by the
Overmarine Group's
Engineering department and designer Alberto Mancini, who took care of both her exteriors and interiors, this ultra-modern sea loft is a perfect blend of glass, charm and audacity, ready to explore the world.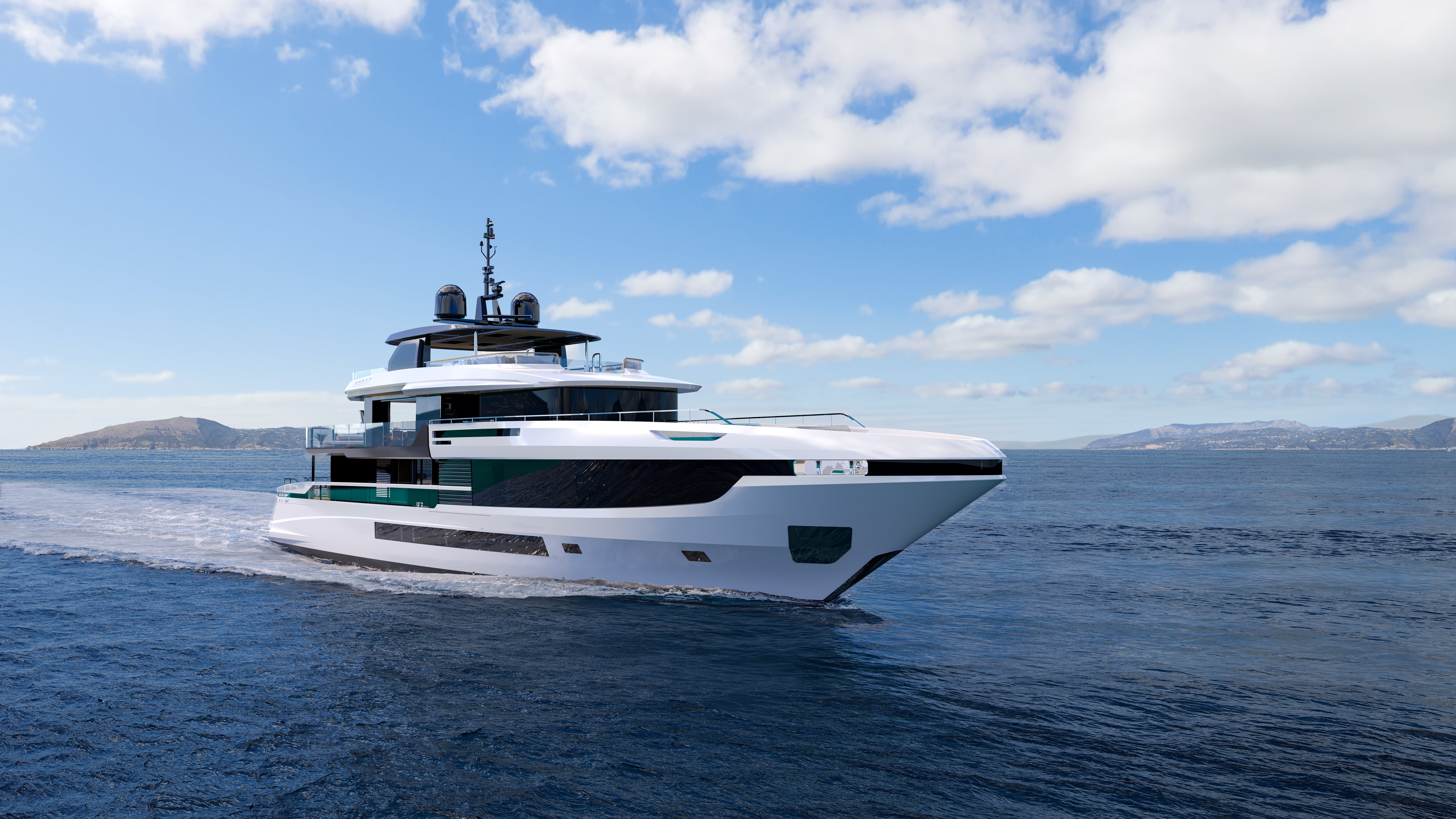 The new 44m three-decker offers her guests unprecedented experiences and the pleasure of spending every single moment of cruising in the utmost comfort. The design includes a series of side and crosswise sliding doors, creating a harmonious continuum of solutions and materials and making the very most of onboard life.
The beach club conceived to be the very heart of social life, once the transom is opened and the side terraces are unfolded, it becomes a 180° marine environment brightened by the natural light that filters through the side openings and the partially glazed upper deck, resulting in an incredibly airy and yet very cosy area.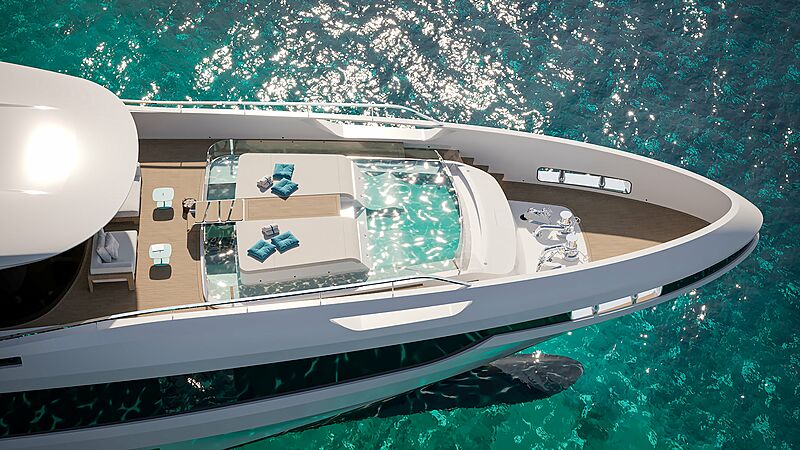 One of the most distinguishing features on this yacht are two infinity pools located on the sun and main decks. The one on the main deck is called "The Island": it is a sunbathing area embraced by water, which can be easily accessed via a teak deck, removing any possible barrier with the surrounding environment and creating a truly full-immersion experience; the second is on the spacious sun deck, from where guests can enjoy breathtaking views over the ocean from dawn to sunset.
Huge volumes and generous spaces – like the 104 sq. m of the sundeck, so far unthinkable on a yacht in her class. The master cabin, located on the main deck, is connected to the upper deck by the skylights created on the bottom of the infinity pool, which let natural light shine through and fill the cabin with mesmerising water reflections. The cabin is also fitted with a mechanically-driven balcony, from which the owner will be able to enjoy his own private view of the ocean.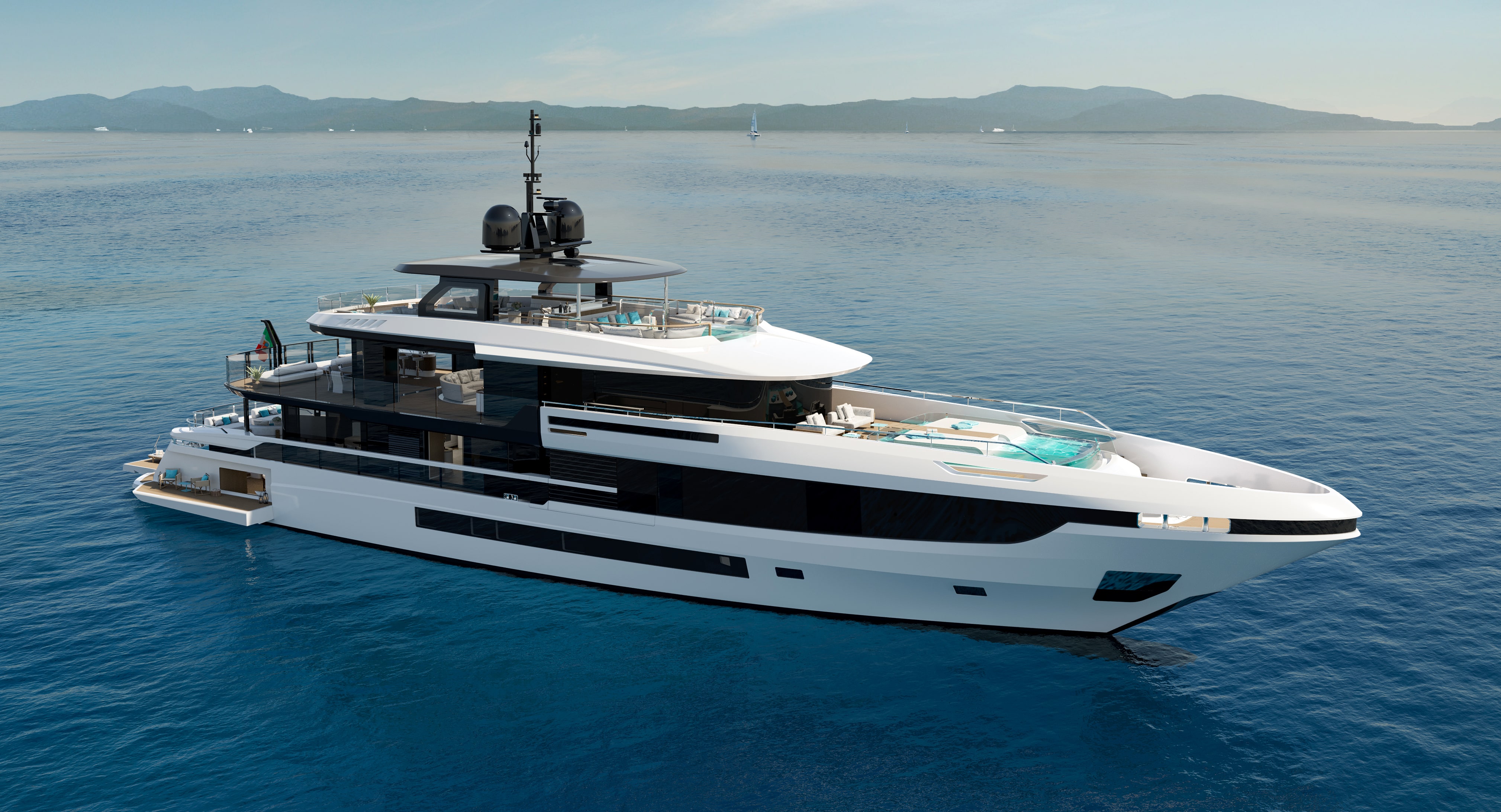 This yacht's elegant layout is characterised by a harmonious design consistency between indoor and outdoor areas, also thanks to an extensive use of glass. Steel handrails and bulwarks have been replaced by see-through glass surfaces mounted flush with teak – a solution that has opened up new scenarios and allowed to achieve impressively generous areas that would normally be unattainable on a traditional three decker.
In terms of performances she has a lot to offer – a range of 4,500 nautical miles, a maximum speed of 16 knots, and a cruising speed of 11 knots, always in the unparalleled comfort ensured by zero-speed and underway stabilizers.
Overmarine Group
was founded in 1985 by the Balducci family. The shipyard builds open and displacement power superyachts under the Mangusta and Mangusta Oceanco brand names.
Credits: Overmarine