Speed, safety, strength and silence: these four elements are at the core of the
R/P-NAUTA 151'
, a one-off, bluewater performance sloop with general concept by
Nauta Design
in build at the Royal Huisman shipyard.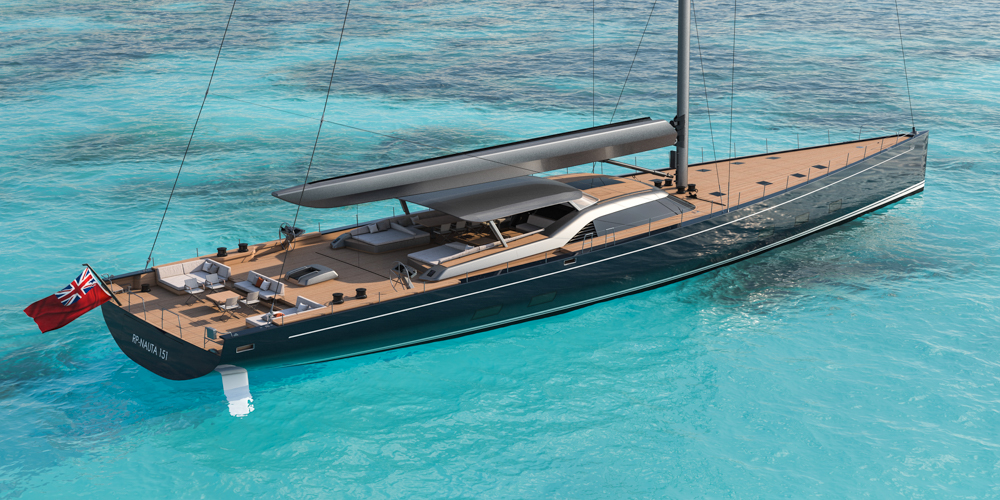 "Combining comfort and safety to explore the world in an extremely lightweight yacht that was competitive in superyacht regattas wasn't an easy task," says Mario Pedol, co-founder of Nauta Design in Milan. "The owner wanted a solid, autonomous and safe yacht that was also efficient and modern with a powerful sail plan." The request came from a repeat client for whom Nauta had previously designed a 34m sailing yacht based on a broadly similar brief.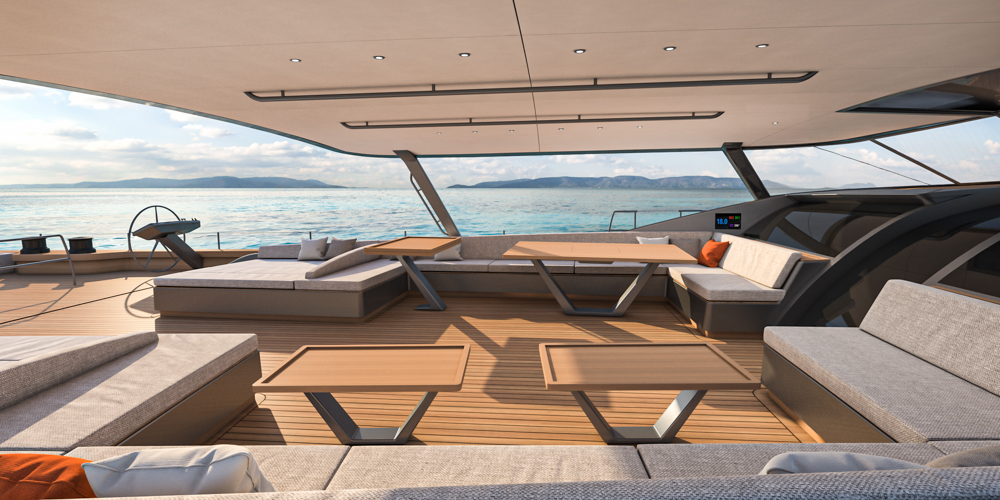 The owner was ready to step up in size to 46 meters, but he wanted to retain the spirit of his former yacht, including the deckhouse design.
"The deckhouse is essential, as it allows one to look outside and see the sea while seated in the main salon," says Massimo Gino, Nauta Design co-founder and partner.
Although carbon-fibre construction was considered early on in the project, the design team eventually opted for an aluminium project that could still provide high performance but combines robustness and acoustic comfort for extended bluewater sailing.
"I started thinking that an aluminium hull weighs 60–70% more than a carbon boat, but the weight of the hull and deck is only about 15% of the total weight of a sailing yacht," says Pedol. "Our early intuition was that an aluminium construction sailing yacht could be much lighter than the existing aluminium fleet. Royal Huisman supported this vision with enthusiasm and accepted the challenging target of building a light displacement yacht. Extensive research work and calculations confirmed our initial thought."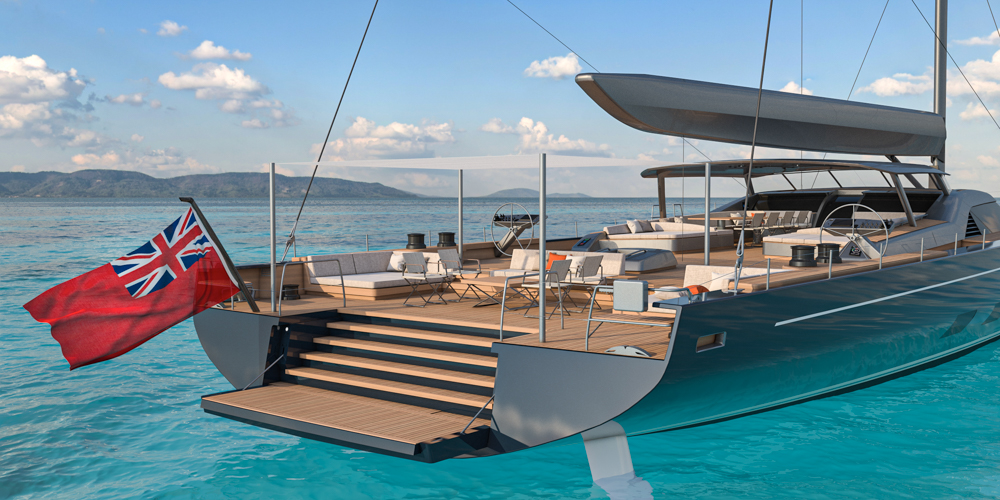 To ensure optimal performance, longstanding Nauta partners Reichel/Pugh were selected by the client for the naval architecture. Reichel/Pugh designed and managed a Computational Fluid Dynamics (CFD) study, bringing in America's Cup CFD specialists Caponnetto Hueber and Giorgio Provinciali for the Velocity Prediction Program (VPP) performance analysis. This was a comprehensive hull design study to improve sea keeping and motion, both motoring and sailing at various speeds and heel angles in different wave conditions, while also improving real and ORCsy rated performance.
Reichel/Pugh ultimately tested twelve models before developing the final hull shape. The VPP results indicate that, in 10 knots of breeze, the R/P-Nauta 151 will sail upwind under the mainsail and jib with a boat speed of almost 13 knots and nearly 18 knots when reaching a wind angle of 90° in a 15 knot breeze.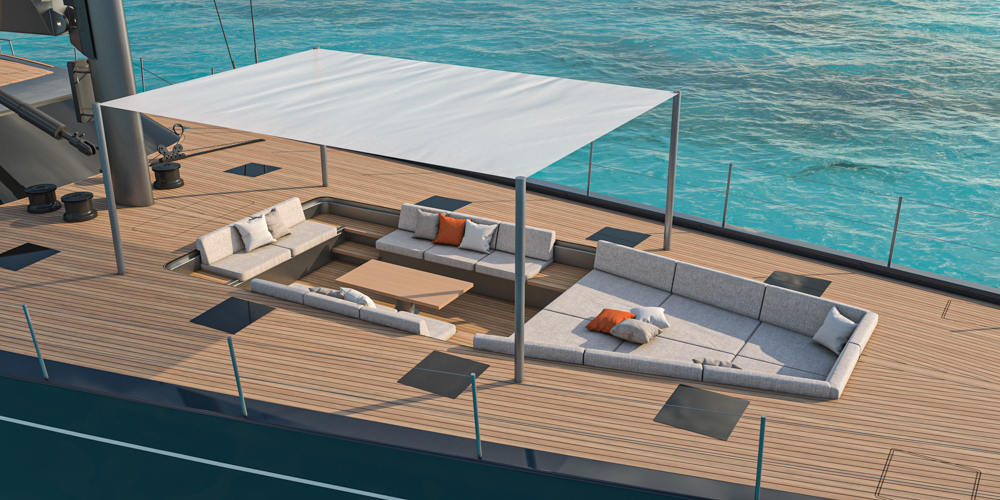 The exterior profile is defined by an unobtrusive deckhouse that blends gracefully with the austere sheer line. Royal Huisman has embraced Nauta's bid to make the yacht as light as possible by blending aluminium with carbon-composite construction. The deckhouse, guest cockpit and hardtop are all in carbon fibre by Rondal, Royal Huisman's sister company, who are also building the Panamax carbon mast, boom and the yacht's integrated sail-handling system.
For easy handling, the sail operations are governed by weight-optimized Rondal captive winches for sheets and mainsail halyard. The running backstays are tensioned by Cariboni Magic Trims on both sides, and the synchronized retrievers have their own captive winches.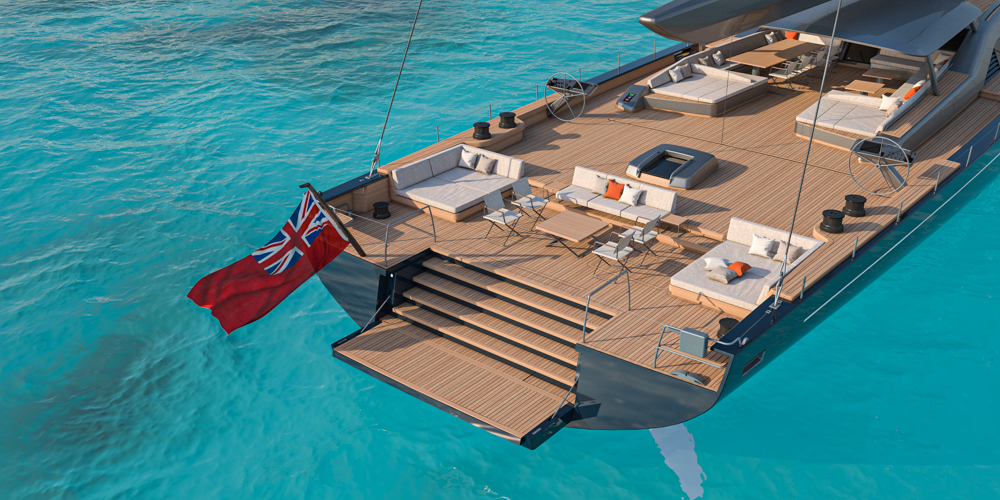 This automatic system allows one to sail at all times, even in cruising mode, with the powerful square top mainsail up, to provide the owner with an unforgettable sailing experience.
Royal Huisman
is a Dutch shipyard established in 1884 in Ronduite, building and refitting custom luxury sailing and motor yachts at its shipyard in Vollenhove, the Netherlands.
Credits: Nauta Design