Lexus, a division of Toyota Motor Corporation, has recently revealed its new project, 12.7m Sport Yacht concept. She is powered by twin high- performance Lexus V8s and is capable of carrying from six to eight guests.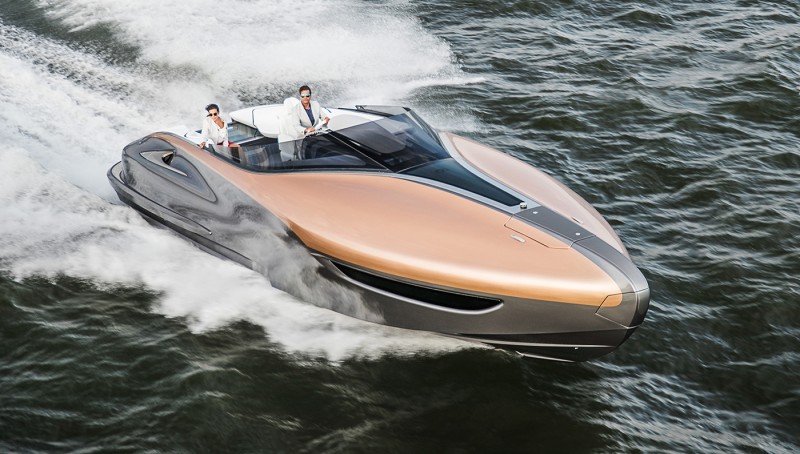 This concept for a Lexus Sport Yacht allowed us to explore how Lexus design language could be applied to a maritime lifestyle
Yoshihiro Sawa, executive vice president of Lexus International
The selected proposal continued to be refined throughout 2015 as the Marine Department engineered the construction and onboard marine systems.
As a concept, the Lexus Sport Yacht revealed at Miami is a bespoke one-off project with no production intent. To produce this single example the Marine Department selected the Marquis-Carver Yacht Group of Pulaski, Wisconsin, USA, based on their in-house engineering and manufacturing capabilities and their skill in large hand- laid composite structures.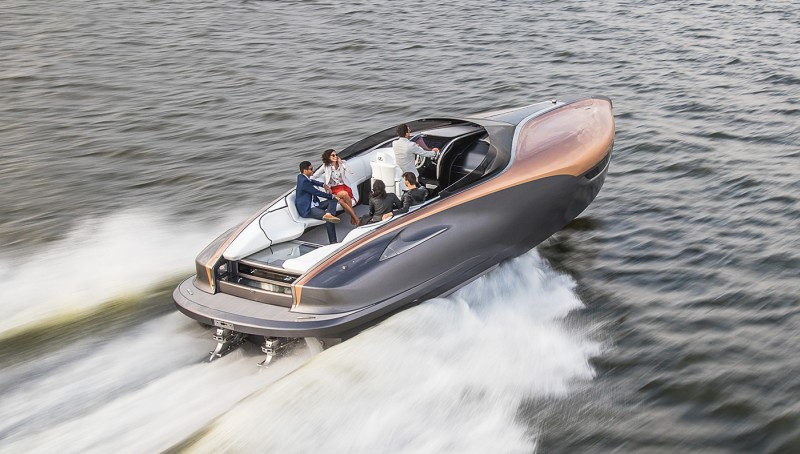 The design of the Lexus Sport Yacht concept has the upper deck and outer hull seamlessly bonded around the inner structure, each piece a single massive hand-laid composite of two-part polyurethane epoxy resin reinforced with hand-laid woven carbon fiber cloth, a composite material called carbon-fiber reinforced plastic, or CFRP. CFRP is the technology used in the structure of racecars and supercars like the 202 mile per hour (325 kmh) 553 horsepower Lexus LFA, high-performance military and civilian aircraft, competition skis and bicycles, and world-class racing sailboats.
The Lexus Sport Yacht concept's unique CFRP construction saves nearly 2,200 pounds (1,000 kg) compared to a similar yacht in fiberglass reinforced plastic (FRP). The underwater hull design is stepped to reduce resistance or drag and improve handling balance at high speeds.
The concept is powered by twin 5.0-liter V8 gasoline engines based on the 2UR-GSE high-performance engine of the Lexus RC F coupe, the GS F sport sedan and the new LC 500 grand tourer. Each engine produces 440 horsepower, driving the yacht at speeds up to 43 knots (49 miles per hour) through a pair of hydraulically controlled inboard/outboard stern-drives. A bow-thruster with joystick control aids in docking.
The captain controls and monitors onboard systems from a color touchscreen panel at the helm; screens show GPS navigation, digital charts, surface radar, underwater sonar, lighting and entertainment systems.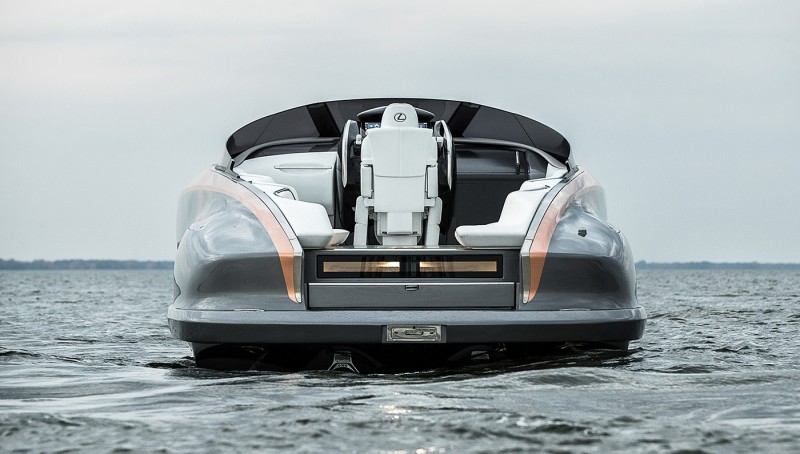 The forward passenger cabin is inviting in luxurious Lexus leather with wood and glass details. A standing height, sofa seating for six with a table, and air conditioning create a comfortable environment for intimate entertaining. The galley features a two-burner stove, sink and under-counter refrigerator; a head includes a shower.
An integrated audio-video entertainment system is fully networked, with 4G WiFi & WAN. Sound reproduction is by Revolution Acoustics surface-mounted drivers using the ceiling panel as a transducer, powered by a Mark Levinson® Reference digital amplifier.
However, the Lexus project will stay just a project with no plans to manufacture it.