On March 29th,
Cantiere delle Marche
marked a mile­stone in the con­struc­tion of the 45-meter cus­tom ex­plorer yacht Pro­ject T at a keel lay­ing cer­e­mony. The owner, an ex­pe­ri­enced yachts­man, welded a small steel plate to the keel symbolizing the full start of pro­duc­tion of his yacht and wit­ness­ing that the keel was 'well and truly laid'. The owner de­cided to have his one-of-a-kind pro­ject built on his de­sign and spec­i­fi­ca­tions by the An­cona-based ship­yard af­ter a thor­ough in­ves­ti­ga­tion. The con­tract was signed in the last quar­ter of 2021.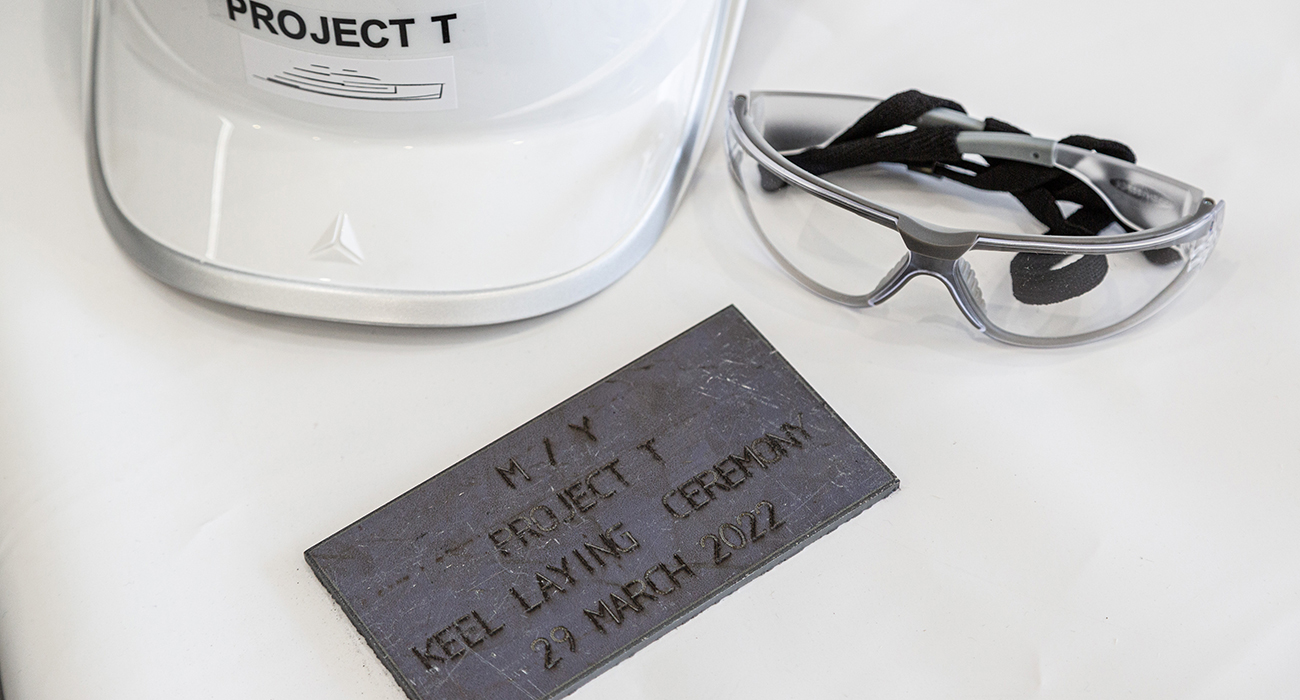 "We are re­ally grate­ful to the owner and his fam­ily for this amaz­ing op­por­tu­nity. Pro­ject T will be – once again – a tes­ta­ment to CDM's abil­ity to ful­fill its clients' dreams," says Vasco Buon­pen­siere, co-founder and sales & mar­ket­ing di­rec­tor of CDM.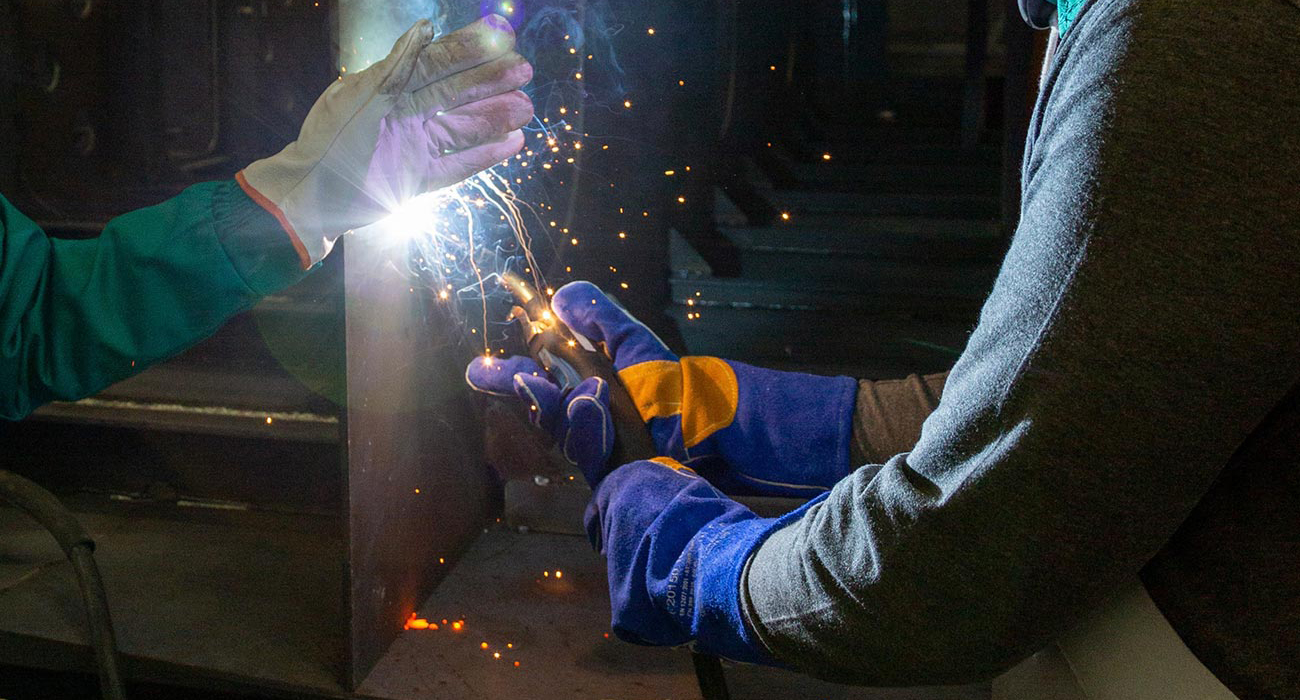 The strik­ing lines of this 45-meter ex­plorer yacht characterized by an el­e­gant sheer line that con­nects an al­most ver­ti­cal bow to an invit­ing tran­som with an am­ple beach which was penned by Gior­gio M. Cas­setta. The naval ar­chi­tec­ture and en­gi­neer­ing so­lu­tions provided by Ser­gio Cu­tolo/Hy­dro Tec, who will make the most out of Pro­ject T's full dis­place­ment hull.

Large win­dows on both the main and up­per deck pro­vide a close con­nec­tion with the ex­te­rior en­vi­ron­ment. Great at­ten­tion has been ded­i­cated to life en plein air with large al fresco loung­ing and din­ing ar­eas, and wide side pas­sages. The yacht will host eight guests in four large suites lo­cated on the lower deck. A full beam master suite with his and her bath­rooms, dress­ing and ad­join­ing loung­ing area is located on the main deck.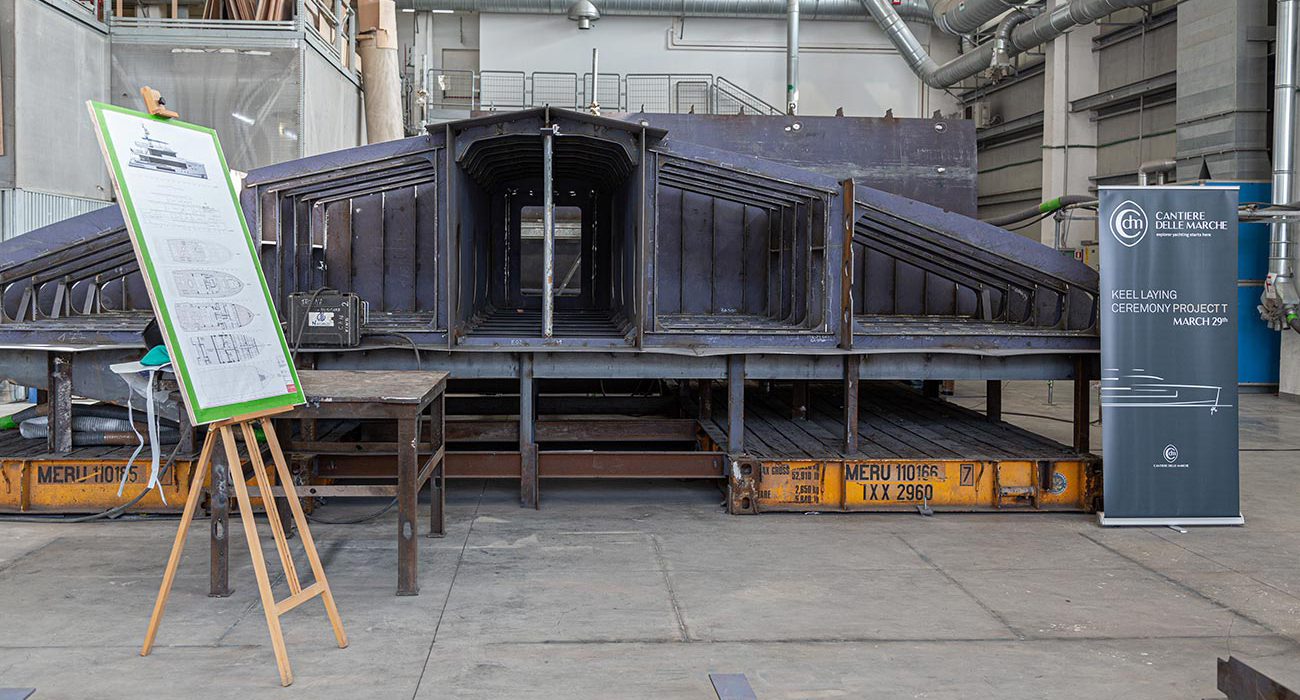 Pro­ject T will be pow­ered by twin Man en­gines V12-1400, and will be able to reach a top speed of 14.5 knots. The explorer will have a range above 4000 nautical miles.
CdM's
story begins in 2010. The facilities cover an overall surface of 16˙000 square meters, including 7˙000 sq. m of workshops and 1˙000 sq. m of docks. Since 2015, the shipyard has been the world's leading builder of explorer yachts. Based in Ancona, Cantiere delle Marche builds yachts from 26m to 43m in length.
Credits: CdM