Hoek Design in the Netherlands is leveraging its impressive track record in sailing yachts into an exclusive new proposition in powerboats. André Hoek and his team of specialists have built an outstanding reputation as a pillar of the global nautical industry over 35 years of designing sailing superyachts, including playing a pivotal role in the J-Class revival. This unparalleled experience is now being used to underpin a distinctive, fresh new approach to the motoryacht market.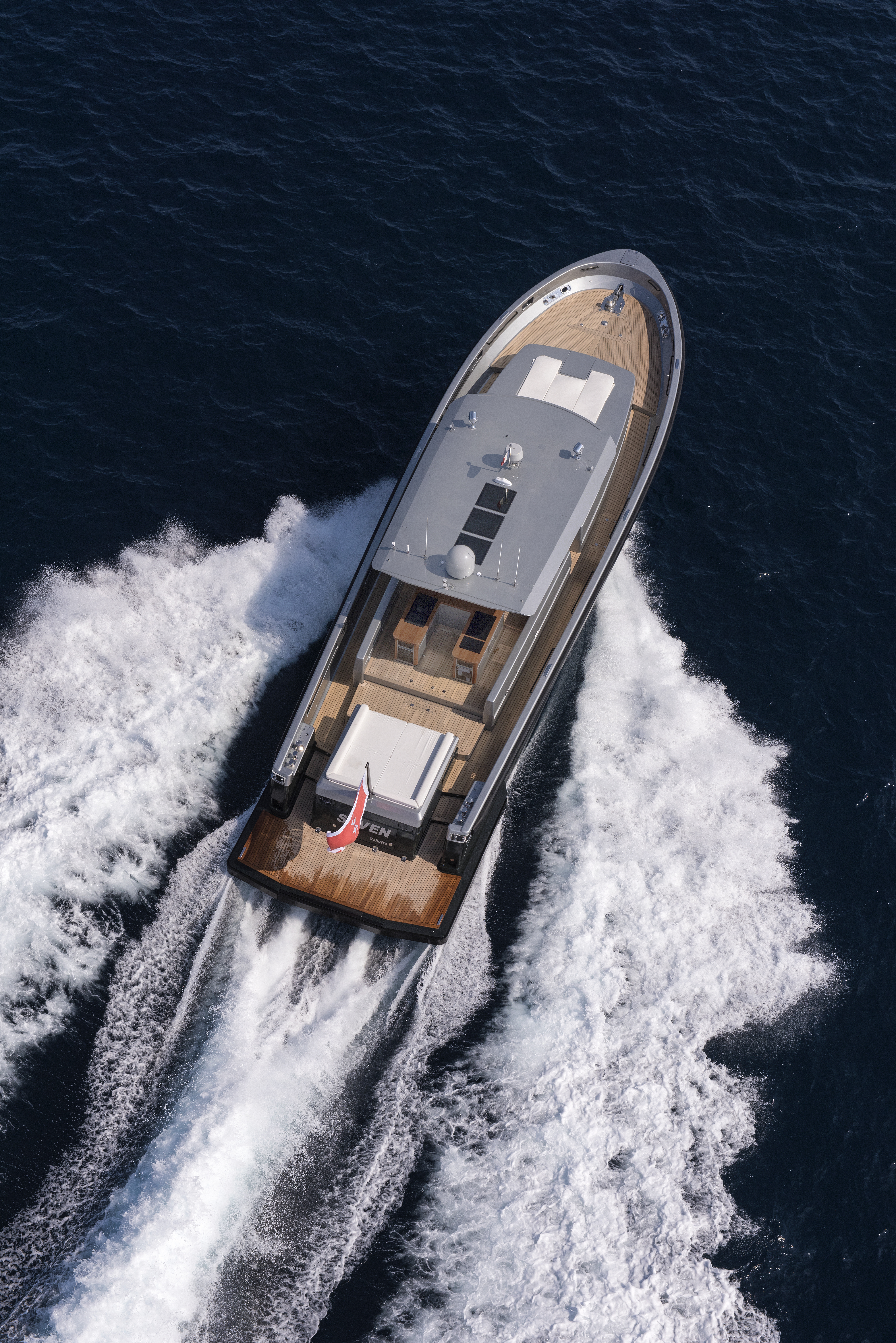 Following on from the success of its first 50-knot composite powerboat project, the 23-metre Seven, Hoek Design has drawn up several new motoryacht concepts, two of which have been sold and are currently under construction. While very different in terms of form and function, the 56-metre exploration yacht and 23.4-metre chase boat will both offer excellent value retention and performance at sea.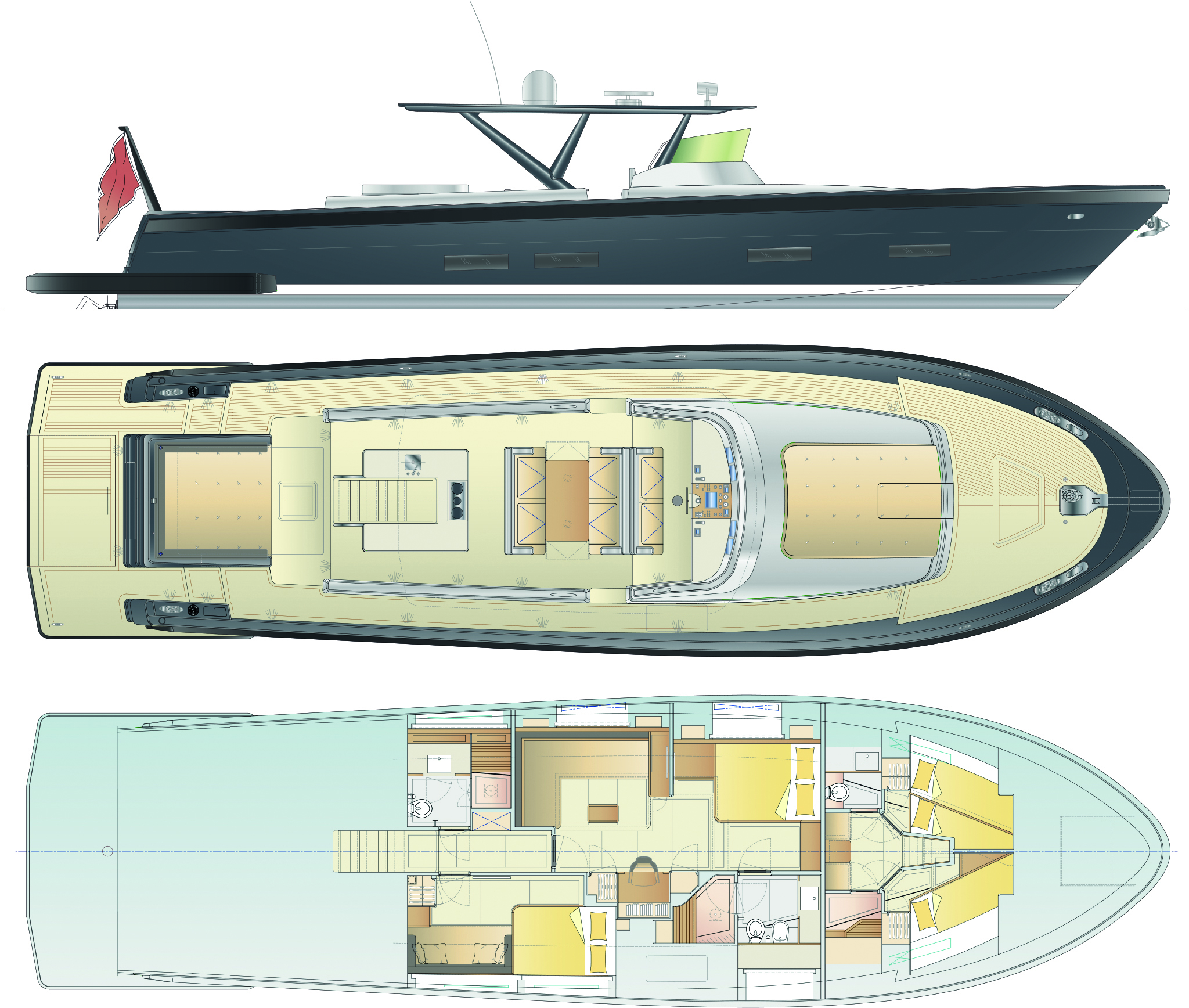 Inspired by its highly successful approach to sailing yachts, Hoek Design's motoryachts feature a retro style above water combined with a hydro dynamically optimised underwater configuration. This is a smart strategy in a powerboat world where all-too-many vessels tend to differ from each other only in layout, decoration, equipment and quality levels.
"Sailing yacht designers are very focused on hull efficiency compared to powerboat designers," André Hoek says. "Many motoryacht concepts have often made more powerful simply by fitting bigger engines. But now that questions of environmental sustainability loom so much larger, fuel-efficient hulls are becoming of greater importance. Hoek Design has unique experience in this field."
"Another way in which sailing yacht design has influenced our motoryachts is in terms of overall style," André Hoek continues. "There has been a major revival in classic styling in sailing yachts, and I expect the motoryacht world to soon follow suit. After all, experience has shown time and again that classically styled boats have a much higher resale value and less depreciation than vessels with a contemporary look. We are convinced that our motoryachts will confirm this tendency."
The transition from sailing to motor craft has not been a problem for Hoek Design in terms of engineering capacity. "We have a lot of very experienced naval architects in the office with great skill in the structural and technical design of motoryachts. The lead naval architect on our largest current powerboat project, for instance, has worked on many motoryachts in the past. We also have first-rate know-how in terms structural engineering, technical installations and interior & exterior styling – a very broad range of skills to have within a single office. The Hoek Design proposition is truly unique, resting as it does on our classic signature look combined with exceptional technical know-how and first-rate research."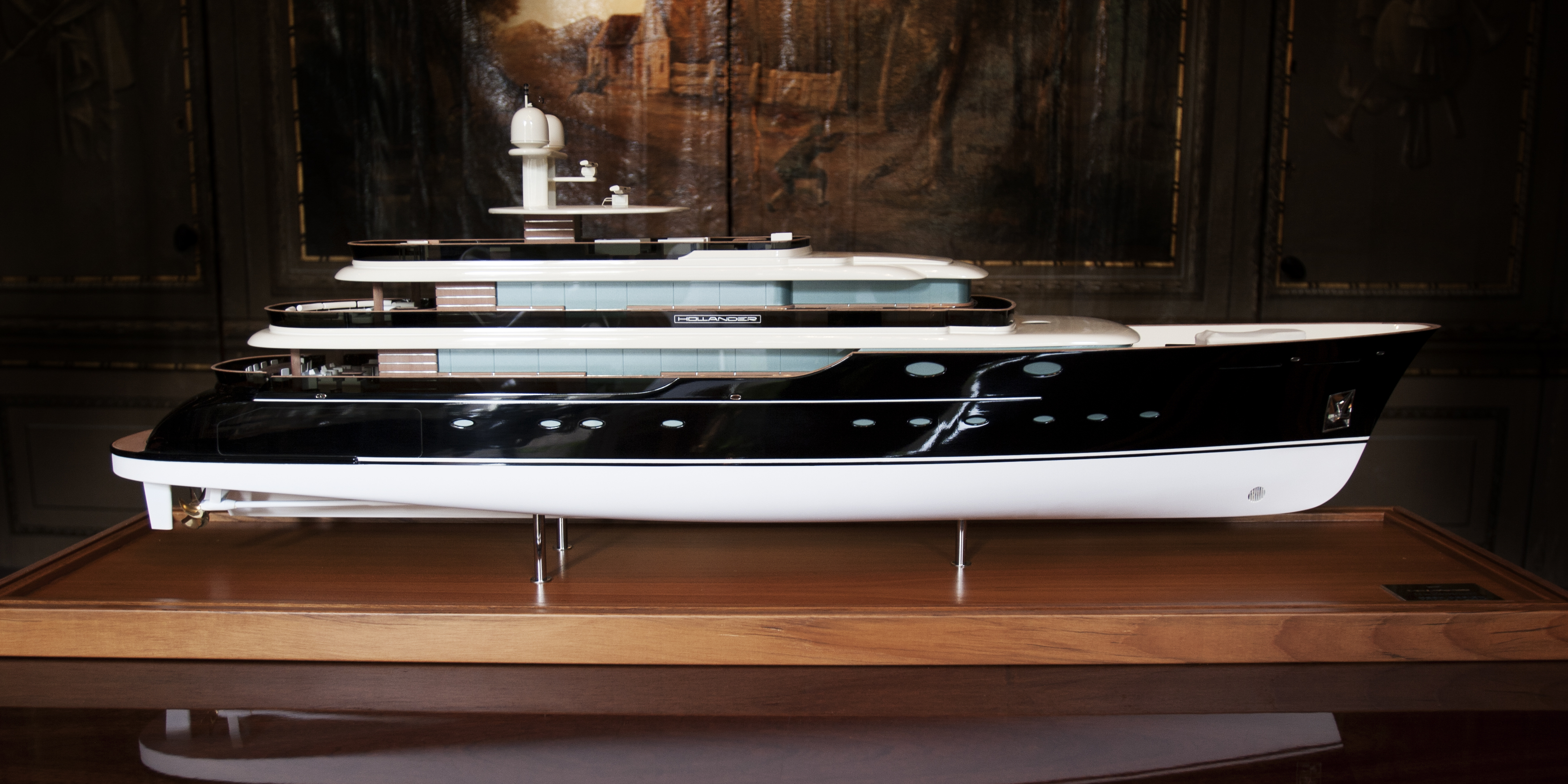 The first of the exciting new projects is a 
56-metre diesel-electric expedition yacht
 with the project name Lombok, which is currently under construction at Turquoise Yachts. Hoek Design was responsible for all the naval architecture work, exterior styling and design, structural engineering and interior design. Coming in just shy of the 800 GT mark, this substantial yacht has a steel hull and aluminium superstructure in a timeless aesthetic that is guaranteed to keep its appeal in 10 or 20 years' time.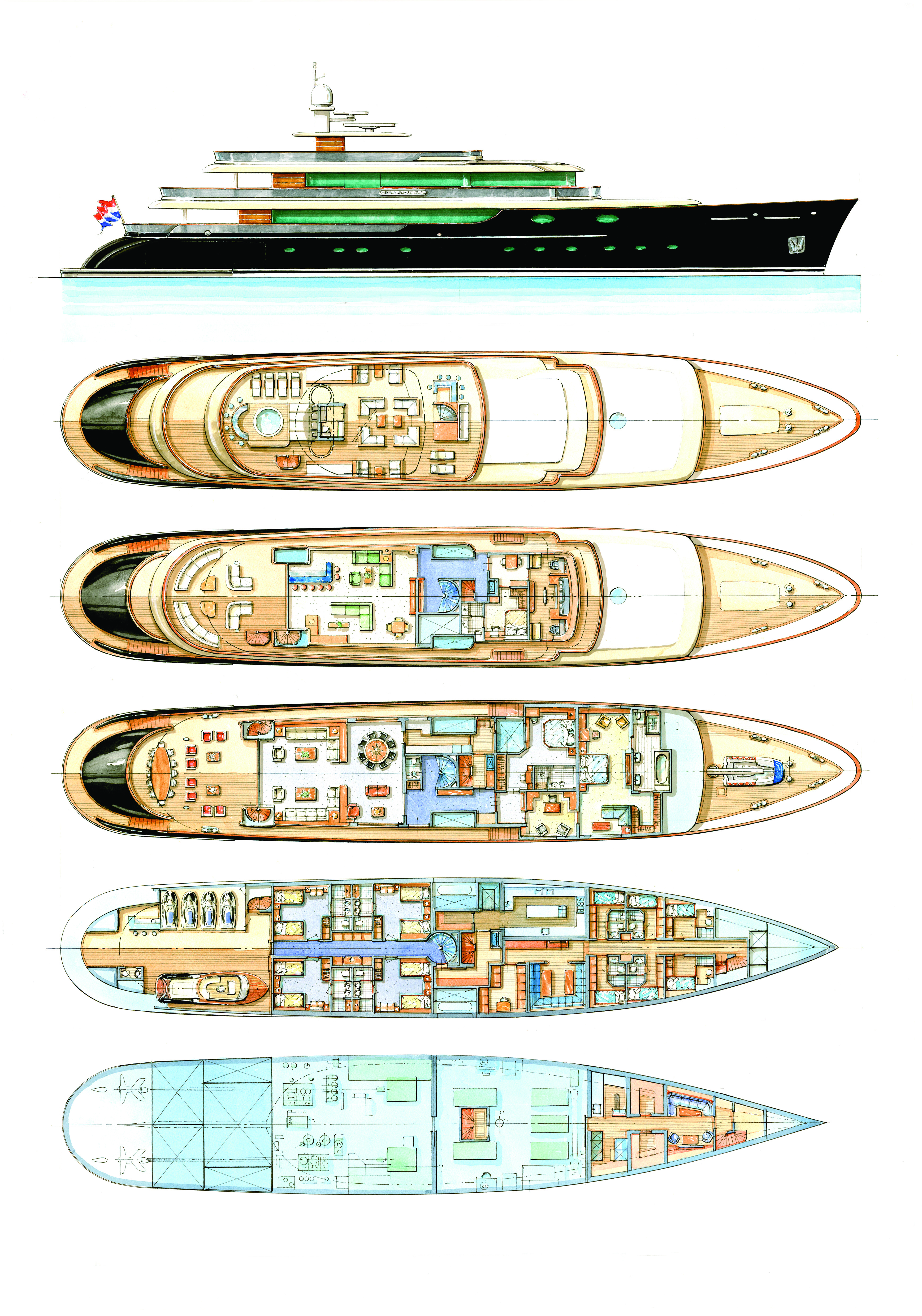 Her classic styling consists of an elegant pronounced sheer, canoe stern and deep-V icebreaking bow – ice class 1B certification under RINA classification rules will enable her to travel in Arctic and Antarctic waters, with the Northwest Passage expected to be a regular destination. At a cruising speed of 12 knots, Lombok will have a range of 6,500 miles.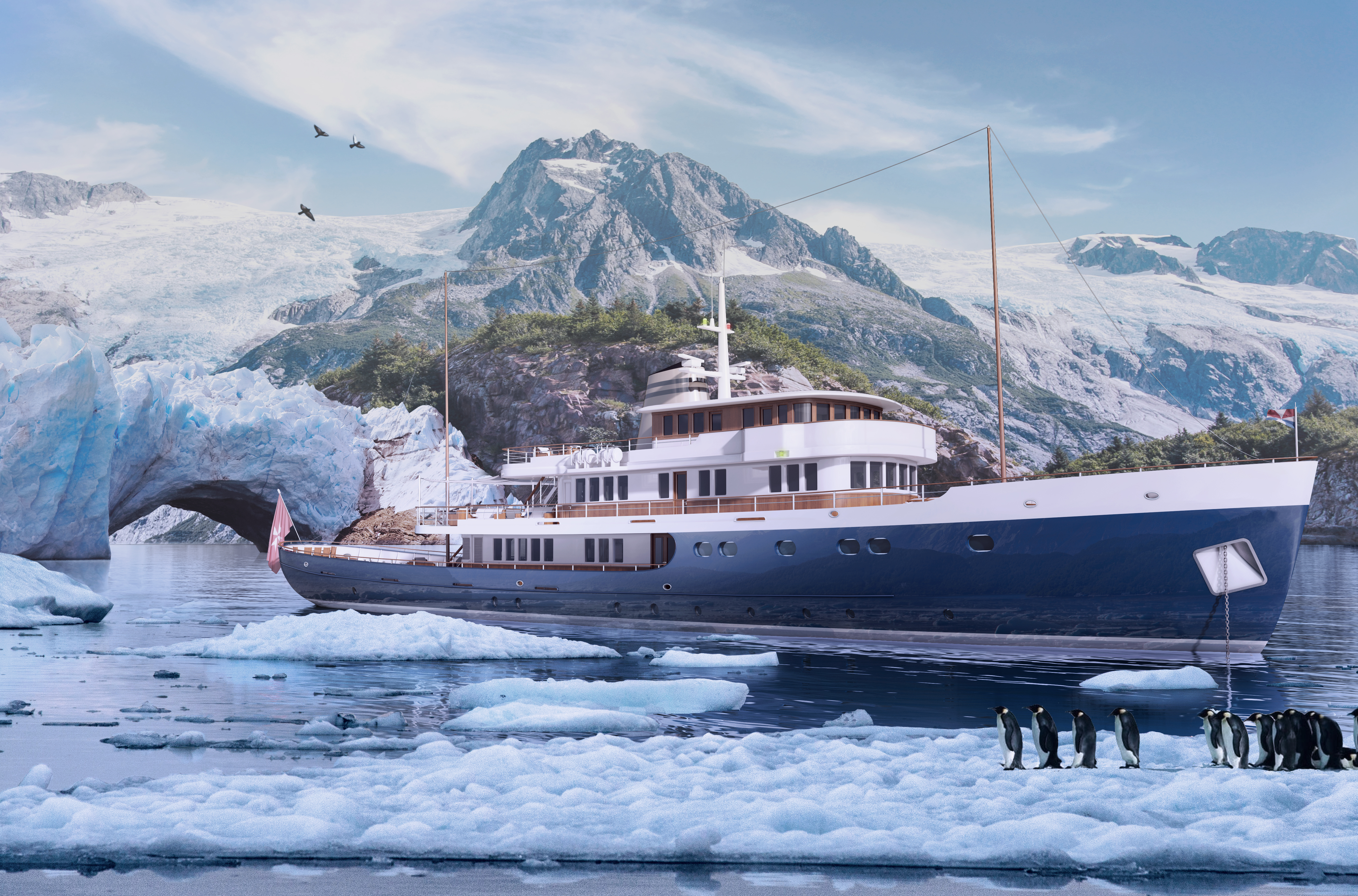 This is a boat clearly built for comfort, adventure and absolute freedom in the remotest destinations. Diesel-electric propulsion ensures fuel efficiency, and the placement of the exceptionally powerful large-diameter single propeller reduces the likelihood of ice damage. "Hardly any vessels which ply icy areas have two props," André Hoek points out. "Yachts have them for redundancy reasons, but experience has taught us that engines are rarely a problem with expedition yachts. Instead, we've given her two propulsion generators and two household generators, with the latter capable of running the boat in case of engine failure as a form of redundancy. This setup, combined with her diesel-electric propulsion, is also very fuel-efficient. And Lombok's oversized fuel tanks facilitate very long-distance journeys."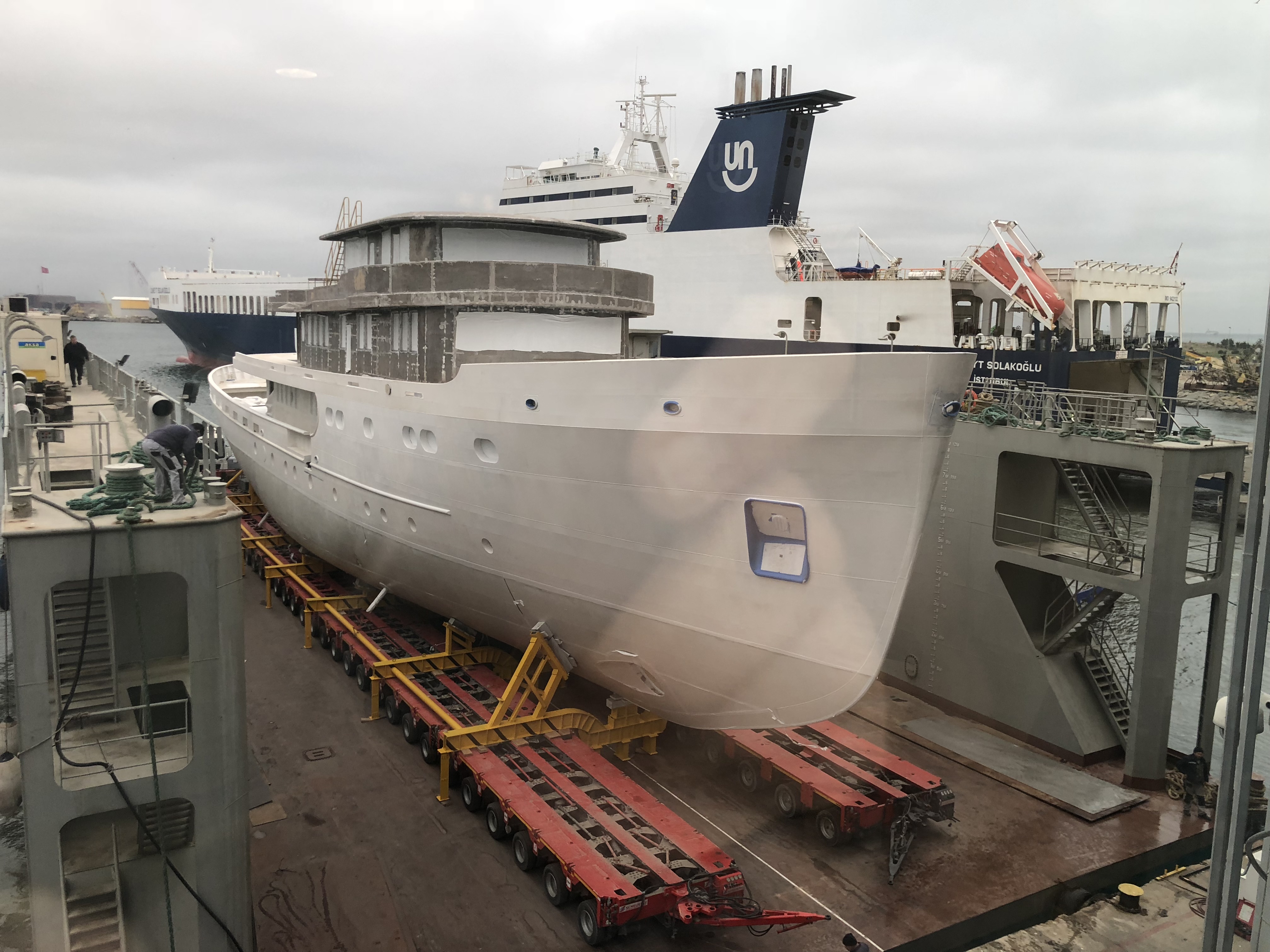 Lombok is packed with avant-garde technical components. Hoek Design uses advanced computational fluid dynamics (CFD) programs in house to extensively optimise her hull shape and ensure the lowest water resistance possible. A cutting-edge stabiliser system by Naiad and the communication domes are concealed within a funnel. Excellent insulation keeps noise levels low. Other features include, underdeck storage for a 12.2-metre tender and a submarine (handled by a retractable crane below deck), large boarding platforms to port and starboard with hydraulically operated retracting ladders, and a hydraulically operated stern boarding ladder.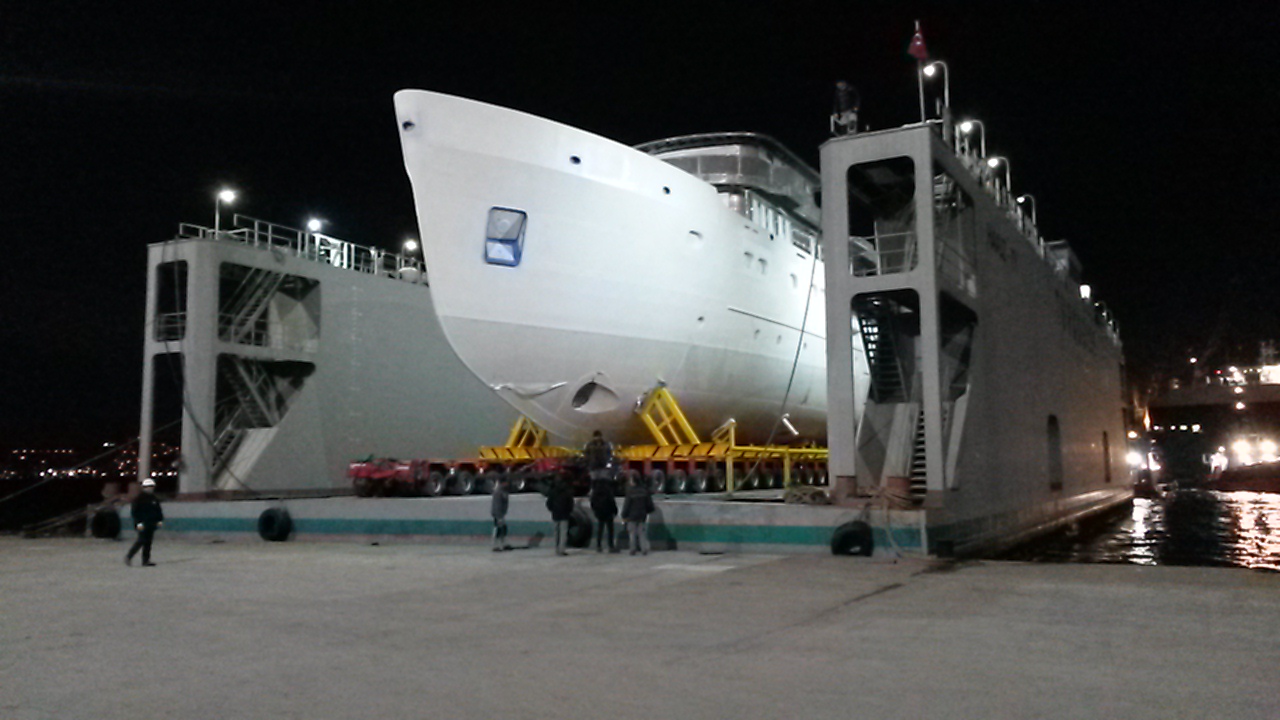 Designed for a highly experienced client who plans to explore the planet in eco-friendly comfort and style, Lombok has a classic contemporary interior with several skylights and elegant seating arrangements. Her classic teak deck is enhanced by teak-clad aluminium deckhouses and deck furniture. Large doors connect the aft deck with the lower saloon, allowing for a wide-open feel in warmer climes. Lombok has four guest cabins on the lower deck and a VIP suite flanked by a spa on the main deck. The upper deck accommodates the owners' suite forward and the owners' office on the bridge deck, linked by a staircase. There are two lounge areas on the upper and main decks.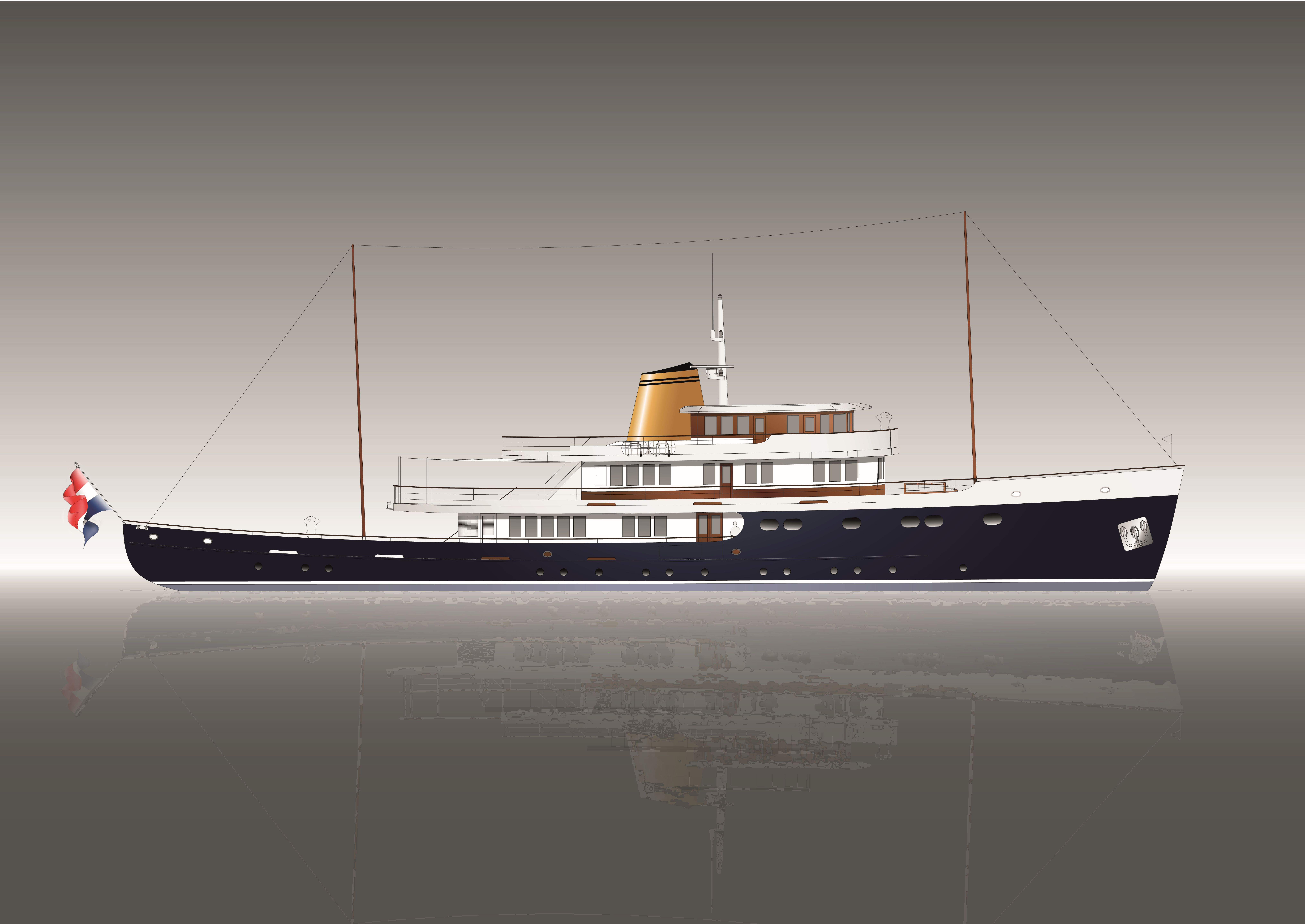 The second major Hoek Design project is the first build in its new line of classic chase boat designs. The office has done all the naval architecture work, exterior & interior styling, and technical systems for this elegant 23.2-metre aluminium craft, which will be strong, comfortable and very quiet in operation. Big sailing yachts tend to spend a lot of time at anchor, and the main purpose of a chase boat is to provide a gentleman's transport for owners and guests from shore to mothership and back comfortably, avoiding the indignities of travelling in a rubber dinghy or under the sprayhood of a tender on a rainy day.
However, this unique model will have as many other uses as an inspired yachtsman can imagine. The lightweight aluminium construction, extraordinary dexterity and low draught makes them ideal for day trips to smaller islands, in the Pacific, say, or exploring secluded lagoons and shallow areas in the Caribbean. A large integrated hydraulic platform with stairs that extend down into the water or up to the dock or the mothership means they are perfect as a mobile diving platform. Finally, they are large enough to provide accommodation for extra crew or guests in their several cabins, and fit out with additional storage capacity, including large freezers for very long travels in remote areas. 
The first boat in the range is currently under construction at Claasen Shipyards as the 27th Hoek Design project to be built by this renowned Dutch yard. Ordered by an owner of a large Hoek Design sailing yacht which she will accompany, the chase boat is characterised by sophisticated yet straightforward classic styling matching that of the mothership. The finishing, styling, details and technical systems will meet the highest superyacht standards.
Twin 925 Scania engines with fixed propellers will give a maximum speed of 25 knots and a cruising speed of 15, at which she will have an impressive range of 750 nautical miles. The Classic Chase Yacht is available in a range of sizes – for instance, there is another 18-metre boat currently under development.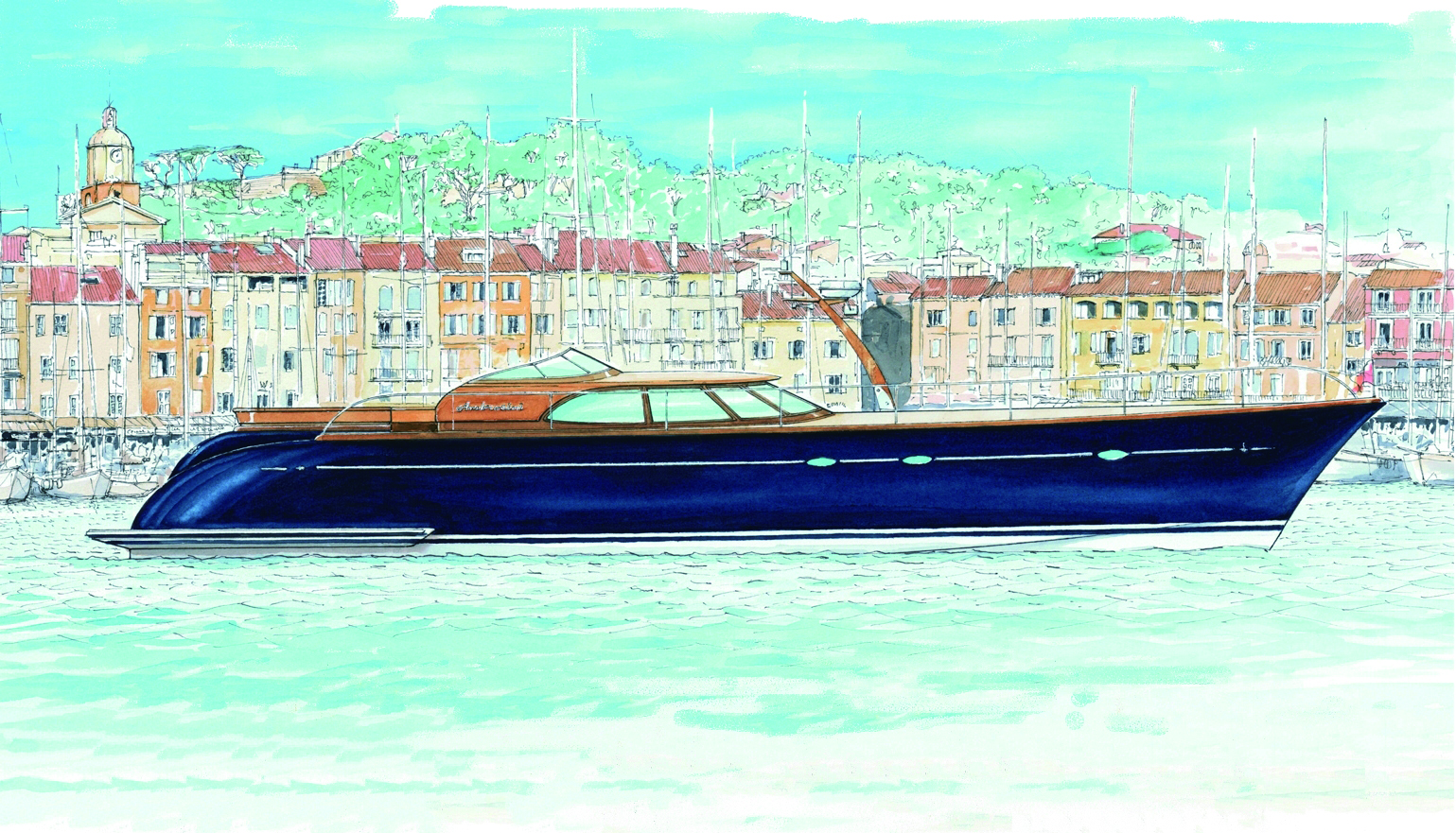 Hoek Design has several other powerboat designs at various stages of progress. The most advanced model is a concept consisting of a classically styled hull with a modern superstructure. "The idea was to make something timeless but with a contemporary twist," André Hoek explains. "We think this really stands out among the modern boats you see today."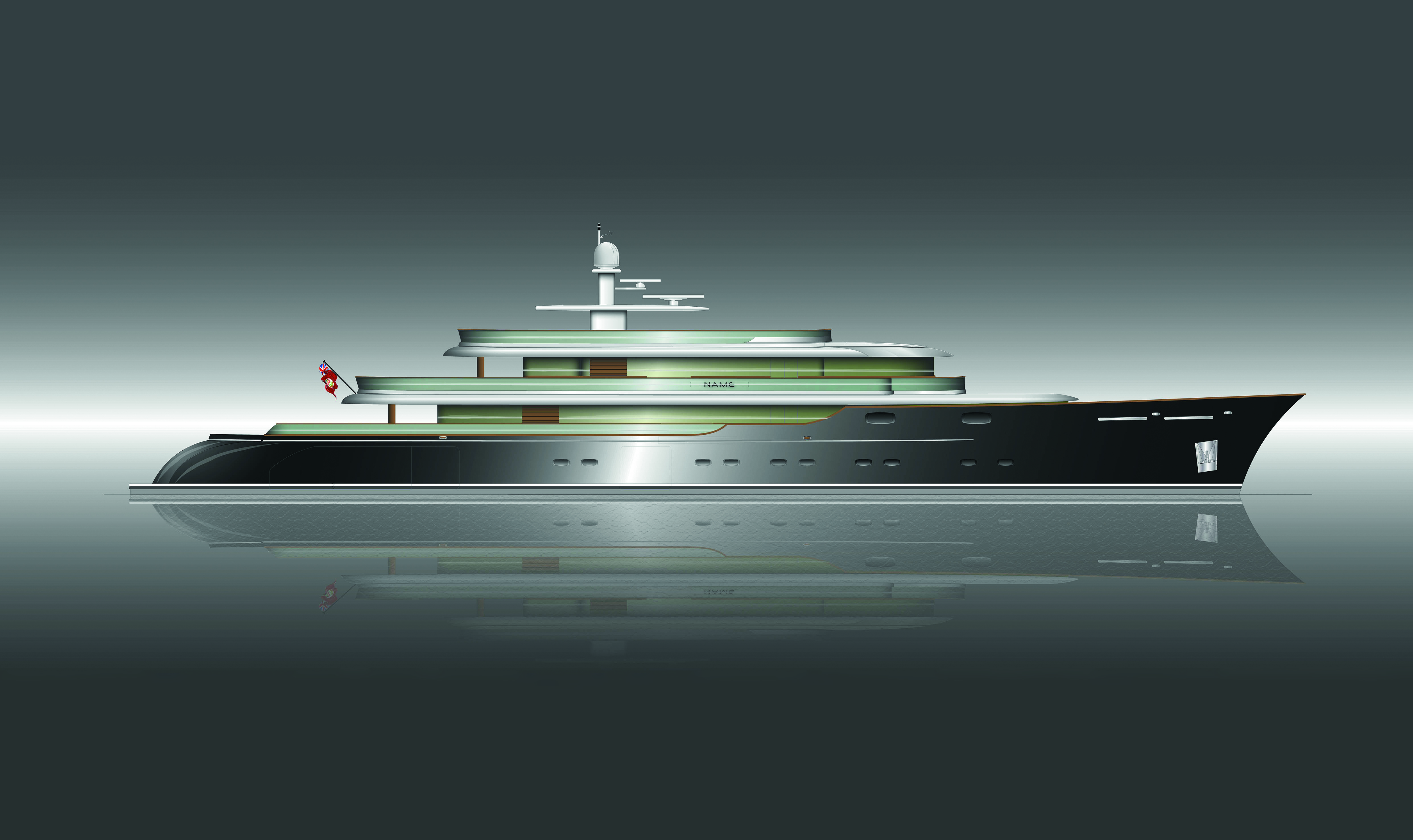 So far the model is available in a length of 55 or 70 metres. It provides an exceptional amount of volume for its size, and extensive possibilities for customisation. An original feature which maximises interior space is the placement of the engine room, which runs the full length of the hull underneath the accommodations and yet has full standing headroom throughout.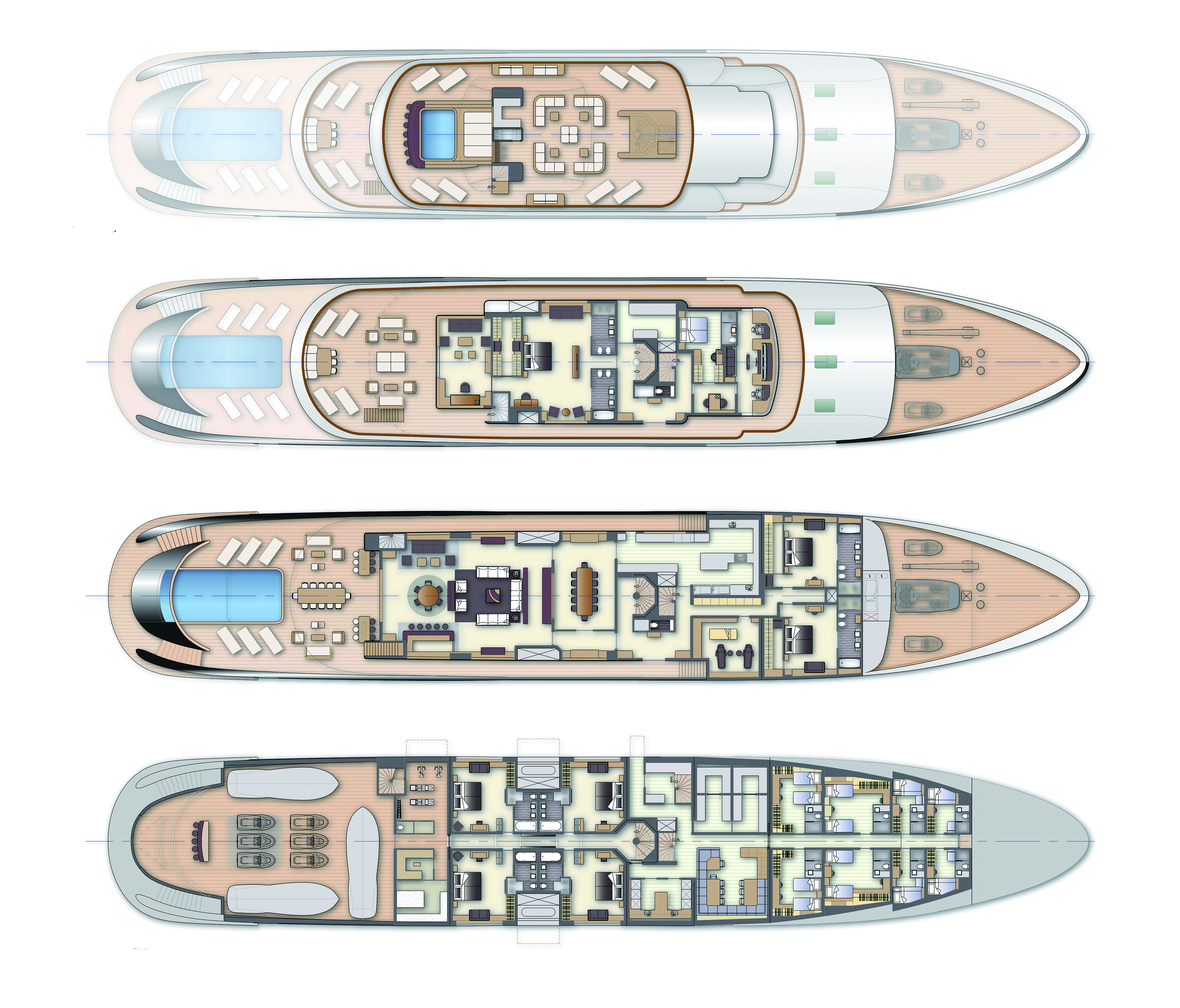 The 70-metre version currently under development will have four guest cabins on the lower deck, while the galley and two VIP cabins will be located on the main deck. The owners' cabin on the upper deck will include a his-and-hers bathroom forward and a walk-in closet aft, flanked by a space for use as a deckhouse or an office. The lower deck aft area will consist of a vast space for toys, with plenty of storage for tenders, Jet Skis and any & all other fun equipment the owners could wish for. This area will have lateral opening doors to both port and starboard. There will be a pool on the main deck. 
This model will be available in a range of configurations and with many possibilities for customisation. For instance, the lower deck aft area can be turned into a beach club or a spa, and the pool can be given a glass bottom. The broad range of options are a testament to the vision and ingenuity of Hoek Design's naval architects. "We're very excited about our new models and happy to bring such an original proposition to the market," André Hoek affirms. "We're pleased to see that our clients seem as inspired as we are, and we share their high expectations for the future."