Rén (Chinese for 'benevolence') is the result of a master thesis by Karel Nguyen initiated at the Delft University of Technology in cooperation with Guido de Groot Design. The goal of this project was to design an advanced yachting concept tailored to the future Chinese elite.
The fictional client of Rén, named 'Jasmin' (originally 'Jiaying'), is a 34 years old self-made billionaire, married, and has two children. Having reached a peak in her career, her new goals are to focus more on educating the next generation and helping society. Jasmin believes that yachting can help her achieving her new goals. As a strong believer of 'Responsible yachting', the purpose of Rén is to enjoy leisure time with family and friends, organize social events, initiate maritime research projects to restore local waters, and to help coastal disaster areas during the typhoon season.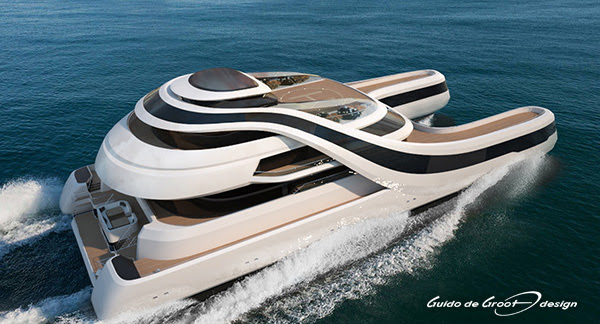 Regarding these scenarios, the semi-swath hull was chosen, due to its excellent sea keeping abilities, static and dynamic stability, and its large usable areas on board. With 2 diesel-electric propulsion systems and 4 supportive gen sets, Rén can cruise fully electric in protected areas and diesel-electric for a boost to avoid storms.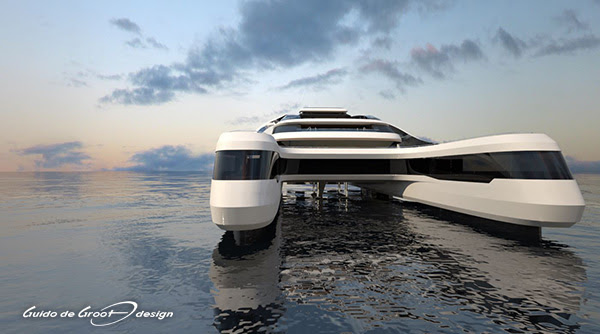 Main features for the owner are the social deck, which can host 36 people to have dinner and 70-100 people for receptions, the health deck with relaxation area and growing garden, and the aft beach lounge. Research areas are provided on the lower deck, with extra cabins, laboratories, office and cooled storage. All situated close to the tender launch for quick access to ocean equipments. For rescue missions there is a ROV drone, touch-and-go heli pad, and rescue tenders.