Ferretti Group
has announced its financial results for the first quarter of 2023. The company reported an increase in margins, with an adjusted EBITDA of €40.0 million, a rise of 26.6% compared to the first quarter of 2022. The company also reported a net profit of €18.6 million and a net financial position of €301 million in net cash.
Ferretti Group's order backlog increased by 15.4% to €1.5 billion, with order intake for the first three months of 2023 reaching €307.5 million. The company's revenue also increased by 9.3% to €280.3 million, with composite yachts representing 52.6% of total revenue in Q1 2023.
The CEO of Ferretti Group, Alberto Galassi, stated that the company's
recent acquisition
of Cantiere San Vitale in Ravenna has been a cornerstone of its future-looking growth strategy. He also highlighted the positive financial results reported in Q1 2023 as evidence of the company's strength and its customers' confidence in it.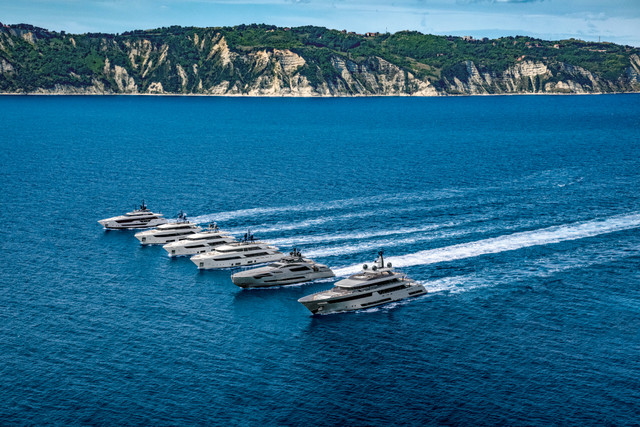 Ferretti Group is now considering a potential dual-listing and will hold a shareholders' meeting on May 18, 2023, to seek approval for the application and amendments to the existing by-laws. The company cautioned that the potential dual-listing is subject to obtaining approvals from shareholders and relevant authorities.
The order backlog by segment shows composite yachts reaching €489.9 million, made-to-measure yachts reaching €549.1 million, super yachts reaching €384.6 million, and other businesses reaching €72.7 million. In terms of revenue by geographical region, the North America, Central America, and South America region accounted for 28.6% of the total revenue in Q1 2023, the Europe, Middle East, and Africa region for 48.2%, the Asia-Pacific region for 11.4%, and other and super yachts for 11.8%.
Ferretti Group's success is attributed to three main factors: a longer waiting list reflecting a higher pricing power, a larger presence in the most profitable segment, and economy of scale in purchasing and a more efficient fixed costs absorption.
Ferretti Group's positive results in Q1 2023 indicate the company's potential for growth and expansion in the coming years. With the potential dual-listing and the recent acquisition, the company is poised to take advantage of opportunities in the luxury yacht market. Shareholders and potential investors of the company are urged to exercise caution when dealing or investing in the securities of the company.
The
Ferretti Group
, led by Chief Executive Officer Alberto Galassi, is now one of the world's leaders in the construction and sale of luxury yachts and pleasure vessels, with a unique portfolio of brands: Ferretti Yachts, Riva, Pershing, Itama, Mochi Craft, CRN, Custom Line and Wally.
Credits: Ferretti Group