80-metre superyacht E P O C H advances the unique styling seen recently on Ricky Smith Designs last design ERA 80M. Once again, the work of Australian and Denmark designers marries technical advancement in naval architecture and progressive styling. Her unique sleek design by designer Ricky Smith seamlessly unites an eye-catching bow silhouette, panoramic windows and the towering cowl which protects the aft decks with a curvaceous line.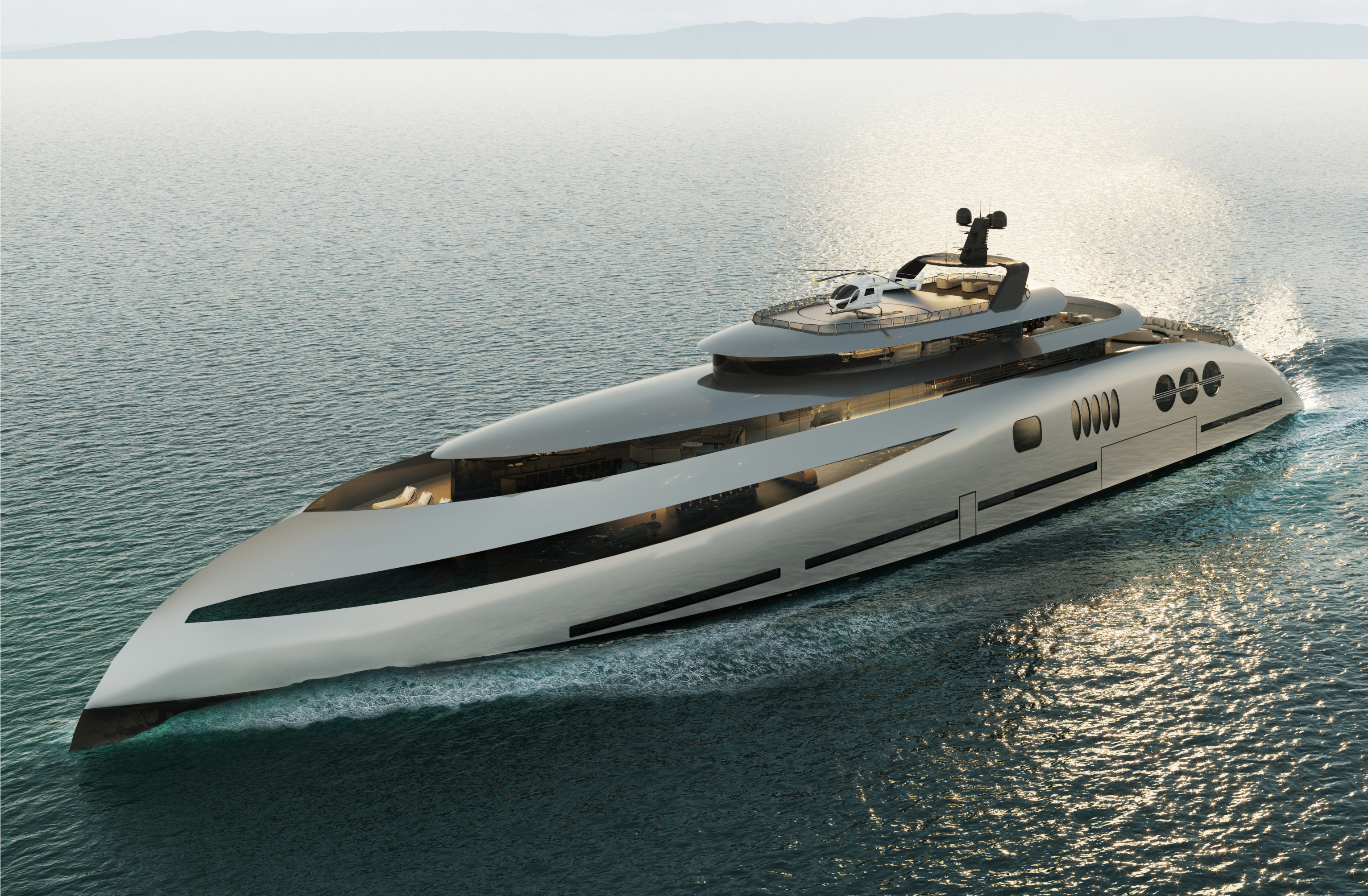 E P O C H features a high performance hull which cruises efficiently at higher than expected speeds for a vessel this size while still offering guests advanced seakeeping stability when needed. With over 30 years' experience in naval architecture, shipbuilding, design and construct interiors, and major motoryachts project management Ricky Smith and Naval Architects Dr. Andrew Baglin and Stuart Friezer Marine (Denmark) designed E P O C H exterior and interiors to be a fast build major statement of progressive superyacht design.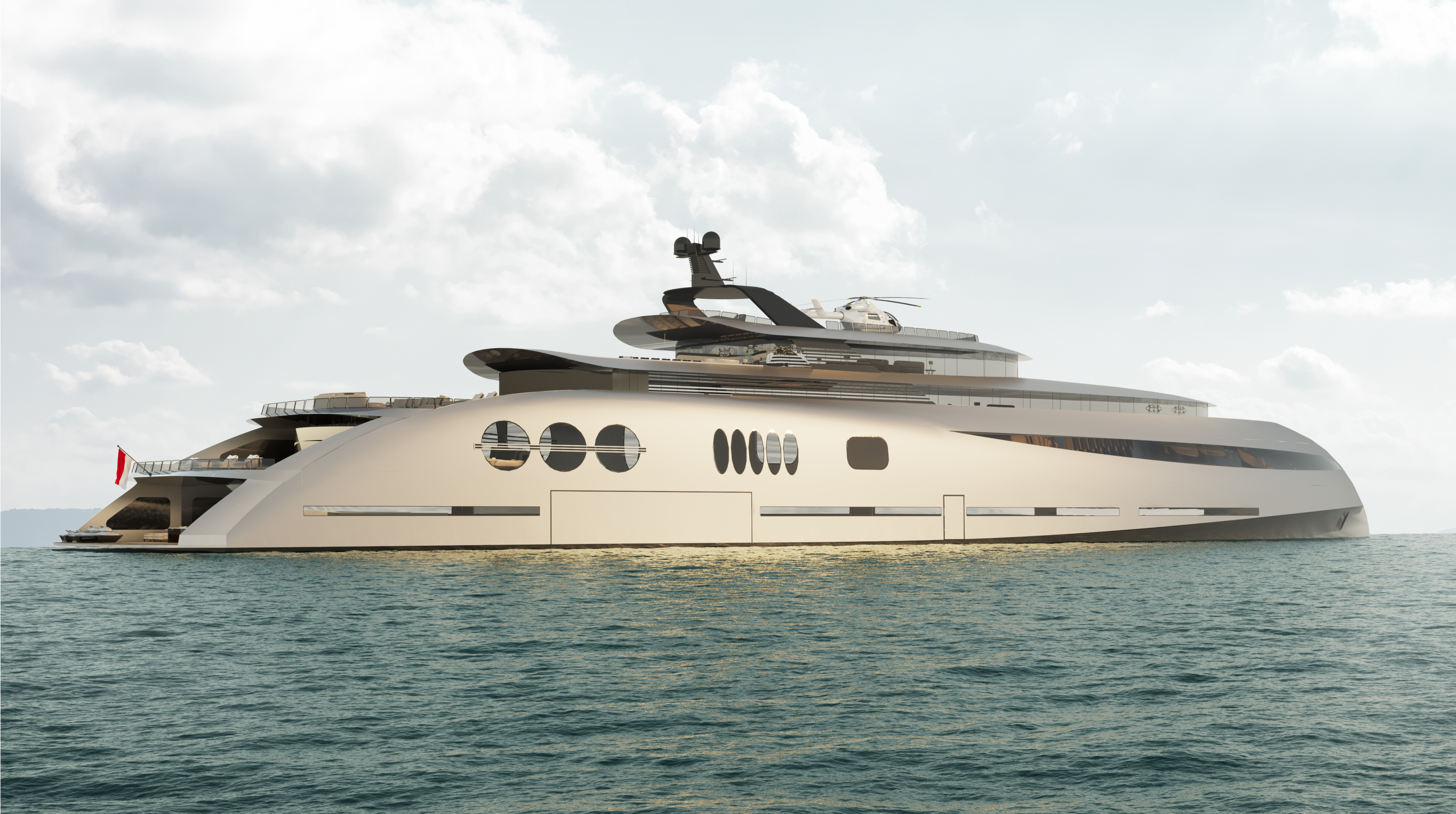 The exterior styling is a definitive statement designed to appeal to an owner who requires above average performance and progressive yet unique modern styling. The General Arrangement features the Owners Penthouse and private deck. The Owners Penthouse is surrounded with a unique feature to superyachts; curtain glass. This ensures uninterrupted 360 degree views from all facilities on that luxurious level. A unique feature of how Ricky Smith Designs for these owners is the dedicated Cocktail bar and private dining facilities where the owners can entertain to suit large groups of Corporate clients or close friends without leaving their apartment. The owners' apartment is directly linked to the helipad above, and by lift to the beach club on the lower deck as well as all other levels and facilities

The current general arrangement layout is designed to ensure the owner is offered ample space on all levels suitable for intimacy or large scale entertaining. The primary focus in creating the design is maximizing the owners and guests on board comfort and options. This is illustrated by guests having facilities on all levels for dining socializing and private relaxation.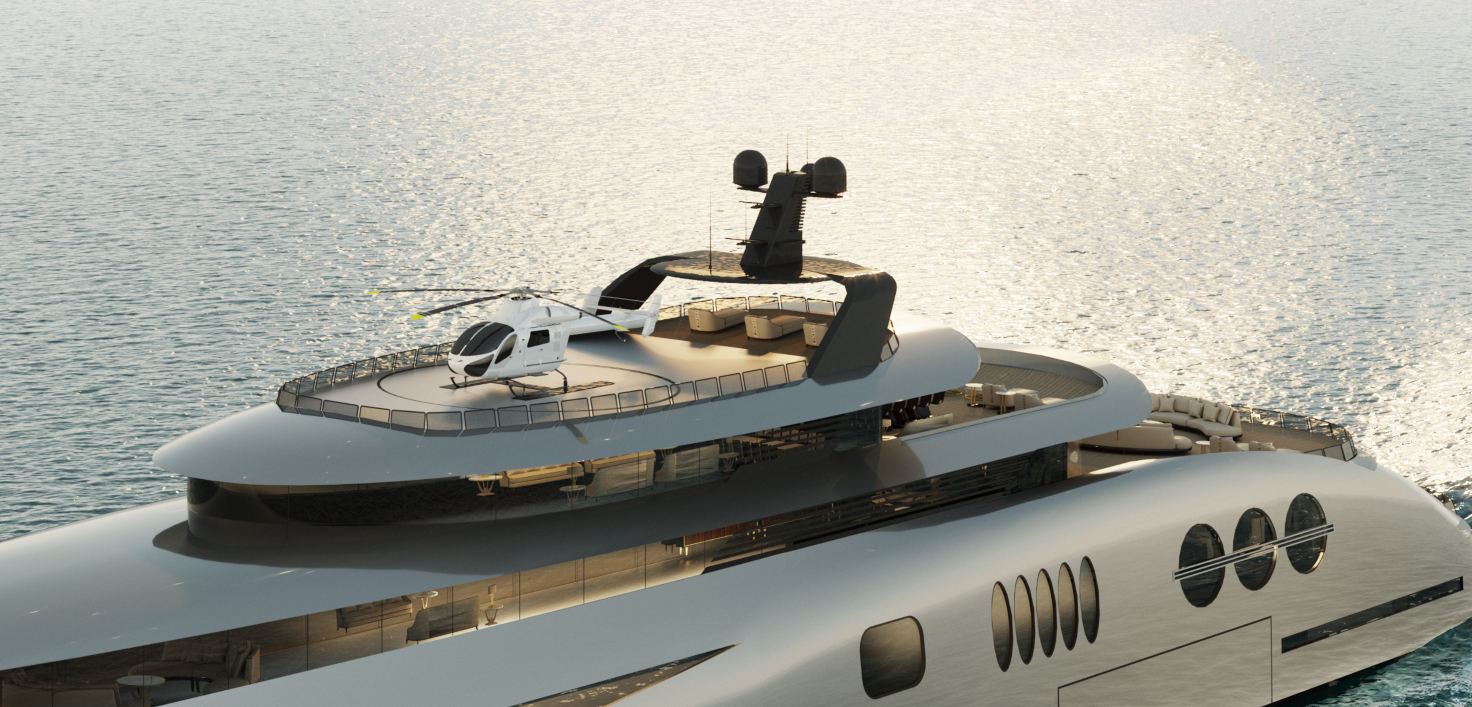 Designer Ricky Smith plus Naval architect Stuart Friezer, Dr Andrew Baglin teamed their 60+ years combined knowledge and experience of yacht design to create EPOCH. The designers agreed at their first meeting that all technological advances in alternative energy technologies should be incorporated where possible, but not at the expense of the overall appeal of the design. Stuart Friezer and Dr Andrew Baglin analyse all designs using CAD, CAE, and C.F.D. programs along with tank testing to confirm these very significant design directions. Ricky Smith creates tailored luxury interiors for private clients and has worked on superyacht interior projects in USA, China, Australia, and New Zealand. Ricky Smith designed interiors of 2 "Ulysses" projects directly with the owners and created an interior fit out system which allows high speed interior fitout without compromising the end result.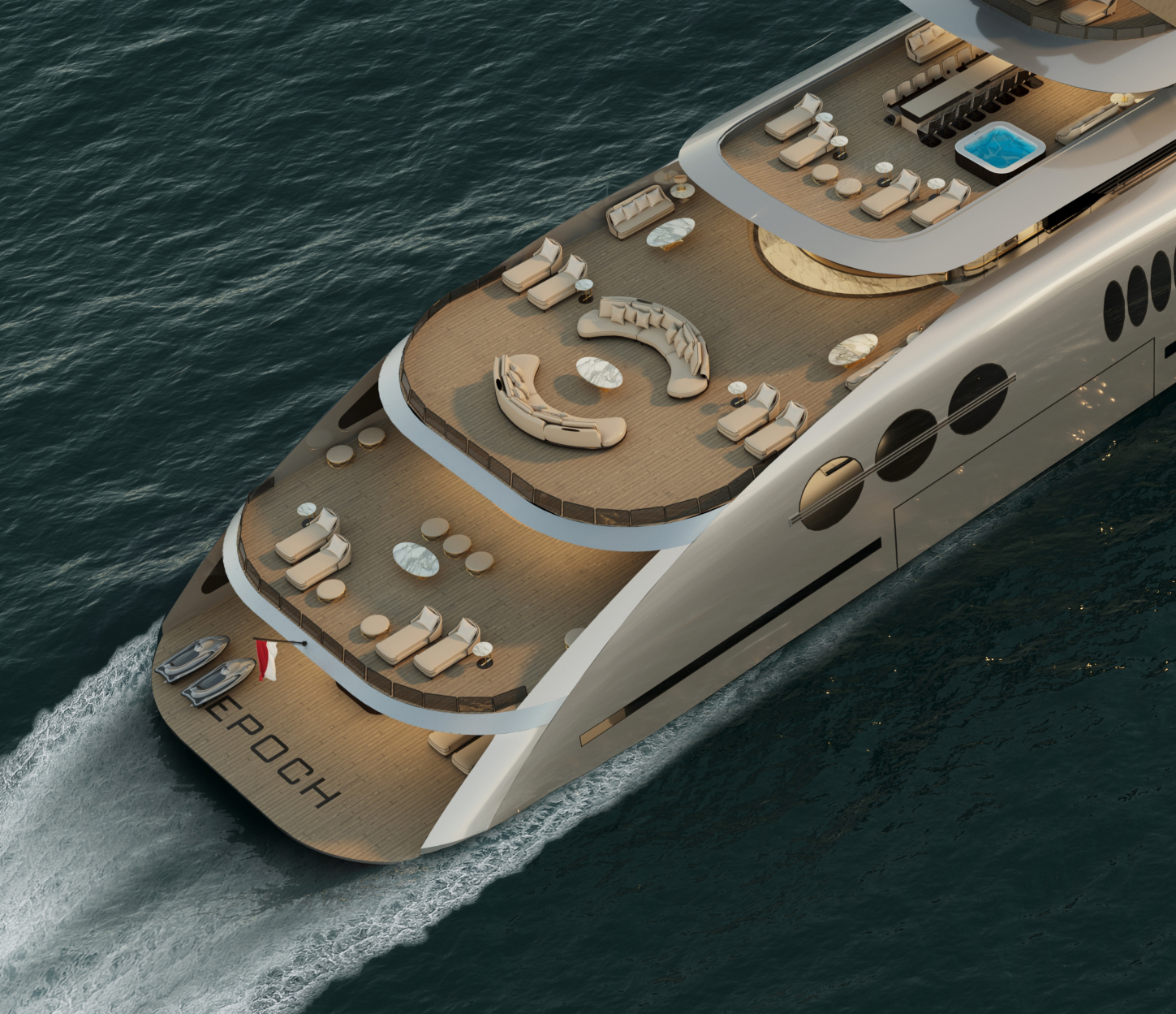 E P O C H incorporates the hullform designed and tested by Naval Architect Stuart Friezer who was integral with the design of 2 World Record maritime speed records. E P O C H is designed as sanctuary, a private world where the owners and their parties can arrive and conduct business in absolute security and privacy, or simply relax and cruise the world. The Owners Penthouse level amplifies the essence of space and panorama with floor to 360 degrees ceiling glass with vast slide away walls. The arrangement of facilities in the Owners Penthouse level is centralized; atrium reception, stateroom, wellness centre and gym, cocktail bar , butlers galley , dining , media business centre and theatre lounge On the Main deck E P O C H offers a single Presidential suite style stateroom, as well as 2 V.I.P suites with attached reception lounges in which guests can dine and entertain in privacy. The remaining Guest staterooms are on the lower level In her current interior arrangement the interior design synchronises perfectly with the exterior, vast uncluttered spaces, streamlined elegance, contemporary, no unnecessary ornamentation. Her performance can be moderated to align to the owners preference, however the hullshape is capable of speed due to the reduced resistance. The styling of this high performance open superyacht guarantees the owner will never go unnoticed. The styling is a progression on the ERA design released last year.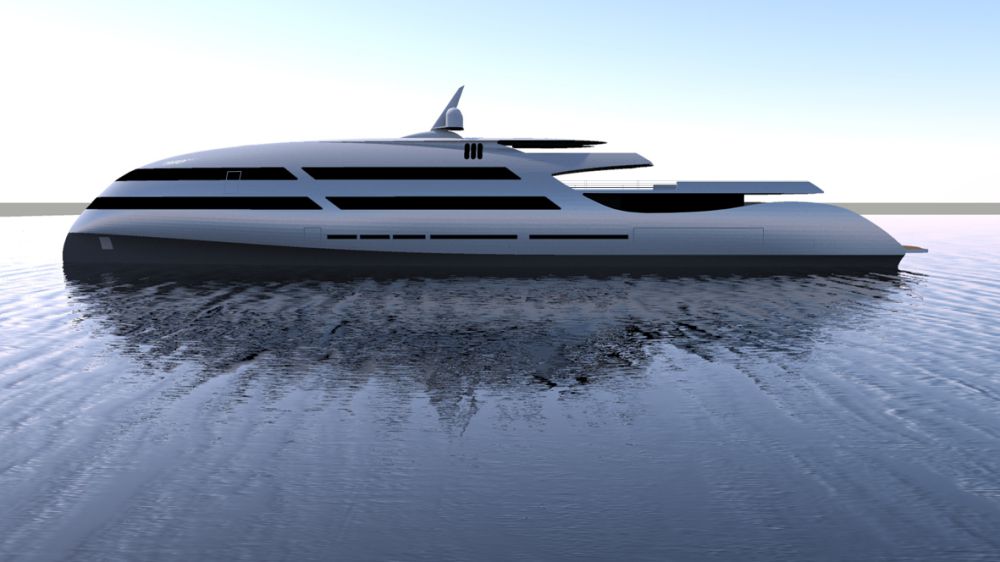 Previous concept : Era 80M
E P O C H is not a just another surreal concept, the depth of experience in this design team allows such a groundbreaking design to be created. This yacht design isn't the biggest, but it can be tailored for 6-star charter operation or as a super-private and super-secure world for the owner.