The 28-metre five-cabin yacht by Ferretti Group's Custom Line exclusively debuted during two days (Oct 14-15) of onboard tours and sea trials for customers, owners and media at the Aberdeen Boat Club in Hong Kong. Industry professionals and the public were amazed by the innovative solutions fitted onboard at the Navetta 28's world premiere at the Cannes Yachting Festival 2015.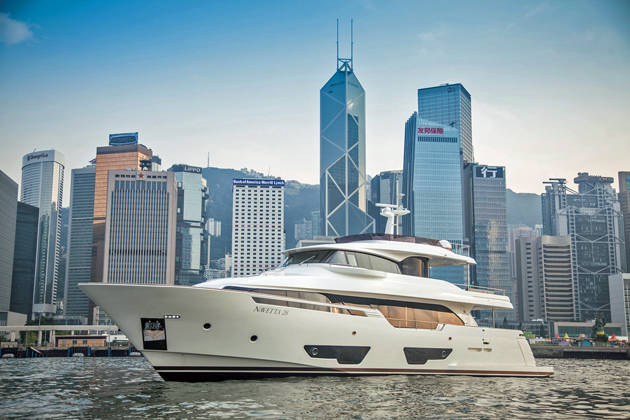 There are plenty of outdoor spaces for guests to enjoy the atmosphere on the Navetta 28, with the sundeck offering the best seat in the house and the bridge deck boasting a big dining area inside the lounge, but close enough to the semi-circle of doors to benefit from a sheltered inside-outside environment. A full-beam owner"s cabin is forward on the main deck, while the guest cabins on the lower deck (three doubles and a twin is the standard layout) have huge windows. The standard MAN 1200 engines deliver a 16-knot top speed and a comfortable cruise at 13.5.
"We are confident that the new 28-meter will help us foster even more interest in the Custom Line in the whole of the Asia-Pacific region," says Ferretti Group Chief Commercial Officer Stefano de Vivo. "Could there be any better way to get the party going for the brand's 20th anniversary that we will be celebrating in 2016"
After succeeding in Continental Europe and the Middle East, the Custom Line Navetta 28 has now set course for the Asia-Pacific region. The goal is to win over boating enthusiasts in the region, where the Ferretti Group brand has been acknowledged as the benchmark in the field of customised super yachts for several years now.
"We can safely say that Custom Line has reached an extraordinary stage in its twenty years of history," says de Vivo. "An international success with markets in Asia proving to be some of the most fertile ground. If we take a look at our most recent results, we should mention the sale of two Navetta 33 Crescendo in Asia. This brand's success complements the Group's success as a whole, with an order portfolio in this market that on August 2015 has almost doubled compared to the same period last year."