The 2023 Monaco Yacht Show features the debut of
Feadship's
latest concept design. Dunes is the twelfth
concept design
and it takes a big leap toward Feadship's goal of Net-Zero superyachts. This concept showcases how intelligent exterior design can significantly – and passively – reduce a superyacht's energy needs, and at the same time capture wind and solar energy almost invisibly. The flowing lines from Studio De Voogt, who was inspired by the shapes sculpted by the forces of nature; drifting snow, water and sand. Noticing how sand dunes are timeless, yet ever changing gave the designers new ideas about line, flow and adaptability.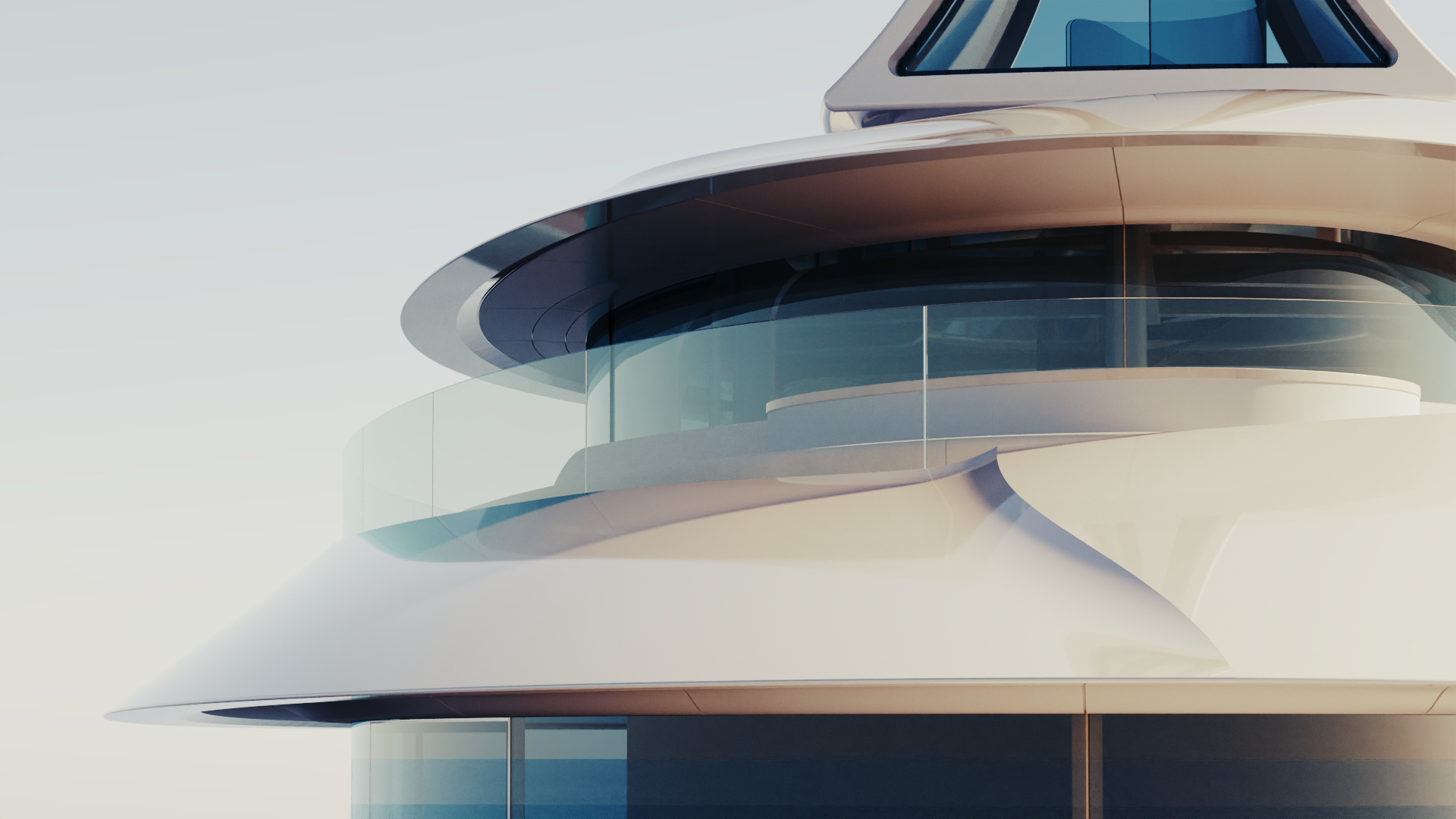 Large overhangs that shade windows and reduce cooling requirements, next generation storage batteries, eliminating teak decks – everything is lead to a new direction in fuel cell technology and even a radical propulsor are 'stacked' to produce a yacht calculated to eliminate up to 95% of negative environmental impact factors, as ranked on the YETI index, compared to a yacht designed to minimum mandatory environmental regulations.
The yacht will be able to accommodate 12 guests across six guest staterooms that are placed in proximity to spaces where guests will spend most of their time such as the pool deck, dining, and spa areas. Without a bridge taking the best views of the superstructure, the owner has a private deck and guests have a destination on the Pavilion deck.
Its walk-around decks offer unique circulation routes, pop-up seating areas, and surprise elements like small pools and recessed bow seating. The topsides glisten with teak-free decks made of tiny glass or stone chips sealed in a transparent aliphatic polyurethane resin, complemented by alfresco lounges clad in sustainable, golden maple wood.
Unlike many futuristic concepts, Feadship designs are ready for construction discussions today. Sustainability takes center stage from the beginning, with a shift to "low impact" steel hull and aluminum/wood superstructure, reducing CO2 emissions by 50-70%.
Dunes features an efficient electric propulsion system by ABB called Dynafin™ and groundbreaking solid oxide fuel cells powered by green methanol for onboard electrical generation.
Already provoking lively discussions, designers Thijs Orth, Tanno Weeda together with specialist Bram Jongepier will be available at the Feadship stand at the Monaco Yacht Show to explain the technologies and explore the fresh design with visitors drawn by the model and video animation.
Based in the Netherlands and with roots dating back to 1849,
Feadship
was formed as a group in 1949 as a marketing partnership between six Dutch shipyards, de Vries Lentch, Van de Stadt, Witsen & Vis, Akerboom, De Vries Scheepsbouw and Van Lent Shipyard, and De Voogt Naval Architects. Feadship is well-known as one of the Netherlands' most elite yacht builders and delivers superyachts from 50–100+ meters in length.
Credits: Feadship