The first CLX96 Sea Activity Vessel, or SAV, from
CL Yachts
is entering the final stages of construction. The launch is set for July and first public appearance is expected at Fort Lauderdale International Boat Show 2021.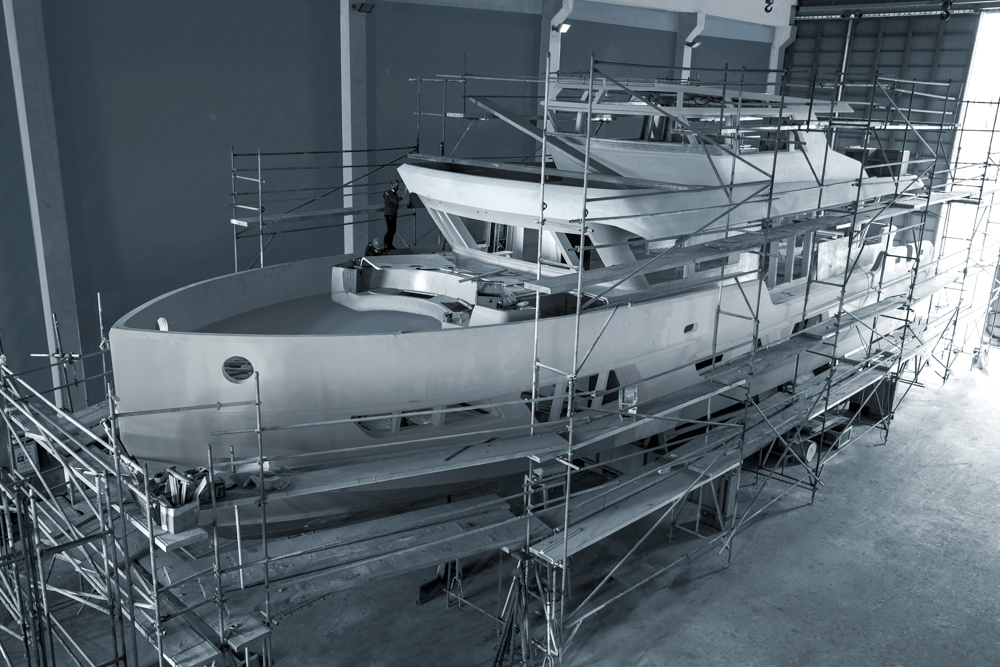 The versatile CLX96 features an inviting, open layout, rugged and adventurous proportions and clean, fluid lines. The revolutionary SAV has been created from the ground-up in collaboration with international designer Jozeph Forakis, with structural engineering from Albert Horsmon and naval architecture from Earl Alfaro.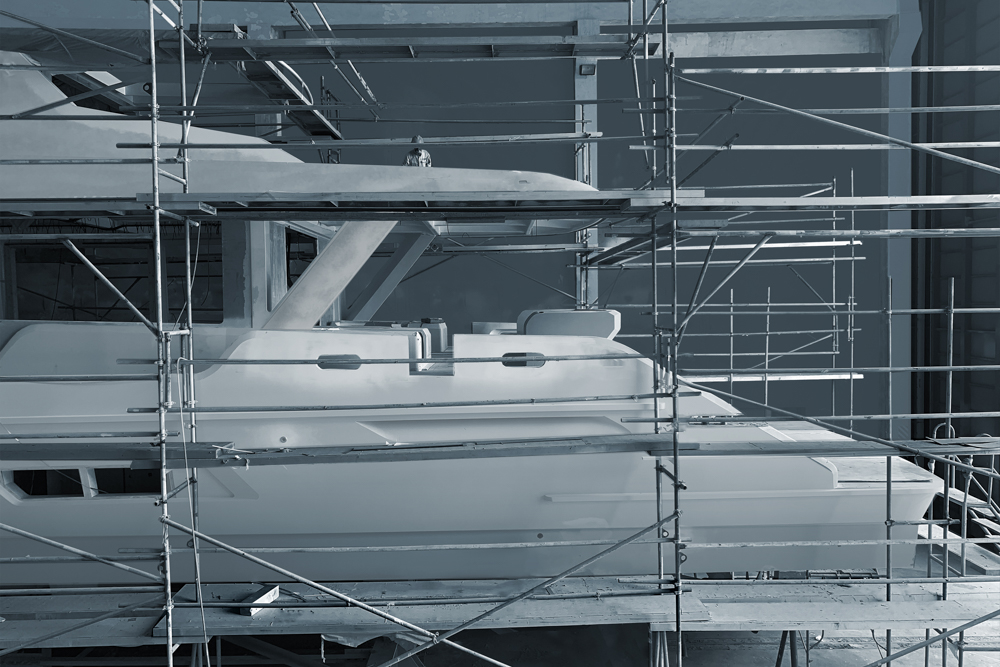 The yacht's original design includes a 'workboat chic' two-level, reverse-angle deckhouse using inverted trapezoids that maximize space as well as reduce glare and heat, while the plumb bow further amplifies accommodation alongside increasing hydrodynamic efficiency.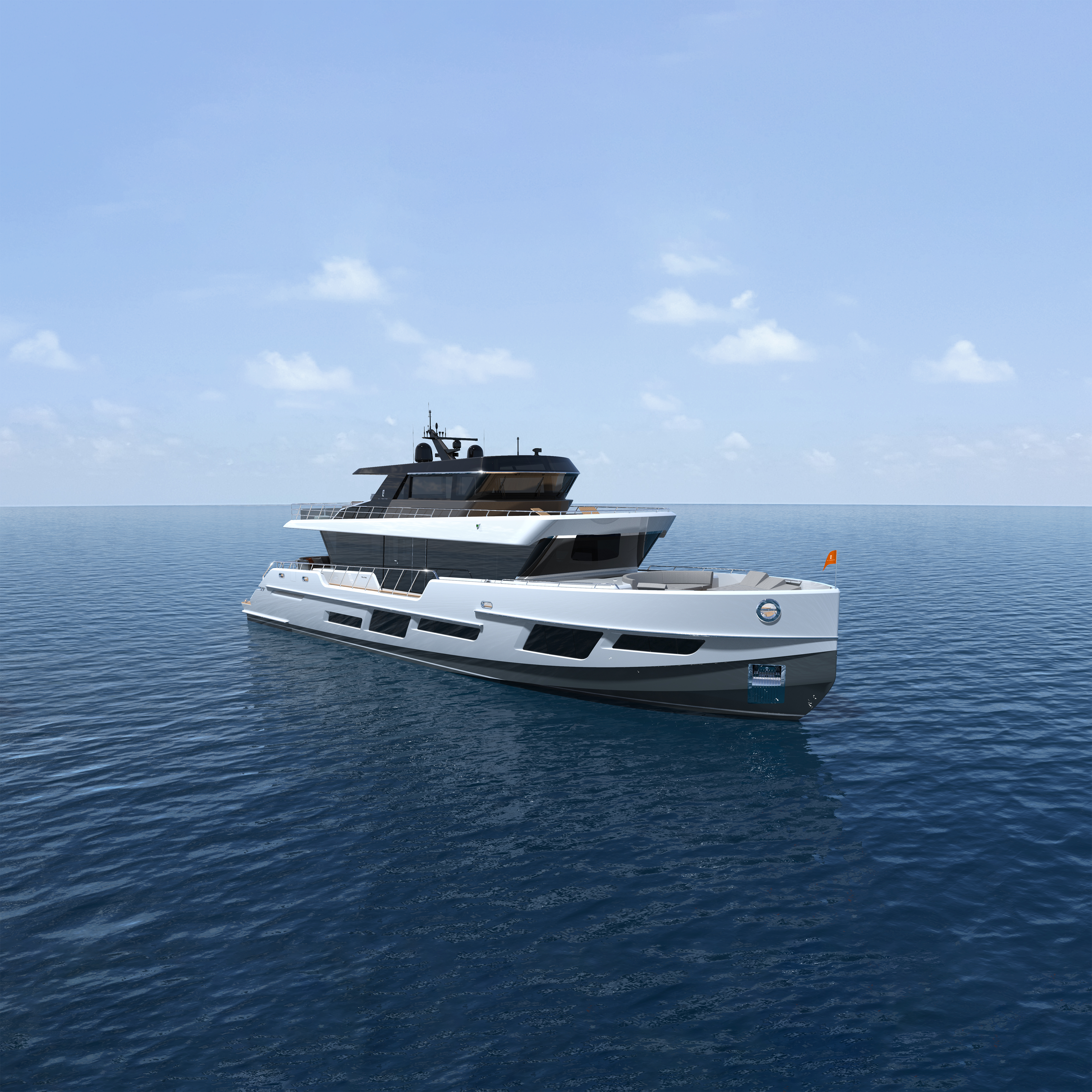 With a blurring of lines between the interior and exterior, the main deck's vast windows and bi-fold doors are echoed in the flybridge's spectacular glazing with retractable windows on three sides, seamlessly leading guests from the sky lounge and pilothouse to the sky deck alfresco dining area aft. Other unique exterior social zones include the "Terrazza Portoghese" forward of the sky lounge, the "Piazza del Sole" seating and sunning area on the foredeck, and the expansive stern beach club at the waterline with its hydraulically-submerging swim platform.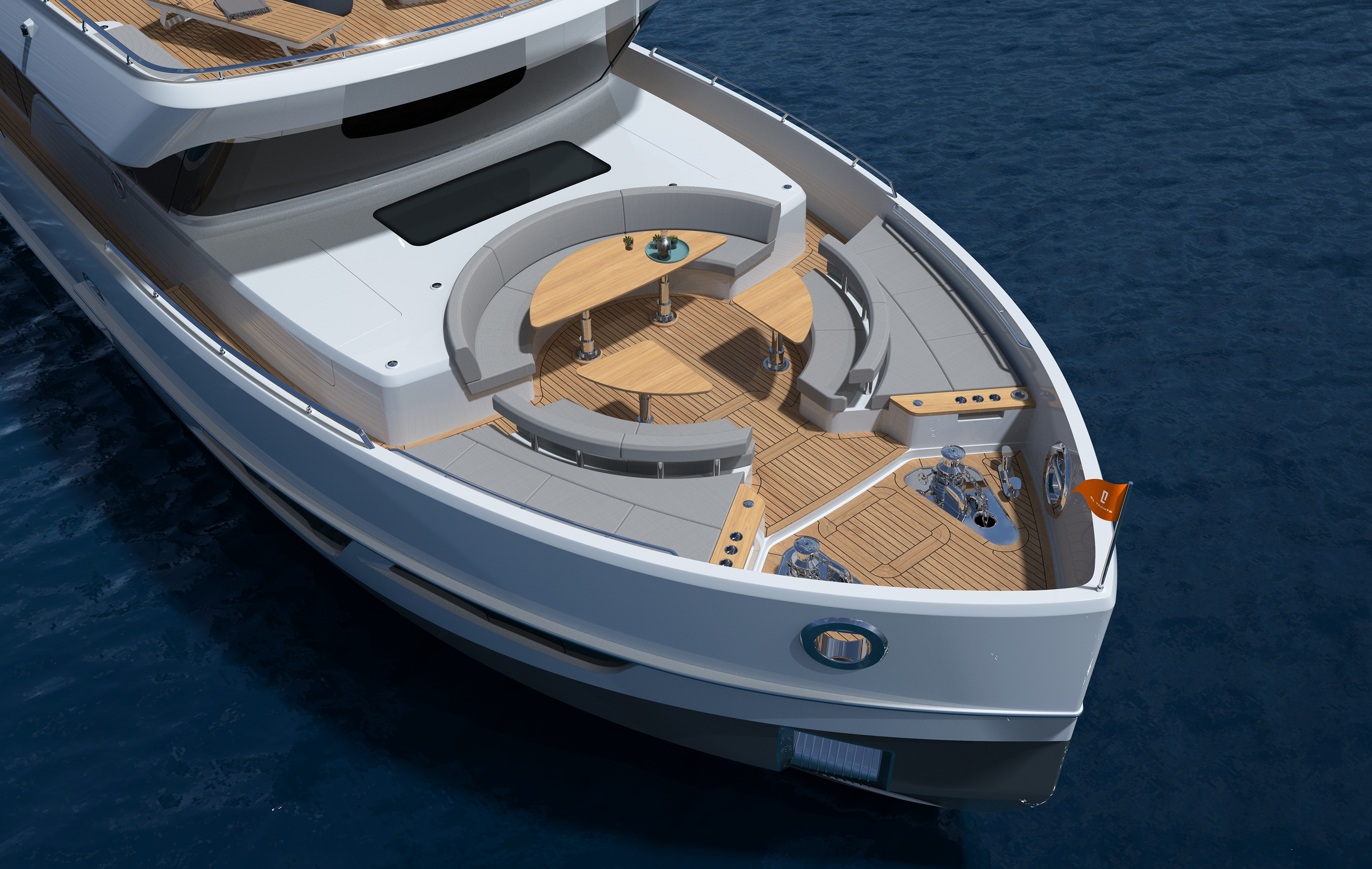 The interior decor is stylish and simple. The relaxed, open-plan main deck interior features a convivial galley with sit-up bar and a bank of sofas, as well as a lounge and dining area that feel inviting and fresh.
The four guest cabins – plus two for crew – are located on the lower deck. The master suite's real skylight is paralleled by the VIP suite's virtual skylight, which ingeniously receives a feed from an on-deck camera to a display screen embedded above the VIP king-size bed.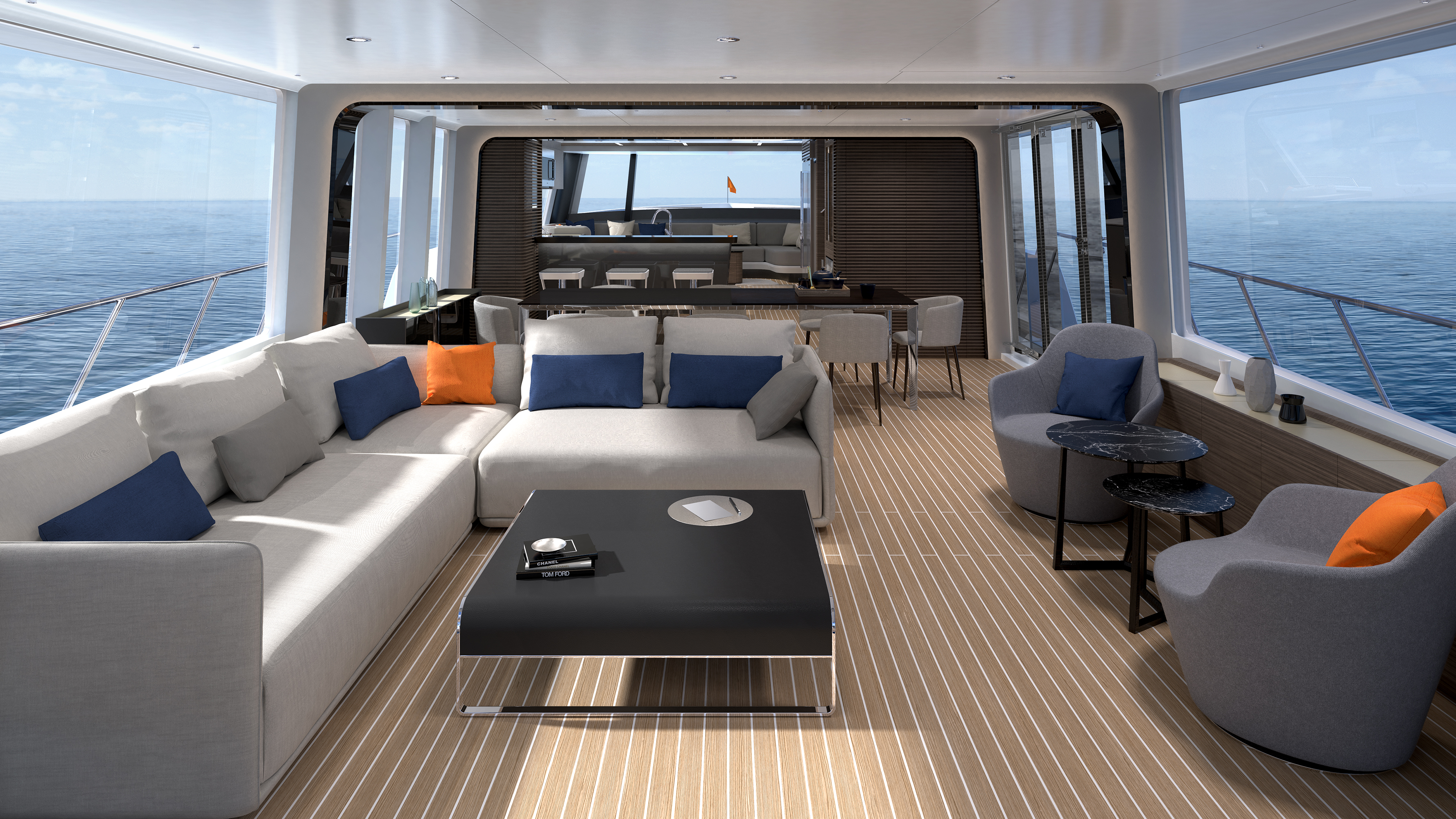 The CLX96 offers a top speed of 27 knots and cruising speed of 22 knots, powered by twin Caterpillar C32 engines, alongside the elevated seaworthiness that CL Yachts' parent company is renowned for in the commercial sector.
The yacht has already received widespread recognition and critical acclaim for its fresh look and revolutionary features, winning a Good Design Award and Bronze A' Design Award, as well as being shortlisted by the International Yacht & Aviation Awards for its interior and exterior design.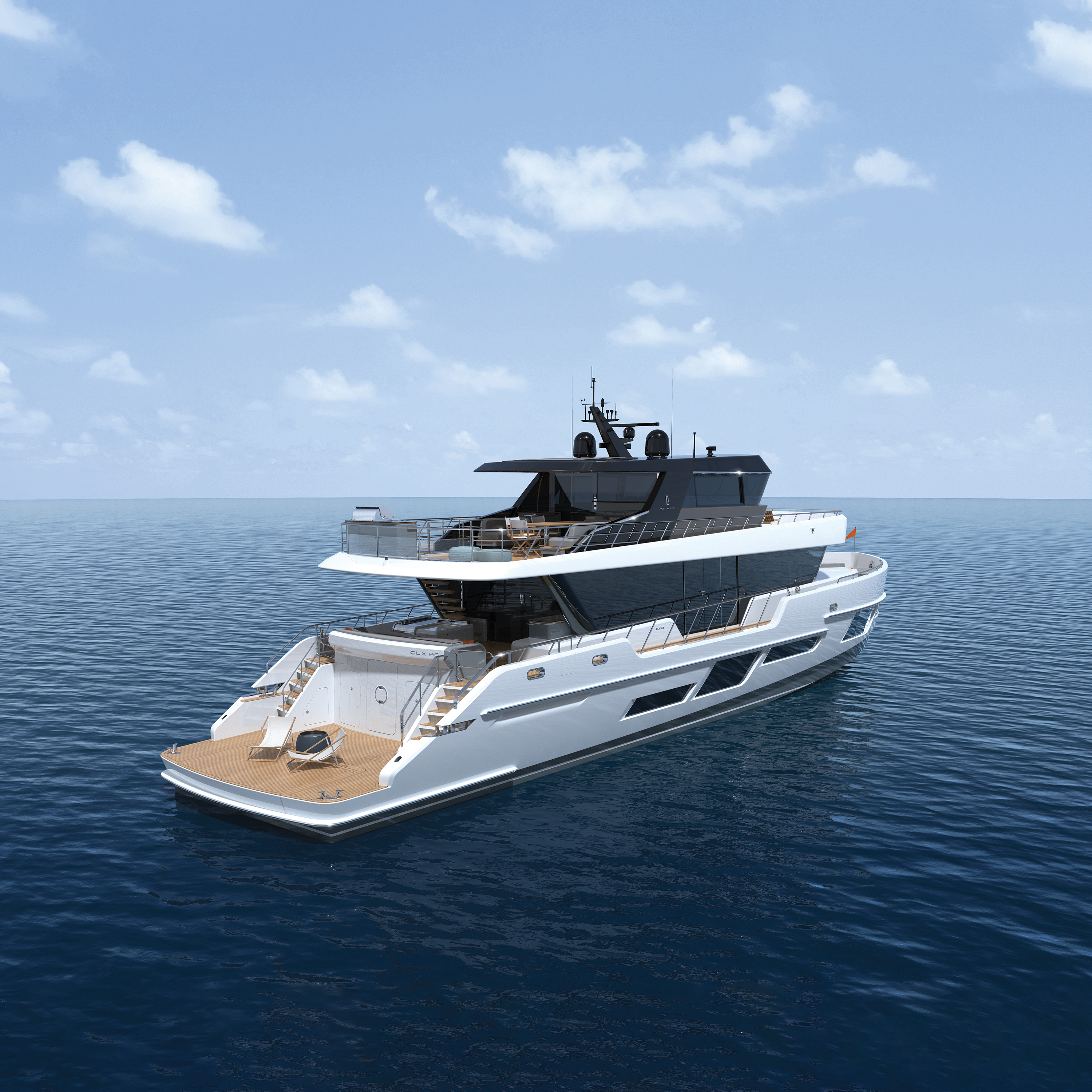 "The CLX96 showcases the expert knowhow of CL Yachts and represents our brand value. In order to be competitive in today's market, you need to be daring and we believe that the CLX96 is a bold challenge of the status quo in its category," commented Martin Lo, CL Yachts Director.
CL Yachts'
goal is to offer unparalleled experiences to the modern explorer. The luxury performance brand stands apart from its competitors thanks to its unique approach to design – driven by CL Yacht's core value of innovation. Fusing progressive design with engineering prowess and state-of-the-art technology, every element of CL Yachts' vessels are meticulously geared to steer luxury into uncharted territories.
Credits: CL Yachts