Veronika, the 23.99m Bering B77 explorer, was launched at the shipyard facility in Turkey. Veronika is a semi-custom project designed in-house by Bering. This steel-hulled yacht has three-decks, and she can accommodate six guests and up to four crew. With a massive 170 GT of volume, she outperforms most other yacht brands below 24 meters.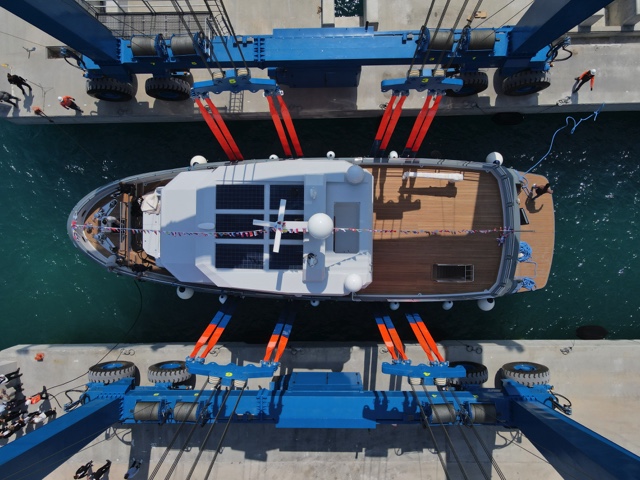 The launch of the heavy displacement B77 was facilitated by the brand new 560-tonne capacity travel lift provided by the Antalya Free Zone marina.
"With this 77 footer, we are opening a new chapter of compact cruisers," says Alexei Mikhailov, Bering Yachts' founder and director. "She may not be the longest yacht in the marinas, but you just have to look at the specs to understand her capabilities. Her communications are just one example: Veronika has two satellite Internet antennas and all the systems are doubled up so she will never be without sat comms. This is a yacht you can rely on".
Veronika will undergo local sea trials before transferring to Australia to start high-latitude exploration cruising.
She became the first of four launches in the Antalya Free Zone planned by Bering Yachts for 2021, including the launch of a Bering 70,
Bering 92
and Bering 76 in the second half of the year.
Bering Yachts
is located in Antalya, Turkey. Its shipyard designs and builds semi-custom steel expedition yachts and luxury steel trawler yachts ranging in size from 50 to 145 feet.
Credits: Bering Yachts