Turquoise Yachts
has launched the 75-meter
Infinite Jest
. The yacht's exterior design was made by Vallicelli Yacht Design, who aimed to achieve a balance between a "powerful dynamic look" and curved lines that create a "harmonious contrast between soft and rigid elements".
With a 1,680-gross-tonne volume, the low-angle descent towards the transom and extended forward overhang emphasize the yacht's length.
The interior of the yacht was handled by Sinot Yacht Architecture & Design, marking the first collaboration between the Dutch studio and Turquoise Yachts. With accommodation for 14 guests, the owner's suite occupies a private deck with an office space, alongside a VIP cabin and five additional guest cabins. The full-beam beach club measuring 14.2 meters, equipped with shell doors on either side, offers greater access to the water. In addition, the central tender garage can house a 10.2-meter limousine tender, two additional tenders, and multiple jet skis.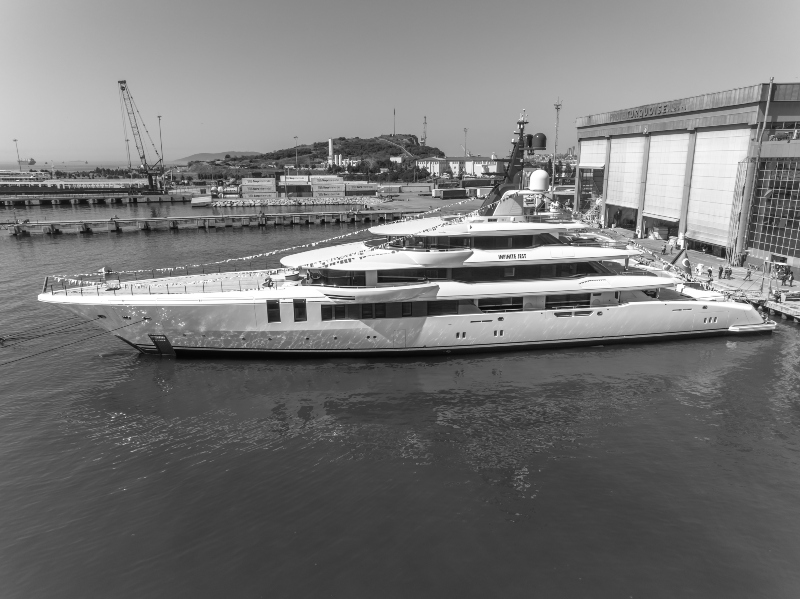 Powered by twin Caterpillar 2,575 BHP diesel engines, the Infinite Jest is expected to reach a top speed of 17 knots during sea trials.
Infinite Jest
, formerly known as Project NB69, is scheduled for delivery later this year.
Turquoise
was established in 1997 by two leaders of the Turkish boat building industry: Proteksan Yachts Inc. and Turquoise Yacht Construction. After launching the 50m M/Y Turquoise (now called Double Trouble), 20 other megayachts ranging from 40m to 77m in length have since been delivered to an international roster of clients from the United States, United Kingdom, Europe and Russia.
Credits: Turquoise Yachts