The 67.40-meter
Project 823
has been moved outside of the construction hall at the Kaag yard for final outfitting in advance of her sea trials later this year. The yacht has been fully designed in-house by Feadship. The hull engineering is by Azure Naval Architects, while the exterior and interior design are by Studio De Voogt.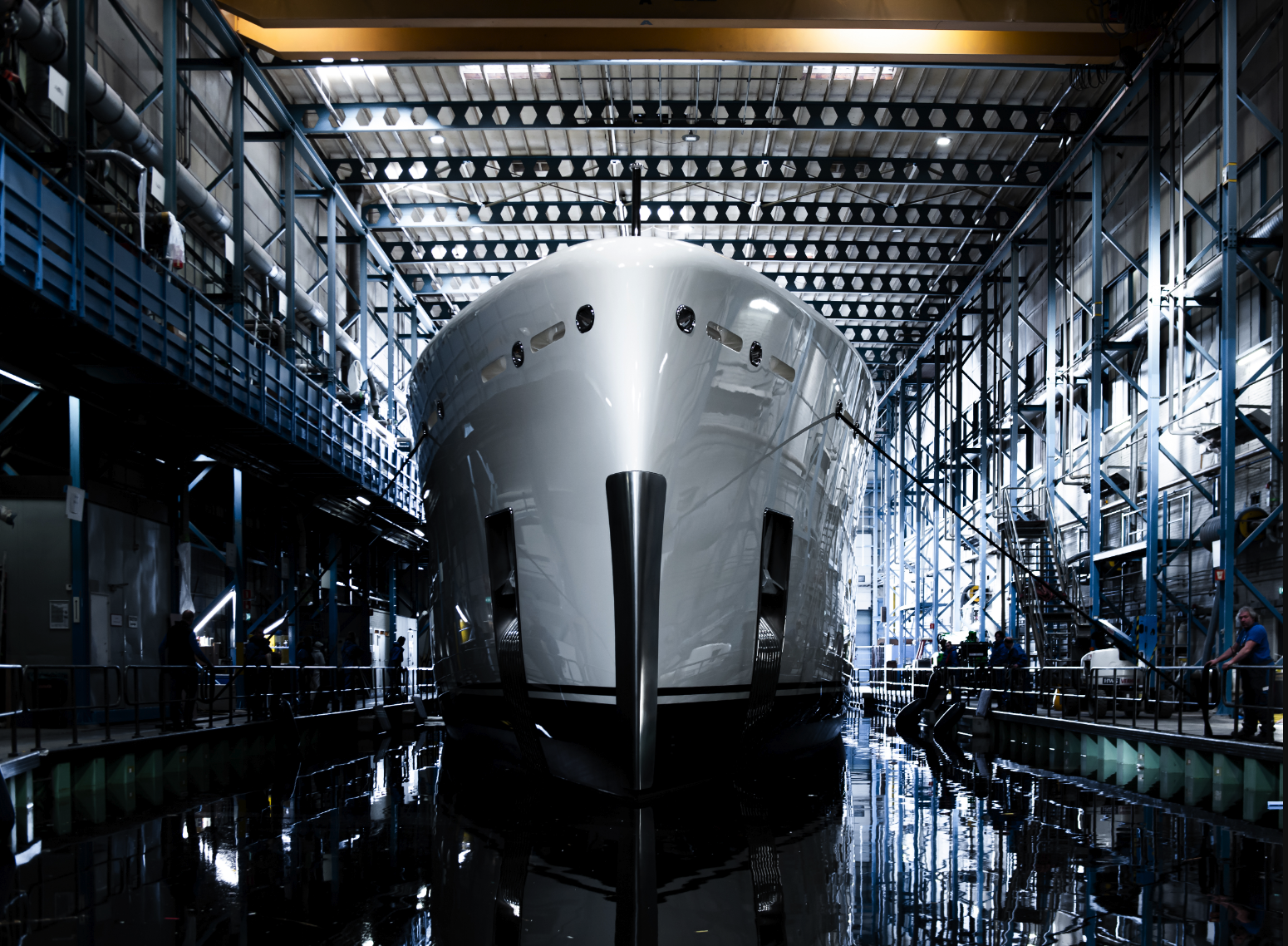 The exterior profile is bold with a muscular reverse sheer to the bow. Chiseled contours and dark horizontal strip windows lend the yacht a poise and grace.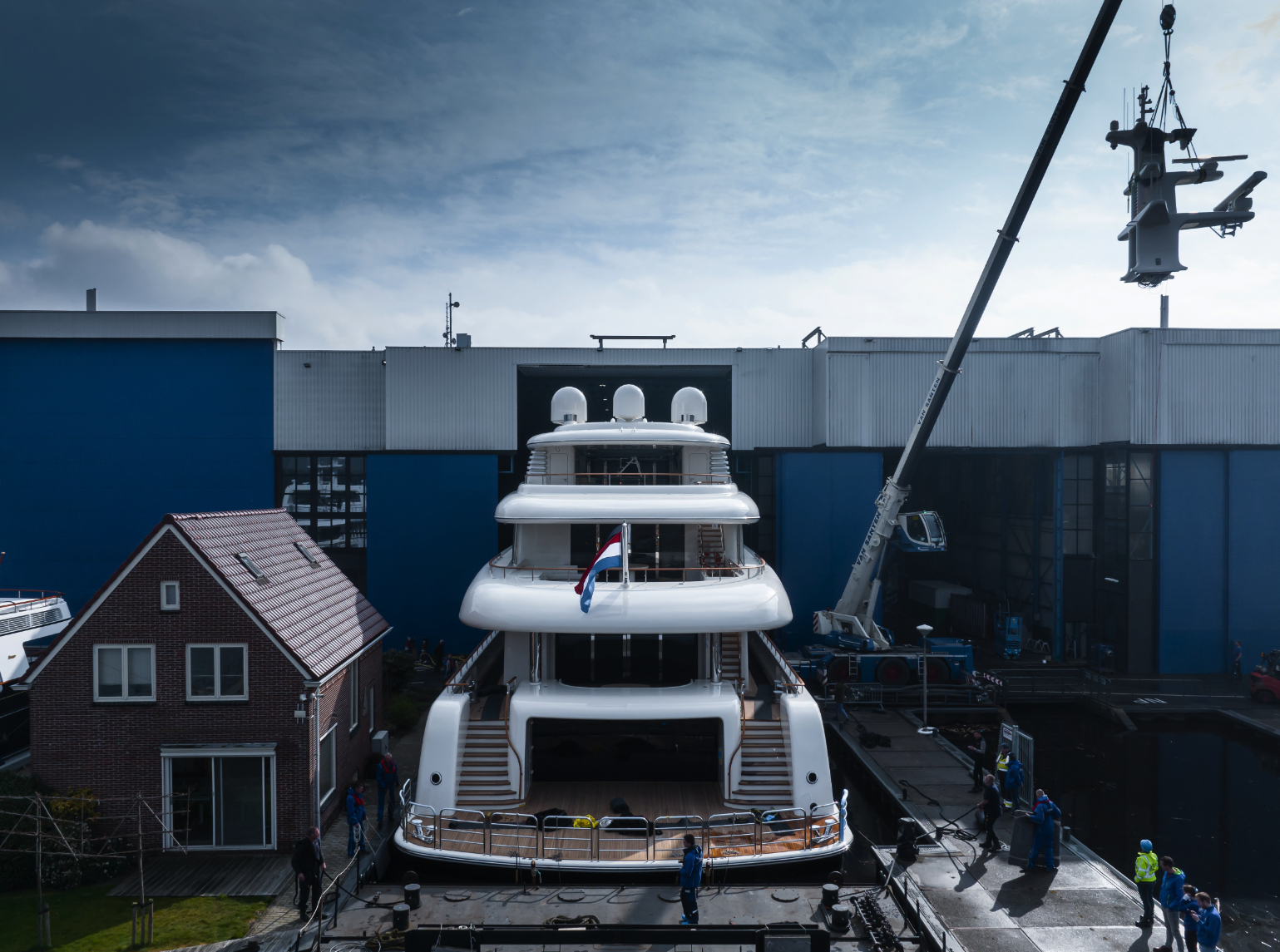 "The main theme of the yacht is strength," says Jan Schaffers, senior designer at Studio De Voogt. "The radii throughout are larger than usual to emphasize this. At the same time we aimed to focus on the length of the yacht by creating uninterrupted lines, for instance in the widebody windows and the superstructure. Together this creates a very unique character."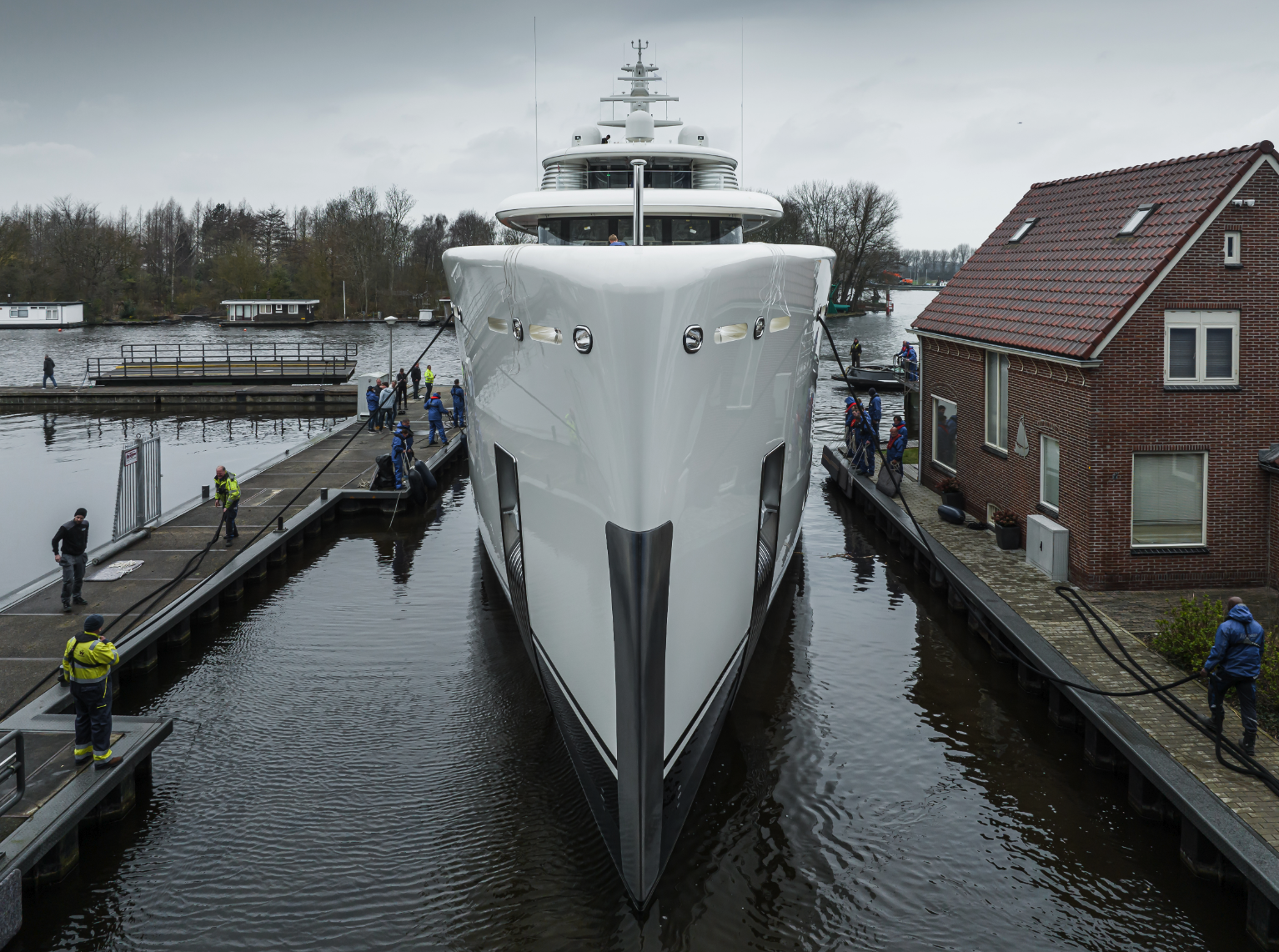 Project 823 built for an experienced owner, that's why the interior layout was tailored to his family's specific needs. Her interiors are simple yet sophisticated and based on natural tones, light wood veneers and organic forms. She can accommodate 10 guests in three lower deck cabins, one VIP suite on the bridge deck, and a master stateroom on the main deck forward.
The large sundeck is one of the highlights of the design. The central lounging / conversation zone is protected from the wind by a glass windbreak and from the sun by the hardtop, but wide side windows and nine skylights in the roof ensure uninterrupted views and en plein air appeal. The ventilation casings can be regarded as powerful legs, clad with grilles that repeat the horizontal lines to create a more elegant volume, but without losing its power. In order to free up space for a large wellness area and gym on the lower deck in the stern, the tenders are stowed behind the high bulwarks on the foredeck.
Careful attention has been paid also to the crew quarters and service areas with additional fridge-freezer storage, a large laundry room and extra dry storage on the tank deck.
Project 823 will be able to reach 15 knots and cruise at 12 knots with the range of 5,000 nautical miles.
Feadship
was formed as a group in 1949 as a marketing partnership between six Dutch shipyards, de Vries Lentch, Van de Stadt, Witsen & Vis, Akerboom, De Vries Scheepsbouw and Van Lent Shipyard, and De Voogt Naval Architects. Feadship is well-known as one of the Netherlands' most elite yacht builders and delivers superyachts from 50–100+ meters in length.
Credits: Feadship