Cantiere Delle Marche
has launched the 43m full custom explorer Acala. Acala has been com­mis­sioned by an ex­pe­ri­enced yachts­man who, over the years, owned yachts built by ship­yards such as Fead­ship, Lürssen, Blohm and Voss. He is a re­peat client for CdM, his pre­vi­ous
Acala
, a Dar­win 102, cruis­ing in the Med but also sail­ing the ex­panses of the Pa­cific Ocean, the At­lantic and reach­ing the wild beauty of re­mote des­ti­na­tions and the best div­ing spots in the world.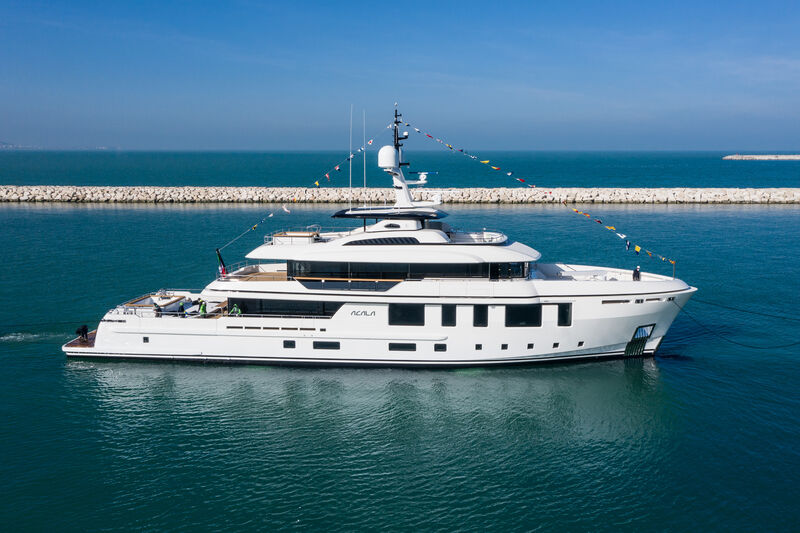 "I am de­lighted and proud of this mile­stone launch. The trust this owner con­firmed in CdM gives us the high­est rea­son for pride. The mu­tual trust es­tab­lished be­tween with this client and CdM team has been piv­otal to the good re­sult of the whole process that lead to the com­ple­tion of such a com­plex pro­ject," says Vasco Buon­pen­siere, CdM's co-founder and sales & mar­ket­ing di­rec­tor.
"The work on tech­ni­cal spec­i­fi­ca­tions has been ex­tremely de­tailed and it lasted al­most 12 months to achieve a dou­ble re­sult: to build a 43-meter yacht with the most de­tailed and com­pre­hen­sive specs we have ever drawn up and to pro­ceed with no need of ma­jor mod­i­fi­ca­tions as con­struc­tion pro­gressed," continues Vasco Buon­pen­siere.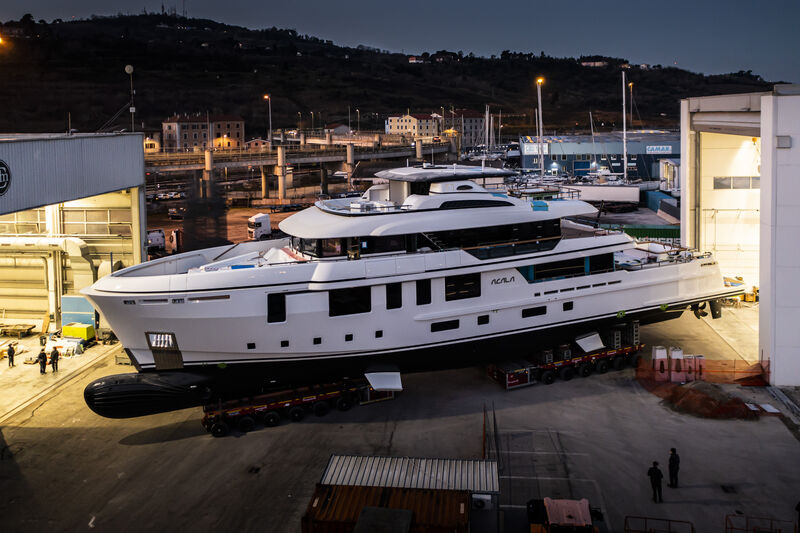 Acala's eye-catching lines were drawn by Viareggio-based Ho­ra­cio Bozzo De­sign. She features a large win­dows on the main deck whose mul­lions seem not to join the su­per­struc­ture that are un­doubt­edly Acala pro­file's sig­na­ture fea­tures. Her full dis­place­ment hull was made by Ser­gio Cu­tolo/Hy­dro Tec. Acala's in­te­rior de­sign was penned by Mex­i­can ar­chi­tect Si­mon Hamui.
Guest ar­eas are spread over three decks and a sun deck. Acala can accommodate 12 guests across six cabins. A large lobby sits in be­tween the main sa­lon and guest night quar­ters. The full beam main deck, from amid­ship for­ward is ded­i­cated to guests and own­ers. Three large VIP's and an owner suite to star­board side are flooded by nat­ural light from large win­dows. Two twin cab­ins are lo­cated on the lower deck.

A spacious panoramic sky lounge located on the up­per deck and includes the din­ing area. A large cock­pit fea­tures din­ing and loung­ing ar­eas, a swim­ming pool and lots of space to re­lax. A par­tially shaded sun deck in­te­grated into the pro­file pro­vides the so­cial hub for Acala's guests with an al fresco din­ing, bar, vast sun­bathing area along­side a sec­ond swim­ming pool. A dumb­waiter con­nects the gal­ley lo­cated on the lower deck to all deck, sun deck in­cluded, to con­vey food and drinks and ease the work of crew.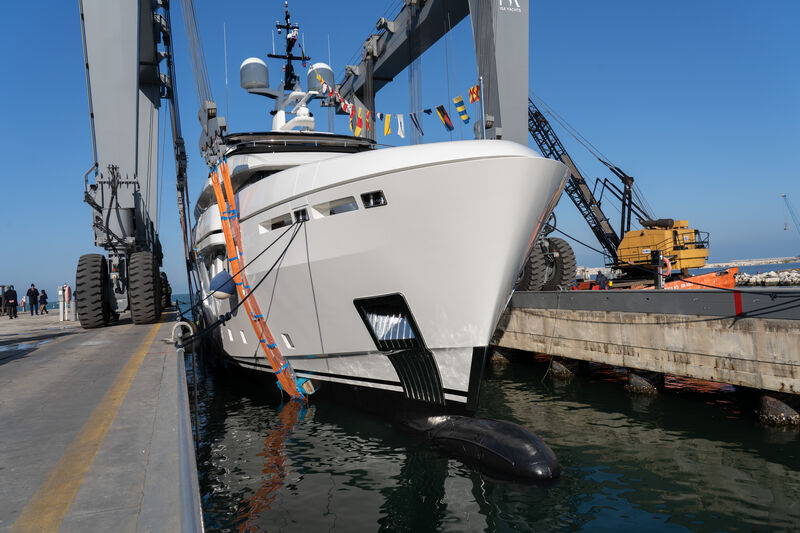 With a to­tal length of 43,10 meters, a beam of 8.60m, thanks to hull geom­e­try, 62 400-liter fuel tanks, and the ex­tremely fru­gal con­sump­tion of her twin Caterpillar C32 Ac­ert en­gines 746kW each, Acala will have a range of above 5 000 nautical miles at 10 knots and a top speed of 14 knots.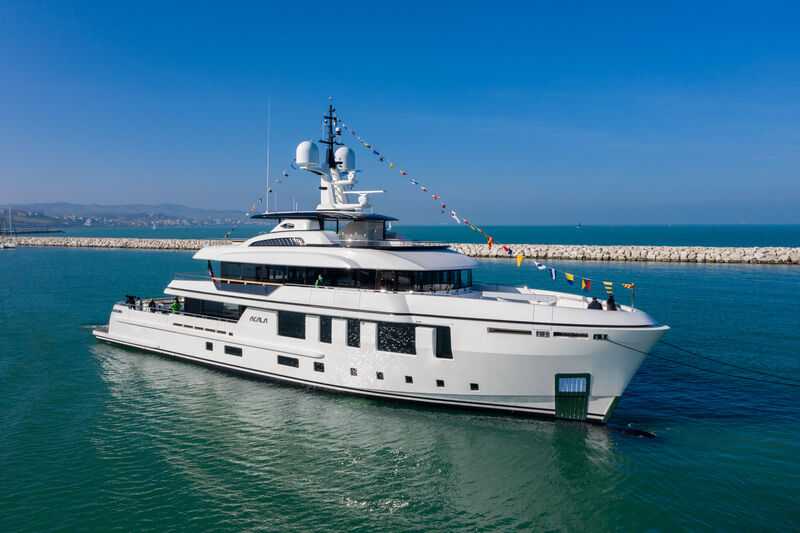 "Be­ing cho­sen by ex­pe­ri­enced own­ers such as this gen­tle­man who de­cided to have his sec­ond yacht built by us, af­ter hav­ing owned yachts built by the most re­puted North­ern Eu­ro­pean brands, is the best pos­si­ble prove that our com­mit­ment, ded­i­ca­tion, tech­ni­cal skills and qual­ity are sec­ond to none," says En­nio Cec­chini, CdM's CEO.
CdM's
story begins in 2010. The facilities cover an overall surface of 16˙000 square meters, including 7˙000 sq. m of workshops and 1˙000 sq. m of docks. Since 2015, the shipyard has been the world's leading builder of explorer yachts. Based in Ancona, Cantiere delle Marche builds yachts from 26m to 43m in length.
Credits: CdM