Cantiere delle Marche
has launched Darwin 106 named
Uptight
. The 32m yacht was built for an American client with specific requests. The owner de­sired to have a re­li­able and com­fort­able ex­plorer yacht to en­joy month­s­long fish­ing ex­pe­di­tions in re­mote and un­con­t­a­m­i­nated seas. The fam­ily, who dreamed about going to Alaska, owns a few fish­er­man yachts and they wanted to add to their pri­vate fleet a slow dis­place­ment ves­sel to en­joy long ex­pe­di­tions from the moment the yacht leaves the quay to the fi­nal des­ti­na­tion. Fast trips to fish­ing spots and adren­a­line fish­ing ac­tiv­i­ties will be held by us­ing the yacht's large 'ten­der', which is a real Amer­i­can Fish­er­man that will be towed dur­ing long trips.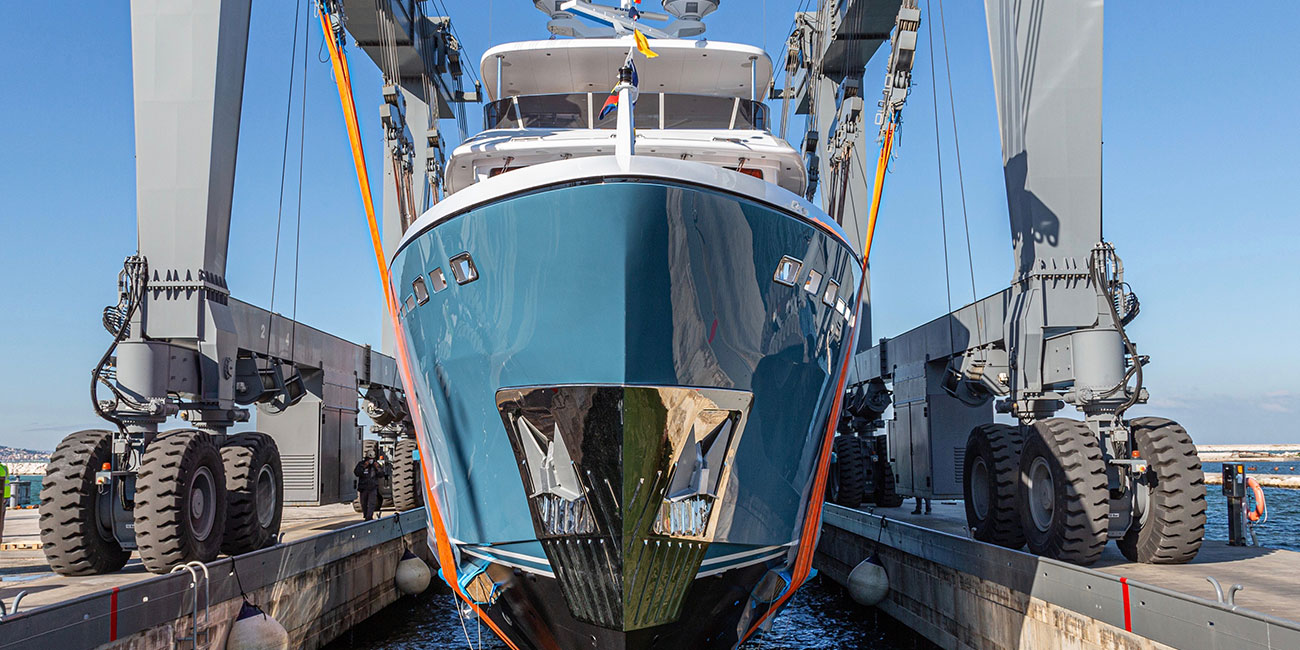 Up­tight
is based on the naval plat­form of the
Dar­win 102
, de­signed, en­gi­neered and mod­i­fied by Ser­gio Cu­tolo/Hy­dro Tec to match her owner's re­quests. Ac­cord­ing to her owner's wishes the yacht fea­tures a specif­i­cally de­signed lay­out with a 'coun­try kitchen' which opens onto the main sa­lon giv­ing the whole en­vi­ron­ment an in­for­mal at­mos­phere and, in­stead of a sky-lounge, the up­per deck hosts a panoramic master state­room. The most pe­cu­liar fea­ture of up­tight is un­doubt­edly the fish­ing cock­pit fit­ted as a sport­fish­er­man's.
The stern plat­form has been trans­formed into an en­closed cock­pit with a bul­wark. A 'bat­tle sta­tion' has been cen­trally placed in the cock­pit, and fish­ing will be car­ried in 'stand up' po­si­tion al­low­ing mul­ti­ple strikes to be man­aged at the same time, giv­ing more fun to the 'fish­ing fam­ily'.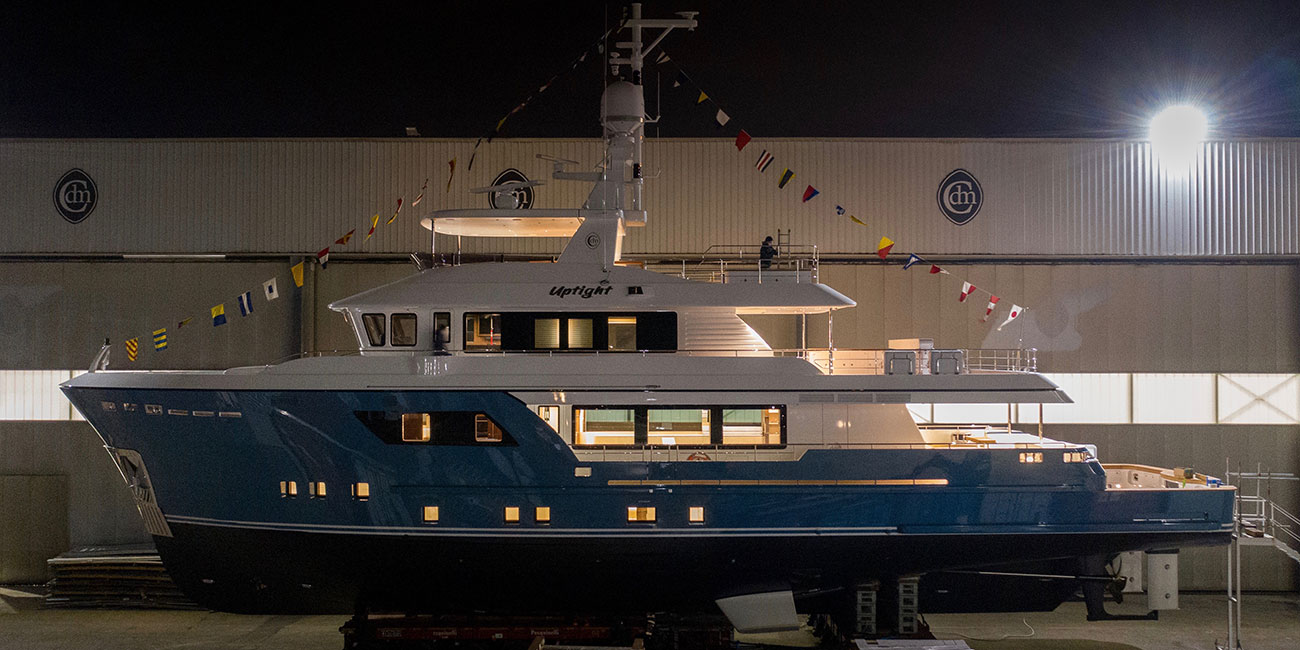 A dou­ble Es­kimo ice maker with both salt and freshwater is in the main cock­pit along­side a few freez­ers lo­cated be­neath the sofa. In or­der to in­crease the range also in terms of food load­ing ca­pac­ity, the stor­age space has been im­proved and op­ti­mized for long term food con­ser­va­tion. An out­stand­ing in­te­rior lay­out makes the most out of the 255GT.
The Uptight's in­te­rior was penned by Francesco Guida. It fea­tures a large main sa­loon with loung­ing and din­ing ar­eas in di­rect con­nec­tion with the gal­ley lo­cated to port side. Three crew cab­ins are lo­cated on the main deck for­ward along­side a crew mess. Five guest cab­ins – two doubles, a large VIP and two twins – are on the lower deck.
"We knew that our ex­plor­ers per­fectly fit­ted with Amer­i­can own­ers' re­quire­ments as for vol­umes, spaces, ro­bust­ness, long range, tech­ni­cal re­li­a­bil­ity, func­tion­al­ity, no non­sense ap­proach and, last but not least, cus­tomer care and af­ter sale ser­vice. It has taken us a few years to pen­e­trate the Amer­i­can mar­ket but we made it, even­tu­ally, as sched­uled," says Vasco Buon­pen­siere, co-founder and Sales & Mar­ket­ing Di­rec­tor at CdM. "The Owner of the Dar­win 106 has a great deal of ex­pe­ri­ence in yacht­ing and is as­sisted by a highly ex­pe­ri­enced team. This means a lot to us. It is proof that we are do­ing our job prop­erly com­bin­ing con­struc­tion and tech­ni­cal qual­i­ties with style and elegance."
To de­liver a top speed of 13 knots the dis­place­ment hull is fit­ted with twin Cater­pil­lar C18 Ac­ert 500kW each. The range of 4 700 nau­ti­cal miles can be reached at around 9.5 knots.
CdM's
story begins in 2010. The facilities cover an overall surface of 16˙000 square meters, including 7˙000 sq m of workshops and 1˙000 sq m of docks. Since 2015, the shipyard has been the world's leading builder of explorer yachts. Based in Ancona, Cantiere delle Marche builds yachts from 26m to 43m in length.
Credits: CdM