The 26m
Princess
superyacht
Vista Me
ran aground on Calvi Beach in Corsica as a result of a severe storm that hit Corsica on 12 August. Torrential rains and wind gusts up to 43 knots hit the Balagne region in the north of the island.
Vista Me
had her mooring line cut off.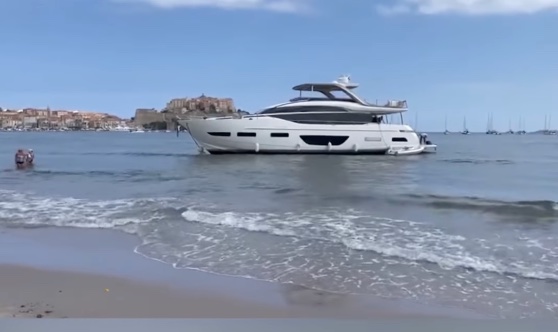 At least six other pleasure boats drifted and ran aground as a result of bad weather, many with torn sails and damaged propellers.
Within 12 hours of the storm, all yachts except Vista Me were refloated.
Vista Me will require an inspection to assess the risk of further damage before she can be removed from the beach.
EN IMAGES - Mauvais temps : la SNSM se multiplie à Calvi - https://t.co/DGzsBmLq2U
Calvi et la Balagne n'ont pas été épargnés par les brèves, mais fortes précipitations qui ont affecté la Corse dans le courant de la nuit de vendredi à samedi. Parmi les nombreuses intervention... pic.twitter.com/TS1ZsNvB6f

— Robot De l'Info (@RDelinfo) August 13, 2022
Credits: @RDelinfo/Twitter; salvage_and_wreck/Instagram