With the yacht season in Europe entering its peak period, the world's leading region by the total number of marinas (from tiny to huge) indeed faces yachts pilgrimage in its waters. Washed by 9 seas and the Atlantic, Europe disposes of over nine hundred seaports, with many of them being worthwhile places to visit.
Yacht Harbour takes a look over 10 out of the most spectacular superyacht ports located in Europe.

#1. Port Vauban, Antibes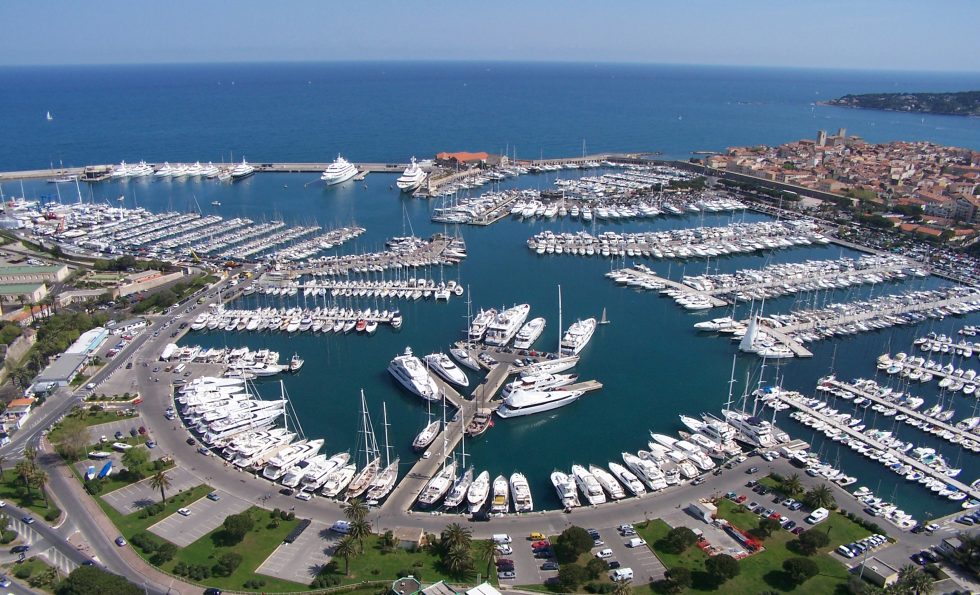 One of Europe's oldest and largest ports,
Port Vauban
is ideally located in the heart of the French Riviera, in Antibes resort, the Alpes-Maritimes department.
The marina disposes of 1,642 berths (with 250 visitors' berths available), including 19 berths for superyachts along the International Yacht Club d'Antibes. Port Antibes is able to accommodate yachts of up to 170 metres in length, with a maximum draft of 7 metres.
Port Vauban Antibes
is hosted by an amazing coastal village, between Monaco and Saint Tropez, with an ancient look that attracts an large number of tourists. Visitors can enjoy sunbathing on unspoilt beaches and visiting superb parks and gardens that form this area's natural heritage.
Rich with natural reservations such as the Exflora Park, the Eilenroc Gardens and the Thuret Park, the location was also in favour of the representatives of the artistic world. For instance, Picasso painted some of his famous painting in Antibes in the old Chateau Grimaldi that is open for visiting today. Those who are passionate about nautical sports will be enchanted by the Antibes Yacht Show that is held each year.
Within
Port Vauban
there is a fuelling station next to the central capitainerie, and all yachts in the port are provided with high-speed broadband internet access as well as shore power and free pump-out of black and grey water. The port is currently monitored by 20 CCTV units, with plans for an additional 165 cameras to be installed, and there is onsite security covering the entire port.
#2. OneOcean Port Vell, Barcelona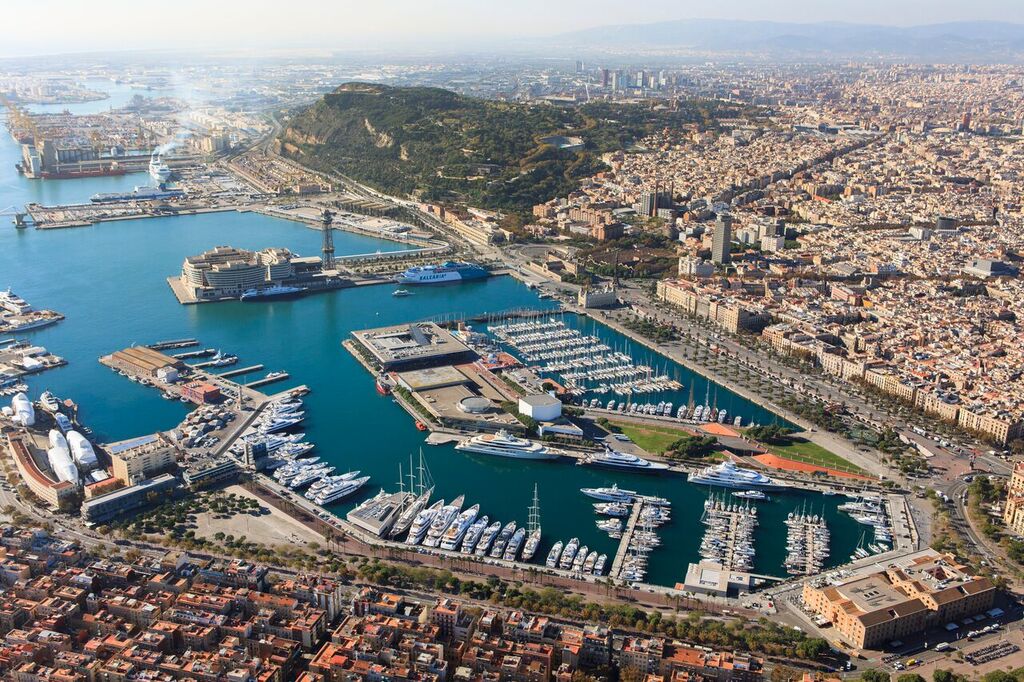 OneOcean Port Vell is a top location for superyachts whose destination is Barcelona. Originally built for the 1992 Olympic Games, the Marina has recently completed its transformation to a 150-berth luxury facility with a full set of basic amenities, creating the ultimate destination for yachts up to 190 metres in LOA.
A masterpiece of architectural design, the marina features a 2,750-square-metre glass gallery whith the port's reception, an elegant crew lounge, a gym and a wellness centre and premium services such as 24h mooring assistance, car parking adjacent to berths, storage facilities next to berths, recycling facilities, tank cleaning, floating platforms, cranes and flatbed trucks with cranes, collection of used oil and waste from works.
Located in the heart of Barcelona, OneOcean Port Vell offers a unique opportunity to explore one of the most vibrant city in Europe. Those who reach this marina will easily access Barcelona's major attractions, while Barcelona's old Customs building is situated right next to the port, demonstrating impressive architecture with its historical beauty.
The marina itself represents a touristic attraction that receives more than 15 million people each year. This magnificent location is a sailor's paradise, thanks to the secluded coves and natural surroundings.
#3. Port Hercule, Monaco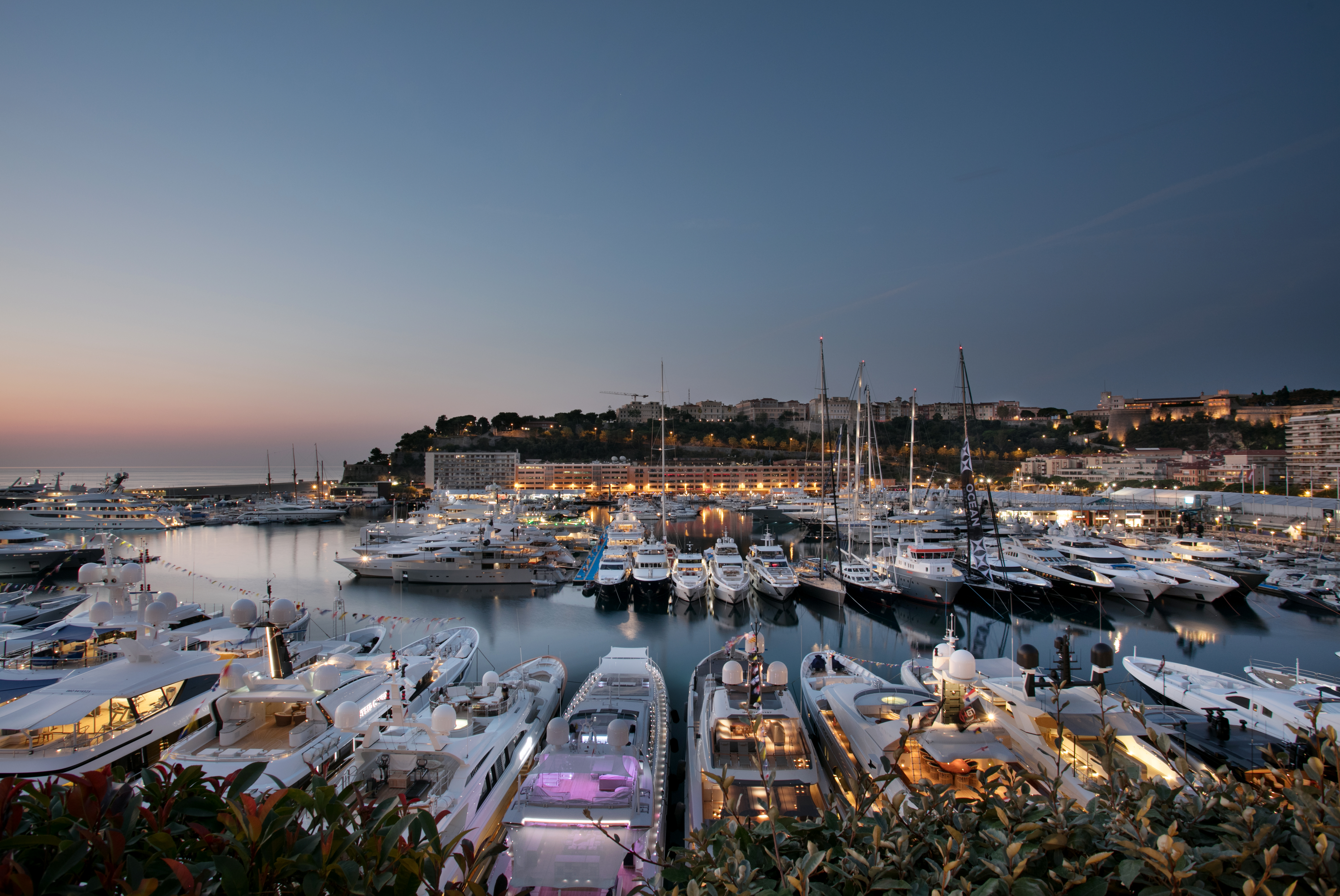 Hosting the most influential events within their fields, Monaco Grand Prix in May and the Monaco Yacht Show in September, Port Hercule represents an opulent extension of all the attributives of Monaco life. Сovering almost 160,000 square metres, the berth provides anchorage for up to 700 vessels of up to 135 metres LOA.
Set amongst the steep rising hills, the impressive setting is the ideal base to explore the sumptuous delights of Monaco and the surrounding area. With a combination of a naturally beautiful setting and a vibrant nightlife, makes Port Hercule a must-visit destination for anyone with a love of sailing.
Located on the French Riviera, Port Hercule represents the only deep water port on this side of the coast. This marina receives millions of tourists each year, attracted to this city's rich culture and the opportunity to spend a wonderful vacation by the Mediterranean Sea.
The natural sights in the area include The Exotic Gardens and the Observation Cave, The Princess Antoinette Park, etc. History enthusiasts will encounter unique collections that are well-preserved in the Museum of Prehistoric Anthropology, the Oceanographic Museum and many more similar institutions. The Monte-Carlo Casino and Opera House, the Monaco Cathedral, the Rock, etc. are top choices of travellers who wish to explore Monaco and its flamboyant image.
#4. Porto Montenegro, Bay of Kotor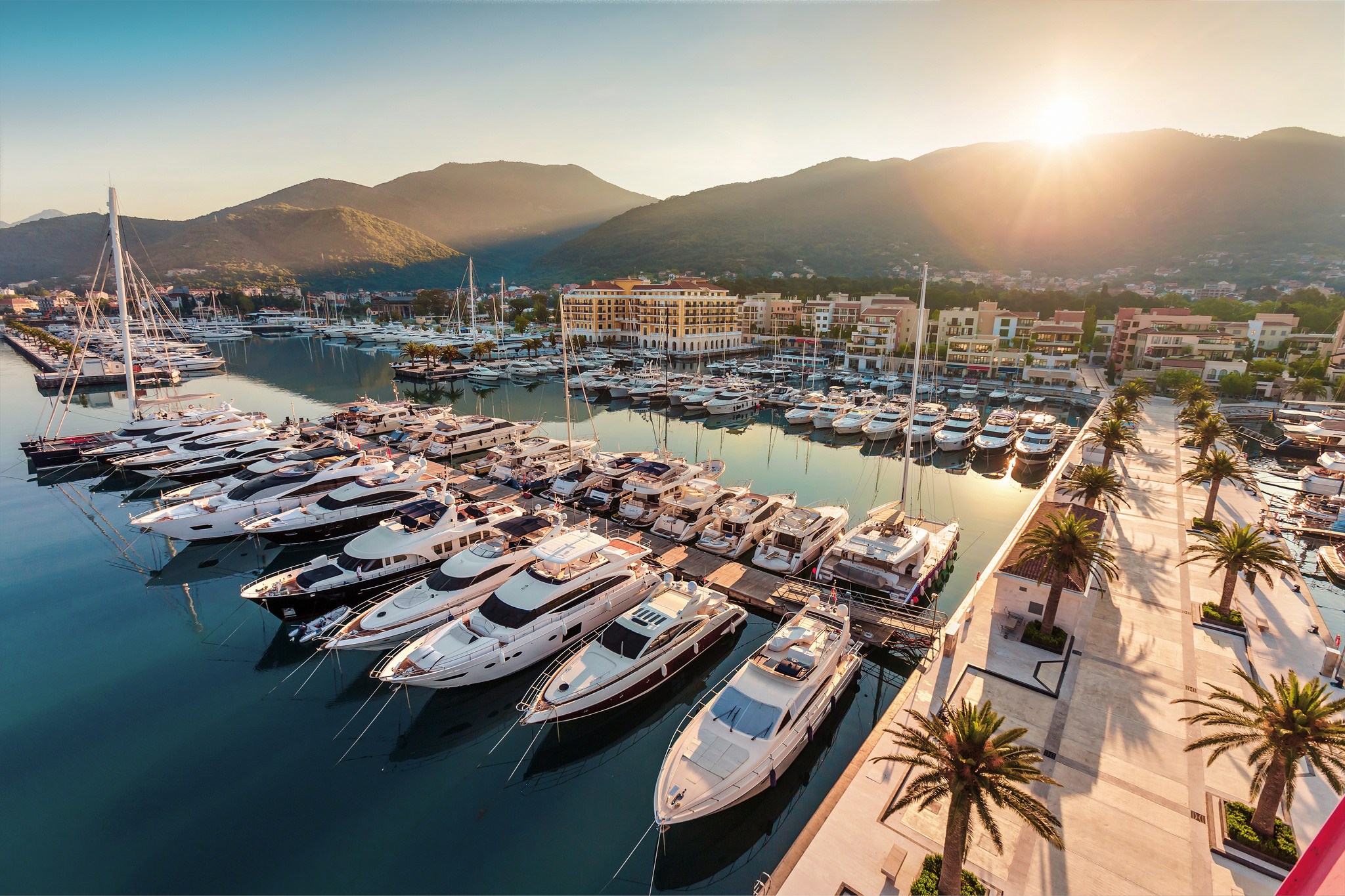 Acquired by Dubai Government in 2016
, Porto Montenegro Marina is a luxury marina by the coastal town of Tivat, on the charming shores of the Adriatic Sea. The largest marina in the region, Porto Montenegro Marina offers 450 berths for yachts of up to 250 metres in length.
Porto Montenegro Marina represents astonishing balance of a true taste, sense of freshness, unique nature, history and avant-garde solutions. Travellers and boat owners who will reach this port will witness impressive waterfronts, turquoise waters and a luxuriant vegetation.
The town of Tivat is a charming settlement surrounded by the imposing Mount Vrmac as a picturesque aspect. Opulent hotels and guesthouses, friendly restaurants and an incredible gastronomy based on seafood and Mediterranean dishes welcome its guests into this paradisiacal environment.
#5. Marina di Porto Cervo, Sardinia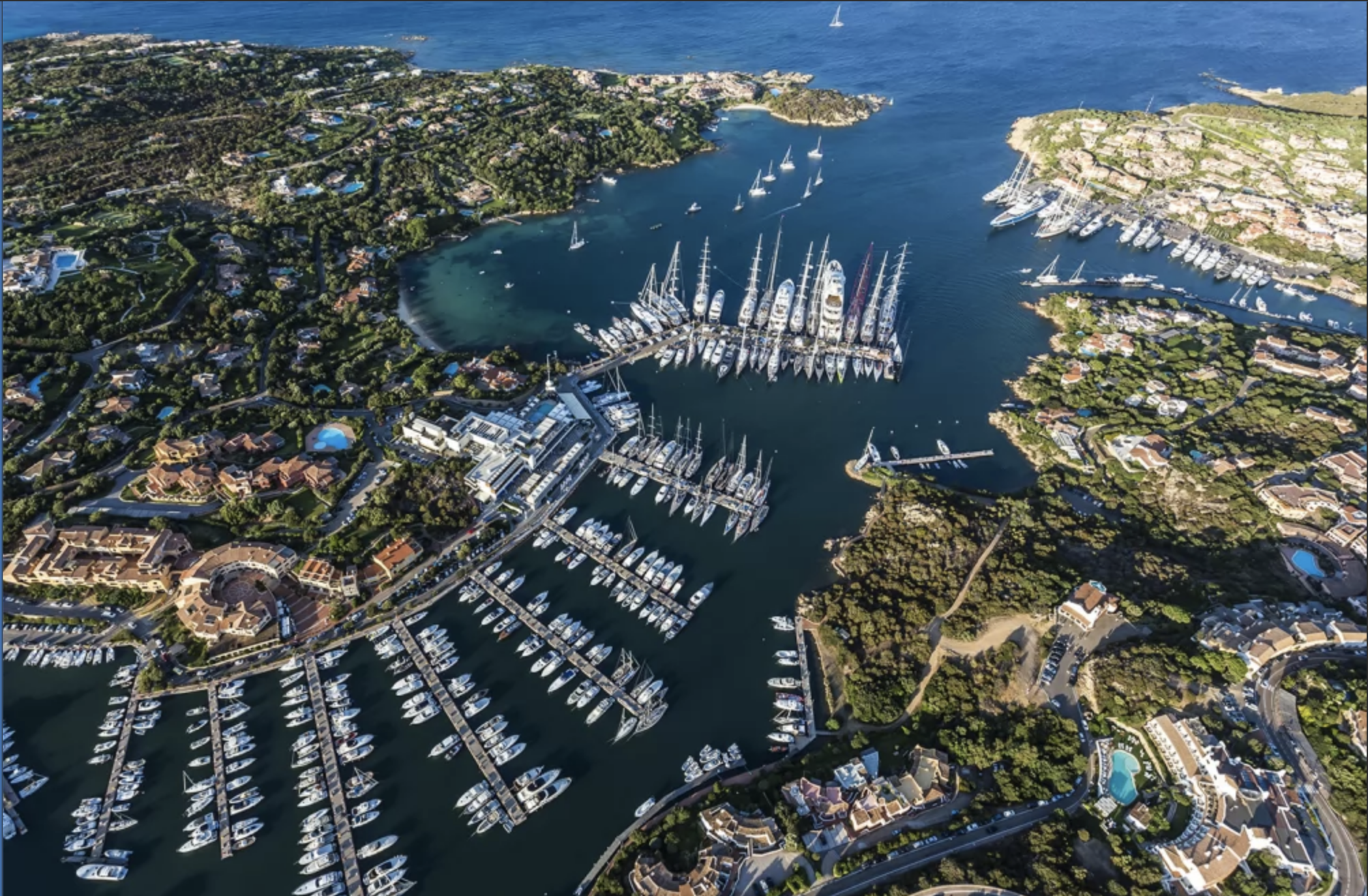 The world's second most expensive marina, Marina di Porto Cervo lays on the northern tip of Sardinia on the famous Costa Smeralda. Berthing fees can easily exceed € 2,500 during the high season, especially during the Deluxe Fair in June and the Maxi Yacht Rolex Cup Regatta in September.
The marina disposes of 60 superyacht berths for yachts up to 100 metres in LOA and maximum draught of 7 metres. This marina is one of the best equipped on this side of the coast and offers an endless list of activities for those who are passionate about nautical activities, water sports and leisure activities.
The surrounding area boasts a mix of unspoilt natural beauty and modern luxurious facilities including clubs and high-end boutiques, fancied by the world's most popular celebrities. Porto Cervo has hypnotic beaches with incredible shades of blue and transparent waters.
#6. Puerto Banus, Marbella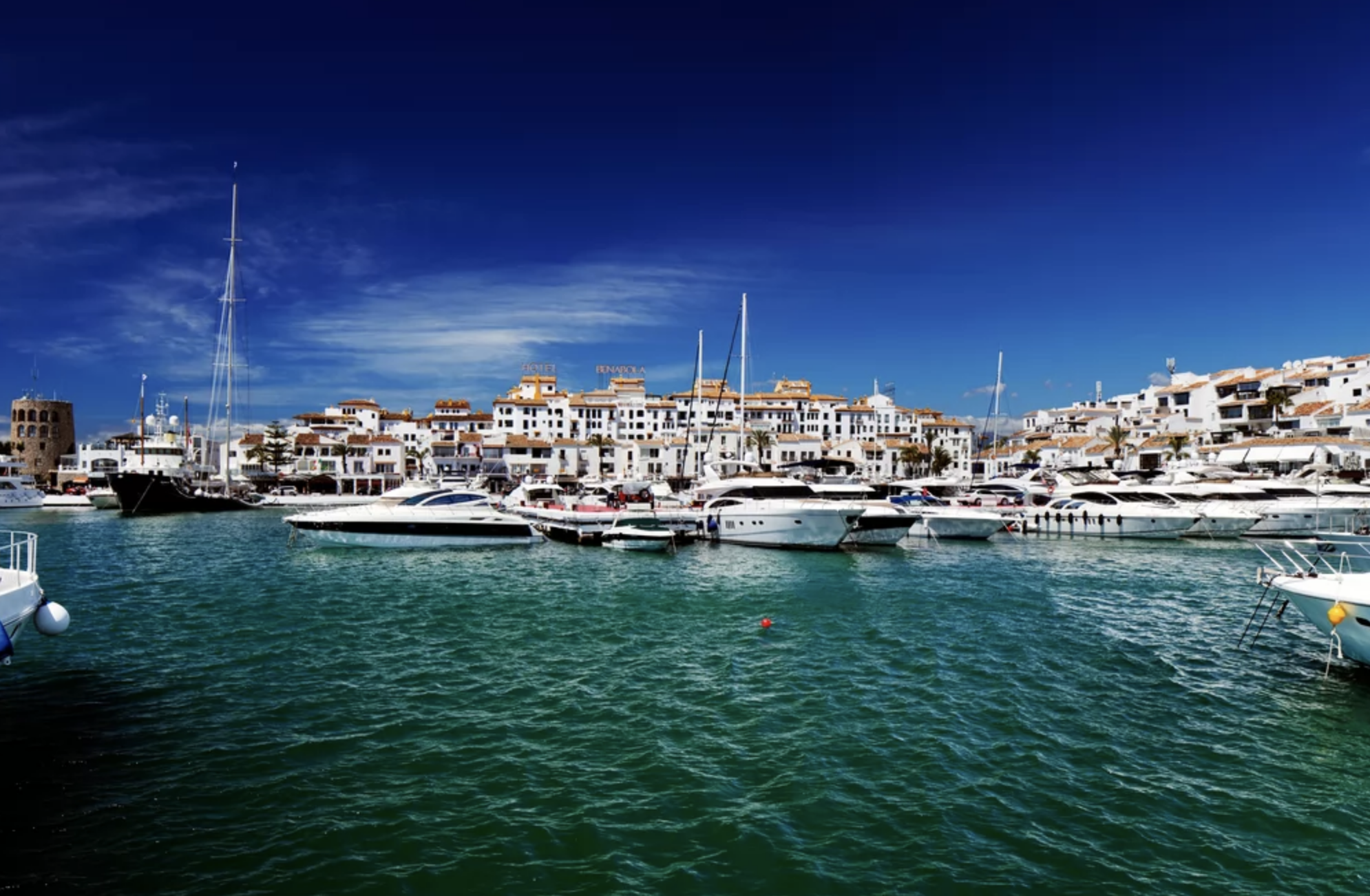 Puerto Banus Marina is hosted by Spanish coastal town of Marbella, in the chic Costa del Sol. Originally built in 1970, the marina covers 150,000 square metres and has 915 berths with a clientele of the richest and most powerful people in the world.
Protected by the Sierra de Marbella mountain range and flanked by beautiful beaches, Marina Puerto Banus attracts an increasing number of tourists thanks to its rich history and a well-reputed culture.
Marbella features its historic charm and many important sights, as well as natural areas and entertaining festivals. Avenida del Mar, the Iglesia Mayor de la Encarnacion, Alameda Park, Museo del Bonsai, are just a few of Marbella's main attractions. Las Murallas del Castillo is a fascinating historic place that was left behind by previous generations.
#7. ACI Marina Dubrovnik, Croatia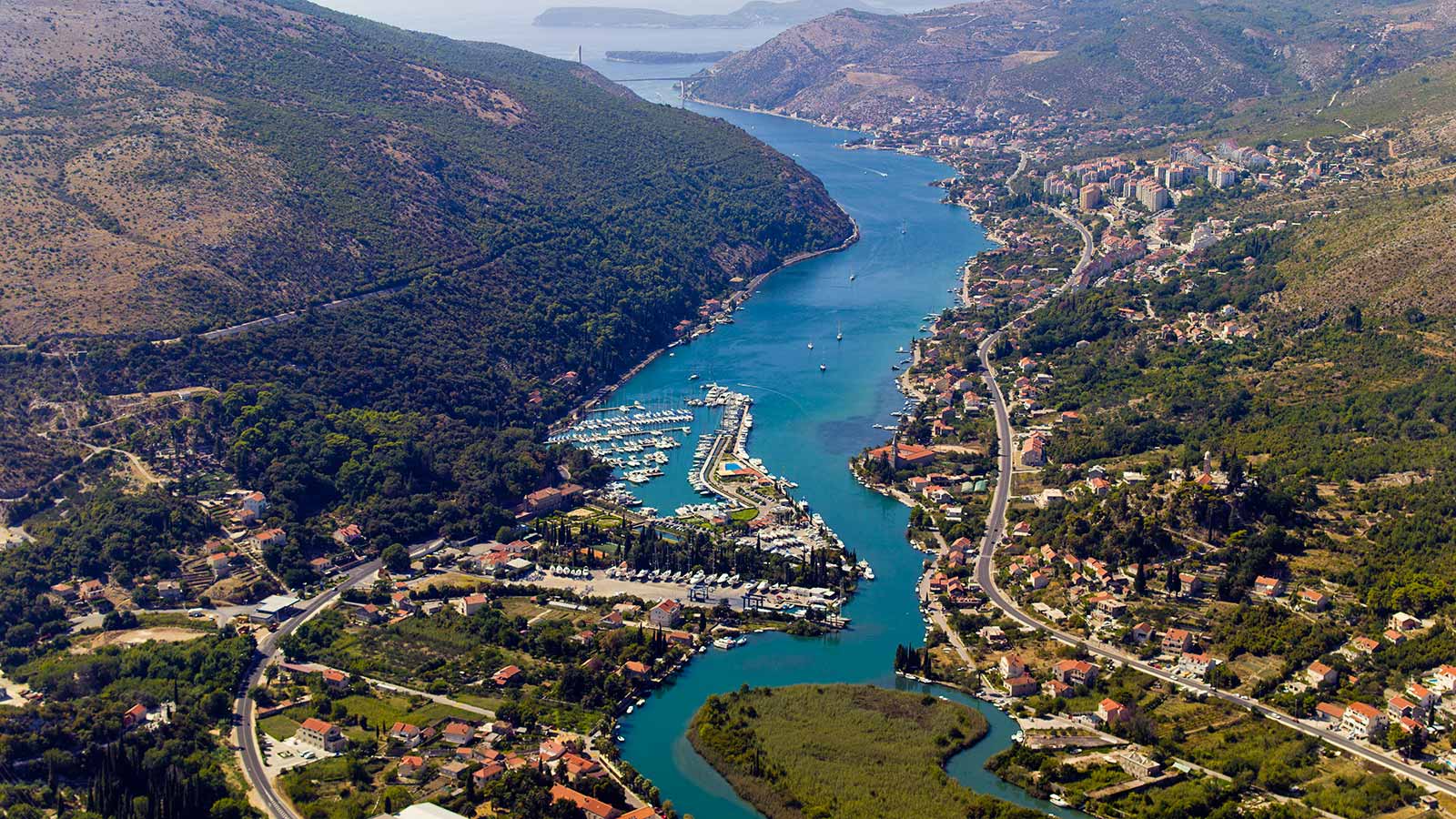 Situated at a UNESCO World Heritage Site in the foothills of Srd hill, only 6 kilometres away from the centre of Dubrovnik, this marina is famous for its "Blue Flag" award winning clean sea.
Voted best marina in the Adriatic in the "Flower of Tourism- Quality for Croatia" competition for three consecutive years, ACI Marina Dubrovnik boasts 380 berths and 140 dry berths, able to accommodate yachts up to 60 metres in LOA.
The coastal area of the Dubrovnik region, comprising the islands of Korčula, Mljet, Lastovo and the Elaphite archipelago, as well as the Pelješac peninsula, makes ACI Marina Dubrovnik an ideal starting point for a complete boating adventure.
The visitors will be able to explore Dubrovnik's undersea world and protected underwater archaeological sites, along with exciting adventures in Prevlaka Park.
#8. Grand Harbour Marina, Malta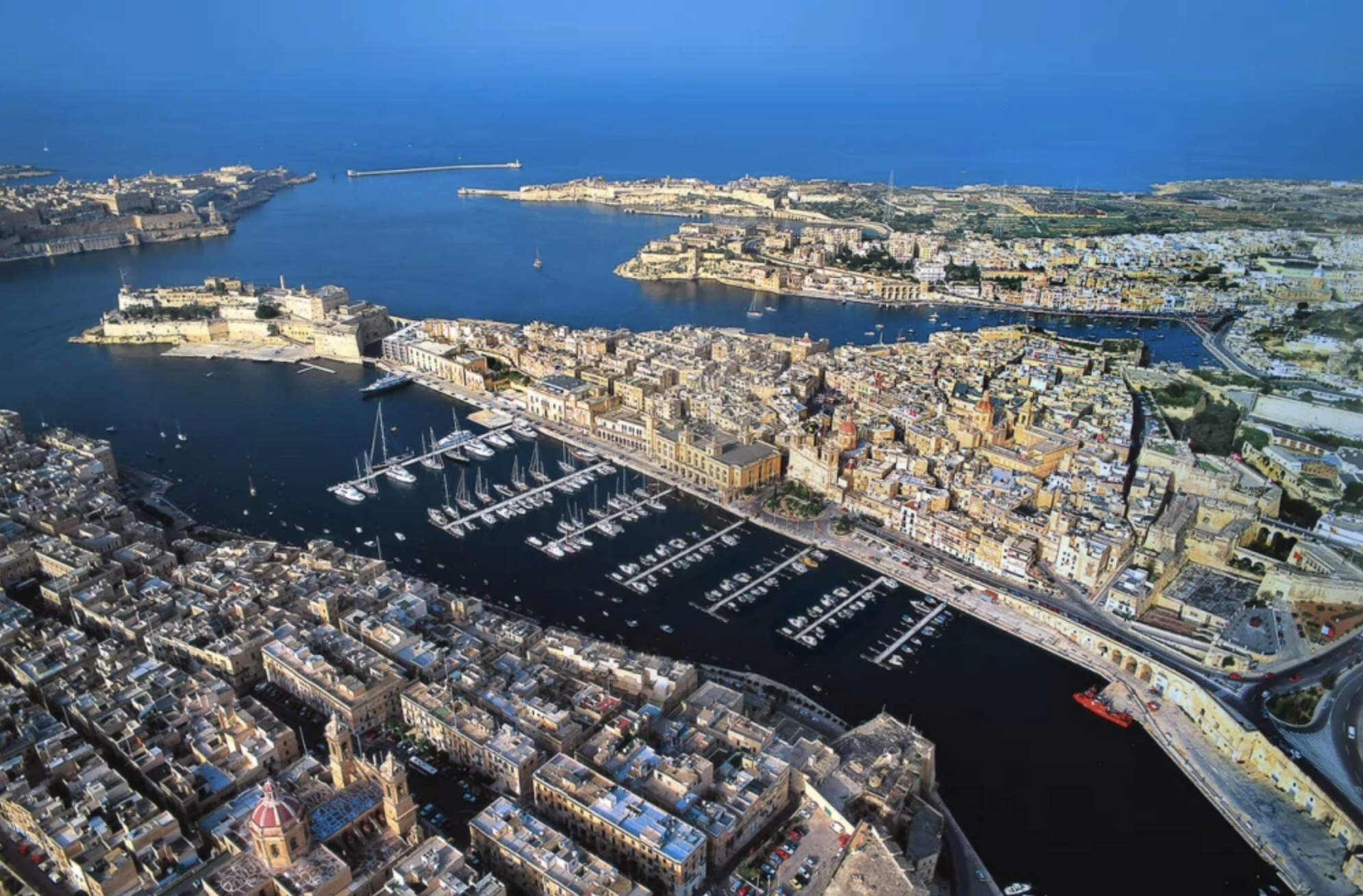 Grand Harbour Marina is located in the central region of Malta, a splendid area in the Mediterranean and a fascinating historic location that belongs to the UNESCO Heritage. The port comprises 240 berths, able to accommodate vessels of up to 135 metres in length.
The port offers all the basic marina services, along with a set of extra facilities that include technical assistance and repairs, travel lift, fuel bunkering, and what is most important for a perfect holiday, nearby dining facilities and bars.
Some of the most renowned natural treasures in the area comprise mesmeric sandy beaches, Blue Grotto, the amazing Gozo Island where nature seems untouched by modern times. Gozo Island is also a home to the famous rocky formation known as the Azure Window.
Other attractions are the Golden Bay Beach, a tranquil getaway, the Blue Lagoon on Comino Island, with its terrific turquoise water, the scenic Dingli Cliffs where one can admire a breathtaking view of the sea. What is more, Malta is rich in historic attractions, fine dining places, and souvenir shops.
#9. Marina di Portofino, Liguria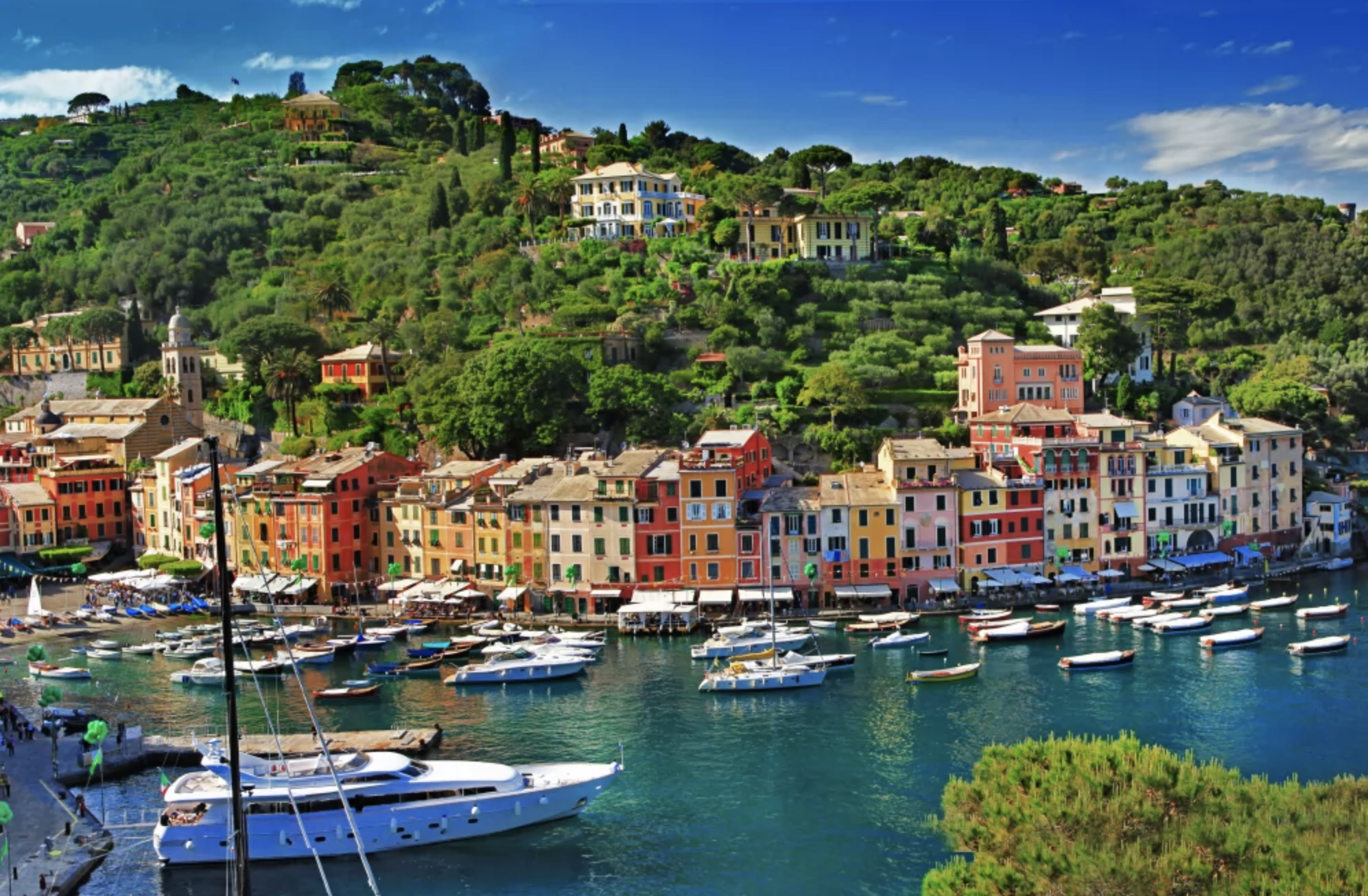 One of the most exclusive Italian marinas, Marina di Portofino is a former fishing village famous for its stunning landscape, picturesque houses and a tiny quaint harbour. Lying on the Italian Riviera of the Ligurian Sea, this place is highly appreciated by celebrities, politicians, aristocracy and footballers, representing a genuine billionaire's playground.
The marina has only 14 berths for yachts of maximum 70 metres in length and a maximum draught of 4 metres.
Marina di Portofino lays in an impeccably natural environment that is filled with forests, beaches and historical monuments. Colourful buildings and homes can be seen on romantic waterfronts of the fishing village.
Some of the main tourist objectives are the Statue of Christ of the Abbys, the 16th century Castello Brown, the Oratory of Santa Maria Assunta, etc. Additionally, gothic architectural elements and classic buildings can be also witnessed seen there, within the hidden gem of the Italian coast.
#10. Port Adriano, Mallorca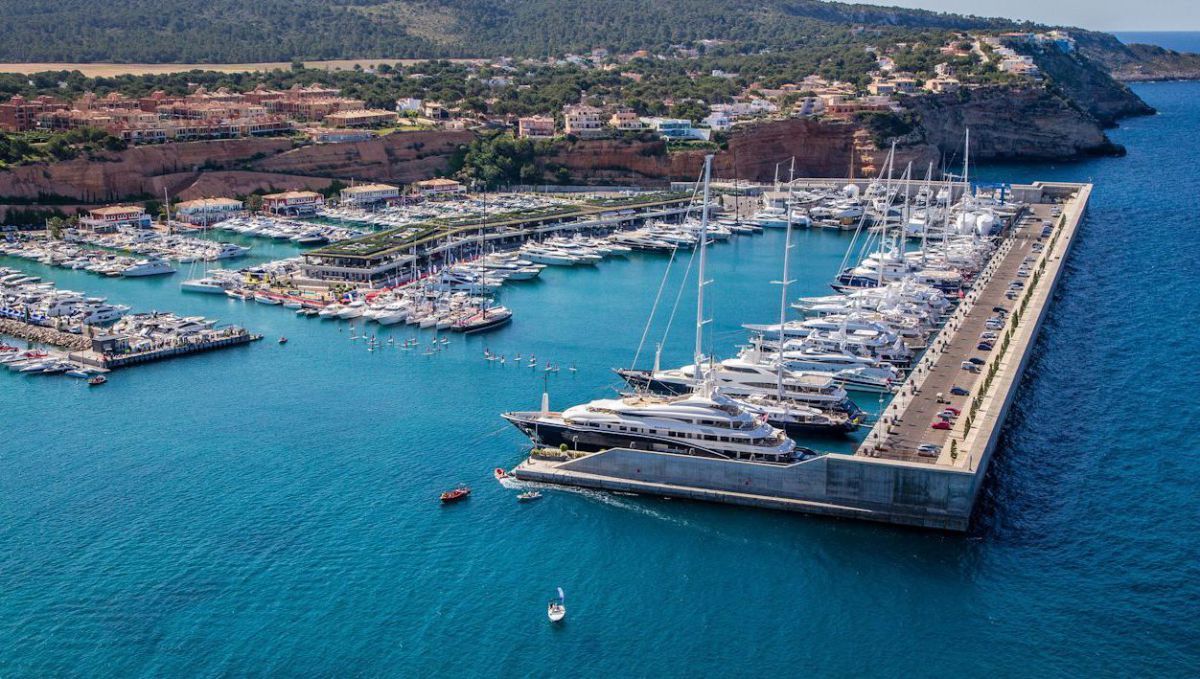 Designed by Phillipe Starck, the Port Adriano harbour is situated just 9 km to the South-west of Palma de Mallorca. The marina boasts a total of 488 moorings from 6 metres up to 80 metres and a maximum capacity of up to 100 metres.
Surrounded by areas of great natural beauty for sailing and other nautical sports, the marina makes an ideal base for exploration of Mallorca's beautiful coast. That comprises the Malgrats Islands, the coast of El Toro and the North coast of Mallorca, recently declared a World Heritage Site by UNESCO.
Those who reach this destination are eager to explore the astonishing city of Palma de Mallorca, where superlatives are used at every step of the way. Along with a distinguished maritime life, tourists will not only discover hypnotising flora and fauna, but also rare bird species and over 1,000 animal species that live here. Calvia's tourism is extremely well-developed, which is why tourists from the entire world can find luxury accommodation services by the beach, with green areas and a romantic environment.