#1.
Project Thunder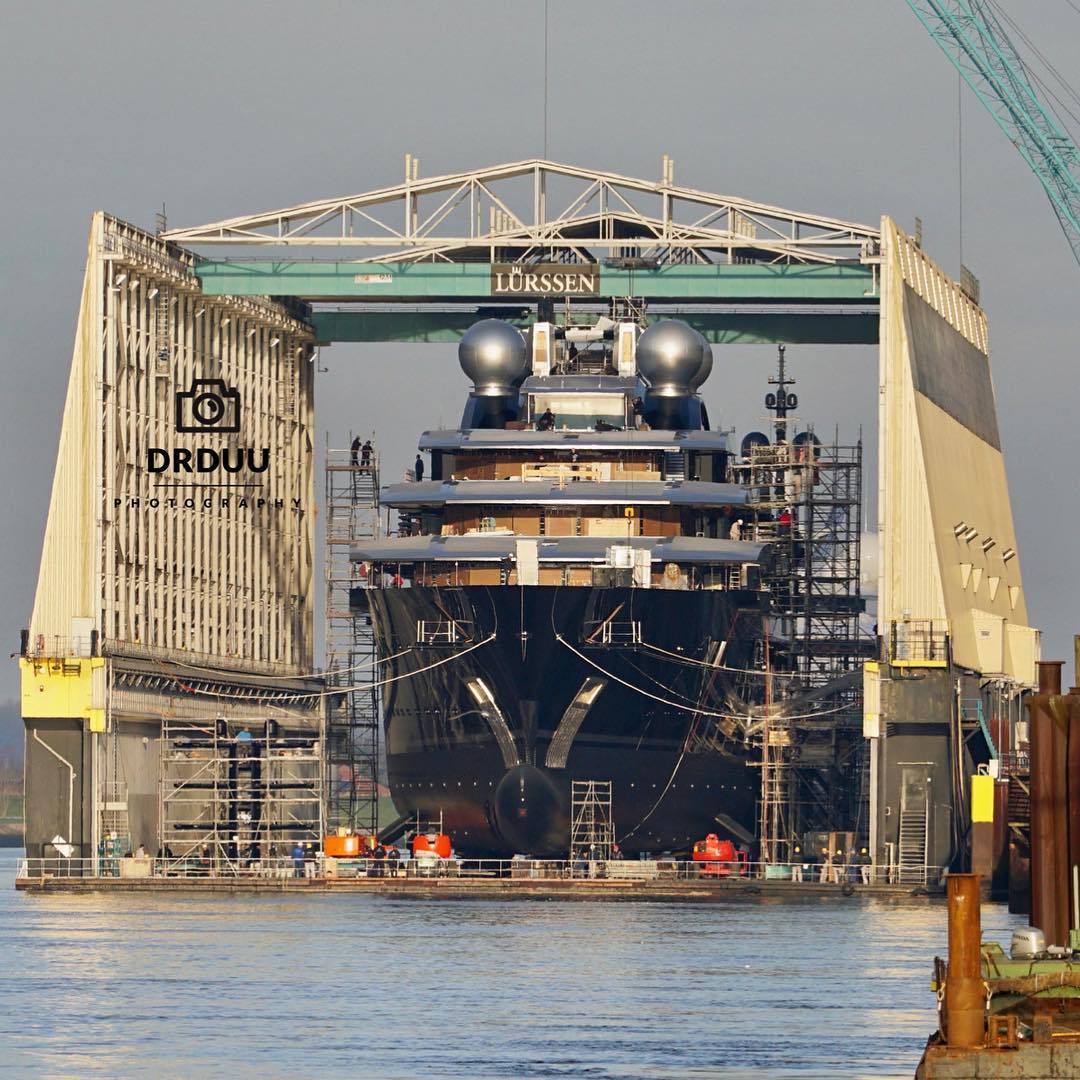 Length:
135m


Builder:
Lurssen
A most eagerly anticipated in-build of the German mega-yacht manufacturer, measuring 135 meters and known as project Thunder, was launched on April 3 at Lurssen facility in Bremen.
The project's codename derives from Leigong, or Lord of Thunder, in Chinese mythology. Due for delivery towards the end of 2018, the colossal leisure vessel is expected to cruise mostly in Asian waters. The elegant profile of the five-deck steel-hulled yacht is reportedly a creation of the acclaimed naval architect Espen Oeino. Meanwhile, the interior designer is yet to be announced.
#2.
Jubilee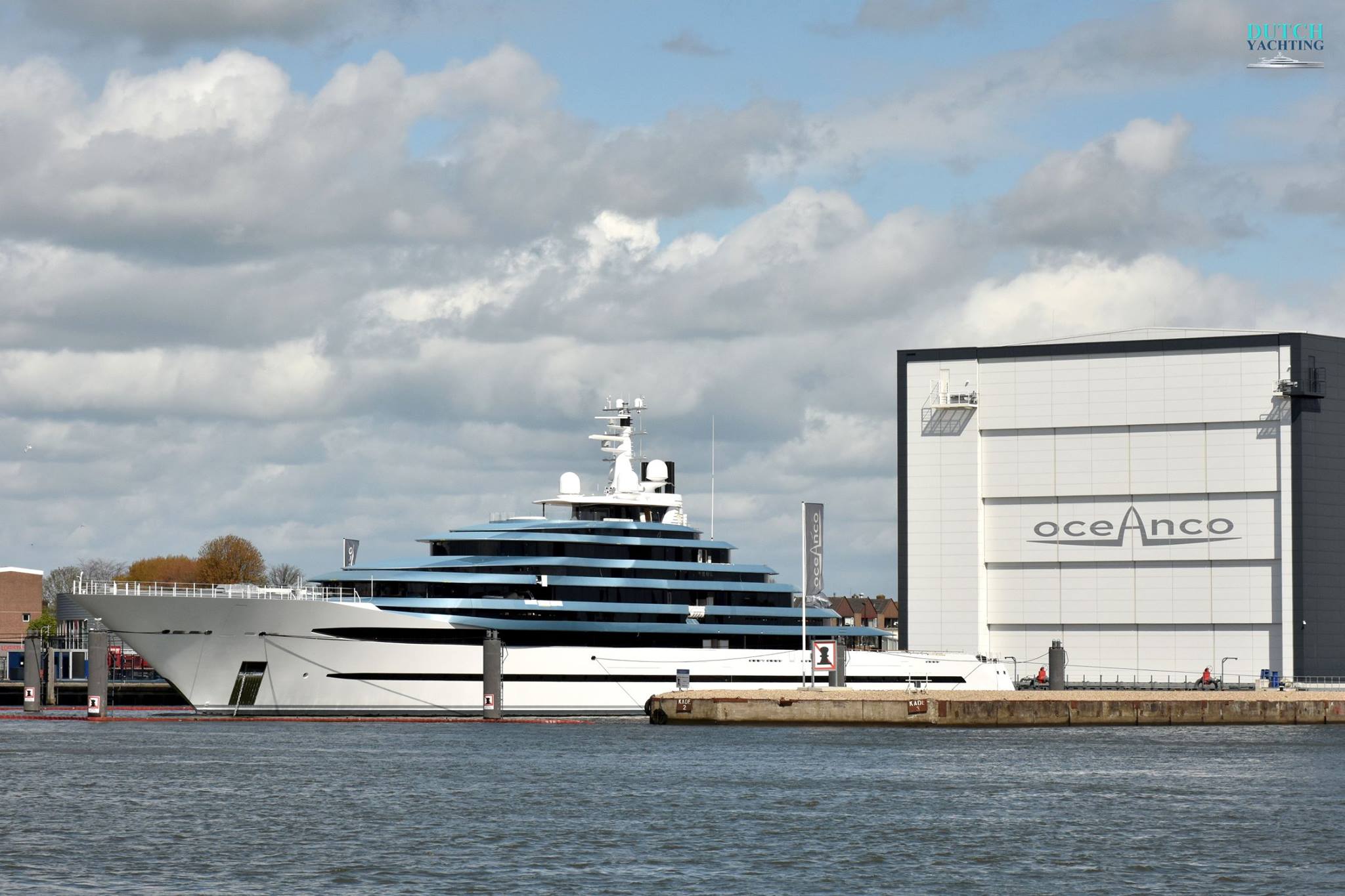 Length:
110m
Builder:
Oceanco
Launched on February 6, the largest yacht ever built in the Netherlands, the 110-meter Jubilee was delivered by Oceanco in July. The boat was ordered by the former emir of Qatar, but, following his death, she was put up for sale through Burgess.
The Italian-based designer of Russian origin, Igor Lobanov is responsible for her architecturally challenging exterior, which creates a visual effect of multi-level decks. The mega-yacht boasts a fully certified helicopter operating deck forward with a concealed mooring deck below. Viewed from above, her curvaceous lines lead aft to a large pool deck with a built-in aquarium and a substantial beach club. Jubilee can carry a total of 30 guests in 15 staterooms, including an entirely private owner's deck, as well as a crew of 45, within her interior styled by Sam Sorgiovanni from Australia.
A noteworthy fact about Jubilee is that she was conceived as a turn-key project offered at her delivery with a complete set of tenders, watersports equipment, china, crystal, silverware, linen, loose furniture, et c.
Powered by twin MTU engines of 4.828 hp each, Jubilee can reach a maximum speed of 18.5 knots and cruises at 14 knots for up to 5.000 nautical miles.
#3.
Aviva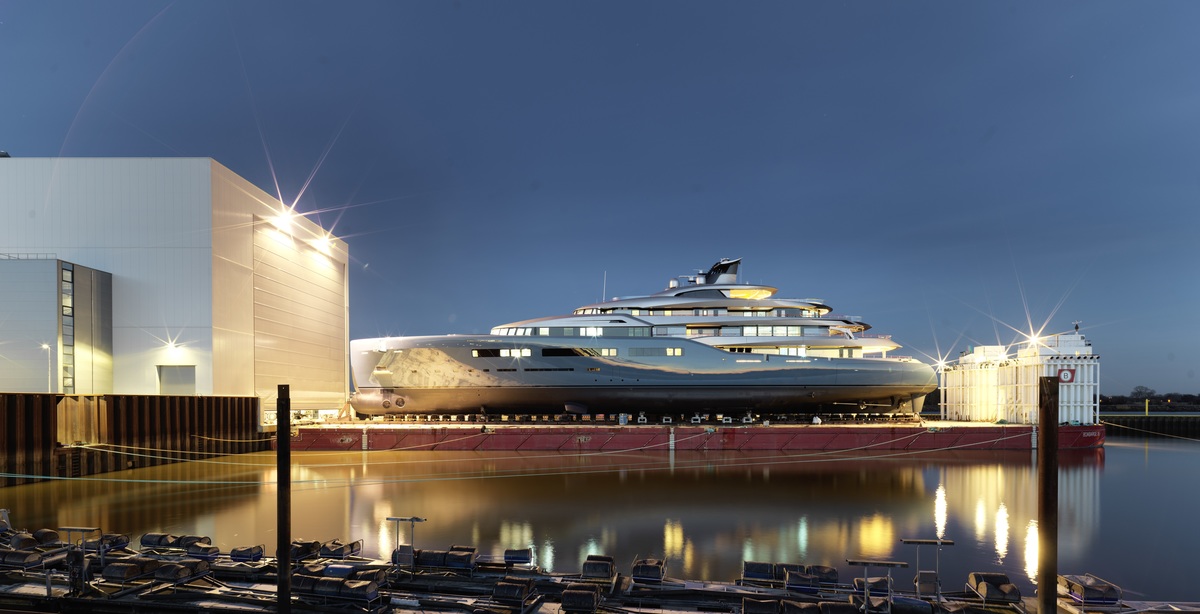 Length:
98m
Builder:
Abeking & Rasmussen
Built by Abeking & Rasmussen for Joe Lewis, the 98-meter superyacht launched on January 9 became the 4th Aviva in the UK billionaire's fleet.
This latest Aviva boasts exterior and interior design by Reymond Langton that teamed up with Toby Silverton to developed her sleek and elegant profile. The boat's modern interior notably features a 20 meters x 10 meters x 6 meters tennis court. Her efficient hull shape is said to reduce drag by up to 20%. While she cruises at the maximum speed of 30 knots, a very special hybrid drive system allows Aviva to run at up to 11 knots, using electric motors only.
Aviva was launched on January 9. The shipyard prepared a special launching system for the new yacht. A large pontoon from Norway had been shipped in and moored in front of the new building shed. A special hydraulic platform trailer with 60 wheels moved the mega-yacht onto the pontoon.
#4.
Project Fiji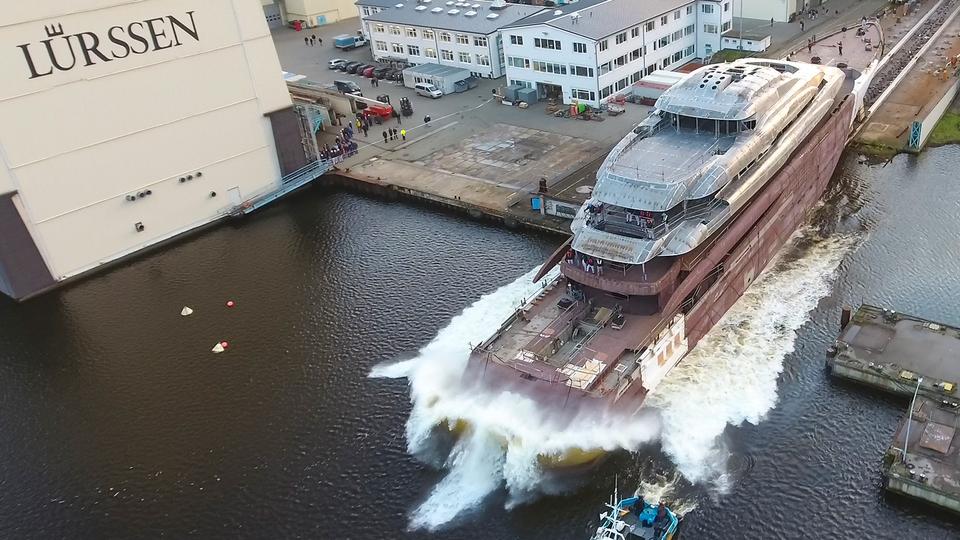 Length:
95m
Builder:
Lurssen
The 95-meter Lurssen project Fiji was spotted splashing down the slipway on October 27. The gigantic in-build is developed under the supervision of Moran Yacht & Ship, representing the owner, who is a long-standing client of the brokerage firm for some 15 years. According to the contract signed in 2015 at the Fort Lauderdale International Boat Show, the yacht is scheduled for delivery in 2019.
The UK-based designer Harrison Eidsgaard, in charge of the boat's exterior, gave her harmonious proportions, so that, with her solid hull and a beam of 14m, she still boasts sleek and elegant contours. The abundance of volume allows for a large beach club and a Spa area with a sea terrace on the lower deck. The bow hosts a certified helicopter landing area. The sun deck aft offers a hidden crane in the bulwark to handle an aeroboat.
The interior layout was designed by Laura Sessa studio, known in the yachting world for collaborations with Amels. The living space can best be described as contemporary modern. The upper deck aft features a walkable skylight and an integrated fireplace for cozy moments in the evening.
#5.
Areti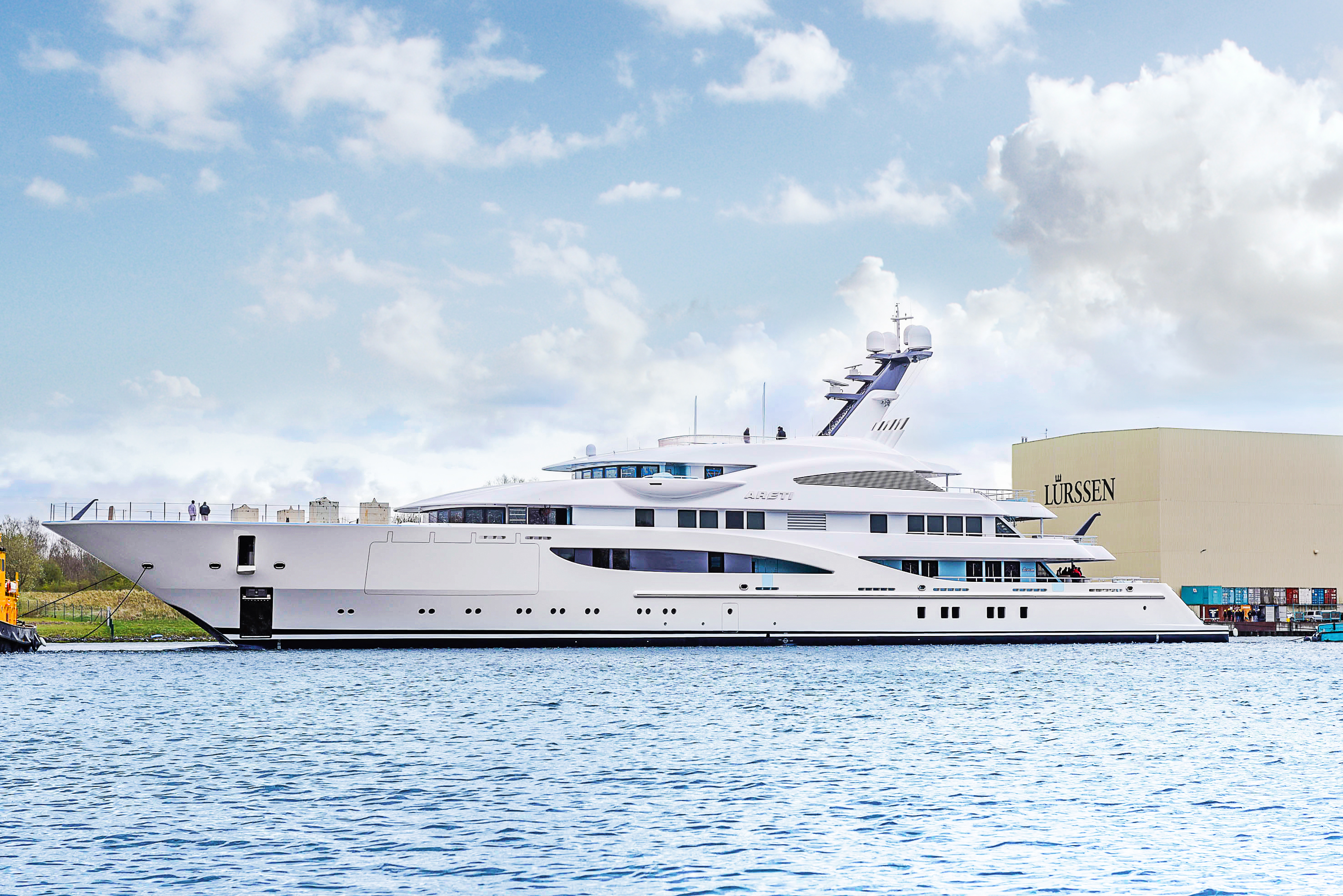 Length:
85m
Builder:
Lurssen
The 85-meter Areti, formerly known as project Sasha, was launched by Lurssen on April 10, and then delivered to her owner in July this year.
British studio Winch Design was appointed to make both the exterior and the interior design of the luxury yacht, giving her a sleek and perfectly balanced profile complemented by a traditional, yet fresh indoor styling.
The subtle cream hull in steel, along with the white superstructure with gray accents resemble her owner's previous yachts. Areti is a voluminous boat, featuring an enormous master suite with eight spacious guest cabins. Many of her entertaining areas impose a beach-chic vibe, without sacrificing her elegance.
On the lower deck aft, one can find a Spa complete with sauna, hot tub, full depth plunge pool and experience showers. This area further extends to the beach club, which in turn, opens up to the vast swim platform. Owners can enjoy their private deck area, boasting its own Jacuzzi, forward of the master suite. And certainly Areti would not be complete without a certified helipad.
#6.
Cloud 9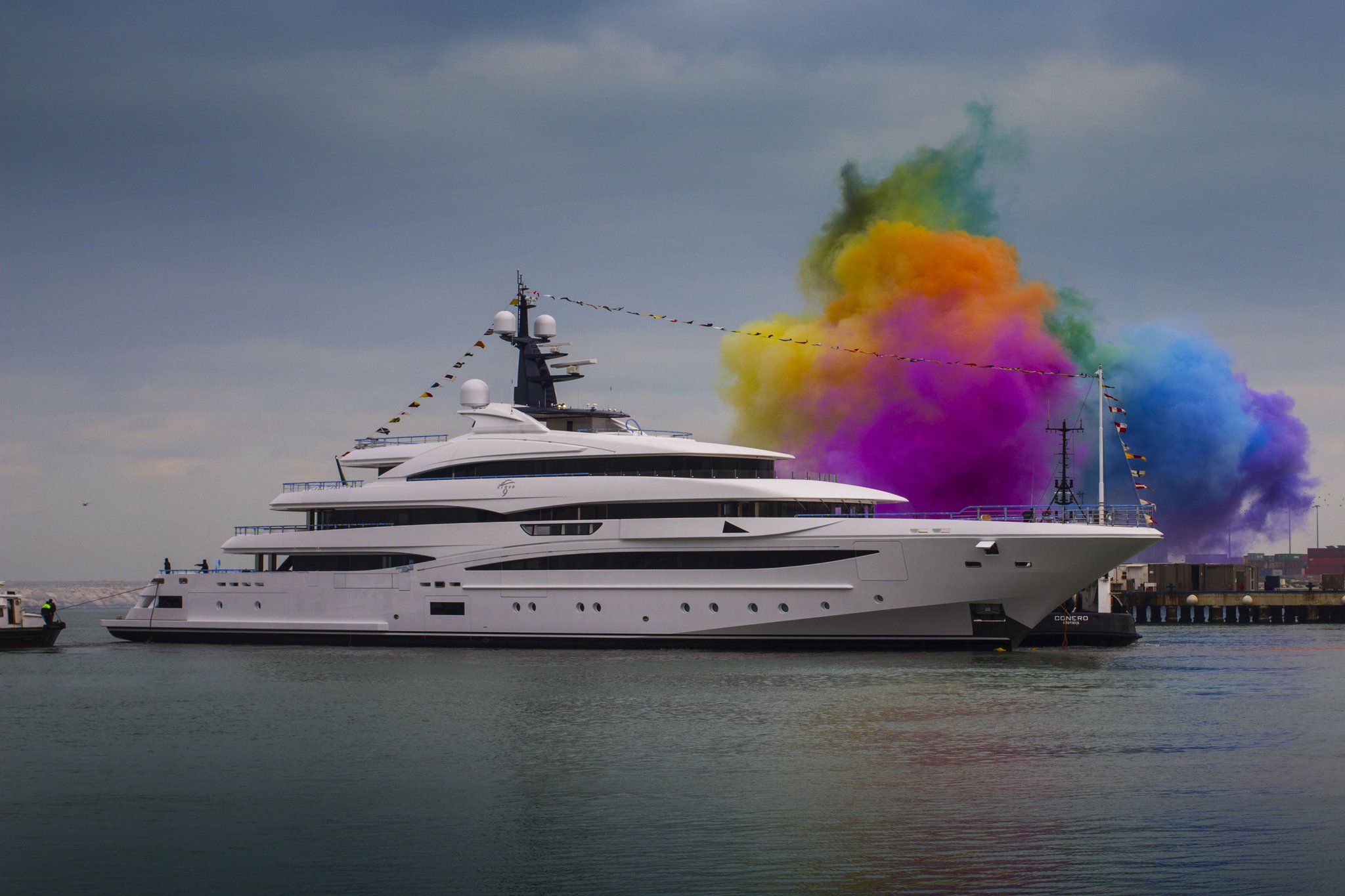 Length:
74m
Builder:
CRN
Launched by CRN on January 21, the 74-meter Cloud 9 made the shipyard's second largest yacht to date, outranked only by the 80-meter Chopi Chopi.
With an exterior by Zuccon and an interior by Winch Design, the superyacht is able to accommodate up to 16 guests in a master suite, a VIP suite and 6 guest cabins catered to by a crew of 22. Focused on a free interior-exterior flow, Cloud 9 boasts over 1.000 square meters of livable space. Among the boat's key amenities are a private deck, complete with an intimate lounging area, forward of the master cabin, and an extensive beach club with an extended platform.
From a technical standpoint, the yacht is featured by twin Caterpillar 3516C engines of 2.680 hp each, giving her a top speed of 16.5 knots and a cruising speed of 15 knots.
#7.
Aurora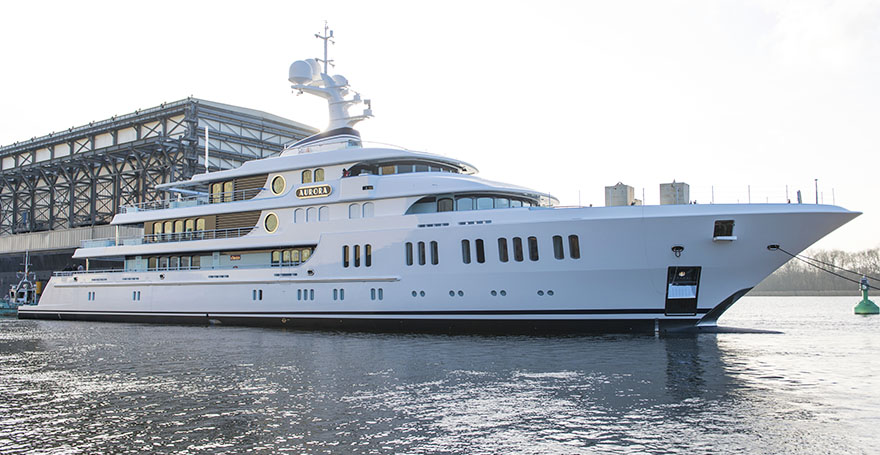 Length:
74m
Builder:
Lurssen
Lurssen launched the 74-meter Aurora at their facility in Rendsburg on March 14, with Moran Yacht & Ship confirming the delivery in June. Previously known to the public as project Thor, the superyacht conceived by Winch Design was commissioned back in the first quarter of 2014 through Moran Yacht & Ship.
Within her interior volume of 2.113 GT, Aurora features accommodations for 16 guests in eight well-appointed staterooms. The indoor styling is inspired by the early 1900s Art Deco era. The owner contributed to the design of the master suite, featuring a collection of antique artworks.
Powered by twin MTU engines, Aurora reaches a top speed of 18 knots and comfortably cruises at 16 knots.
#8.
New Secret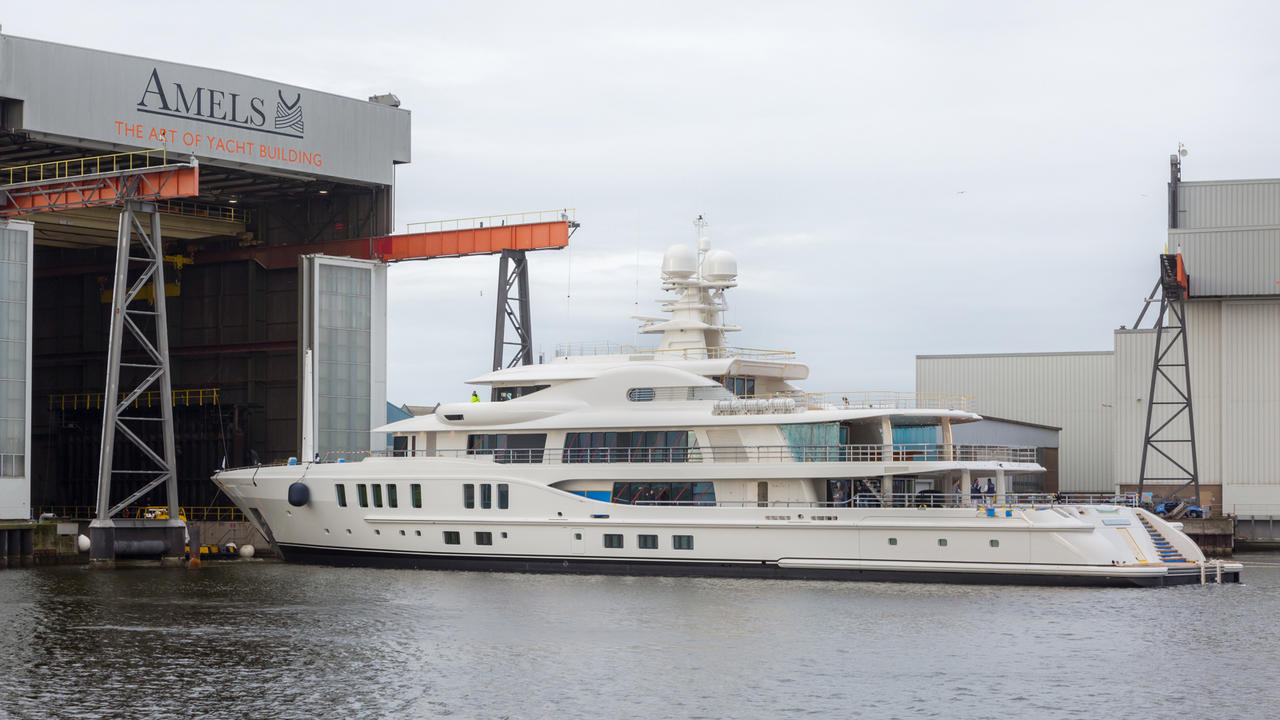 Length:
74m
Builder:
Amels
The 74-meter Amels project was launched on March 1 and christened New Secret. However, little information was disclosed about this highly secretive superyacht until her delivery in May. It then became known that the boat's exterior lines were elaborated by the renowned British designer Tim Heywood, while Winch Design created her "sophisticated and modern" interior. Both designers closely collaborated with the owner, which could be seen in numerous custom features onboard, including a larger helipad on the bridge deck, or a dedicated Spa area.
Notably, New Secret isn't available for sale, nor for charter, welcoming VIP guests only.
With a total fuel capacity of 155.000 liters, the yacht boasts a cruising range of 5.000 nautical miles at 12.5 knots.
#9.
Hasna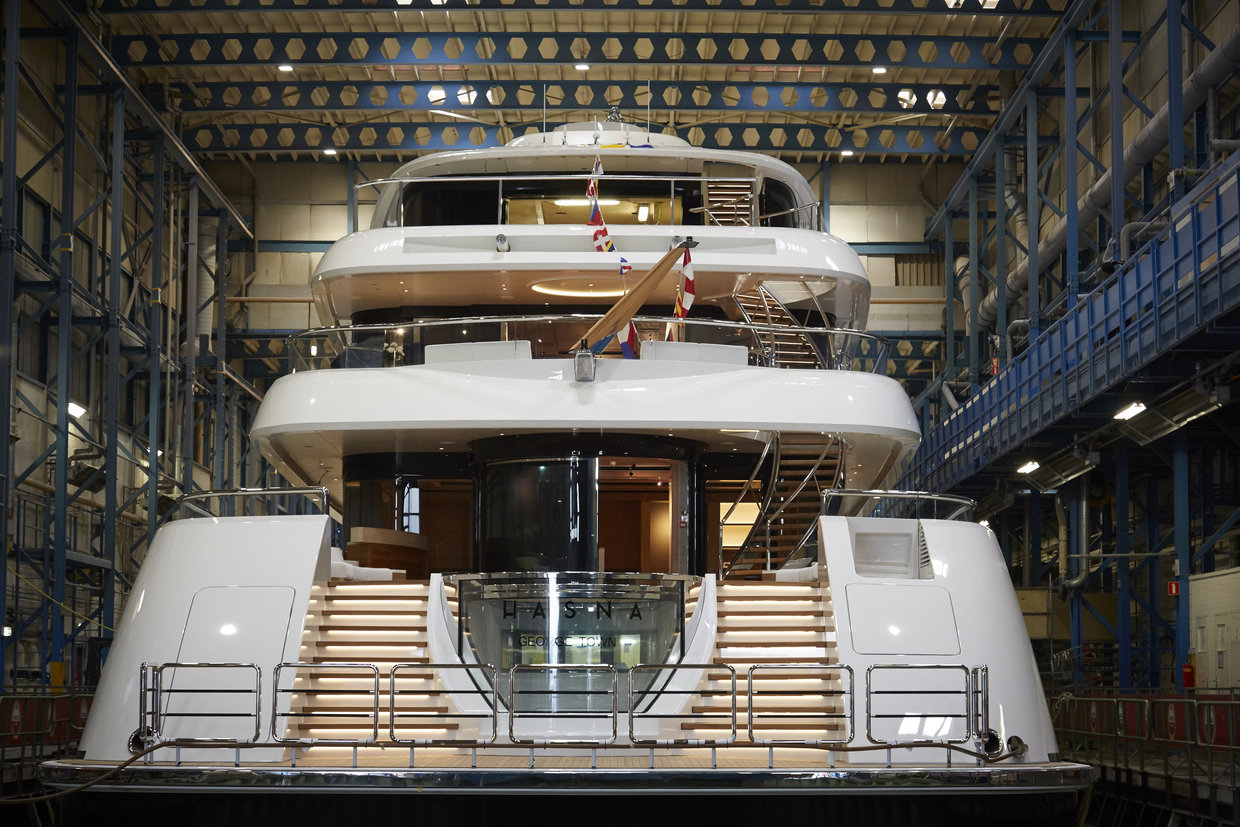 Length:
73m
Builder:
Feadship
The first yacht ordered by an Australian client in the Dutch shipyard's history, the 73-meter Hasna was launched by Feadship on June 3.
Styled inside and out by the British studio RWD, she was custom built to her owner's requirements. Among the atypical features of her layout is a vast beach club opening on both sides, but not at the stern. This arrangement, combined with moving the engine room forward of the lower deck cabins, allows for an 8-meter deep water swimming pool located aft of the main deck. The beach club itself includes a gym and a relaxation area accessible directly from the cabins.
Other amenities include a butler's cabin, a cinema on the main deck and a 25-meter sundeck with an interior section amidships complete with a barbecue & grill set up and a Jacuzzi. The atmosphere on Hasna is described as "beach chic".
#10.
Game Changer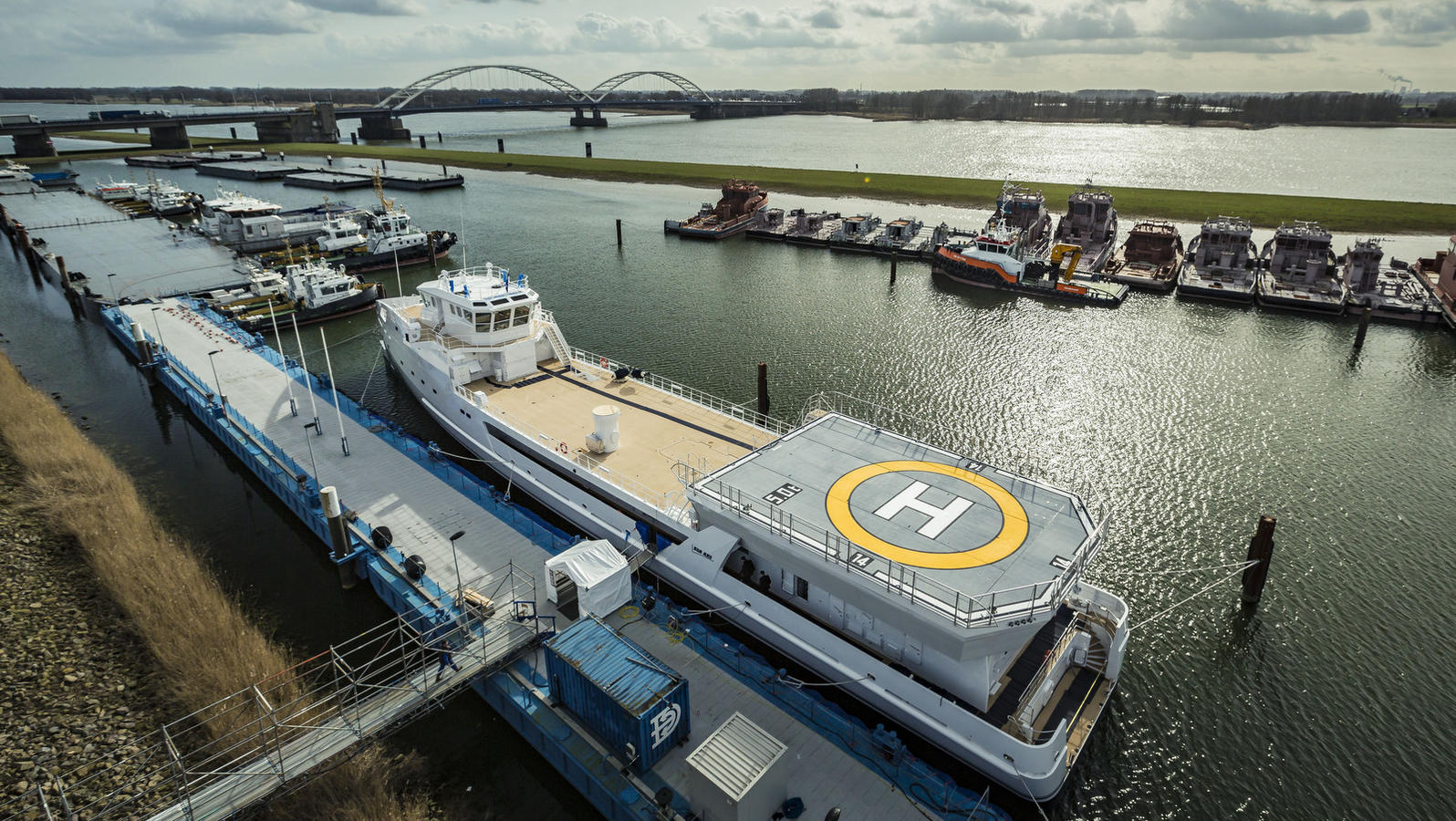 Length:
70m
Builder:
Damen
On February 22 Damen, the Dutch shipyard, parent company of Amels, launched Game Changer, a 70-meter yacht support vessel with a helicopter hangar.
The boat features a fully certified helideck, enabling owners to take larger helicopters on long-range flights to the mothership and land safely in a wider weather window. Lowering the helicopter into the hangar protects it from the elements, so it can be refueled and available for take-off without hassle and noise.
In addition, Game Changer has 250 square meters of open deck space for tenders and toys. The large deck crane makes logistics and handling simple, fast and safe. The 110-square-meter area below decks is occupied by a storage and a dive center. The vessel has facilities and accommodation for 22 crew and staff. It can carry a huge amount of extra provisions, fuel, luggage and spare parts.
Game Changer is powered by MTU engines of 3000 hp each, giving it a top speed of 20 knots and a cruising speed of 18 knots. The boat's maximum range is estimated at 4.500 nautical miles.
You may follow the updates on the ongoing projects and new builds through Yacht Harbour
Timeline
platform.