Gulf Craft
is marking 20 years of its operation in the Maldives. Gulf Craft provides almost 80% of the Maldives's water transportation services which includes public transport, coast guard, emergency and ambulance services, resorts, and leisure boats. With a strong and established presence in the country, Gulf Craft is now developing a new production facility dedicated to the manufacturing of vessels for use in the Indian Ocean which will see its operations and production capacity double within 16 months.
Gulf Craft established its operations in the Maldives with a 100,000 square foot manufacturing facility that has produced top-quality pleasure boats and rapid transport vessels. Gulf Craft is now focusing on further expansion of its operations in the Maldives to support the government's strategy to strengthen the tourism sector. This will be driven by doubling its production capacity in the country and by giving back to the community through the new training facility for captains and crew.
In early 2021 the shipyard was awarded a government contract, thru MTCC, to manufacture a fleet of specially designed high-quality speed boats for use across the Integrated National Public Ferry Network. The new speed boats will offer a convenient and efficient transportation system to all administrative islands of the Maldives, with capabilities to transport up to 53 passengers at a time and will connect the capital city to nearby islands. The public transportation project is one of the largest government initiatives and will contribute to connecting the various islands of the Maldives upon completion.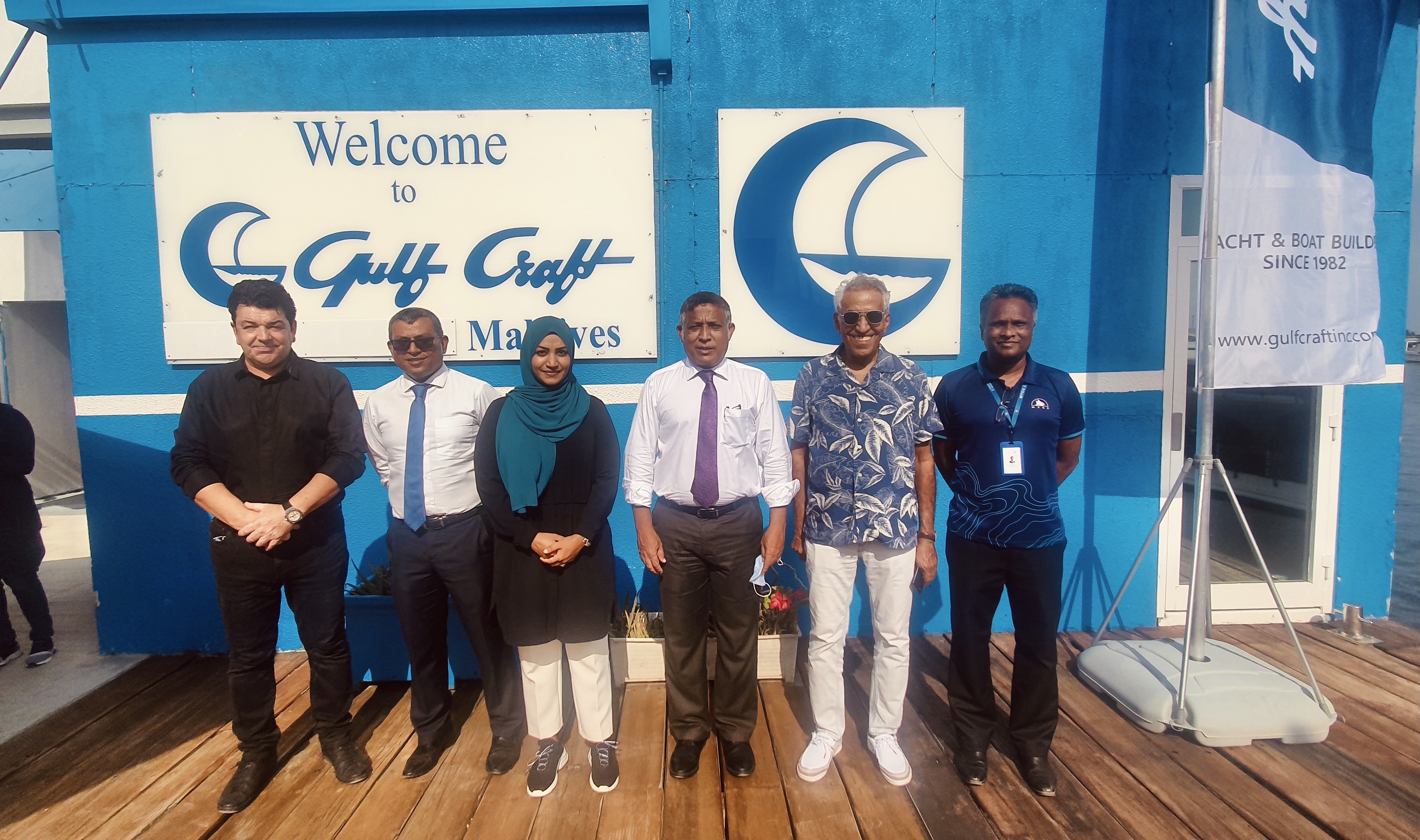 Gulf Craft team in the Maldives

"The Maldives is our first international destination, where we have built in-country competencies by leveraging the opportunities that the country provides for the marine and tourism sector. With the doubling of our production capacity and the new training facility we hope to serve the local community even better through the creation of new job opportunities and in further boosting tourism," said Mohammed Hussein Alshaali, Gulf Craft's Chairman.
Last year Gulf Craft announced that it will invest in a strategic development in the Maldives named 'Gulf Lagoon'. The project will feature a state-of-the-art manufacturing facility, a marina for seafarers and live-aboards, a maritime school offering captain/crew training for young Maldivians, and a resort, among others.
Since the company's inception in 1982,
Gulf Craft
has grown to become one of the top seven shipyards in the world: once a builder of small fishing boats in its modest premises, which was a genuine passion for Gulf Craft, they then established their credentials as a leader of innovation and technology in the yachting industry. With five brands in their product portfolio ranging from 31 to 175 feet, Gulf Craft manufactures yachts and boats that appeal to a wide audience, such as touring passenger vessels, Silvercraft family day boats, Oryx Sport Cruisers, Nomad Explorer Yachts, and the flagship Majesty Yachts.
Credits: Gulf Craft