Burgess announced a unique opportunity to acquire a large yacht currently under construction at the Dutch shipyard, Feadship. Project 825, a 74.8m motor yacht, is scheduled for delivery towards the end of 2024. This vessel features a Lloyd's-classed royal-blue steel hull and a polar-white aluminum superstructure, ensuring both elegance and compliance with charter standards.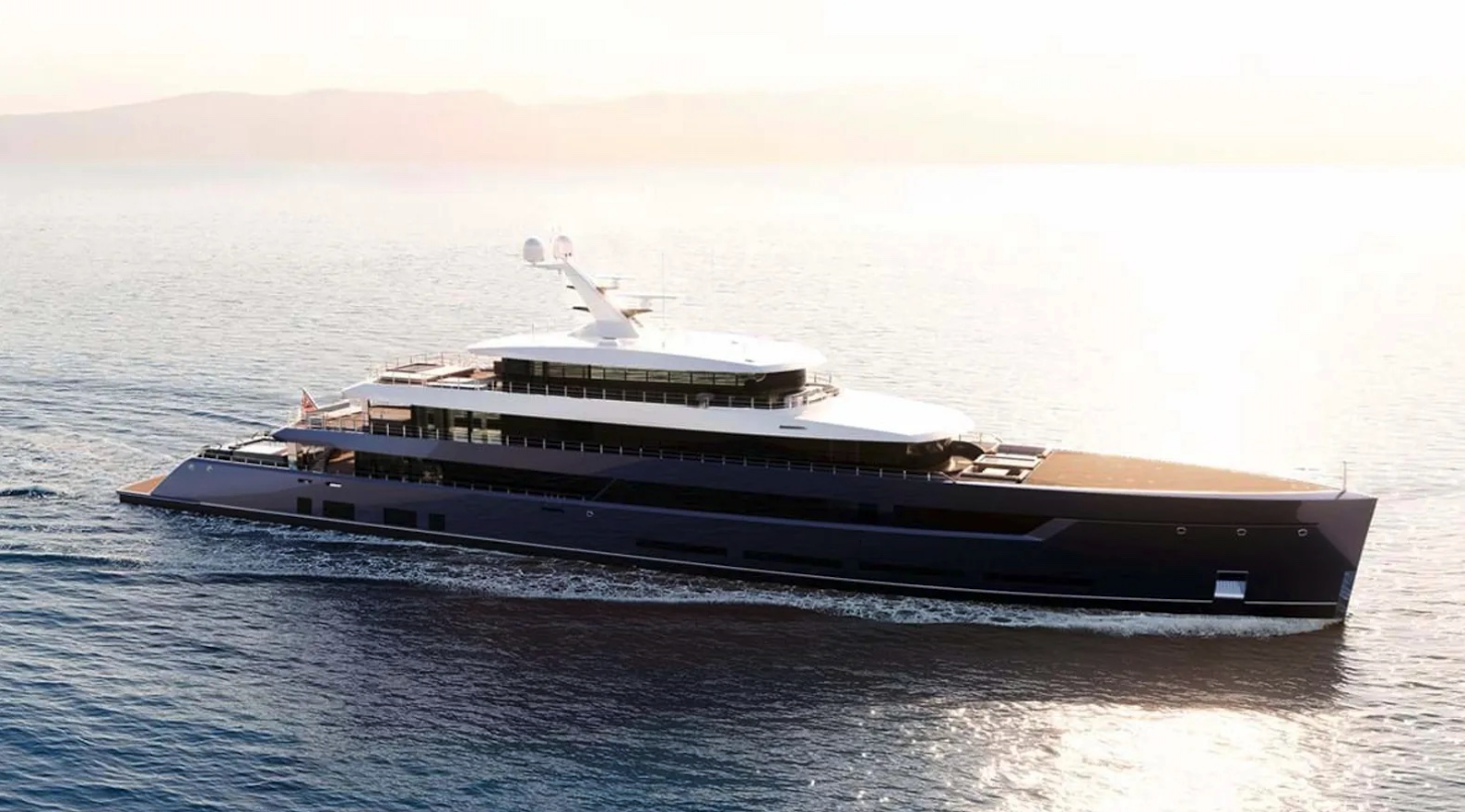 Renowned Parisian design studio Gilles & Boissier, known for their work on New York's Baccarat Hotel, has created a sophisticated and tactile interior concept. The use of earth tones, lime-washed grained wood, and finished stone exquisitely complement the floor-to-ceiling glazing, allowing natural light to transform the surfaces throughout the yacht.
Spread across four decks and boasting an impressive 1,750GT, the yacht offers the expansive lower deck beach club that opens on two sides, providing a seamless connection to the surrounding environment. Guests can enjoy the dappled light filtering through the glass-bottomed pool on the main deck aft. Additionally, hot tubs on the bridge deck and a private hot tub for the owner add to the wellness center's allure.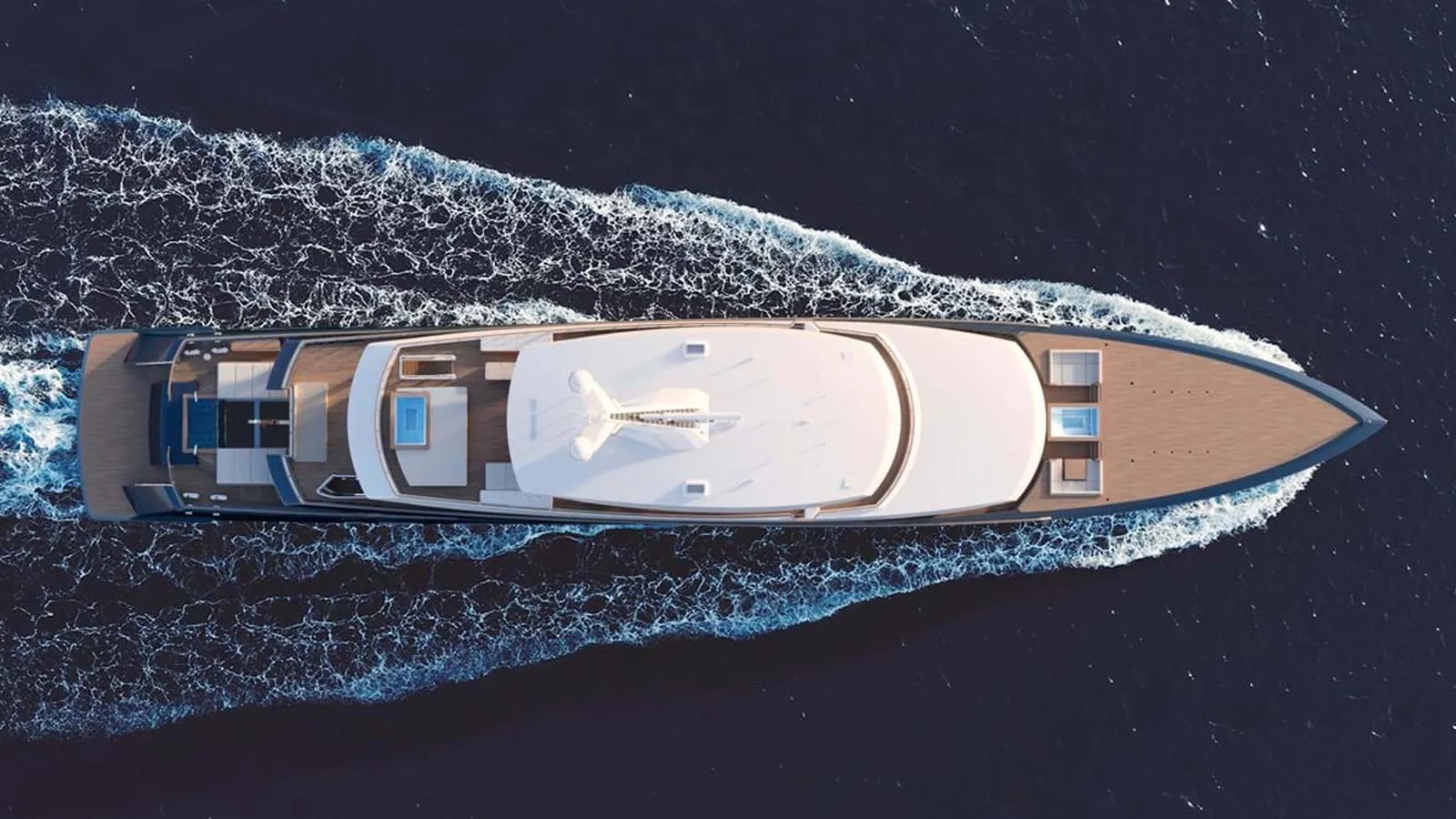 The wellness center itself features a gym with stunning aft-facing views, offering climate control or the option to open on three sides. Overlooking a terrace with a bar, lounge, daybed, and sunbathing area around the hot tub, the gym provides a serene retreat. Walkaround side decks allow guests to appreciate the surrounding scenery, while forward of the gym, a sauna, dayhead, and an elevator serving the bridge to main decks.
The owner's deck occupies the lower level, with the owner's bedroom suite forward, offering access to a private terrace with a hot tub and two lounge areas that can transform into sunbeds. A touch-and-go helipad is situated forward of the owner's suite. The spacious en suite includes a shower room, walk-in wardrobe, and a private study.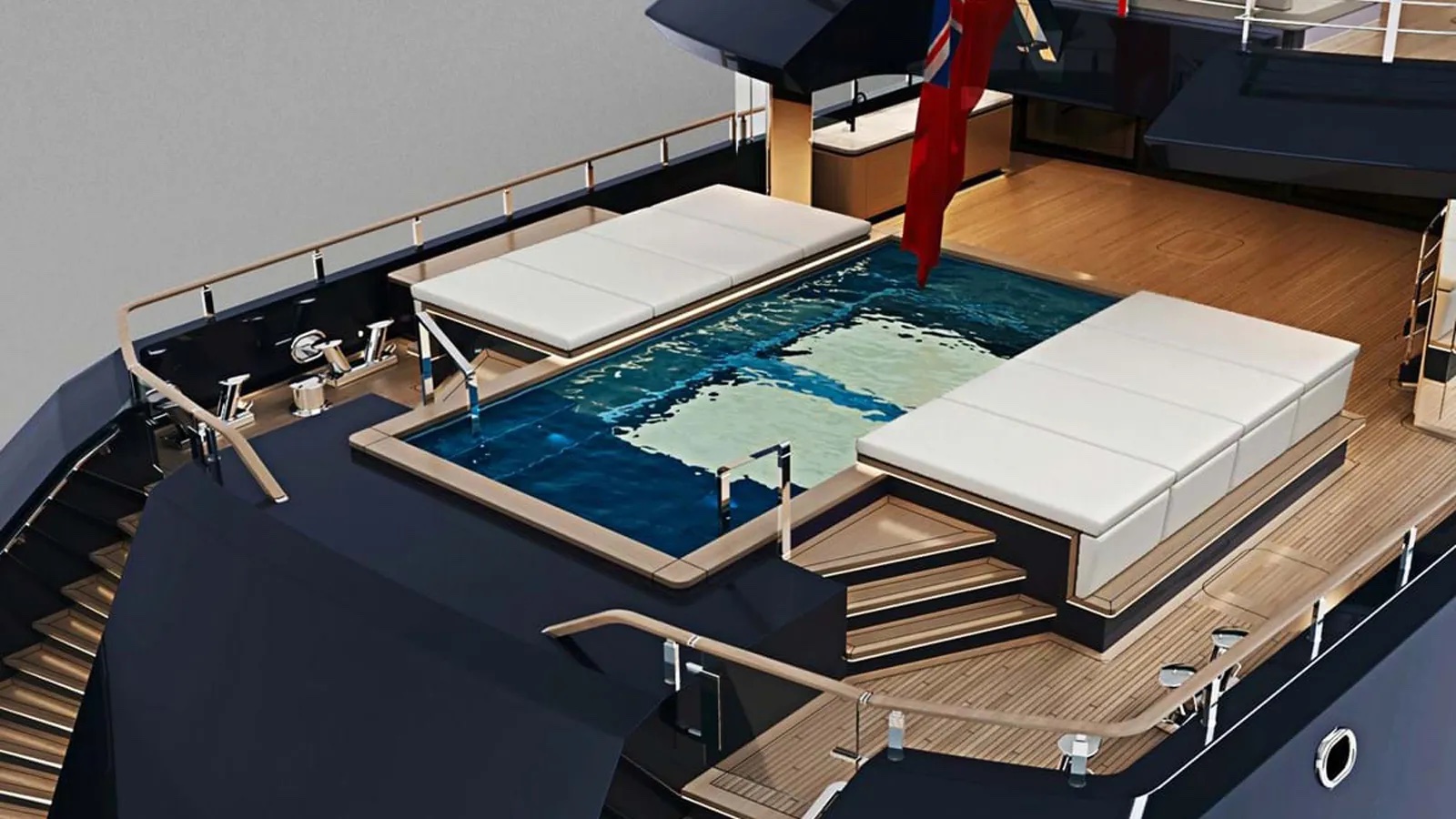 An owner's lounge featuring a wall-mounted TV, located on the aft. Sliding glass doors open onto an aft terrace with private dining shaded by the overhang and comfortable sun lounge seating. Walkaround side decks provide external access to the forward terrace, ensuring seamless transitions between indoor and outdoor spaces.
The main deck aft is highlighted by a captivating pool flanked by sunbeds, a refreshing bar, and a drop-down swivel TV for onboard entertainment. Inside, a remarkable beach house awaits, complete with a lounge and dining area. Sliding glass doors on three sides seamlessly merge the interior with the exterior surroundings.
In total, Project 825 can accommodate up to 12 guests in six cabins, while comfortably accommodating a crew of up to 17.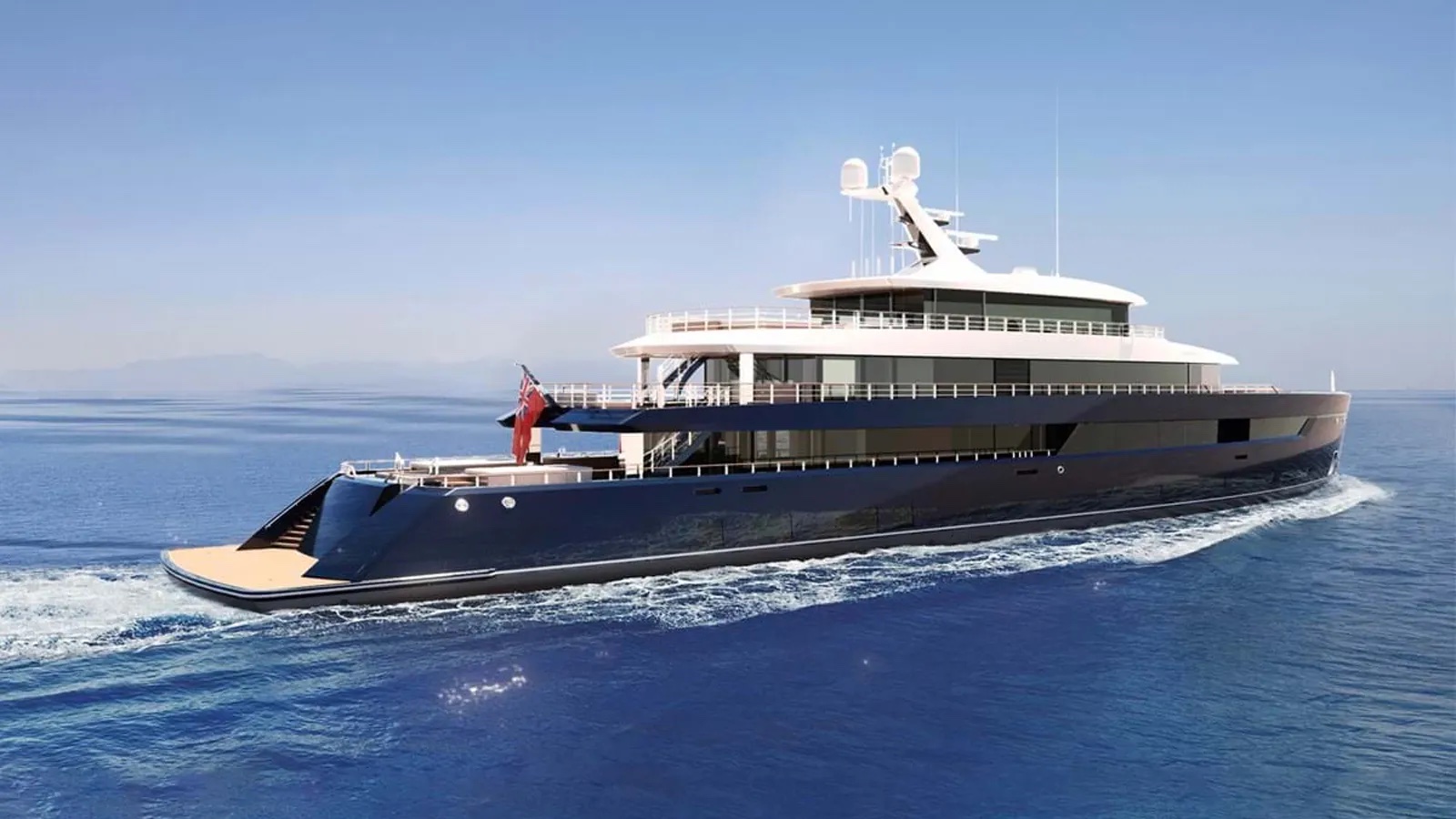 Powered by twin 2,000hp MTU diesel engines, this yacht achieves a top speed of 15.6 knots, a cruising speed of 12 knots, and has a transatlantic range of 5,000 nautical miles. Zero speed stabilizers ensure optimal comfort while at anchor. The main deck forward features shell doors that house a 9.8m tender, toys, and a rescue tender.
As a Central Agent, Burgess asking price of EUR169,500,000.
Feadship
was formed as a group in 1949 as a marketing partnership between six Dutch shipyards, de Vries Lentch, Van de Stadt, Witsen & Vis, Akerboom, De Vries Scheepsbouw and Van Lent Shipyard, and De Voogt Naval Architects. Feadship is well-known as one of the Netherlands' most elite yacht builders and delivers superyachts from 50–100+ meters in length.
Credits: Feadship