Giorgio Armani, a living legend of the world of fashion, is famous for bringing softened, minimalist style into high-end menswear and building a successful corporation Giorgio Armani S.p.A valued at over $3.1 billion (Forbes). Meanwhile, his
65-metre superyacht Main
represents a marine version of her owner's restrained aesthetics.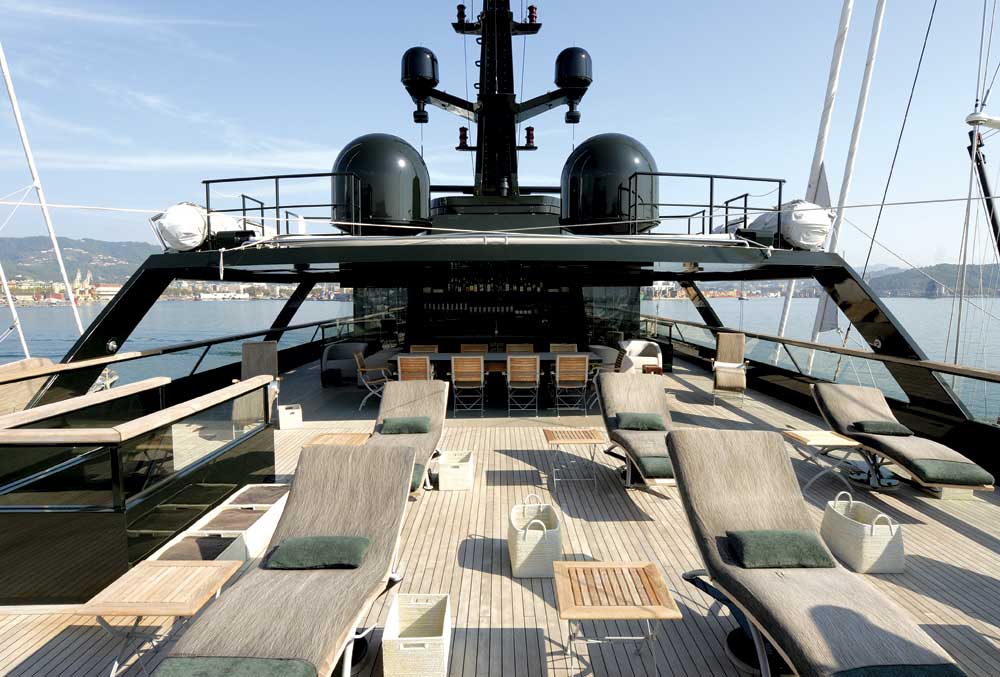 Delivered in 2008 by
Italian builder Codecasa
,
Main
features angular lines and uncommon dark-green exterior colour. As to the colour choice, Armani explained that it was conceived to camouflage the yacht at sea, which hardly ever appears in genuine blue colour.
The owner supervised the construction process that lasted for 30 months. The yard had to find solutions for two significant requests by Armani. The first one was to make louvre blinds and the windows they serve smoothly line up along the boat, ensuring panoramic views from the inside. The second one was to install sliding saloon floor at the bridge deck, giving more space to the area connecting the upper saloon to below. That was done in order to generate the effect of a stretched living room.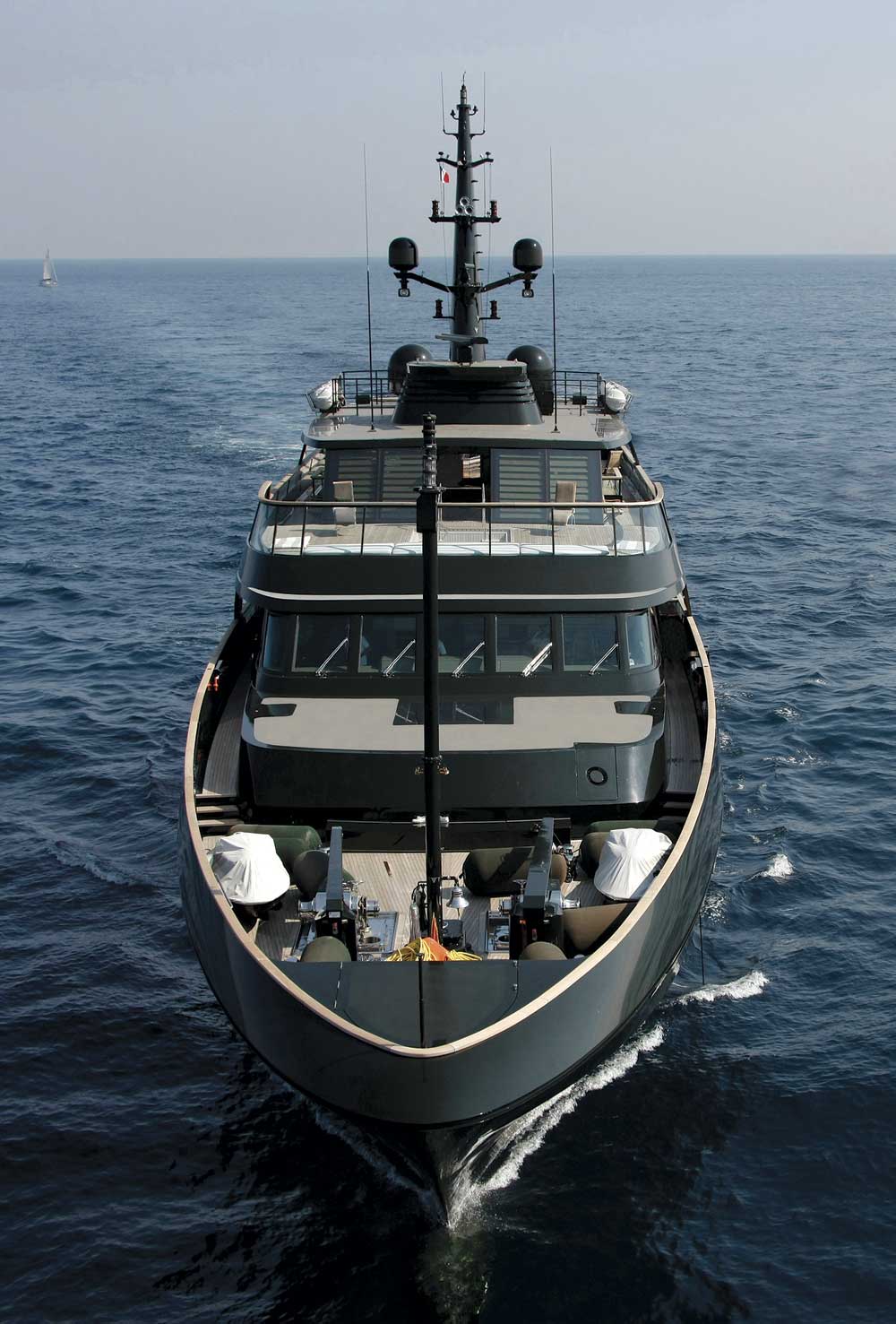 Indeed, Main's living area represents the core of the vessel. It covers nearly whole main deck, divided into a sitting room with fireplace and dining zone. The first one is furnished with two Armani Casa custom-made sofas, accompanied by stools and coffee tables. Another trademark of the room is a central table made of birchwood, coming with cushions instead of chairs. Meanwhile, the dining area is hosted at the stern terrace.
Despite her restrained outfit,
Main
naturally remains a project of luxury world. Her side bulwarks are made of stratified crystal glass, creating better visibility. Natural birchwood prevails within interior spaces, applied to the floors, indoor stairs, venetian blinds and bulkheads, while the bathrooms are decorated with marble. Electric fireplace in the main deck's saloon and the galley is adorned with retro satine glass.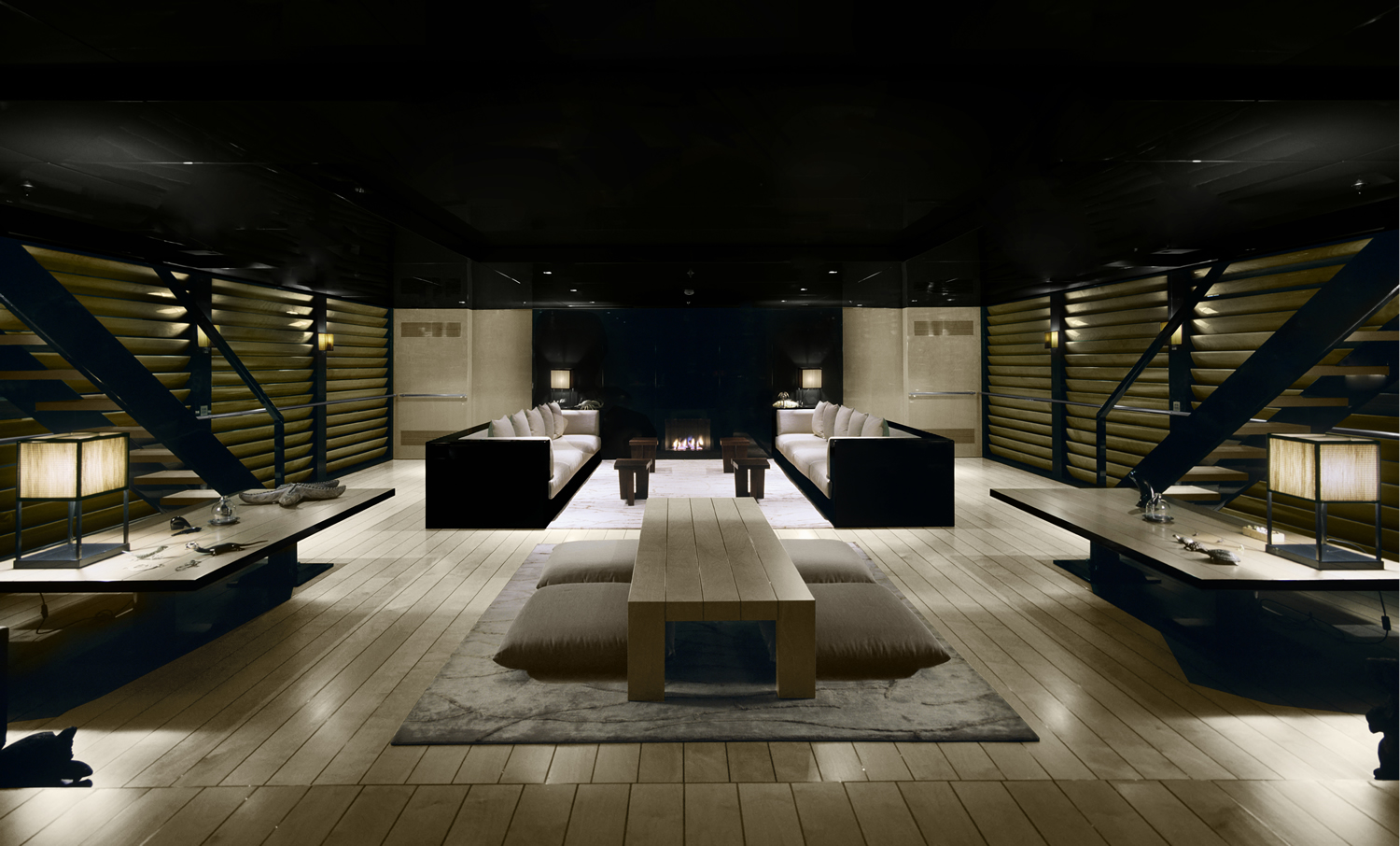 Not unexpectedly, the majority of furniture on-board was developed by Armani in-house interiors division. Furthermore, the colour palette chosen for the interiors apart from the woods, echoes with exterior through metal grey ceilings and dark green walls. Each guest cabin, however, carries individual colour scheme, reflected in fabrics on louvre blind devices.
The yacht's neat style was inspired by military vessels, explained the designer. One of the main ideas was to hide all details and technical features, distracting from the vessel's sleek appearance. Thus, tenders are hidden in a stern garage, reaching straight down to water. As to other entertainments on-board, Main features a cinema, spa pool, indoor gym and a large sundeck.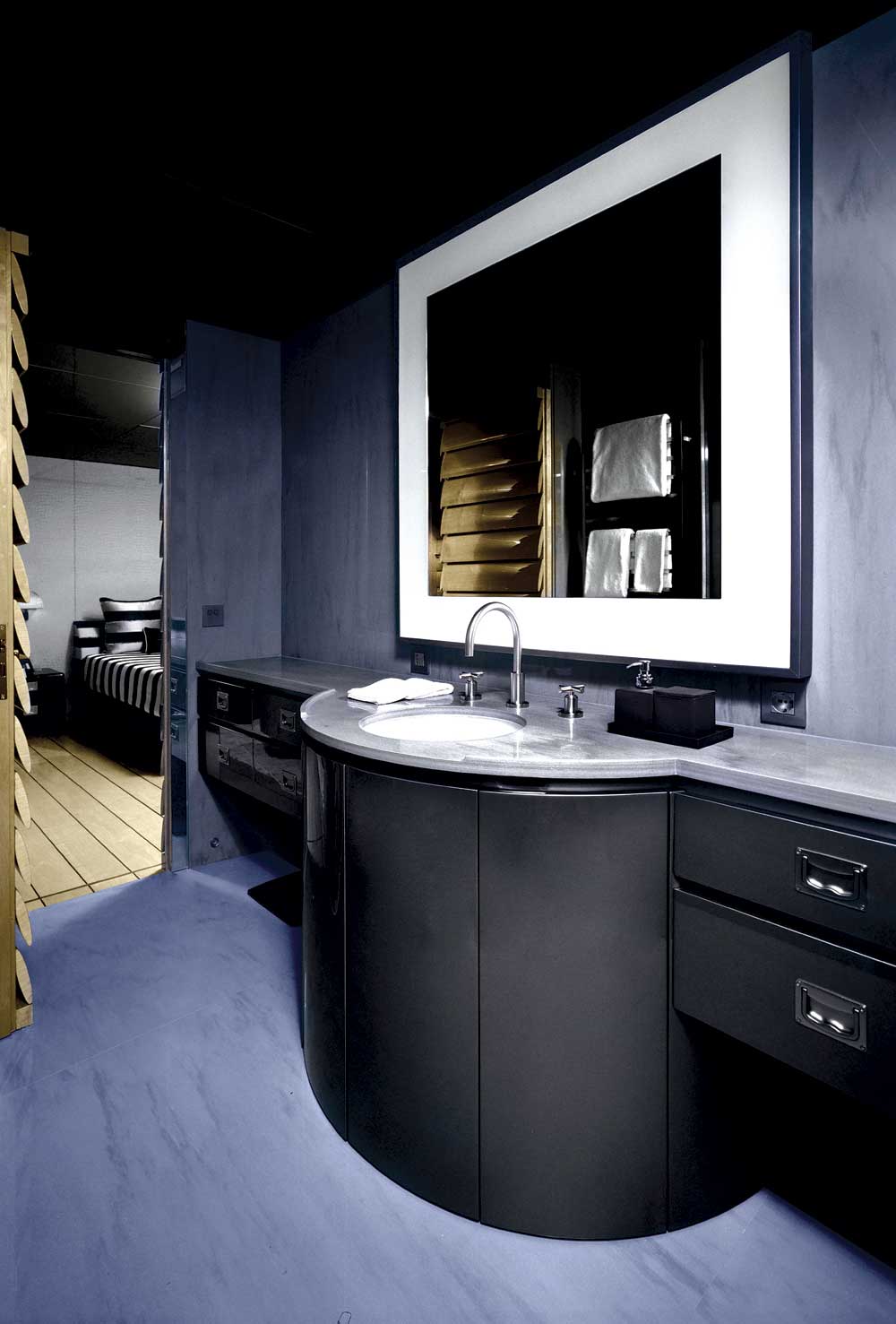 Main's interior configuration enables comfortable accommodation for up to 12 guests within 7 cabins. The yacht also hosts 14 crew members, who are subjected to three daily uniform changes, according to rumours in media.
As to the yacht's performance, powered by two Caterpillars, Main features a top speed of 17 knots and cruises comfortably at 14 knots. Furthermore, with her 160,000-litre fuel tanks, the yacht boasts a maximum range of 6,910 nautical miles. She is also fitted with 'zero speed stabilisers for on-board comfort once at stationary.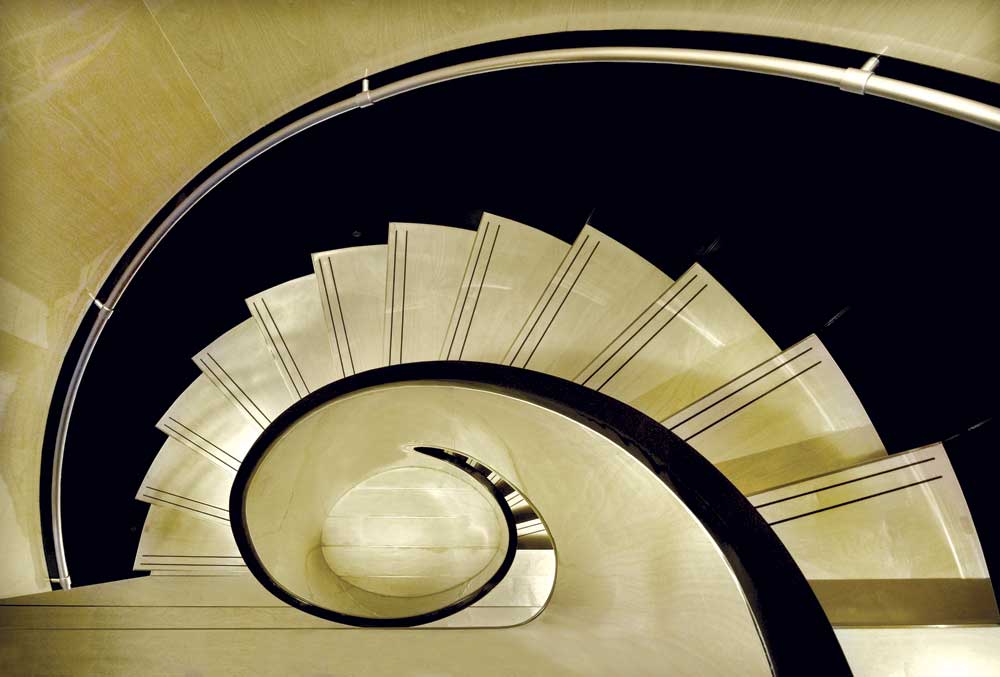 At the present time, Giorgio Armani remains CEO of luxury house Giorgio Armani S.p.A., marketing not only clothes but also perfume, jewellery, home decoration, cosmetics, watches etc. In 2017, estimated revenue of the company made around $2.7 billion, according to Bloomberg. Meanwhile, Armani remains one of the richest people in Italy, with his net worth estimated at $9.3 billion as of April 2019 (Forbes).